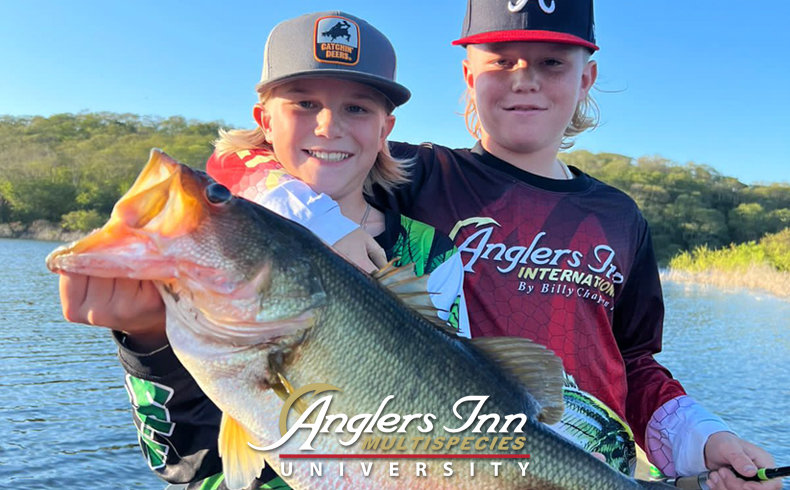 Opens in Crystal River, FL March 2023
GAINESVILLE, FL (February 28, 2023) – Billy Chapman, founder and owner of Anglers Inn International, has announced the opening of Anglers Inn University with George Large. This is a new educational program designed to further the fishing knowledge and experience for beginners to advanced anglers with new classes on fly, kayak and saltwater fishing. Anglers Inn Floating Suites at Pete's Pier in Crystal River, FL, will be the host for the 2023 University this March and April.
George Large, fishing expert and industry leader for over 40 years, will be the instructor at Anglers Inn University. His vast knowledge of the sport and extensive angling experience for fresh and saltwater species will be of great benefit to the students.
Classes are divided into Beginner, Intermediate and Advanced, with Fly Fishing, Kayak Fishing and Saltwater sessions. The four-hour Beginner class will introduce novice and young anglers to the heart and passion of angling. Beginner students will graduate the class with a strong understanding of knots, equipment, lures, fish species, stewardship and more. The six-hour Intermediate and eight-hour Advanced classes take the angler to a higher level of fishing expertise that will greatly benefit their future fishing experiences.
New additions to the University are classes on Kayak and Saltwater Fishing, as well as Fly Fishing. From the four-hour Kayak Fishing class students learn how to rig a kayak, safety factors and equipment needs to fish confidently. The six-hour Fly Fishing class covers the fundamentals of fly fishing, from equipment knowledge to casting a fly. The eight-hour Saltwater Fishing class focuses on the best locations, equipment, and techniques for inshore and offshore fishing.
Anglers Inn University is open to guests of Anglers Inn Floating Suites as well as the public. Advanced reservations are required. Tuition is $150 for the Beginner, $200 for Kayak, $250 for the Intermediate, $350 for Advanced and Saltwater and $400 for Fly Fishing. University sponsors include Abu Garcia, Berkley, Fishing Tackle Retailer Magazine, Huk, Humminbird, Minn Kota, Mossy Oak, Old Town and St. Croix Rod.
For more information contact Large at george@anglersinnuniversity.com or 1-833-HOWTOFISH.
Anglers Inn International operates five-star fishing lodges in Brazil, US and Mexico. For more information about Anglers Inn fishing opportunities or to learn more about Anglers Inn Floating Suites go to www.anglersinn.com. Follow Anglers Inn on Facebook and Instagram.
---