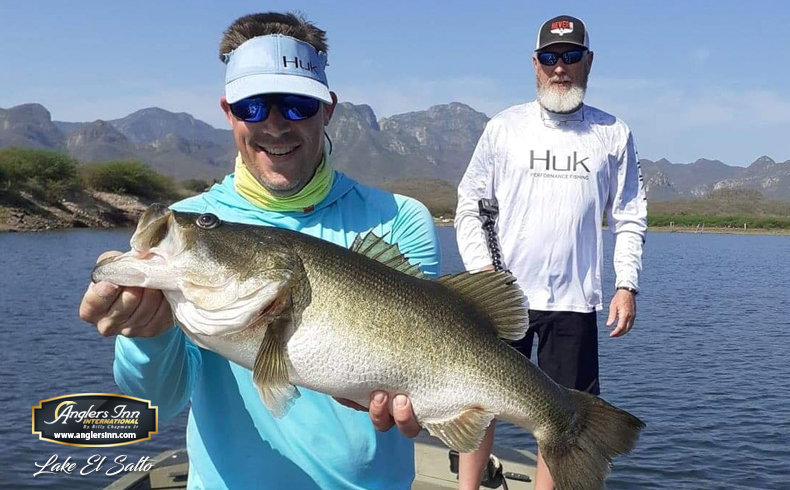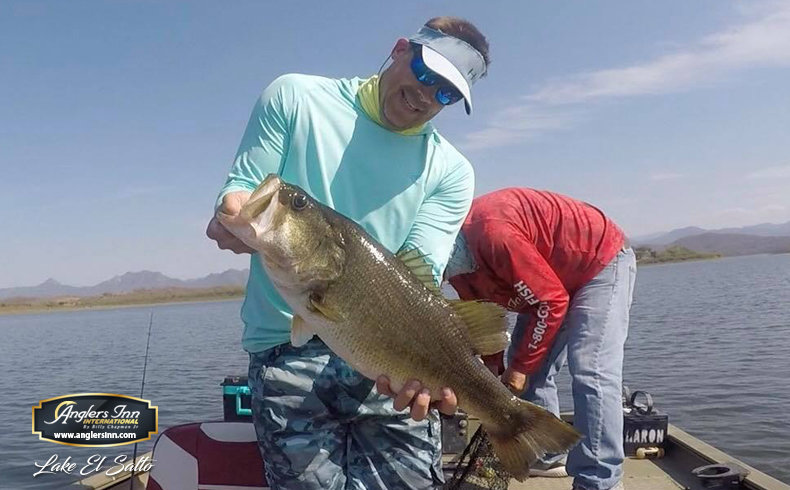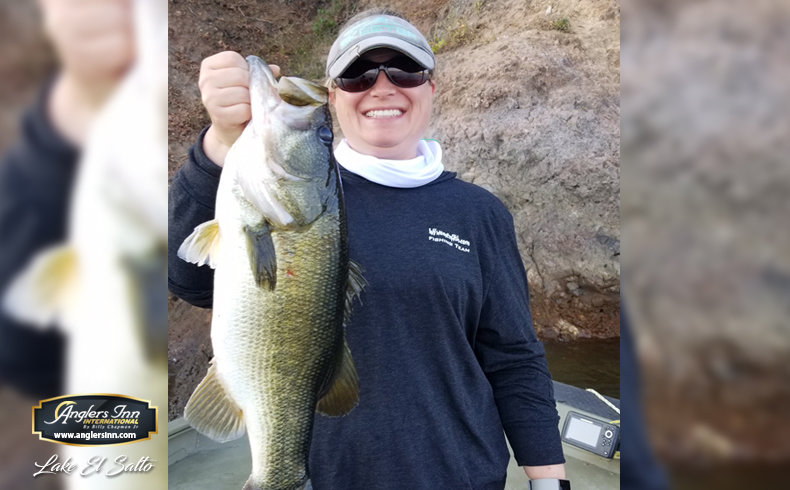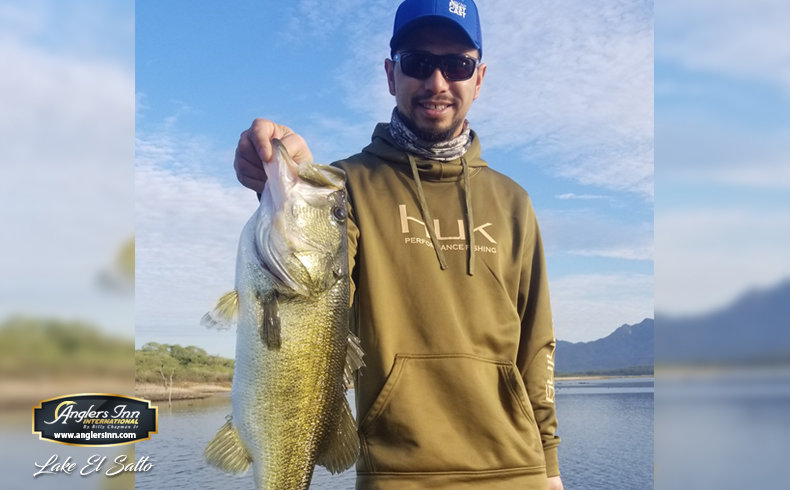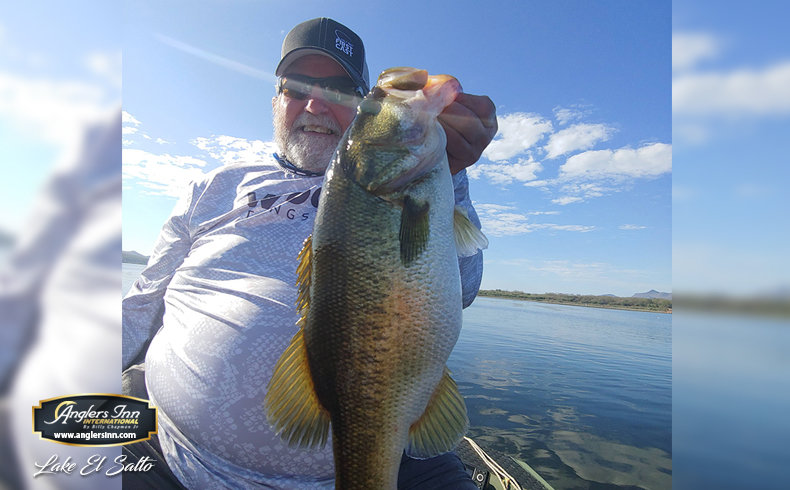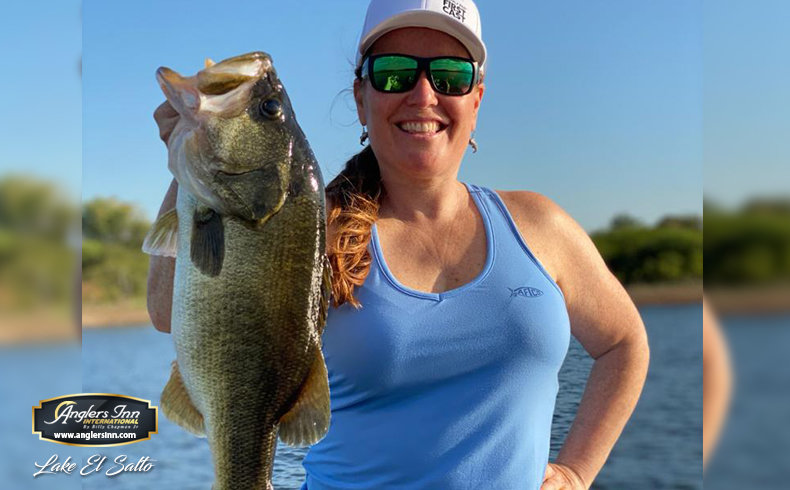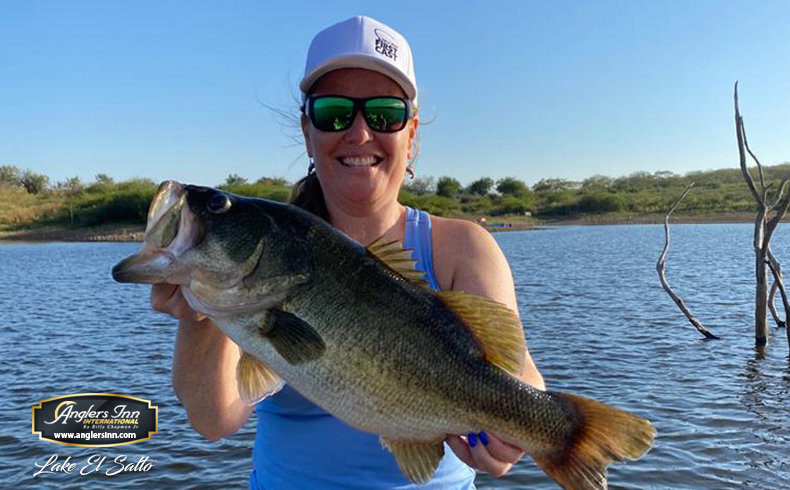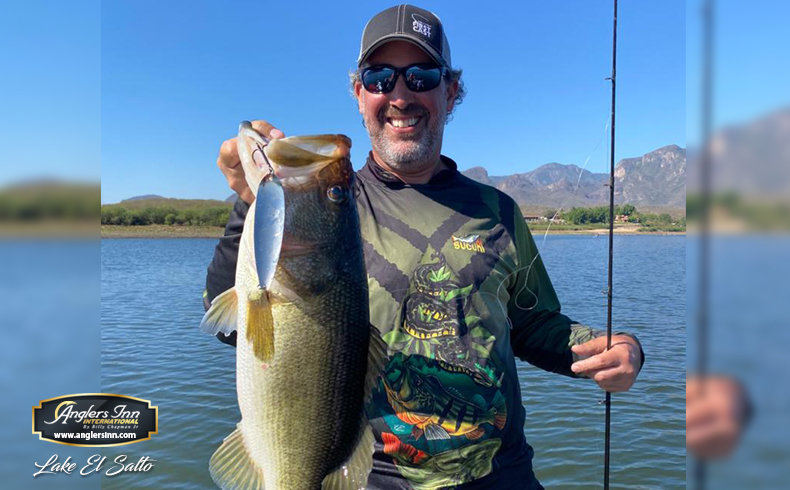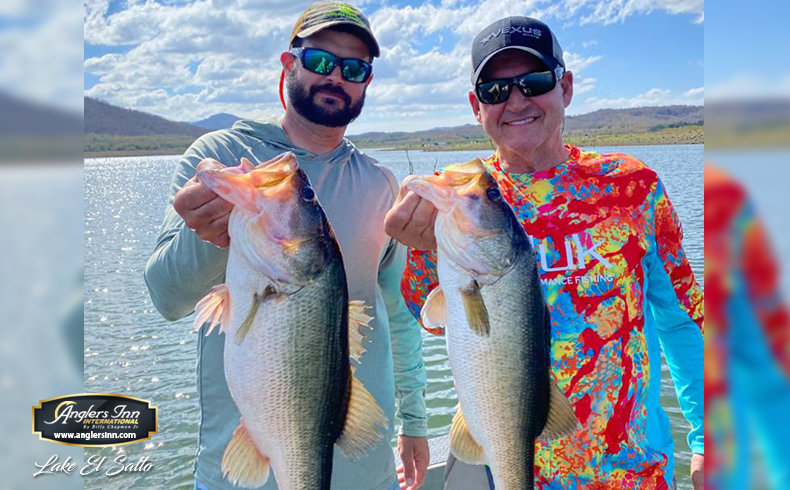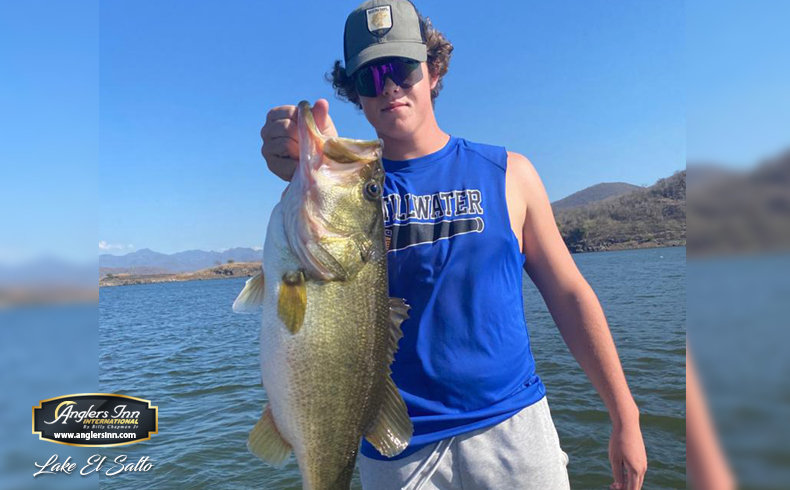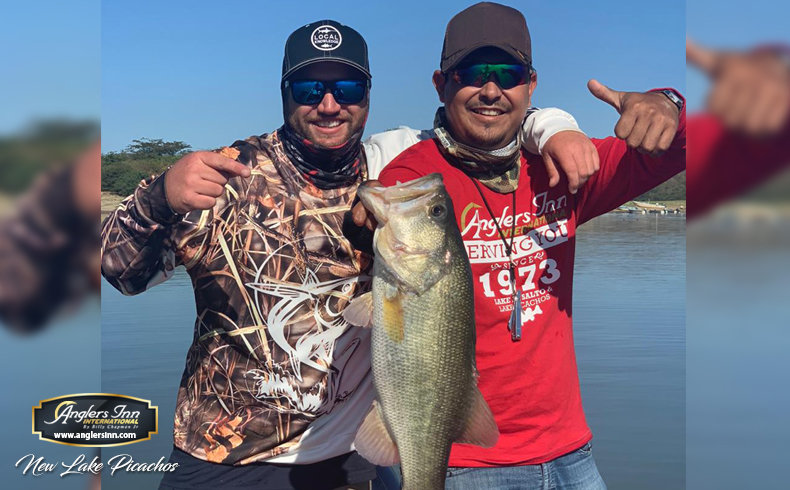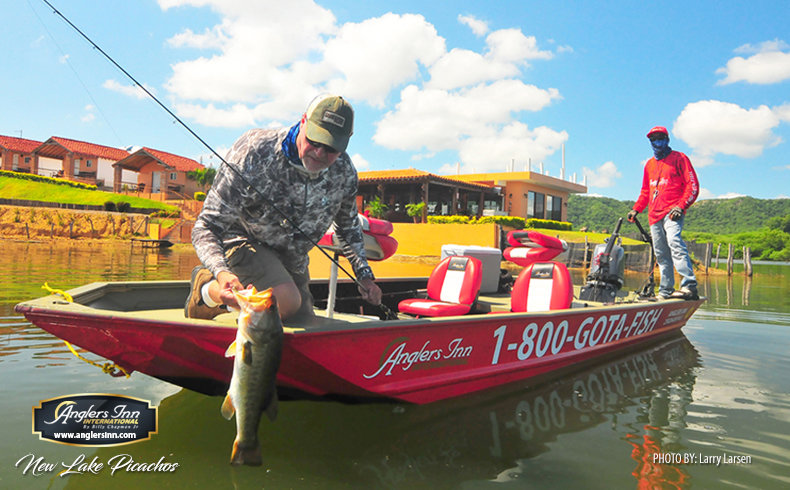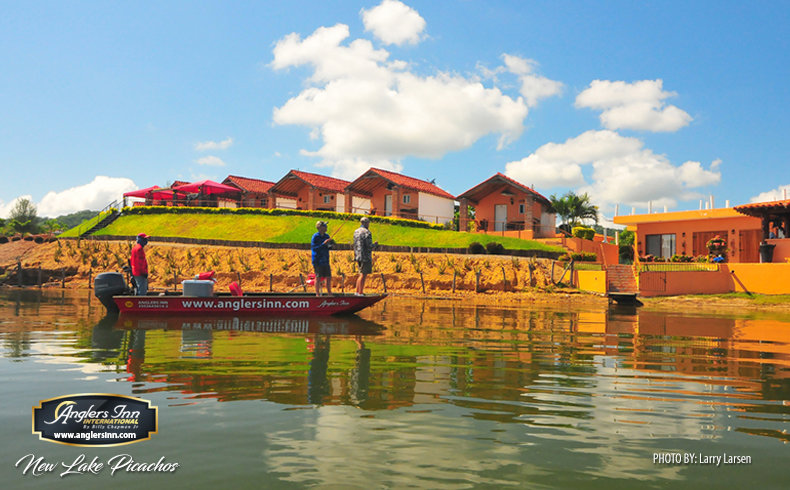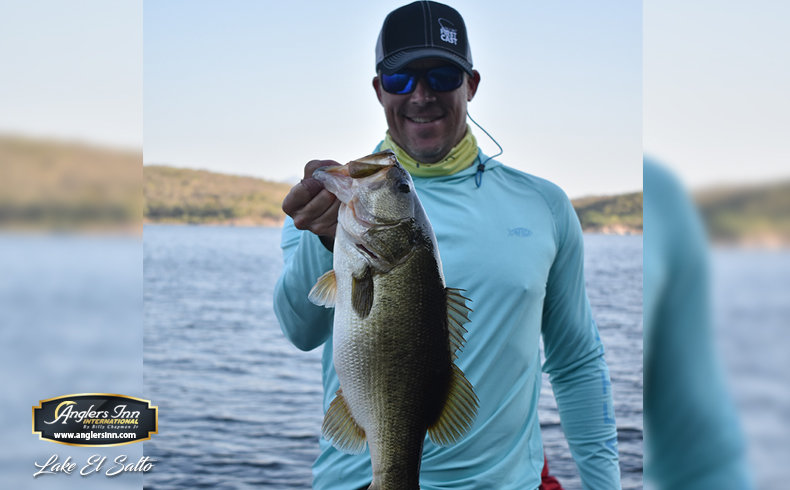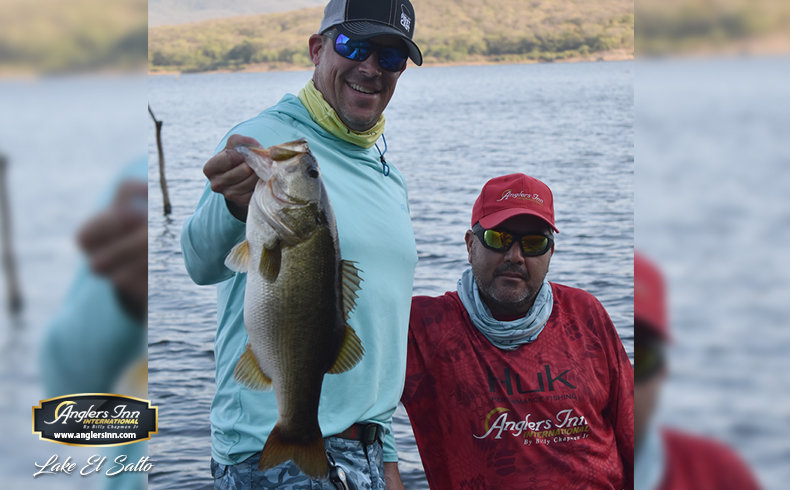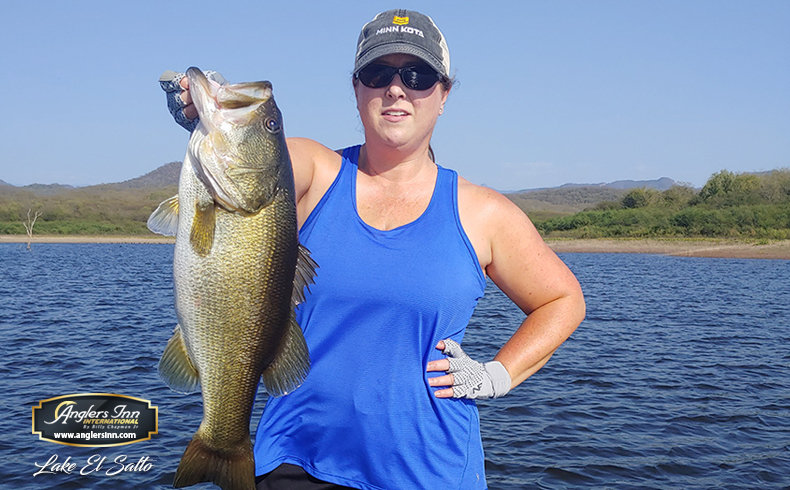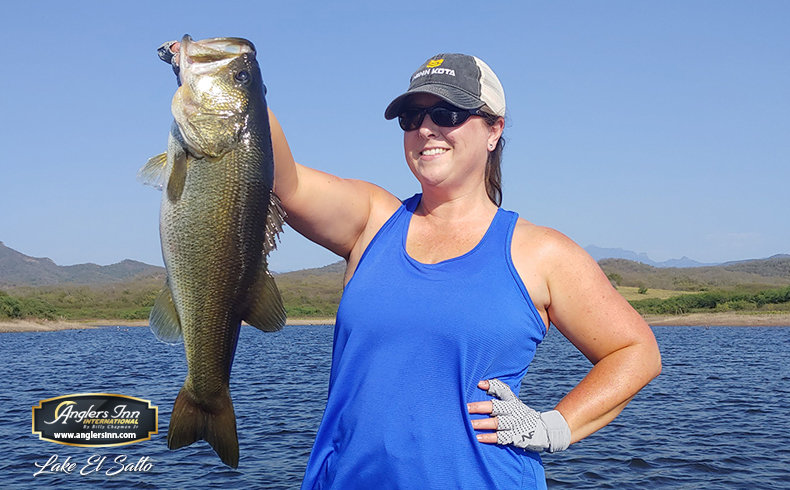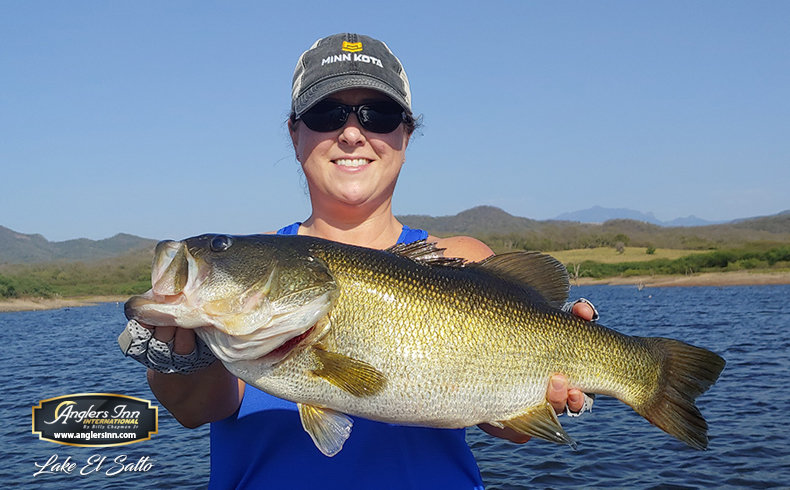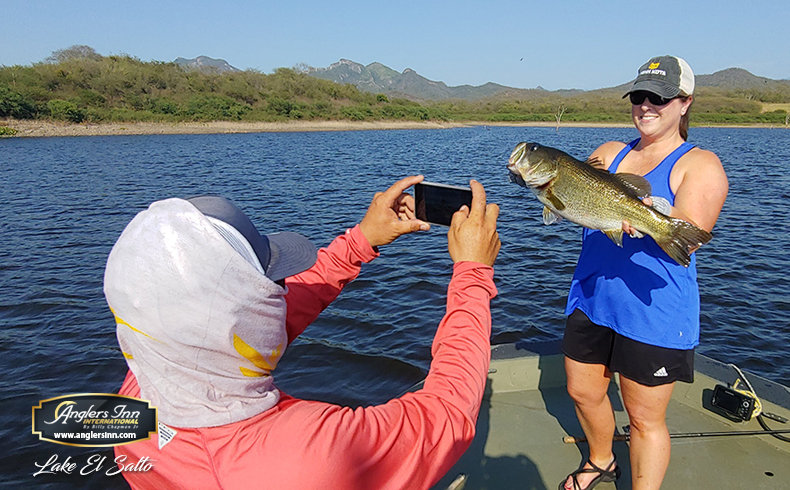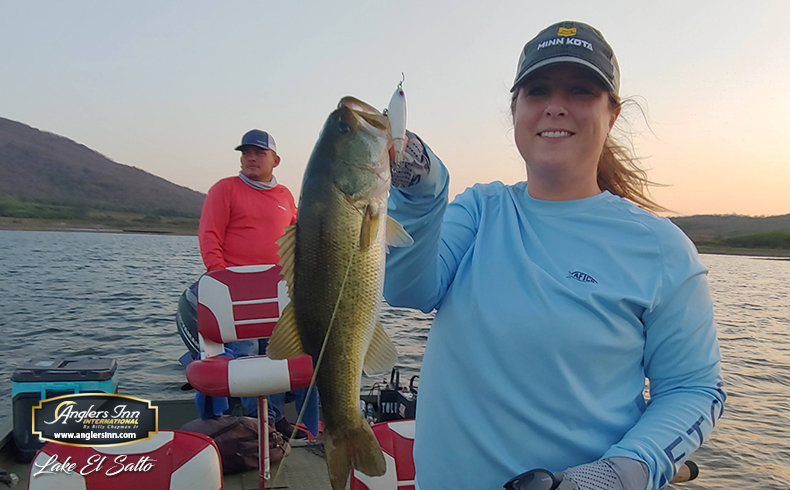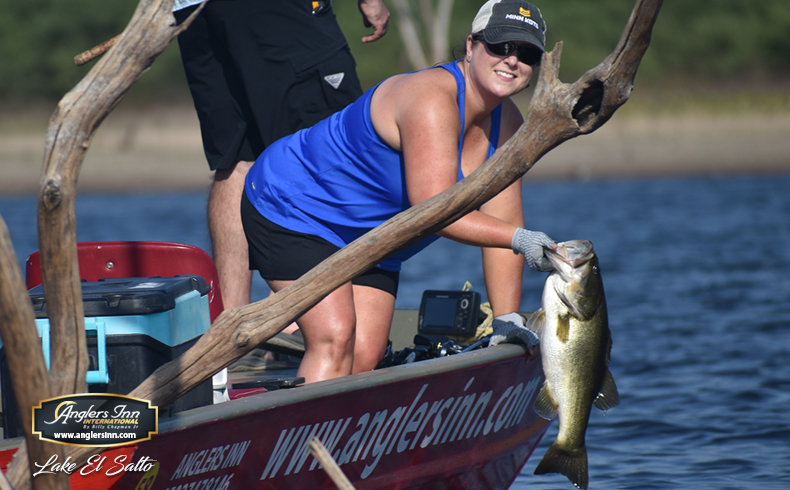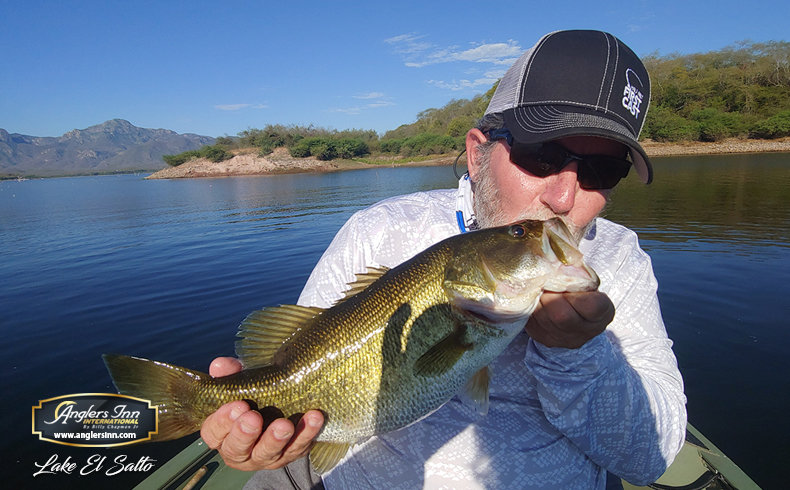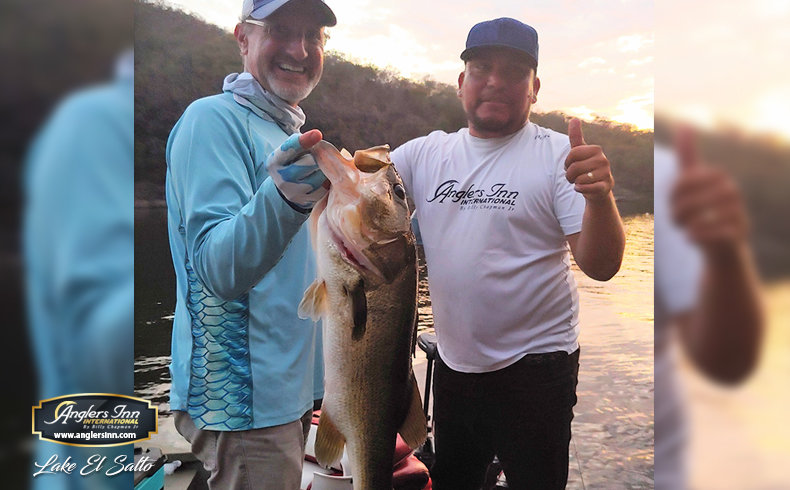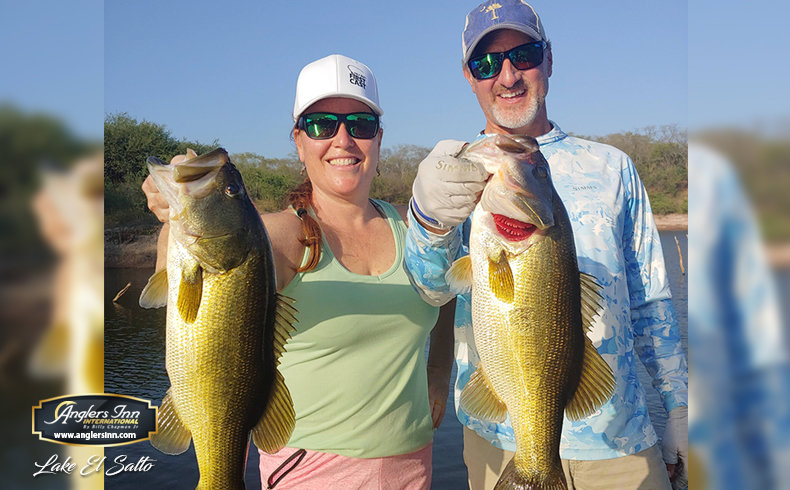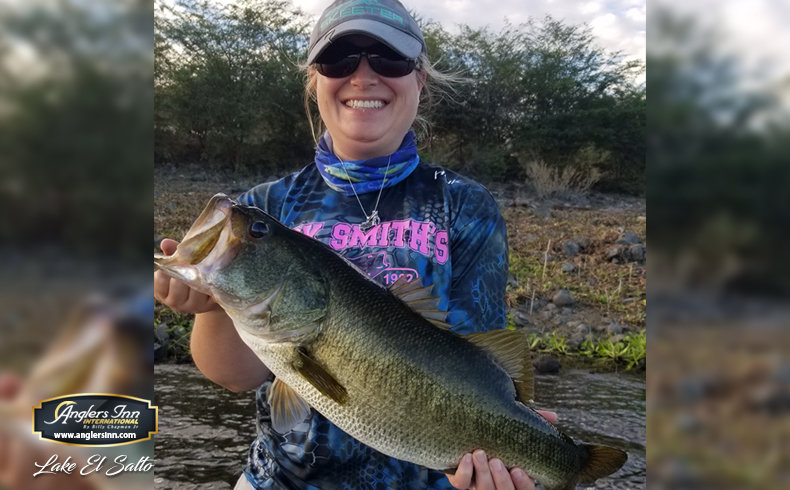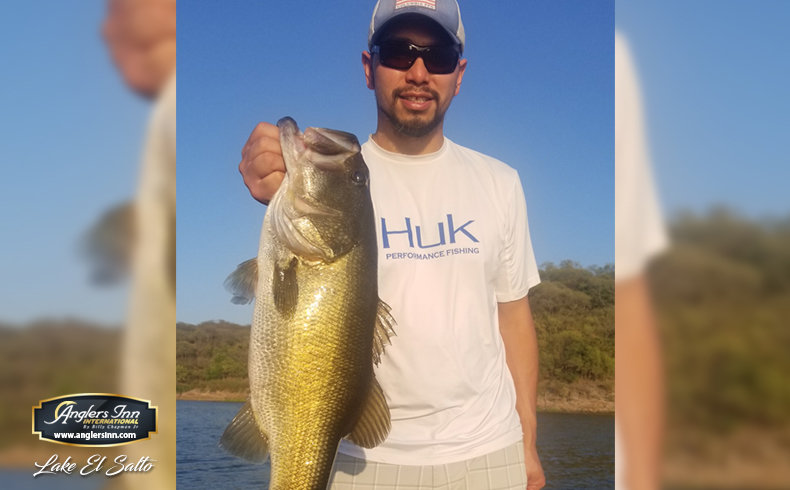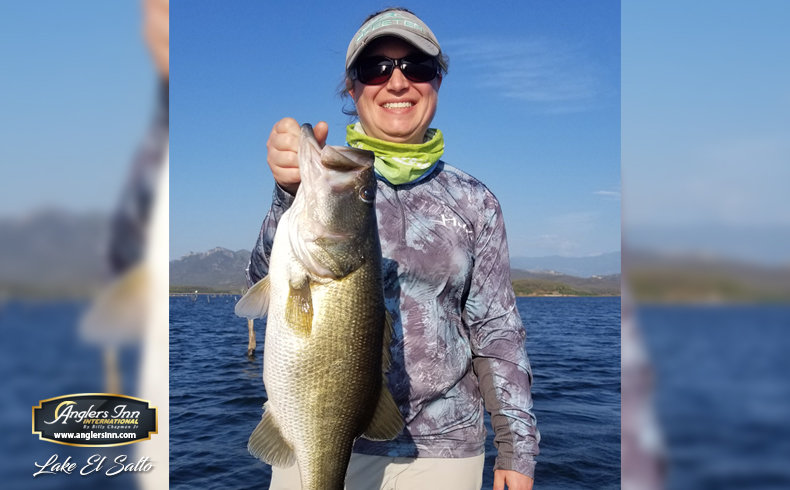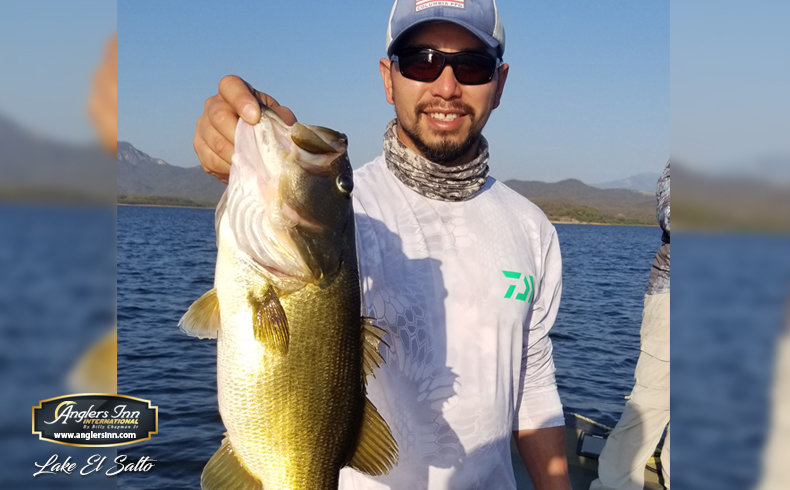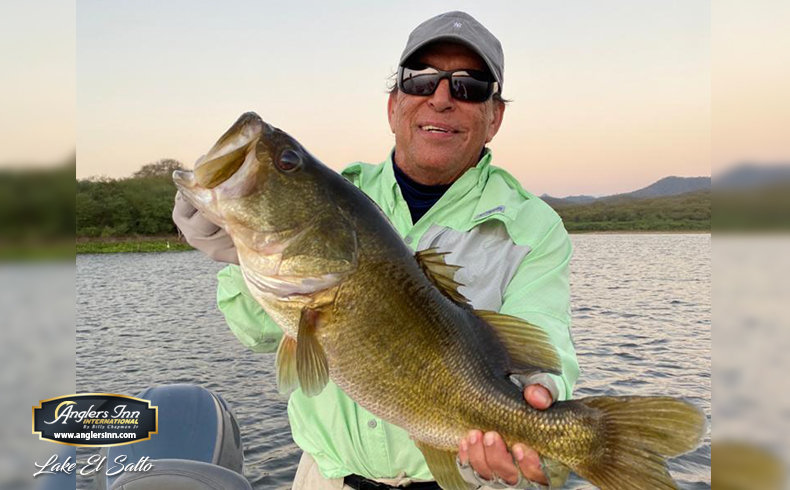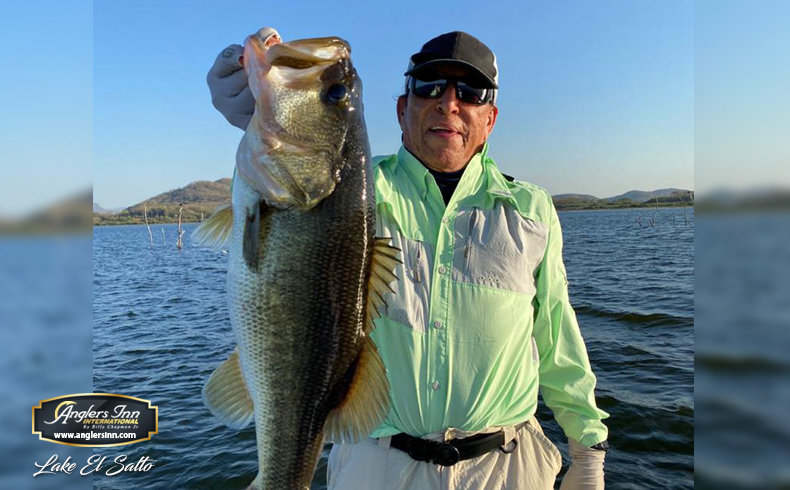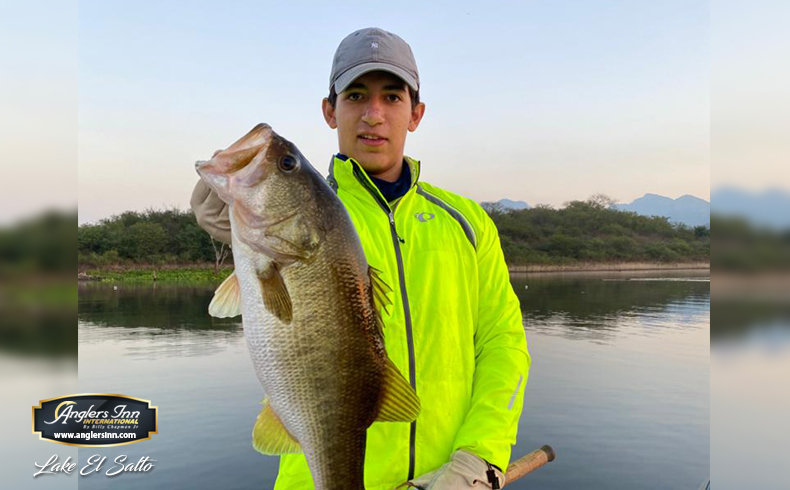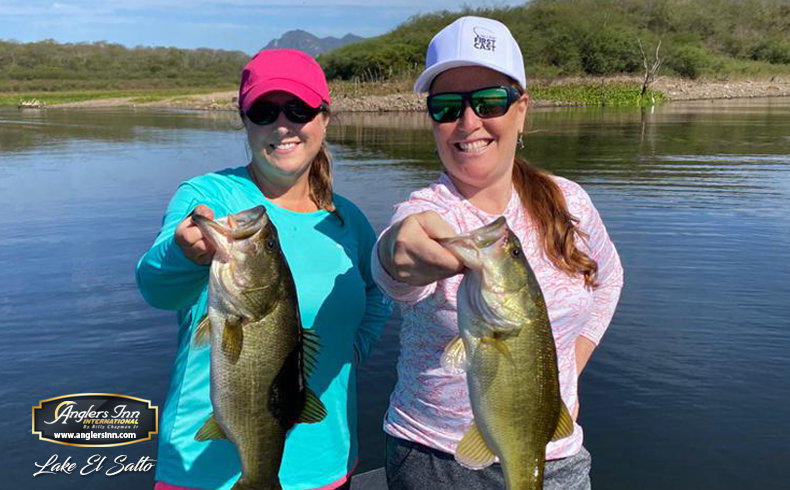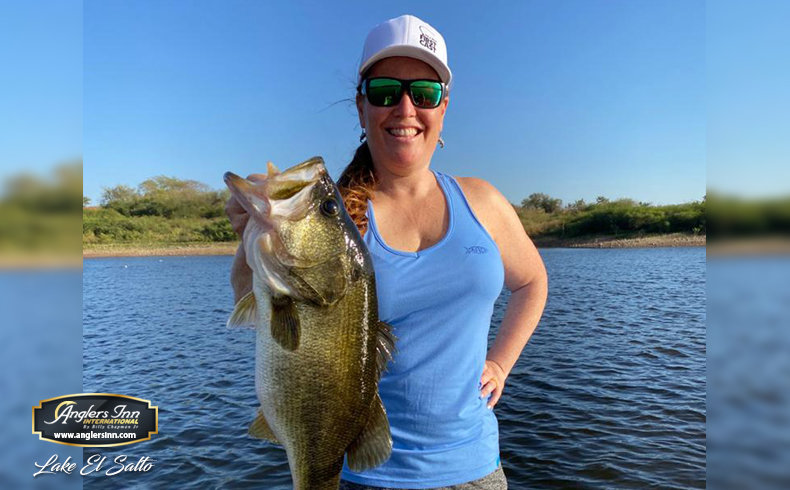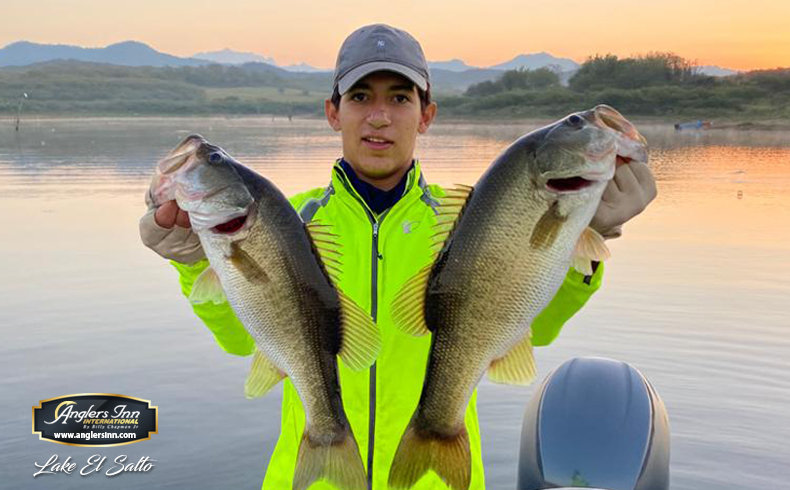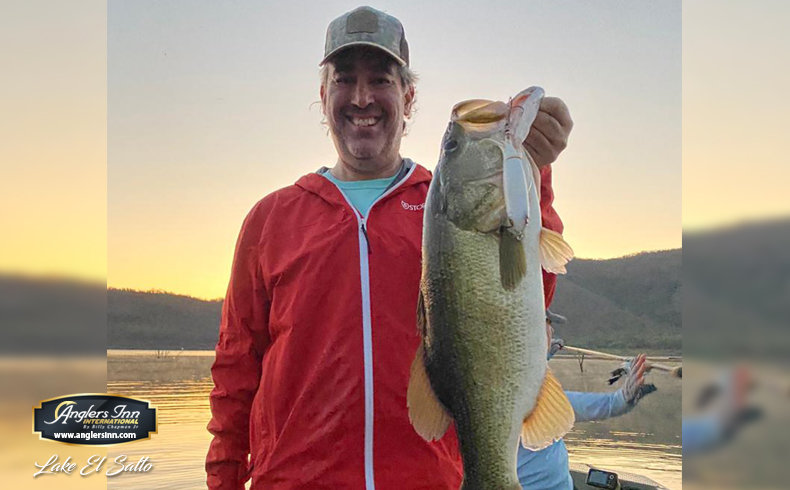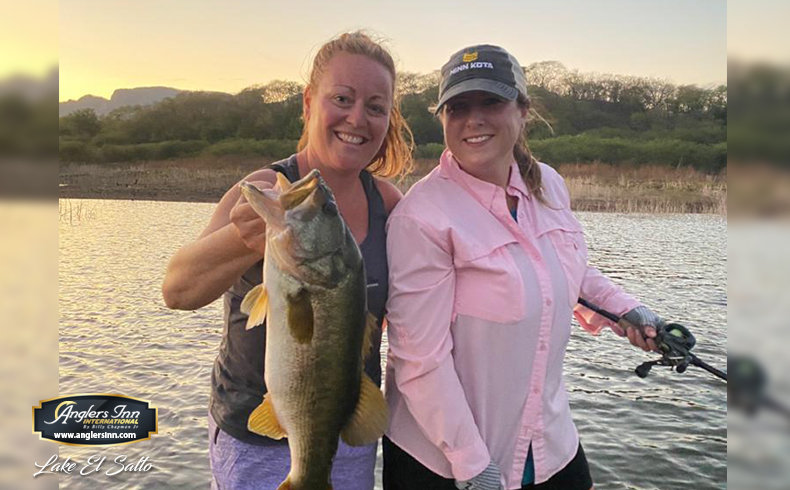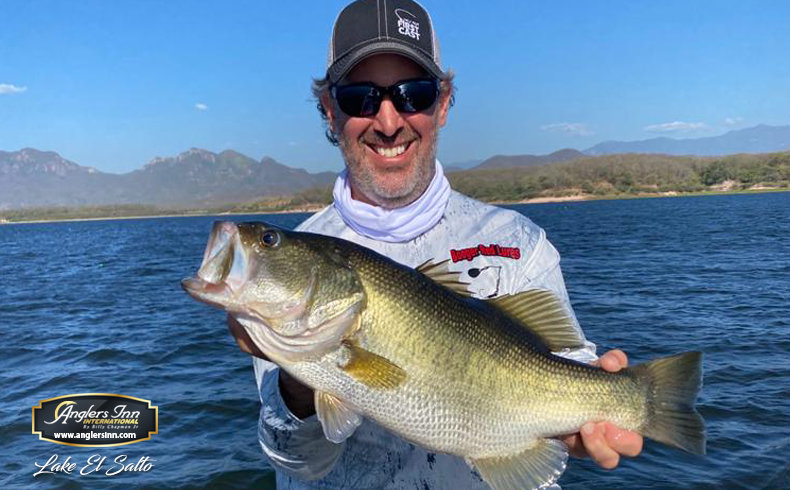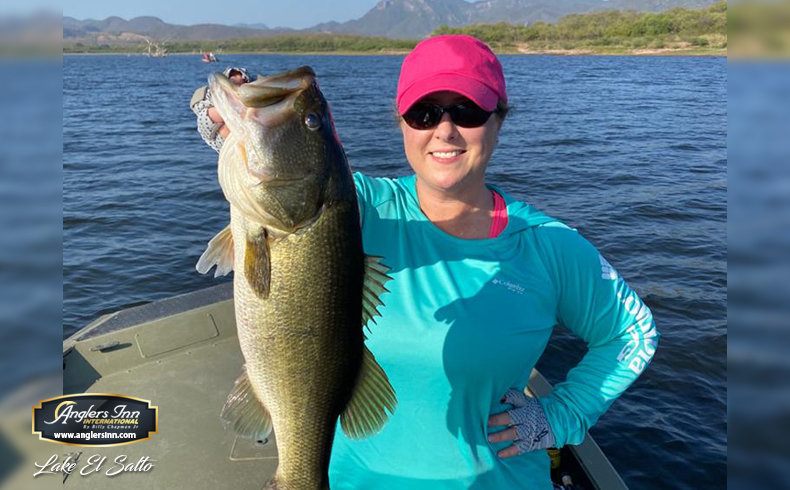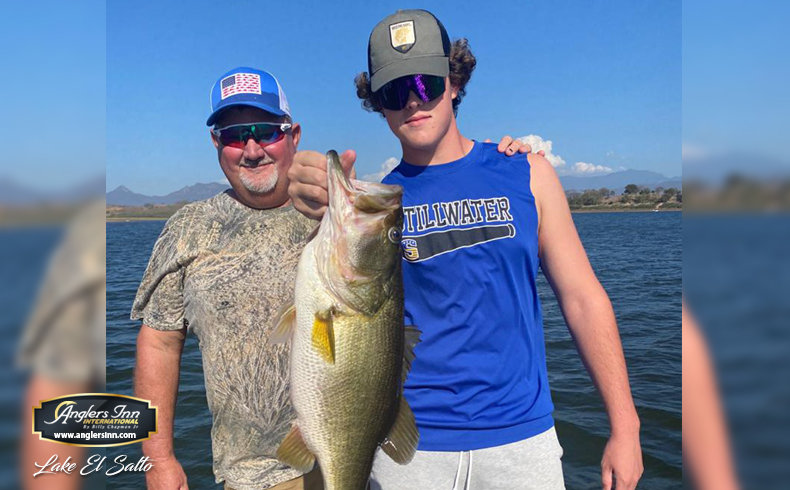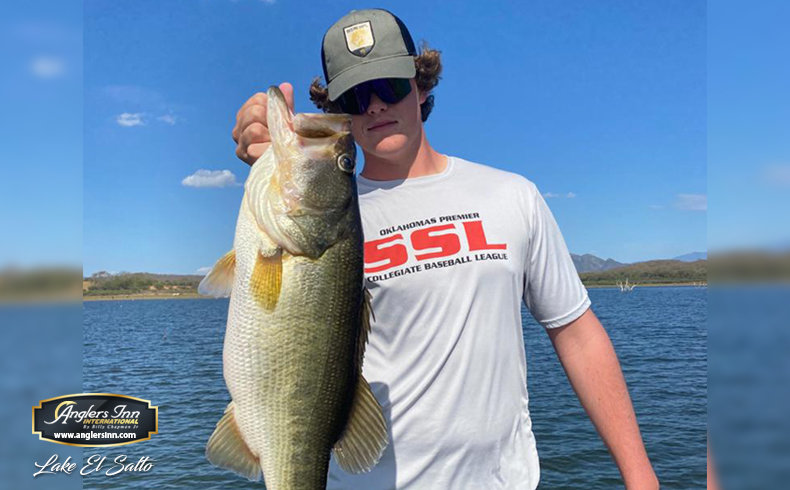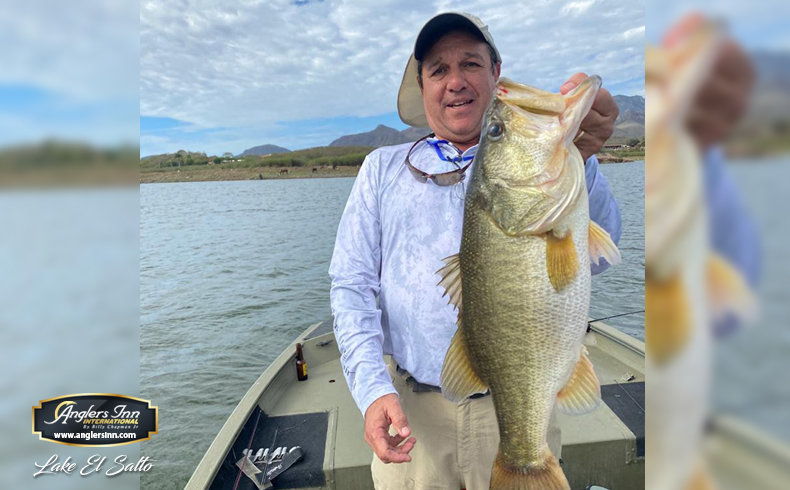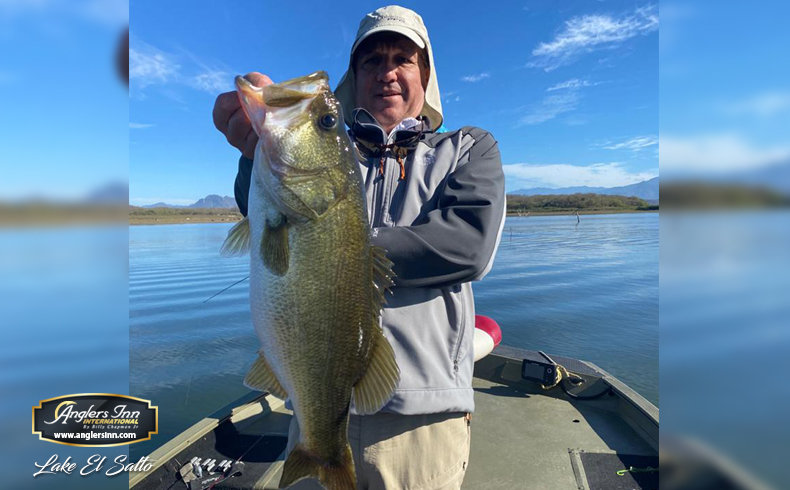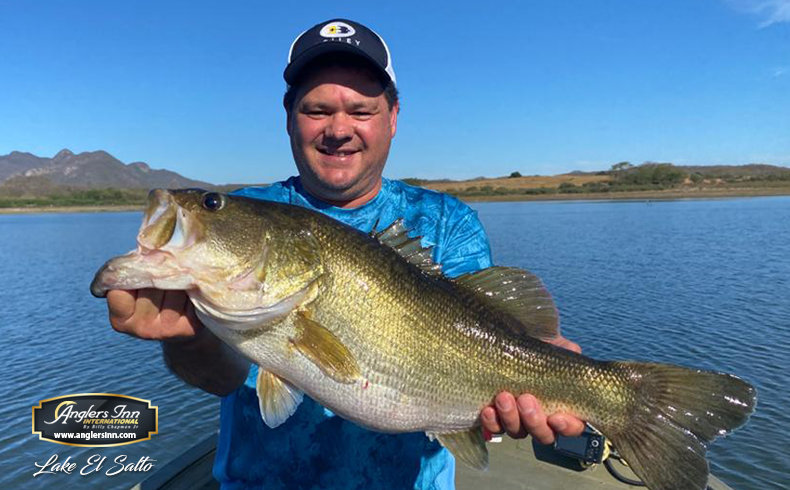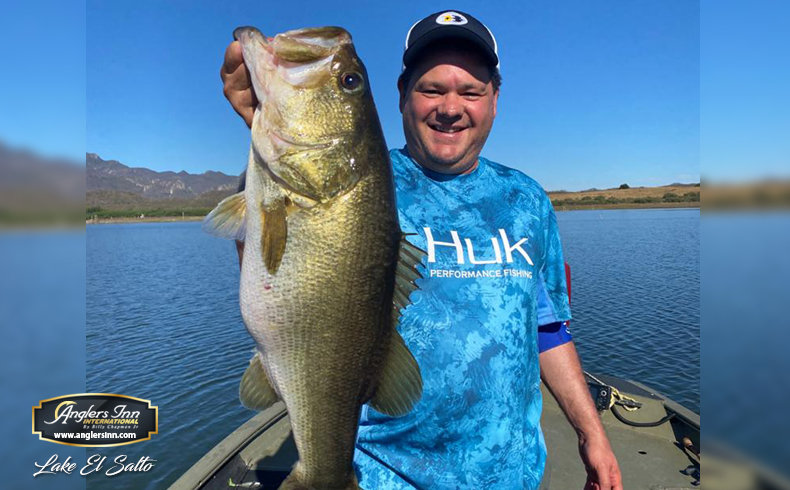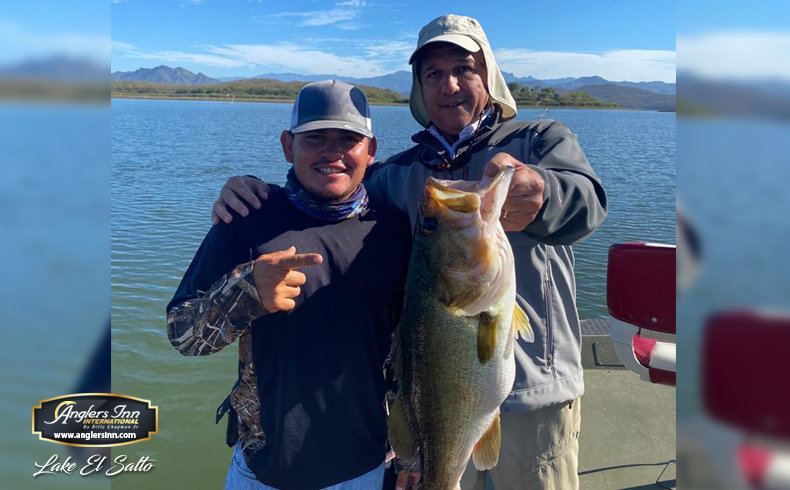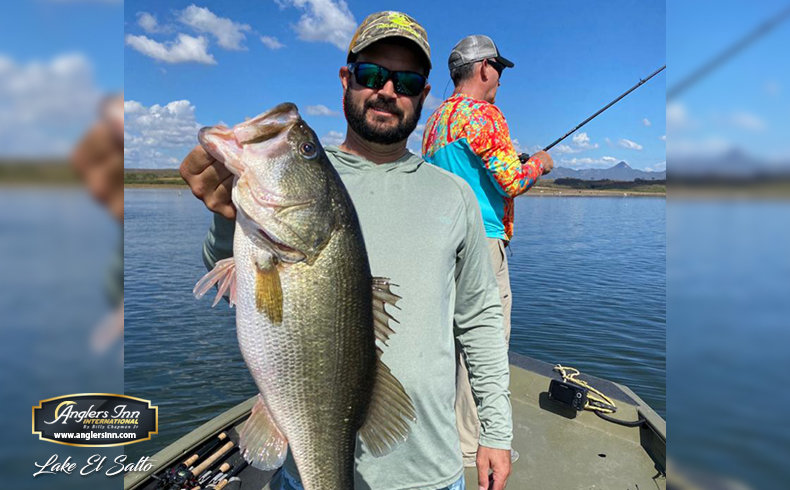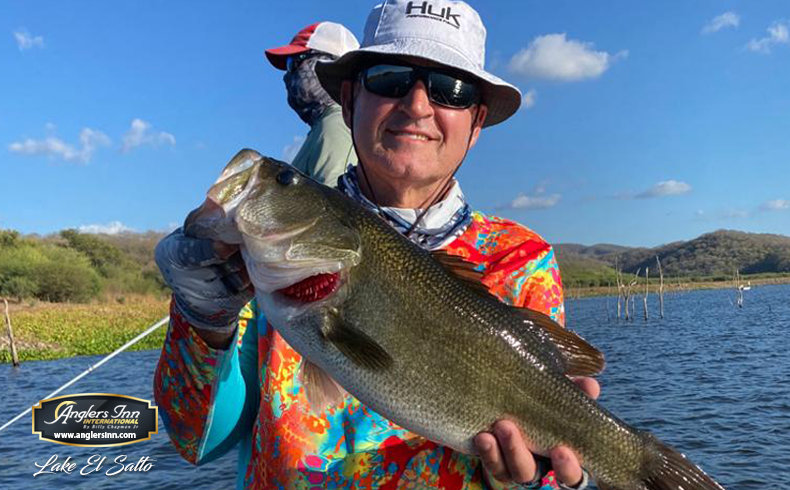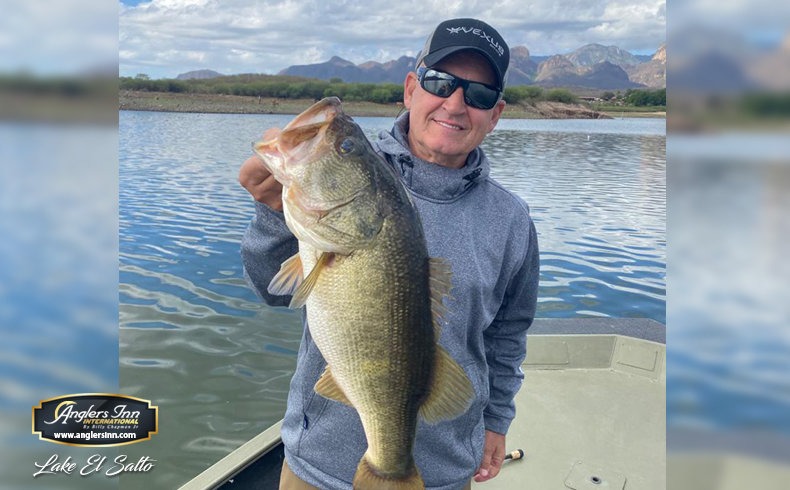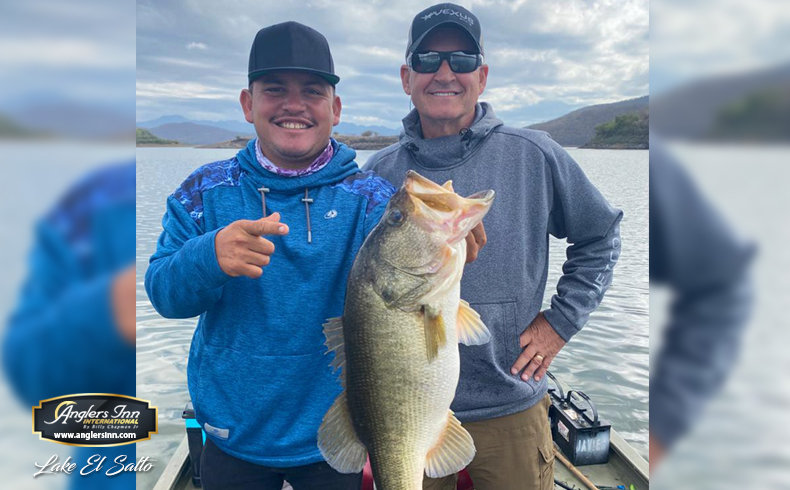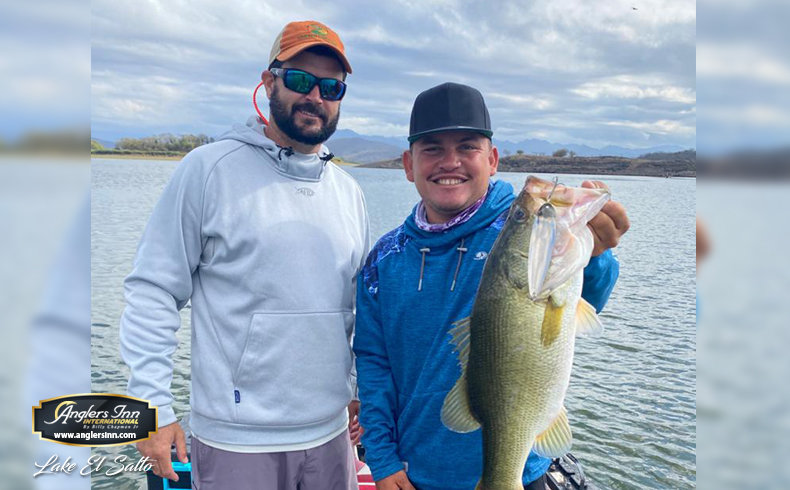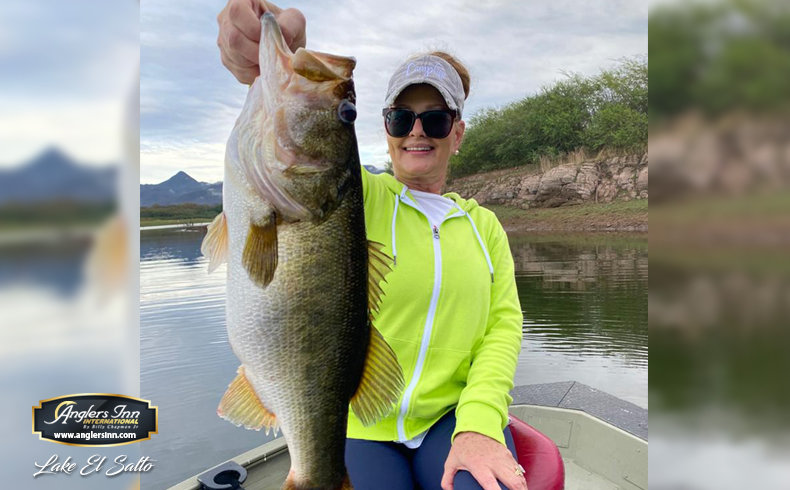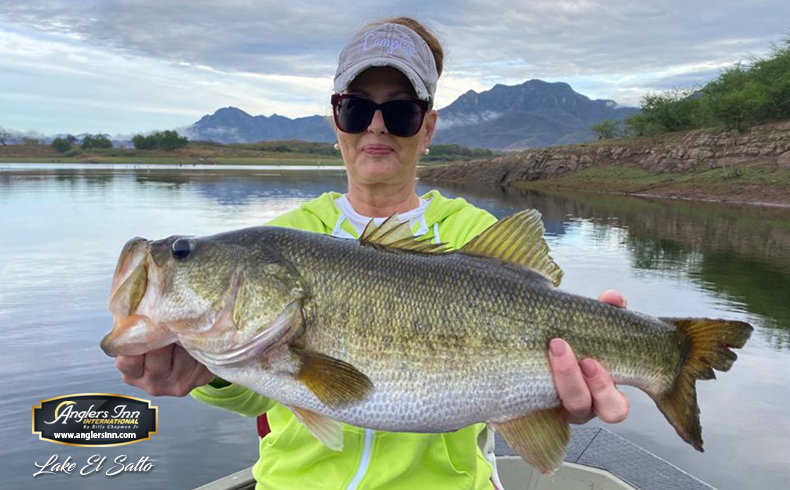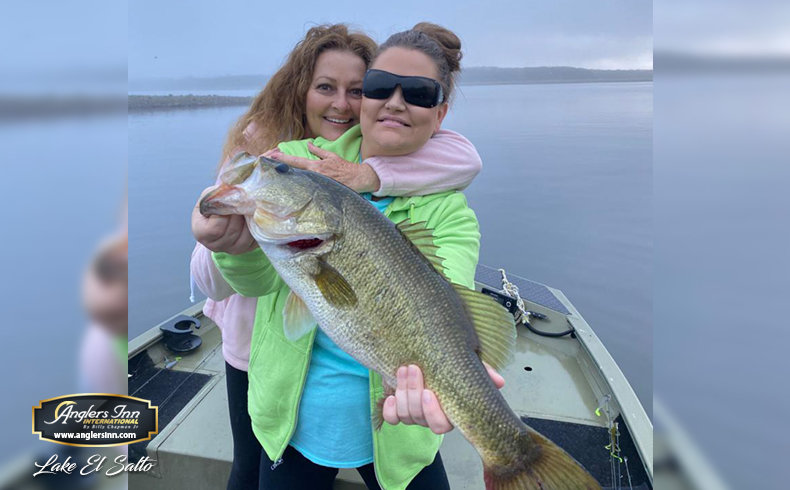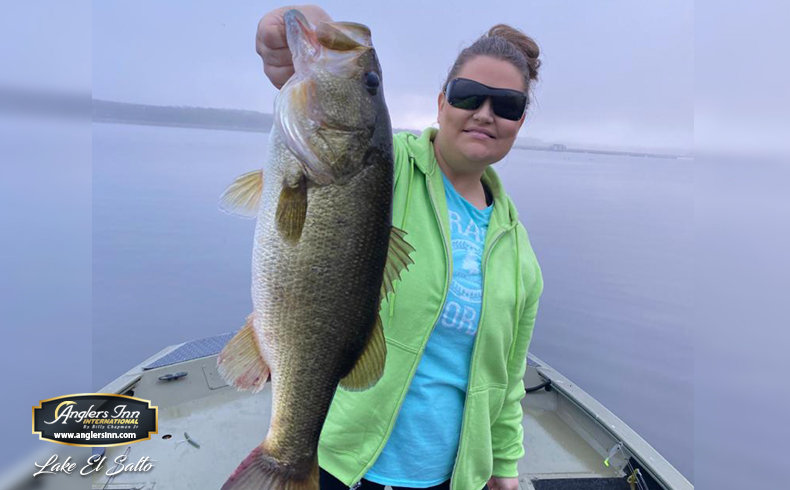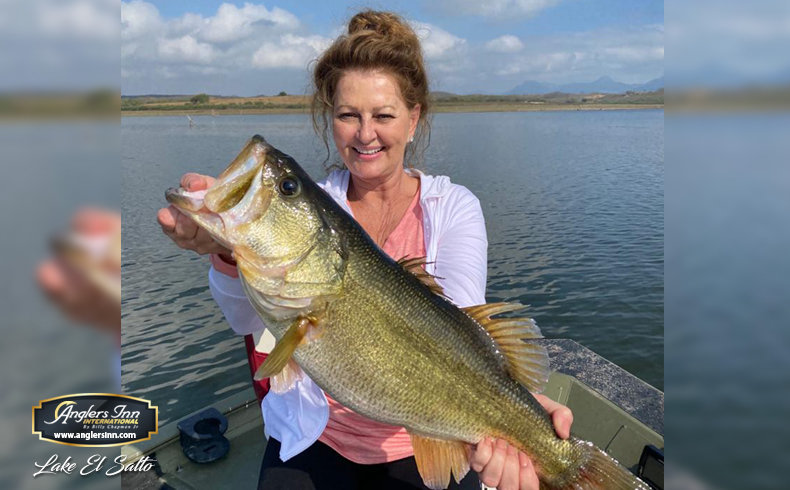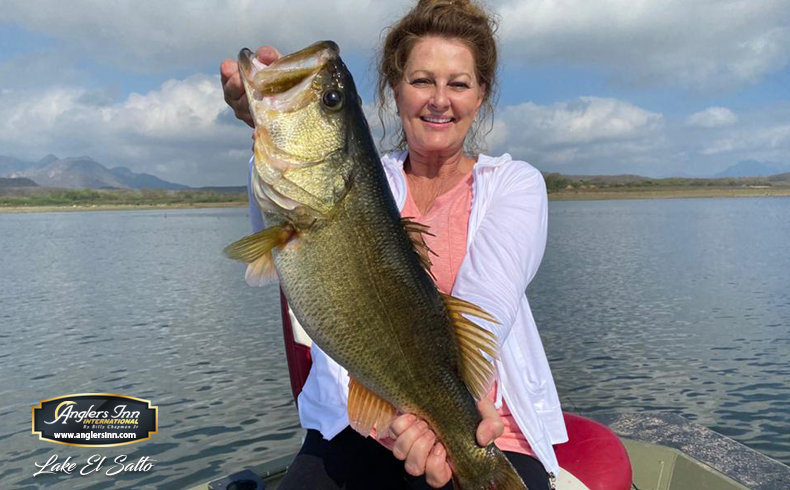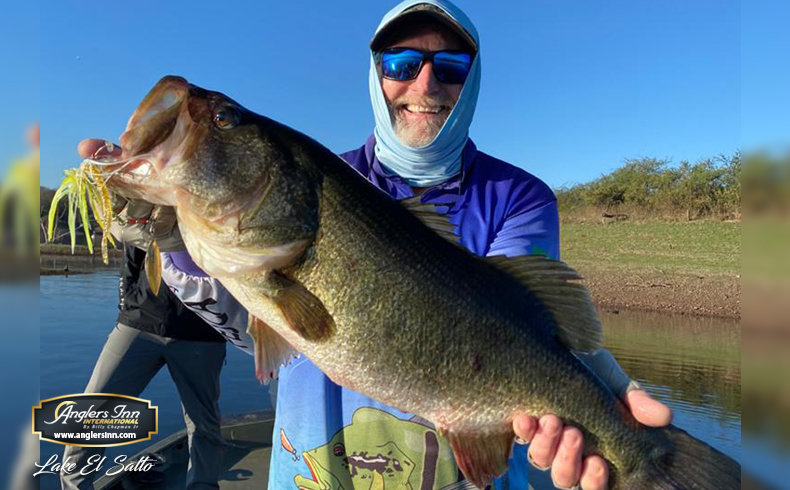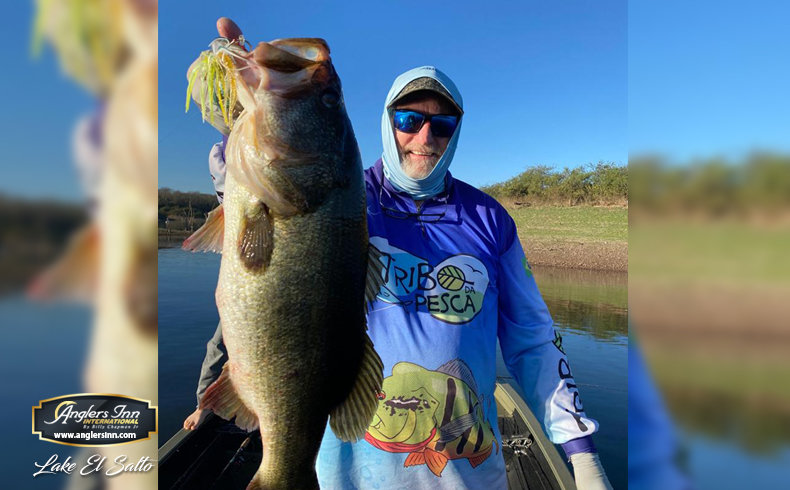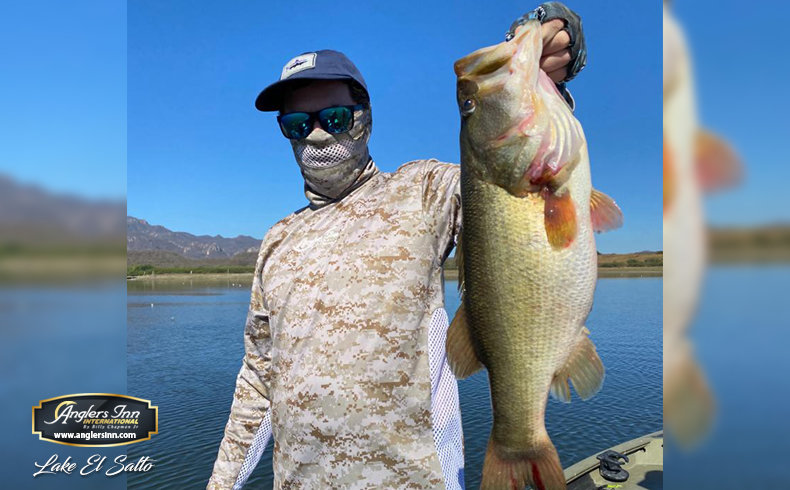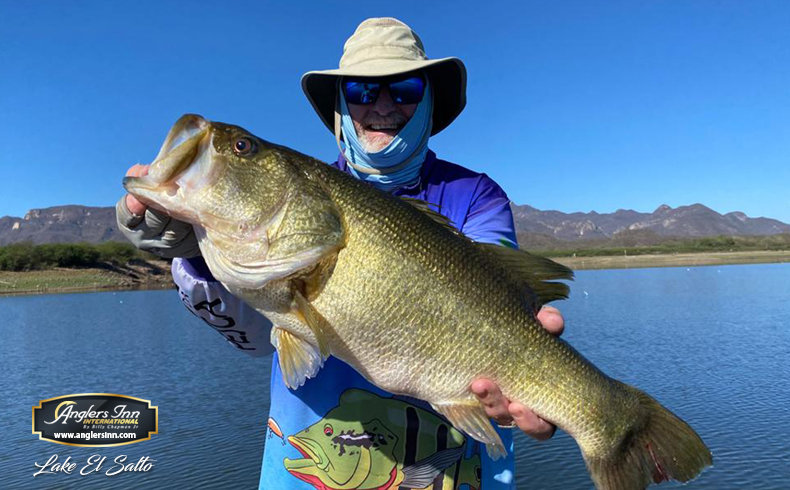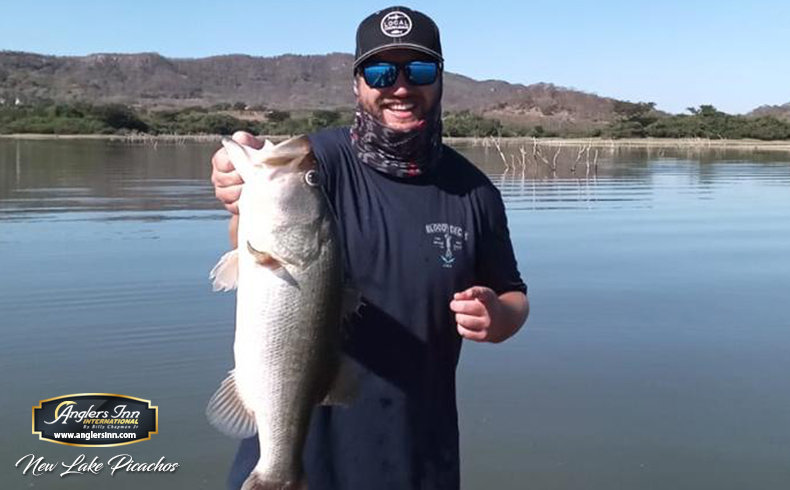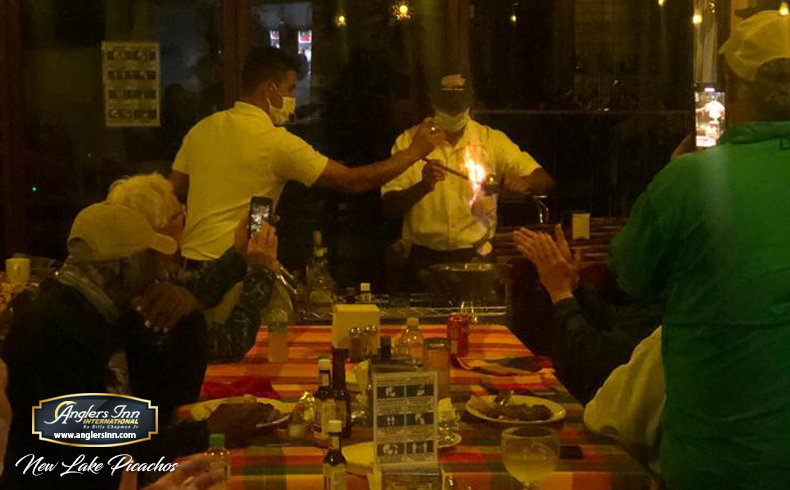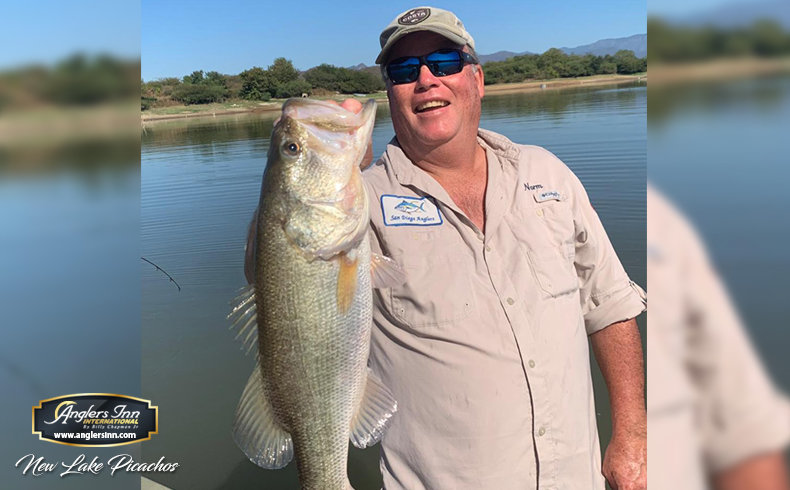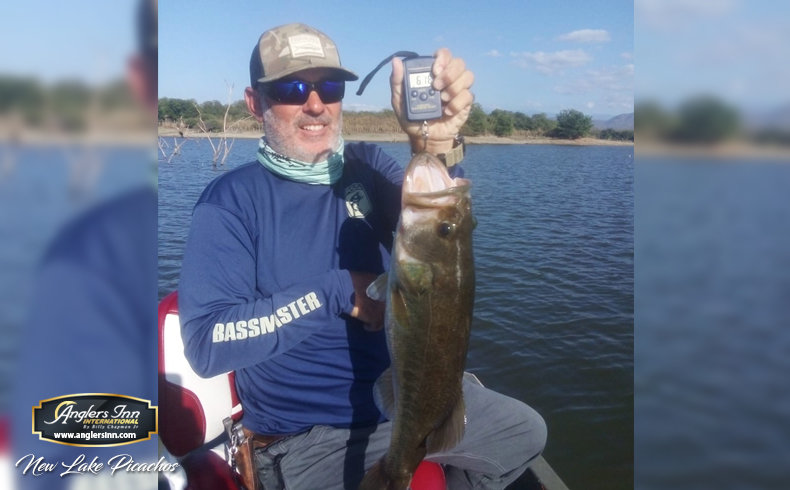 Merry Christmas and Happy New Year from the entire Anglers Inn family!
We thank you for your continued friendship and business, and above all else we encourage you to keep yourselves and your families safe. The bass will still be here when you are ready to travel and we will continue to implement our enhanced safety and hygiene measures for the foreseeable future.

Those of you who were willing and able to travel South of the Border since we reopened this summer have experienced some of the best fishing in years at El Salto, and continued exceptional angling at Picachos – and we expect that to continue over the long haul. These lakes are super-healthy and will continue to stand the test of time.
December and January fishing tend to allow us to spread out. Anglers have already seen big bass with bloody tails and some fry, but the biggest waves of spawners have yet to go shallow. That means you can catch big ones and numbers in 6 inches of water, or you can catch them out deep, up to 30 or more feet. We've had a great year for topwater so far, as well as cranking, and of course the soft plastics bites are our bread and butter at every depth.
Let's start off with Aaron Rygas of Virginia, who was scheduled to take a trip to El Salto in May, but got pushed back to November. It was worth the wait, because he topped his personal best early in the trip, then beat it again with a healthy 9.79 beast the next day – caught on a 25' diving gizzard shad colored crankbait. Oddly enough, the crank wasn't his overall best tool this trip.
"For the first three or four sessions, we had very good numbers on topwater, mostly a black Rico," he said. "A Texas Rigged black/blue power worm did a lot of heavy lifting, too, although I know that a lot of folks were dragging a Carolina rig with it as well."
He also employed a "power dropshot" around trees and deep drops, as did several other members of his group, using the aptly-named Aaron's Magic straight tail worm.

"I was usually getting bit when I would drop slack in it or dangle it on or over tree limbs," he said, and in case you think that's just a small fish technique, you should know that it produced an 8-04 for him, as well as several more grandes for his friends.
If that wasn't enough variety, toward the end of the trip the spinnerbait bite turned on, especially when he started flinging a War Eagle Double willow blade in a "Firecracker" pattern. "I started getting bites on the blade when we were up close and personal with the bank, but fan casting at any and all of the wood. Most bites were from completely unconventional angles and casts and depths. I caught multiple fish over 5 pounds, plus a 7 and lost a STUD."
Samantha Sukupcak and Mike Yee of Wisconsin were there with Aaron and they too "junk fished all trip" – using deep cranks, swimbaits, Ned rigs, weightless Senkos, Neko rigged Senkos, flukes, topwater (poppers and Ploppers), jigs, Texas rigs and Chatterbaits.
"Bring a little bit of everything and don't be afraid to try something you think might not work," Samantha said. "I was surprised about how well the Ned rig worked. Keep an open mind, and be ready to change up until you get bit."
Paul Fisler of Texas came down for what he described as his second trip to "the happiest place on earth for a bass angler," except this time he doubled his pleasure, adding a few days at Picachos to his El Salto voyage.
"The first time down was good because it was new and exciting but the second time left the first one in the dust," he said. "What made the second time down so great was I had a clearer idea of what was going on and what to expect.
"At Lake Picachos I was the only guest there and it was kind of surreal having the whole place to myself," he recalled. "The staff was impeccable and couldn't stop working to make my trip great. My guide for my time there was Felix and he was amazing. I caught close to 200 fish over the three days I was there. The topwater bite was great the first morning then kind of died off the next two days. We also did some cranking with my 6XD, swimbaits and the Texas Rig was the big producer using an 8 inch lizard, watermelon red, as my biggest producer.
At El Salto, his biggest and most consistent bites came with a plum-colored 8-inch worm, Texas rigged.
"Fishing was great the whole time but the morning of my last full day was epic," Fisler recalled. "From one spot I caught a half dozen 2 to 3 pounders, two 4-pounders, two 5-pounders, a 6-pounder, a 6.5-pounder, a 7.0-pounder, a 7.5-pounder and finally an 8-pounder."
He said that it makes sense to call the office and check with recent guests before you head down so you'll know what to bring: "I way overpacked the first time and even though I trimmed down for the second trip I still overpacked. The next trip I'll apply the KISS principle and should be able to cut my weight of gear/tackle in half. Whatever you do, DO NOT hesitate to book a trip. It's a decision you won't regret."
Paul was there with Hanna Robbins, who came for approximately her fifteenth (!) trip to Anglers Inn, and stayed for a full 12 days of fishing, through Thanksgiving. Our chef Giovani treated the Robbins family like kings, with a traditional Thanksgiving dinner – turkey, gravy, stuffing, mashed potatoes and pumpkin pie! Remember that we are open on many holidays, and we want to make you feel like you're at home – just with better fishing.
During Hanna's 12 days on the lake she saw the fishing change substantially. In fact, sometimes it changes from session to session, so as Samantha stated above, don't get married to any one technique. She didn't have a Chatterbait bite until nearly the end of the trip, but then one afternoon she dialed it in and caught a number of 6 to 7 pounders out of one deep channel bend on it.
"I love to crank," she said. "On this trip, timing was key. The big baits like the 10XD and the Berkley Dredger did not produce as well in the morning, but in the afternoon when the wind picked up we'd light 'em up on it. In the mornings, you could start with topwater and then stay on the bank with a wacky-rigged Senko. Just when you thought that all of the fish eating the Senko were small, all of a sudden a giant would inhale it and the fight would be on. That's what I love about going there – every cast has the potential for the fish of a lifetime."
"The guides know that I'm willing to sacrifice numbers for size, but usually they manage to put me on both," she continued. "Trust them. They know the lake. They know how to catch big fish and they want to see you succeed."
Hanna also found the jerkbait bite to be exceptional at times on the lower end of the lake. That's how she'd done most of her damage at the beginning of the year, on a January trip. She picked up where she left off, except this time she did better with a reflective chrome model than with a translucent version: "I'm not sure why. I just know that it makes sense to bring a small variety of the staples. These fish tend not to be picky, but there are times when a subtle change in size, color or cadence can make a world of difference."
Hanna's husband Pete, a Senior Writer for Bassmaster, was also down for two weeks, and he got a chance to experiment with some of the techniques that he's been writing about.
"That's what I love so much about El Salto and Picachos," Pete said. "Just about any technique you want to learn or perfect, there's a time and a place here to get it done. I had been wanting to catch fish on big flutter spoons like they use at Lake Fork and Kentucky Lake for a long time, but until I saw a Mossy Oak video of Brandon Palaniuk and Brandon Cobb using them at El Salto, I didn't know if they'd work. I asked my guide and he put me in the right situation to succeed. I probably caught a dozen fish up to 7 pounds on them the first time I used them. It was exceptional in the late morning period when offshore fish didn't yet want a crankbait or swimbait, but were sitting there semi-dormant. It seemed to fire up arm-breaking strikes."
Kyle McMillin came down the next week and based on Pete's advice he brought some of these 5- and 6-inch flutter spoons and did even better. "Next time I'm going to try some of the 8- or 9-inch models," Pete said. "It's a different mindset, and if it's going to work we should know pretty quickly."
Pete and Hanna also had some exceptional topwater sessions, mostly with Ricos and plopper-style baits, but they also had a few times where a waking topwater rat outfished them both. It's just another tool you can consider when you think the fish are pressured or might want a different look.
"Ultimately, the best bet is to bring the usual suspects," Pete said. "Black and blue Power Worms, watermelon lizards, watermelon Senkos, spinnerbaits, swimbaits, jigs, a few topwaters, crankbaits and the Berkley War Pig. At the same time, plan to spend a limited portion of each trip experimenting. Some of those experiments won't pay off, but every once in a while one of them will – and when it does it may be the first time those fish have ever seen what you're throwing."
With the vaccine coming out and Mexico taking good care to be extra-safe, prime dates at both Mexican lakes for 2021 are almost gone, and with postponements due to COVID-19, we've rescheduled a lot of people further reducing the available dates. As noted above, fishing has been exceptional, so I recommend blocking out your vacation sooner rather than later If you know when you want to come, please contact us as soon as possible to make sure you get your preferred time slot. As indicated above, you should also consider either a trip to Picachos, or a combo trip involving both lakes. Do you want to work on your flipping? Wear your arm out with topwaters? Find out what a glide bait bite feels like? This is the place to do it. You can literally expect to catch 100 fish a day if you are even semi-competent, and you can do it just about any way you want. Bring pounds and pounds of plastics because it's possible to decimate even a healthy supply. It is only going to continue to get better. We've only tapped a small portion of its potential.
Picachos is just 55 minutes from the Golden Zone of Mazatlan, so it's even perfect for day trips, but for you hard core guys, if you can't decide which lake to visit, a combo trip is the way to go. Our new dining room sits right at the edge of the lake and you'll be tempted to make a few casts between sips of your margarita.
You can read an article about Lake Picachos, published on the Game & Fish November issue, "Beyond the Border, Beyond Belief" by Larry Larsen, here.
Remember, our goal is to make your trip as hassle-free as possible, and one step in that direction is that we now have loaner rods for everyone to use at no cost. Thanks to our newly-developed partnership, our lodges now have a varied supply of St. Croix rods. "They made fishing pure pleasure," said one recent guest. These technique-specific rods rods are the real deal, folks, and we are committed to giving you the best possible tools to land that fish of a lifetime. You don't need to travel with a heavy and burdensome rod tube anymore if you don't want to. Both lakes have an ample supply ready for you to use. We're seeing fewer and fewer guests bringing their own rods. With the St. Croix sticks tailored to specific techniques, and available in a wide range of lengths and options, so really can't go wrong…and it makes packing much easier to just bring your reels and tackle.
By now you've also likely seen on social media some of the footage that Humminbird and Minn Kota shot at our facilities as part of their One Boat Challenge (www.oneboatchallenge.com). The episodes are now dropping regularly, so be sure to go check them out. They'll convince you that not only do we have an incredible fishery, but that you need to get some of these products on your own boat at home.
If you haven't seen it already, be sure to click on our website at www.anglersinn.com. We've had it up since early 2017, and the feedback has been tremendous – especially from guests who've found pictures of themselves with big fish gracing the site. Our theme is "Making Every Angler's Dream Come True," and while our web presence is no substitute for a trip to Mexico or Brazil, it's the next best thing and a valuable tool for planning your next trip. We continue to update it with new information and items constantly, so don't forget to hit us up regularly.
Just as we set the standard for international fishing trips, we want to set the standard online, too. The new site includes information about all of our properties, pricing and bios of our staff. We also update it regularly with new videos on our "Anglers Inn TV" channel, and provide detailed monthly reports like this one.
Whether it's your first trip to an Anglers Inn property or your 20th, we hope that this site will provide all of the information that you need, but if it doesn't we're always just a phone call or email away.
While we often provide a generalized list of lures that work throughout the year, there are times when specific bites are ongoing and we don't ever want you to arrive under gunned. Monitor the website and social media for updated info, and if you're ever in doubt about what you need to bring, please call us or email us. We want to make sure that you're outfitted properly to make the most of your vacation.
If you've received this report from a friend, please be sure to sign up for future mailings at www.anglersinn.com. If you know a friend who would benefit from these newsletters, please make sure that they are receiving them, too.

---