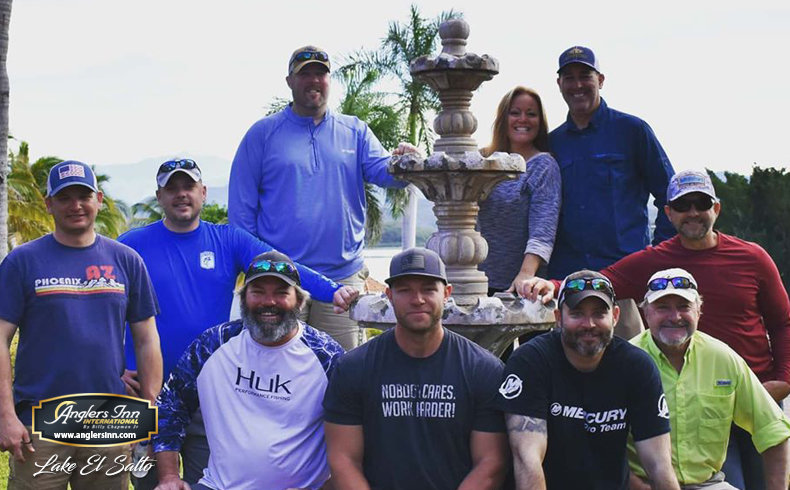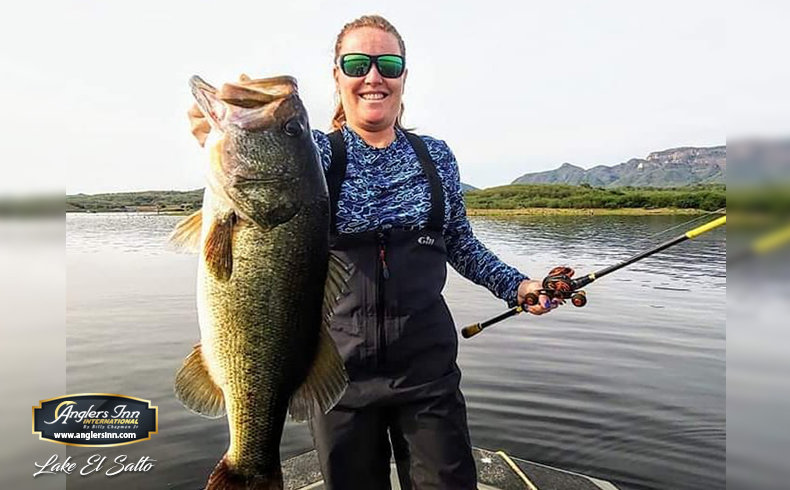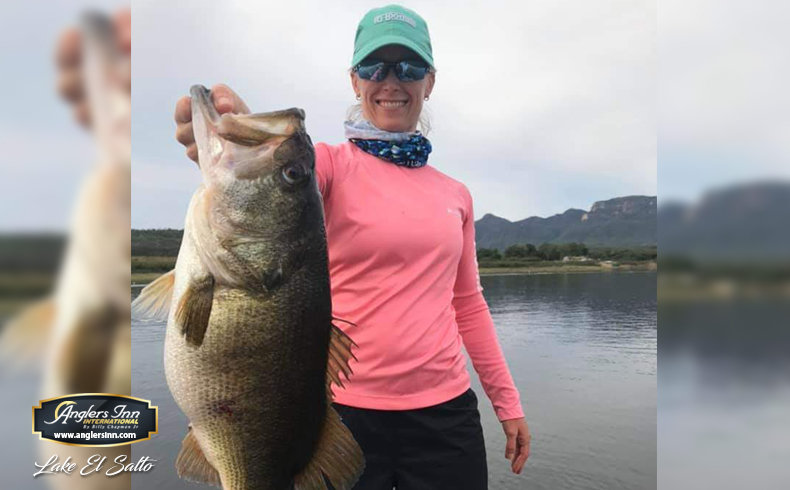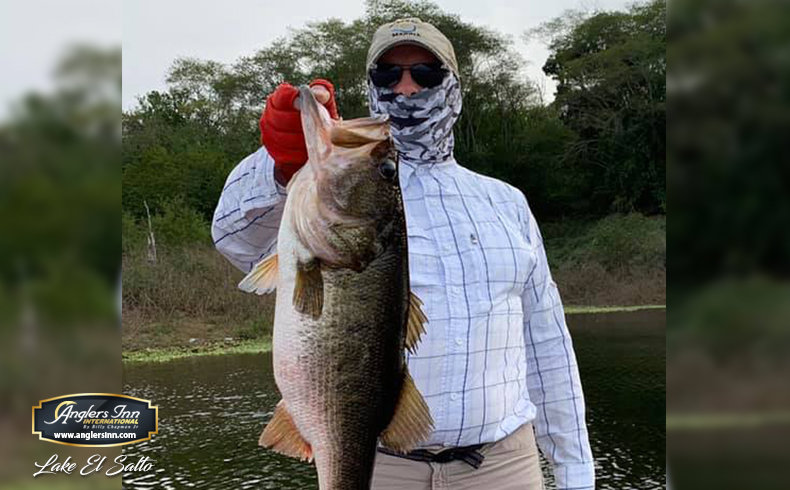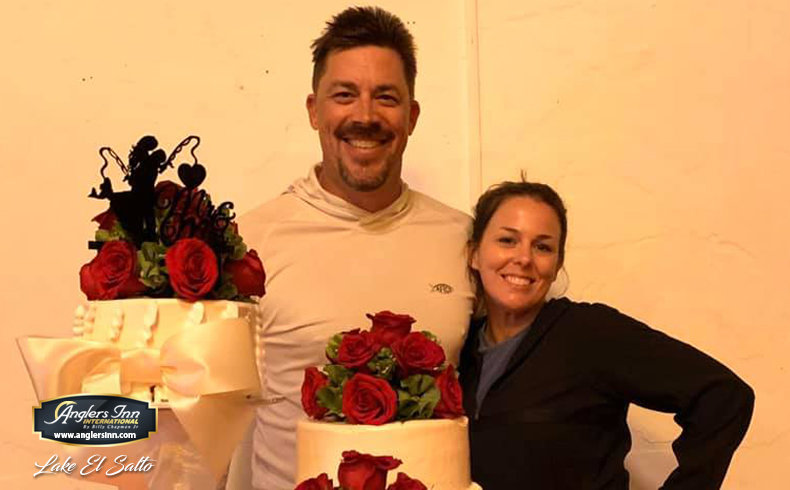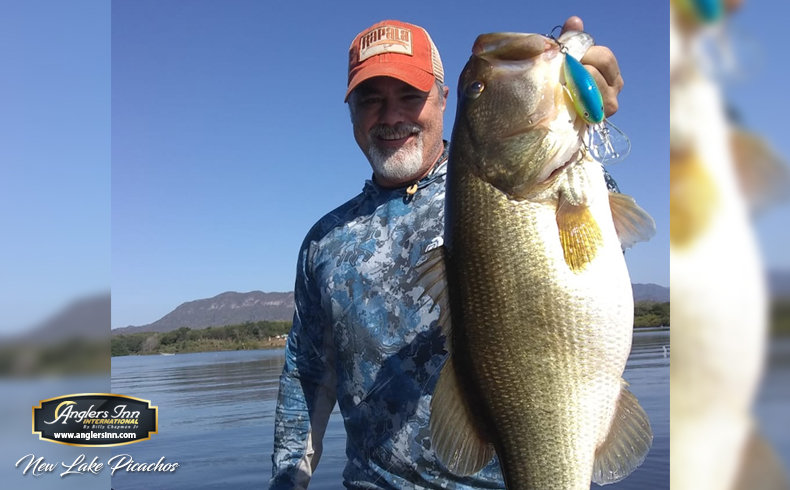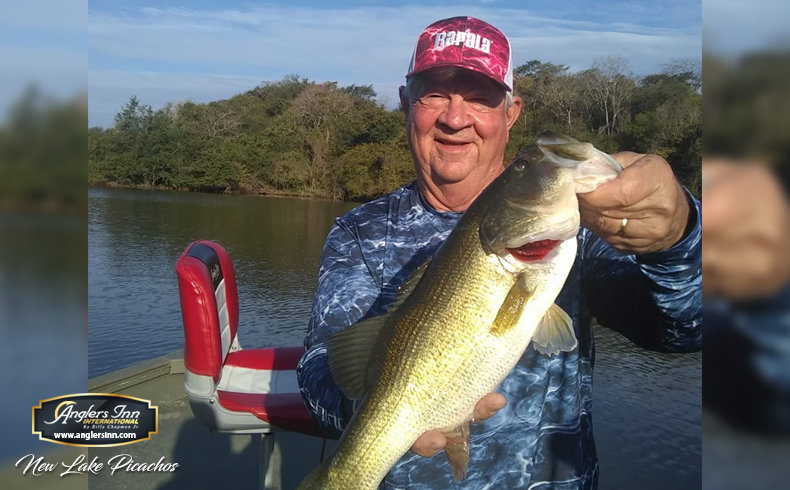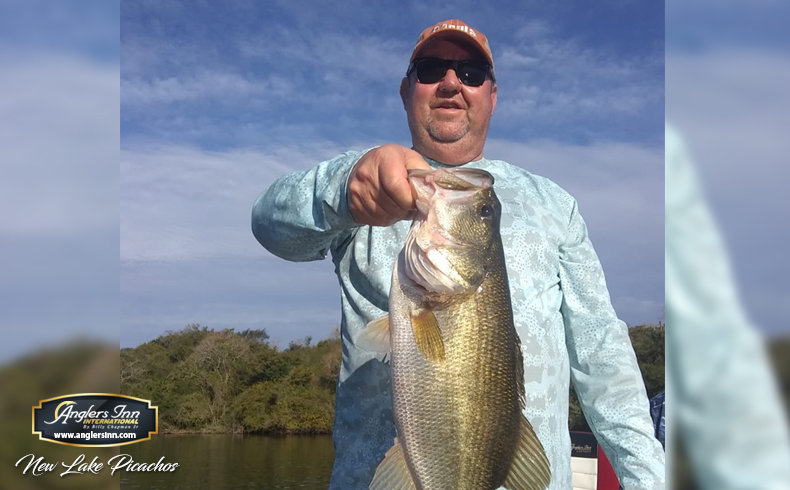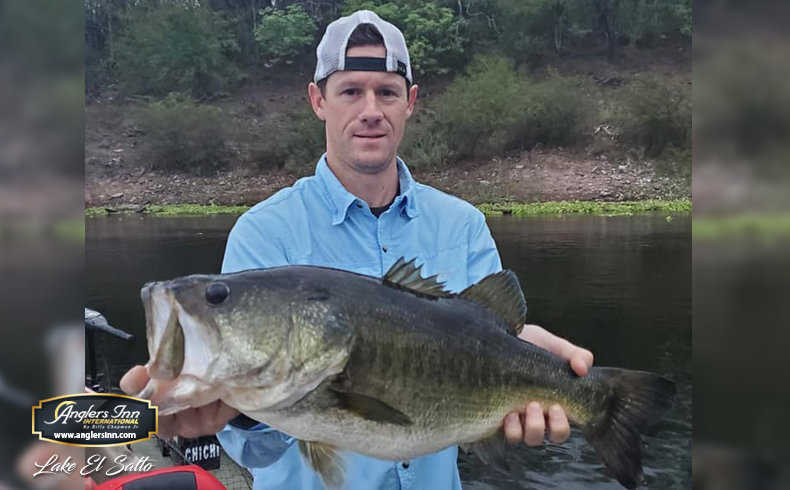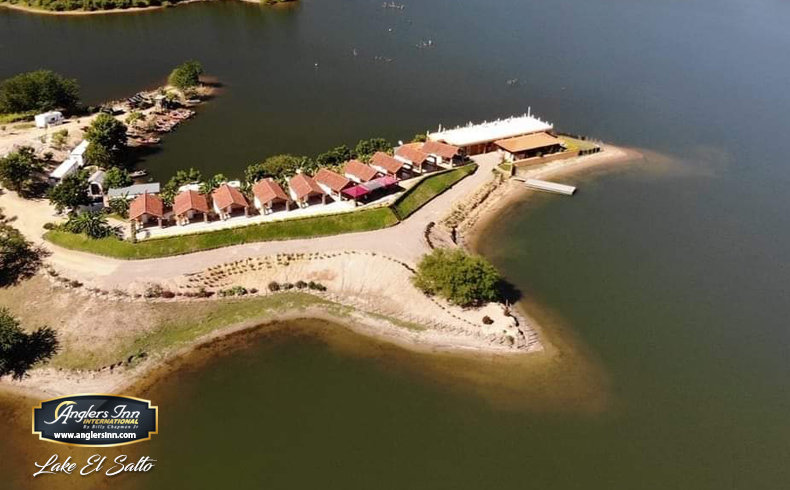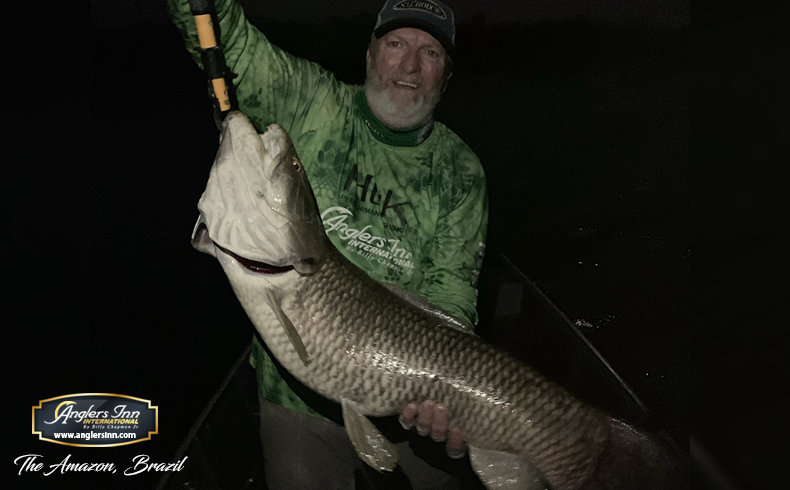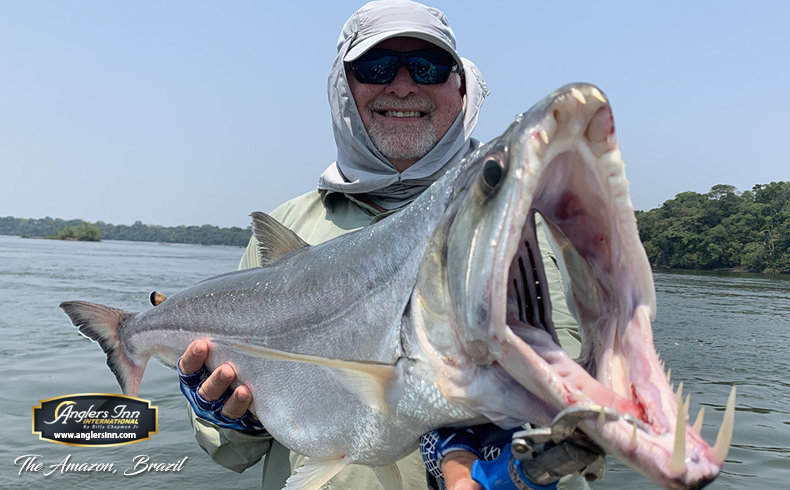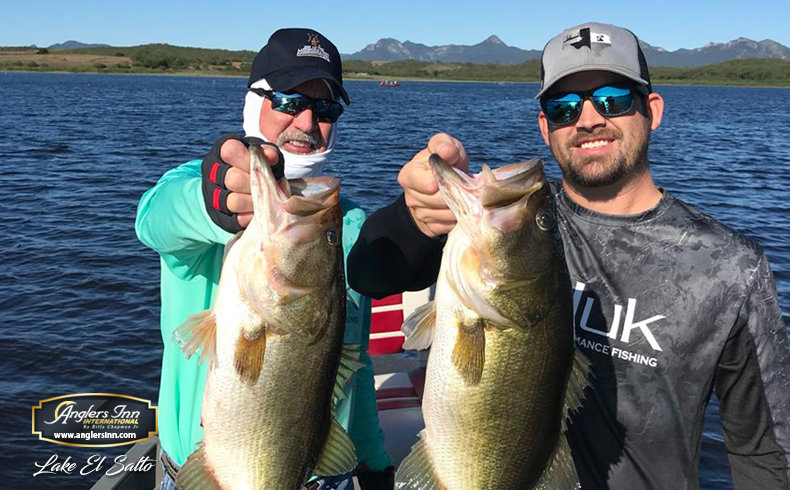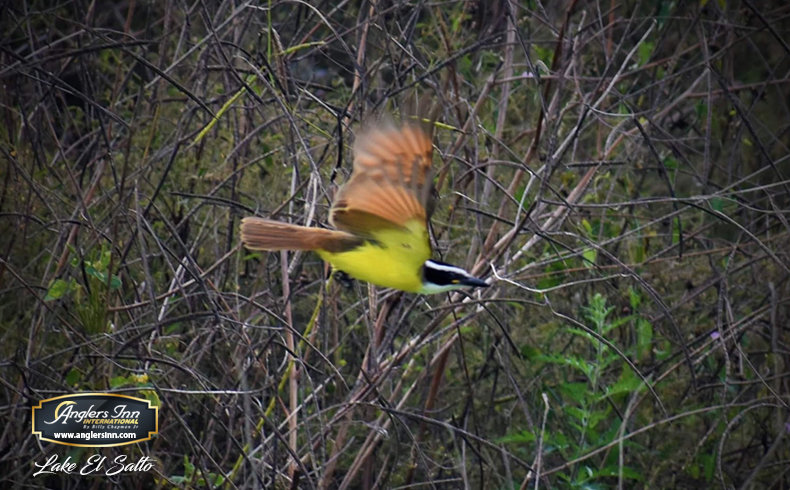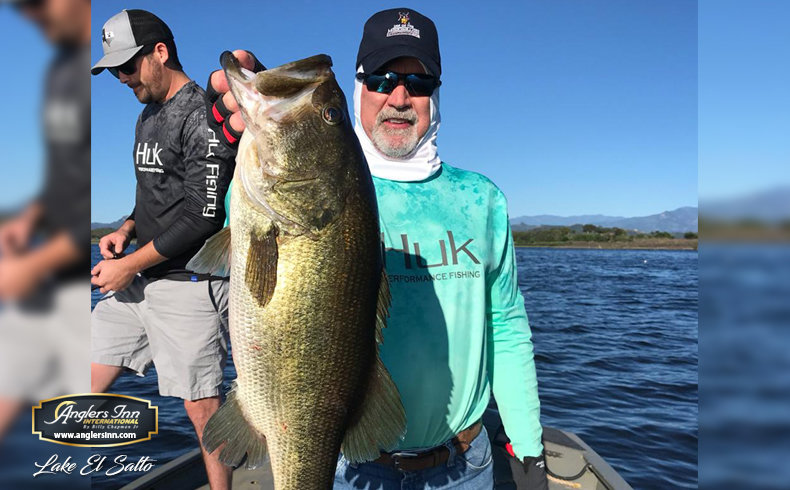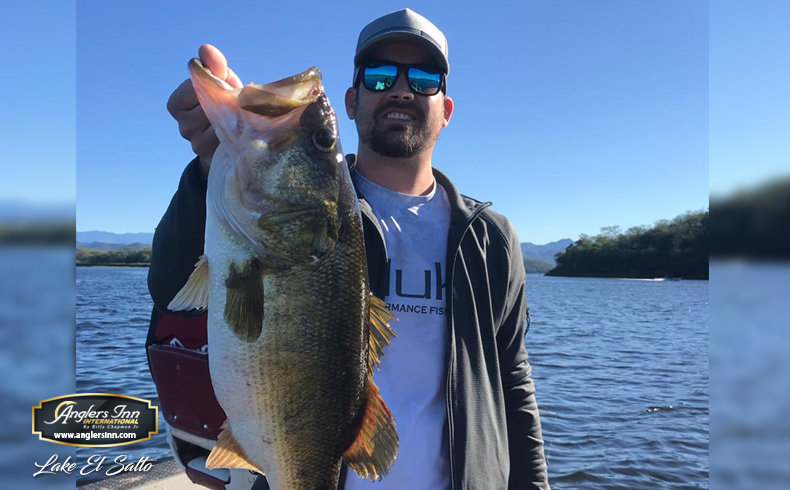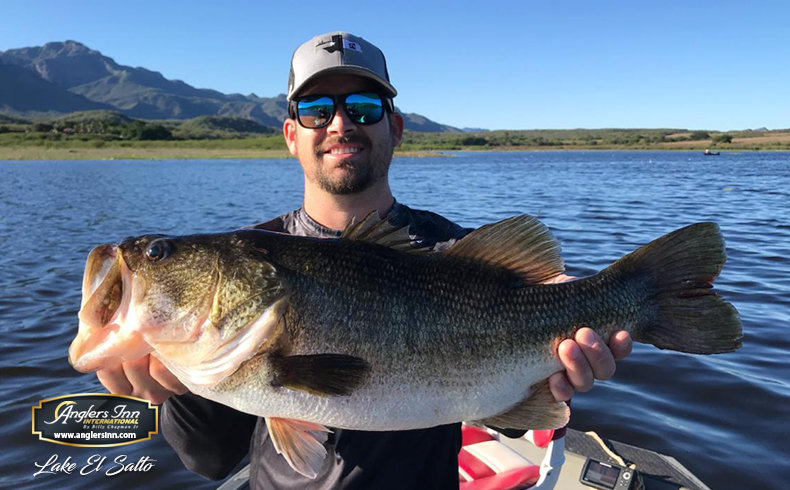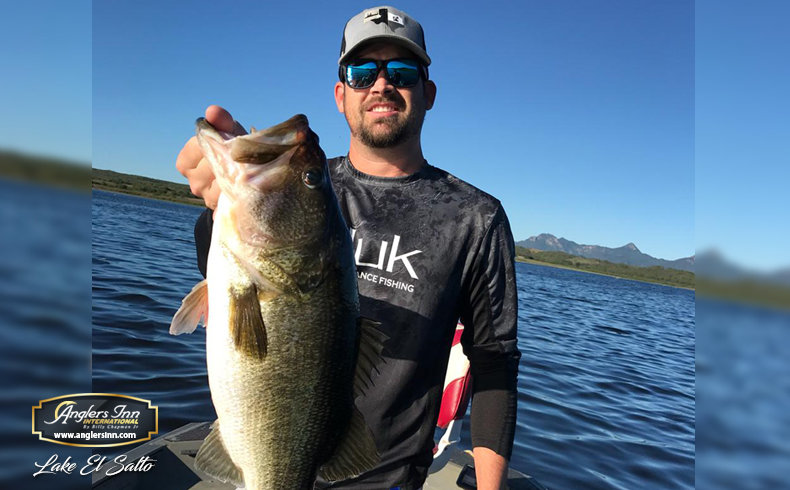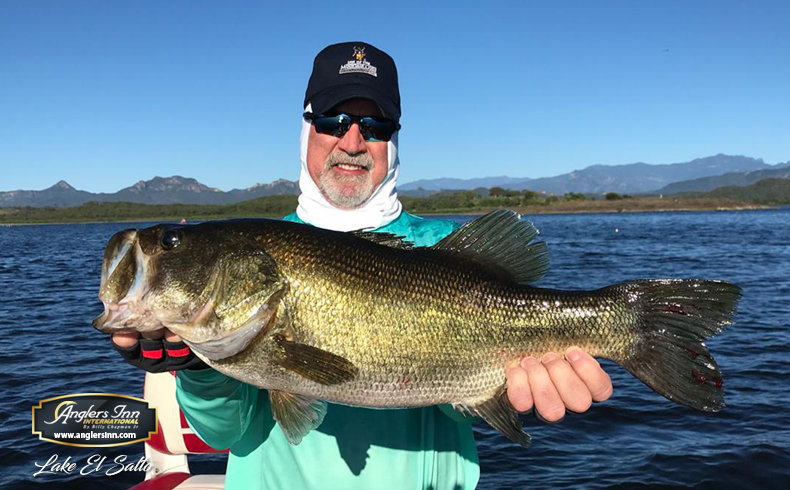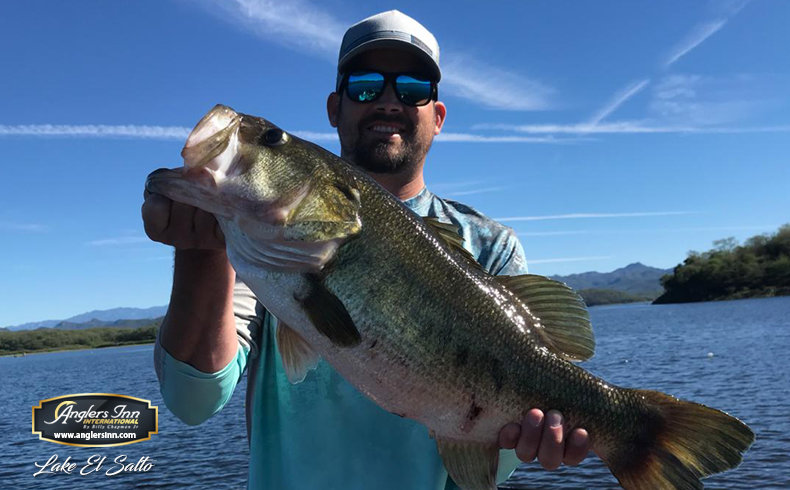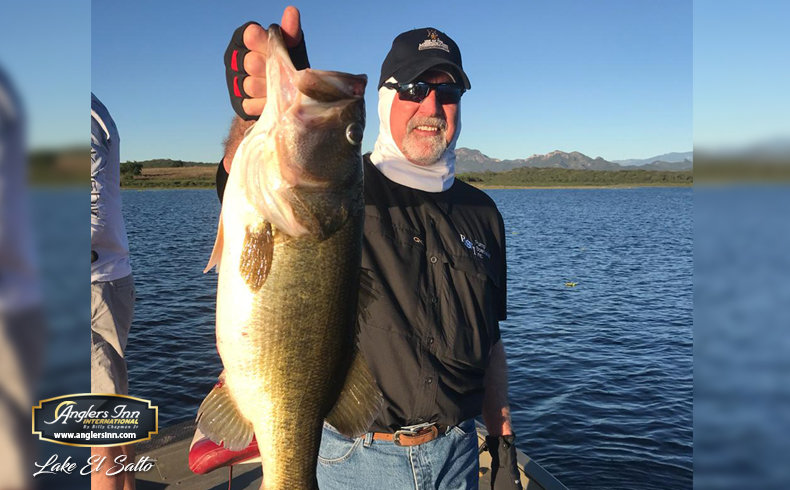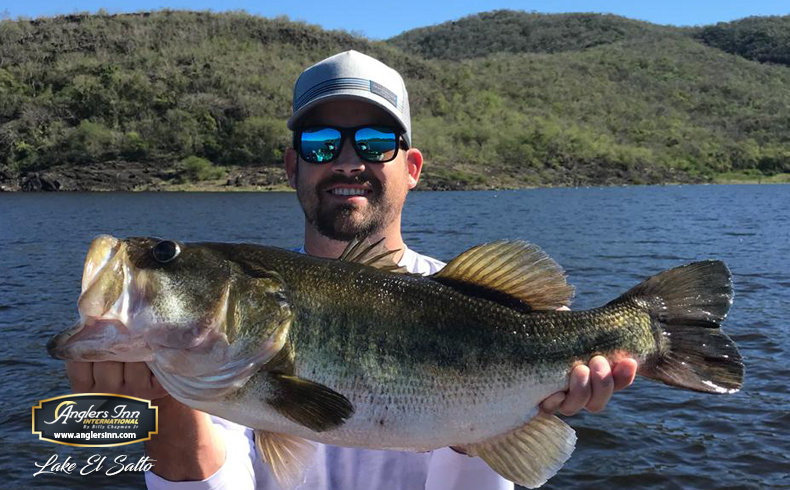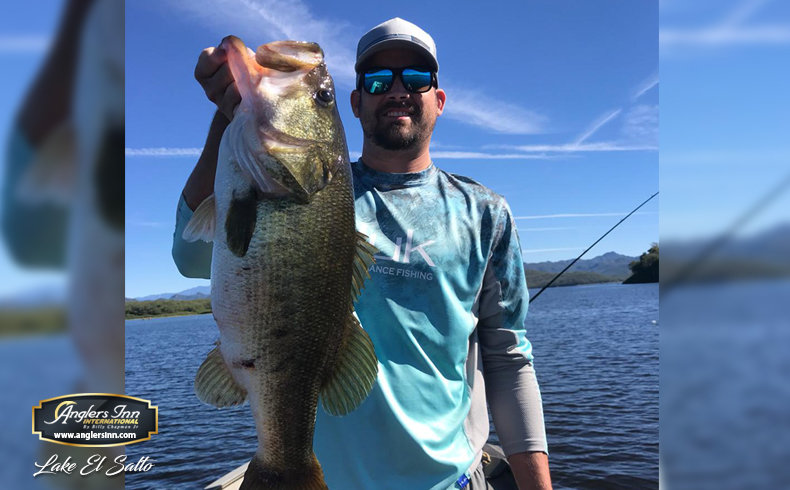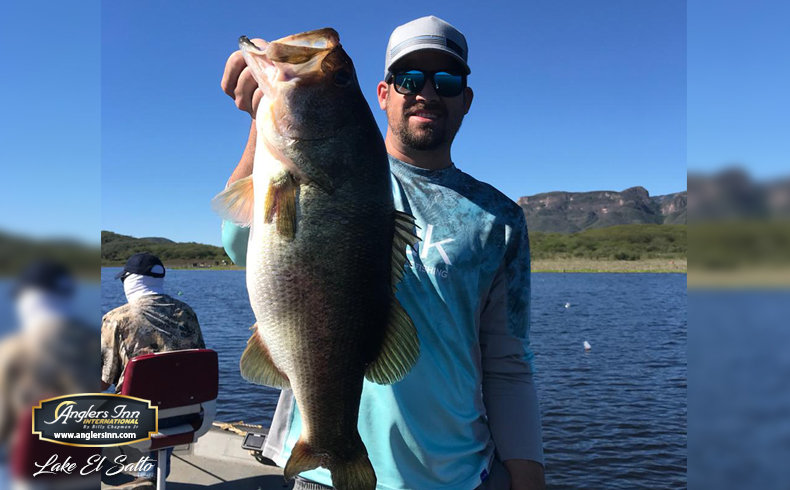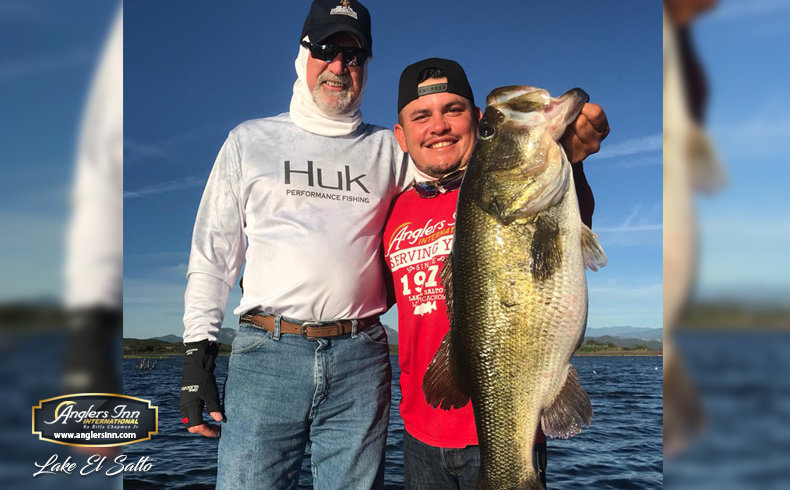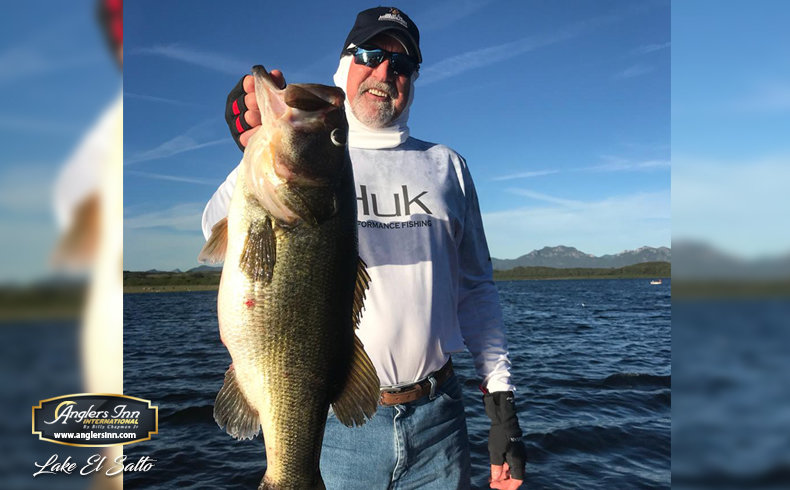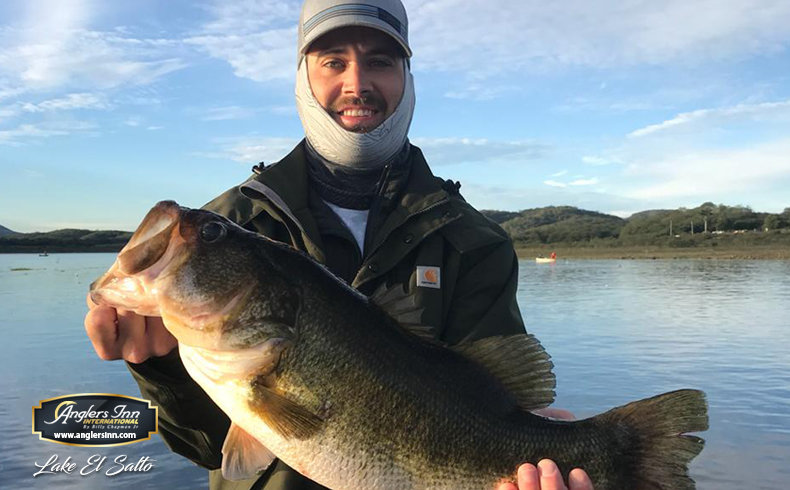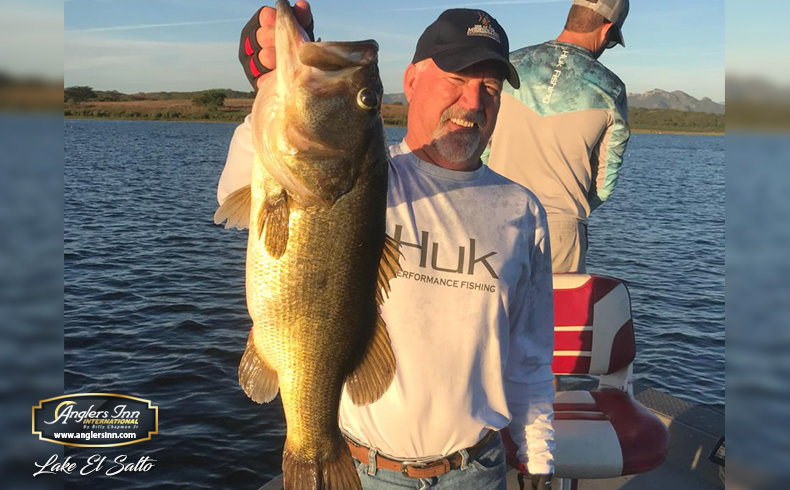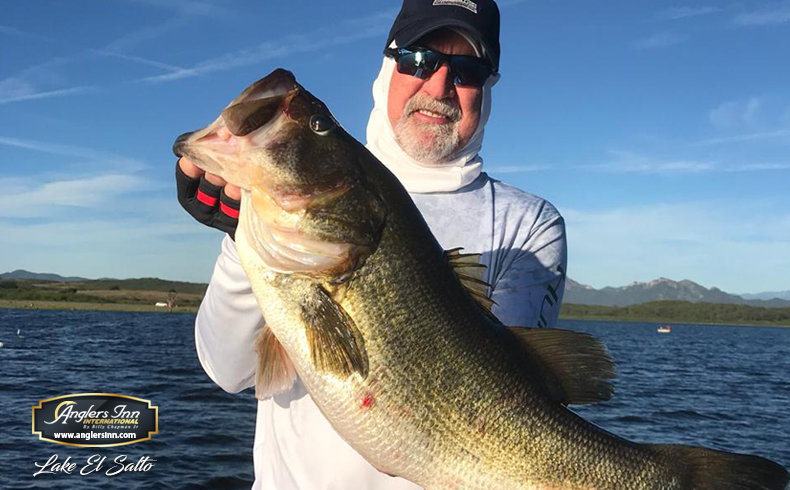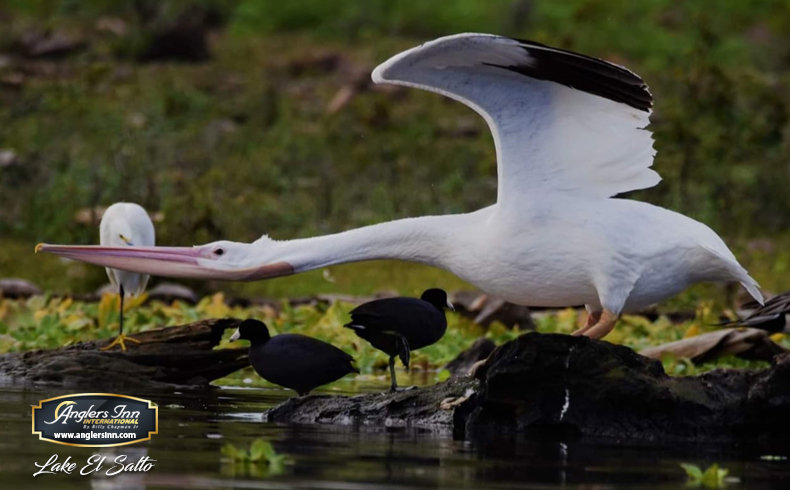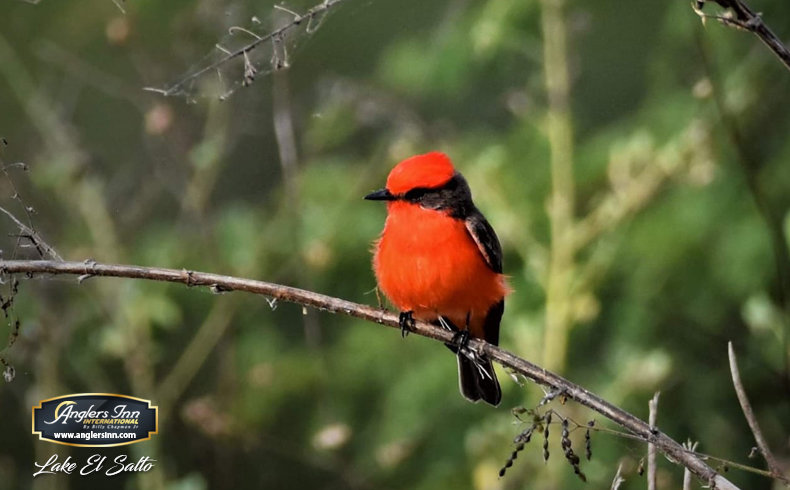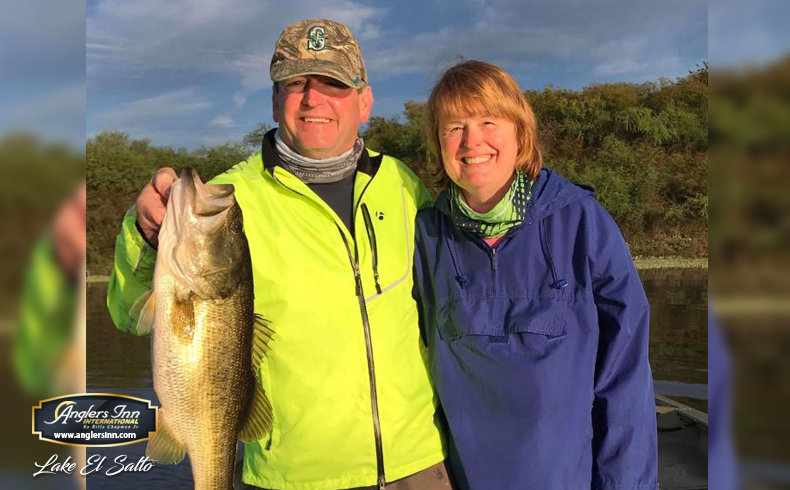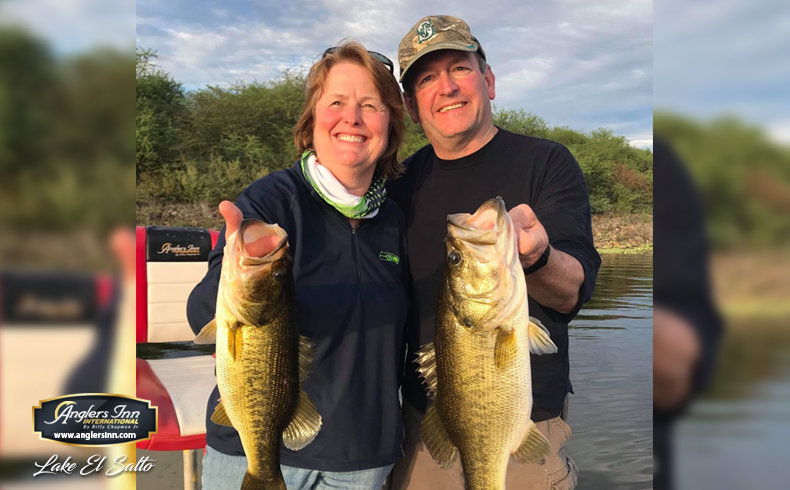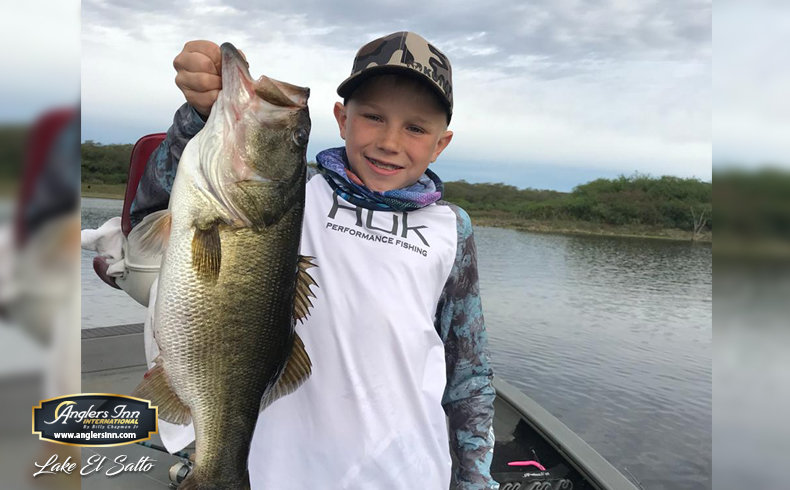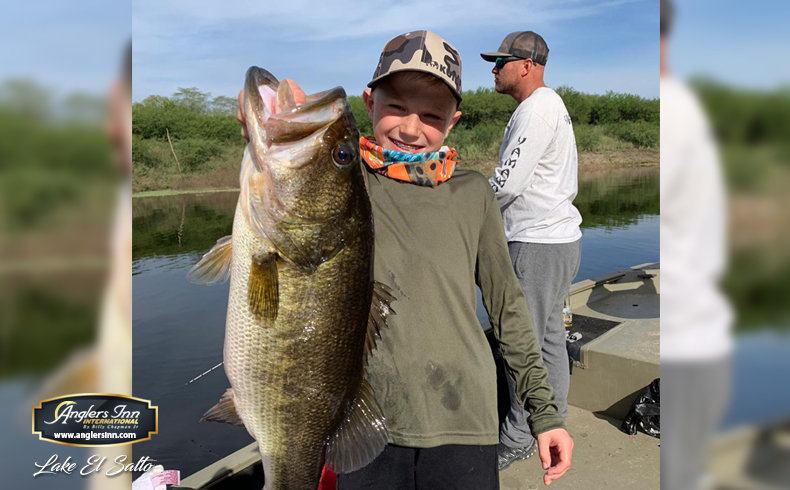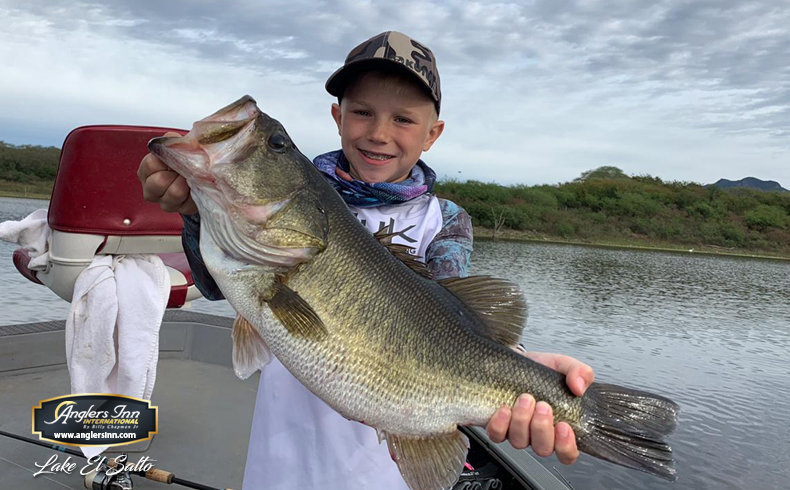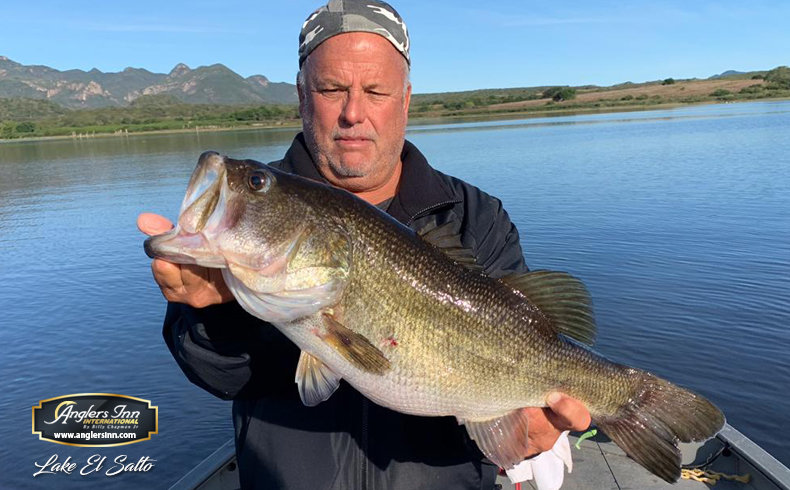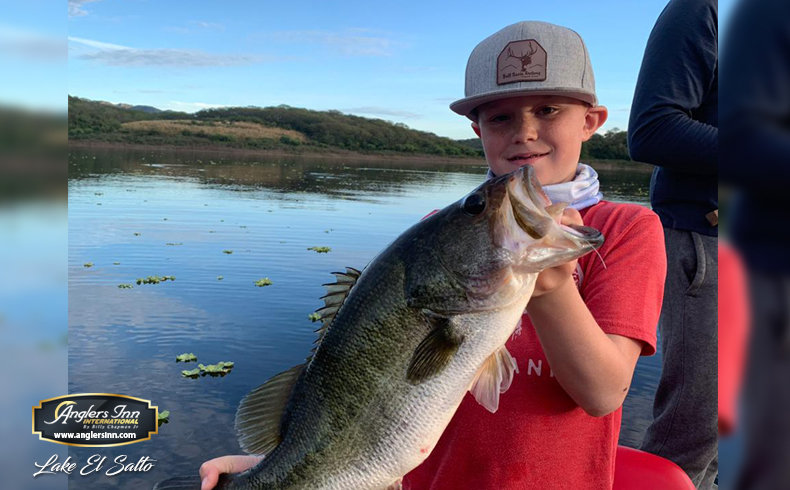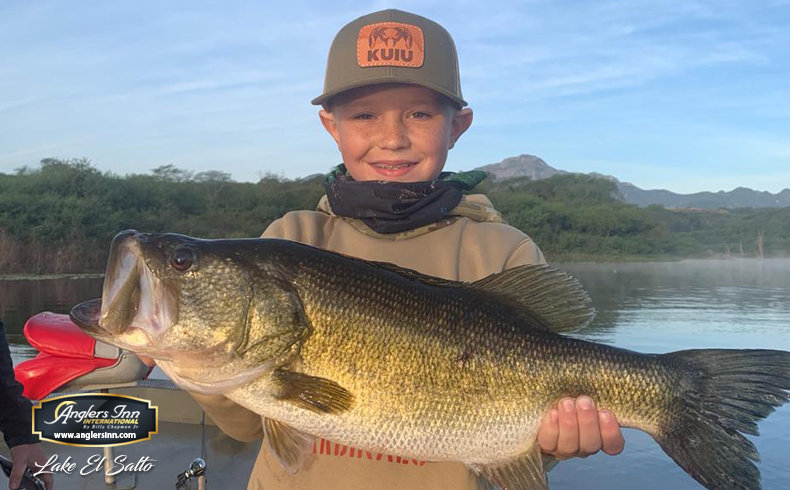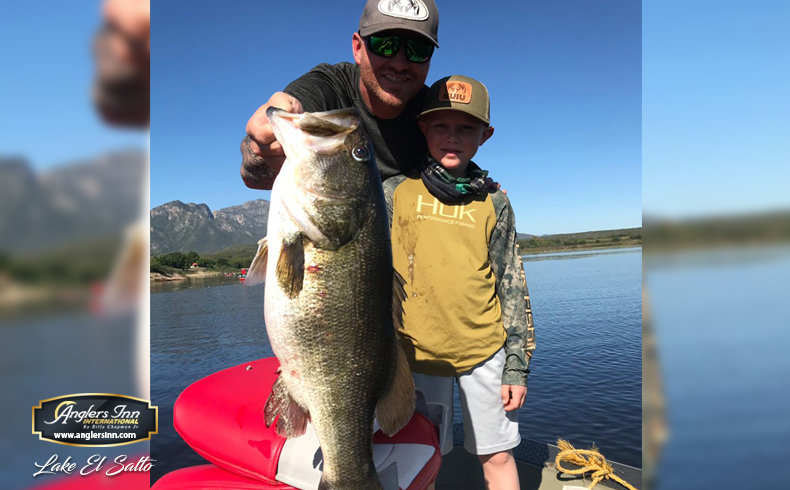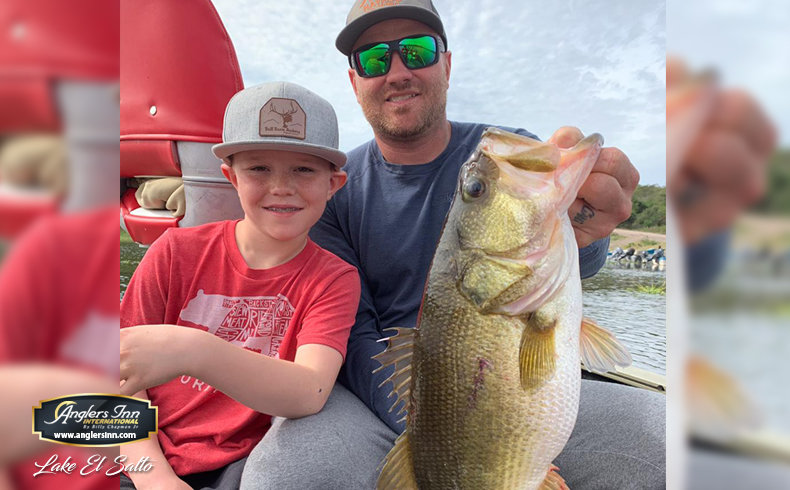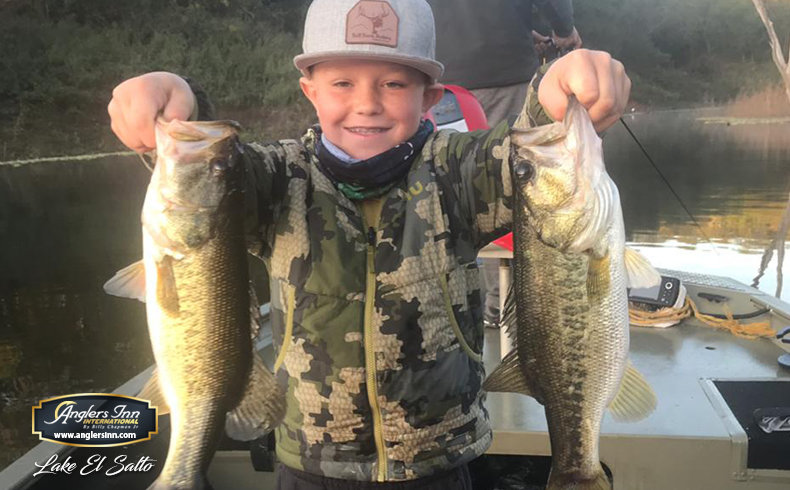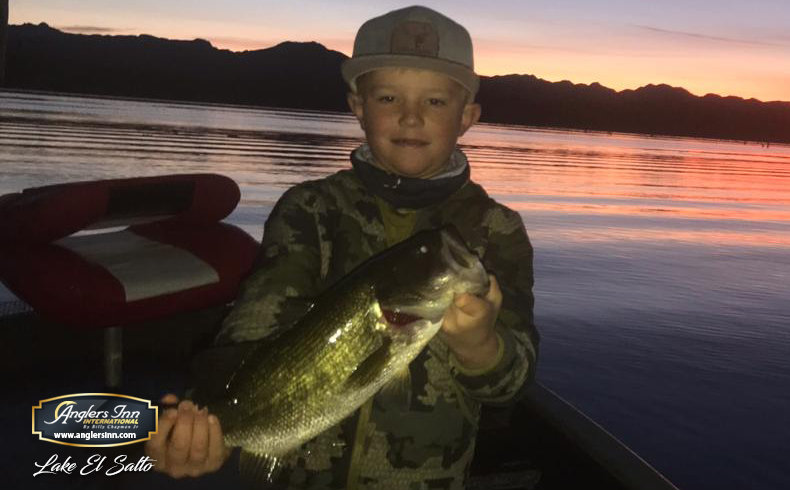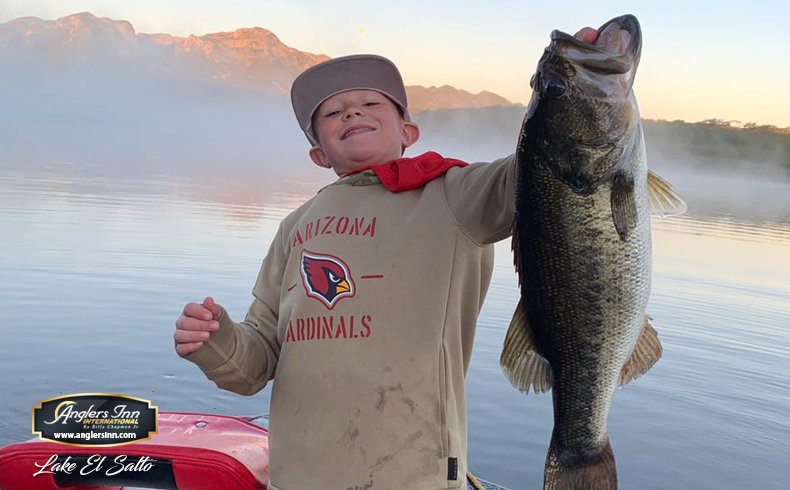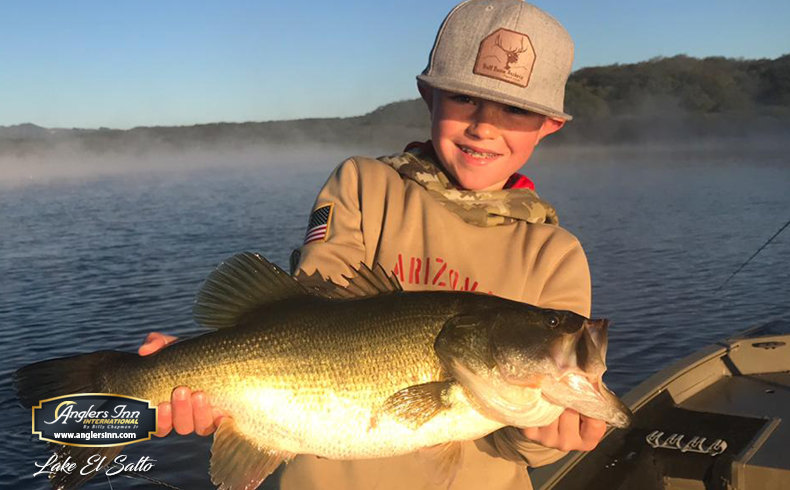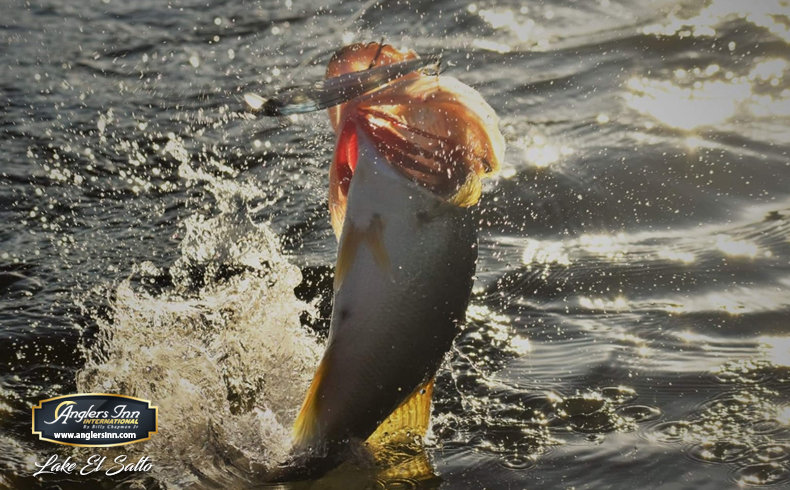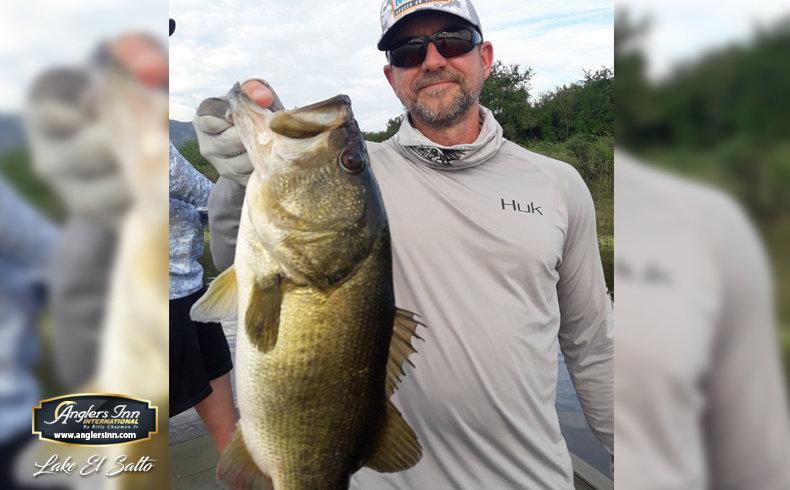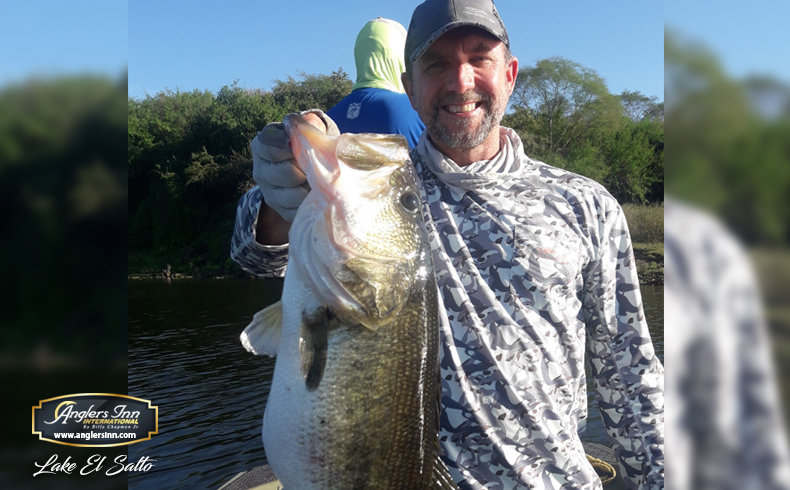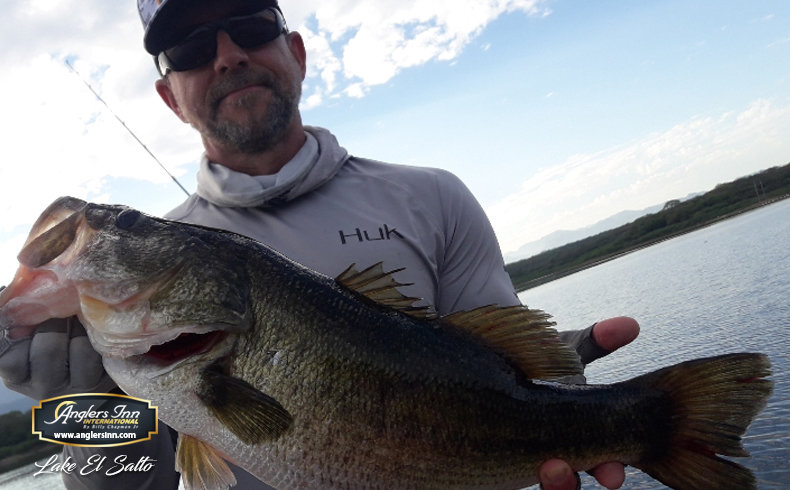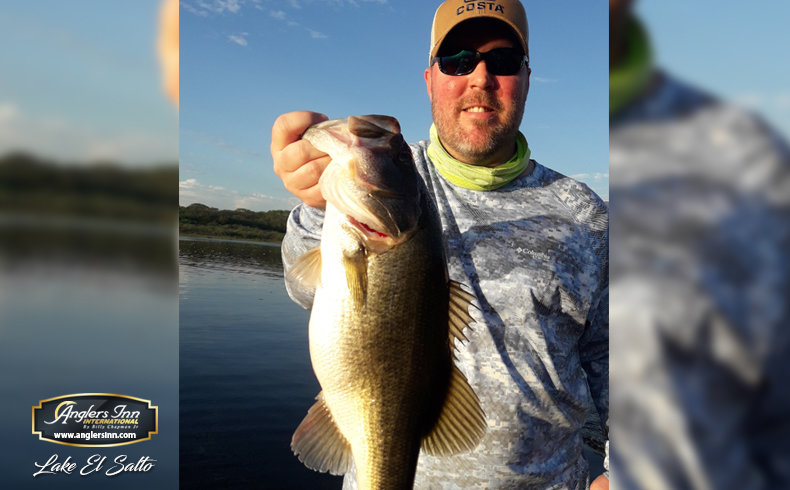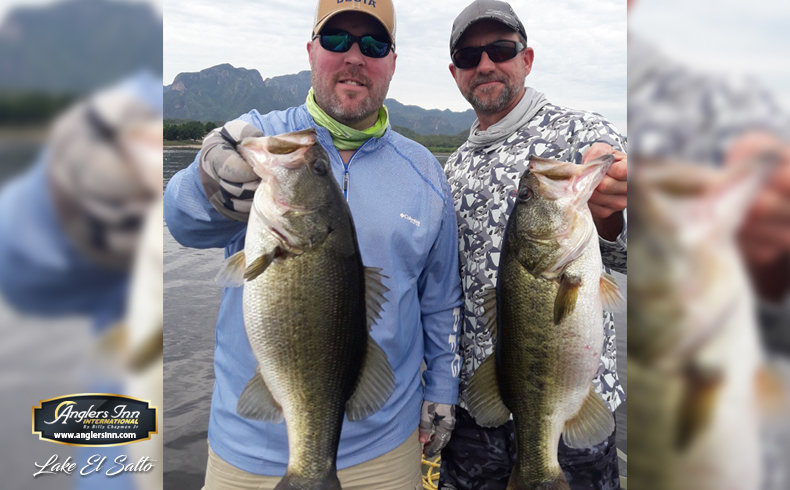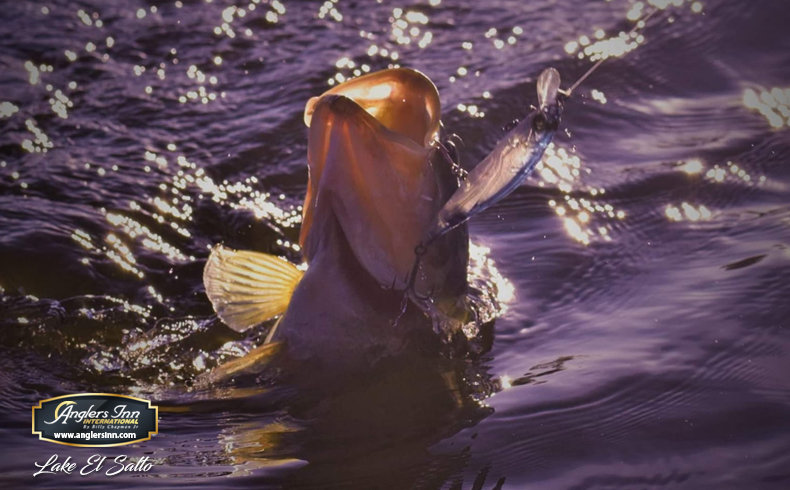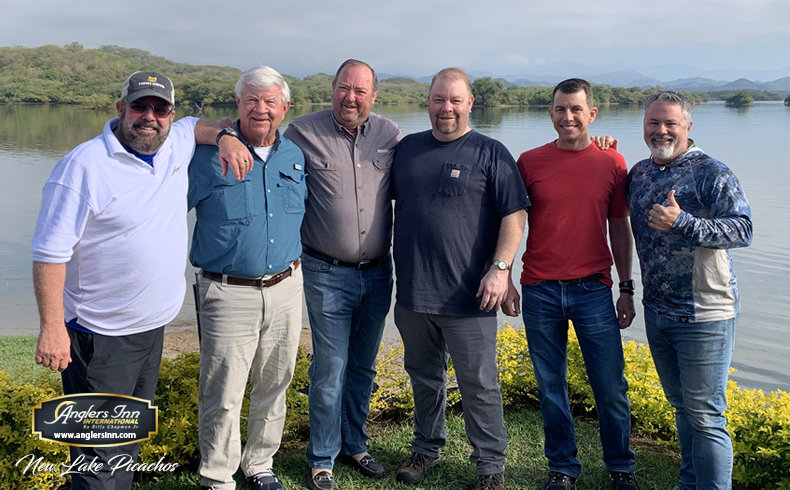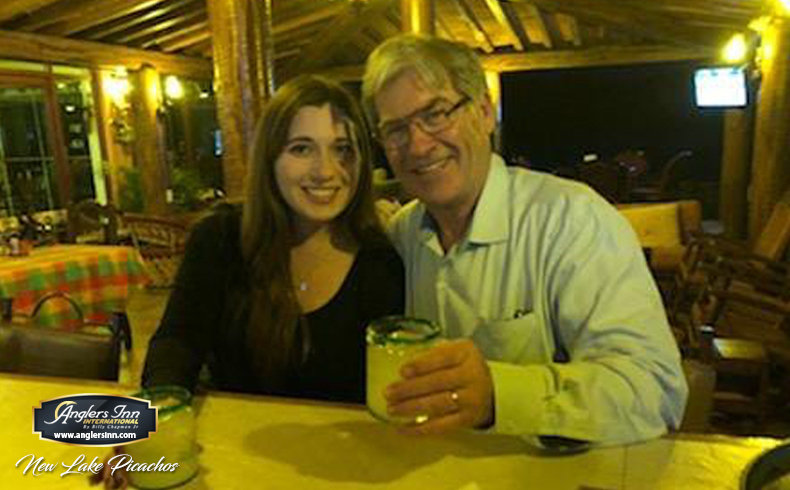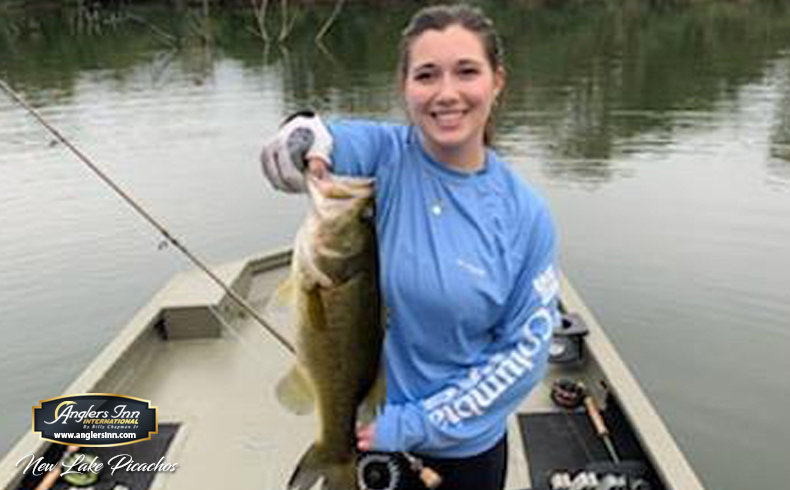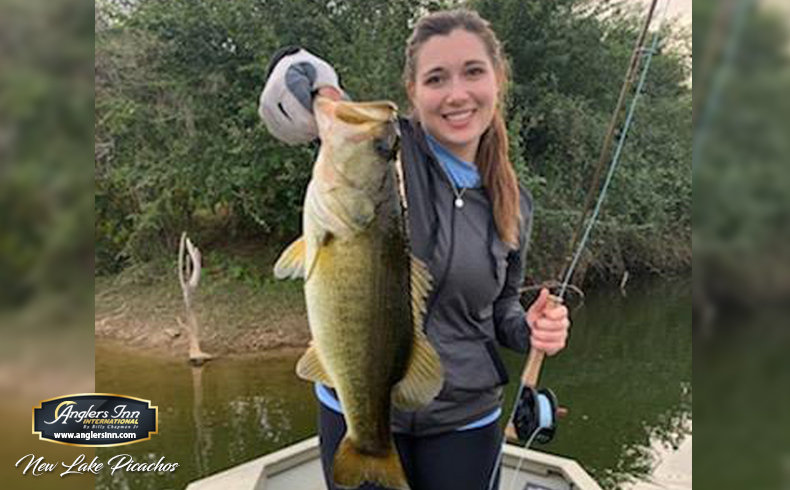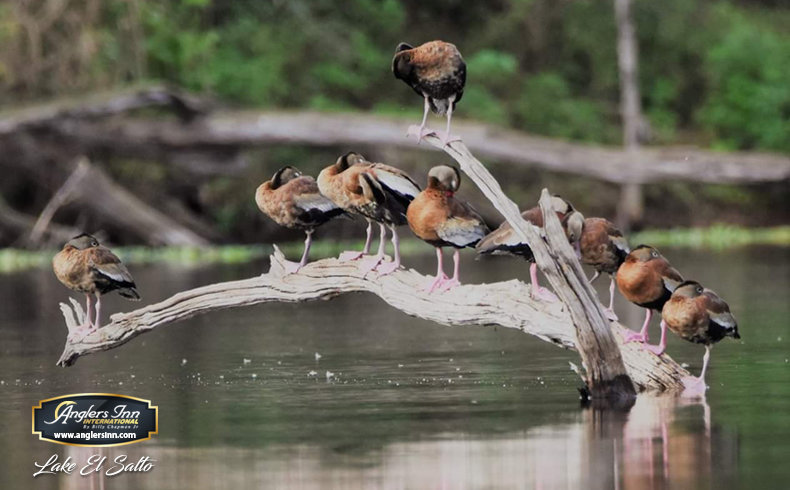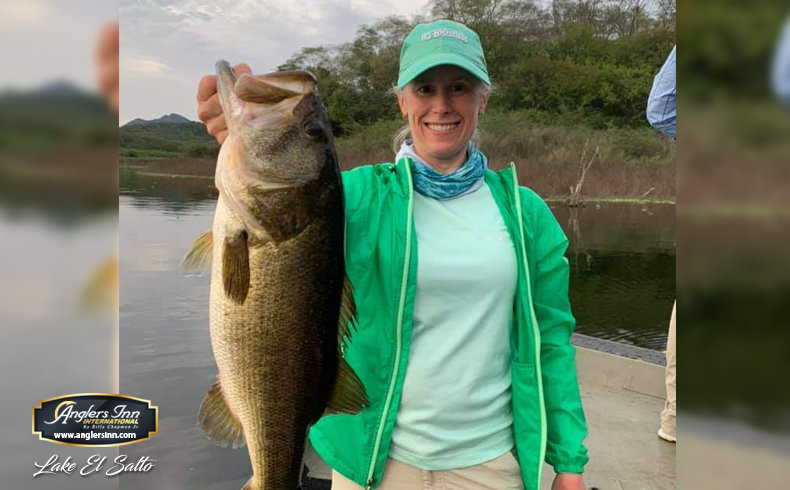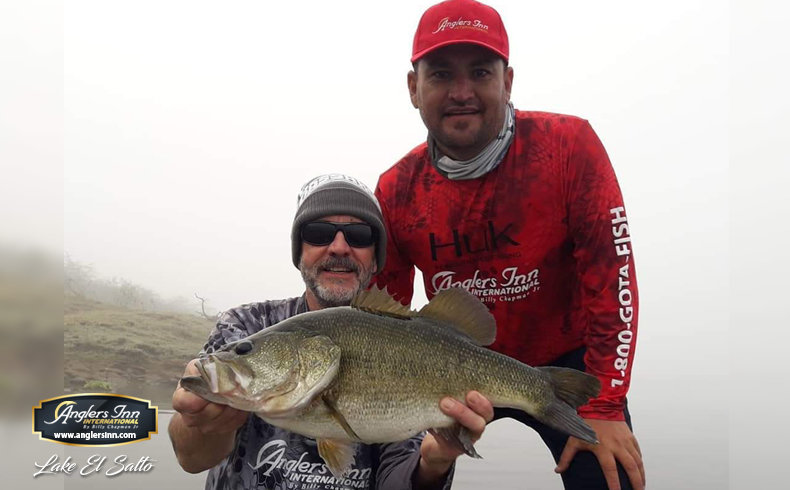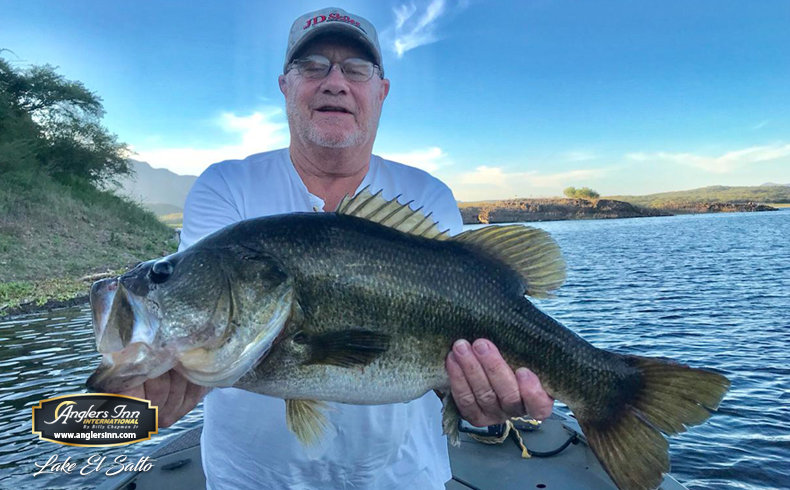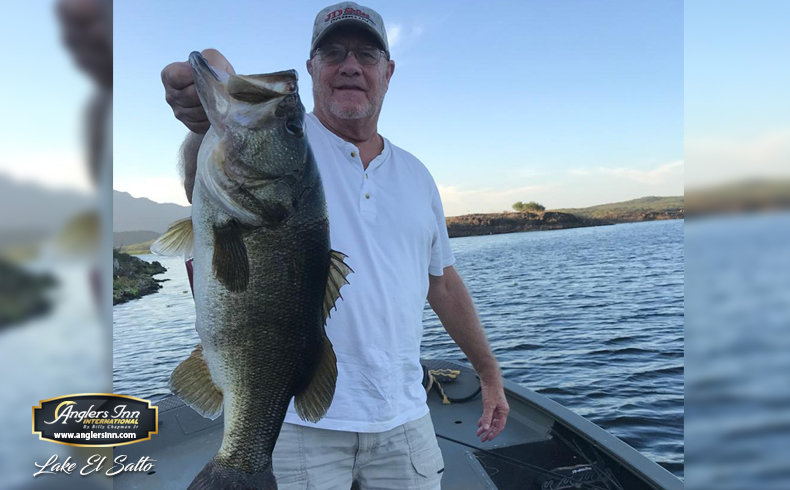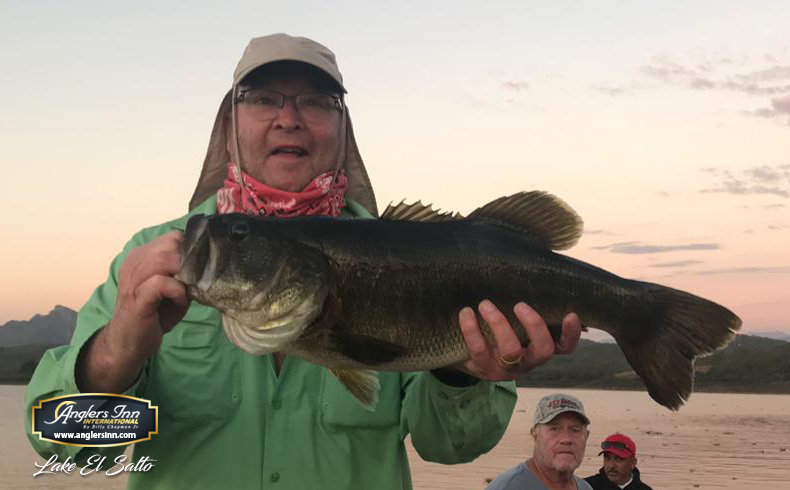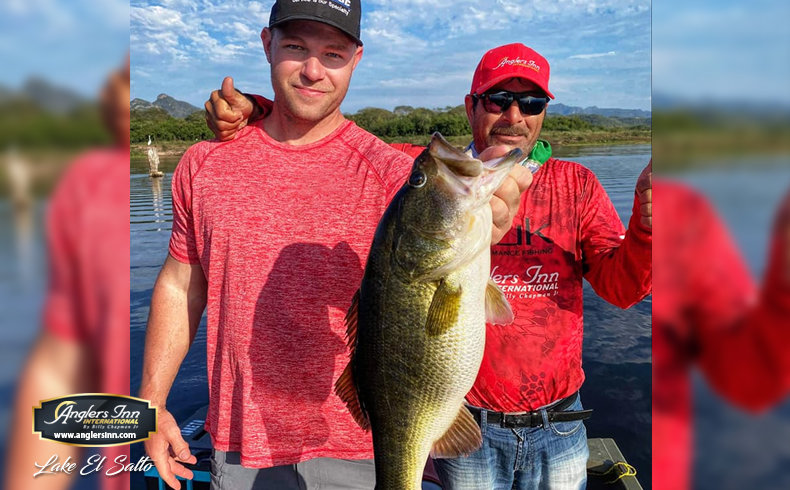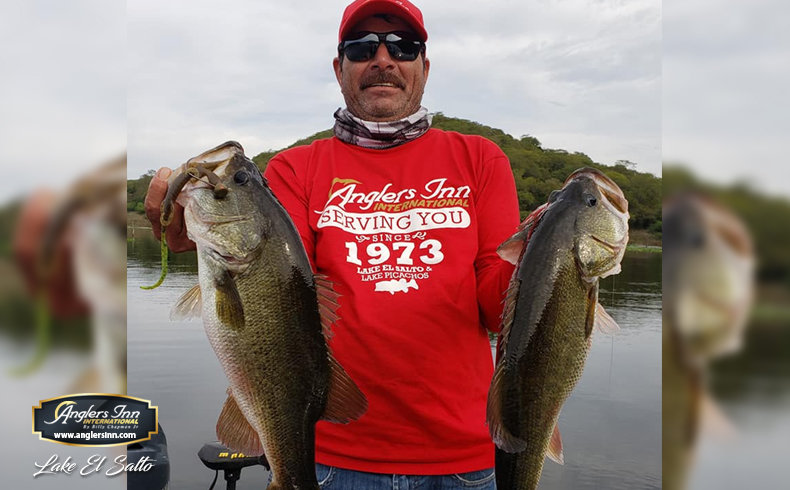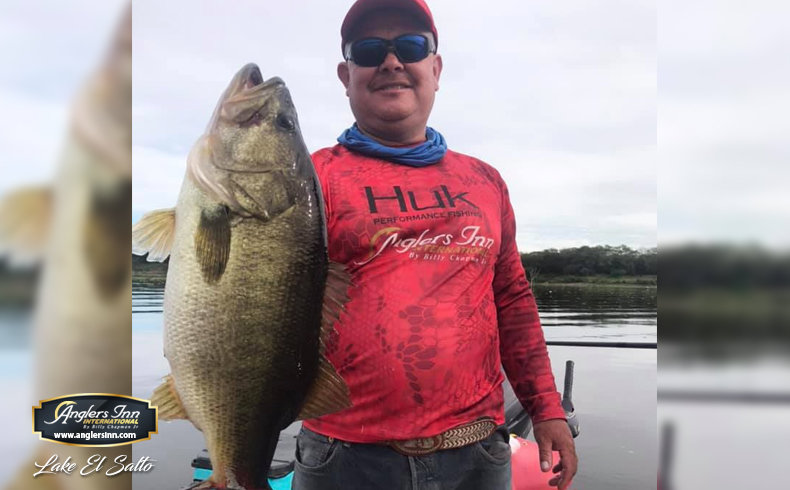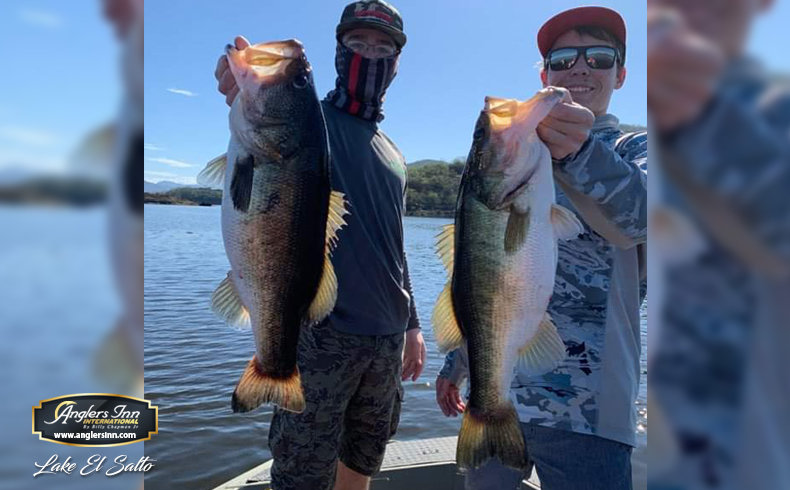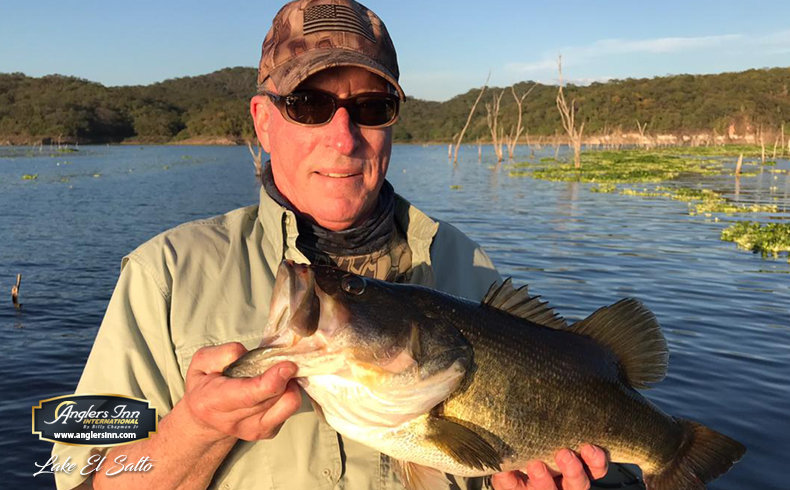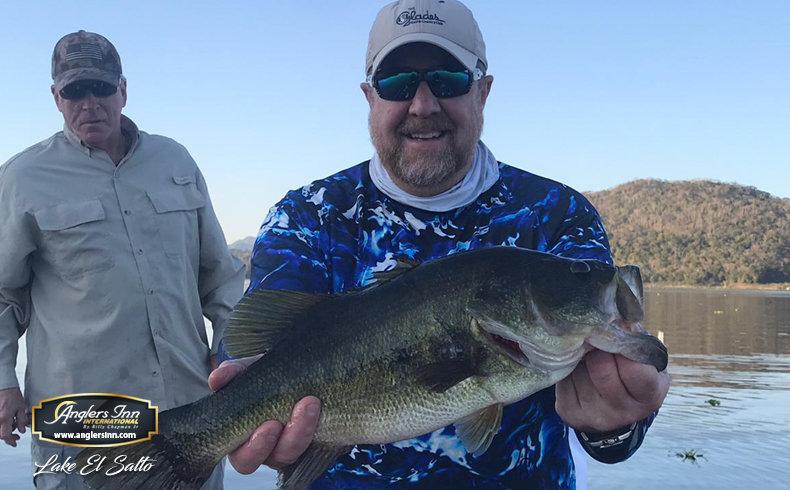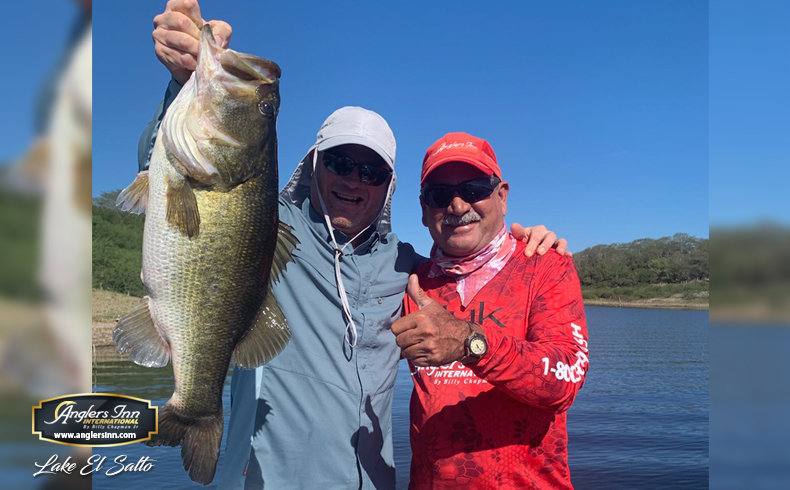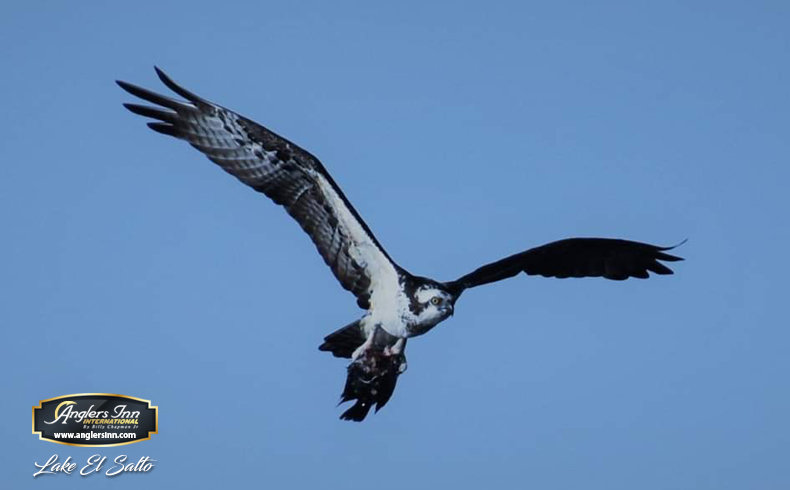 The new decade has begun, but our properties keep on kicking out trips of a lifetime for anglers of all walks of life. Whether you're looking for a personal best largemouth, your first trip to the Amazon, a new Amazon experience, or a smallmouth opportunity within the United States, Anglers Inn International is ready to exceed your expectations.
El Salto, our longtime stalwart, continues to pump out lots of fish and lots of big fish. We have had more hyacinths ringing the shoreline than usual in January, and that has kept huge numbers of bass up shallow. Hanna Robbins of Virginia brought two big groups down in January, including eight first-timers, and she said that by simply covering water with a jerkbait it wasn't hard for two competent anglers to catch 100 fish a day.
"The best bait for us was a suspending jerkbait in a ghost minnow color," she said. "We had perfect temperatures and almost no wind for our entire weeklong stay, but you could see bass come from a long distance away to crush it. Sometimes a fast retrieve worked best, and other times when you paused the lure they'd almost take the rod out of your hands. We also had an exceptional topwater bite most mornings, with a Rico or a walking bait doing most of the damage, and our guide took us out deep to look for 'Big Mama' with a Carolina rig, big crankbait and a swimbait. The average size was much better out there, with very few fish under 4 or 5 pounds, but the numbers were lower."
"We were there while the nets were in the water and while the nets were out of the water," she continued. "Despite what you might expect, the fishing got BETTER with the nets installed. One of the guys in our group caught an 8 pound 12 ounce bass right next to a tilapia net. I've been down to the lake over 15 times, including six straight times in January, and I can tell you for certain that when the water is up they don't affect the fish. In fact, I'm half-convinced that the fish use their presence to corral their prey."
Hanna also achieved a monumental feat on this trip, arranging her second Anglers Inn wedding. A few years ago it was her friends Duncan Maccubbin and Amber Phillips who tied the knot on the premises. They were there again this year, but this time around it was their friends Aaron and Kristine Rygas who tied the knot in Mexico.
This was the fourth trip to El Salto for the Virginia couple, and they fished with Carlos, one of our most experienced and requested guides, for the second time. Aaron said his best bait were Megabass 110 and 110+1 jerkbaits in GP Stain Reaction and HT ITO Wakasagi, respectively. "I cannot count how many times I picked up the jerkbait and caught fish every cast. I'm sure I caught over 150 bass on that one bait." He also was thrilled with the topwater bite, which lasted for a reasonable amount of time during low light conditions, but he noted that he "even got bites up to 6 pounds mid-day on a Rico."
Kristine, on the other hand, relies heavily on a 6-inch Senko in green pumpkin red flake, green pumpkin with green and purple flake, or black and blue, Texas rigged with a 3/16 ounce tungsten weight. "it's proven to get you bites," she said, and indeed every time Aaron turned around she and Carlos were high-fiving over another Senko catch.
Hanna noted that her swimbait bites increased when she switched from 30 pound braid to 17 pound fluorocarbon. Aaron has simplified his line choices after four trips: "I have narrowed it down to 20 lb. fluorocarbon and 30 lb. braid for crankbaits, and 50 lb. braid for other applications."
As much as the fishing, Aaron and Kristine raved about the service that has long been a point of pride for the entire Anglers Inn team: "Maggie and the whole AI crew really went the extra mile for us this trip, starting before we even got there. I had left my GoPro and all accessories at home and took a shot in mailing them to Mazatlan. We stayed in town for four days before coming to the lodge and my cameras arrived at our hotel later in the day that we left for the lake. Maggie choreographed the pickup of my stuff and got it to me in time to fish and FILM."
We all wish the Rygas family many years of happiness and many more trips with Anglers Inn!
TJ Maglio of Minnesota came down to El Salto two years ago, and this year he brought a group including seven other hard core tournament anglers from the Great White North to experience our fishing. He fished with Loretto and broke the personal best he'd set last time with an 8+ the first day, and then broke it again with a nearly 9-pounder on a topwater later in the trip. He also had one afternoon where in eight casts with a crankbait he caught five fish over 5 ½ pounds, with two over 7, the best limit of his life.
"Our best lures for numbers were a jerkbait, Senko and small swimbait," he reported. "For bigger fish, Carolina rigs, 10XDs, swimbaits and topwaters produced. Be sure to dye all tails chartreuse and listen to your guide. Keep fishing and keep an open mind. There are big fish everywhere, so always be ready."
TJ's fishing partner was Josh Crededio of Illinois, another well-traveled tournament angler, and he too enjoyed a stellar jerkbait bite, but was particularly thrilled the results produced by a black/chrome Rico and also excelled around schooling fish with an Alabama Rig.

"The retrieves were key," he said. "That meant, pop-pop-pause with the Rico, a fast, hard retrieve for your jerkbaits, and fishing your crankbaits fast and erratic with pauses and occasional drags." Most importantly, he stressed the importance of keeping an open mind. "Do not overthink it. Use 15lb and 20lb fluoro for best results. Braid also works well for topwater. Skip extra clothes and bring more baits (because of the awesome laundry service) and utilize the guides more. They are very good at what they do."
Jim Tomsovic of Wisconsin came to El Salto for the first time on TJ's recommendation and after fishing with Victor he is already planning a return trip.

"A jerkbait was our best lure for numbers and big fish by far," he said, echoing a common refrain. "A Lucky Craft Slender Pointer 127 was best in low light or overcast conditions, and the same bait in a chrome pattern worked when it was sunny out. You had to work the jerkbait somewhat fast with short pauses. A Carolina rigged black and blue skinny dipper was also really good for numbers. Leave your ego at home and listen to your guide."

Fellow Wisconsinite Brian Saari fished with Armando, and he agreed that when jerkbaiting "retrieve rate and pause (or lack thereof) was critical. The harder and faster the bait was worked, the better." Still, he encouraged visiting anglers to experiment with different retrieves to dial in the bite each day. At the same time, he said that when the bite slowed a little, a 10-inch plum work on a ½ ounce magnum shakeyhead mopped up the remaining fish. "On our worst day (if you could call it that) we probably caught 100 fish and it was notably slower!"
Brian Christianson, another first-timer from Wisconsin, likewise reported that while fishing with Victor it was important to "work the jerkbait really fast to trigger more bites." A Carolina rigged 8-inch green pumpkin lizard was his mop-up tool and he relied on ¾ and 1 ounce weights "to get it to the bottom quicker and maintain bottom contact." Like most seasoned anglers, Brian quickly realized that Victor had the lake absolutely wired: "Listen to your guide! They know more about the lake layout and what's working than we think we know. If you're struggling, listen to your peers during siesta and find out what's working for them. Don't be afraid to downsize lure selection if the bite is 'tough.' This trip far exceeded my expectations. The staff and guides were extremely friendly and accommodating and it was truly unbelievable how well everything is coordinated from the time you get off the plane until the day you leave. Hats off to the staff and guides."
Picachos continues to impress with ridiculous numbers of fish, and some big ones mixed in. There are periods when the 8 and 9 pounders show up, and other times when your group's best fish will be 6 or 7, but the numbers never really seem to fade.

We had the BASS crew – Dave Precht, James Hall, Don Logan and Bruce Akin, among others -- down for their usual January trip, and this year they chose Picachos after a trip last year that saw them catch one big fish after another. This year they did their damage with green pumpkin soft plastics, flukes, and a variety of crankbaits, everything from shallow-running square bills to deep diving models. The Berkley Dredger in the 20- and 25-foot diving models continue to impress our guests because they get down quickly, run true and they're remarkably snag-resistant, all of which combined means more fish in the boat.

Longtime friends Ryan Rosenbaum and George Redmon of Idaho also came down in January. After multiple trips to both lakes they couldn't choose one over the other, so they planned a combo trip. At both lakes, they said that the best lures were crankbaits when the fish were busting on top feeding on shad, mostly 8 to 12 foot divers. We'd typically fish lizards in the afternoons and then in the late afternoon and evenings we did best with swimbaits – white-colored Storm swimbaits were good and even better were smaller weighted trout pattern swimbaits with 1 ounce holographic heads, dragged on the bottom very slowly in 20 to 25 feet of water."

Prime dates at both Mexican lakes for 2020-21 are almost gone. Fishing has been exceptional, so I recommend blocking out your vacation sooner rather than later If you know when you want to come, please contact us as soon as possible to make sure you get your preferred time slot. As indicated above, you should also consider either a trip to Picachos, or a combo trip involving both lakes. Do you want to work on your flipping? Wear your arm out with topwaters? Find out what a glide bait bite feels like? This is the place to do it. You can literally expect to catch 100 fish a day if you are even semi-competent, and you can do it just about any way you want. Bring pounds and pounds of plastics because it's possible to decimate even a healthy supply. It is only going to continue to get better. We've only tapped a small portion of its potential.

Picachos is just 55 minutes from the Golden Zone of Mazatlan, so it's even perfect for day trips, but for you hard core guys, if you can't decide which lake to visit, a combo trip is the way to go. Our new dining room sits right at the edge of the lake and you'll be tempted to make a few casts between sips of your margarita.
Remember, our goal is to make your trip as hassle-free as possible, and one step in that direction is that we now have loaner rods for everyone to use at no cost. Thanks to our newly-developed partnership, our lodges now have a varied supply of St. Croix rods. "They made fishing pure pleasure," said one recent guest. These technique-specific rods rods are the real deal, folks, and we are committed to giving you the best possible tools to land that fish of a lifetime. You don't need to travel with a heavy and burdensome rod tube anymore if you don't want to. Both lakes have an ample supply ready for you to use. We're seeing fewer and fewer guests bringing their own rods. With the St. Croix sticks tailored to specific techniques, and available in a wide range of lengths and options, so really can't go wrong…and it makes packing much easier to just bring your reels and tackle.
As you've likely seen by now, I took a group of intrepid and experienced international traveling anglers to a new Amazon outpost last fall and the results exceeded my expectations. Among other species, we caught record-class wolf fish and payara. As the week went on we dialed in the bites better and better to the point where we could call our shots. Our next set of visitors there will be the beneficiaries of that experience and this is an opportunity to fish where few "gringos" have ever gone.

The lodge is truly five-star, a gem cut out of the jungle, and I'm improving the equipment they have for my guests only, to ensure that it's a true Anglers Inn experience. I've reserved prime weeks, so if you want to get in on this, don't delay. All bookings will be handled through me personally, so call the office and set up an appointment.
Of course, we'll still offer are renowned Rio Negro peacock bass trips on prime waters and fishing has never been better. If you're a serious angler and you haven't been, you owe it to yourself to chase these mean predators. And if you've been before, but not with me, I want to show you the Anglers Inn Way down there – everything is first class.
We have the most luxurious boat available, along with chefs and staff who've been trained in the Anglers Inn way. We provide an "Amazon Tough" bag to every customer and it's filled with all sorts of things like insect repellent, sunscreen and the proper hat to make sure that you don't miss out on any part of your trip. As with Mexico, we provide quality St. Croix rods and we have Abu-Garcia reels with braided line, as well as all of the right baits for the current conditions. Once you're in the jungle there's no tackle shop or mail order outlet, so we want to make sure that your trip of a lifetime is fully stocked.
If you haven't seen it already, be sure to click on our website at www.anglersinn.com. We've had it up since early 2017, and the feedback has been tremendous – especially from guests who've found pictures of themselves with big fish gracing the site. Our theme is "Making Every Angler's Dream Come True," and while our web presence is no substitute for a trip to Mexico or Brazil, it's the next best thing and a valuable tool for planning your next trip. We continue to update it with new information and items constantly, so don't forget to hit us up regularly.
Just as we set the standard for international fishing trips, we want to set the standard online, too. The new site includes information about all of our properties, pricing and bios of our staff. We also update it regularly with new videos on our "Anglers Inn TV" channel, and provide detailed monthly reports like this one.
Whether it's your first trip to an Anglers Inn property or your 20th, we hope that this site will provide all of the information that you need, but if it doesn't we're always just a phone call or email away.
While we often provide a generalized list of lures that work throughout the year, there are times when specific bites are ongoing and we don't ever want you to arrive under gunned. Monitor the website and social media for updated info, and if you're ever in doubt about what you need to bring, please call us or email us. We want to make sure that you're outfitted properly to make the most of your vacation.

If you've received this report from a friend, please be sure to sign up for future mailings at www.anglersinn.com. If you know a friend who would benefit from these newsletters, please make sure that they are receiving them, too.
---