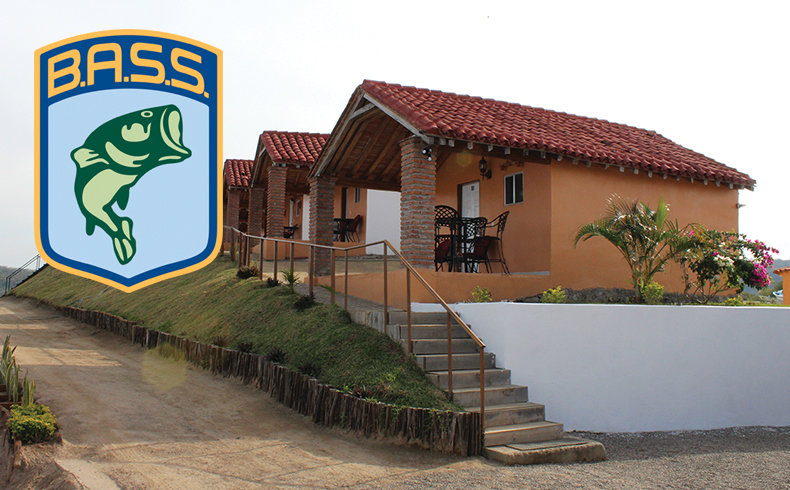 B.A.S.S. and Anglers Inn International are offering the second 2018 discount offer exclusively for B.A.S.S. Members Only. This second promotion, for bookings October 31 through November 25, allows anglers to experience the newest North American bass fishing lake. Mexico's Lake Picachos opened to recreational fishing just four years ago and is home to Anglers Inn's second lodge. The other is located at the famed Lake El Salto. Picachos fishing was known for huge numbers of fish caught and now features trophy bass in the 3- to 10-pound range as well. The Picachos lake record currently stands at 11-pounds, 5-ounces.
"We love B.A.S.S. and its members," said Billy Chapman Jr., owner and founder of Anglers Inn International. "It's only natural that we offer a second promotion for guests at our other lodge at Lake Picachos."
Anglers have two options. The 4-night/3+day stay is just $1,795 for the first angler with a ½-price discount for the second angler for a savings of $897.50. The 3-night/2+day stay costs $1,345 for the first angler with a ½-price discount for the second angler for a savings of $672.50. Both packages are based on double occupancy.
Space is limited and early reservations are recommended.
The package includes the guide using a custom Triton boat equipped with Minn Kota and Humminbird electronics, lodging, meals, open bar, laundry service, St. Croix fishing rods and ground transportation to and from the Mazatlan airport. The only responsibilities of the anglers will be airfare, guide and lodge staff gratuities and fishing reels and tackle. A new offer for this fall will be a Lake Picachos tackle bag with baits included that are proven successful at the lake at a very attractive price. More information on the tackle bag and how to purchase will be available soon at www.anglersinn.com.
The exclusive offer is open to B.A.S.S. members for trips scheduled between October 31 through November 25, 2018. All 4-night/3+day trips purchased with this promotion will begin with arrival on a Wednesday and with departure on Sunday. 3-night/2+day trips purchased with this promotion will begin with arrival on a Sunday and with departure on Wednesday.
"Leave it to Billy to create special offers for our B.A.S.S. members," said Bruce Akin, CEO of the 500,000-member B.A.S.S. "We're excited our members are offered this special discount to Lake Picachos, a phenomenal new lake that I've truly enjoyed fishing. No one beats Anglers Inn for service and fishing."
One lucky B.A.S.S. member that takes advantage of this offer, and catches the biggest fish, will win a return bass fishing trip to Chapman's Lake Picachos lodge. The package includes 4 nights lodging and meals with 3+ days of fishing. Only airfare, tackle and gratuity are not included.
Added Chapman, "Our fishing packages are designed to satisfy those bucket list desires for anglers, whether for largemouth bass or peacock bass. We're expanding our facilities and offerings both in Mexico and Brazil with a goal of making every angler's dream come true."
Sponsors of the exclusive B.A.S.S. Members Only discount offer include Abu Garcia, Berkley, Huk, Humminbird, Minn Kota, Triton Boats and St. Croix.
Chapman has been a leader in the outfitter industry for over 44 years and is an inductee in the National Fishing Hall of Fame, the only outfitter to be so honored. Chapman's lodges are legendary for exceptional fishing and the highest caliber of service and facilities.
B.A.S.S. operates the most prestigious and competitive fishing tournament program in the world, publishes Bassmaster and B.A.S.S. Timesmagazines, has the industry-leading website, Bassmaster.com, manages the B.A.S.S. Nation network of state and local chapter affiliates and has a far-reaching conservation focus. Celebrating its 50th anniversary this year, the organization was founded in 1968 by Ray Scott.
To learn more about Anglers Inn International fishing opportunities login to www.anglersinn.com or call 1-800-GOTAFISH (1-800-468-2347). For more information on B.A.S.S., go to www.bassmaster.com.
---