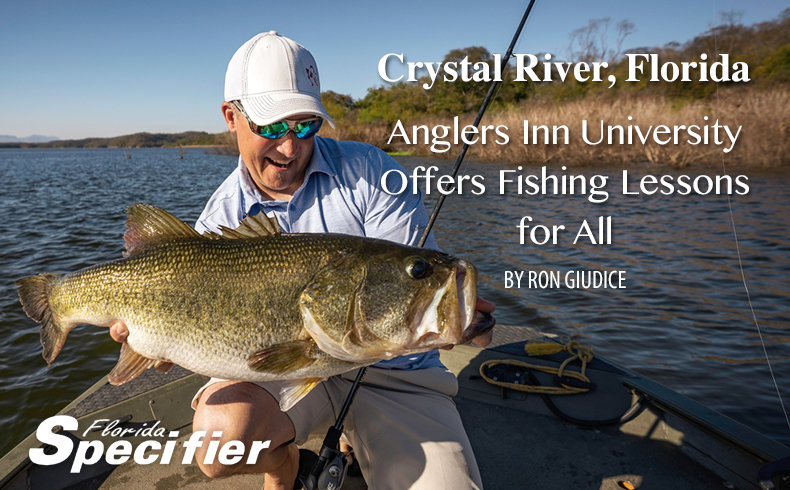 By Ron Guidice
When Billy Chapman opened up Brazil to peacock bass fishing in the Amazon jungle 45 years ago little did he envision the impact he would have on the sport today. He did know that stewardship of the fisheries in South American, and then to the lakes of Mexico, was key to decades and more of fishing, for generations.
Chapman was the first to introduce and insist upon catch and release at the largemouth bass fishing destinations he established. Legendary Lake El Salto and relative new comer Lake Picachos are located outside Mazatlan, in the Sierra Madre mountains not far from the Sea of Cortez coast. He worked with the tilapia commercial fishing on Mexico lakes to encourage releasing the bass caught in their nets.
Now he wants to spread the word of fishing responsibility to students enrolled in his new Anglers Inn University with its first campus at Pete's Pier in Crystal River, Florida. The Kings Bay area is flush with excellent fishing, an abundance of manatees and a wide assortment of wildlife.
Part of the curriculum is stewardship so that those taking the class will understand and appreciate how important it was to protect and enhance our environment.
George Large, fishing expert and industry leader for over 40 years, will be the instructor at Anglers Inn University. His vast knowledge of the sport and extensive angling experience for fresh and saltwater species will be of great benefit to the students. His work with the biggest names in the fishing industry has given him a deep dedication to securing fishing for generations to come and he encourages that commitment from his students.
Anglers Inn University is part of the Anglers Inn International network of world renown fishing lodges. Their newest destination, joining Brazil and Mexico, is Crystal River, Florida, with luxurious on the water lodging in 59-foot houseboats. Go to anglersinn.com for more.
Classes are divided into Beginner, Intermediate and Advanced, with Fly Fishing, Kayak Fishing and Saltwater sessions. The four-hour Beginner class will introduce novice and young anglers to the heart and passion of angling. Beginner students will graduate the class with a strong understanding of knots, equipment, lures, fish species, stewardship and more. The six-hour Intermediate and eight-hour Advanced classes take the angler to a higher level of fishing expertise that will greatly benefit their future fishing experiences.
The University also has classes on Kayak and Saltwater Fishing, as well as Fly Fishing. From the four-hour Kayak Fishing class students learn how to rig a kayak, safety factors and equipment needs to fish confidently. The six-hour Fly Fishing class covers the fundamentals of fly fishing, from equipment knowledge to casting a fly. The eight-hour Saltwater Fishing class focuses on the best locations, equipment, and techniques for inshore and offshore fishing.
Anglers Inn University is open to guests of Anglers Inn Floating Suites as well as the public. Advanced reservations are required. Tuition is $150 for the Beginner, $200 for Kayak, $250 for the Intermediate, $350 for Advanced and Saltwater and $400 for Fly Fishing. University sponsors include Abu Garcia, Berkley, Fishing Tackle Retailer Magazine, Huk, Humminbird, Minn Kota, Mossy Oak, Old Town and St. Croix Rod.
For more information contact Large at george@anglersinnuniversity.com or 1-833-HOWTOFISH (1-833-469-8634).
---