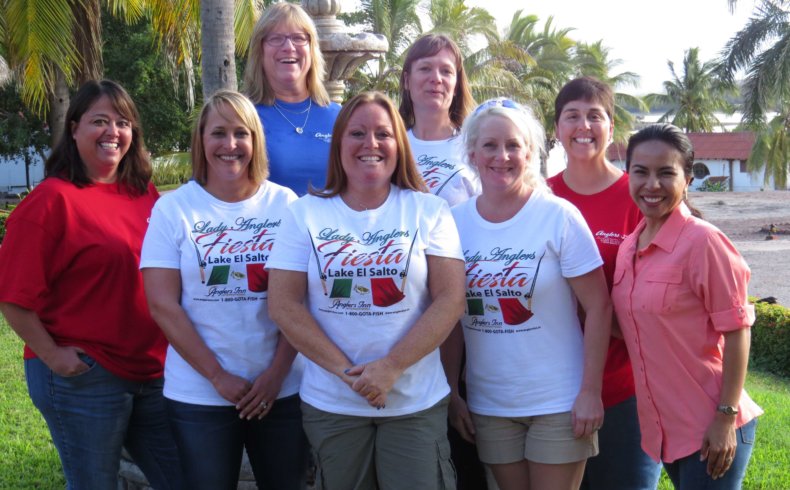 Lake El Salto and Lake Picachos continue to be the crown jewels of Mexican bass fishing, and we at Anglers Inn International are committed to giving you the best combination of fishing, service and accommodations available anywhere. We hope that the fact that 80-plus percent of our guests are repeat customers speaks for itself, but we want to earn the trust and business of every bass fisherman who needs to check off a bucket list item.
Actually, it's not just fishermen we serve, but lady anglers as well. Over the years we've had a great number of couples and families visit the lake, along with some unaccompanied women, but we know that for some women unaccompanied international travel is a daunting proposition. That's why we held our first Lady Anglers Fiesta, hosted by frequent guest Hanna Robbins of Virginia, in January. We had a great group of female anglers of varying skill and experience levels show up and they all caught personal best bass on the trip.
Michelle Skelley of Tennessee brought her sister Lisa to El Salto as a birthday present. Lisa is an experienced tournament angler and it showed, as she quickly caught an 8 pound bass and then one that pushed the scale well past 9. Michelle was less experienced heading into the trip – with fewer than a dozen lifetime bass to her credit – none over 2 pounds. She caught two over 8 in a single morning, and well over 100 in the 3 ½ days of fishing, despite never throwing anything but a watermelon wacky rigged Senko. That's the beauty of El Salto and Picachos – it's as complex or as simple as you want it to be. During January the fish were in all stages of the spawn, with some prespawn monsters still out deep in 20+ feet of water, and susceptible to a 10XD or a swimbait – while on the banks the bushes were full of both bass and tilapia fry. We expect more and more waves of fish to come in. The 8 to 10 pounders show up every day, but this year may be producing more of the 5 to 7 pound brutes than at any time in recent memory. Hanna Robbins got another 9 pounder of this trip (on a chartreuse Storm swimbait), but she also caught her first 10XD fish and a lot of bass on a Megabass Vision 110 and a Rico topwater.
Gail Milbrath is a school teacher, so you'll have to forgive her for the double negative, but she too was wowed by our operation: "You can't not catch fish at Anglers Inn El Salto." She escaped the Wisconsin cold and like the other ladies caught her personal best – and when she did it she gave her guide Eduardo a bear hug, as captured by fellow cheesehead Sarah Englebert on video. The two Wisconsin women both caught their first topwater bass (Rico, once again) and also found success on open water fish with a chrome/blue lipless crankbait.
Jim Ireland and his girlfriend Cheryl Lynn Craig came to Anglers Inn El Salto in October, and quickly booked a couples package for January, and it paid off with numerous quality El Salto bass, most of them caught on an "insider" swimbait head that Jim fishes with a 6th Sense hollow body swimbait. The beauty of this rig is that it works in shallow cover or on offshore structure. They've already booked a return trip for May. Danny Blandford and his wife Holly call the Ohio River home and they escaped the cold in January as well – and caught loads of El Salto rod-benders, many slow-swimming a 5-inch Berkley Chigger Craw along the bottom as they would at home, and some others (including one that Danny couldn't turn) on a Jackall Gantarel.
Another couple who visited were Brandon Light and Heidi Vaitl and they had a ball with personal bests of their own – a 9 pounder for Brandon on a white Chatterbait with a sexy shad Money Minnow trailer, and an 8 for Heidi on a chartreuse and white spinnerbait.
At Picachos the numbers remain off the charts – so good that we almost feel guilty to brag about them – but the 1-3 pounders of previous years are now studded with an increasing number of 3 to 5 pounders, along with some even bigger bass. We are here for the long haul and I'm building additional facilities, including a dining room with the best view on the lake, to make your experience even better. My casitas are less than an hour from the airport, so we've seen an increasing number of day trips and most of those guests end up coming back for several days. It remains the greatest laboratory on earth to really get a feel for a particular lure or technique, but if you want to be sure you've covered the basics, be sure to bring lizards, Rio Ricos, white fluke and buzzbaits.
As you can tell from the above reports, we've caught fish on the bank, and fish on deep offshore structure, and everywhere in between – often in the same day. While you can certainly fish a wacky rigged Senko all day, every day and experience success, it often pays to be versatile and willing to adapt. When fish are crushing a spinnerbait or Chatterbait one day and then start bumping it gingerly, a switch to a Keitech swimbait or a Super Fluke in those same areas can make a big difference in your catch rate.
If you can't decide between the two lakes, a combo trip is the way to go. That's what the brass from B.A.S.S. did this year, once again splitting their time at the two lakes. Bassmaster editor Dave Precht, CEO Bruce Akin and owners Jim Copeland and Don Logan have made time every year in recent times to carve out a portion of their busy schedule for both lakes.
One other exciting promotion that we want to share relates to our new partnership with The Bass University, founded by noted pros and fishing educators Mike Iaconelli and Pete Gluszek. We'll have a presence at some Bass U events, and then from November 6-10, Mike and Pete will be leading a trip to El Salto with discounted rates for their members. If you've always wanted to fish with them, or always wanted to fish Mexico, now is the time to do both! Call us for more information or to reserve one of the limited spots. In fact, if you're looking ahead to the next year, now is the time to reserve any prime dates as they are filling up fast.
We get a lot of inquiries via telephone, email and social media requesting what lures upcoming visitors should bring. While you may have your favorites, including a few tricks up your sleeve that you don't care to disclose, we strongly suggest that you bring the basics that prove themselves year after year after year. Always bring lots of 10" Power Worms (black/blue and watermelon), 8" lizards (watermelon red) and 6" Senkos (watermelon red). All of them will produce daily, but sometimes one proves to be the preferred meal and it's possible to go through a ton of them in a single day. A few Ricos and buzzbaits are key for the topwater bite, a handful of spinnerbaits, chatterbaits and chrome Rat-L-Traps should be in your box no matter what the season, and if it's deep structure time you can't go wrong with the citrus shad Fat Free Shad, along with some Storm swimbaits to plumb the bottom. Throw in some Carolina Rig components along with your Texas Rig weights and you should be good to go.
With that said, there are times when specific bites are ongoing and we don't ever want you to arrive under gunned. Monitor our Facebook page for updated info, and if you're ever in doubt about what you need to bring, please call us, email us or contact us through Facebook. If you've received this report from a friend, please be sure to sign up for future mailings at www.anglersinn.com. If you know a friend who would benefit from these newsletters, please make sure that they are receiving them, too. We want to make sure that you're outfitted properly to make the most of your vacation.
We'll continue to update you via social media. We try to give you honest, meaningful reports during the season. Hit us up on Facebook, Twitter and Instagram to interact with us personally – better yet, many of our satisfied guests frequent those pages every day. Ask THEM your questions and you'll be 100 percent sure that you're not getting a sales pitch.
---