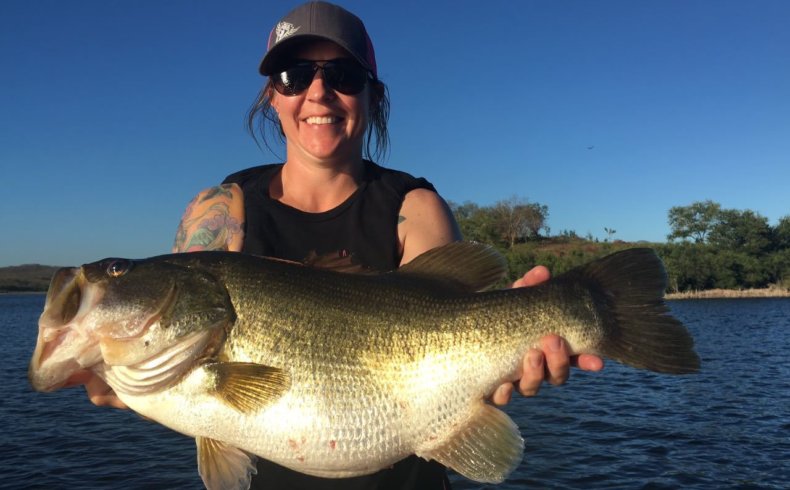 As we've throttled into the 2016-17 fishing season with full force, we've received constant evidence that this year will be every bit as good as the last several. El Salto continues to pound out the monsters, and Picachos is coming on strong. While the occasional trophy shows up at Picachos, the real news is that the numbers continue to be exceptional and last year's 1 to 3 pounders are now by and large huge schools of 3 to 4 pounders.
Our friend Hideki Maeda of Japan, one of the world's leading bass tackle innovators and owner of Teckel Lures, made his annual combo trip to El Salto and Picachos. He's a devoted flipper who honed his craft not only in his homeland but also on trophy waters like the California Delta, and he's established a system for "punching" the hyacinths that congregate at El Salto this time of year.
"I know that other customers were catching many, many fish on Senkos and lizards, but I think we got bigger bites punching," he explained. "We used 1.5 ounce weights, punch skirts and 4/0 punch hooks. The baits were the D-Bomb, Rage Bug and Sweet Beaver."
Hideki brought a cameraman with him in order to get footage of his Teckel hollow-bodied frog in action, and they got enough good stuff for many hours of film.
"At Picachos I fished almost 99 percent of the time with the Teckel frog," he said. "I got 30-40 fish in the morning and 30-40 fish in the afternoon. Bass kept biting topwater all day. It was crazy. Mostly the bass bit close to the bank. There was no need to cast to the trees off the bank. In the daytime, we just needed to fish the shady side. That's it. Very simple."
If you're willing to vary your presentation, there's no reason to believe that a reasonably skilled angler shouldn't catch 150 to 200 bass a day at Picachos and there are now plenty of 5 and 6 pound fish mixed in.
Another frequent visitor, Tom Trinchere of Pennsylvania, made one of his multiple annual trips this month and found a ½ ounce chrome/blue Rat-L-Trap to be his top producer, with a Houdini colored Skinny Dipper a close second. He said that the topwater bite – white Ricos, specifically – improved every day and by the end of December and into January it should be on fire. We get a lot of inquiries from fly anglers who question whether there's a seat at the table for them in Mexico, too. The answer is a most definite yes, especially at this time of year when a substantial portion of the bass population is up shallow. We've recently had several all-fly rod groups and they've done exceptionally well, sometimes better than the conventional tackle guys.
Jim Trost recently visited with his son Gus. They live in the Rocky Mountains and fish primarily for trout, but on a return trip to Picachos they crushed the bass over 5 ½ days, landing nearly 1,200 fish. "Our preferred method was a fly rod with a bass popping bug," Jim said. "Nearly half of out fish were taken on topwater. Had the weather not been clear and windy, we might have done better. As it was, we were able to fish topwater about 5 hours per day. What a blast! 6-7 weight rods with weight forward line, 20 lb. 5' leader and 1 ½" pencil poppers and frog patterns worked for us."
Chip King came down to El Salto with a group of extremely skilled fly anglers – including several veteran guides – and they too had a tremendous trip.
"I fished flies early and late as did most of the anglers in my group," Chip said. "We fished poppers, both large loud aggressive ones as well as smaller ones more closely resembling the shad found on the lake's edges. Happy to report that our group's largest fish was a 10 pound bass, caught on a fly. It was the first fish of that day in very low light, an exciting catch for all who witnessed it. My personal best bass was caught the following morning, also on a fly. This fish was at or near 8 pounds."
If you'd like to schedule a flyrodding trip to Mexico, please let us know. We have guides who are specially trained in these techniques who will work their hardest to put you on the fish of a lifetime.
We get a lot of inquiries via telephone, email and social media requesting what lures upcoming visitors should bring. While you may have your favorites, including a few tricks up your sleeve that you don't care to disclose, we strongly suggest that you bring the basics that prove themselves year after year after year. Always bring lots of 10" Power Worms (black/blue and watermelon), 8" lizards (watermelon red) and 6" Senkos (watermelon red). All of them will produce daily, but sometimes one proves to be the preferred meal and it's possible to go through a ton of them in a single day. A few Ricos and buzzbaits are key for the topwater bite, a handful of spinnerbaits, chatterbaits and chrome Rat-L-Traps should be in your box no matter what the season, and if it's deep structure time you can't go wrong with the citrus shad Fat Free Shad, along with some Storm swimbaits to plumb the bottom. Throw in some Carolina Rig components along with your Texas Rig weights and you should be good to go.
With that said, there are times when specific bites are ongoing and we don't ever want you to arrive under gunned. Monitor our Facebook page for updated info, and if you're ever in doubt about what you need to bring, please call us, email us or contact us through Facebook. If you've received this report from a friend, please be sure to sign up for future mailings at www.anglersinn.com. If you know a friend who would benefit from these newsletters, please make sure that they are receiving them, too. We want to make sure that you're outfitted properly to make the most of your vacation.
In addition to our Mexican properties, we're just now commencing what we expect to be a banner year in the Amazon. We've continued to pioneer both the fisheries down there and the techniques used to catch the biggest peacocks, most recently with the Hog Farmer "Amazon Tough" Alabama Rig. We have three distinct choices down there – the Rio Negro Lodge, the Amazon Santana Yacht, and our famous floating suites – and I'm happy to talk you through your decision as to which one is best for you and your group. All of them are smack dab in the middle of world record peacock territory, and all feature our exemplary service, but I know that this is a bucket list trip for many of you so I want to make sure that you spend your hard-earned money on the optimal experience.
We'll continue to update you via social media. We try to give you honest, meaningful reports during the season. Hit us up on Facebook, Twitter and Instagram to interact with us personally – better yet, many of our satisfied guests frequent those pages every day. Ask THEM your questions and you'll be 100 percent sure that you're not getting a sales pitch.

---