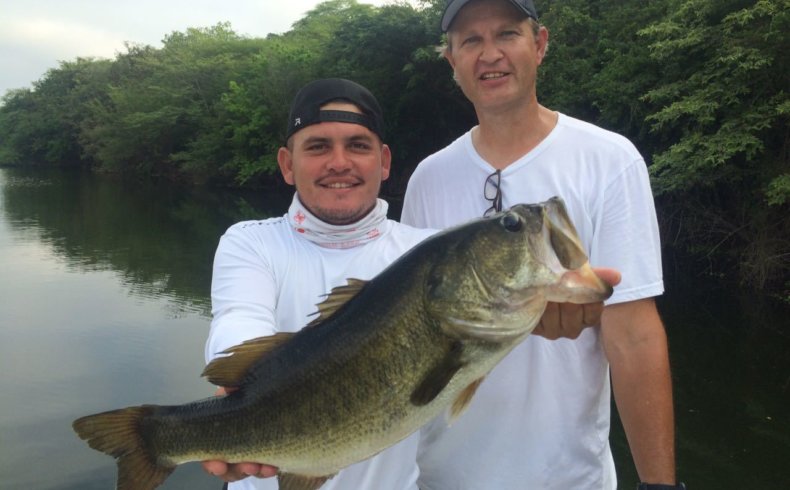 The 2016-2017 season in Mexico has commenced and all signs point to another exceptional year after last season's bonanza. Both El Salto and Picachos are full of water and full of bait. The lakes are as fertile as ever and the fish are having a field day feeding on big schools of protein-packed tilapia and other forage. Sometimes all of those baitfish make it hard for an angler to compete, but our guides have developed key strategies for locating and catching biting fish and we expect things to continue to get better as the year progresses.
Jim Ireland of Texas decided to impress his girlfriend Cheryl with a trip to Mexico for a little bit of fun on the beach and a lot of fun at Lake El Salto. Jim has fished for bass for 30 years and lives just 45 miles from fabled Lake Fork, but he said that the fishing in Texas doesn't compare to what he found in Mexico. While he didn't match his personal best – a 10-plus caught in California years ago – he came close with a 9 ½ pounder that crushed a 6###sup/sup### Sense hollow bodied swimbait in the "Shad Skills color." Jim said that a key to his success was rigging the lure on a Blade Runner insert weighted hook, which provides "the most natural presentation of one of these baits I've ever seen."
He favors a 3/8 or ½ ounce head and normally allows it to sink to the bottom, then retrieves it slowly until the tail stops flapping, at which point "it's time to set the hook." This time, however, he found the fish fairly high in the water column, within 2 or 3 feet of the surface, so he was able to engage the reel sooner and swim it closer to the surface. During one session, he caught 4-, 5-, 6-, 7- and 8-pound fish on this presentation.
One other tip that Jim offered is to use Pro Cure Super Gel fish attractant, made of ground-up baitfish. He said that when the fish turned finicky, this turned the bite back on.
For numbers, they found the Scrounger head with a Keitech Swing Impact on the back to be the best bet. Cheryl had told Jim prior to the trip that she "hated bass fishing," but it turned out that she'd never actually been before. With a simple retrieve of the Scrounger, she not only caught large numbers of fish, but she also caught an 8-plus pounder that would be the envy of many anglers who've been searching for a trophy for decades. They also had some decent spinnerbait action, including Cheryl's 7-pounder. That bite is just going to get better as we move forward.
Cheryl wasn't sure that her back problems would allow her to fish three and a half days, but despite swearing "that she'd never get a massage," she decided to check out the services of our masseuse Betty after the first day of fishing. "She came floating out of that room," Jim recalled. "She liked it so much that she went back the next day." She added that although she'd traveled extensively before, she'd "never been to a place with that kind of service. Sammy and Ramon and our guide Oscar were great." So if your wife or girlfriend is hesitant about coming to Mexico, please remind her of our spa services and moreover of our commitment to service. No one leaves unhappy. We've hosted lots of men and groups of men over the years, but now we're committed to making sure that members of both genders, and of all ages, can catch the fishing bug.
Unlike Jim and Cheryl, who were making the first of what we hope will be many visits to the lake, Gary Willoughby and his wife Sarah are frequent visitors, often coming over for a day or two from their Mazatlan vacations.
"We love Mazatlan!" Gary said. "We have a time share there and go every other year. Always tie a trip to El Salto/Anglers Inn when we're there. Our time share is at Pueblo Bonito Emerald Bay which is outstanding." If you'd like to book a combo bass-and-beach trip, let us know and we'll get you set up at the Pueblo Bonito, in fact it's one of our featured packages.
"Mazatlan is a great, older Mexican town," Gary continued. "Quite a few places to visit and some excellent restaurants. Usually, though, we spend most of our time at the resort as it has all the amenities. Anglers Inn has a great day package – pick you up early (4am) at your hotel, about 1 ½ hour drive to the lake. They serve you breakfast and you're on the water just before dawn. Fish the morning and they bring you in for lunch, also as many margaritas as you want. Rest an hour or so in one of their air-conditioned rooms, then fish the afternoon. Come in for dinner (along with more margaritas) and they then drive you back to Mazatlan. You get back around 8:30 to 9 pm. The entire staff at Anglers Inn is great! They take really good care of you, and even on single day trips we have quite a few double digit bass to show for it."
For Gary and Sarah, a ¾ ounce Scrounger was the best bait for both numbers and size, although instead of the white Keitech swimbait they tipped it with a Super Fluke. "The best color on El Salto by far is chartreuse," Gary reported. They also caught some quality fish on spinnerbaits and Texas rigged lizards.
The topwater bite has also really started to heat up. Be sure to pack Rio Ricos or comparable poppers in white or shad colors. During the low light conditions these lures will produce tremendous strikes, but don't hesitate to pull them out at mid-day to hit ambush points and shade pockets. This often produces some of the best catches of the year. If you're crazy about topwater fishing, consider a trip to Picachos, where the numbers are insane and the biggest hardship is that you may have to replace the trebles on your lures a couple of times over the course of your trip. It's a perfect place for youngsters who need to get confidence in their skills, and at less than an hour from Mazatlan you can maximize fishing time on a day trip.
As always, bring lots of 10" Power Worms (black/blue and watermelon), 8" lizards (watermelon red) and 6" Senkos (watermelon red). All of them will produce daily, but sometimes one proves to be the preferred meal and it's possible to go through a ton of them in a single day. If you're ever in doubt about what you need to bring, please call us or contact us through Facebook. While there are certain all –around standards you should always have on hand, particular bites get hot at specific times and we want to make sure that you're outfitted properly to make the most of your vacation.
In addition to our Mexican properties, we're preparing for a banner year in the Amazon. We've continued to pioneer both the fisheries down there and the techniques used to catch the biggest peacocks, most recently with the Hog Farmer "Amazon Tough" Alabama Rig. We have three distinct choices down there – the Rio Negro Lodge, the Amazon Santana Yacht, and our famous floating suites – and I'm happy to talk you through your decision as to which one is best for you and your group. All of them are smack dab in the middle of world record peacock territory, and all feature our exemplary service, but I know that this is a bucket list trip for many of you so I want to make sure that you spend your hard-earned money on the optimal experience.
We'll continue to update you via social media. We try to give you honest, meaningful reports during the season. Hit us up on Facebook, Twitter and Instagram to interact with us personally – better yet, many of our satisfied guests frequent those pages every day. Ask THEM your questions and you'll be 100 percent sure that you're not getting a sales pitch.
---