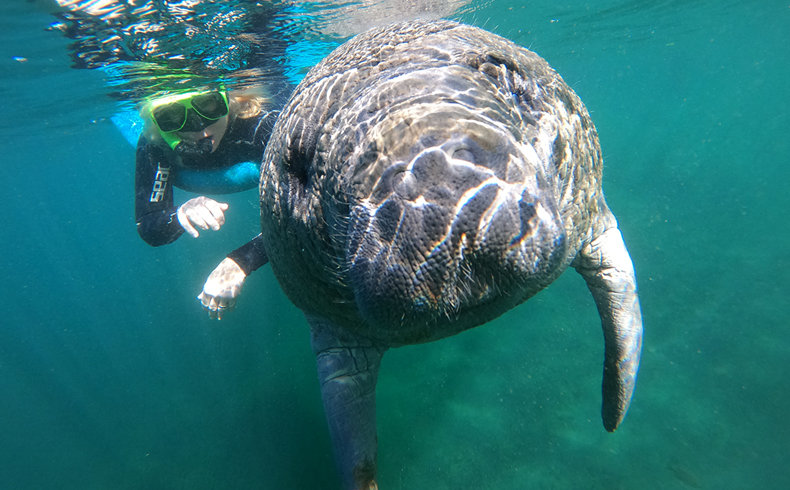 Anglers Inn Floating Suites are at the Manatee Capital of the World

GAINESVILLE, Florida (October 11, 2023) – The annual migration of the endangered West Indie manatees is underway as the gentle sea cows start their move from the Gulf waters inland. The manatees' destination is Kings Bay, Crystal River, FL, the Manatee Capital of the World, to rendezvous with year-round residents. The population of these mammals soars to over 1000 from November to March.
What to do with so many manatees? Swimming is the answer, and this is the only locale in the United States where joining manatees in the water is legal. Local guides are knowledgeable about how to respectfully and carefully share the water with these inspiring mammals. Crystal River is a leader in manatee conservation.
Lodging in Crystal River has never been more exciting. Anglers Inn luxurious floating suites give guests the suite life on the water experience. These 59-foot, wide body houseboats have all the amenities and sleep up to six. Docked at Pete's Pier in the heart of Kings Bay, our floating suites residents relax on the multiple decks and watch Manatees slowly cruising by.
Multiple manatee experience excursion companies in the area take customers to the best manatee viewing locations for snorkeling or watching from the boat deck.
Visitors are encouraged to make reservations for excursions and Anglers Inn Floating Suites lodging as early as possible to ensure availability.
Learn more by visiting Pete's Pier and Anglers Inn. Follow Anglers Inn Floating Suites, where Service is Our Focus, on Facebook, Instagram and Twitter. For more information on the Crystal River area go to Discover Crystal River.
---