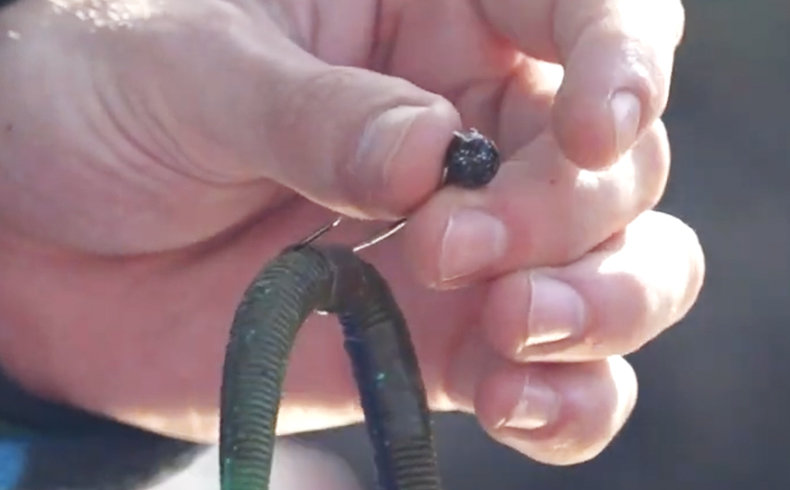 From the Anglers Inn guides and guests' fishing reports
It's no surprise to anyone that follows Anglers Inn social media, the number one bait at Billy Chapman lodges in Mexico is the stick worm. Yamamoto's Senko is the best known brand but Berkley's The General and Yum's Dinger are excellent substitutions. Watermelon or green head the list for color selection. Rigging is widely varied including weightless, wacky, Texas and Carolina with the target water is bluffs, point, structure and literally on the bank.
Another soft plastic, the 10-inch black/blue PowerWorm, makes the list just as it has since the lake was created. This Berkley worm is a staple in every Mexico tackle box. Simply put, don't leave home without them. Primarily Texas rigged, although Carolina rigging is an option, the worm is great in structure, bluffs, points and flats.
Deep diving crank baits are also a must have bait. Typically the chartreuse or citrus colors work best. The bait needs to dive deep, down to 20 feet. The Berkley Dredger, Bomber Fat Free Shad and Rapala DT20 all fit the bill. It's a matter of casting where the guide points and crank the bait deep to the boat. There's no mistaking the strike. But arms do wear out so if possible use an Abu Garcia Winch reel with 30-pound moss Spiderwire.
Swim baits are taking a lot of fish and are so easy to fish. Best choices are a 5-inch shad colored swim bait, like the Berkley pre-rigged Powerbait Swim Shad or the Keitech swim baits. Cast where the guide directs and crank back. The presentation might need to be varied until the retrieve cadence matches the bass's desire. Change to faster, slower and pumping/resting.
Top water action simply can not be beat. Nothing like the explosion as a big bass engulfs the bait. So many options are out there including the popping baits, swim baits and noisy baits like the Berkley Choppo makes a bass go out of his mind. It matters not whether the fish is mad at the bait or hungry. A bite is a bite and a topwater strike can cause heart-stopping excitement.
You've heard this before but it bears repeating. Listen to your guide. They are out there everyday and know where the fish live and what they are biting.
For more information on Anglers Inn go to anglersinn.com or call 1800-GOTAFISH.
---