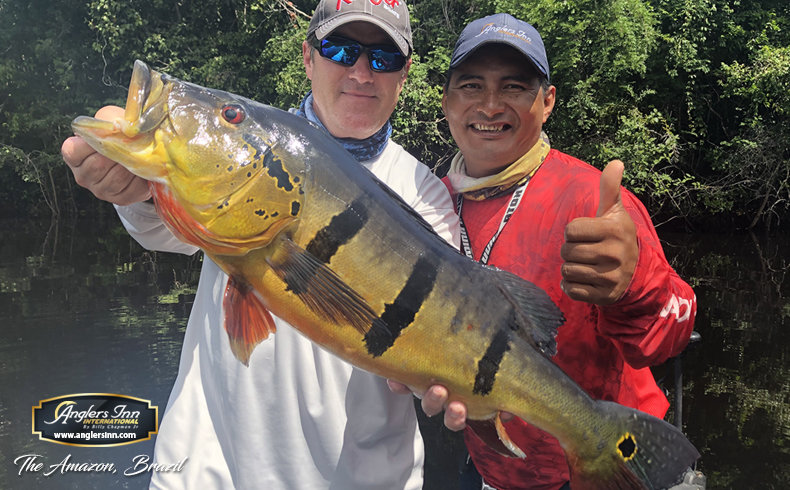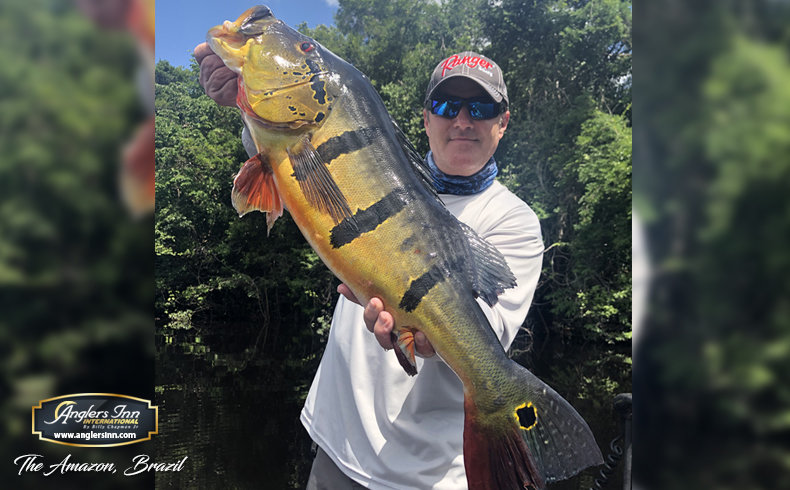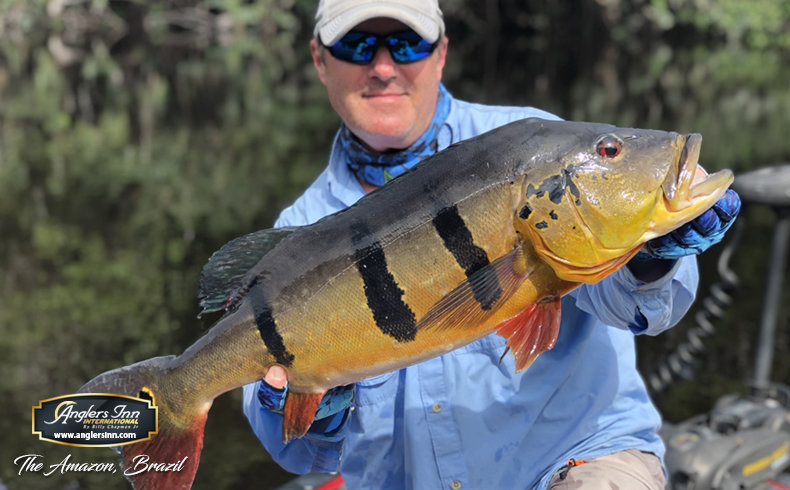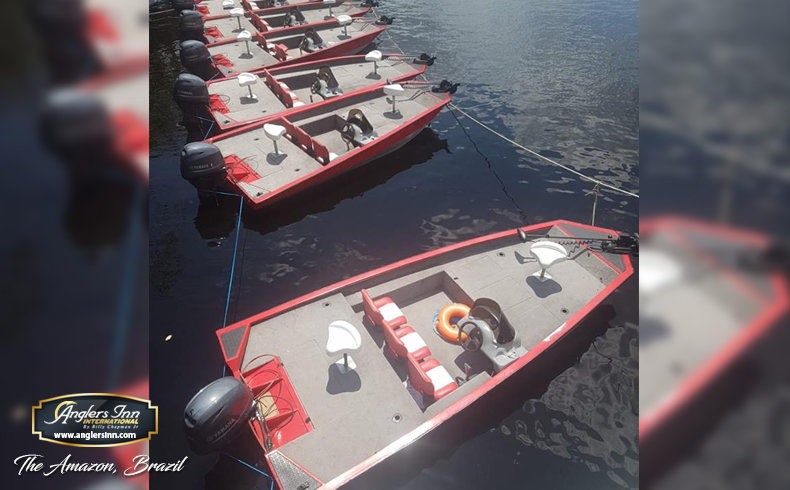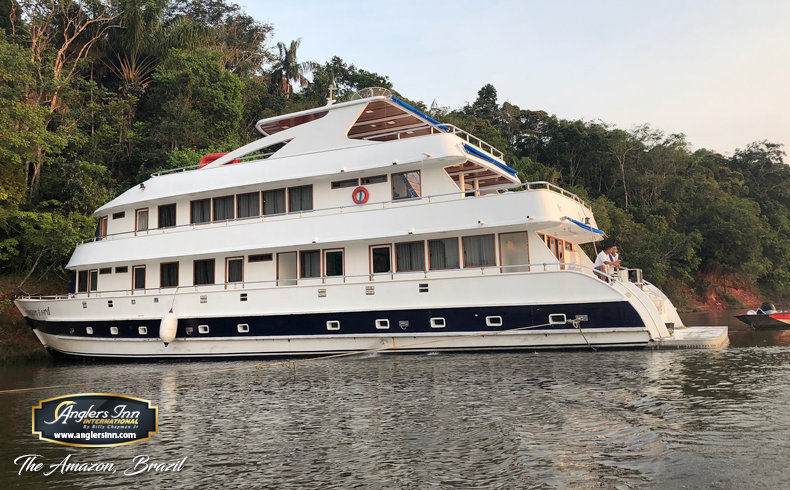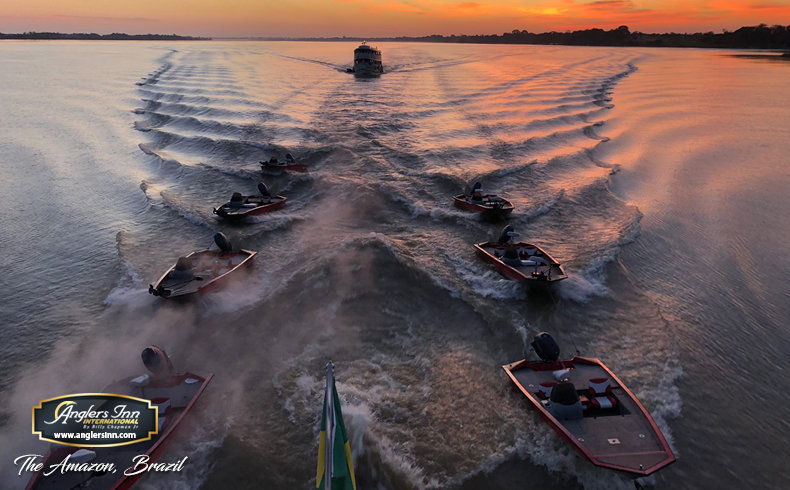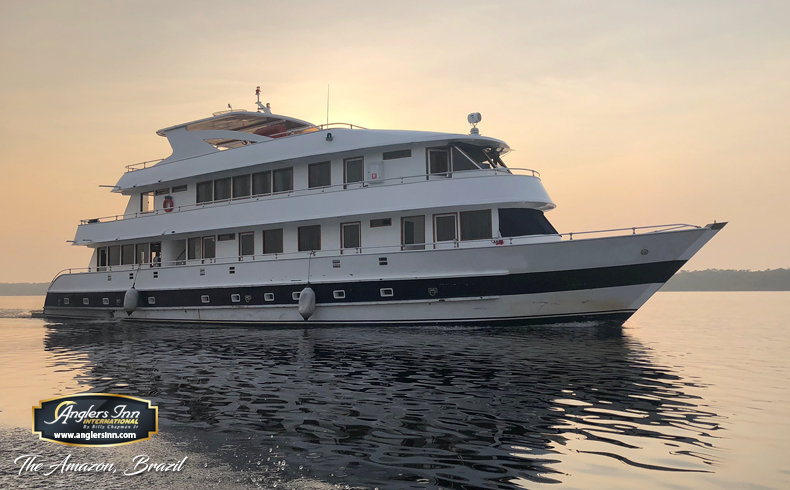 My guide Blake (pronounced Black-ee) spotted it first.
The surface of the water shimmered with a slight nervous tremor.
He looked at me excitedly and in his best better-than-broken English learned from watching hundreds of hours of American TV with Portuguese subtitles, exclaimed "Fry ball, fry ball, fry ball!"

As he eased toward the ripples with the Minn Kota trolling motor he could tell by the look on my face that I wasn't 100% sure what to do. If I made a bad cast, the female peacock bass would "gulp" up her fry into her mouth to protect them, much like a tilapia will do under similar circumstances.
As we inched closer, Blake whispered, "One meter...one meter past..." Using my best metric-to-imperial measurement skills I understood that I should cast about 3 feet beyond the "ball." I heaved my Strike King Blue Gill Sexy Dawg (because why wouldn't you use a bluegill color on the Rio Negro River in the heart of the Amazon rainforest) beyond the target and starting to twitch the rod in the familiar walk-the-dawg rhythm. This was the moment when I decided to ponder whether the upsized and upgraded treble hooks and heavy duty split rings would hold if I was lucky enough to get a big peacock bass to take an interest in my lure.
As the bait twitched left then right then left then right again, Blake whisper-shouted "Faster! Faster!"
I leaned into it. Sweat slithered down my face. My hands felt like I was wearing waterlogged mittens. Just as the bait entered the area of the fry ball the water began to hunch up like the birth of some freak tsunami. Then it happened. It wasn't just an eruption. It was more like an assault with intent to do serious bodily injury. The Sexy Dawg didn't fly into the air. It disappeared into a black hole that quickly turned to bright shades of orange, yellow, cyan and other neon colors more at home at an all-night rave in some industrial area of New York City than the black waters of the Rio Negro.
As a professional bass fisherman for over 30 years, I've caught many a good size largemouth and smallmouth bass on topwater lures. As a TV series host, I've caught more big bass, snook, tarpon, king salmon and other fish both large and larger on just about every lure you can imagine.
This however, was different.
This was the legendary Peacock Bass, and it was going to take the full tensile strength of the 65-pound braid to even get this fish's attention.
But enough about that. You might wonder why I'm here in the first place.
The answer is easy: Billy Chapman Jr.
If you're going to venture into the Amazon in search of peacock bass, why wouldn't you go with the man who was inducted in to the Freshwater Fishing Hall of Fame as one of the first outfitters to venture into this zone. He first came here almost 40 years ago, and was instrumental in introducing the peacock bass to anglers from around the world.
With more than a dozen visits to Billy's incredible Anglers Inn lodge on Lake El Salto and his new lodge on Lake Picachos just outside of Mazatlan, Mexico, I knew I could expect incredible fishing, outstanding service and unparalleled accommodations.
Check. Check. And check.
What Billy has brought to the Amazon is something that almost defies description -- but let me try. After dinner aboard the Anglers Inn Floating Suites Ship you can enjoy a delicious banana split.
Let me repeat that.
Deep in the heart of one the most rugged and wild places left on planet earth, you can enjoy a freaking banana split after an incredible dinner of grilled steak with all of the sides your heart could possibly desire! To put it simply, that's the Anglers Inn way. And for those of us fortunate to have experienced Billy's unique brand of hospitality, it NEVER ceases to amaze how Billy pulls this off. I mean I can barely manage the logistics of ordering a pizza to be delivered to my home in Cincinnati, much less pull off ice cream in the rain forest for 16 guests.
So where was I?
Oh yeah. The crushing, bruising, bone jarring like a foul tip with a wooden bat on a 98 mph fast ball top water strike. I remember now. But I kinda don't. The details are foggy. Probably the result of my rapid fire pulse brought on by the massive release of cortisol into my bloodstream as my brain signaled "DANGER! DANGER! DANGER! But fortunately for me (and you if you're into this type of thing) it was all captured on camera for my series Stihl's Reel in the Outdoors, which can be seen only on Outdoor Channel. This epic peacock bass battle will kick off of 2019 season next fall so as much as I hate to make you wait in suspense, you're just going to have to trust me. It's going to be well worth it.
As for the rest of my trip? It was incredible. Even with rising water we still managed to catch numerous big peacock bass during our stay on these exclusive world-class waters. The Sexy Dawg was my go-to for much of the trip, followed closely by a hair jig that was hand tied and crafted by the guides during their off- season. The presentation was as fast as you could move it and whatever the jig is designed to mimic, they seem to have nailed it. Blake and I even got together on the buddy system. If the Dawg pulled up a fish that didn't want to crush the topwater, Blake would follow up with the jig and get a strike almost every time. So remember, if you go with a fishing buddy, you'll catch scads more fish working together like this. It's incredible. These fish aren't afraid of the boat, of you, of anything! And the fight? If you're in my age group, think late 80's Mike Tyson.
If peacock bass fishing is on your bucket list, you need to do it! But do it the right way with Billy Chapman Jr's Anglers Inn. It's unlike anything else you've ever experienced. I guarantee it!
Call 1-800-GOTA-FISH or check out his website at www.anglersInn.com for more information.

---