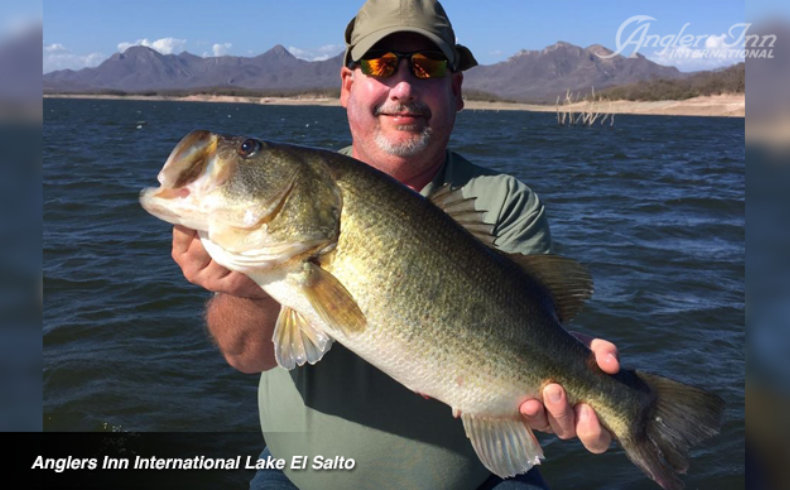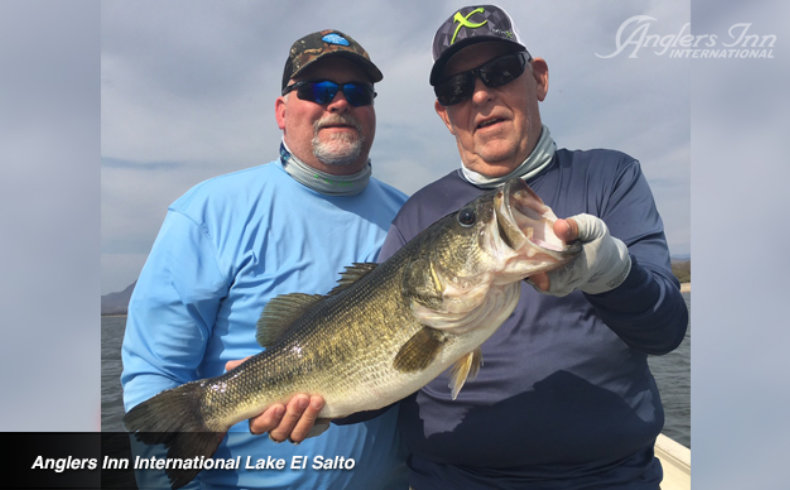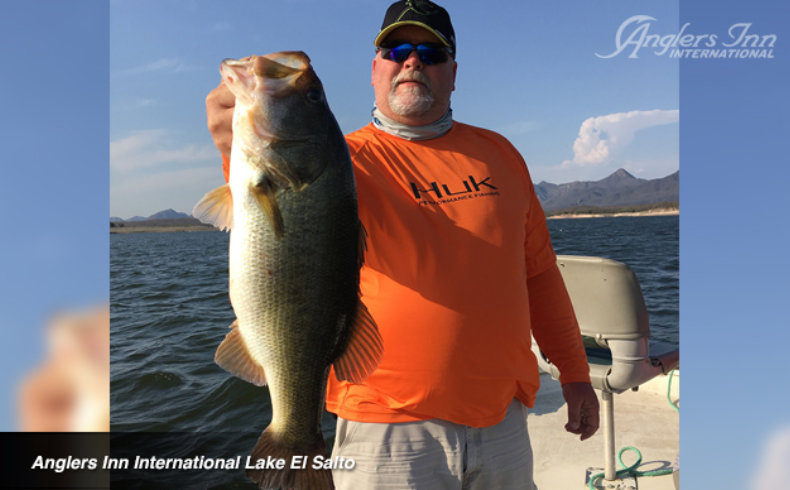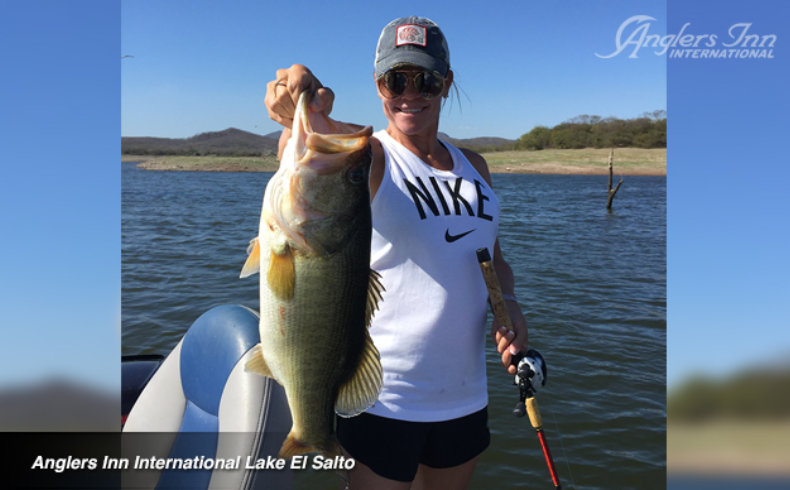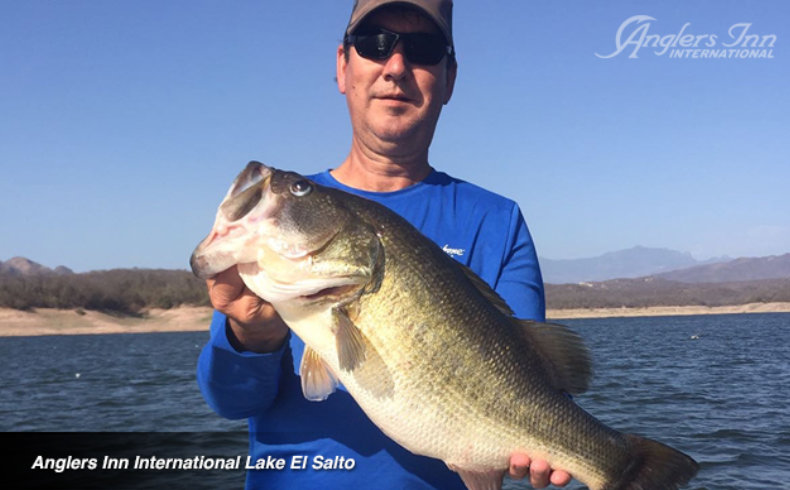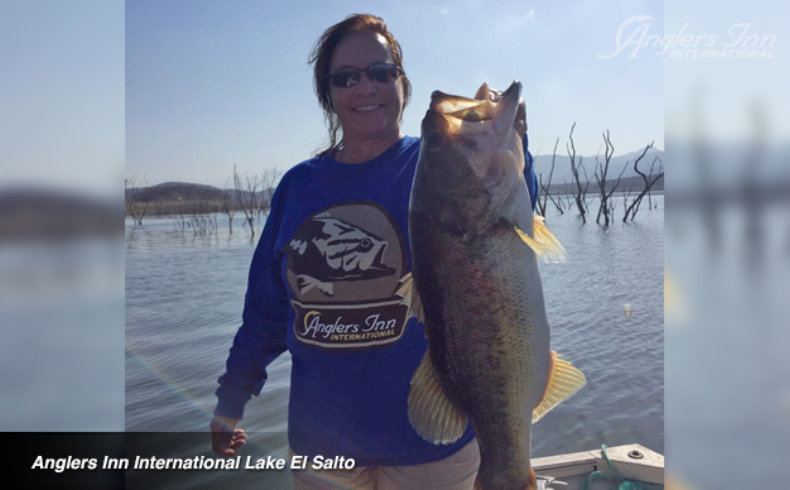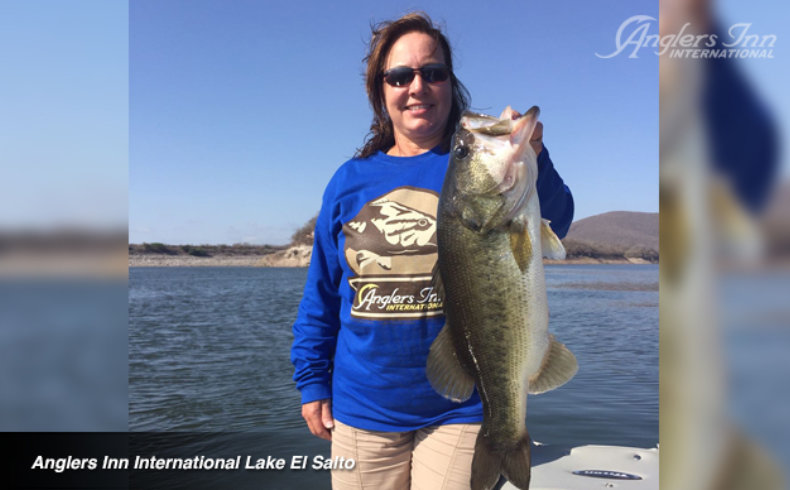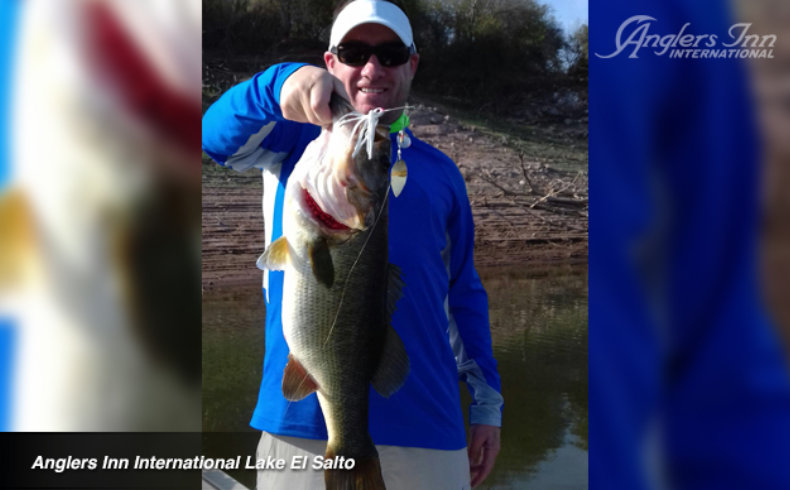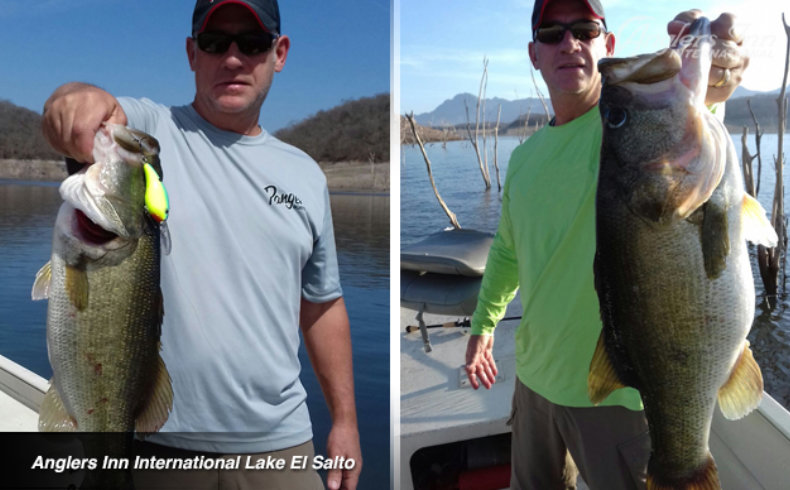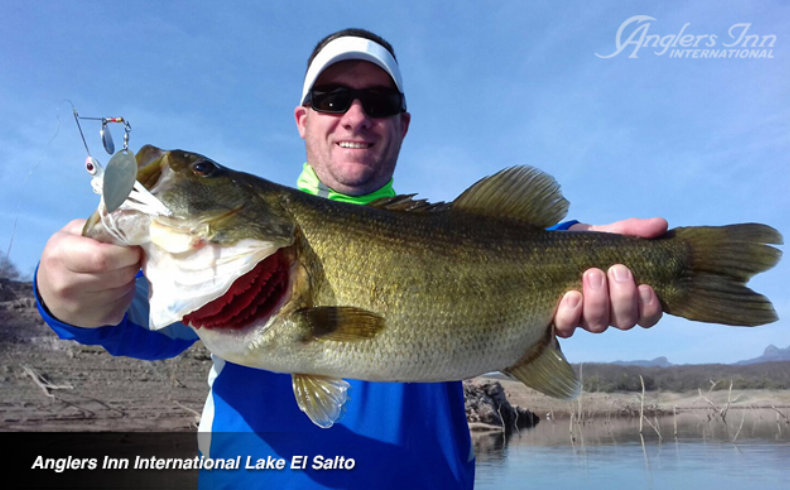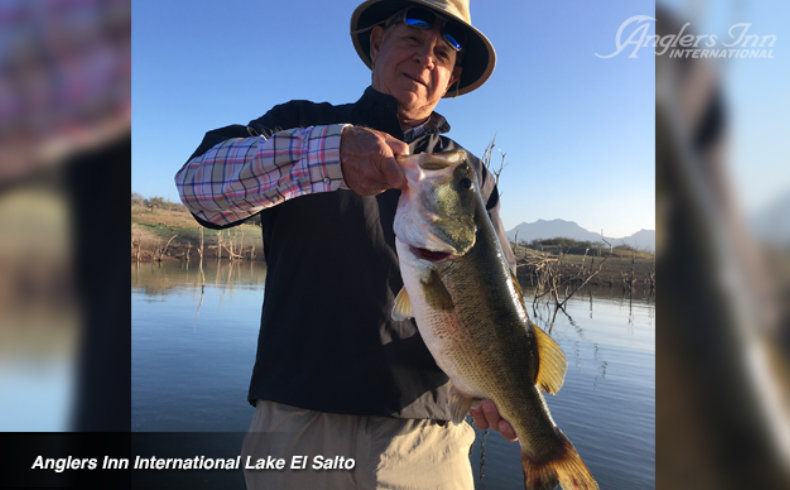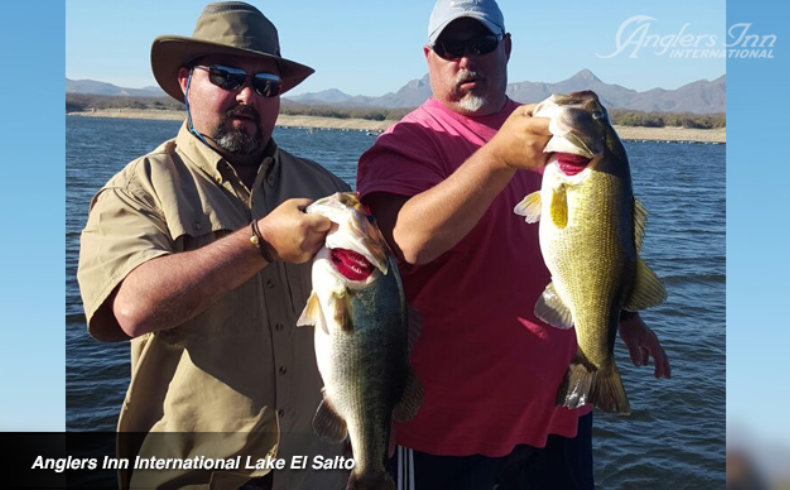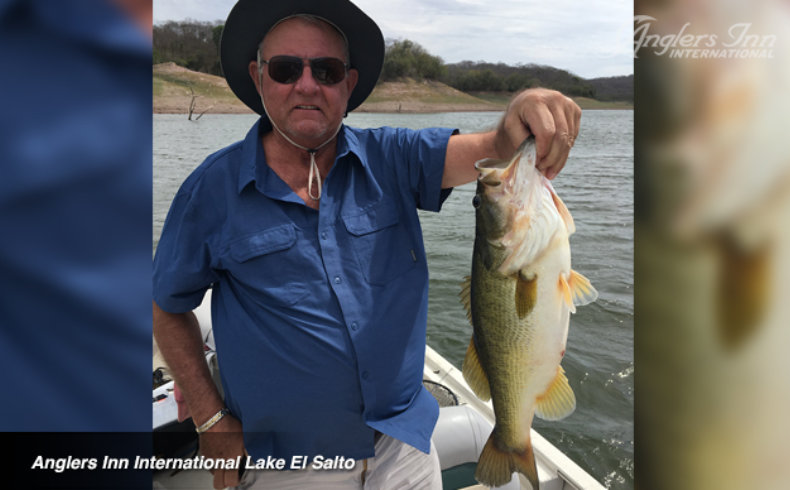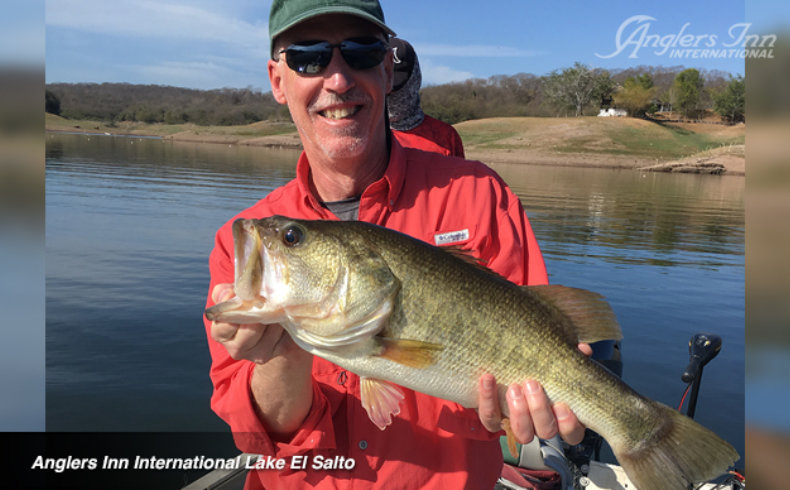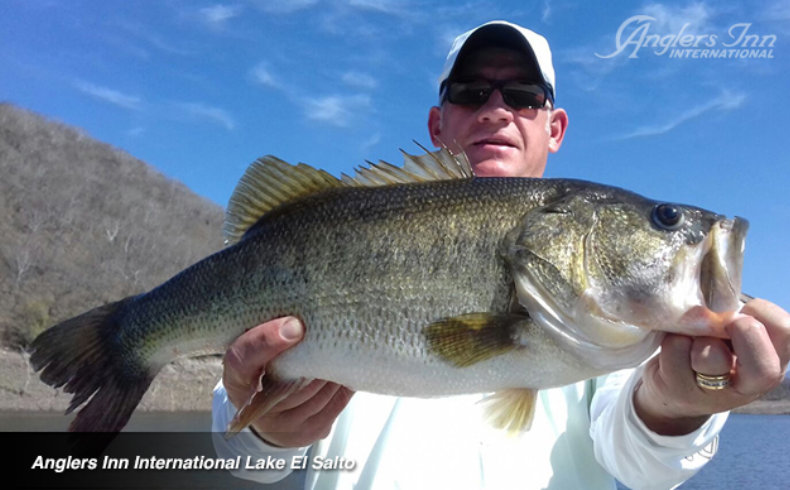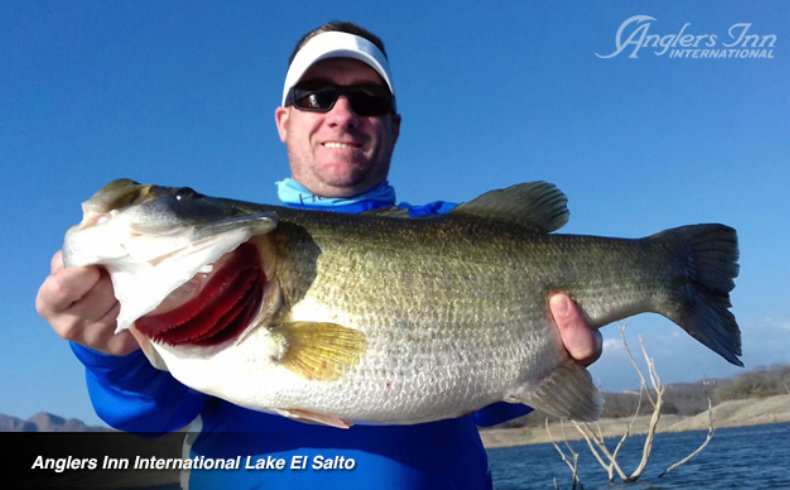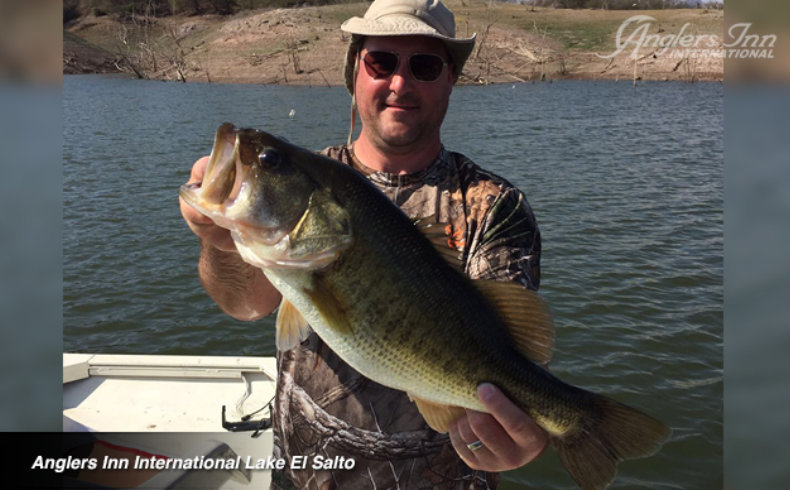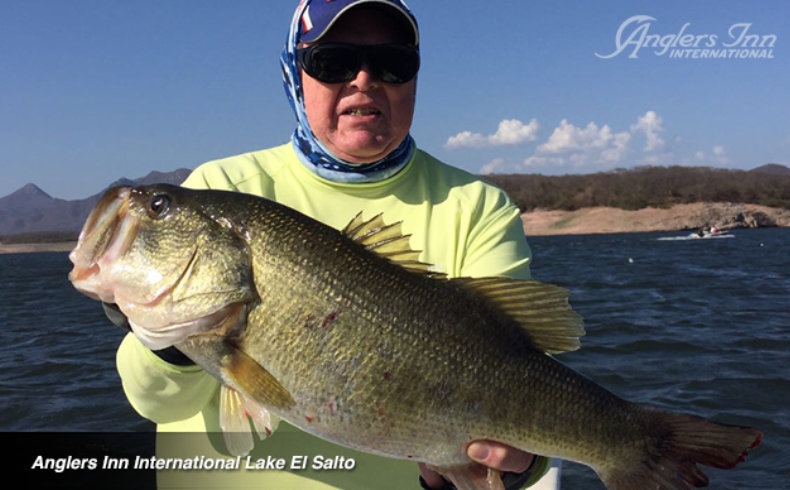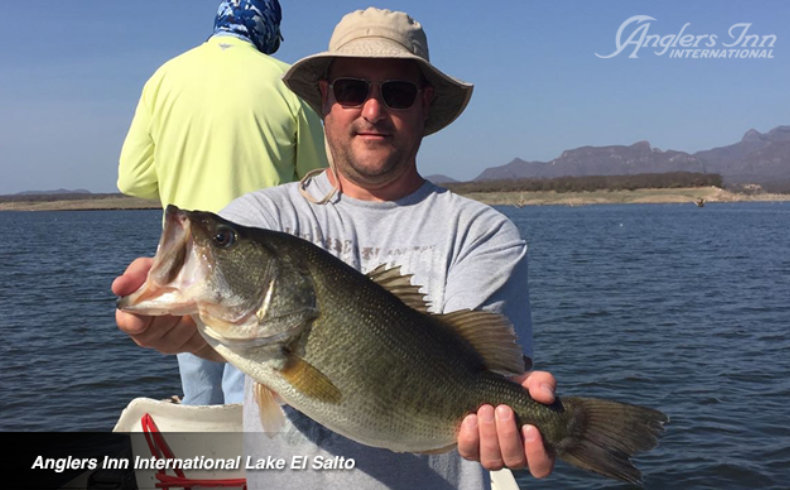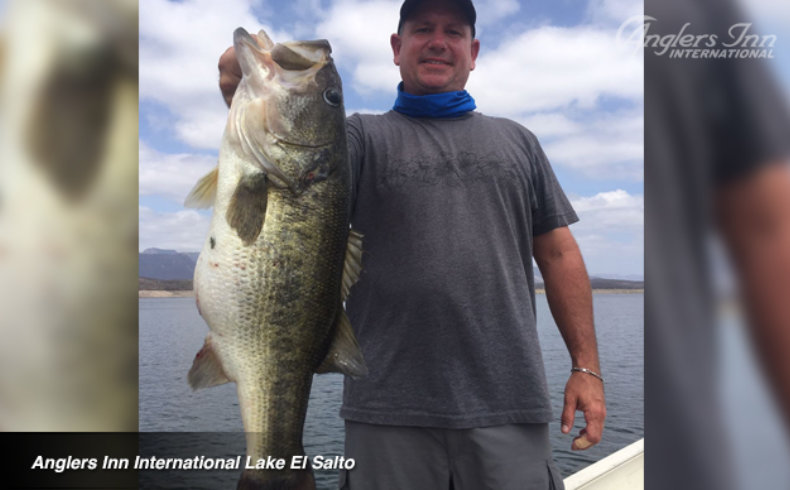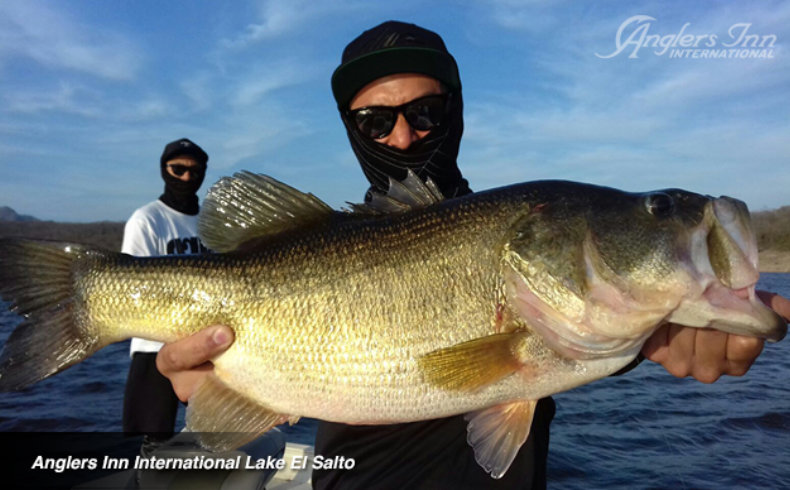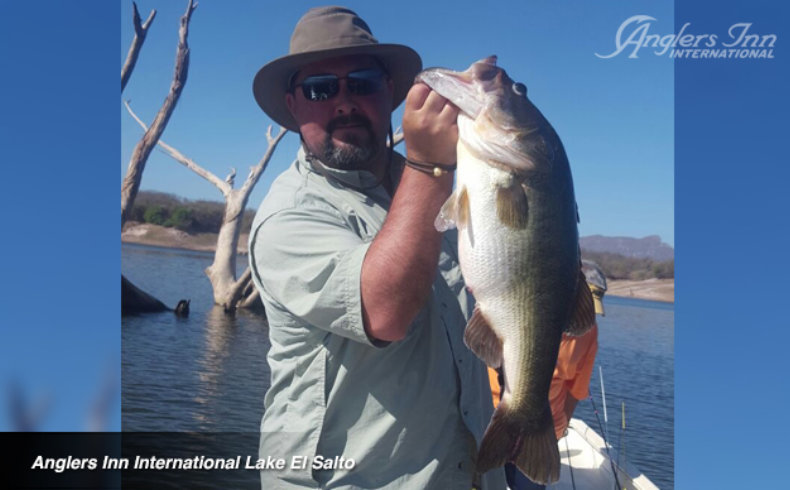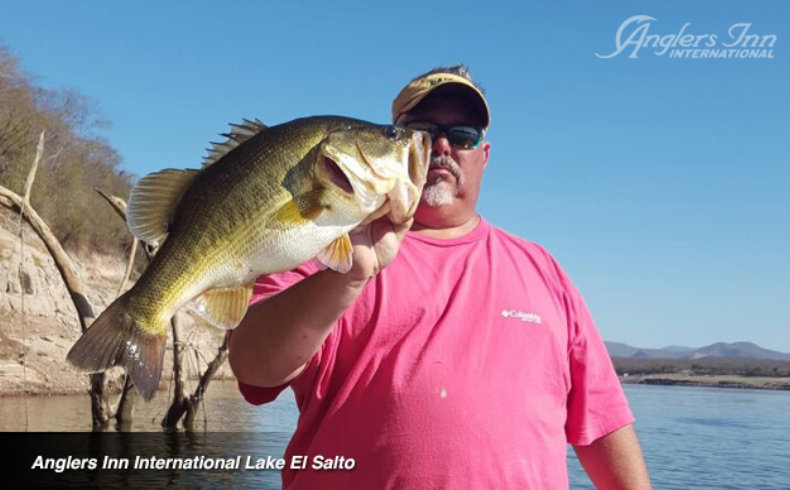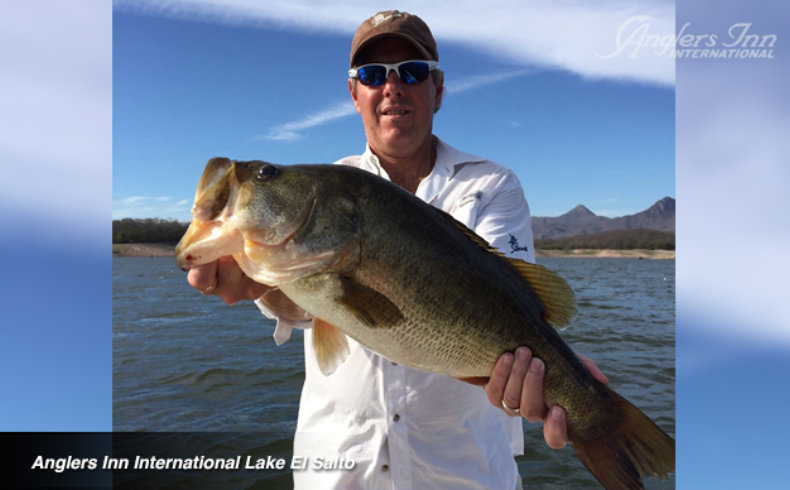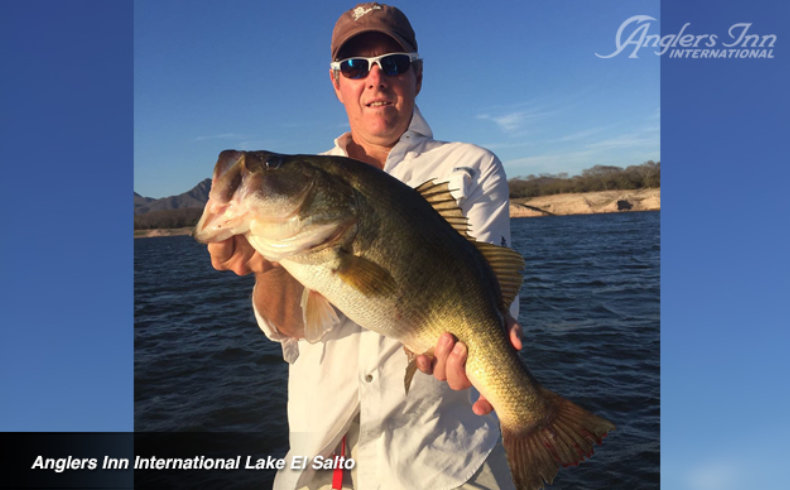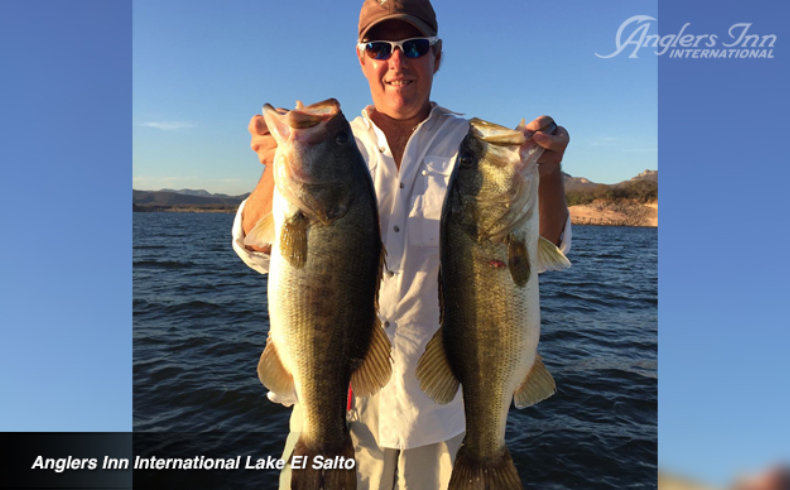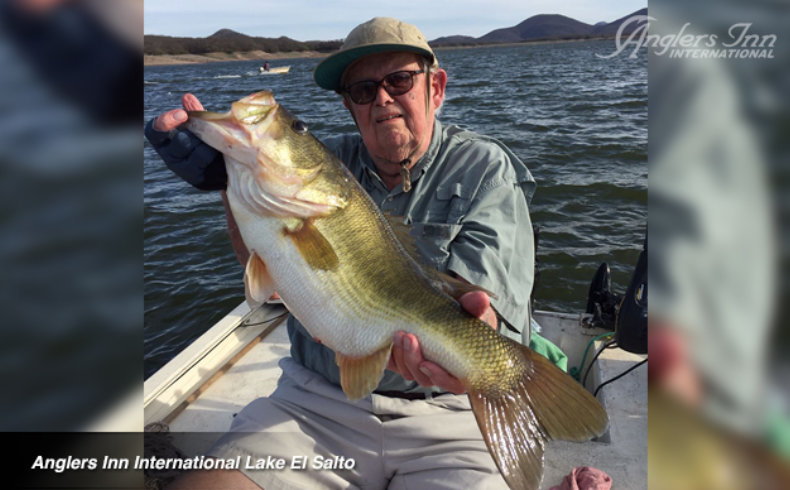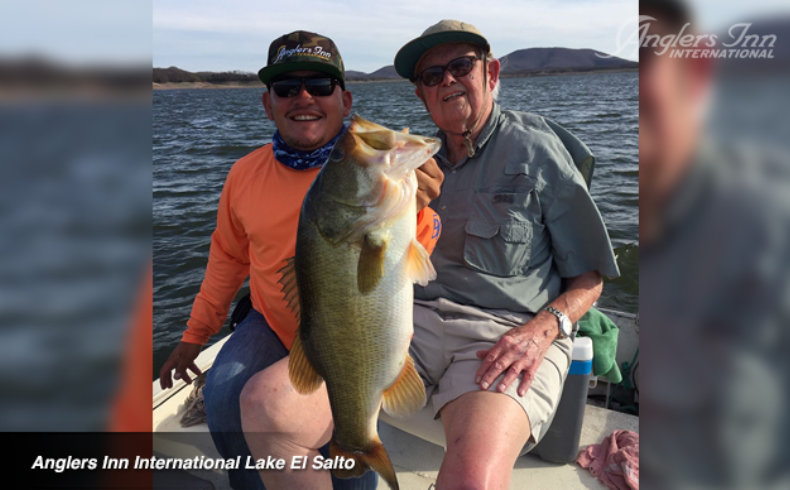 As we move into the driest part of the year, the agricultural needs of Mexican farmers remain substantial, so the water is dropping like crazy. That's a good thing – it puts bass in predictable locations on a shrunken playing field and while it's not quite "shooting fish in a barrel," this is one of our most predicable times of year. Savvy visitors know that it's also one of the best times of year to find massive schools of bass ready to eat big baits.
At El Salto, April was a banner month, with fish lining up in our guides' favorite spots and nearly every angler being rewarded with a chance at a trophy-class fish, or several.
Frank Vandeventer of Oregon made his fifth trip to El Salto. He's an old hand at bringing newcomers to discover the lake and said that "it is always hard to beat the low pool fishery. A few years ago I took my granddaughter for her 17th birthday in March and she landed a 10 pounder on her third cast." This time he brought his friends Mike and Lloyd and now they are converts, too.
"Our first morning was unbelievable," Frank said. "We started early, fishing topwater using Pop-R's, where I took a 6- and 7-pounder back to back. We switched to plastic worms and continued to work the bank catching three more 7- to 8-pounders within 150 yards. In the late mornings and early afternoons we would work off point drop offs and deep holes. The last thing in the evening we would drift through the shallow old tree stands, casting worms or lizards to the base of the trees. This ended up being our daily routine, and while we worked all over the main pool of the lake, Antonio always took us to one spot where I swear the three of us would land at least 100 fish a day!"
John and Bessie Tolson of Louisiana made their first trip to El Salto, but they assured us that it will now become a regular stop on their travels. "My first trip and will not be my last," John wrote. "The first afternoon, after catching several 3- to 5-pound fish, I landed my largest of the trip, a 9.8 pound monster on the black with blue tail power bait worm. The next four days we caught 40 to 50 fish a day with the last day by far our best fishing day. The last day we caught close to 100 fish and most were over 3 pound. We caught probably 60% of our fish on the black and blue power bait worm but the blue flake worm worked just as well. For numbers, we could have caught well over 100 fish a day fishing a 6" watermelon red Senko. However, those fish seemed to be smaller fish.
As many of our regular guests know, summertime is crankbait time at El Salto, and John reported that their second best bait for quality fish was the ultra-deep diving Strike King 10XD, although they also used the slightly shallower diving 6XD when conditions demanded. I'd guess that more big fish have been caught at El Salto on a Citrus Shad crankbait over the past 30 years than any other lure, but John and Bessie found that a slight color change made a huge difference.
"We did catch a few on Citrus Shad 10XD but had much better luck with the Tennessee shad color," John said. Nevertheless, "If I had to go with only one bait, I would bring a suitcase full of 10" black Power Bait worms with a blue tail.
Unlike the Tolsons, Phil Dawson of Georgia has been to El Salto a number of times, and while they relied heavily on a Texas Rig during their April trip, Phil did best on a Carolina Rig. "I caught every big fish on a Carolina Rig with a ¾ ounce lead egg sinker, bead, swivel, 24-inch 15 lb. fluorocarbon leader and a 5/0 hook," he said. We were dragging on the bottom in 18 to 30 feet with lots of rock and it was quite the feeling to set the hook and feel the bigs go the other way and pull drag."
Phil was also one of the first guests at the lodge to use our new varied supply of St. Croix rods. "They made fishing pure pleasure," he said. "I caught fish on all four brand new rods with topwater, Spotsticker spinnerbaits, crankbaits, Texas Rigs and Carolina Rigs." These rods are the real deal, folks, and we are committed to giving you the best possible tools to land that fish of a lifetime. You don't need to travel with a heavy and burdensome rod tube anymore if you don't want to.
Picachos continues to pump out ridiculous numbers of fish. You really need to experience it at some point, even if you're a seasoned El Salto veteran, and it's unbelievable for newcomers and kids. Our man Pino has been consistent in his reports of 80-150 fish a day per boat. As John Tolson indicated at El Salto, you could probably get away with just Senkos, worms and lizards, but at times the offshore bite is much better for big fish. Our guides are really dialing that in, and the same crankbaits that produce at El Salto can be deadly – as long as you're not afraid to throw them in the timber. A reasonable supply of topwaters, spinnerbaits, lipless crankbaits, swimbaits and flukes round out all that you need. If you can't decide between the two lakes, a combo trip is the way to go.
One other exciting promotion that we want to share relates to our new partnership with The Bass University, founded by noted pros and fishing educators Mike Iaconelli and Pete Gluszek. We'll have a presence at some Bass U events, and then from November 6-10, Mike and Pete will be leading a trip to El Salto with discounted rates for their members. If you've always wanted to fish with them, or always wanted to fish Mexico, now is the time to do both! Call us for more information or to reserve one of the limited spots. In fact, if you're looking ahead to the next year, now is the time to reserve any prime dates as they are filling up fast.
While we often provide a generalized list of lures that work throughout the year, there are times when specific bites are ongoing and we don't ever want you to arrive under gunned. Monitor our Facebook page for updated info, and if you're ever in doubt about what you need to bring, please call us, email us or contact us through Facebook. If you've received this report from a friend, please be sure to sign up for future mailings at www.anglersinn.com. If you know a friend who would benefit from these newsletters, please make sure that they are receiving them, too. We want to make sure that you're outfitted properly to make the most of your vacation.
Speaking of our website, if you haven't seen it already, be sure to click on www.anglersinn.com at your earliest convenience to see our long-awaited updates to our online presence. Just as we set the standard for international fishing trips, we want to set the standard online, too. Whether it's your first trip to an Anglers Inn property or your 20th, we hope that this site will provide all of the information that you need, but if it doesn't we're always just a phone call or email away.
We'll continue to update you via social media as well. We try to give you honest, meaningful reports during the season. Hit us up on Facebook, Twitter and Instagram to interact with us personally – better yet, many of our satisfied guests frequent those pages every day. Ask THEM your questions and you'll be 100 percent sure that you're not getting a sales pitch.
---