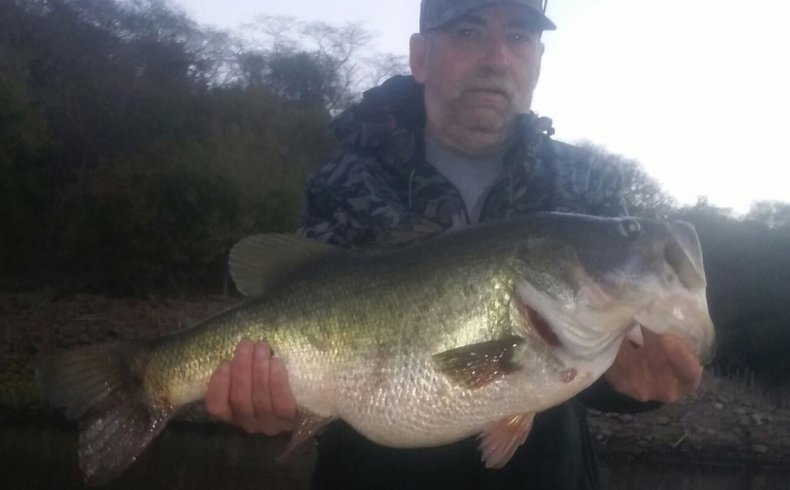 I may be starting to sound like a broken record, but I tell it like it is and both Lake El Salto and Lake Picachos are on fire this year. February saw the tail end of the biggest wave of spawners and now many of the big fish are gathered up in groups and soon you'll be able to absolutely wreck them on offshore structure. In the meantime we are absolutely blessed to be able to catch them in a wide variety of ways, from 6 inches deep down to 30 feet.
Before we get into the much-awaited fishing report, I have to convey some exciting news on the business front. We have partnered with St. Croix Rods to be the official rods of all Anglers Inn properties. If you've fished them, you know that they are exceptional products, and they are a U.S. based company making rods at home. Our guests will have the opportunity to fish with a wide array of them at the lodge at no additional charge, so if you're hesitant to carry a bulky rod tube, there's nothing to worry about. St. Croix will be sponsoring some really cool promotions at our properties, including some involving fly tackle. They're at El Salto as I write this, putting their products to the test and working on some new angles that'll benefit everyone involved.
We're about to announce another new deal with a major tackle company that's at the top of the chart in every category across the board. The ink is drying now and in fact we've already shipped out 40 complete tackle packages to customers, so stay tuned for next month's report when we'll fill you in on the details.
Now back to the fishing….
Mike Whitlow from Kennewick, Washington led two weeklong trips over the past month for a total of 40 anglers, mostly from the northwest. He's dialed in the bite at this time of year, working to make his trips coincide with the full moon. He's been down many times and works hard to make sure that all of his traveling companions have a shot to catch their personal bests.
"The first week the fish were staging on the primary and secondary points in front of the spawning bays and flats," he reported. "The second week they were on the flats and spawning bays. On the last day we were catching them with bloody tails and dripping eggs. One day my son Ryan and I caught 92, with 31 over 7 pounds, including a 10.2. Most of them came on 6 inch wacky worms and 8 inch green pumpkin lizards with their tails dipped in Spike It."
He said that the second week was more inconsistent but produced some absolute monsters: "Some boats found them and caught 50 plus a day," he said. "Some struggled for 25-30 per day. The swimbait, chatterbait and spinnerbait bite picked up the second week, especially in the afternoons when the wind blew. The Taylor twins from Texas had several sessions where they caught 15 to 30 fish on swimbaits, all over 6 pounds. They had several over 10 and one 11.5 that week, but the biggest fish of the week was caught by Gerald Marquez and it was pushing 12 pounds. He caught it on a Lockett Lures 6 inch Fattie in watermelon purple." swirl."
One of the key bites that many anglers overlook in the wealth of flipping, cranking and spinnerbaiting options on our Mexican lakes involves a jerkbait. Each year someone in Whitlow's group seems to dial this in and it can load the boat in a hurry. This time it was Robert Anderberg, who caught plenty of fish on Senkos and Strike King Bull Worms, as well as Strike King 10XD crankbaits in deeper water, but found his best success to come on a Megabass Vision 110 jerkbait.
"I had a lot of success throwing a shad-colored Megabass jerkbait," he said. "I caught my biggest fish, 7 pounds 4 ounces, on it. If you throw a jerkbait, change out the hooks with stronger ones, because if you use Rapala Shadow Raps (also very effective) or Megabass, the larger fish bend out the wire hooks!"
Robert's wife Tammy raved about how skillful the guides were at teaching her new techniques. "If any women are intimidated to fish (I was not, but realized I had a lot to learn in a new environment), our guide was very patient, could unsnag any trouble in a few seconds. I am used to pitching and flipping around docks or close to shore, dropshotting, and casting deep at home and have never really had to precision cast to the shore from a great distance. Our guide had me casting like a pro in no time with much more distance and accuracy. I learned new fishing techniques and caught fish on so many different baits -- Senko, Keitech, spinnerbait, jerkbait, crankbait, Texas rigged worm. My arsenal of retrieve patterns is now packed!"
Of course Tammy caught her personal best bass, but said that it was the attention to service that put the experience over the top. "What began as a trip of a lifetime for my husband's 50th birthday will leave memories for a lifetime, and we will definitely make return trips in the future."
Whitlow's group included many couples, such as David and Katie Hendrickson of Monroe, Washington. They'd been to other Mexican lakes in the past and never felt safe, but when he won this trip in a Big Bass Tournament he decided to take the leap.
"The wife is into bass fishing as much as I am but swore we would never go back," he said. Luckily they did, and the experience was 180 degrees different. "We are very impressed with this place and felt very safe! The service and food was unreal!"
Many of Whitlow's group members have already booked. We know that it's hard to believe but prime dates in 2018 are already filling up, so don't delay if you want to get in on the action.
Picachos continues to pump out ridiculous numbers of fish, well over 100 per day. Bring your standard lizards, Senkos, worms and flukes, but on both lakes the crankbait fishing should continue to pick up until it reaches its apex in mid-summer. We continue to be impressed with the Strike King 10XD and similar ultra-deep-divers. They're simply able to go where fish haven't seen a big plug before. Don't forget the 6XD and the trusty Fat Free Shad, though. They continue to produce, as do swimbaits, the trusty Carolina Rig, and creature baits with big tungsten flipped to bluffs and deep hardwoods. A few black and blue jigs round out the package.
If you can't decide between the two lakes, a combo trip is the way to go. That's what the brass from B.A.S.S. did this year, once again splitting their time at the two lakes. Bassmaster editor Dave Precht, CEO Bruce Akin and owners Jim Copeland and Don Logan have made time every year in recent times to carve out a portion of their busy schedule for both lakes.
One other exciting promotion that we want to share relates to our new partnership with The Bass University, founded by noted pros and fishing educators Mike Iaconelli and Pete Gluszek. We'll have a presence at some Bass U events, and then from November 6-10, Mike and Pete will be leading a trip to El Salto with discounted rates for their members. If you've always wanted to fish with them, or always wanted to fish Mexico, now is the time to do both! Call us for more information or to reserve one of the limited spots. In fact, if you're looking ahead to the next year, now is the time to reserve any prime dates as they are filling up fast.
While we often provide a generalized list of lures that work throughout the year, there are times when specific bites are ongoing and we don't ever want you to arrive under gunned. Monitor our Facebook page for updated info, and if you're ever in doubt about what you need to bring, please call us, email us or contact us through Facebook. If you've received this report from a friend, please be sure to sign up for future mailings at www.anglersinn.com. If you know a friend who would benefit from these newsletters, please make sure that they are receiving them, too. We want to make sure that you're outfitted properly to make the most of your vacation.
We'll continue to update you via social media. We try to give you honest, meaningful reports during the season. Hit us up on Facebook, Twitter and Instagram to interact with us personally – better yet, many of our satisfied guests frequent those pages every day. Ask THEM your questions and you'll be 100 percent sure that you're not getting a sales pitch.
---