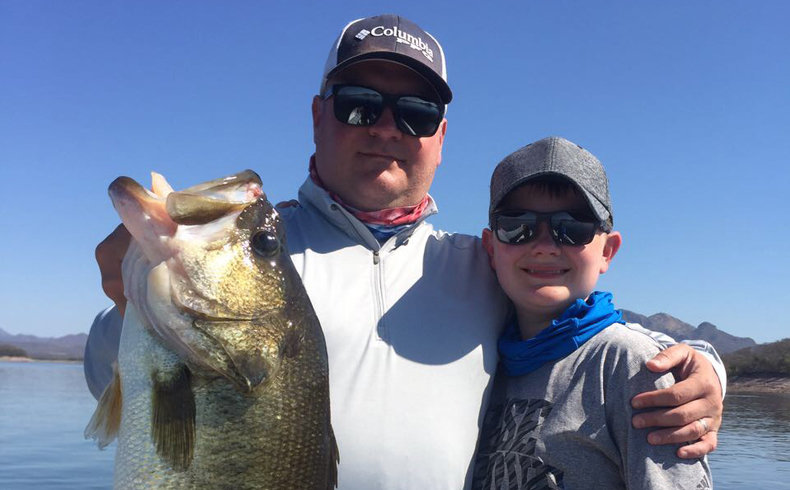 The various waves of spawning bass have drawn to a close over the last month, and with the lakes dropping and many of the bass moving offshore, we've moved with them. Sometimes it takes a little while to find the schools, but once you locate them you can often catch bass after bass after bass without moving the boat. You should be prepared to catch big fish in a number of different ways, but this is the season when crankbaits and swimbaits really shine.
Jim Barton, made his 10th trip to El Salto in March and he found the structure bite to be in full swing but said that the crankbait bite had not yet fully developed: "I caught all of my bigger fish on a Senko type worm with a hooked tail - 6 or 7 inches long in black/blue with a hint of purple and Texas rigged," he reported. Also, we had a great swimbait bite after lunch when the wind was blowing -- Storm swimbaits 4 inches long with a lot of yellow coloring. The last afternoon we caught 38 fish from 2 to 7 pounds in an hour and a half. That was the best swim bait bite I have ever experienced. We caught several fish every afternoon on swimbaits, but if the wind wasn't blowing there was not a bite.
The topwater bite can be hit or miss this time of year, but Jim and his partner kept it at the ready and capitalized when those windows opened. Generally, they used white or green poppers and chuggers, but on several occasions the 130-size Whopper Plopper in the "Monkey Butt" color produced bigger than average fish.
The latter half of the month we hosted several father-son and father-daughter teams and they all caught tons of fish, including some big ones. Dan Hensley brought his 12 year old son Carson for Spring Break and over four days of fishing that had 220 fish, with a sizeable percentage of them over 4 pounds. Dan had a 9 and an 8 and Carson topped out at 7.5 pounds.
"Our best baits were 6-inch watermelon Senkos (over half of our fish were caught with the 6-inch Senko) and 10-inch watermelon red Power Worms, both Carolina and Texas rigged."
Not to be outdone, Vincent Doering brought his 15 and 16 year old daughters Audrey and Katherine and they all got on the big fish train, too.
"I lost track of exact count over 4 total days but between my 16 and 15 year old daughters and myself we caught around of 35 fish between 5.0 and 8.3 lbs," he recalled. "I lost four other big ones (three threw the crank bait while surfacing and a really stout one was stripping line while my rod was doubled over - wrapped around wood and broke off. I'll never forget that one.) The girls lost a couple of nice ones on the surface. My biggest was 8.3, Audrey's was 7.5 and Katherine's was 7.0."
Vincent said that 80 percent of the time he and his daughters took turns with every other fish using one rod and him doing the casting and they still wrecked 'em. "I enjoyed watching my girls get yanked around and wrestling with the bass as much as catching them myself," he said.
Their trip coincided with the major movement of big bass out to deep structure. "The post-spawn fish were a lot more aggressive than I expected," he said. "Best lures were Strike King 10XDs and Carolina Rigs fishing humps surrounded by deep water and deep creek channels with wood."
If you're coming any time in the next few months, be sure to bring some Fat Free Shads and 6XDs, as well as the bigger 8XDs and 10XDs. Citrus Shad and chartreuse/blue back are the gold standard, but a few more natural, translucent colors can pay off when the fish get finicky. As noted above, never come to any of our Mexican venues without plenty of 8-inch watermelon lizards, 10-inch black and blue worms and 6-inch watermelon Senkos. A few black and blue jigs round out the package.
Finally, one piece of advice from frequent guest Marty Parsons, who brings a big group down this time of year every year: "Bring nothing less than 20 pound line and you can still expect to get broken off in the trees!"
Picachos continues to pump out ridiculous numbers of fish, well over 100 per day. Bring the same plastics as you'd bring for El Salto, plus lots of white flukes and Skinny Dippers. If you can't decide between the two lakes, a combo trip is the way to go.
One other exciting promotion that we want to share relates to our new partnership with The Bass University, founded by noted pros and fishing educators Mike Iaconelli and Pete Gluszek. We'll have a presence at some Bass U events, and then from November 6-10, Mike and Pete will be leading a trip to El Salto with discounted rates for their members. If you've always wanted to fish with them, or always wanted to fish Mexico, now is the time to do both! Call us for more information or to reserve one of the limited spots. In fact, if you're looking ahead to the next year, now is the time to reserve any prime dates as they are filling up fast.
While we often provide a generalized list of lures that work throughout the year, there are times when specific bites are ongoing and we don't ever want you to arrive under gunned. Monitor our Facebook page for updated info, and if you're ever in doubt about what you need to bring, please call us, email us or contact us through Facebook. If you've received this report from a friend, please be sure to sign up for future mailings at www.anglersinn.com. If you know a friend who would benefit from these newsletters, please make sure that they are receiving them, too. We want to make sure that you're outfitted properly to make the most of your vacation.
Speaking of our website, if you haven't seen it already, be sure to click on www.anglersinn.com at your earliest convenience to see our long-awaited updates to our online presence. Just as we set the standard for international fishing trips, we want to set the standard online, too. Whether it's your first trip to an Anglers Inn property or your 20th, we hope that this site will provide all of the information that you need, but if it doesn't we're always just a phone call or email away.
We'll continue to update you via social media as well. We try to give you honest, meaningful reports during the season. Hit us up on Facebook, Twitter and Instagram to interact with us personally – better yet, many of our satisfied guests frequent those pages every day. Ask THEM your questions and you'll be 100 percent sure that you're not getting a sales pitch.
---