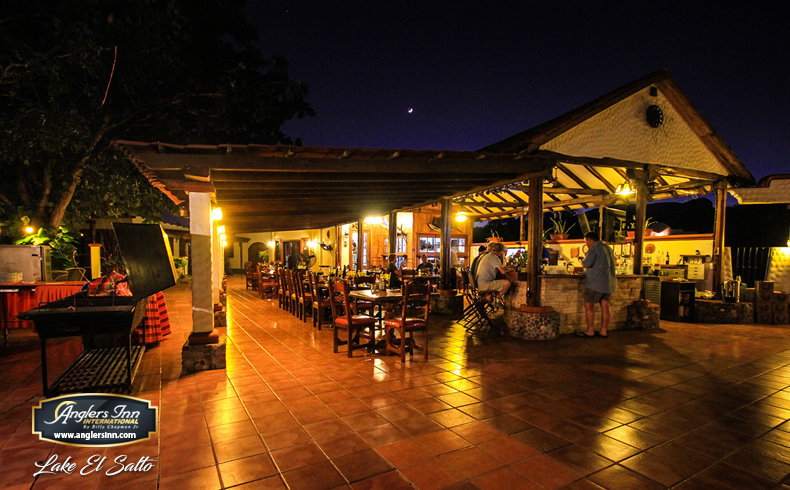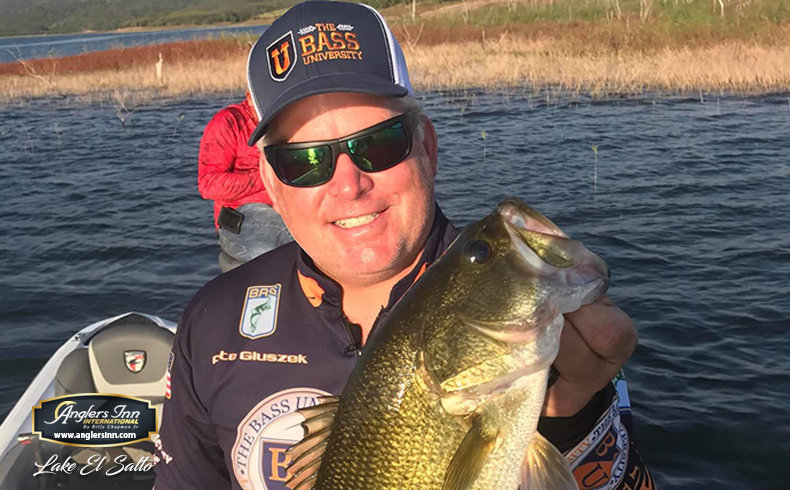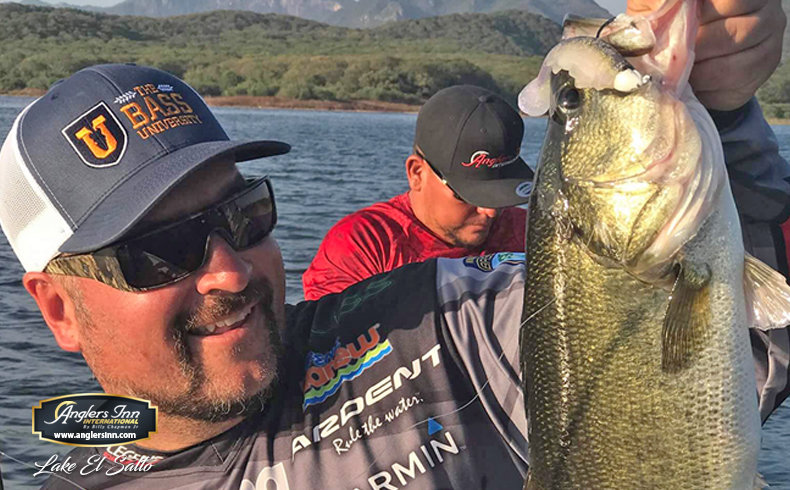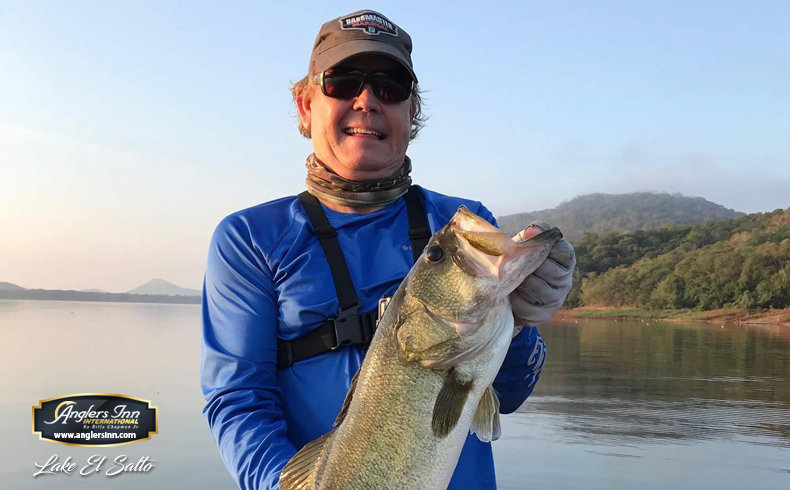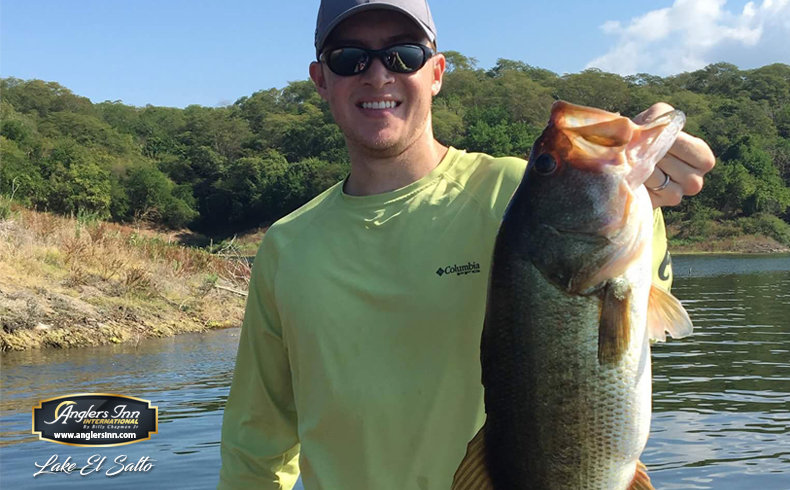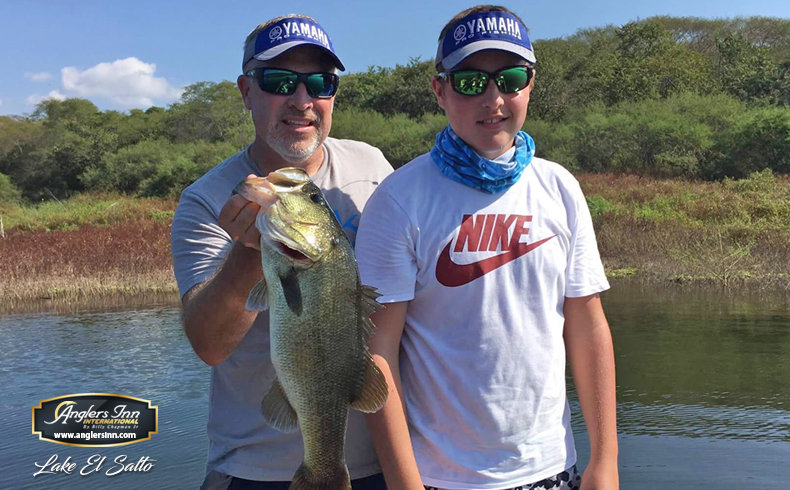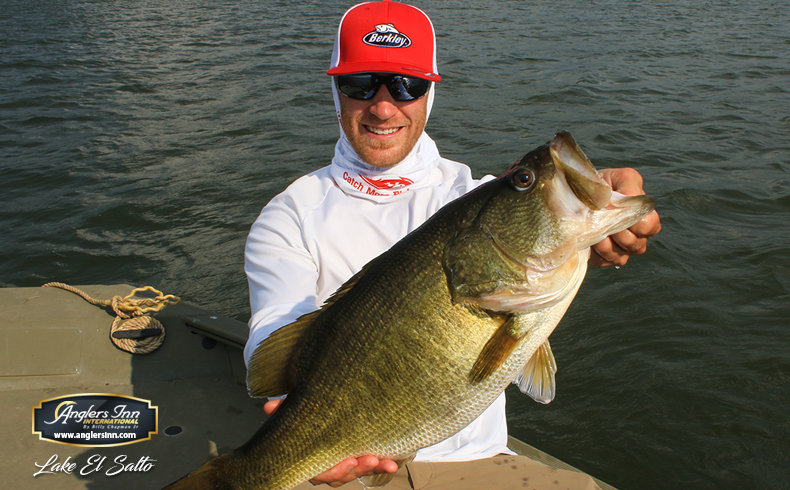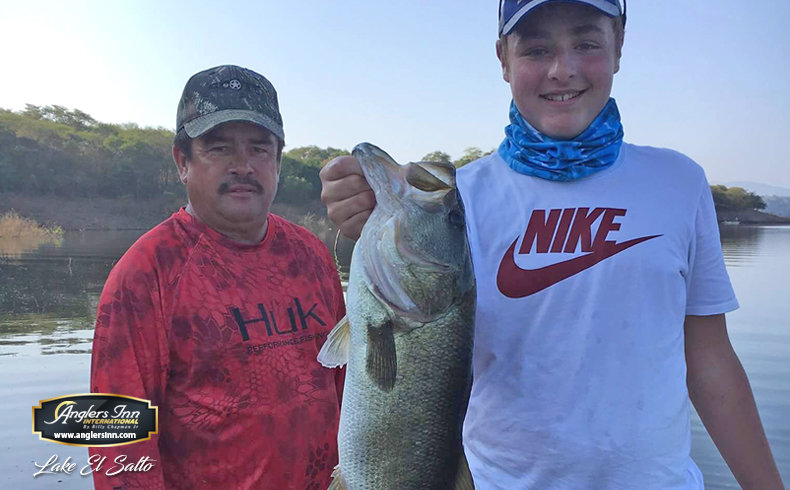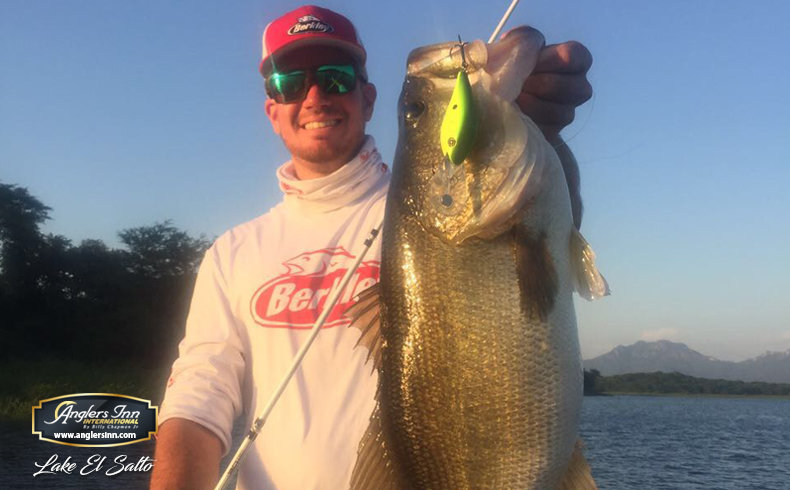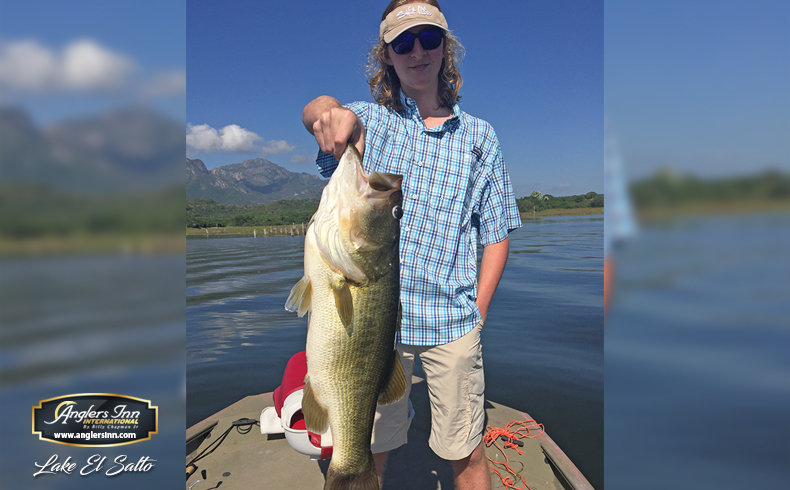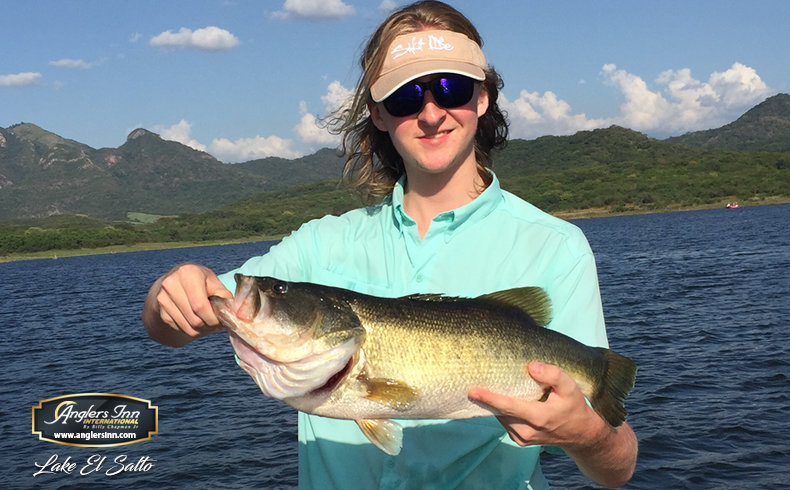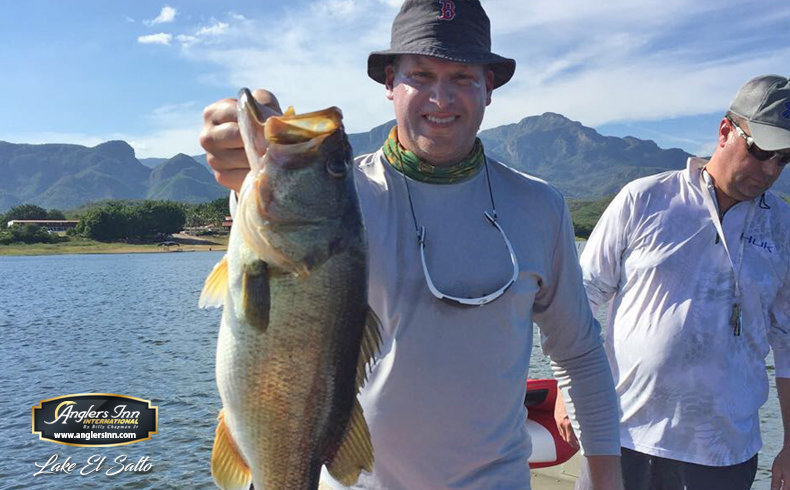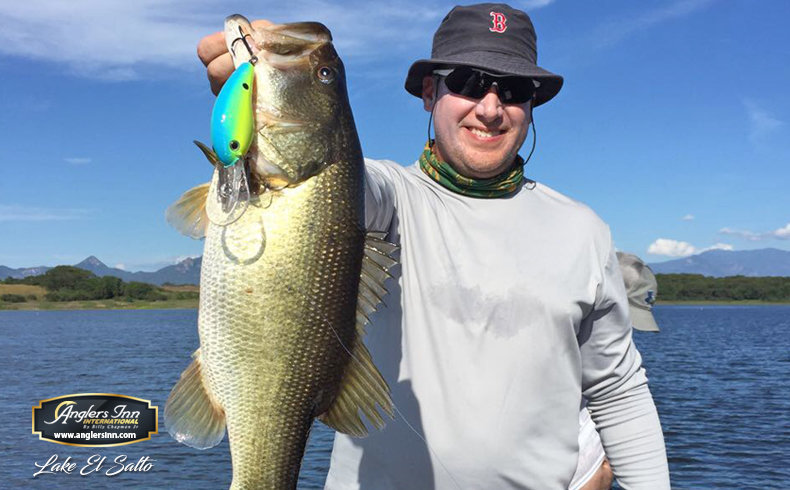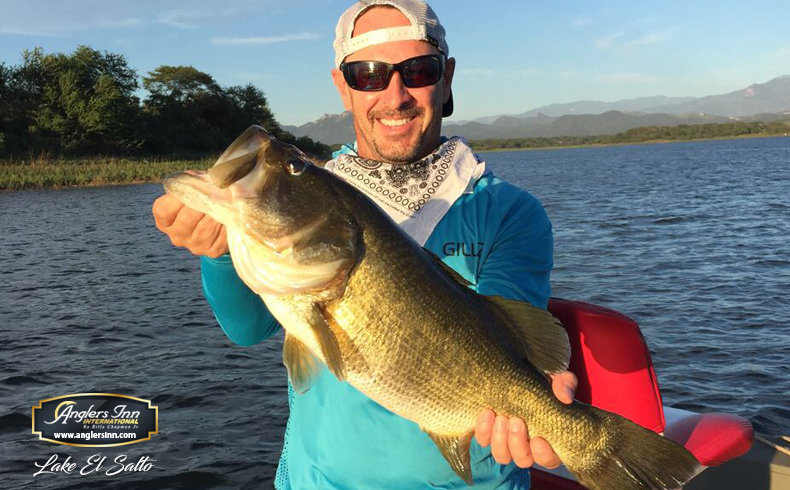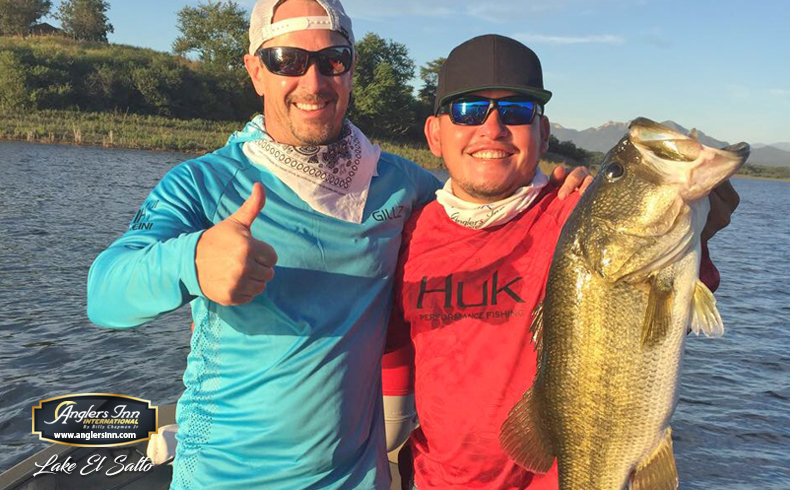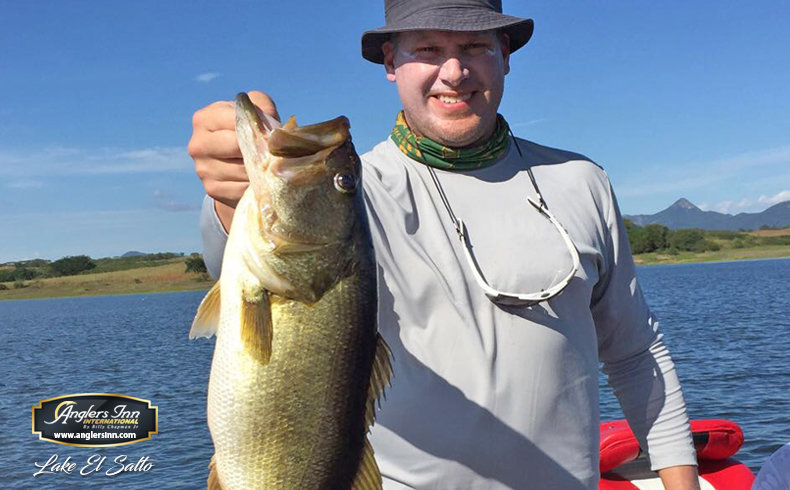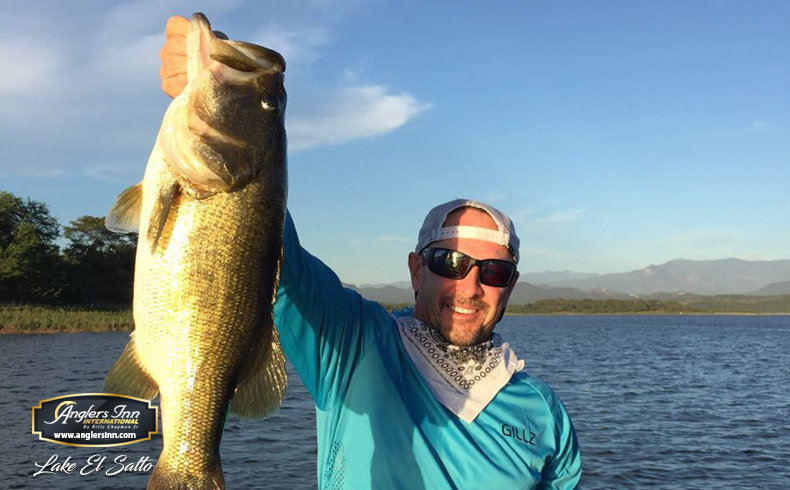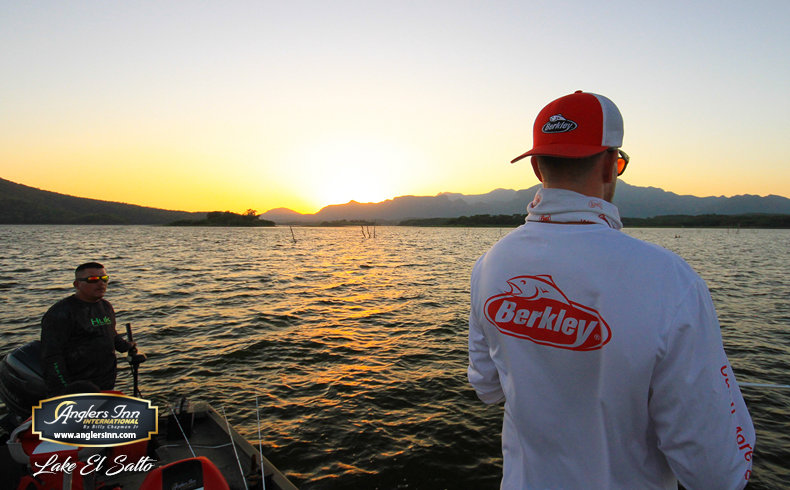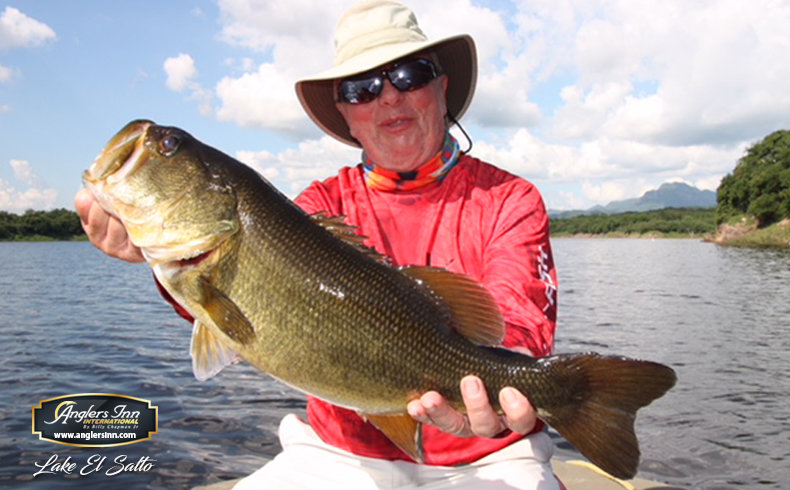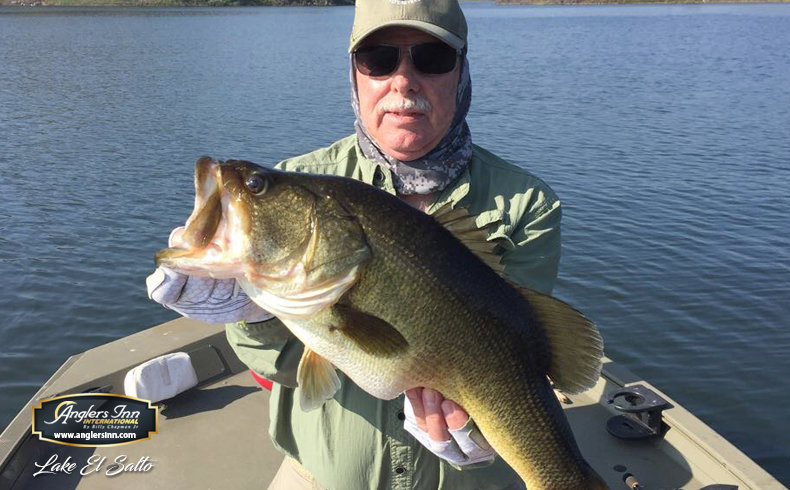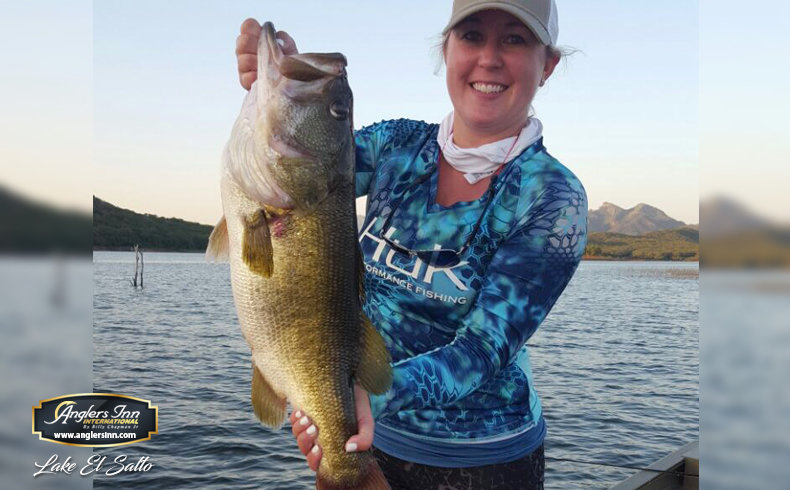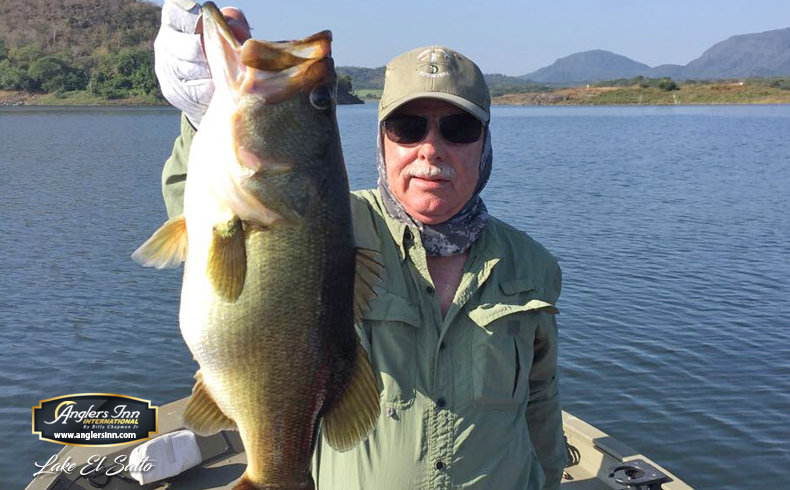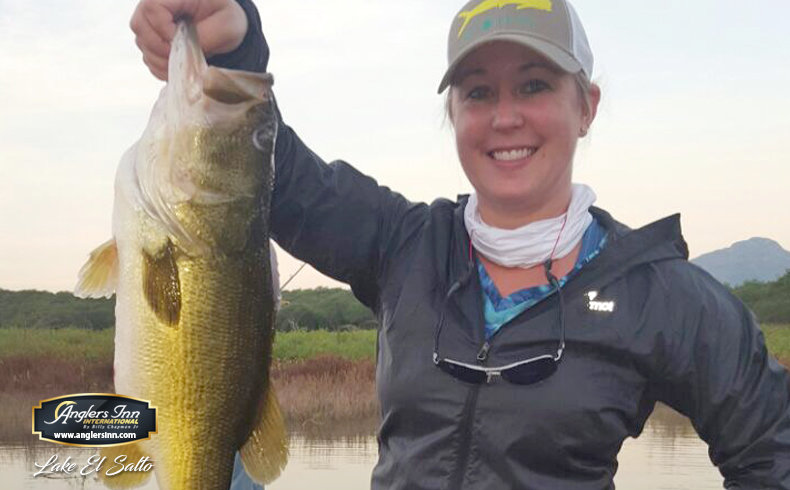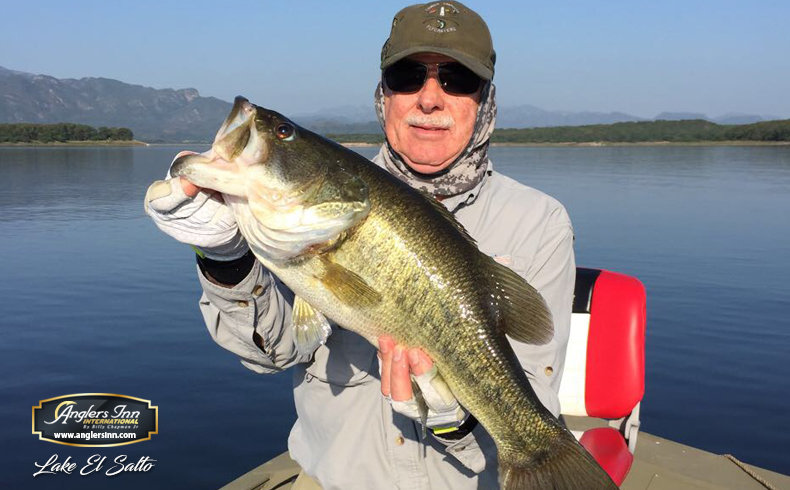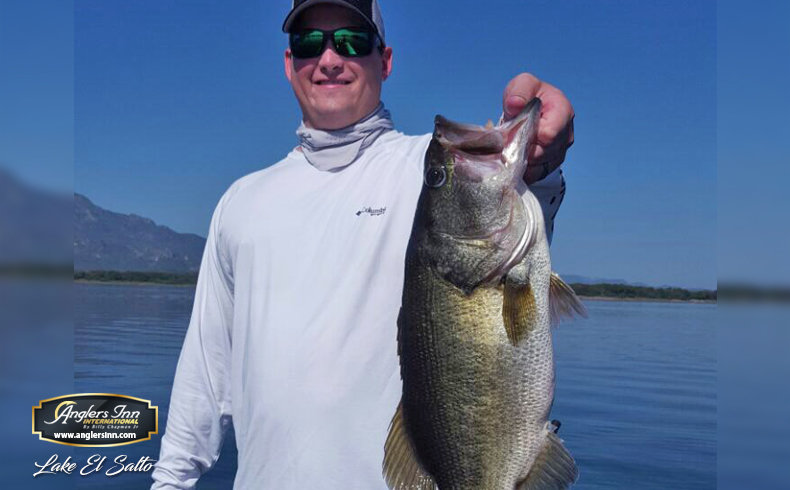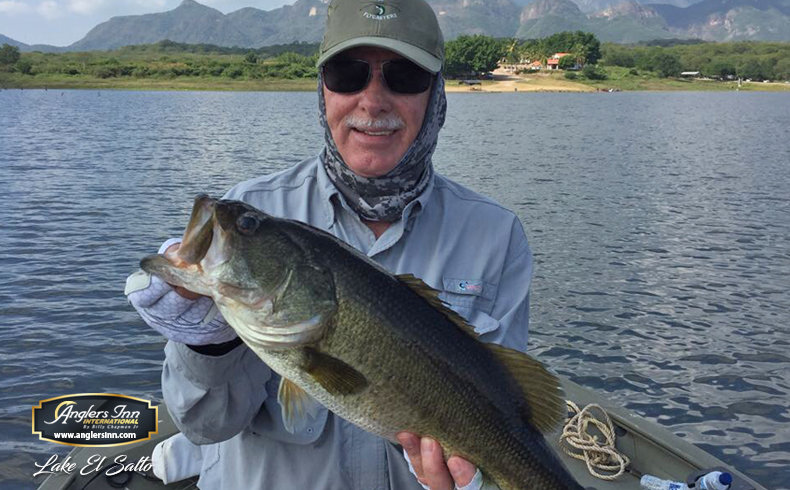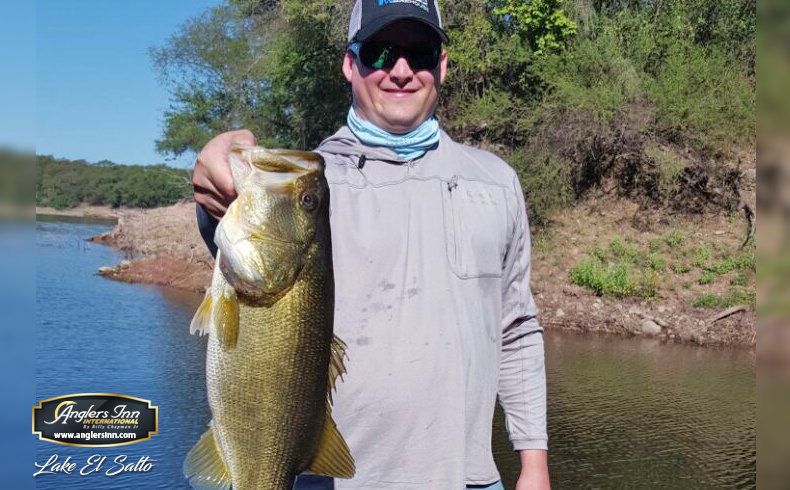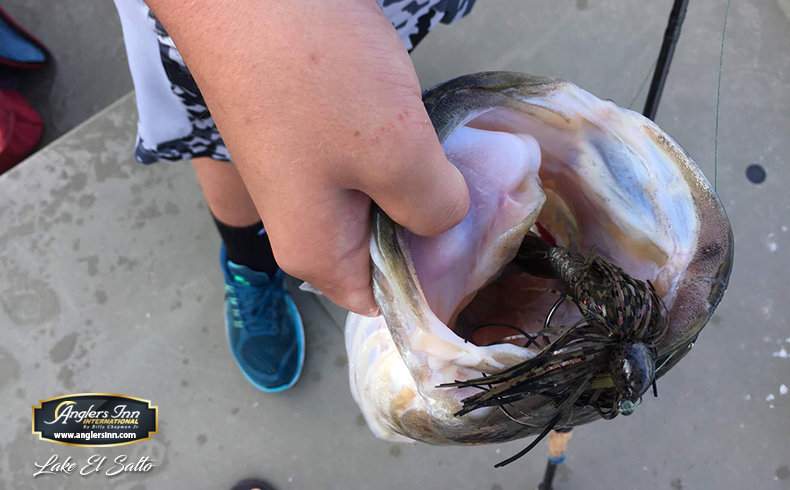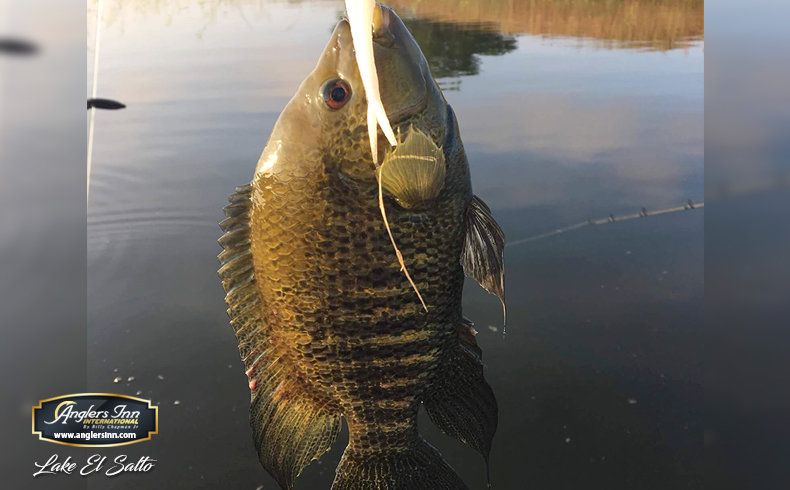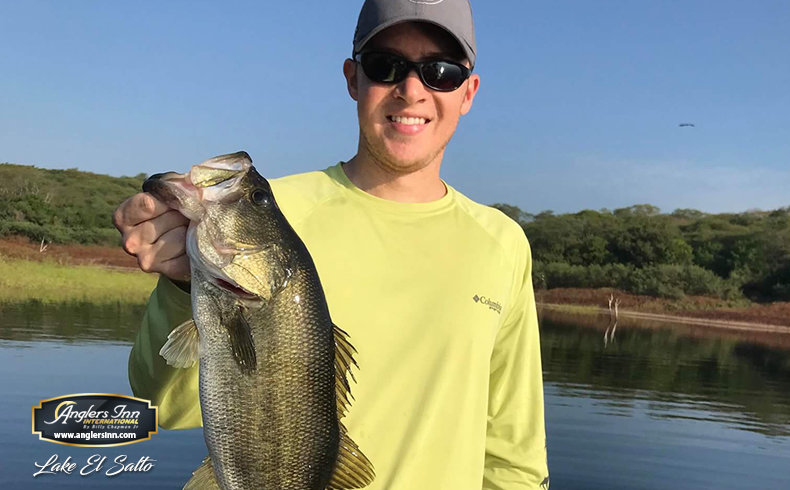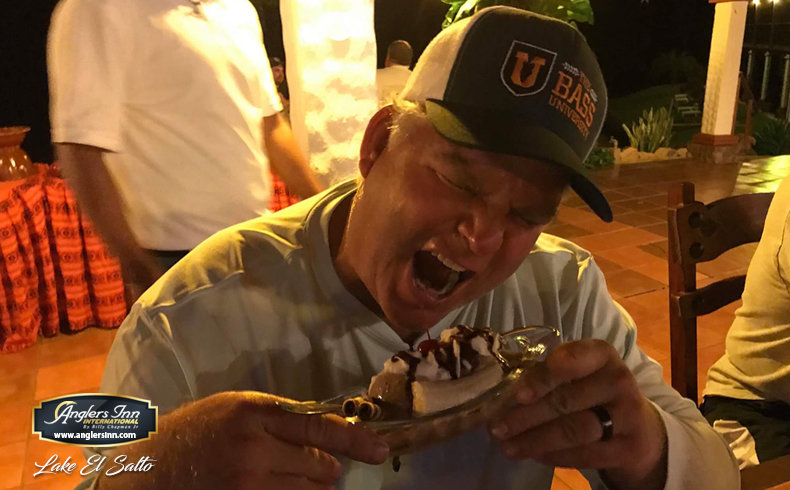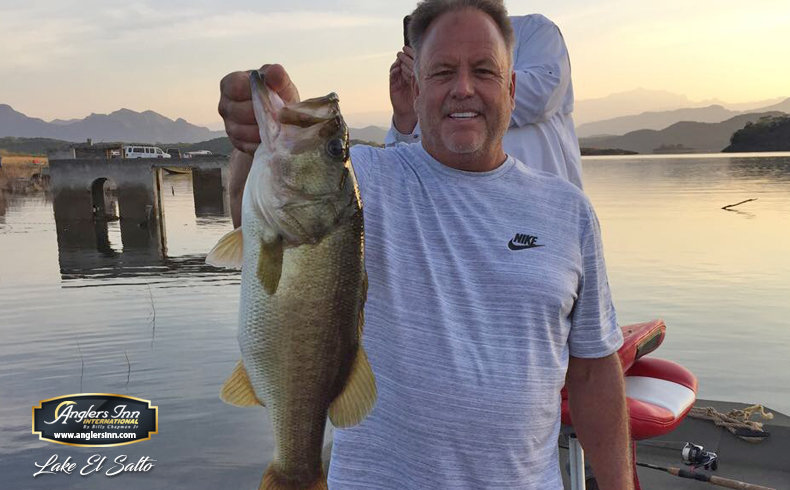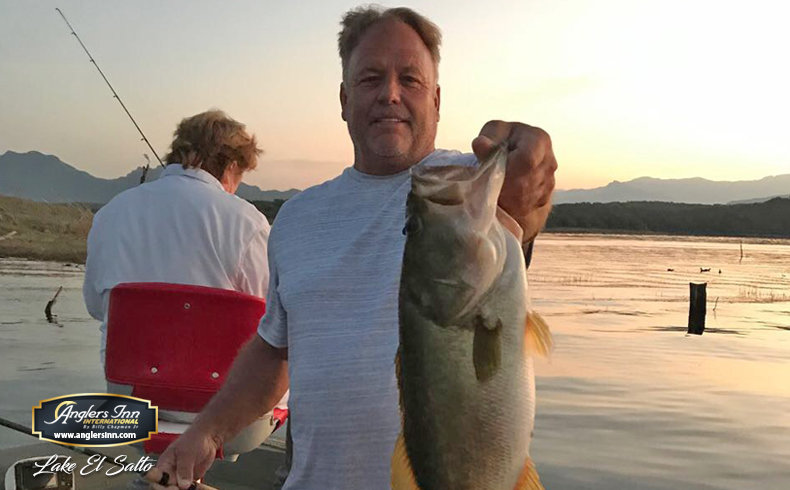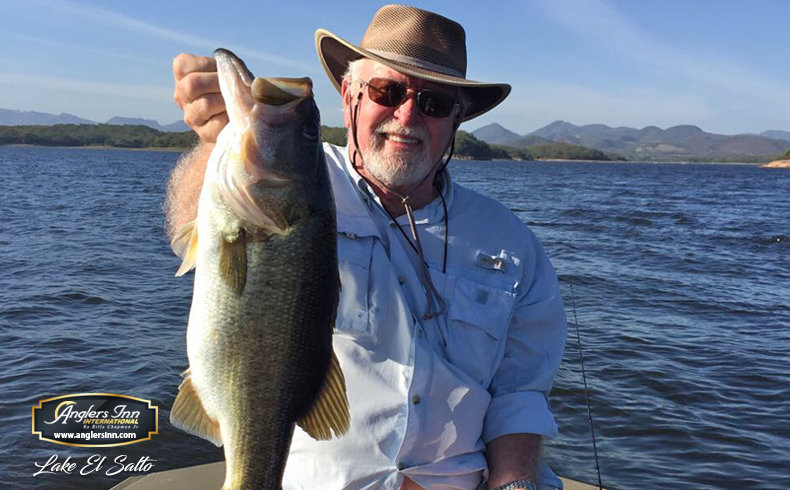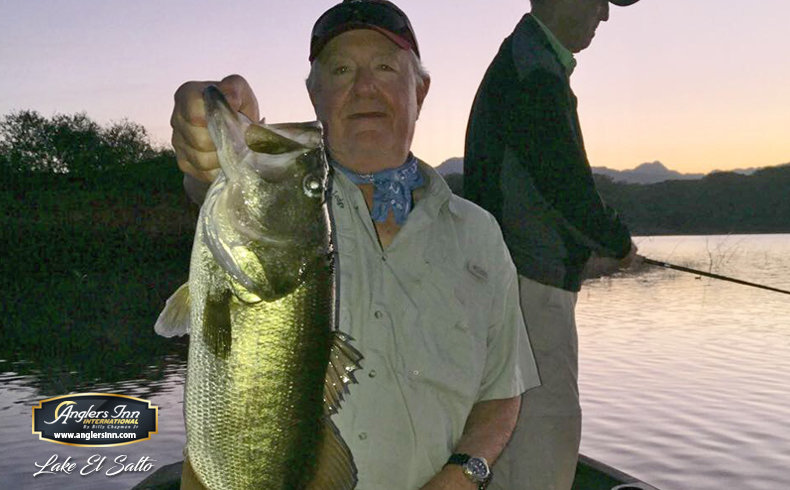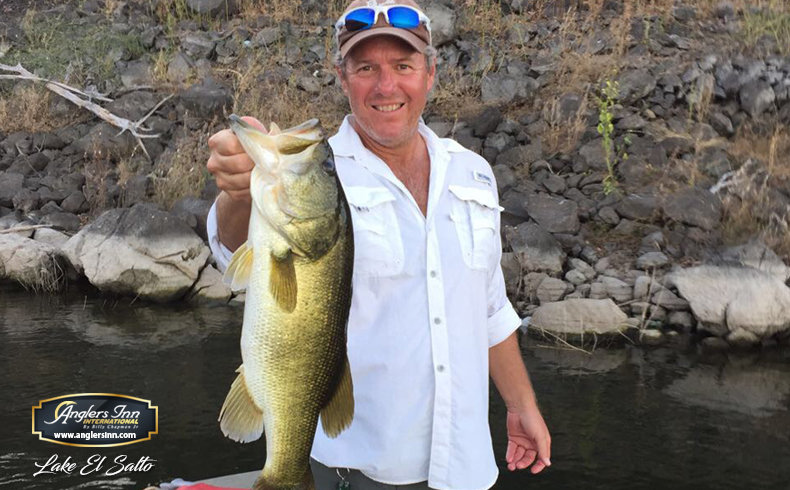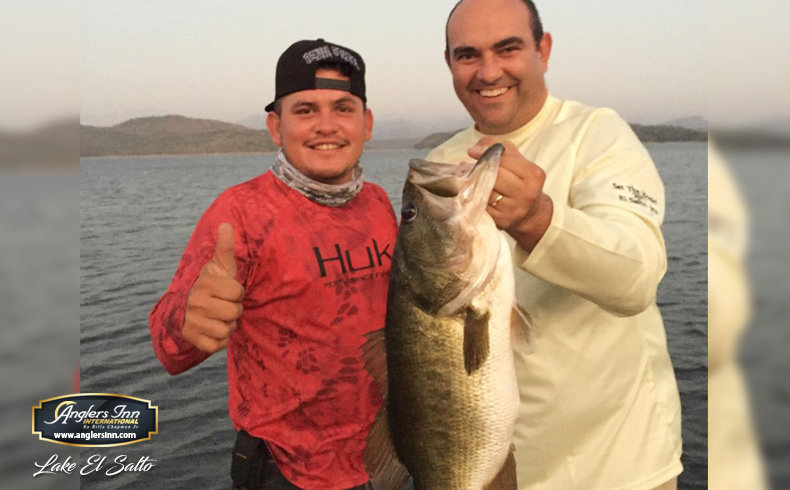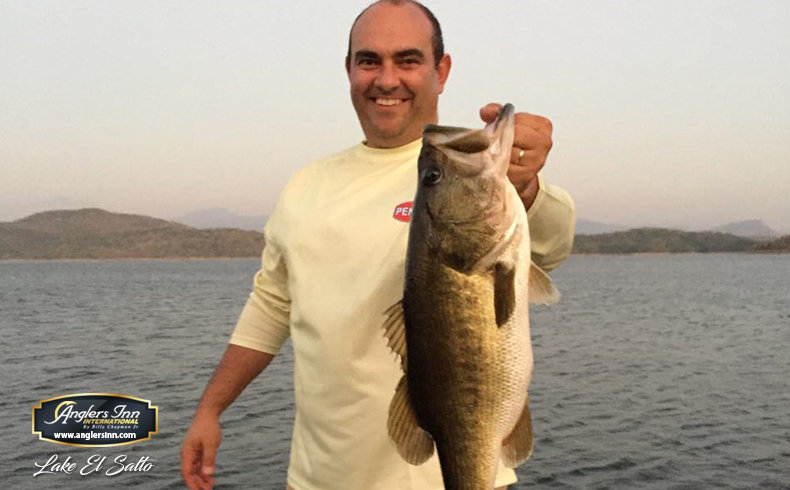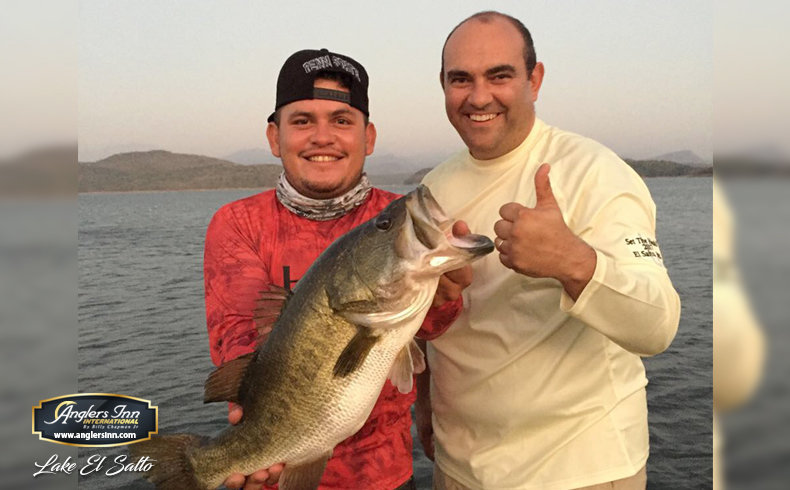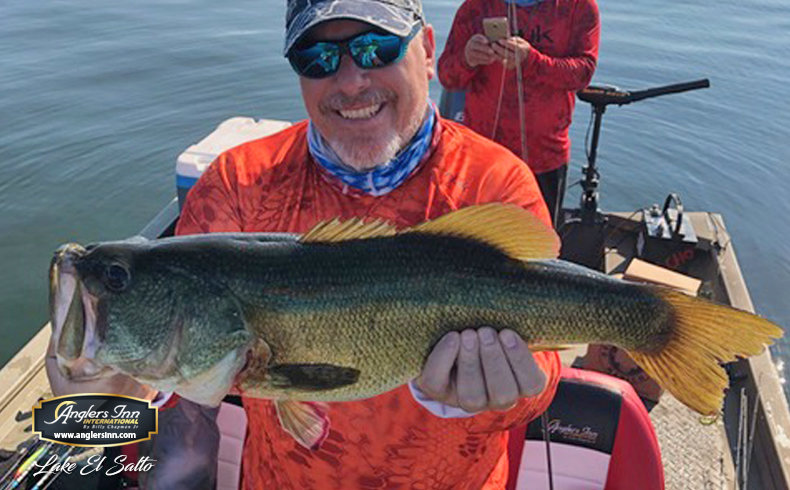 After a strong start to the season, Lake El Salto and Lake Picachos continue to be in outstanding shape, with both numbers of fish and lots of big fish feasting on the ever-abundant population of forage. November is always a strong month here, with the last precipitation of the rainy season more or less done, and lots of anglers from north of the border trying to escape the cooling temperatures at home.
This November promised a special treat for us because it marked the first visit of the crew from The Bass University, the premier learning destination online and in the classroom for bass fishing education – but now they were adding an on-the-water component too. They brought a bunch of their students and top pros Fred Roumbanis and Pete Gluszek also used El Salto as the laboratory for video content that should be online shortly.
Roumbanis, a two-time Bassmaster winner and four-time qualifier for the prestigious Bassmaster Classic, with over $1.1 million in career winnings on that circuit alone, said that he'd "done a lot of traveling but this was the nicest, most comfortable, easiest trip I've ever taken." He's already planning a trip back with his young sons to let them in on the action.
One of the questions we get most frequently here at Anglers Inn International is whether hollow-bodied frogs will work on our Mexican lakes. Fred, a known frogging fanatic who came down to film a show featuring his new Boom Boom Frog from Stanford Lures, answered that questions with a definitive "yes." In fact, the frogging was so good that on the first morning, while waiting for the cameras to get set up, Fred made his first cast into open water in order to set his reel and got a backlash – while he was picking it out a 5-pounder exploded on it and gave him a friendly introduction to the hard-fighting El Salto bass.
"I filmed a frog show in about an hour," he said. "It was awesome. While the water is up, you just need to look for pockets with hay grass in the back." Many of the fish gave themselves away with their movements in the shallow water, so be sure to wear good polarized glasses. Fred's Boom Boom Frog features a rattle, as well as "Frog Fur" on the back that gets caught in the teeth of the bass and makes it hard for them to spit it out. His best color was "Fred Frog" which features a white belly, green back and a slit of orange on the throat.
Gluszek, also a two-time B.A.S.S. winner with three Classic appearances to his name, reported that they figured out how to modify their frog cadences to maximize the bite: "You'd start with a slow walk the dog sashay inside the vegetation line. Then, when you get outside of the grass you'd walk it more aggressively, trying to pull fish up from deeper water. Then, when you got outside of the bushes and trees you'd burn it with a really fast walk. All three worked at different times."He recommended a 7:1 gear ratio reel for this presentation, with a 7'6" heavy action rod, and 50 or 65 pound test braided line. Specifically, he likes braid without a coating, because those with such coatings absorb water and tend to sink.
The pair of pros focused largely on gradually sloping points. "Points, points, points," Gluszek said. "It didn't matter if it was primary or secondary. There was some kind of baitfish hatch going on and if the point had tilapia on it you could call your shot. On a few of them we caught 20 or 30 fish in a row."
Many guests bring their largest swimbaits to El Salto, and there are certainly times when they'll work, but Gluszek made a point that many of our longtime friends have known for years – often the tilapia on the bank that are the primary source of forage are in the 3- to 5-inch range, which is why lures like the Rico and Zara Spook continue to produce. "When we threw big baits they'd bump and nudge it," he reported. Instead, they loaded the boat with smaller swimbaits like the Storm 360GT and Fred's Baby Boom Boom from Optimum Baits.
Roumbanis has earned a sizeable chunk of his tournament winnings on a swimbait and he was excited to test out his new "Baby Boom Boom" on the world's best bass lake. "It was like magic," he explained. "We tried out a hollow belly and threw it and threw it and threw it, but when I switched to the Baby Boom Boom it was like magic!" He cut the bait behind the eyes and trimmed a bit off of the chin to get a ½ ounce Buckeye jig head to sit flush and then slow rolled it back to the boat. The best color, by far, was PB Shad, which has a light belly, a purple back and a little bit of gold in it.
He said that line size proved to be critical. We always recommend that our customers bring heavy line because our fish are big and strong and the cover is unforgiving, but sometimes it pays to downsize. Roumbanis used 20 pound test fluorocarbon, but noticed that Gluszek, fishing a similar bait in the same color was getting many more bites on 14 pound fluorocarbon. When Fred switched, his catch rate increased substantially.
In addition to soft swimbaits, the Bass University group had success with some hard glide baits as well. Staffer Justin Kimmel had the best fishing day of his life after he and a friend found mega populations of bass on bluff banks using an El Salto staple, the Super Fluke.
"The fluke bite on the bluffs had made me think a glide bait might be able to call up one of those giants, but I didn't bring any," Kimmel said. "Insert my fellow fish head Jeff Richard who brought a whole box of big baits. There was one 6 inch glide bait he let me borrow that was the right color and slow sink rate for the job.
I picked it up halfway down the half mile bluff stretch we were on and on the second cast I got a big boil that that didn't hook up and on the fourth cast I caught a small fish. Ten minutes later I caught a couple fish back to back in the 3 to 4 pound range and was beaming with the amount of bites I was getting. Then it happened. I made a really tight cast to the bluff wall (that was key) and twitched it with my reel twice to make the nose of the bait face the wall on the pause (that was also key). Bam! An epic explosion that silenced me. This bass couldn't even jump clear of the water. It weighed 8 pounds. I would catch a couple more really good fish soon after and then I had another giant blowup on the bait. I set the hook and my bait came back with the front hook hanger completely pulled out. I was pretty bummed for a few minutes and after trying a triple trout with no success I decided to try adding another split ring and treble hook to the nose of the bait. It still had its action so we decided to repeat the half mile stretch again. The fish were responding really aggressively to the bait if I fished it really similar to a weightless fluke. The first fish on the Jerry-rigged glide bait came up from underneath the bait 10 feet from the boat and completely inhaled the bait. It weighed 6 pounds. The bites were getting closer together as went down the bluff wall again. Another 4 pounder. Then a 3.5 pounder that had two fish chasing it. I turned it toward the other fish and a 4 pounder grabbed it and got the other hook. Double! We turned the corner and I got another giant strike. Hooked up with another fish in the 5 to 6 lb class with a few more like it chasing it. Then it went limp. This time the back hook hanger limped out. They were absolutely destroying the bait to pieces. So I just kept on Jerry-rigging the bait, this time adding a split ring and treble to the top pinhole in the joint of the bait. It looked ridiculous but it caught another 3 pounder. After that I made a cast and the action wasn't right and this time the rubber tail had flung out. That was all she wrote for the glide bait that morning. I still can't stop thinking about what if I had the bait the next 2 hours before lunch."
Kimmel still can't get over how good that last day of fishing was: "Like a lot of bass heads, we were keeping track of what our best 5 weighed together (33.5 lbs). As the sun set on our day and I released the 6.5 lb beast, I turned to Stephen and said 'We just culled all the 5 pounders.'"
One technique that did not work for the Bass University crew was deep cranking, which was surprising since Gluszek had heard from fellow pro Adrian Avena about his exploits with the Berkley Dredger just a short time before during the Berkley/Abu-Garcia writers event. They even fished with the same guide. The point is that while staples such as 10-inch worms, 8-inch lizards and 6-inch Senkos should always be on your list, it pays to have a bit of everything and not to get locked into any one presentation. Things change week-to-week, day-to-day and even hour-to-hour. While Gluszek and Roumbanis were focused on the lures specific to their filming needs, they noted that many of the biggest fish caught at the lodge while they were there came on Carolina Rigs.
November wasn't just a month for "celebrity" guests. We had lots of hard core anglers from all over coming down to catch the fish of a lifetime. Rod brought his son Grayson and while fishing with their guide Lorenzo they got into massive numbers of fish that wanted a lipless crankbait.
"Lorenzo didn't have a proper scale, but the consensus between him and Billy was that my son's big fish was high 10 or 11 pounder," Rod reported. "He also caught a 7. Every fish except one for him came on a Red Eye Shad. I caught a lot of fish, but not the big one. I loved the place. The people are great. The scenery was much more spectacular that I expected."
A week later, Rod was already having withdrawals. He wrote us an email that said "I went back out on my local reservoir this morning. It's gonna be hard transition coming back from El Salto to my home waters. I miss El Salto."
Indeed, Gluszek said it best. If you're already a pro, this is a place to really dial in your techniques, but even "for the beginner or the intermediate guy, you can't miss. The guides will put you on the juice."
Our goal is to make your trip as hassle-free as possible, and one step in that direction is that we now have loaner rods for everyone to use at no cost. Thanks to our newly-developed partnership, our lodges now have a varied supply of St. Croix rods. "They made fishing pure pleasure," said one recent guest. These technique-specific rods rods are the real deal, folks, and we are committed to giving you the best possible tools to land that fish of a lifetime. You don't need to travel with a heavy and burdensome rod tube anymore if you don't want to.
Because El Salto has been on such a tear the past few years, some of our guests may have overlooked the burgeoning fishery at Picachos. That might be a mistake, because while everyone knows it as the "numbers" lake, it's now coming into its own as a trophy fishery. Management measures are in place, our guides are up to speed on the latest techniques, and we're seeing more and more big fish every week. It's just 45 minutes from the Golden Zone of Mazatlan, so it's even perfect for day trips, but for you hard core guys, if you can't decide which lake to visit, a combo trip is the way to go.
After several seasons of tricky weather, the conditions are prime for an exceptional season in the Amazon. Remember, we are the only outfitter that gives you three options of how to explore that tremendous fishery – from my floating suites, a fixed lodge or a traditional mothership houseboat. All three are in world-record class waters and offer the same great service, gear and staff that has become the Anglers Inn hallmark.

If you haven't seen it already, be sure to click on our new website at www.anglersinn.com at your earliest convenience. We've had it up for most of 2017, and so far the feedback has been tremendous – especially from guests who've found pictures of themselves with big fish gracing the site. Our theme is "Making Every Angler's Dream Come True," and while our web presence is no substitute for a trip to Mexico or Brazil, it's the next best thing and a valuable tool for planning your next trip.
Just as we set the standard for international fishing trips, we want to set the standard online, too. The new site includes information about all of our properties, pricing and bios of our staff. We also update it regularly with new videos on our "Anglers Inn TV" channel, and provide detailed monthly reports like this one.
Whether it's your first trip to an Anglers Inn property or your 20th, we hope that this site will provide all of the information that you need, but if it doesn't we're always just a phone call or email away.
While we often provide a generalized list of lures that work throughout the year, there are times when specific bites are ongoing and we don't ever want you to arrive under gunned. Monitor the website and social media for updated info, and if you're ever in doubt about what you need to bring, please call us or email us. We want to make sure that you're outfitted properly to make the most of your vacation.
If you've received this report from a friend, please be sure to sign up for future mailings at www.anglersinn.com. If you know a friend who would benefit from these newsletters, please make sure that they are receiving them, too.
---