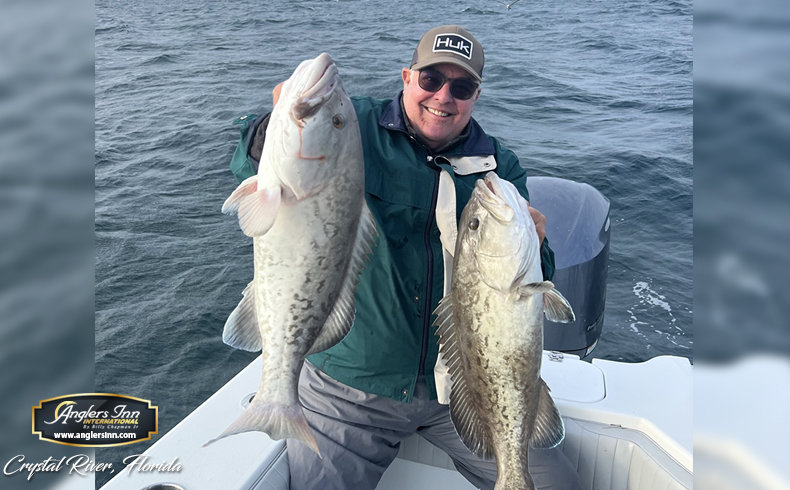 Returning guests to Billy Chapman's Anglers Inn lodges on Lake El Salto and Lake Picachos have two bits of advice for any newcomers: pack light and listen to your guide. Anglers Inn guides are experienced and know the lakes and where the fish are. Listen to their guidance for lure selection and cast location. They'll put you on more fish.
Packing has never been easier as a full line of St. Croix Bass X rods are available - free to use. Why hassle with rod tubes in the airports when the very best rods are there waiting for you. Packing simplicity gets even easier. No need to bring a full wardrobe of shirts and shorts – just a change or two. Anglers Inn provides daily laundry service – for free.

As for your tackle box, well, you can almost pack in a paper sack in your checked bag. Here are the staples based on the latest fishing reports.
• 5-inch watermelon Senkos, for wacky and Texas rigging – bring plenty
• 10-inch black/blue Power Worms for Texas and Carolina rigging – bring plenty
• 5- and 6- inch shad swimbaits
• Berkley Choppo or Whopper Ploppers
• Deep cranks, down to 20 feet, chartreuse and blue
• Lipless cranks, like Berkley Warpig or Rattle Trap
• Topwater baits like a Berkley Walker, Berkley Bullet Pop or a Yellow Magic • Other baits that you are confident in throwing
Low profile reels like the Abu Garcia Revo are extremely popular, functional and dependable. Many anglers spool all their reels with versatile Berkley monofilament but braid and fluorocarbon are also on Anglers Inn guests' reels.
December picked up where November left off with water levels ideal and the bass hungry. Hundreds of fish per party and many trophy largemouth were landed.

Lake El Salto
Robert Bospflug and Paul Duke were concerned when the guide suggested they fish in the middle of the lake. But it just minutes the pair realized the guide knew what he was doing and directed them to a big school. Chatterbaits in various colors and watermelon Senkos were the go-to baits as 411 fish were landed, the largest weighing 10.5 pounds. Five bass were over 8 pounds and 17 fish on the last day weighed 5 to 8 pounds. This was Robert's tenth trip, second for Paul. About the service: their flight into Mazatlan was hours late. But the Anglers Inn staff were there at 11:00 pm to pick them up.
The Ted Holt group with Danny Ray, Larry Hutchings and Mike Hutchings enjoyed big days of 70-80 fish per day per boat with catches up to 8.4 pounds. Best baits were 5-inch watermelon green with red Senkos and gold and white Rattle Traps casting to the shoreline and onto flats. This was their first trip to El Salto and they are already making plans for a return.

Jeff Mott and Roger Lederer boated 80 fish per day with top bass weighing 7 pounds, a personal best for Jeff. The pair concentrated on shallow structure with Senkos, lizards, salamanders and Rattle Traps. Like so many Anglers Inn guests, they too are already planning their 2023 trip.

Lake Picachos
Mike Morrone is no novice with regards to fishing Lake Picachos with Billy Chapman's Anglers Inn. He and fishing partner Chuck Cauthon netted over 750 bass, the biggest at 7 pounds. The duo were fishing with 5-inch swim baits, deep XD citrus and sexy cranks, chrome/blue and brownish gold lipless crankbaits, Choppo and poppers for the topwater bite.
Peter Black opened the month at Lake Picachos and the party of six averaged over 100 fish per day. They fished mostly points and shoreline but also hit some trees as well. Whopper Ploppers in bone or loon proved to be a great topwater bait with a wacky rigged watermelon red fleck Senko popular as well.

Rick Owen and three buddies ventured to Lake Picachos reporting 185 bass per day per boat. Their biggest weighed in at 7.5 pounds. Yum 6-inch soft baits in black/blue, ½ ounce white double leaf spinnerbaits were fished along with frog and black Yellow Magic topwaters, white jerkbaits and white flukes. The bait selection was ideal for approaching shoreline cover.

It's always great when a fishing couple are guests at one of Billy Chapman's Anglers Inn lodges. Marc Copps and Rachael Haedt shared some front deck at Lake Picachos and caught over 500 fish with the largest tipping in at 7.4 pounds. They relied on watermelon Senkos, tiger pattern and silver blue/red Rattle Traps, white and red poppers, white frogs and watermelon lizards as they attached points and shoreline. This was their third, but certainly not last, trip as they plan on annual visits.

Crystal River
We had our first guest in the Anglers Inn Floating Suite, moored at Pete's Pier in King's Bay. Stephen Dougherty and Justin Winters were on assignment with Florida Sportsman Magazine. Stephen is the Managing Editor and is putting together a story about Anglers Inn Floating Suites and the Crystal River area. They had extremely successful grouper and redfish action and lived in style in the Floating Suite.
Don't forget, along with world-class fishing for tarpon, snook, redfish, trout and more we have the very best up-close manatee viewing anywhere, from a kayak, boat or in the water. Visitors to anglersinn.com can see images of the new Anglers Inn Crystal River Floating Suite as well as more information about the sights and activities of the area.
We're taking bookings so call Anna now at 1-800-GOTAFISH to make your reservations.
---