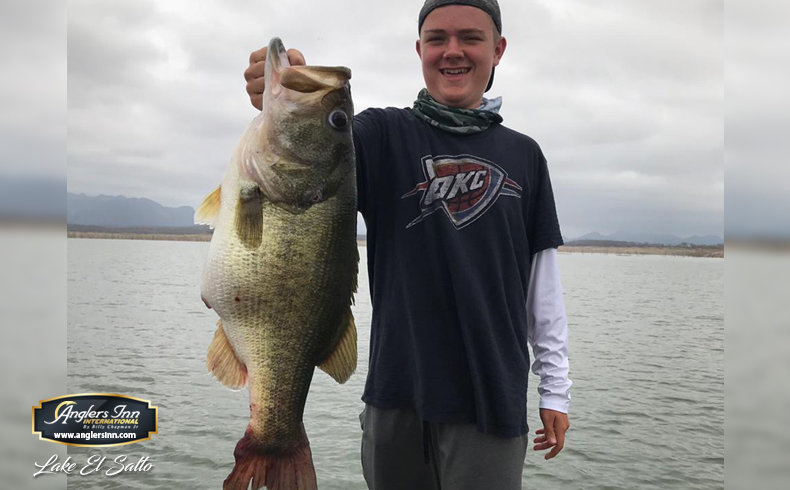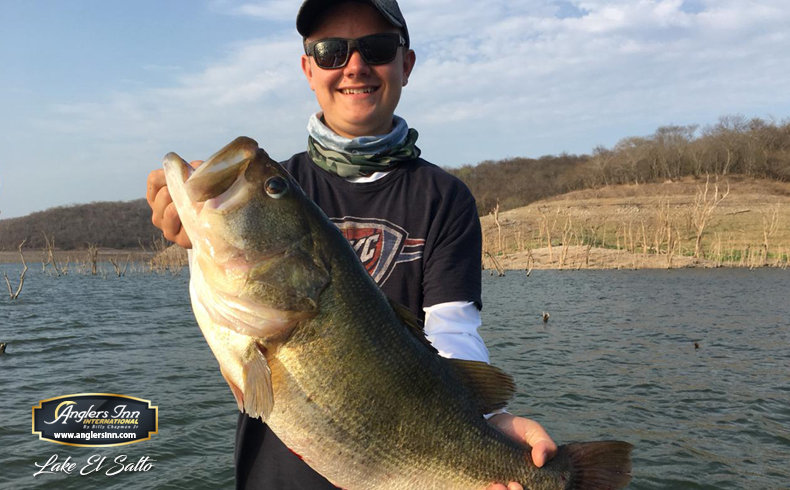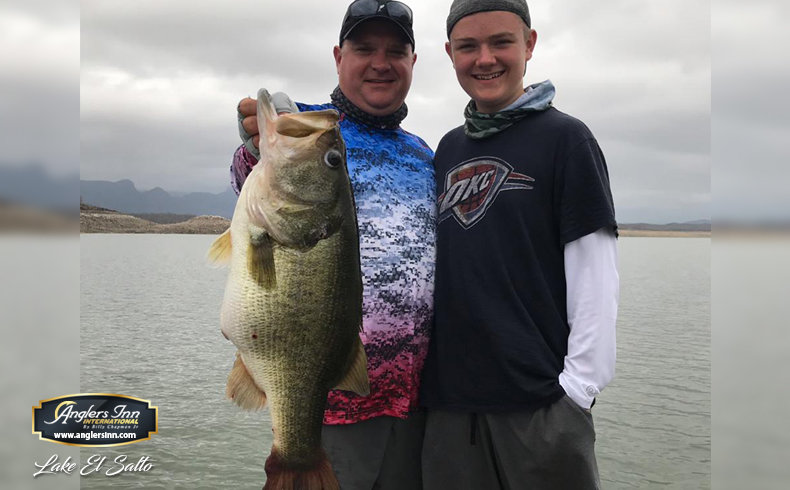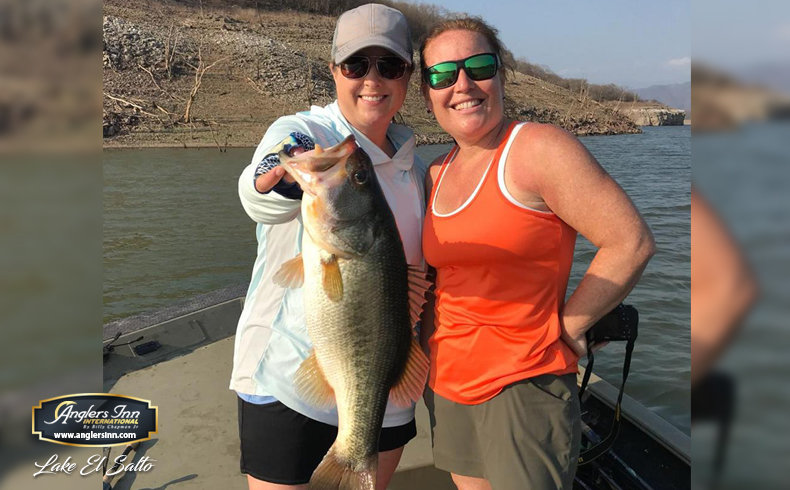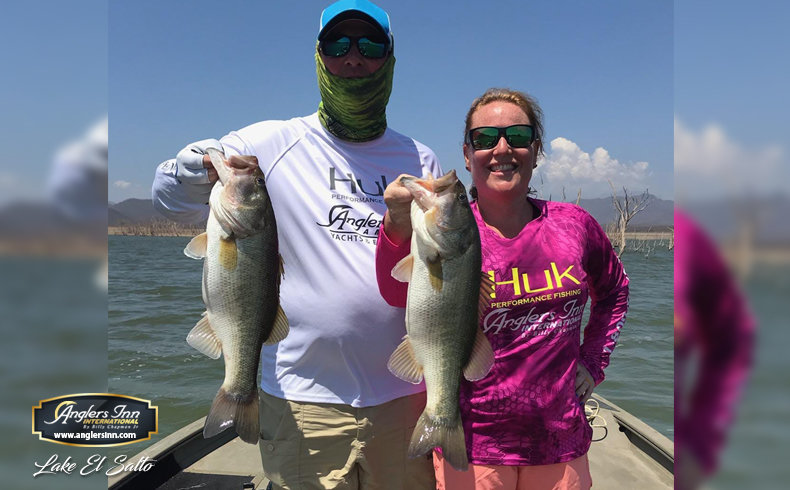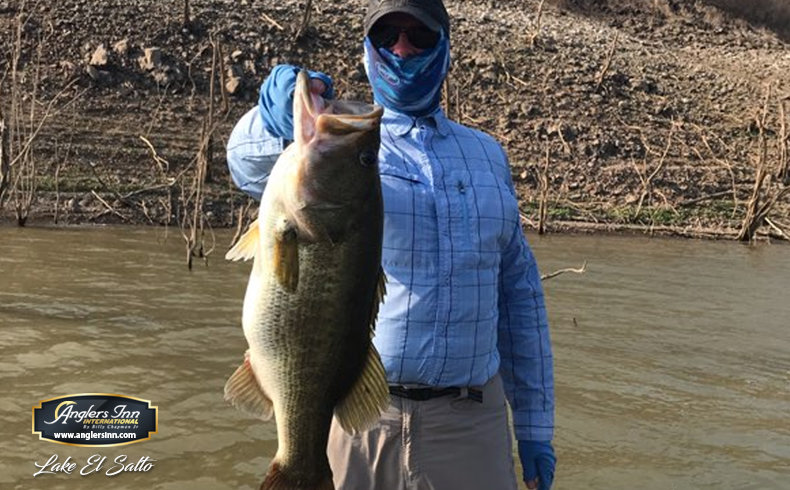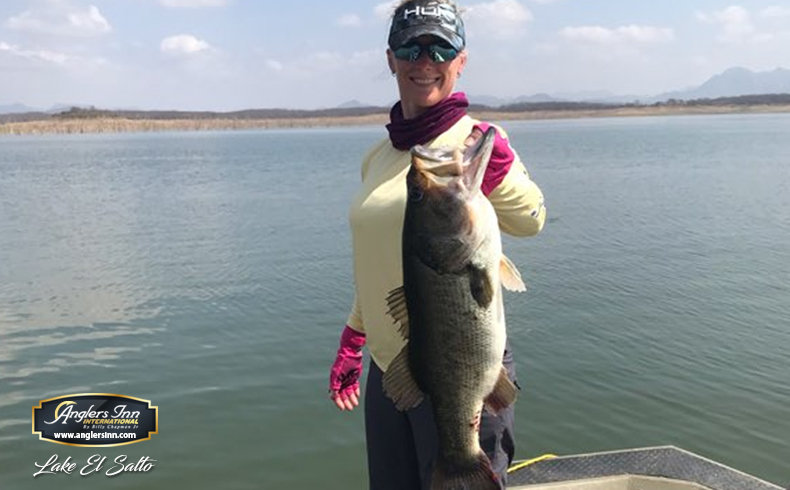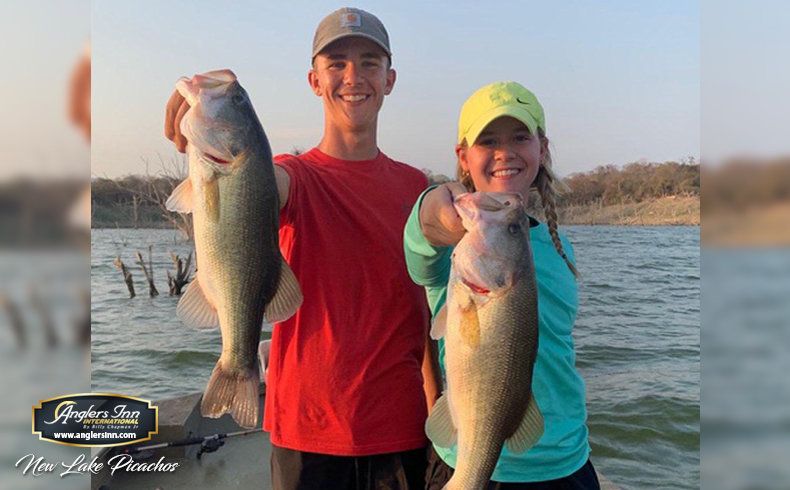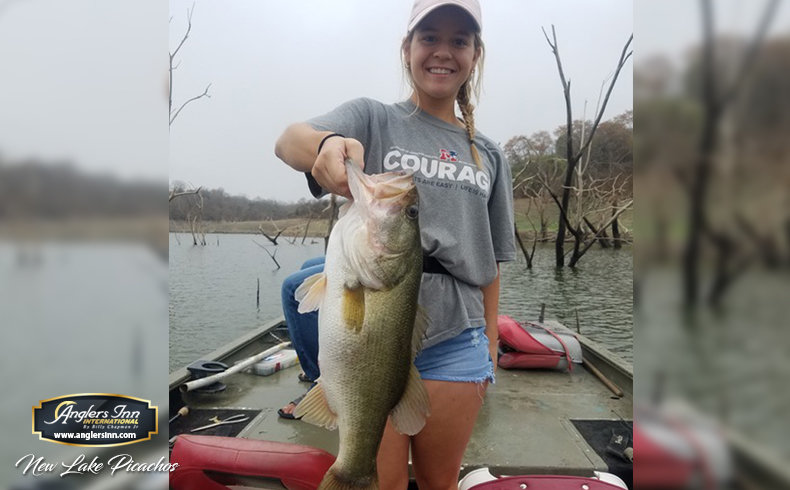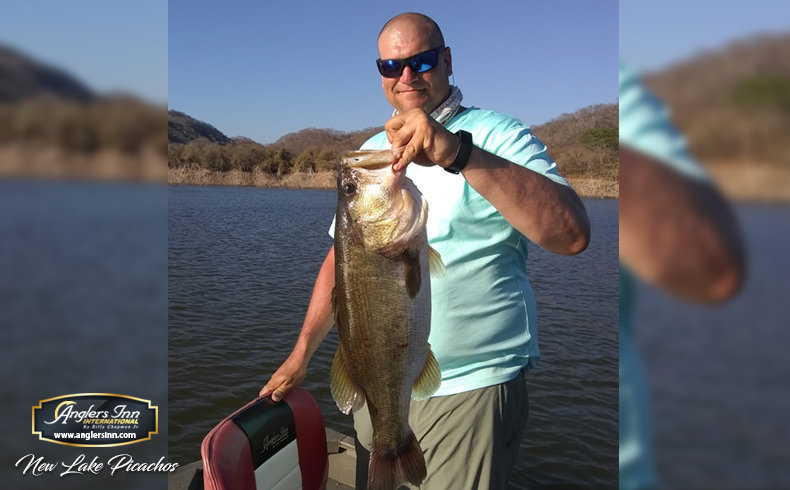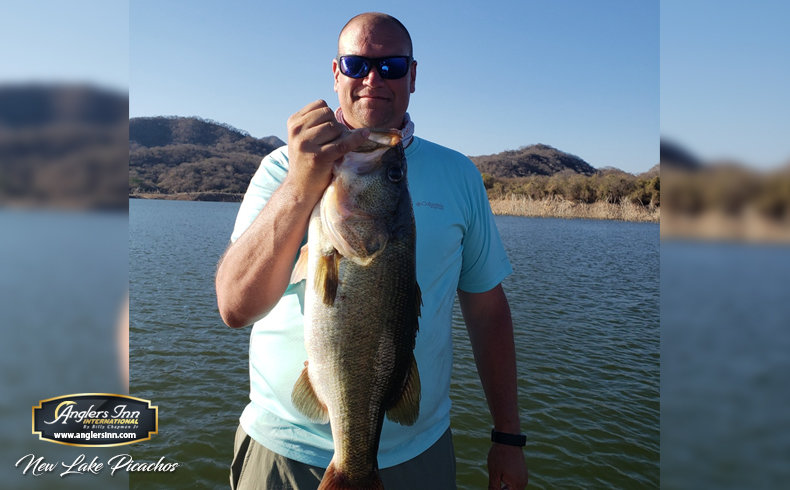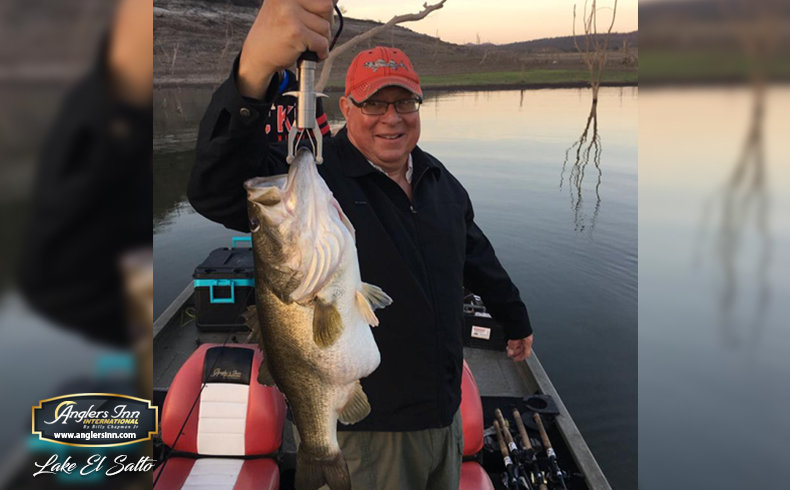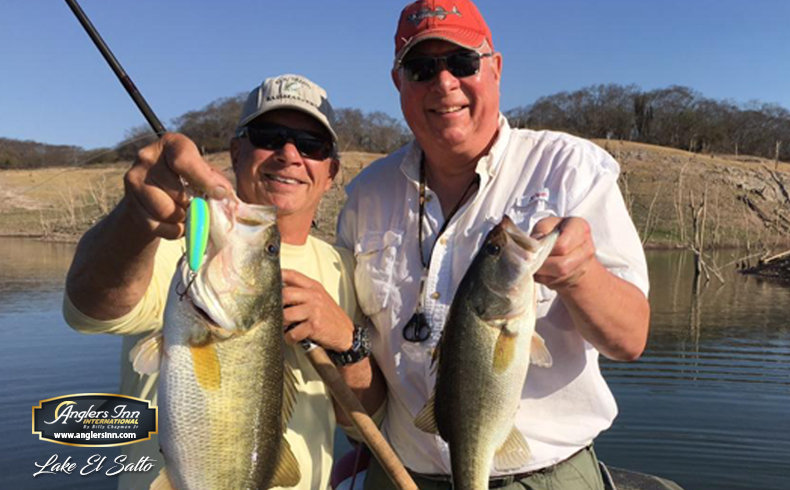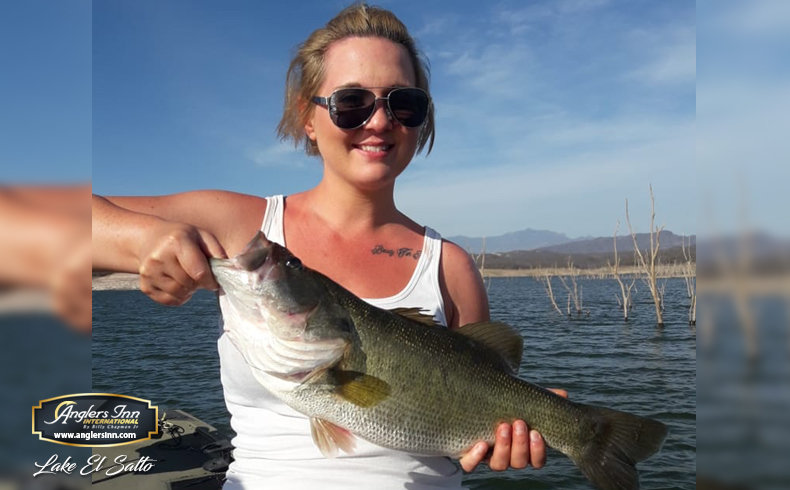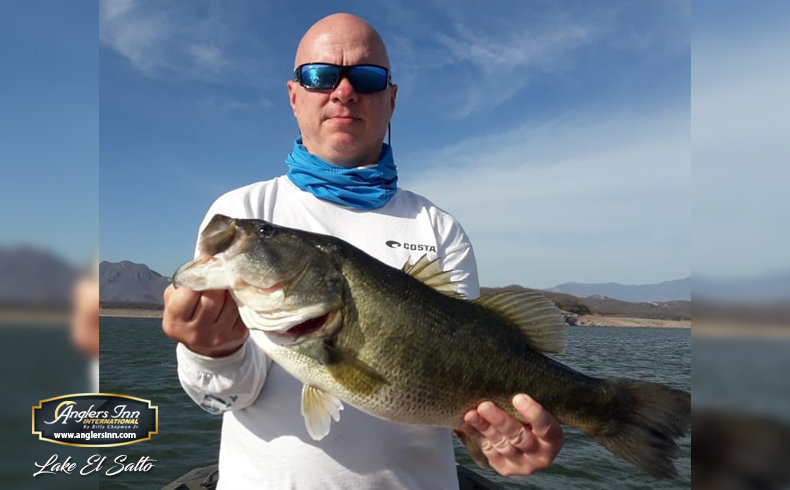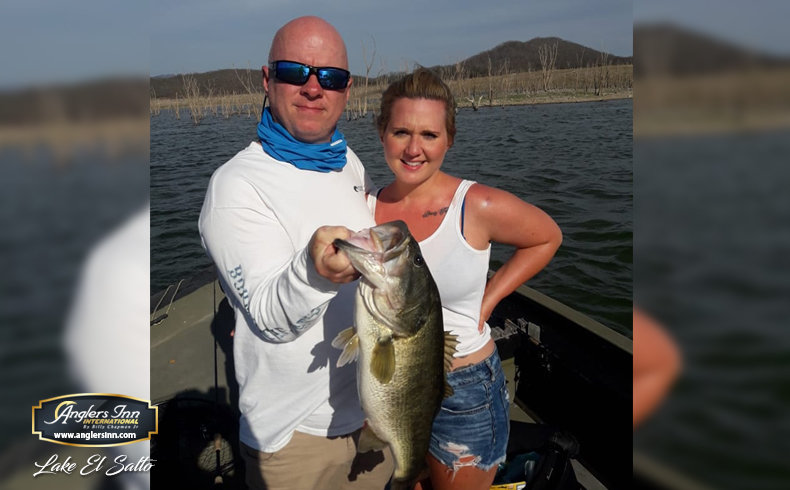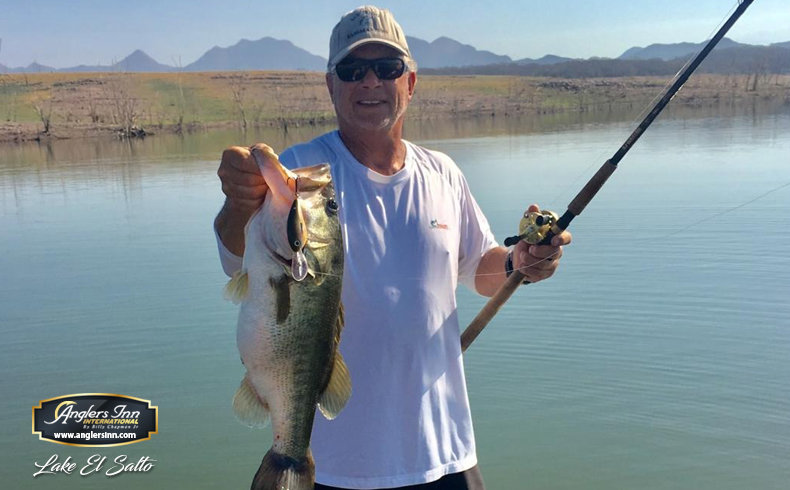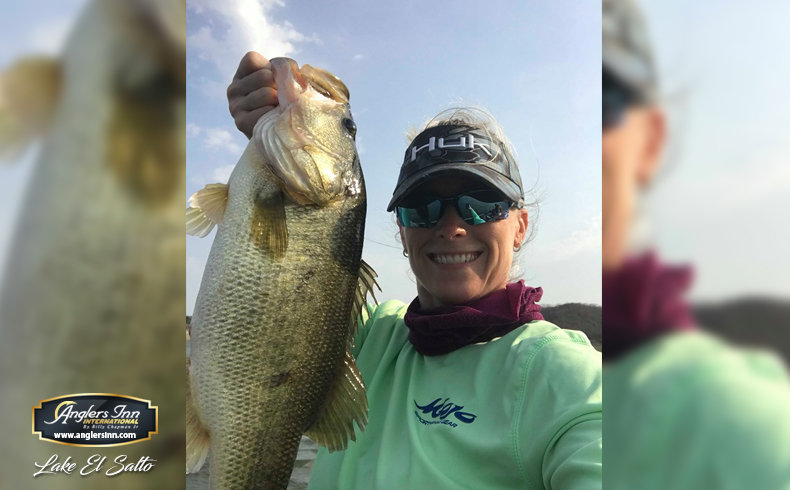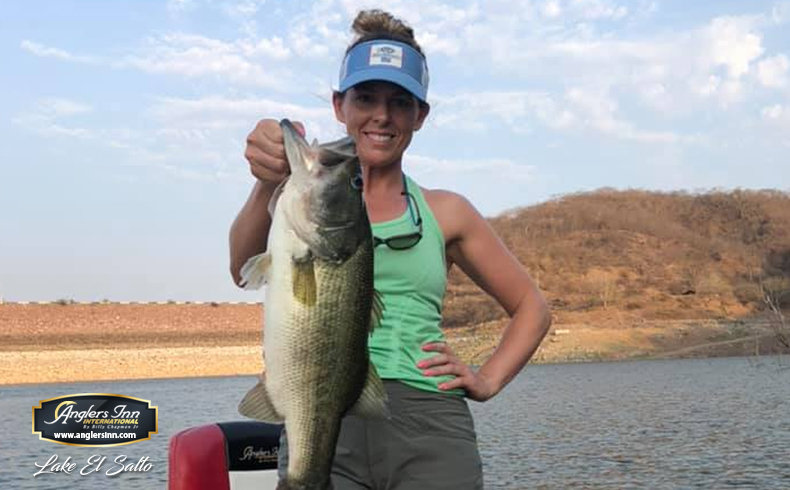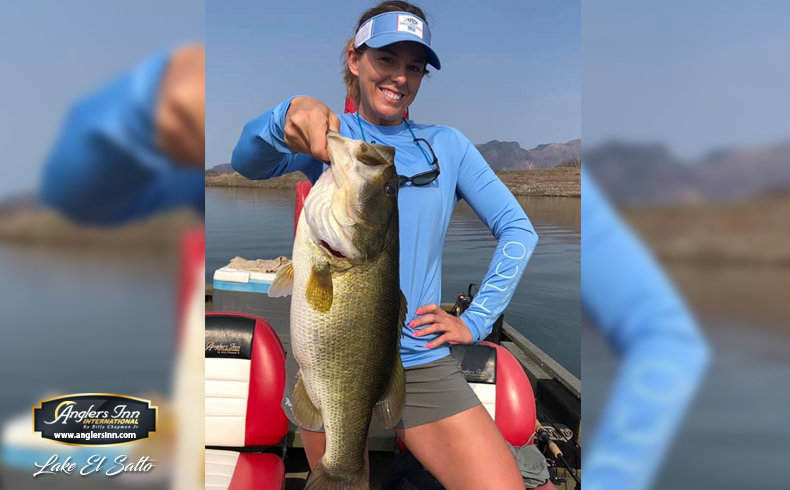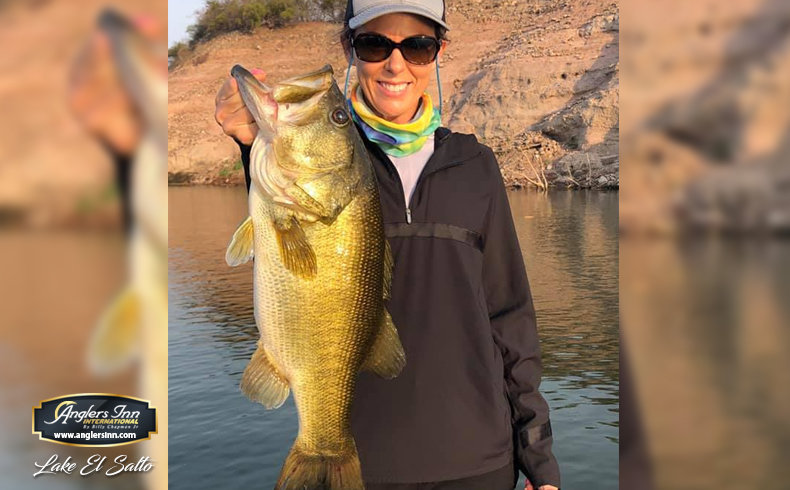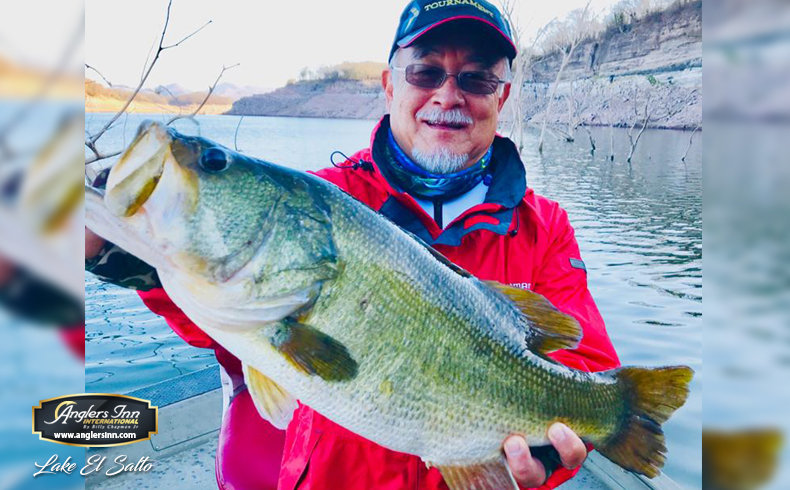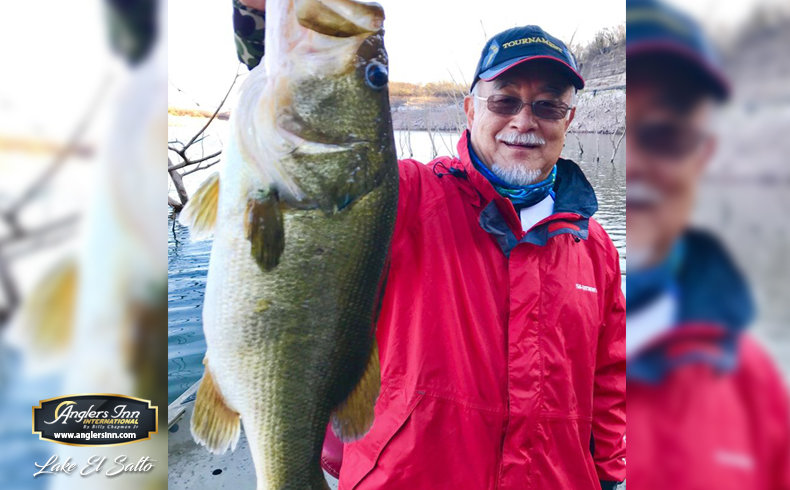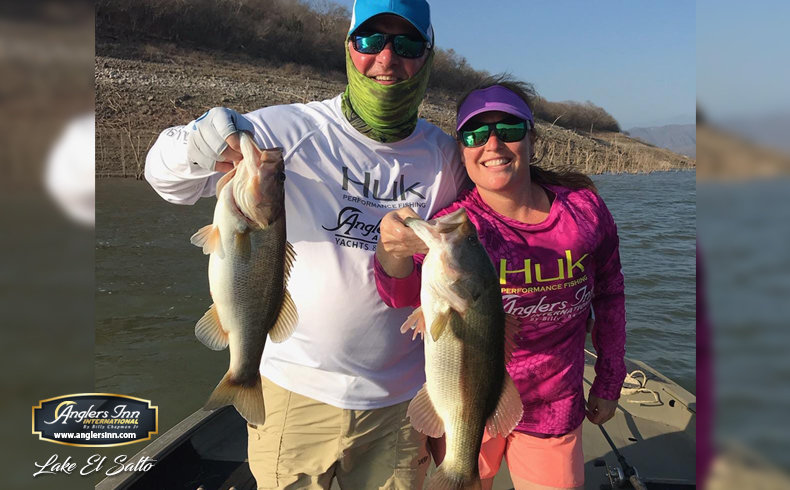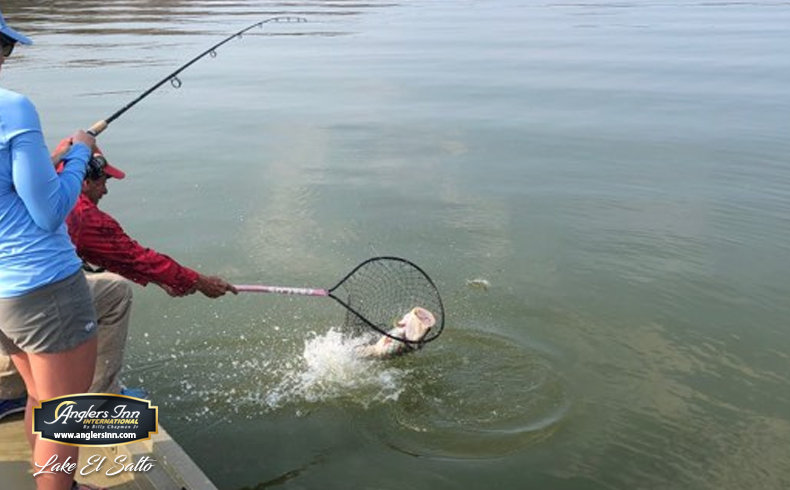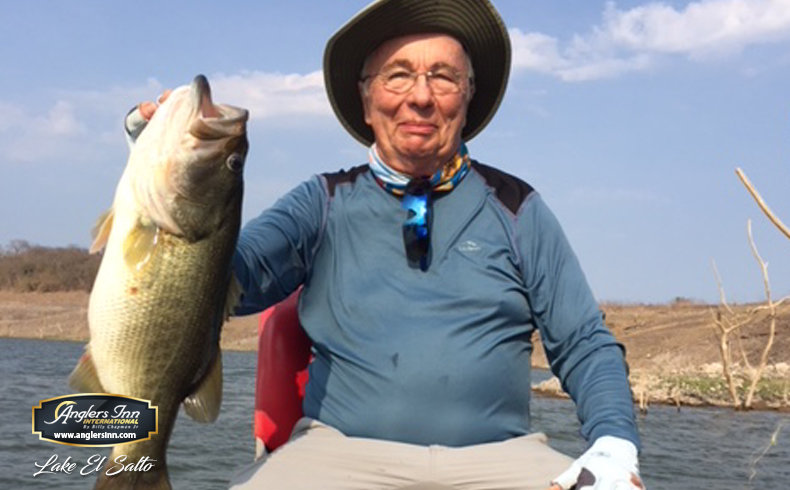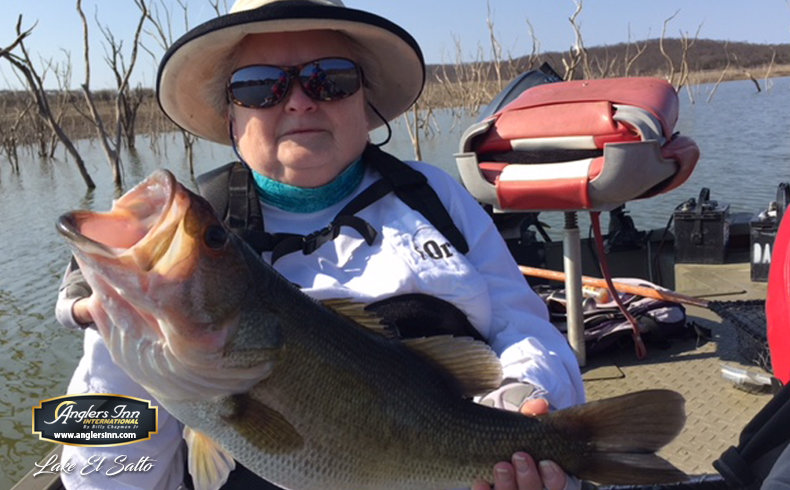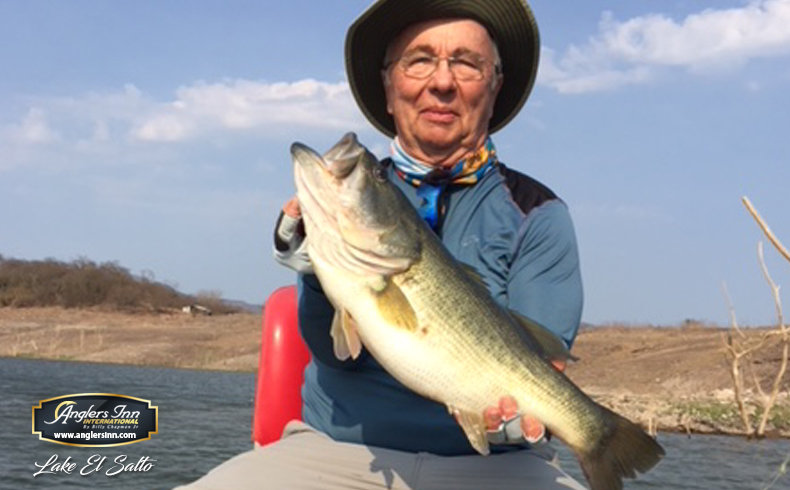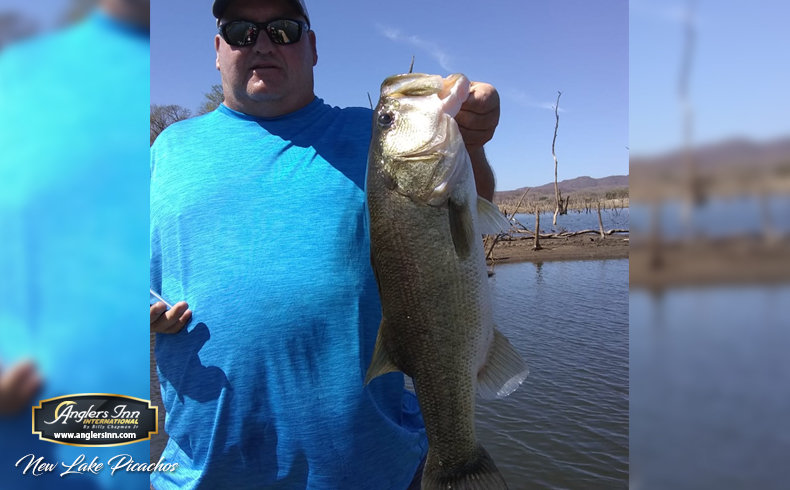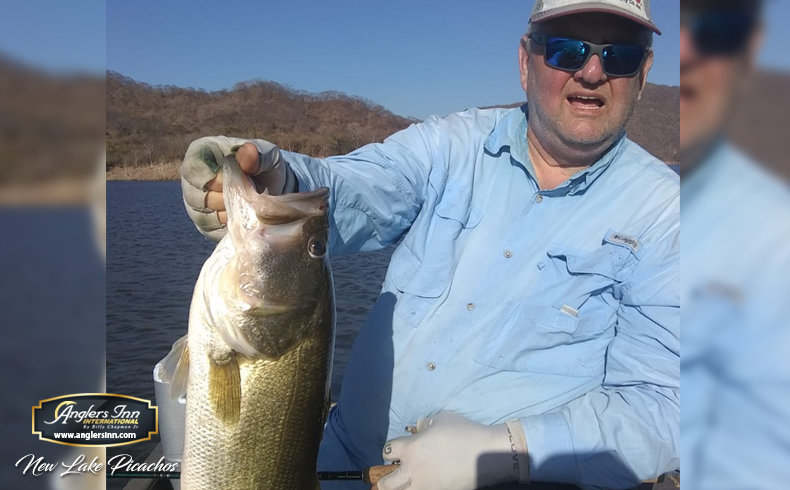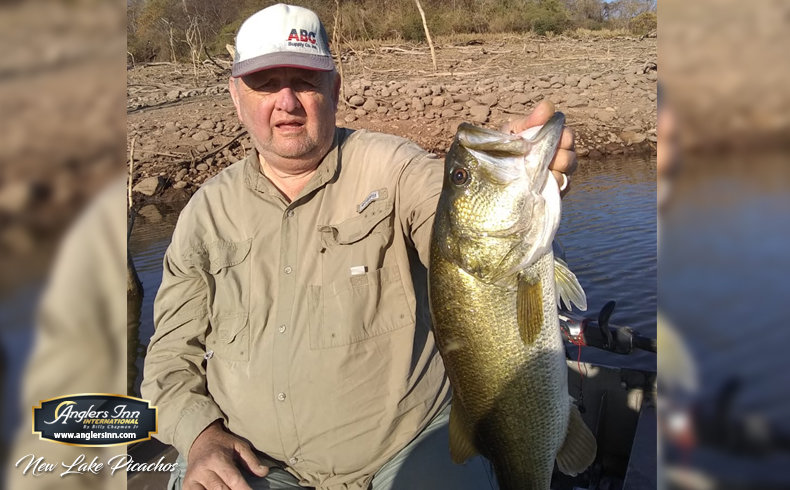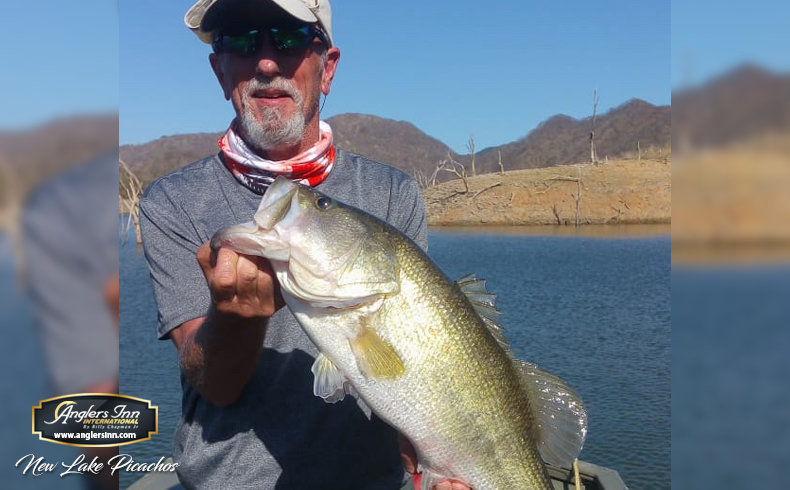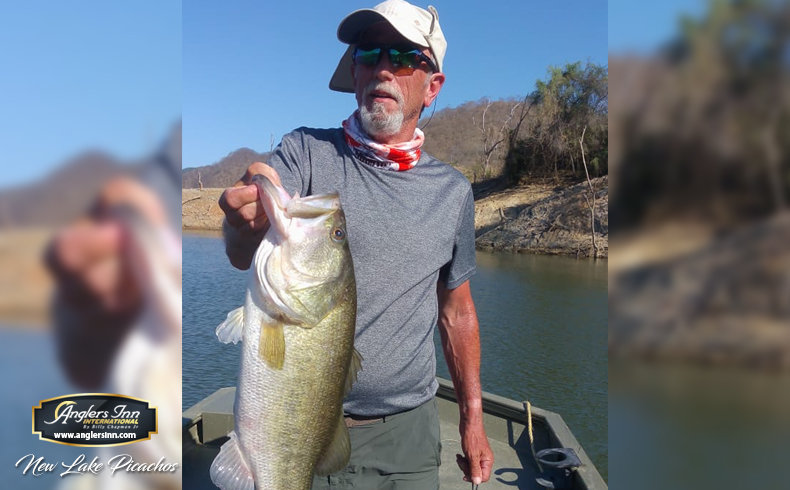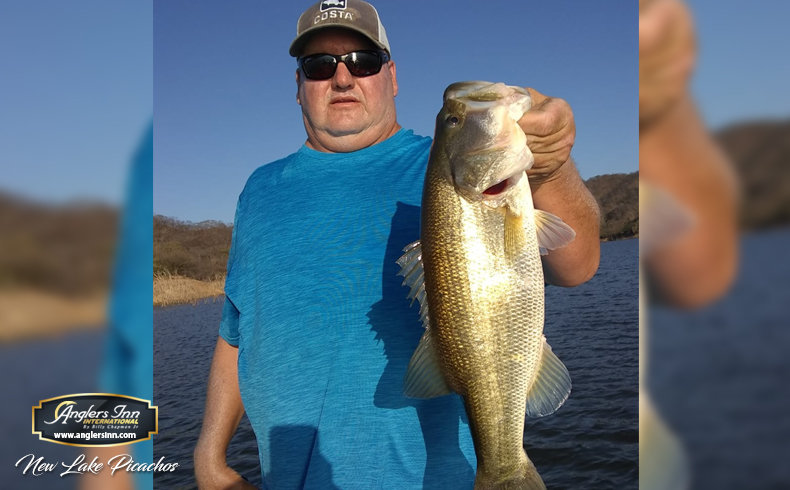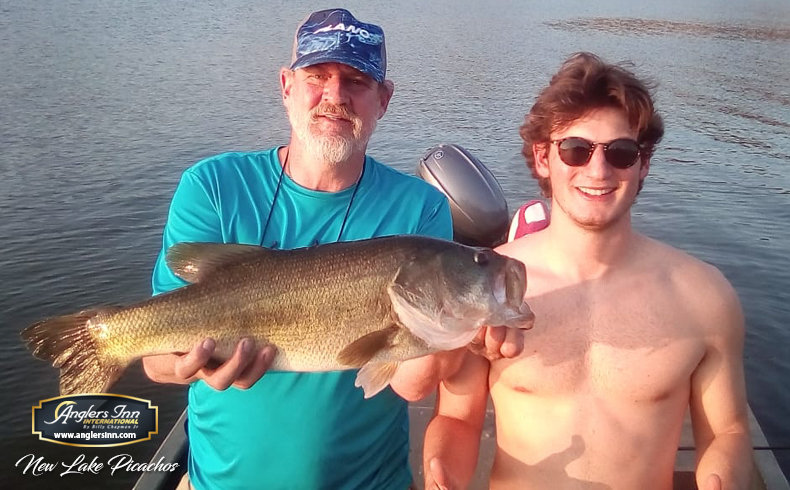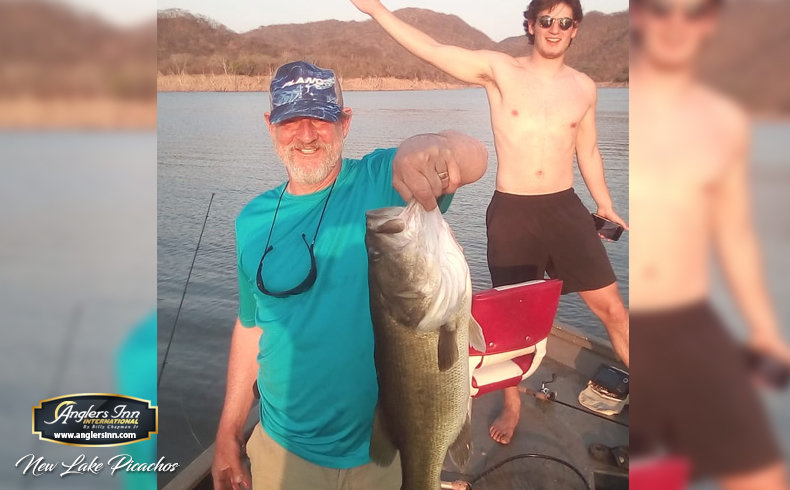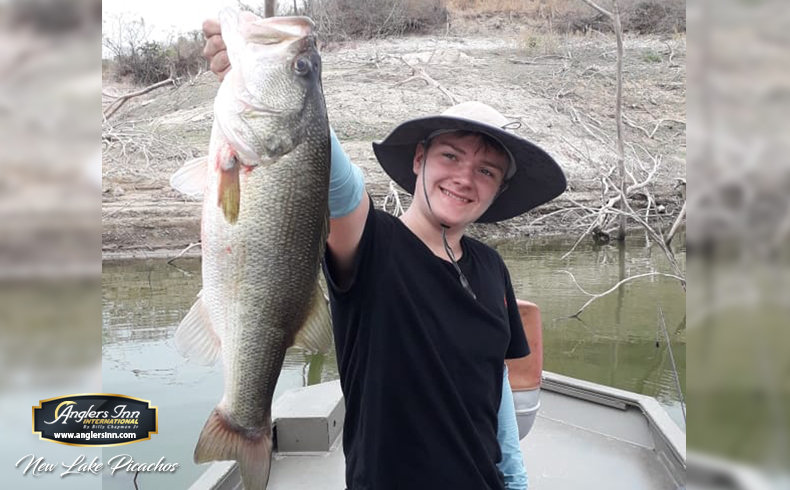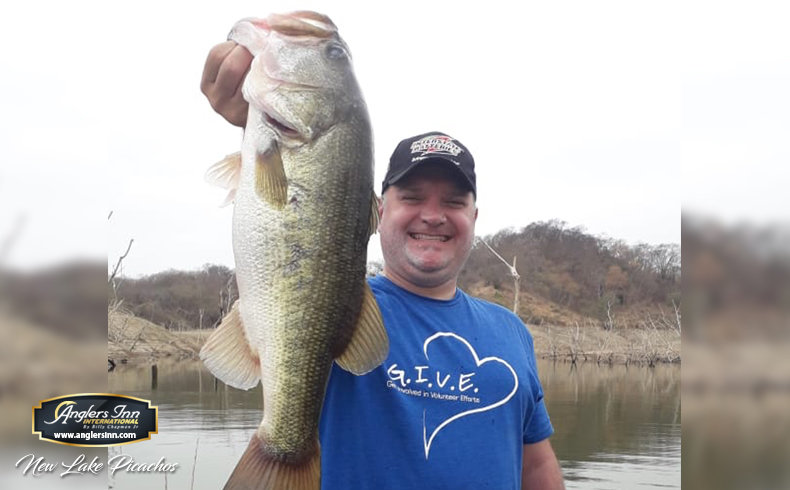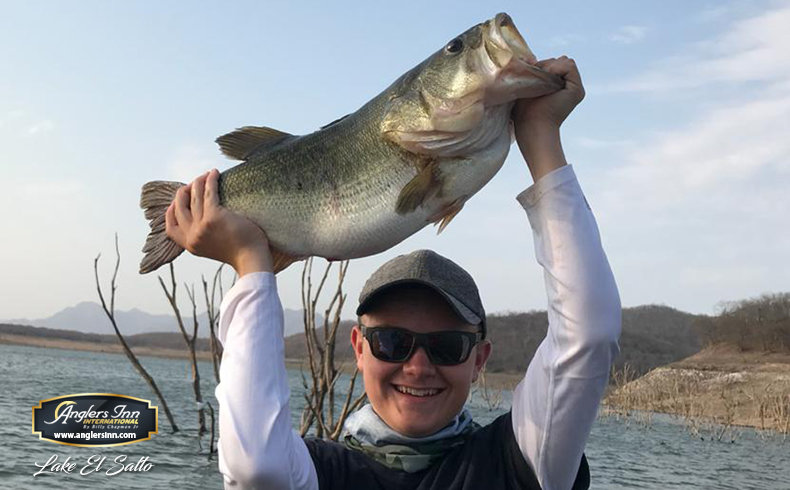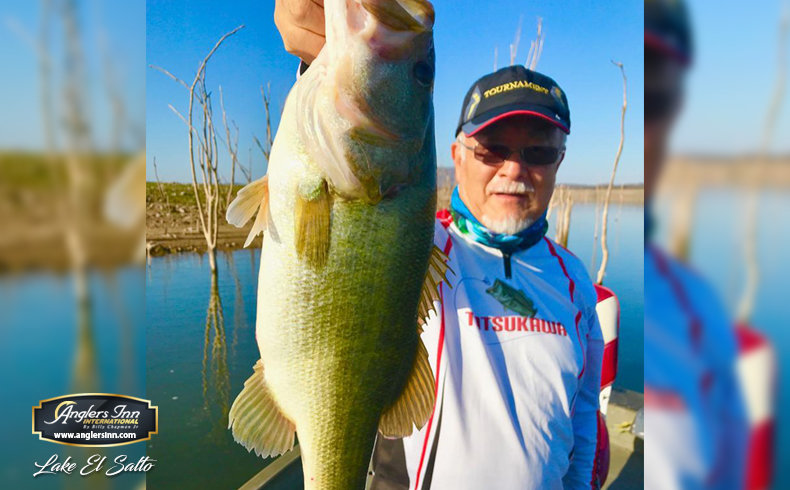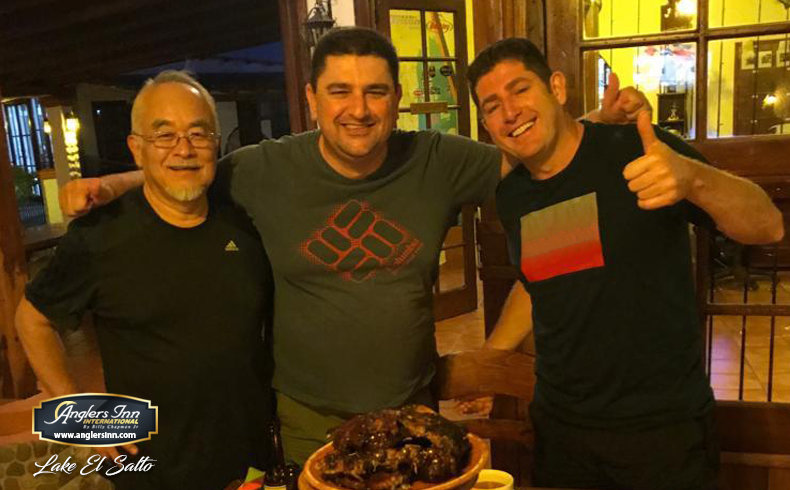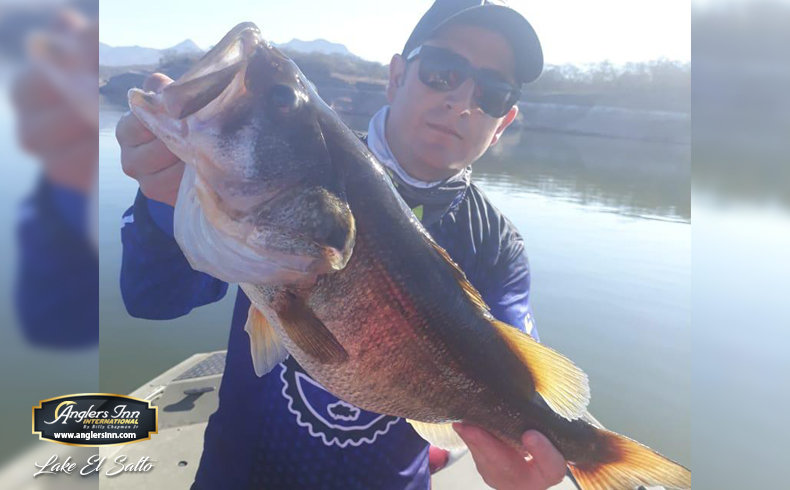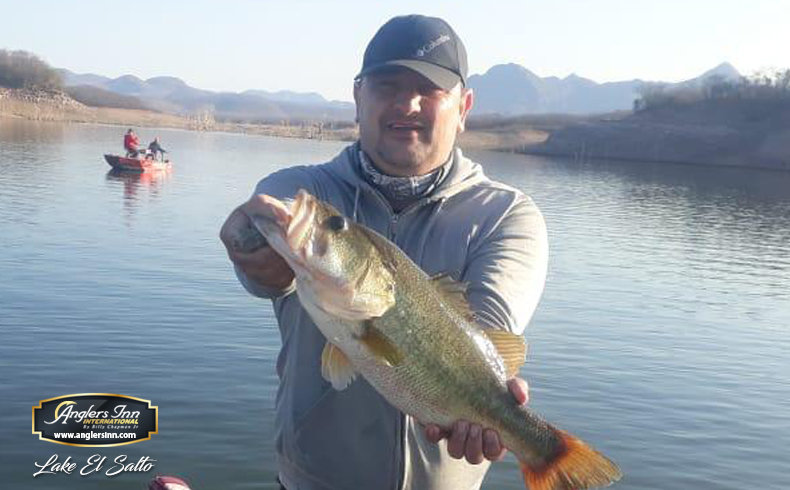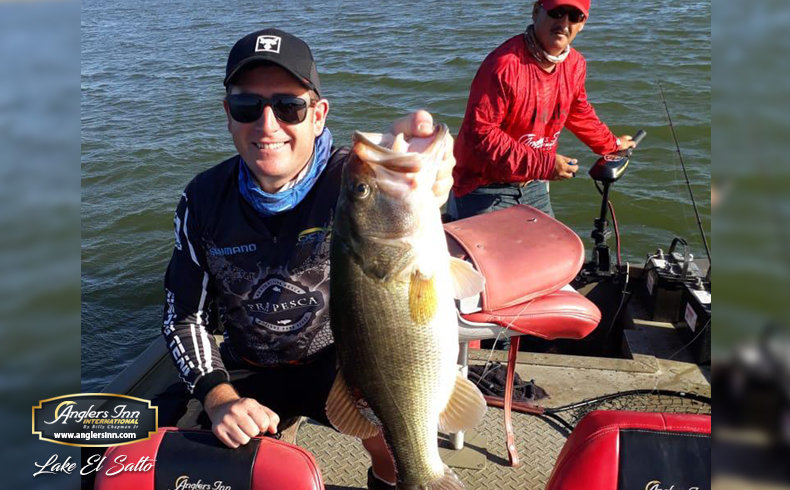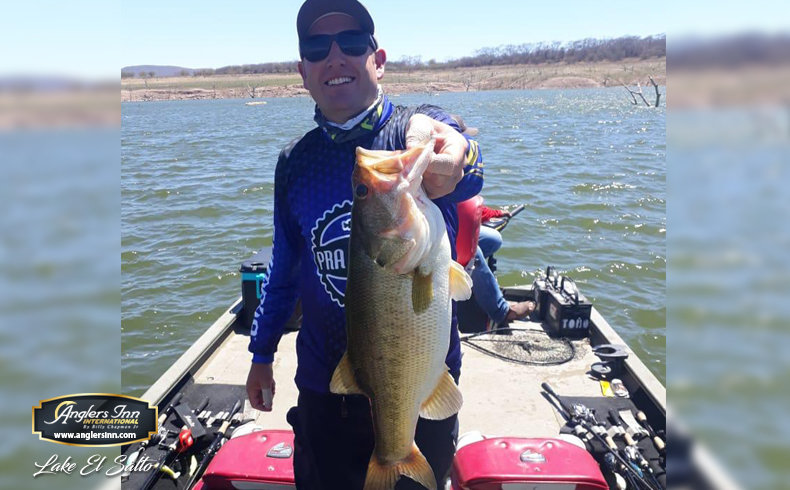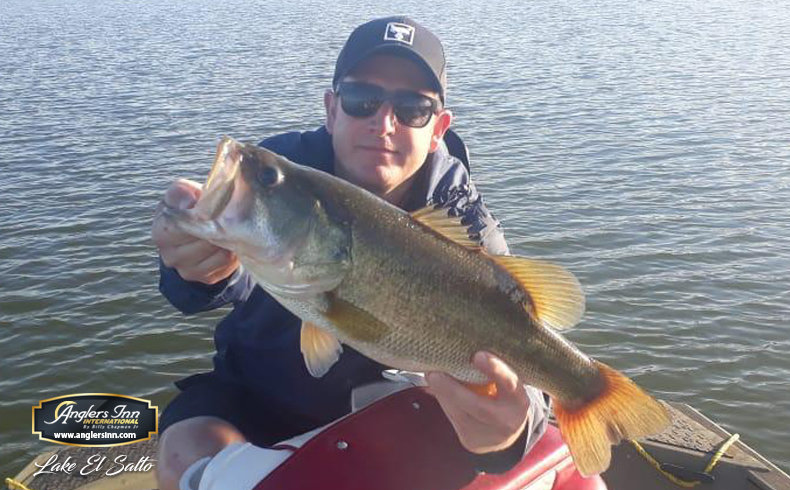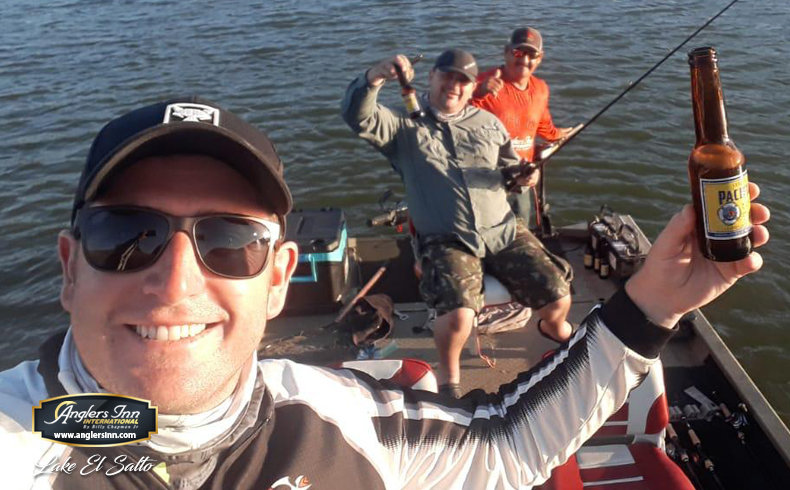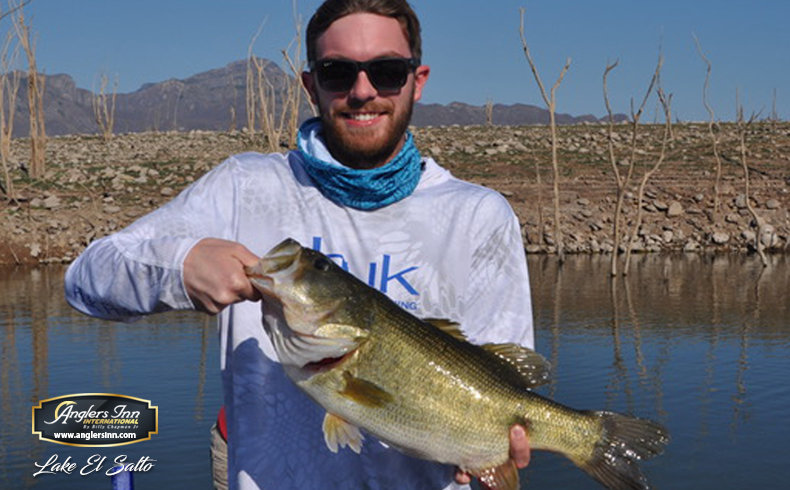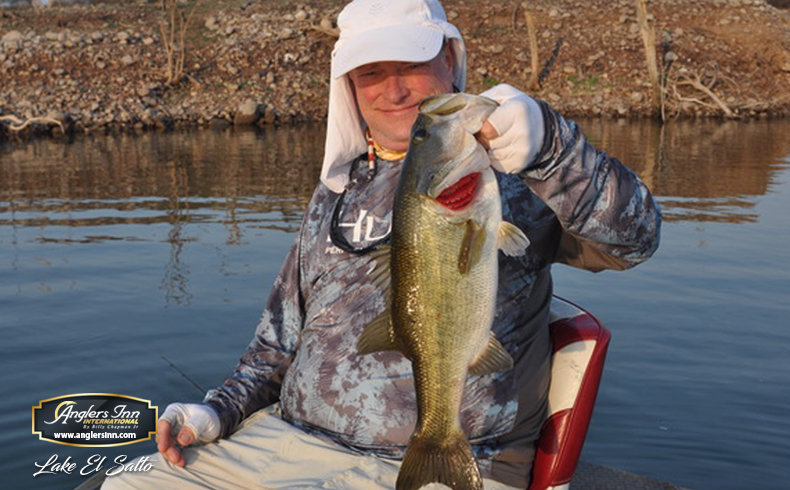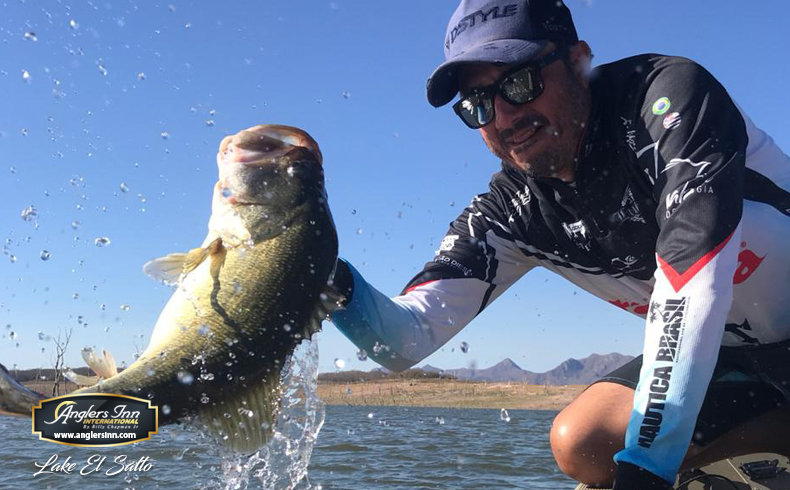 Many newcomers think that the wintertime, when it's cold north of the border, is the only prime time to come to Mexico, but many of our longtime clients prefer the period of May through July, when the water tends to be at its lowest, the fish are grouped up, and they're feeding heavily before the rain comes. There's no need to worry about the heat – it's often no hotter than it is at home, and a comfortable wind usually starts to blow at 10am, keeping you cool with the added bonus of positioning the fish predictably. Both lakes continue to have excellent seasons.
Let's start off with El Salto, which true to its reputation has kicked out some monsters lately. Most notably, Dan Hensley of Oklahoma, a return customer, brought his 15 year-old son Carson fishing in Mexico for the first time (on a combo trip) and they were each rewarded with true 11-pounders in back-to-back sessions.
"The fishing gods were watching over us during our 2-1/2 days on El Salto," Dan wrote. "Although we hauled-in 59 fish the first day, there were two bites on June 1, 2019, that I will remember forever!!! Just before lunch, I landed a 11.25 pound toad on a Texas-rigged black/blue Berkley 10-inch power worm. But wait, there's more!!! Just before dinner, Carson (just turned 15 years old) landed an 11 pound giant on a Texas-rigged black/blue Berkley 10-inch power worm. Not only the same bait, but caught in the same spot on the lake… n-FREAKIN-believable!!! In the 2-1/2 days on El Salto, we landed 243 fish with the most productive ½-day session delivering 100 bass. We caught most of the fish on Rat-L-Traps and wacky-rigged Senkos."
Hanna Robbins, wife of Bassmaster Senior Writer Pete Robbins, has been coming to El Salto since 2009 and has visited every Memorial Day week since 2013. This year Pete couldn't make it, but Hanna wasn't willing to miss her favorite time of year at the lake.
"There was no way I was going to lose a trip because of his work schedule," she said. "Besides, this gave me an opportunity to do one of my favorite things – introduce new people to my personal 'Disneyland.' I love seeing the Anglers Inn experience through new sets of eyes."
For the first half of the week, she was joined by Jennifer Combs of Texas. Jennifer is the wife of Bassmaster pro Keith Combs, who has won the Toyota Texas Bass Classic three times along with two Elite Series events. Jennifer lives on Sam Rayburn and has been fortunate to fish all of the great Texas lakes like Amistad and Falcon, as well as famous bass fisheries around the country, but even she was amazed by how hard these fish found: "Lake El Salto is full of bass and you can pretty much fish your strength or preference and have success," she said. "Pound for pound these fish are the strongest I have ever seen. I have caught bass from Texas to New York and everywhere in between, and you won't find bass that fight any harder."
Jennifer and Hanna averaged 65 to 100 fish a day, most of them on both square bill and deep-diving crankbaits (chartreuse/black back and sexy shad), and Jennifer said that "the crankbait was most effective when reeling extremely fast. A stop and go retrieve was also effective."
For the second half of the week, Hanna was joined by Donald Howell of Alabama, who caught his personal best in the first session out on a spinnerbait. In addition to being the President of the Bass Fishing Hall of Fame, Donald is also a top executive with Southern Sky Aviation. With his assistance and partnership, soon we'll be offering really good opportunities for those of you who'd like to avoid commercial aircraft and fly privately to Mexico, Idaho or Brazil.
Hanna was joined by Kyle McMillin and his father Mack for their second trip to El Salto, and among their 60-plus fish per day were multiple 8-pounders and many in the 5- to 6-pound range.
"Senkos were a good numbers producer in watermelon red flake," Kyle said. "Last year we didn't even take a Senko out of the pack to try and this year it was the main producer. It's a tried and true method to catch fish so make sure you bring them. Like I said, I brought 10lbs of Senkos last June and didn't throw a single one. This year we ran through our stash. Also, a square bill was a good producer. Didn't throw it until the last day. I was throwing a Megabass 1.2 in a sexy shad color as close to the bank as possible and cranking it back. Normally they hit it right on the bank. The action was non-stop!"
The lesson that Kyle learned is that it pays "to bring plenty of the staple baits like 10-inch worms in black/blue, 8-inch lizards in watermelon red and 6-inch Senkos in watermelon red. You never know what they will be biting and they seem to change their minds daily."
Don't forget some Berkley Warpigs (lipless crankbaits), if you're coming in the summer. Sometimes fish will occupy the upper levels of the water column or come up schooling and you can cast a ½ or ¾ ounce lipless crankbait a mile with accuracy.
Duncan Maccubbin took his fifteenth trip to El Salto and resolved to avoid beating the bank for numbers and instead concentrated exclusively on bigger fish. He found them on offshore structure and steep bluffs, and spent countless hours patiently dragging a ¾ ounce black and blue jig. He was rewarded with a beautiful 9 ½ pound bass along with several more over 8.
"Deeper spots seemed better," he reported. "Most of the fish were relating to the bottom, and if you are fishing soft plastics plan to go through a lot of them."
As for plastics, don't forget fluke-style baits and ribbed swimbaits (4.8" and 5.8"). They can be fished weightless, on a jighead, as a trailer or on a Carolina Rig, and both replicate eating-size baitfish closely.
We've been running full houses nonstop at both Picachos and El Salto all season, hosting legions of happy anglers and doing our best to provide them the best service on earth. Fishing can be unpredictable, even on world-class waters, so we control the things that we can to make sure that you have a true bucket-list experience. That's probably why over 80 percent of our clients are return customers.
Blaine Burn brought his family down to Picachos, partially as a means for his nephew Jeremy Tolle to tune up for the 2019 High School World Championships.
"Picachos was a great time for him to tune up for the 2019 World Championships since he got to use pretty much whatever bait he wanted to catch fish," Blaine wrote. His daughter Hallie just started using a baitcaster and she joined them as well, catching numerous 5- to 6=pound fish." Hallie and Jeremy are cousins and great friends. They bow hunt, fish and hang out together all the time. They spent most of the time in Mexico fishing together and the trip to Anglers Inn was what they asked for as their graduation present. They both already want to come back!
All the guides were very nice and their English was about as good as our Spanish (except Modesto). It was fun for me to work on my Spanish, which is still horrible. But the guides were very tolerant with my redneck Spanish and taught me to speak it better. Modesto was tasked with all the weakest fishermen and the kids. He was funny, helpful and patient. The kids Loved him and Oscar very much. Oscar taught them some insults in Spanish and they loved it and used them on us the entire time. Oscar and Modesto were fantastic with the kids."
Increasingly, we're finding that guests want combo trips, which is a fantastic way to get a taste of each lake and to get to use various techniques on the same vacation. Herb Steiner of Texas, a first-timer, started off at Picachos and then progressed to El Salto in early May. He fished Whopper Ploppers during the low light hours and then soft stickbaits the rest of the day, averaging over 50 fish per session himself up to 6 ½ pounds with his guide Jesus. "My guide knew where the fish were," he said. "The best action was when we tied off to a tree and fished the stickups." The next day they did equally well on bluffs.
Moving over to El Salto, Herb experienced a varied bite – catching quality fish on spinnerbaits, soft stickbaits, deep diving crankbaits, Whopper Ploppers, shakey heads and Chatterbaits rigged with a Keitech trailer. He caught fish up to 8.4 pounds, with some over 7 as well.
On the final day, Herb was wiped out from casting and battling big fish. "Frankly, my arms, shoulders, and elbows were so worn out after fishing 10 hours a day for 4 days, I could barely toss a bait a 15 yards," he said. "Juan offered to cast for me, but I declined and at 11am I told him, 'Estoy terminado. Vamonos a la casa.' He laughed and we headed back to the dock. Really good guide, Juan knows his stuff and speaks excellent English. The food, service, attention to the needs of the clients and care of the property is second to none. I was totally impressed. Picachos facilities are great but smaller than El Salto, which I consider luxurious for a fishing camp. The staff at both places made me feel like a friend. I could tell stories about extra service so far above the call of duty for me that I was mind-blown. They have their stuff together at both places, seriously. Meet you at the airport, drive you to the lake, and even before I was out of the van, I had a margarita and nachos in my hand. When I stepped out the van, my bags and tackle were already in the room. I'm definitely coming back later this year."

Picachos is just 55 minutes from the Golden Zone of Mazatlan, so it's even perfect for day trips, but for you hard core guys, if you can't decide which lake to visit, a combo trip is the way to go. Our new dining room sits right at the edge of the lake and you'll be tempted to make a few casts between sips of your margarita. We're running a special this summer – just $1,395 for the standard 4 night/3.5 day package at Picachos only, so act quickly and jump on the few remaining dates.
Remember, our goal is to make your trip as hassle-free as possible, and one step in that direction is that we now have loaner rods for everyone to use at no cost. Thanks to our newly-developed partnership, our lodges now have a varied supply of St. Croix rods. "They made fishing pure pleasure," said one recent guest. These technique-specific rods rods are the real deal, folks, and we are committed to giving you the best possible tools to land that fish of a lifetime. You don't need to travel with a heavy and burdensome rod tube anymore if you don't want to. Both lakes have an ample supply ready for you to use. We're seeing fewer and fewer guests bringing their own rods. With the St. Croix sticks tailored to specific techniques, and available in a wide range of lengths and options, so really can't go wrong…and it makes packing much easier to just bring your reels and tackle.
As I told you a few months ago, we've purchased an incredible property in Northern Idaho, a waterfront property with a marina, a gorgeous stone-and-timber lodge, home sites, and a breathtaking view of both the water and the adjacent mountains. I've been working on it nearly 24/7, getting it ready for initial guests and to make sure it lives up to the Anglers Inn name. Each day I start a new project to make it better and I'm passionate about my first U.S. vacation property. Now we're ready to welcome our first guests on a limited basis, with special deals for families (bring up to two kids for free!) in 2019. Email me if you'd like to be one of the first to experience this great opportunity.
For all of the smallmouth devotees who've been bugging me to add brown fish to my repertoire of largemouths and peacocks, your wishes have been answered. This is trophy smallmouth country – they grow big and mean and they're relatively unpressured, so you'll be able to scratch that itch as much as you want. But the fishing doesn't end there – the region also has trophy largemouths that are even less pressured, big walleyes, hard-fighting northern pike and a variety of trout. You'll never want to leave.
In most of my other operations and lodges, if the hard core angler's family didn't like to fish, they were just out of luck. There was little reason to bring them. This lodge shifts that paradigm. While the angler fishes, the rest of the family can engage in a variety of water sports, ski, go "glamping," play golf or ride the hundreds of miles of trails. There are also world-class restaurants and shopping nearby. If you want to fish all day, that's certainly fine, but it's also possible to load the boat before everyone else gets up and then join them for a host of other activities.
All of this is less than 1 hour and 30 minutes from an international airport. You'll feel like you've gotten away from it all, but it's still easy to access – and you'll be treated to the familiar Anglers Inn way when it comes to service.
Despite being thrilled about Mexico and enchanted with Idaho, I'd be remiss if I didn't mention my other love – peacock bass fishing in the Amazon! I've been going there for decades and I manage to learn something new and see something breathtaking on each new journey. I personally hosted every Amazon trip this year on record-class waters and dates are starting to fill up for the 2019-2020 season. If you're a serious angler and you haven't been, you owe it to yourself to chase these mean suckers. And if you've been before, but not with me, I want to show you the Anglers Inn Way down there – everything is first class.
We have the most luxurious boat available, along with chefs and staff who've been trained in the Anglers Inn way. We provide an "Amazon Tough" bag to every customer and it's filled with all sorts of things like insect repellent, sunscreen and the proper hat to make sure that you don't miss out on any part of your trip. As with Mexico, we provide quality St. Croix rods and we have Abu-Garcia reels with braided line, as well as all of the right baits for the current conditions. Once you're in the jungle there's no tackle shop or mail order outlet, so we want to make sure that your trip of a lifetime is fully stocked.
You may also have seen my ad for a trip I'm taking in September to another part of Brazil to investigate a multi-species fishery that will knock the socks off of the adventurers among you, as well as anyone who wants to catch monster fish. I've chased peacocks for decades, and I still love them, but even if you've caught numerous 20 pound peacocks, if you haven't seen a Wolf Fish attack a topwater you're in for a shock. They are big, mean and prehistoric and I predict they'll be the next popular exotic gamefish.
This place will also have peacocks, payara, and a variety of monster catfish. It's going to be a bit more remote, and not for everyone, but I guarantee you that anyone who has "been there, done that" will jump at the chance when I have more details. Of course, everything will be done the Anglers Inn Way. I'll have more news about that soon, as well as another resource I'll be providing to the entire peacock bass fishing community.
If you haven't seen it already, be sure to click on our website at www.anglersinn.com. We've had it up since early 2017, and the feedback has been tremendous – especially from guests who've found pictures of themselves with big fish gracing the site. Our theme is "Making Every Angler's Dream Come True," and while our web presence is no substitute for a trip to Mexico or Brazil, it's the next best thing and a valuable tool for planning your next trip. We continue to update it with new information and items constantly, so don't forget to hit us up regularly.
Just as we set the standard for international fishing trips, we want to set the standard online, too. The new site includes information about all of our properties, pricing and bios of our staff. We also update it regularly with new videos on our "Anglers Inn TV" channel, and provide detailed monthly reports like this one.
Whether it's your first trip to an Anglers Inn property or your 20th, we hope that this site will provide all of the information that you need, but if it doesn't we're always just a phone call or email away.
While we often provide a generalized list of lures that work throughout the year, there are times when specific bites are ongoing and we don't ever want you to arrive under gunned. Monitor the website and social media for updated info, and if you're ever in doubt about what you need to bring, please call us or email us. We want to make sure that you're outfitted properly to make the most of your vacation.
If you've received this report from a friend, please be sure to sign up for future mailings at www.anglersinn.com. If you know a friend who would benefit from these newsletters, please make sure that they are receiving them, too.

---