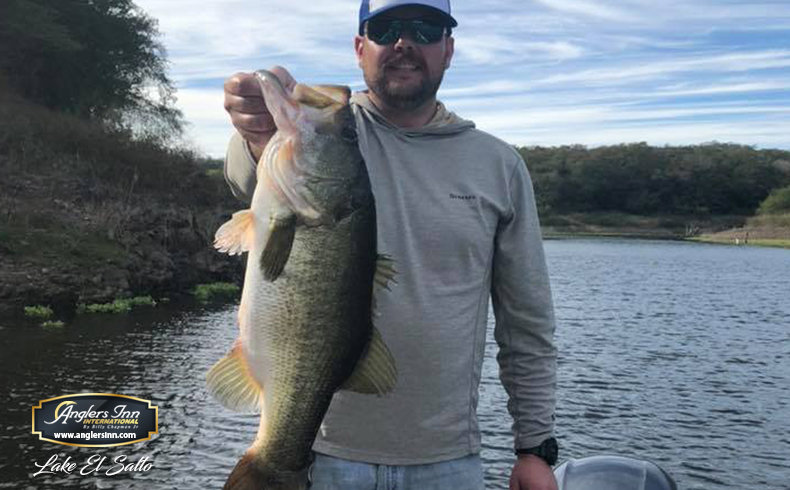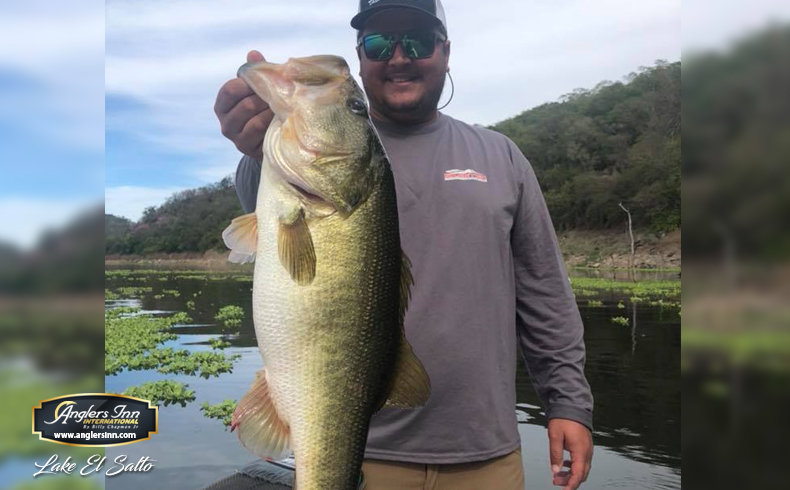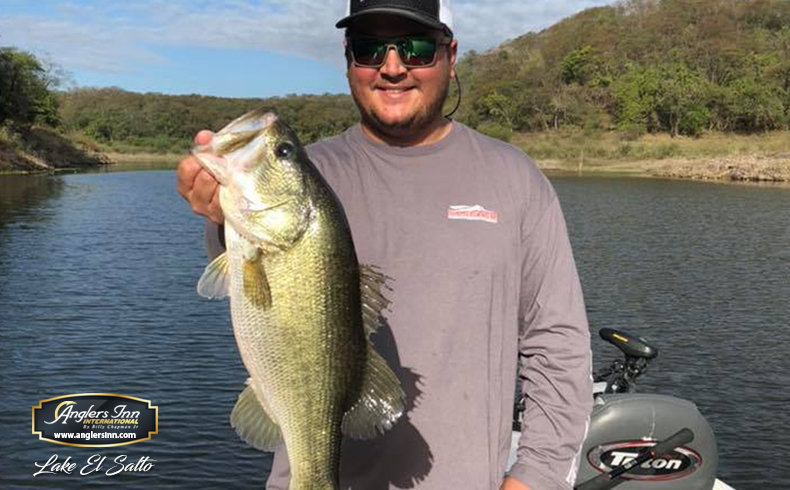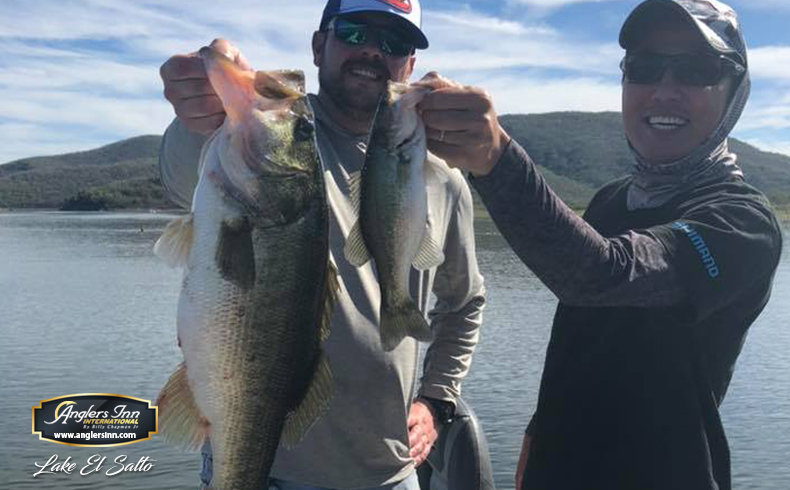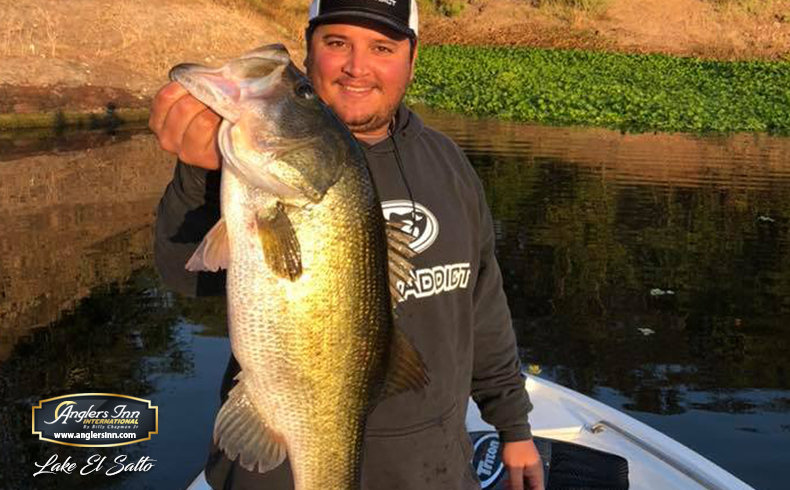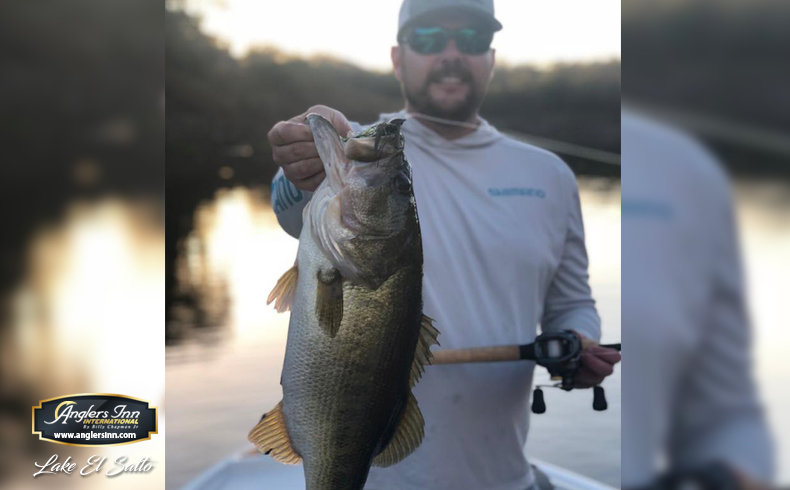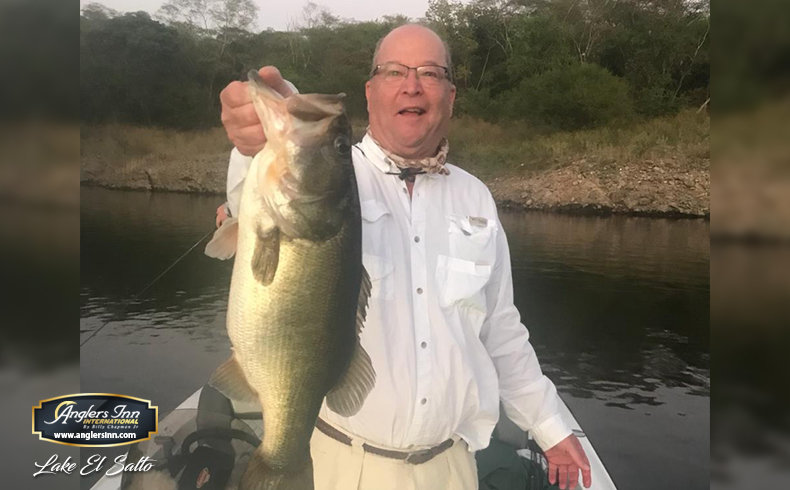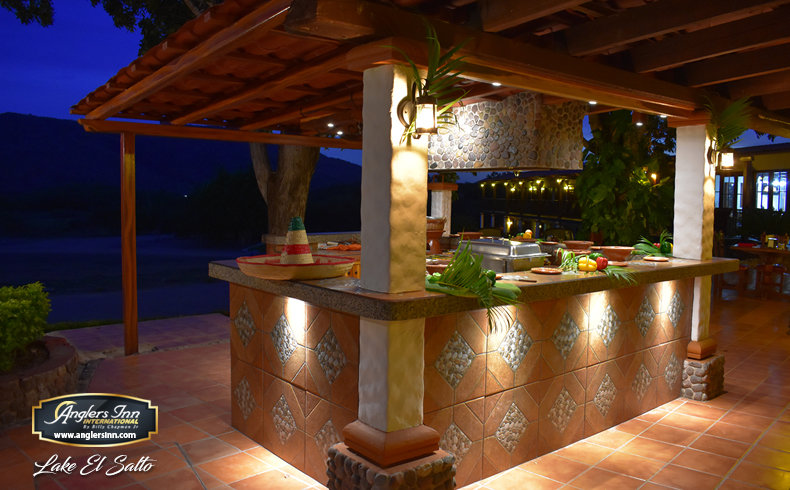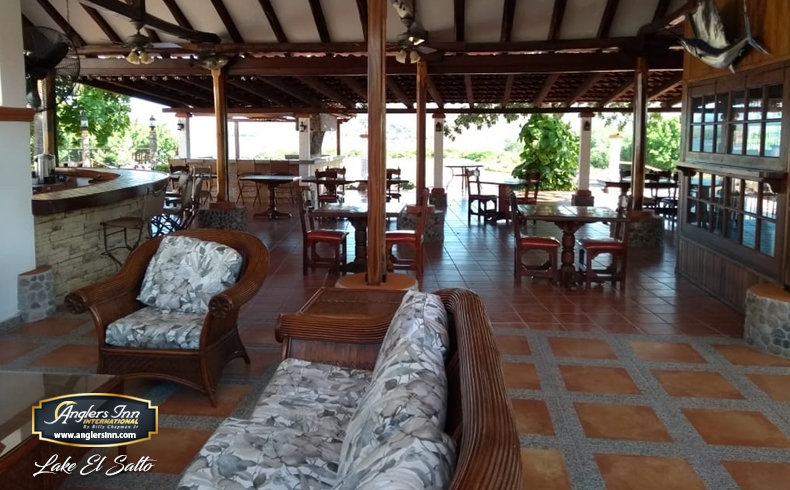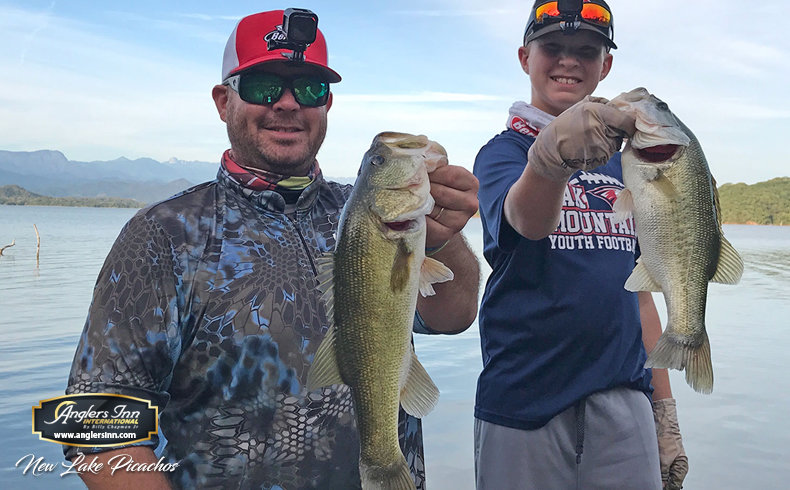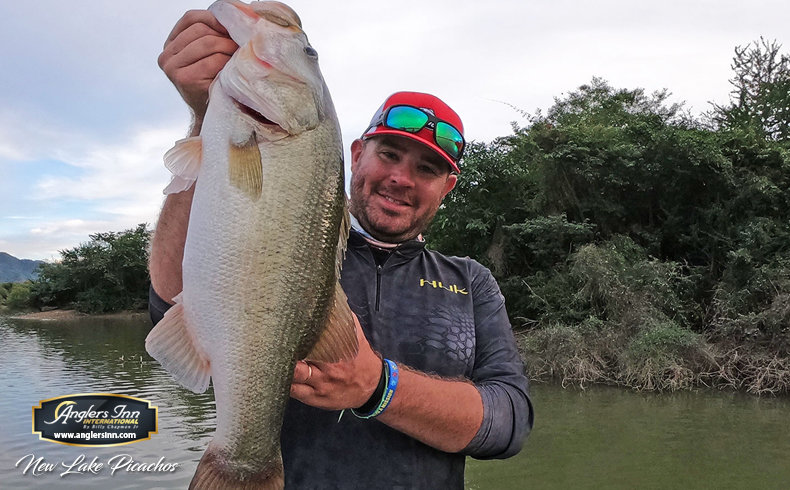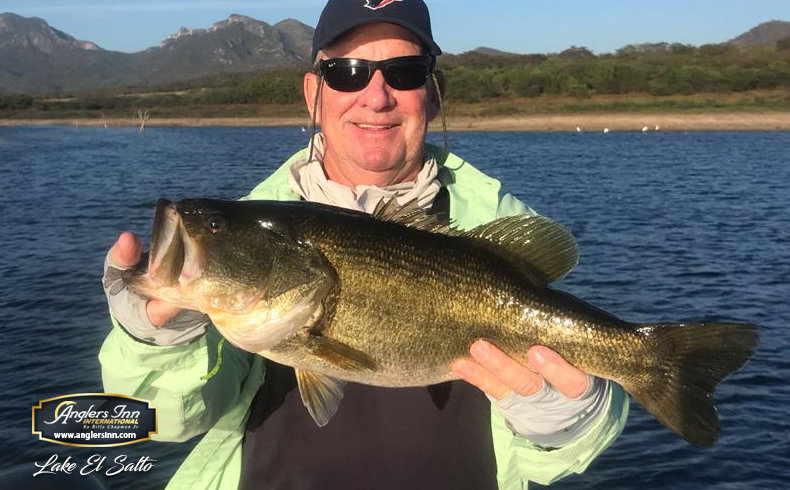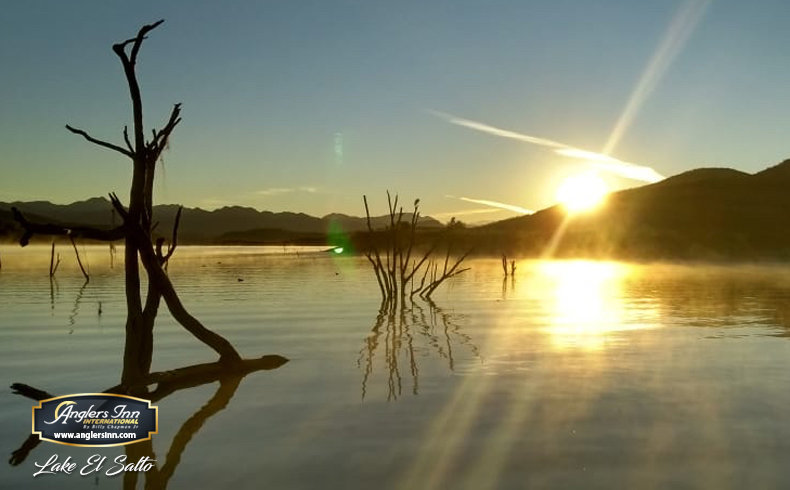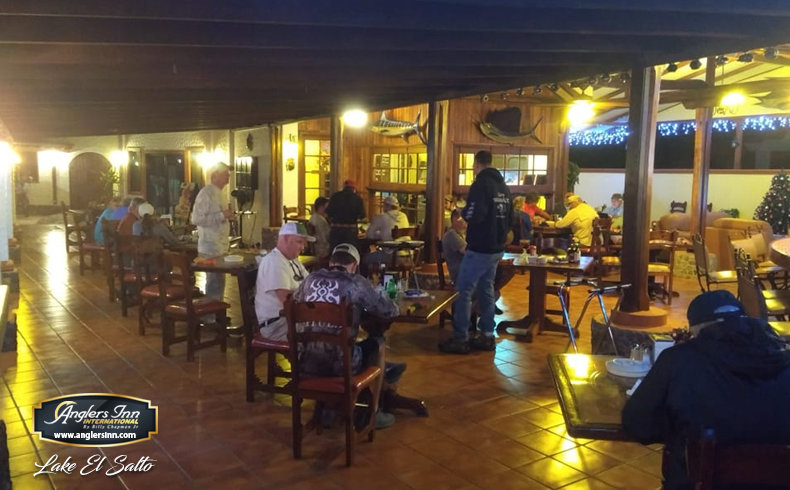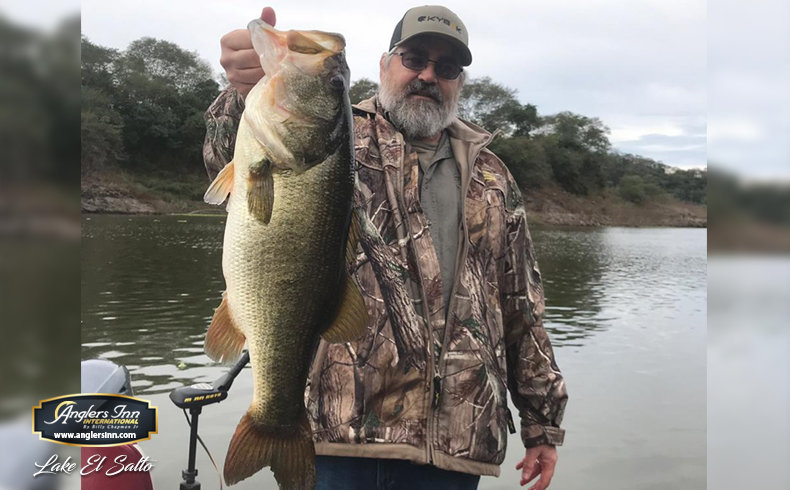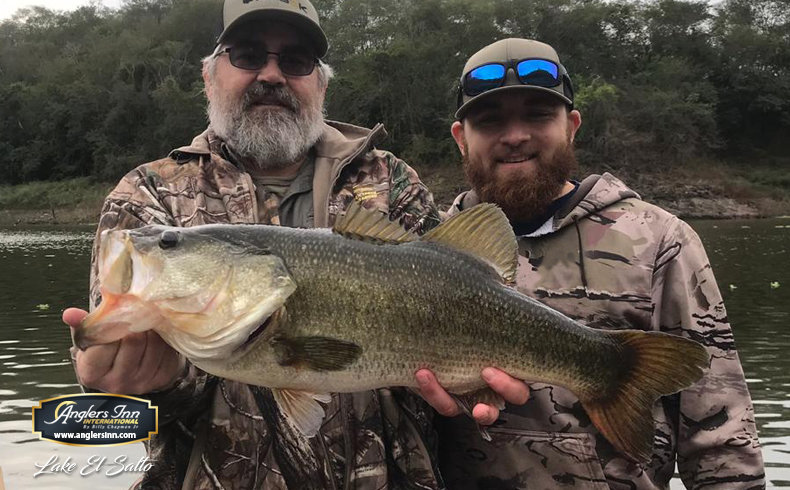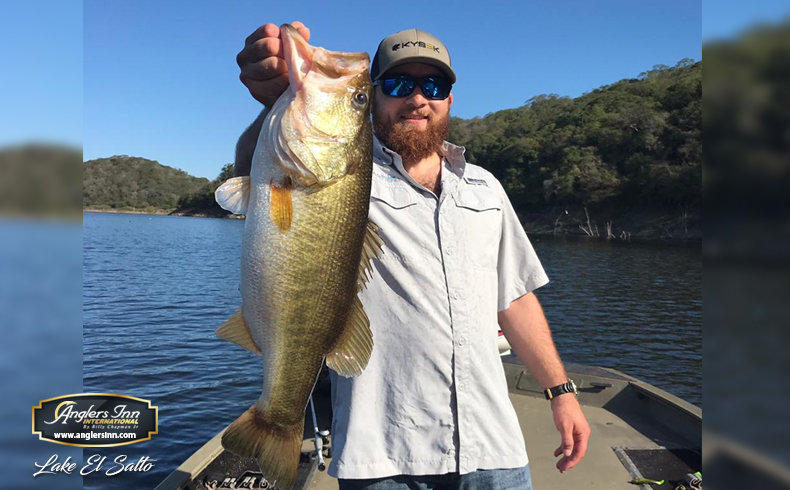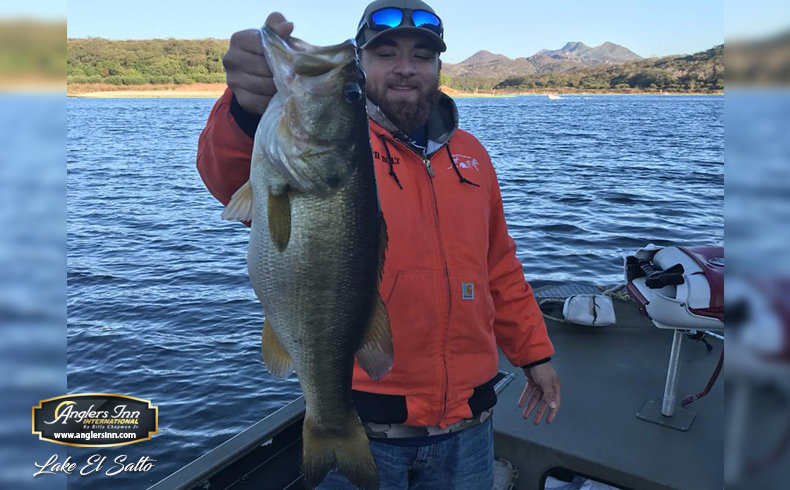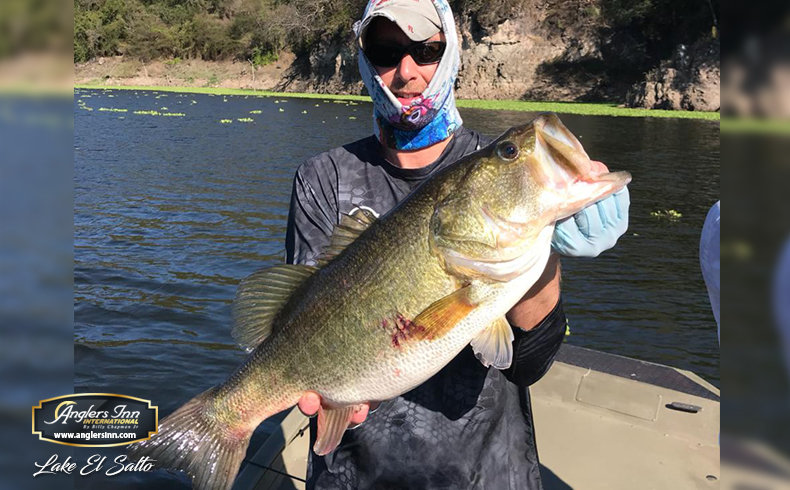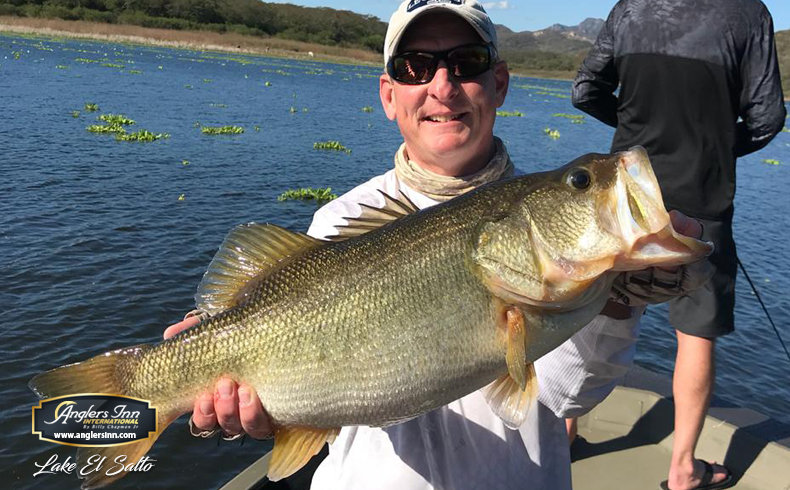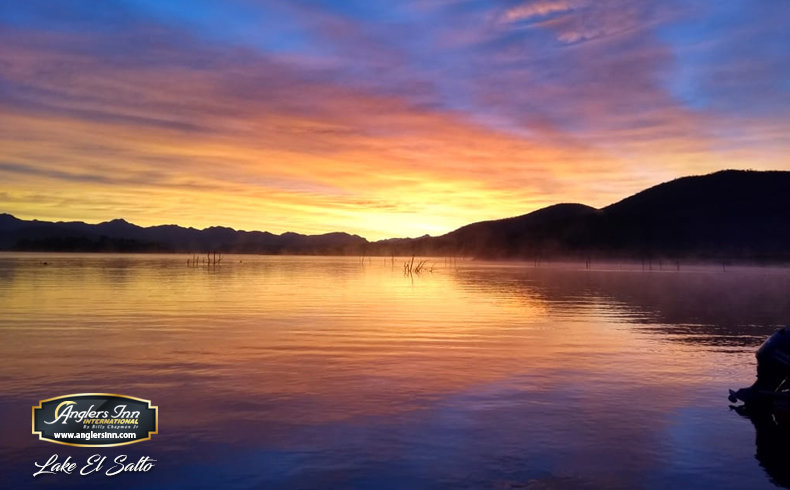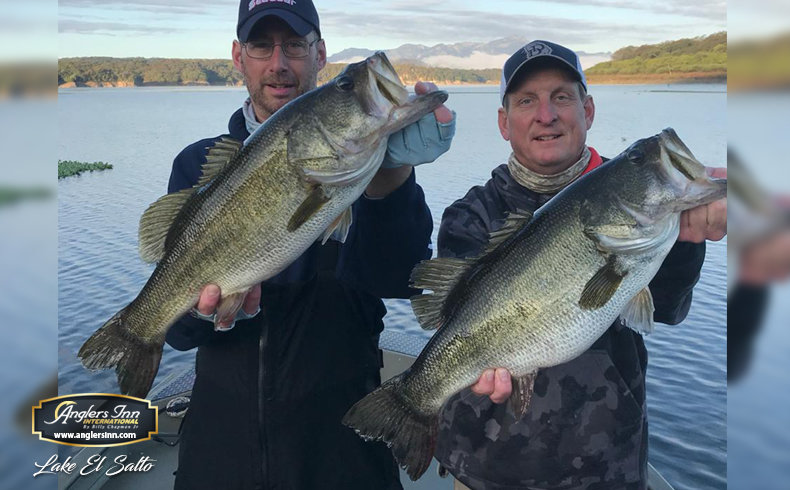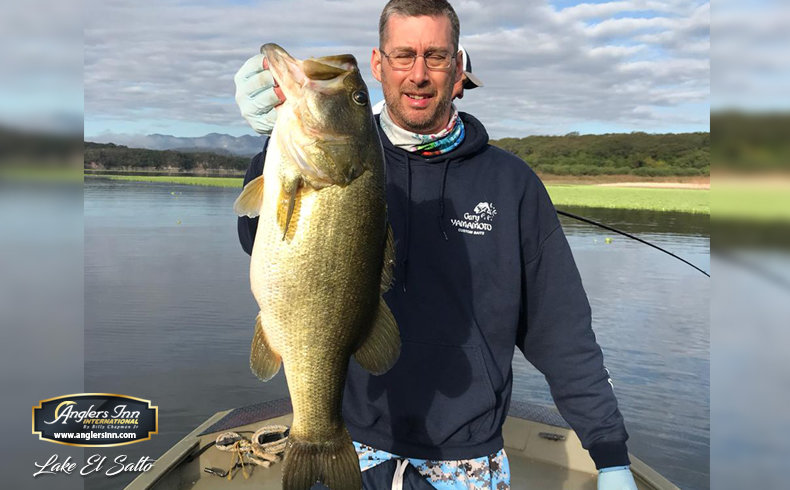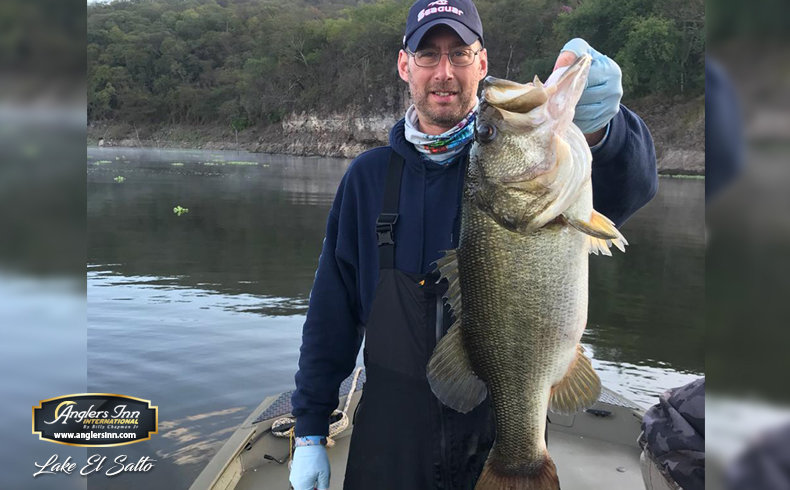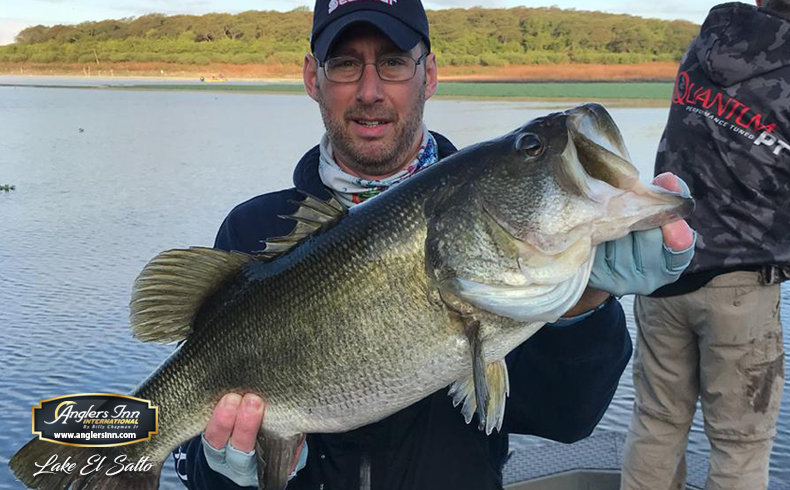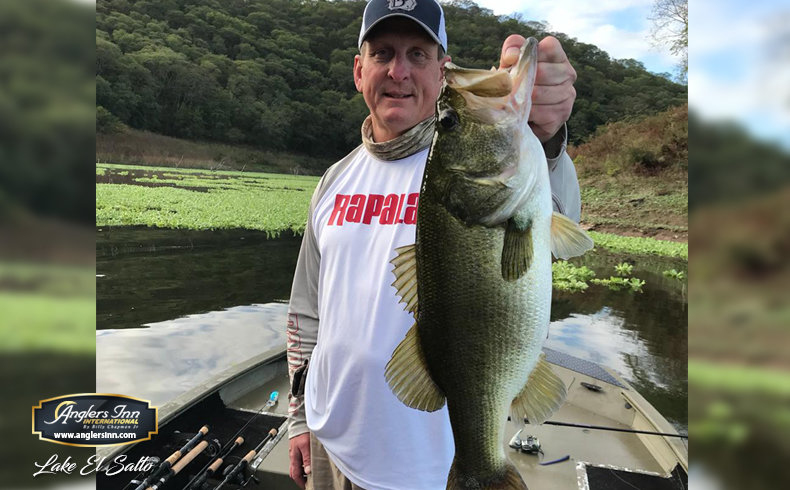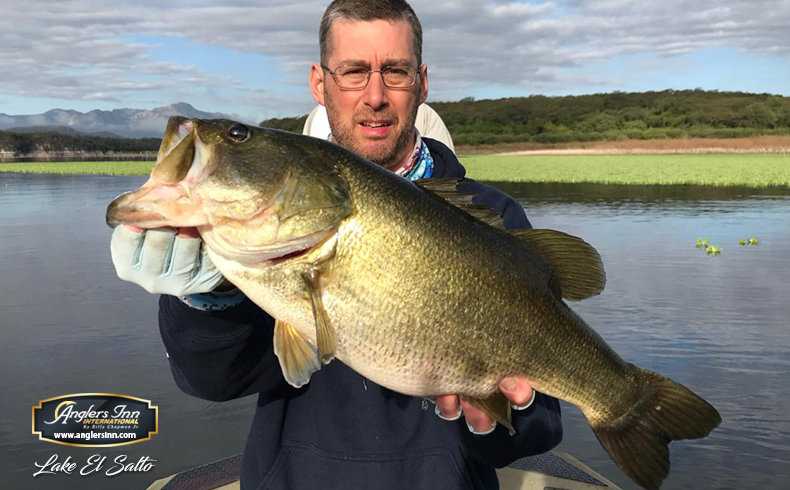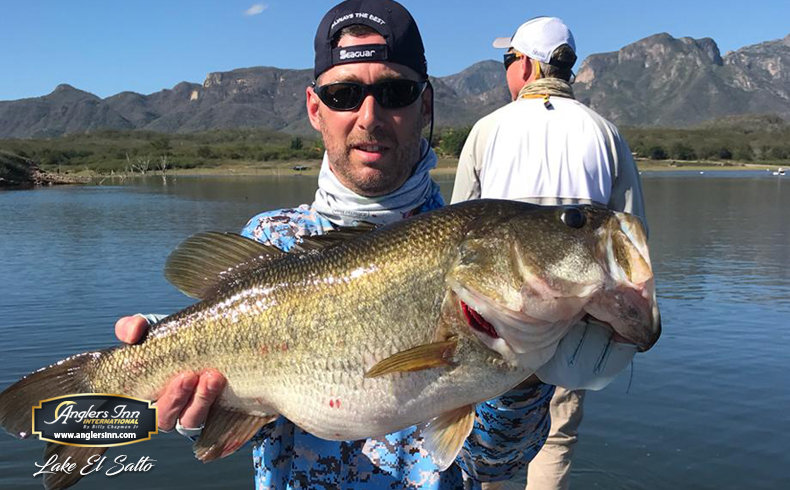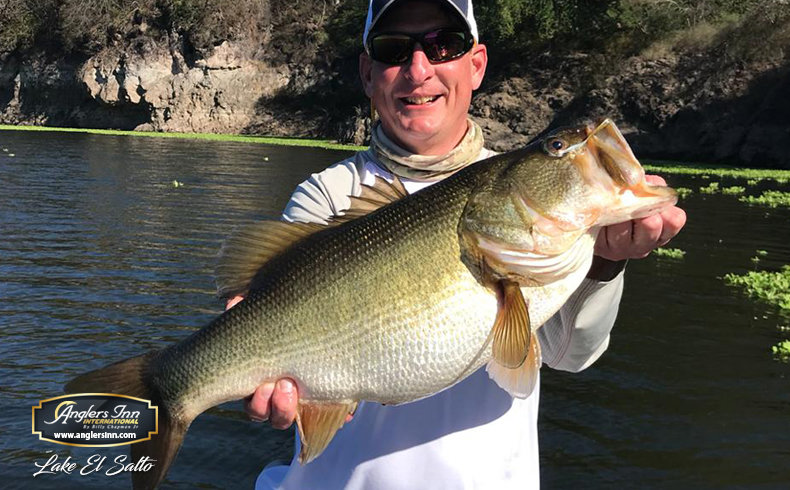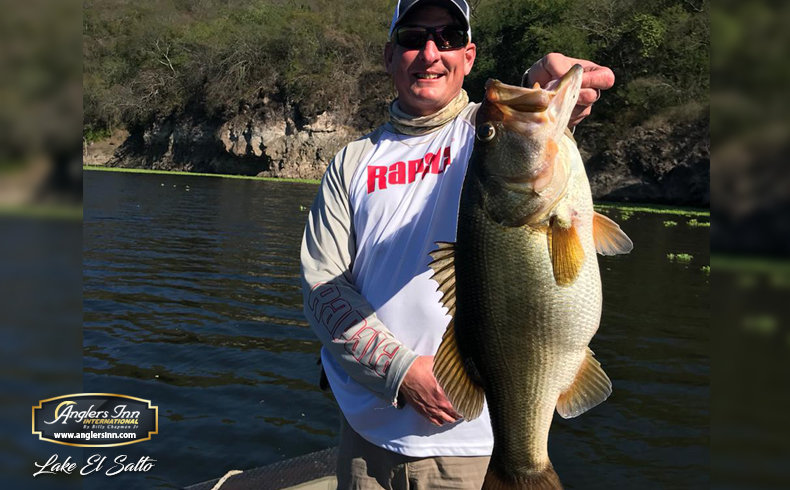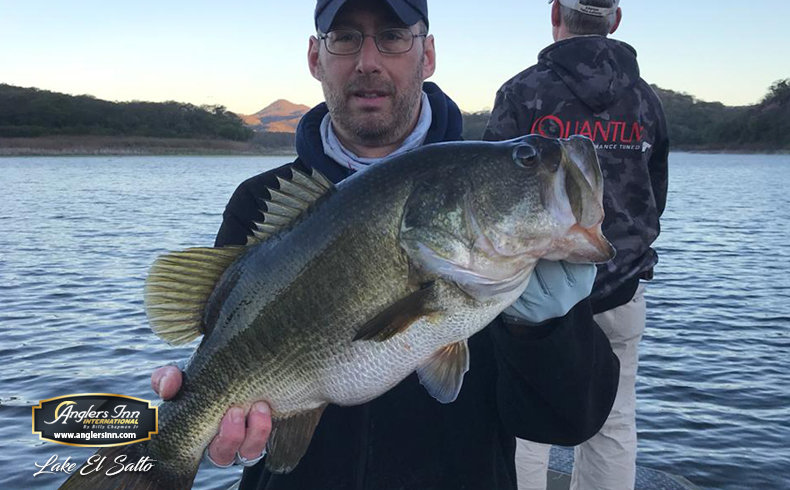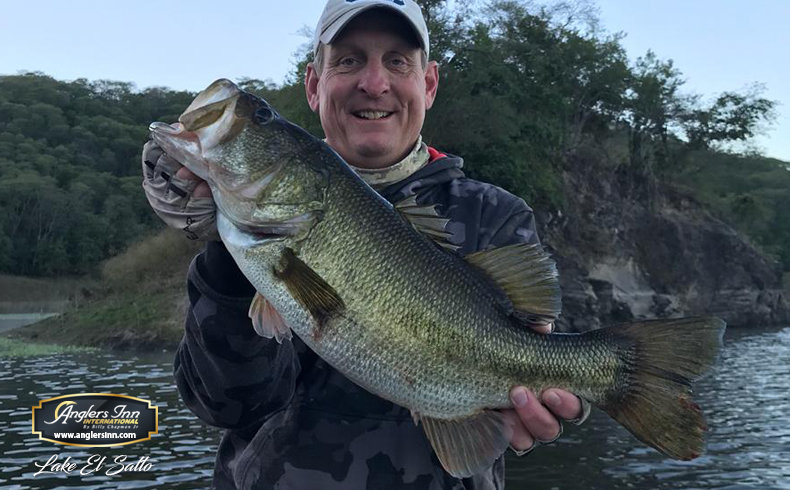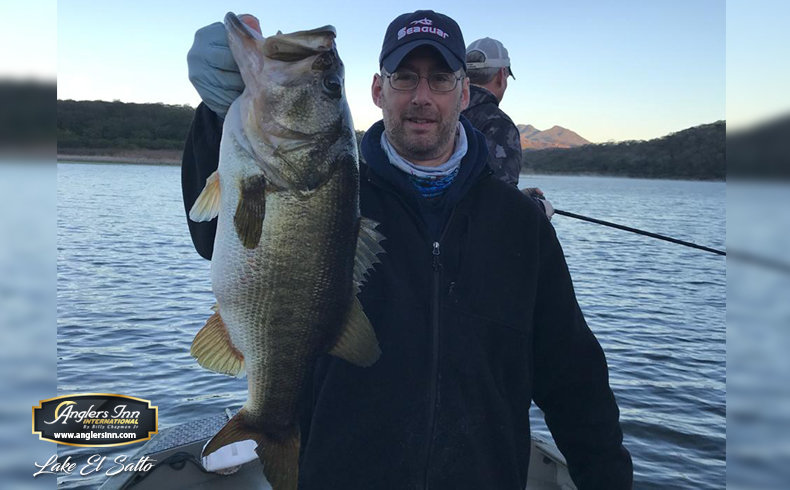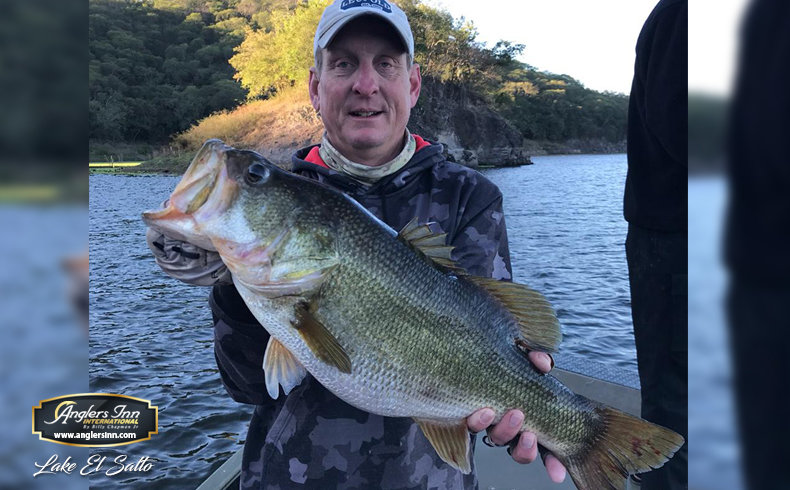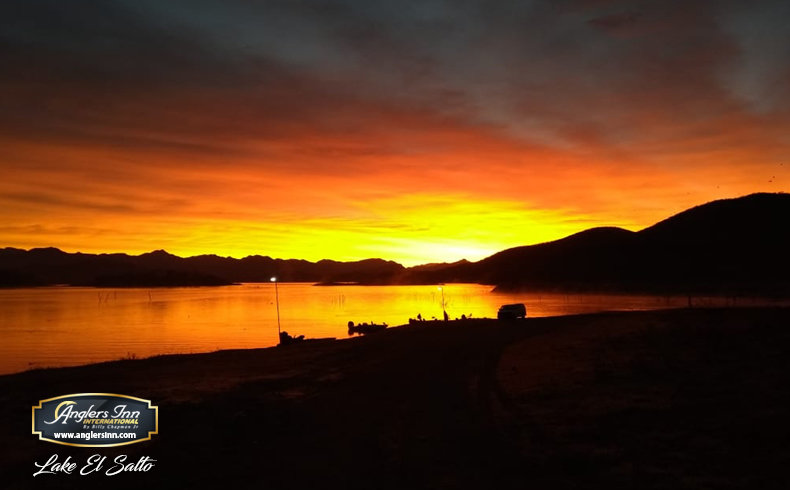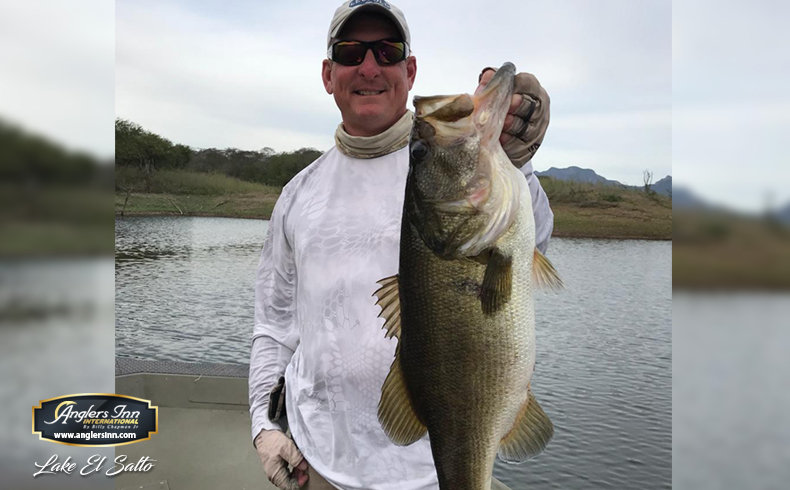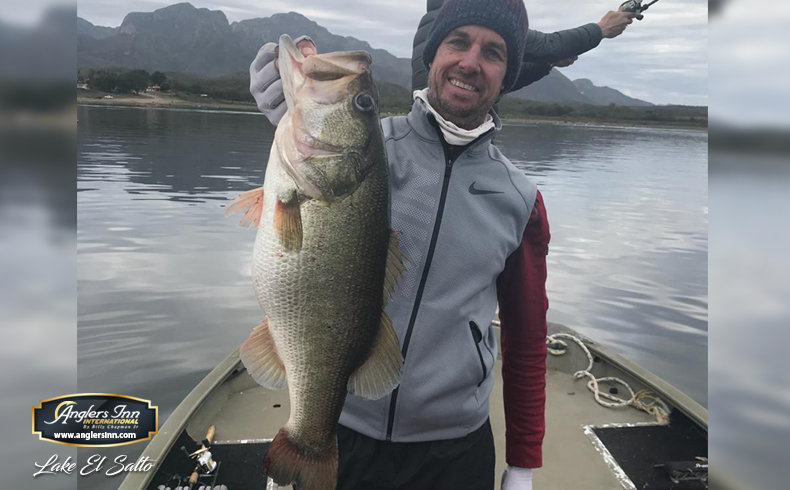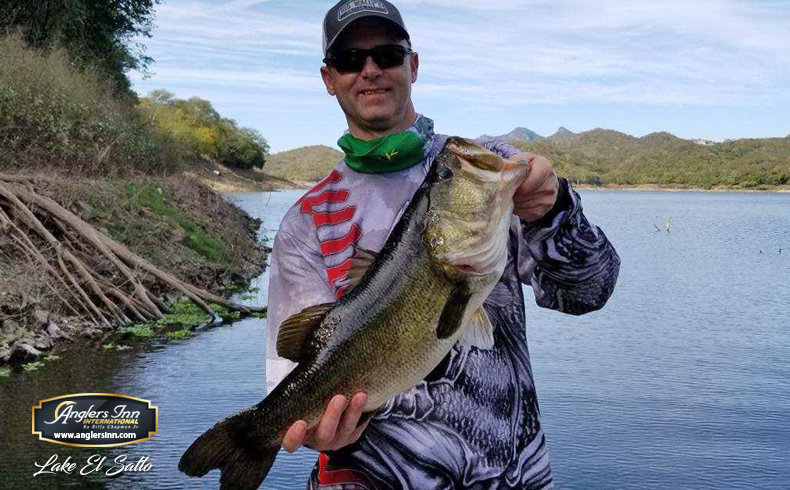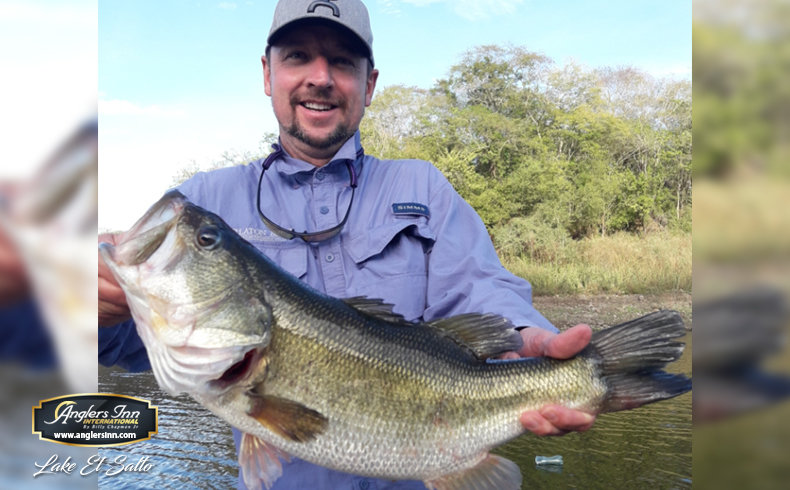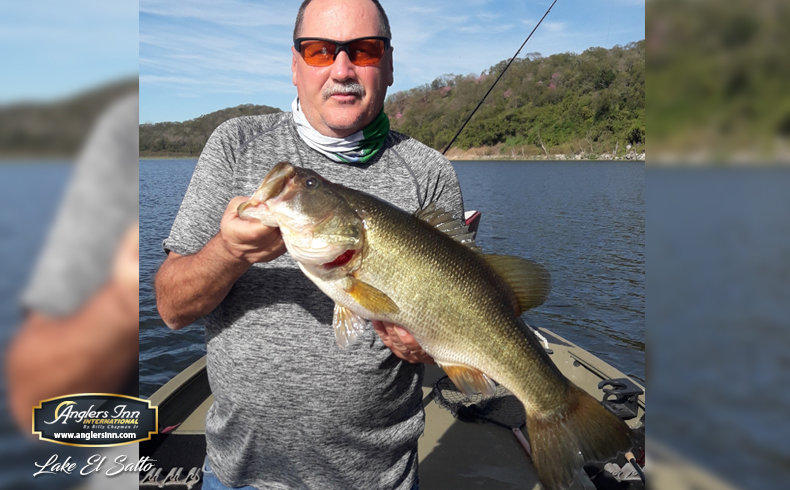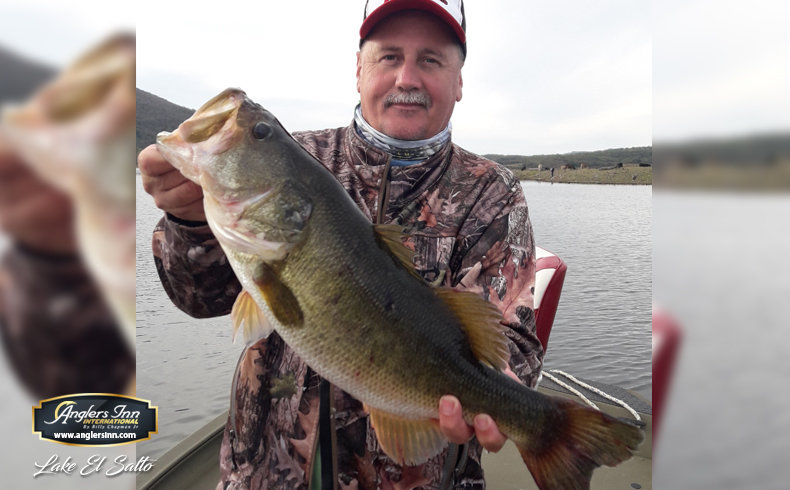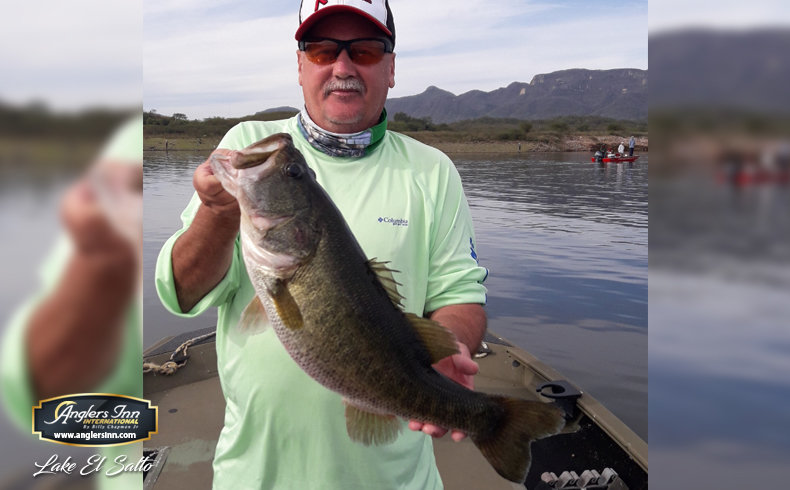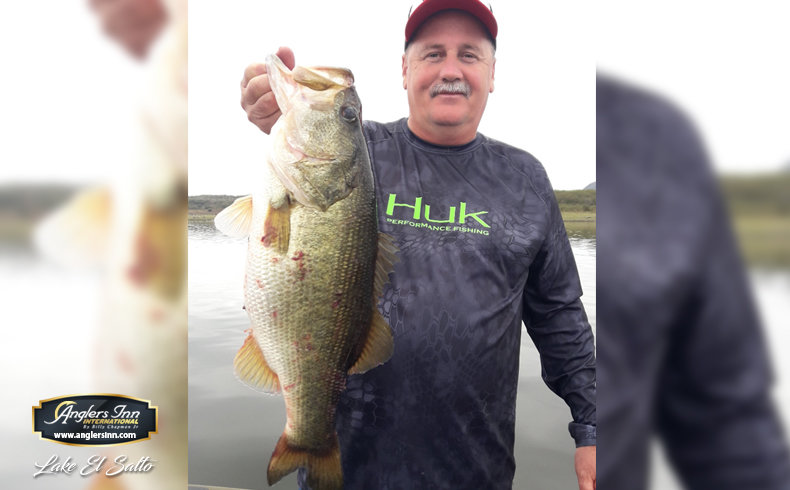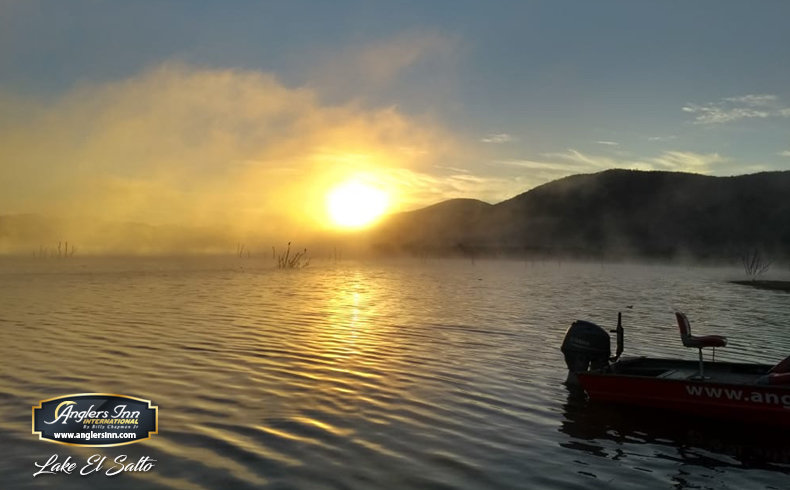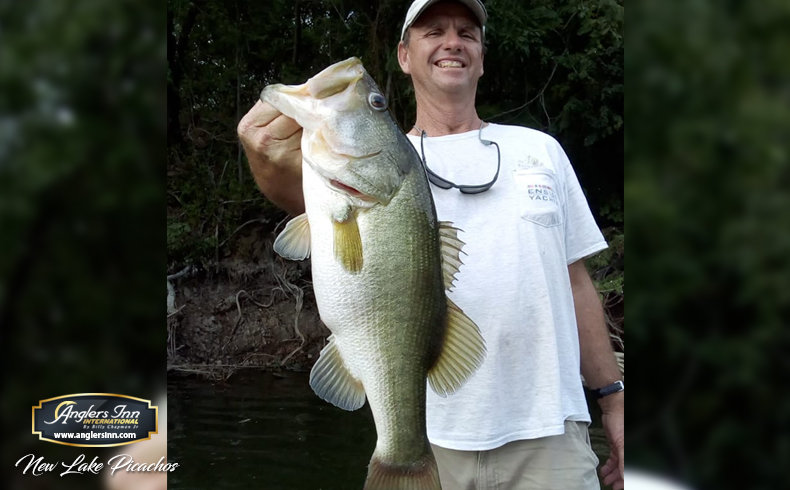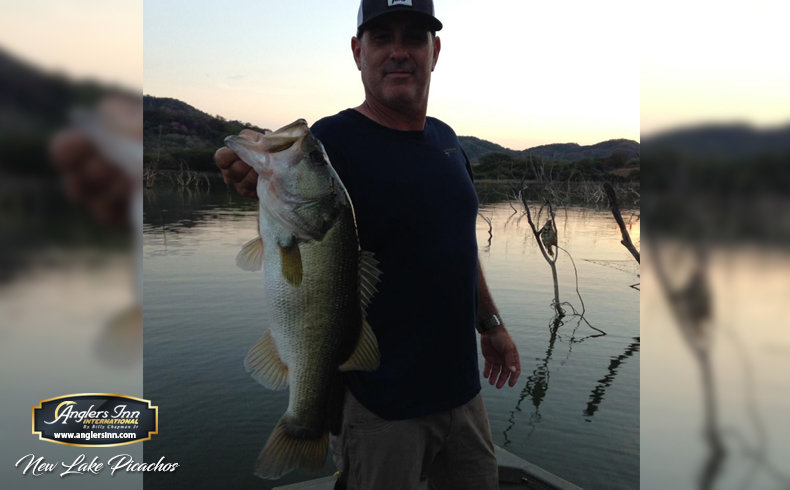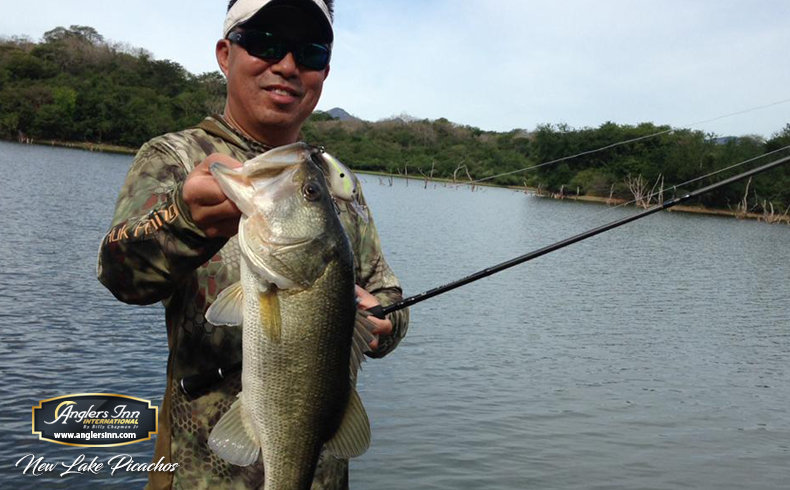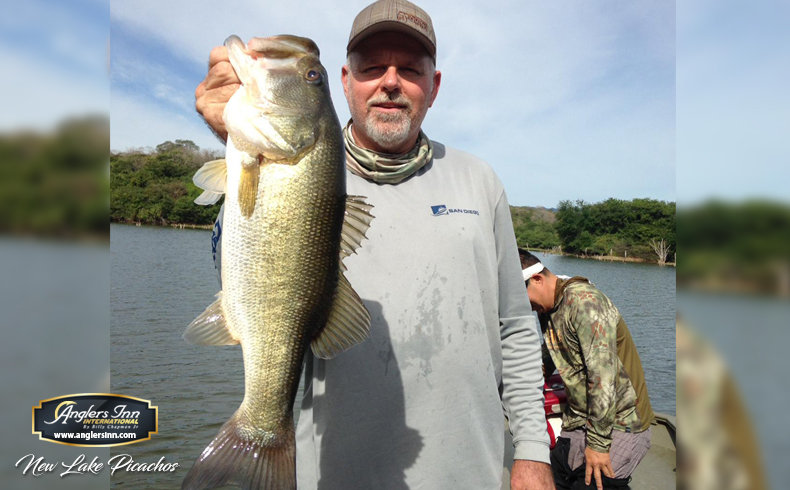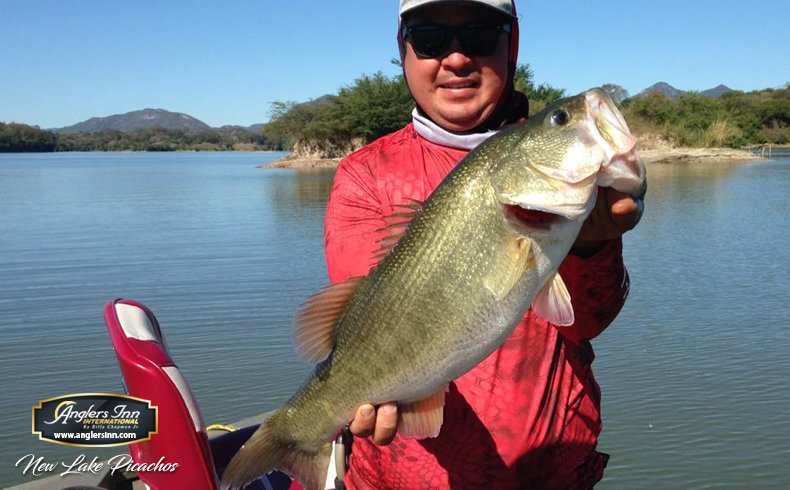 December and January are peak season for the Anglers Inn family, as all three operations – El Salto, Picachos and the Amazon – are moving forward with a full head of steam. All three have had full houses just about every day this season. We're grateful for our continued good business fortunate and we strive every day to make sure that a return trip is at the top of your list. If you want to book for this period during 2019-20, we recommend that you do it soon, because prime dates are already filling up rapidly.
The next few months promise to be excellent as our Brazil season continues and Mexican largemouths enter and exit various stages of the spawn.
Let's start with El Salto, the stalwart presence in our lineup year after year after year.
Fishing industry veteran Trey Epich, who has lived in Illinois, Texas, Japan and now in South Carolina, took his first trip to El Salto at the end of 2018 to put some new tackle to the test. While it was his first trip to the lake, he wanted to focus on big fish and not surprisingly he found his greatest success offshore with big baits. While others reported catching huge numbers by going down the bank with a Senko and a Super Fluke, he encourages his guide Jesus to stay out deep where they "only" caught 50 a day, with the average size being better.
Trey's best lure for numbers was a Jackall Rhythm Wave swimbait on a 1-ounce Revenge baits swimbait head. "On the offshore schools of fish, a rapid stop-n-go retrieve on the swimbait generated a ton of bites," he reported. He also used a green pumpkin Jig with a matching craw trailer – of course the tail was dipped chartreuse, an El Salto must. "On shallower fish I had to hop the jig pretty aggressively to get bit bites."
While we know that all first-time guests, and most returning guests, can't help but bring huge amounts and varieties of lures, Trey's advice was to focus on proven winners.
"I felt like I brought too much tackle and ended up migrating to the same baits," he said. "Four- and five-inch swimbaits and matching heads will get a ton of bites, both shallow and deep. I don't know how long it will last, but I feel the majority of the big fish are offshore right now."
One of the members of Trey's group was Shaine Campbell, who operates an incredible tackle store called Tackle Addict and lives on the shores of Lake Sam Rayburn in Texas. In case you missed it, Bassmaster Magazine recently named Rayburn the number one lake in the country, so he doesn't need to leave his own zip code to catch lots of bass, including some monsters. Nevertheless, he stressed that no matter where you're from, you need to experience the hard-fighting Mexican bass and the Anglers Inn International hospitality. While Texas anglers have it good, just a two-hour flight from Dallas they can be living the trip of their dreams. "I've been telling everyone I know that they haven't caught a real bass until they've caught one out of El Salto," he said.
As with Trey, it was Shaine's first trip to Anglers Inn, and he fished with Jesus, Poncho and Antonio. While they relied on tried-and-true lures for their success, he added that a little bit of back and forth can be key: "Listen to your guides' advice, but also don't be afraid to ask them to try different things. They were very receptive to some of the ideas we had, but also added valuable lake knowledge that helped us understand what the fish were doing and what they wanted. Bottom line, don't be afraid to communicate with the guides."
He also stressed that sometimes it helps to experiment, just to give the fish a different look.
"Don't get stuck throwing the same bait all day, use the opportunity to experiment with different techniques. Honestly, the fish seemed to like a change in presentation. On several spots we would catch a few on one bait and then change when the bite slowed and they seemed to fire back up again."

As with Trey, Shaine's overall best bait for bigger fish was a ¾ or 1-ounce Heavy Cover jig – green pumpkin with a matching craw trailer and a dipped tail. "The next best was a 4.8 Keitech on a 3/4oz Biffle Head slow rolled on the bottom," he added. "The lake was fairly clear so more natural shad colors worked best."
For numbers, particularly in the morning, he fished a tilapia-colored Zoom Super Fluke with a dipped tail. "I rigged it using an extra-large barrel swivel (SPRO # 3) and a 12-14 inch leader and a 5/0 Gamakatsu Superline EWG (the heavy wire hook gives it a little extra weight)," he explained. While this was his "numbers" bait, it also produced his biggest single fish of the trip.
He's used to fishing around heavy cover and stressed the importance of using good line and checking it frequently. One nick, or one weak spot, can result in absolute heartbreak that is completely preventable.
"Any cast on El Salto can produce the fish of a lifetime," Shaine stressed. "Those fish pull harder than any largemouth bass I've ever caught and that combined with copious amounts of submerged timber and rock can have devastating consequences if you have bad line." He went down to 15-pound test fluorocarbon for the fluke rig, but nothing less.
The El Salto fishing should continue to get better as the big girls get to their fattest point of the year and then move up where they're more consistently accessible. Still, for the foreseeable future you should be able to catch fish as deep as 30 feet, or so shallow that you'll be surprised that the water covers their backs. That's the beauty of El Salto – the chance to catch a fish of a lifetime any way you want to do it.
For those of you who've been there before, you'll see that we've made some changes at El Salto to improve your experience. Most notably we've extended the dining and bar area over and out so you won't be cramped when you're telling fish stories in the evening or lining up for breakfast in the morning. Same great food, same great service, just more room to enjoy it.

Picachos continues to be the best public numbers lake on the planet – and the big fish are starting to show up more and more. Just about everyone latches onto some in the 5- to 6-pound class, and there are double-digits back in the timber getting big and mean and waiting to get caught.
Erick Carbajal of California and his cousin Cisco Sevilla of Australia came down for a combo trip and Erick – a veteran of multiple trips to El Salto – was amazed by the number of fish at Picachos and the way that he could catch them. He fished with Fredy and Julian and reported that both got his seal of approval as living up to the Anglers Inn reputation.
"There was never a day where we caught less than 140 fish between two anglers," he reported. "I caught two bass on the same lure every day. We caught bass everything we threw: blades, topwater, cranks, lipless, square bills, swimbaits. My advice to folks visiting the lake is leave the plastics at home. Bring your treble hook baits and the baits you always wanted to learn to throw, you WILL catch fish on everything."
If you'll remember last month we reported that Bassmaster Editor Thomas Allen brought his 11-year-old son to Picachos and young Tommy had to retire a Berkley Choppo Topwater lure that had seen more than its fair share of vicious strikes and had to wave the white flag. Erick had a similar experience this month, but he used a Jackall Pompadour – a topwater with metal wings that push water on the retrieve, along with rattles and a propeller on the tail. It's an aggressive lure that makes a huge commotion and the Picachos bass took a shine to it. He caught 40 on it before 10am the first day.
"The second day we got on a Rat-L-Trap bite that went steady for three hours," he added. "My partner and I caught and released over 200 bass in that afternoon with the biggest going 5.6 pounds. It was like we were on a different planet where the fish had never seen a Rat-L-Trap before. At one point we both looked at each other and admitted it was the best afternoon either of us have ever had."
If you want to experience "the best afternoon" of your life, book a trip to Picachos ASAP. This is reminiscent of the golden era of Mexican bass fishing. If you can't decide between the two lakes, a combo trip is the way to go. The quality of our service is the same in both places, and both have exceptional fishing, but you won't miss out on anything if you combine two lakes into one trip – and the incremental cost is minor.

As Erick indicated above, soft plastics aren't strictly necessary all of the time, but they're a good insurance policy for when fishing gets tough – or at least tough by Mexico standards (i.e., only 40 or so fish a day).
While this report mentioned a wide variety of baits, please be sure to bring a lot of the old faithfuls A 10" black/blue Berkley Power Worm, an 8" watermelon lizard and a 6" watermelon Senko will produce every day of the year in Mexico. There are times when they won't be the primary producers, but you can't go wrong with that limited supply of staples. Add in some jigs, lipless crankbaits, deep diving crankbaits, swimbaits, spinnerbaits and topwaters and you have most if not all of your bases covered. We'll never discourage you from bringing your favorite lure or from trying something new. After all, that's how we got turned onto lures like the Megabass 110, the Chatterbait and the Whopper Plopper, but the key is usually to stick with the fundamentals rather than reinventing the wheel. Rather than focusing on something like color, make sure your line is fresh, your hooks are sharp and your drag is set properly. Getting the big fish that bite into the boat can be a challenge, and the best way to win that battle is to be prepared.
Our staff continues to work overtime to accommodate a full house just about every day, and prime dates for the last half of 2019 and the first half of 2020 are almost gone. Fishing has been exceptional, so I recommend blocking out your vacation sooner rather than later If you know when you want to come, please contact us as soon as possible to make sure you get your preferred time slot. You should also consider either a trip to Picachos, or a combo trip involving both lakes. I know that Picachos has the reputation as the "numbers factory," but it is increasingly pumping out lunkers. More and more customers are becoming convinced that there will be a window in the near future when the big fish bite explodes, and as our guides get better and more knowledgeable every time out they're going to be ready when it happens. Do you want to work on your flipping? Wear your arm out with topwaters? Find out what a glide bait bite feels like? This is the place to do it. You can literally expect to catch 100 fish a day if you are even semi-competent, and you can do it just about any way you want. Bring pounds and pounds of plastics because it's possible to decimate even a healthy supply. It is only going to continue to get better. We've only tapped a small portion of its potential.
Picachos is just 55 minutes from the Golden Zone of Mazatlan, so it's even perfect for day trips, but for you hard core guys, if you can't decide which lake to visit, a combo trip is the way to go. Our new dining room sits right at the edge of the lake and you'll be tempted to make a few casts between sips of your margarita.
Remember, our goal is to make your trip as hassle-free as possible, and one step in that direction is that we now have loaner rods for everyone to use at no cost. Thanks to our newly-developed partnership, our lodges now have a varied supply of St. Croix rods. "They made fishing pure pleasure," said one recent guest. These technique-specific rods rods are the real deal, folks, and we are committed to giving you the best possible tools to land that fish of a lifetime. You don't need to travel with a heavy and burdensome rod tube anymore if you don't want to. Both lakes have an ample supply ready for you to use. We're seeing fewer and fewer guests bringing their own rods. With the St. Croix sticks tailored to specific techniques, and available in a wide range of lengths and options, so really can't go wrong…and it makes packing much easier to just bring your reels and tackle.

After a full month in the Amazon jungle of Brazil, I came home for Christmas and to take care of business – my business partners and I are working on some new peacock options and features that will help you plan your next bucket list trip – stay tuned for more details. By the time you read this, I'll be back in Manaus or on one of our exclusive rivers helping avid anglers fulfill their peacock bass dreams.
I'm personally hosting every trip this year on record-class waters. We have the most luxurious boat available, along with chefs and staff who've been trained in the Anglers Inn way. We provide an "Amazon Tough" bag to every customer and it's filled with all sorts of things like insect repellent, sunscreen and the proper hat to make sure that you don't miss out on any part of your trip. As with Mexico, we provide quality St. Croix rods and we have Abu-Garcia reels with braided line, as well as all of the right baits for the current conditions. Once you're in the jungle there's no tackle shop or mail order outlet, so we want to make sure that your trip of a lifetime is fully stocked.
Our early season started off with perfect water levels and lots of big fish.
Joe Thomas came down to film a TV show that will air later this year and you're going to be amazed by the footage that he shot. His guide Blake (pronounced Black-ee) found lagoons loaded with fry balls and territorial peacocks below them. Joe used a bluegill colored Sexy Dawg topwater (with upsized and upgraded split rings and treble hooks) to elicit some amazing strikes.
Describing one of those heart-stopping bites, he wrote the following: "I leaned into it. Sweat slithered down my face. My hands felt like I was wearing waterlogged mittens. Just as the bait entered the area of the fry ball the water began to hunch up like the birth of some freak tsunami. Then it happened. It wasn't just an eruption. It was more like an assault with intent to do serious bodily injury. The Sexy Dawg didn't fly into the air. It disappeared into a black hole that quickly turned to bright shades of orange, yellow, cyan and other neon colors more at home at an all-night rave in some industrial area of New York City than the black waters of the Rio Negro."

It took the full tensile strength of his 65-pound-braid to subdue this teen-class fish. And then he did it again. And again. And again. Look for it on Stihl's Reel in the Outdoors, which can be seen only on Outdoor Channel.
As the season progressed, we experienced some changing weather, including rain that raised some of the rivers. Our high level of mobility and guides who were born and raised on those waters kept us on top of the fish when others would have struggled. Joe stressed that the best strategy was to work as a team with your fishing partner.
"The Sexy Dawg was my go-to for much of the trip, followed closely by a hair jig that was hand tied and crafted by the guides during their off-season," he said. "The presentation was as fast as you could move it and whatever the jig is designed to mimic, they seem to have nailed it. Blake and I even got together on the buddy system. If the Dawg pulled up a fish that didn't want to crush the topwater, Blake would follow up with the jig and get a strike almost every time. So remember, if you go with a fishing buddy, you'll catch scads more fish working together like this. It's incredible. These fish aren't afraid of the boat, of you, of anything! And the fight? If you're in my age group, think late 80's Mike Tyson."
Unlike Joe, who has been with me before, Andy Booker and his friend Kraig Williams were first-timers to the Amazon, but not to Anglers Inn properties. Andy has joined us at El Salto on several occasions and knew that when he was ready to make the leap to peacocks that it would be with our operation.
"The service is again, and as always, second to none," he said. "Banana splits in the jungle! You gotta love it! Anything we needed they had for us."
Most of his fish came on the local jig, which produces both numbers and size. When the fishing is easy, they'll eat just about anything, but when the bite tightens up due to changing conditions, this is our game-saver.
"You'd get into pockets of 2- to 4-lb speckled peacock bass and catch six or eight and then it would stop and you'd move on," he said. "One morning I caught five on five casts. That was a blast!" While several anglers that week topped the magical 20 pound mark, Andy did not, but he nevertheless tangled with some mean ones, and had some chances. "Our two big ones came on the jig. I also left a big one in the trees!! We all saw it jump and it was BIG…but he was also very smart and powerful."
So what's his advice for a first-timer (or someone on their 20th trip)?
First and foremost, like Joe, he said that it's critical to work with your fishing partner: "One throw top water, one throw sub-surface -- retrieve together. Work together and rotate every 10 to 15 minutes. Your numbers will increase and you'll get doubles. You'll find big fish!"
He also said that you need to listen to your guide and be prepared to "work your techniques faster than you're used to."
"It is not largemouth bass fishing!" he continued. "They hit harder and fight harder. Don't over-tighten your drag. Use your thumb. Don't press."
Rising water is always a concern in the Amazon, and while we've been blessed with good conditions the past few years, I won't hesitate to reschedule your trip if levels are less-than-good. Some outfitters just want your money – I want you to become a satisfied and repeat client and I'll do whatever it takes to make that happen.
While I'm in Brazil I plan to investigate another multi-species fishery that will knock the socks off of the adventurers among you, as well as anyone who wants to catch monster fish. I'll have more news about that soon, as well as another resource I'll be providing to the entire peacock bass fishing community.
Don't forget about Idaho, either! In 2017 I hosted some VIP guests in the beautiful north country and every one of them couldn't wait to come back. The bass fishing is exceptional, and there's so much more to do, both on and off the water, that you'll seriously think about moving there. It's that good, I promise. More info to come, but it won't be long before you can get the Anglers Inn experience in the United States. For decades that has been a goal of mine and I'm closer than ever to achieving it. Stay tuned!

If you haven't seen it already, be sure to click on our new website at www.anglersinn.com at your earliest convenience. We've had it up since early 2017, and the feedback has been tremendous – especially from guests who've found pictures of themselves with big fish gracing the site. Our theme is "Making Every Angler's Dream Come True," and while our web presence is no substitute for a trip to Mexico or Brazil, it's the next best thing and a valuable tool for planning your next trip. We continue to update it with new information and items constantly, so don't forget to hit us up regularly.
Just as we set the standard for international fishing trips, we want to set the standard online, too. The new site includes information about all of our properties, pricing and bios of our staff. We also update it regularly with new videos on our "Anglers Inn TV" channel, and provide detailed monthly reports like this one.
Whether it's your first trip to an Anglers Inn property or your 20th, we hope that this site will provide all of the information that you need, but if it doesn't we're always just a phone call or email away.
While we often provide a generalized list of lures that work throughout the year, there are times when specific bites are ongoing and we don't ever want you to arrive under gunned. Monitor the website and social media for updated info, and if you're ever in doubt about what you need to bring, please call us or email us. We want to make sure that you're outfitted properly to make the most of your vacation.
If you've received this report from a friend, please be sure to sign up for future mailings at www.anglersinn.com. If you know a friend who would benefit from these newsletters, please make sure that they are receiving them, too.
---