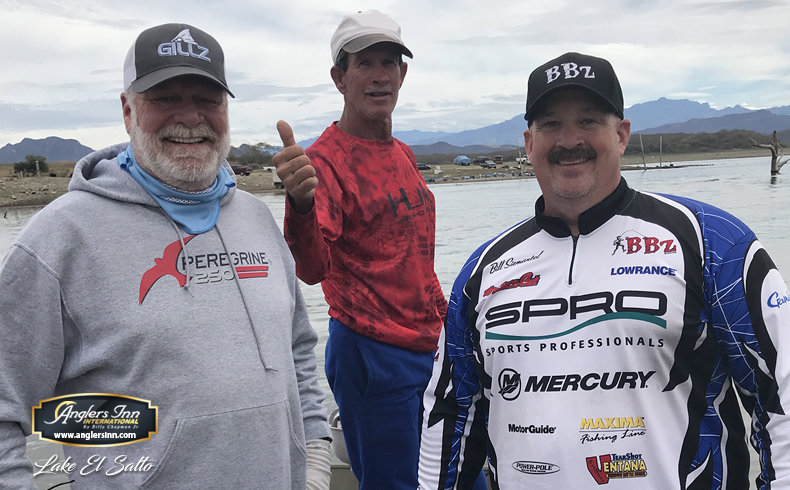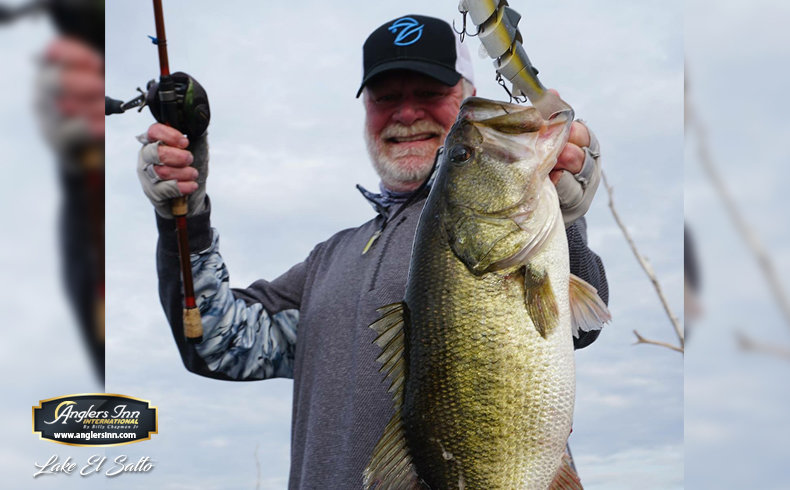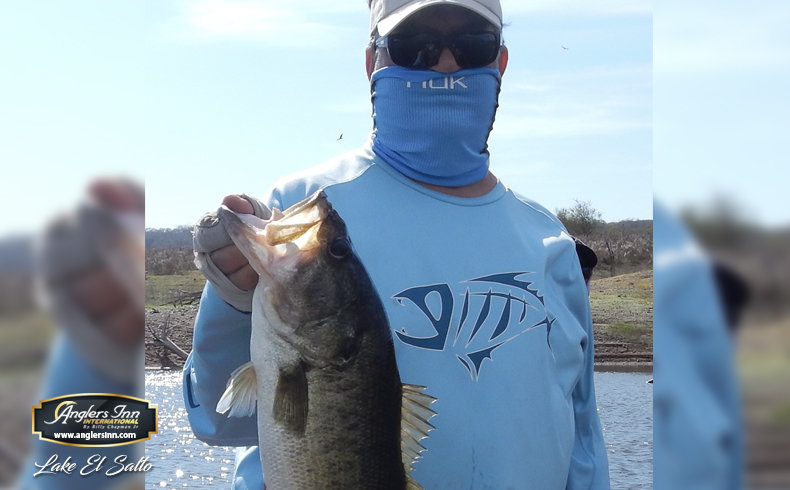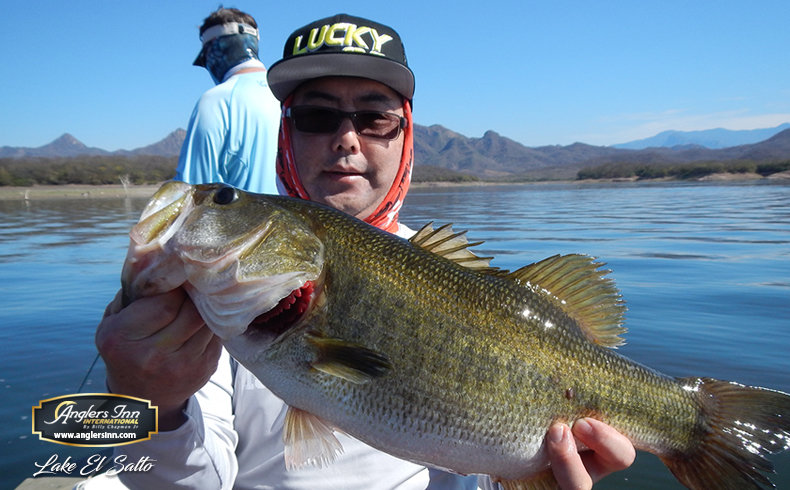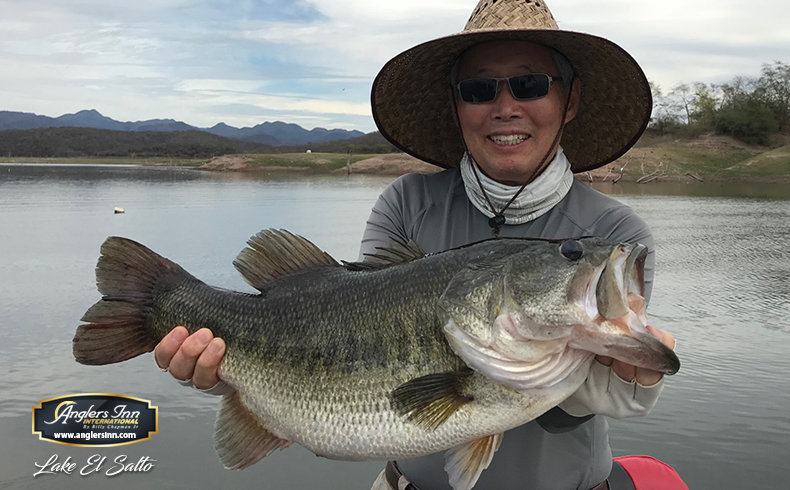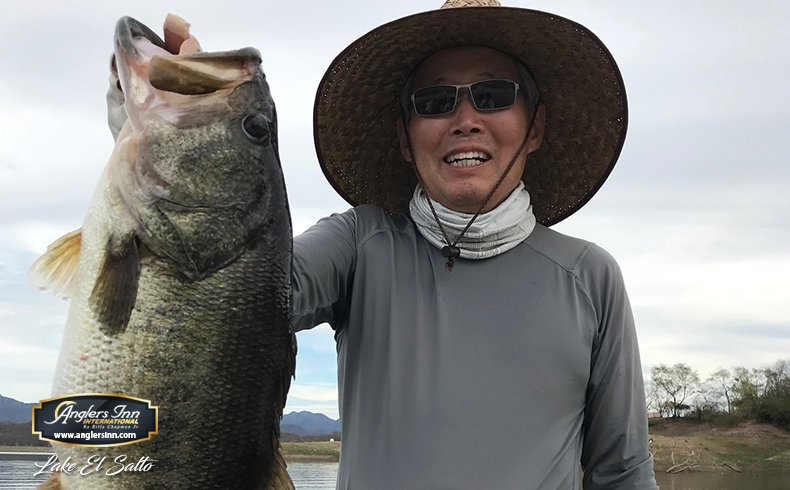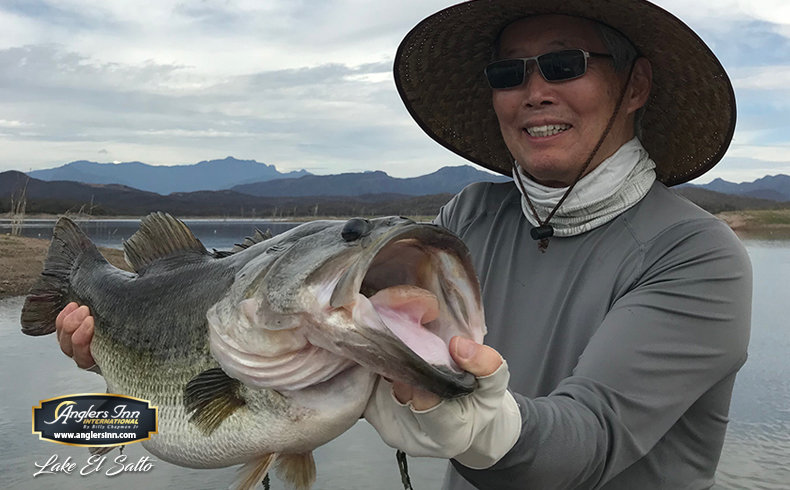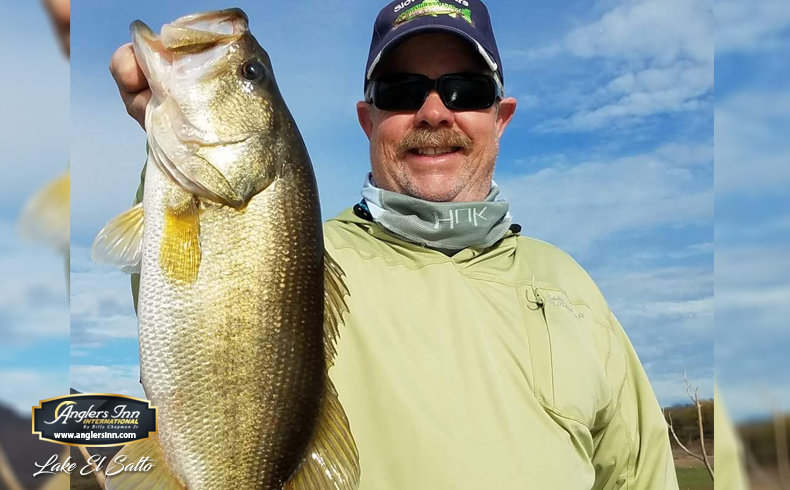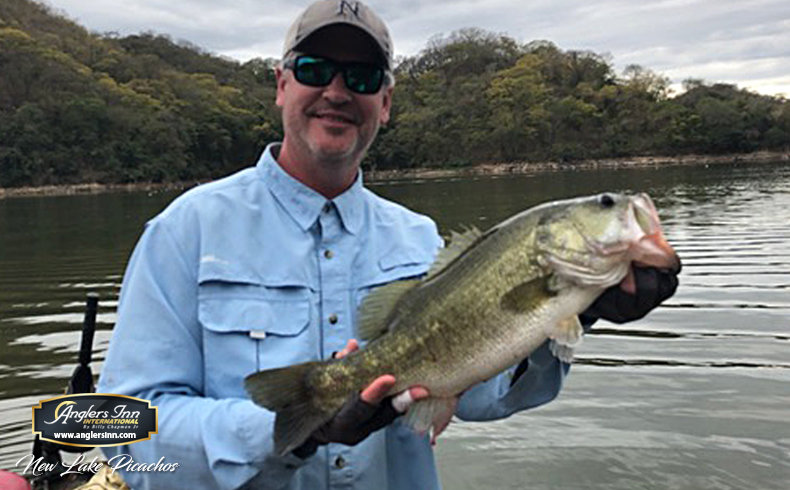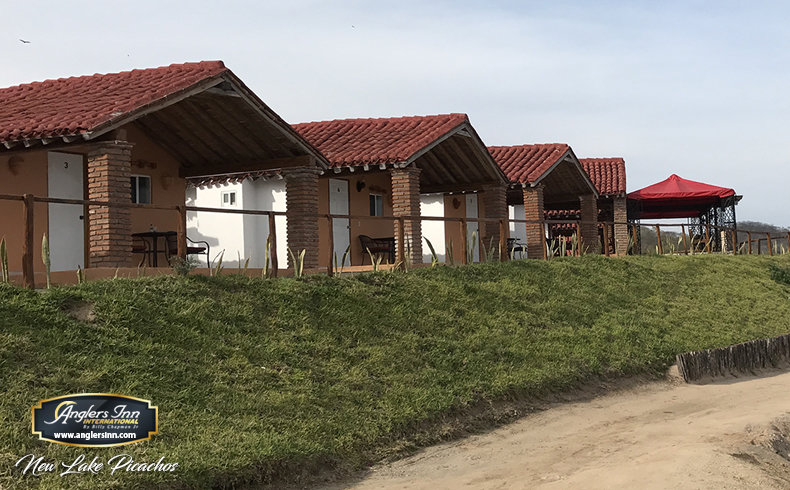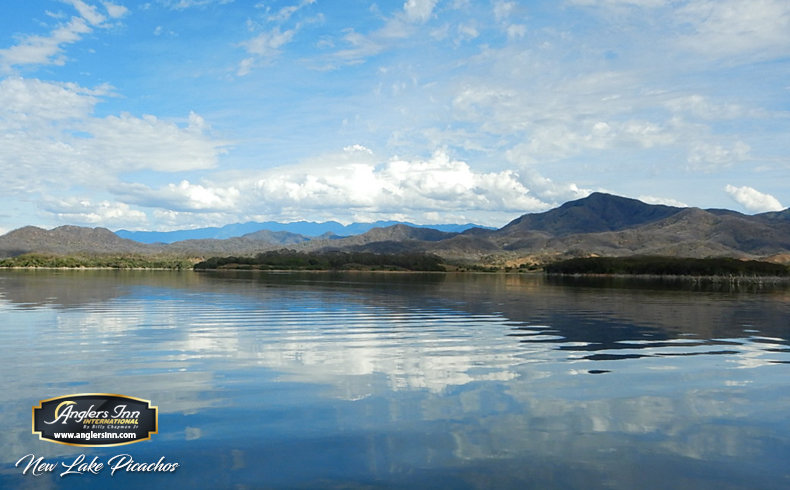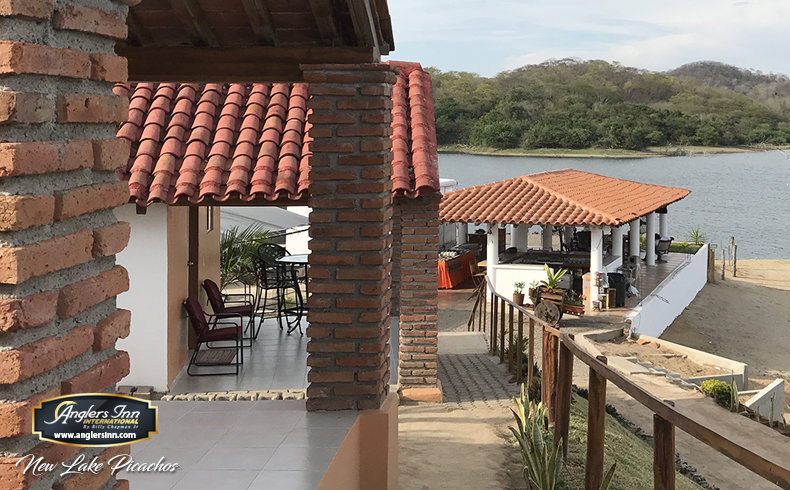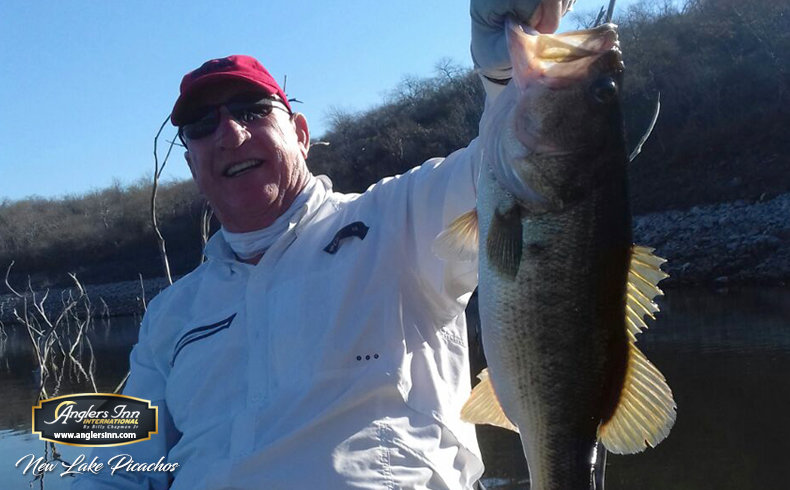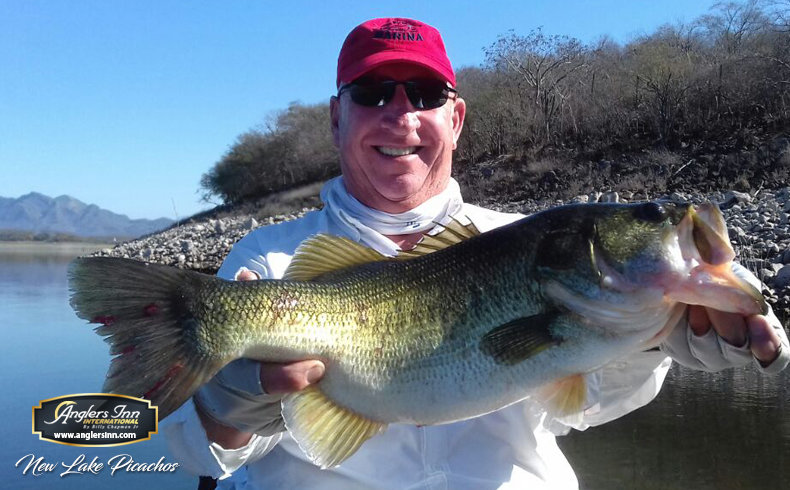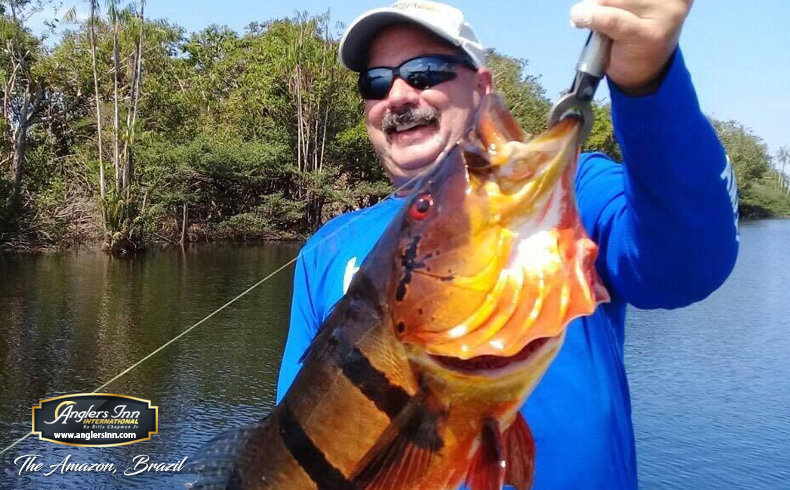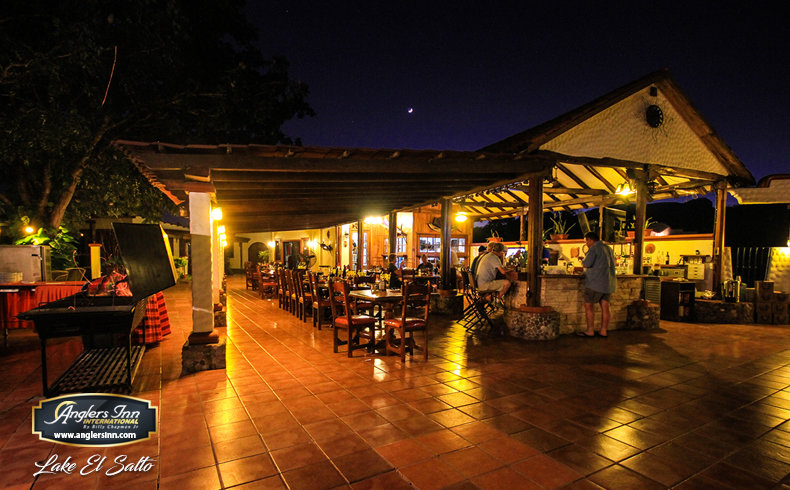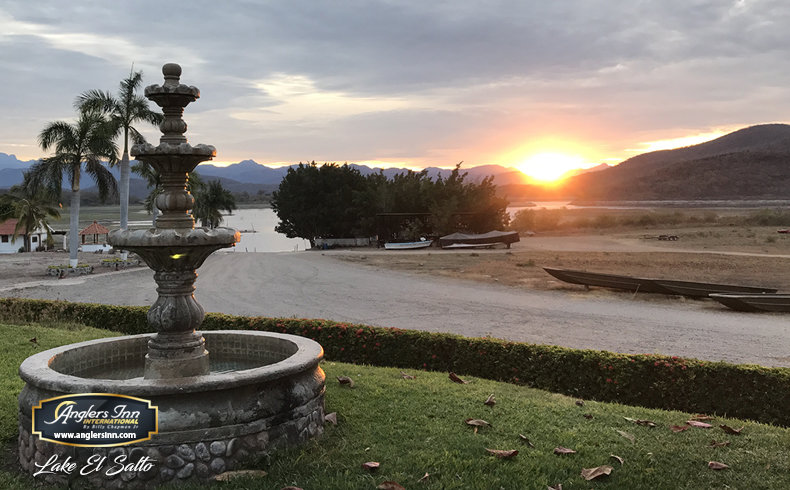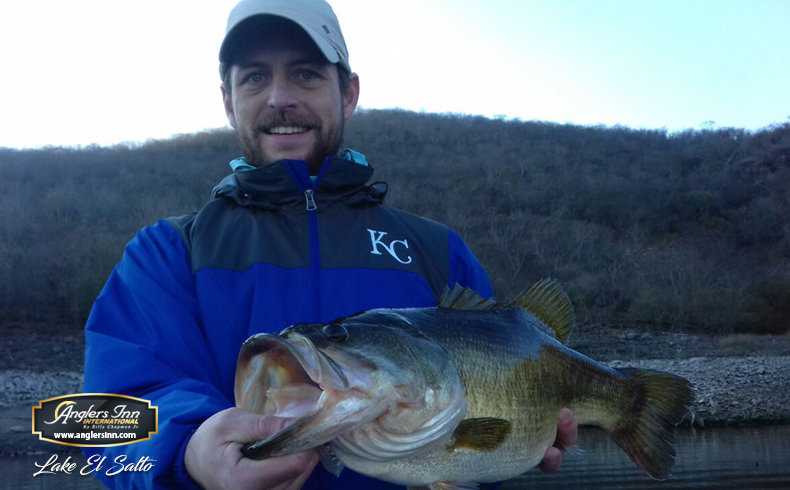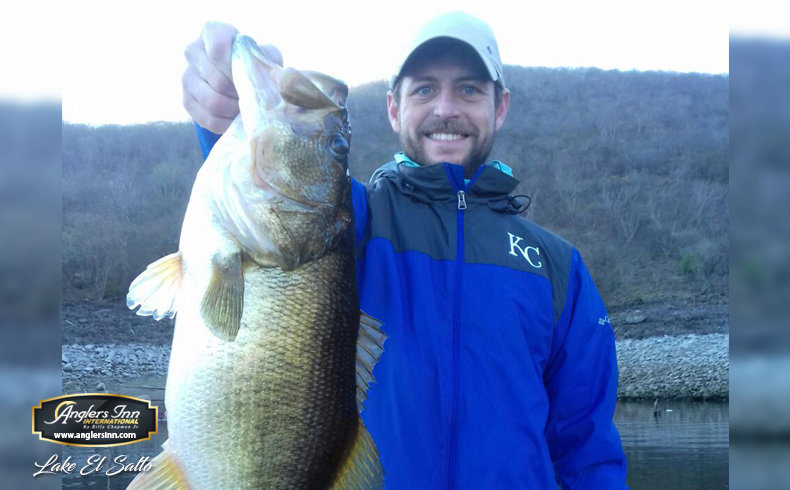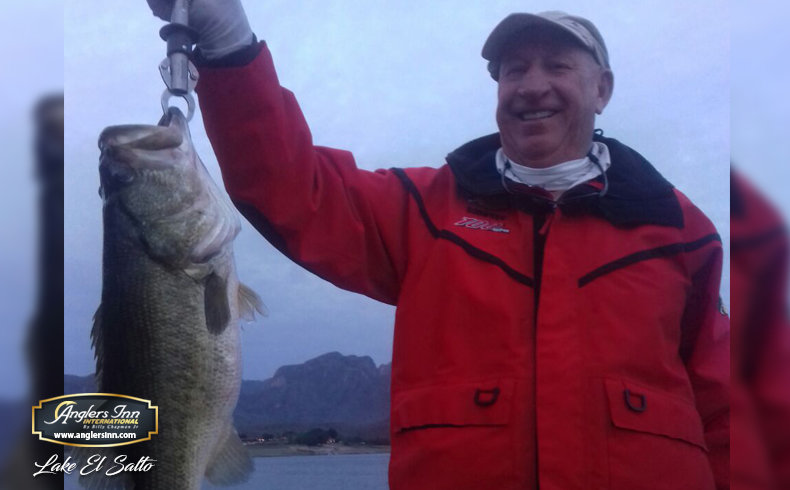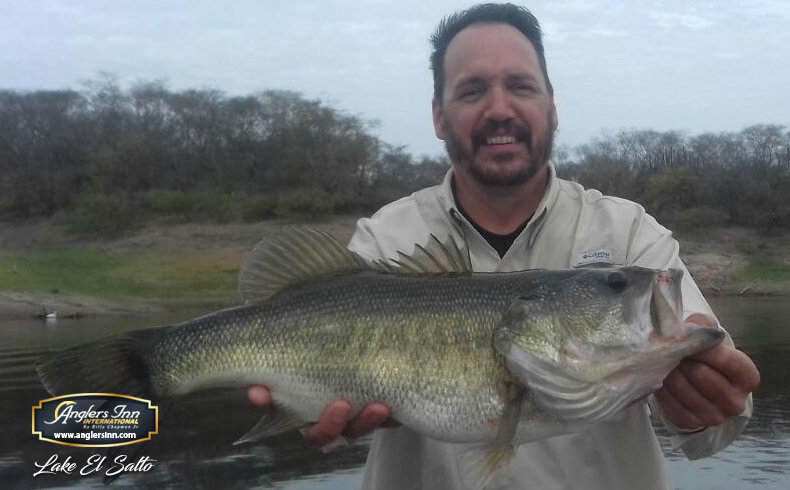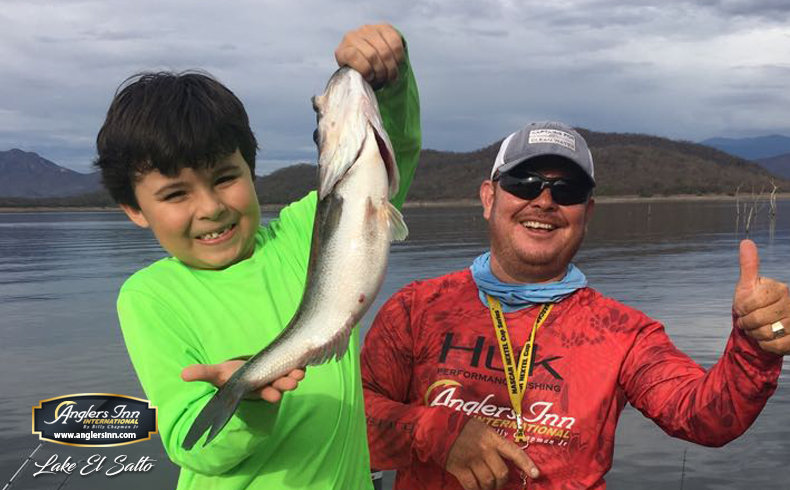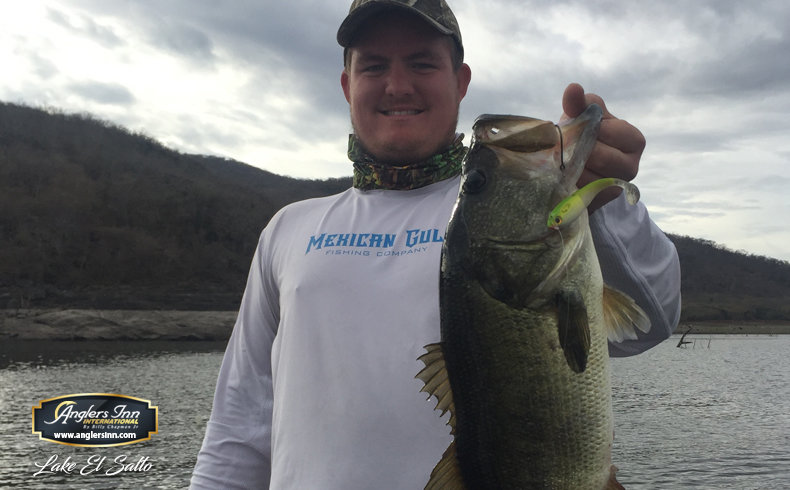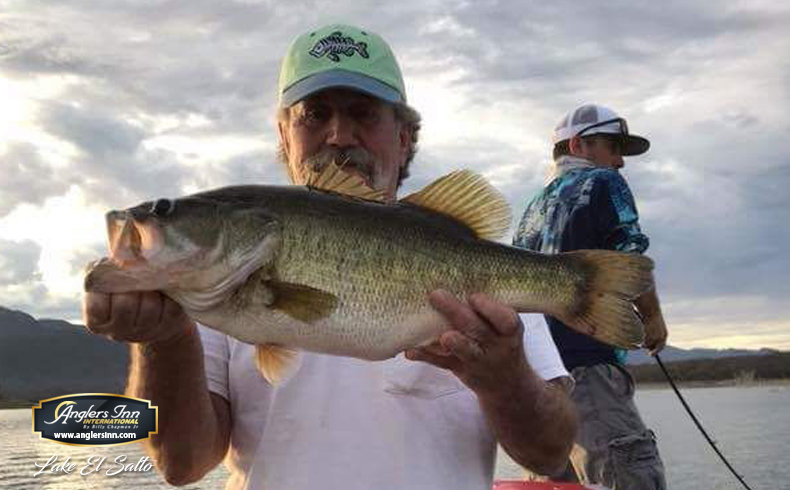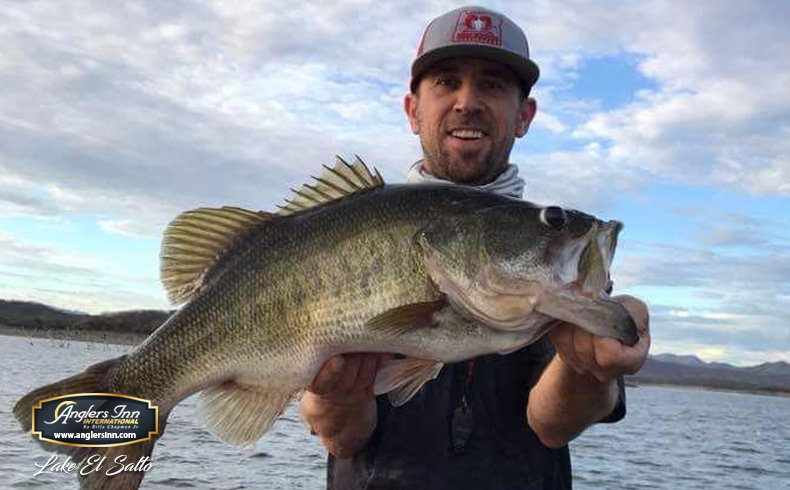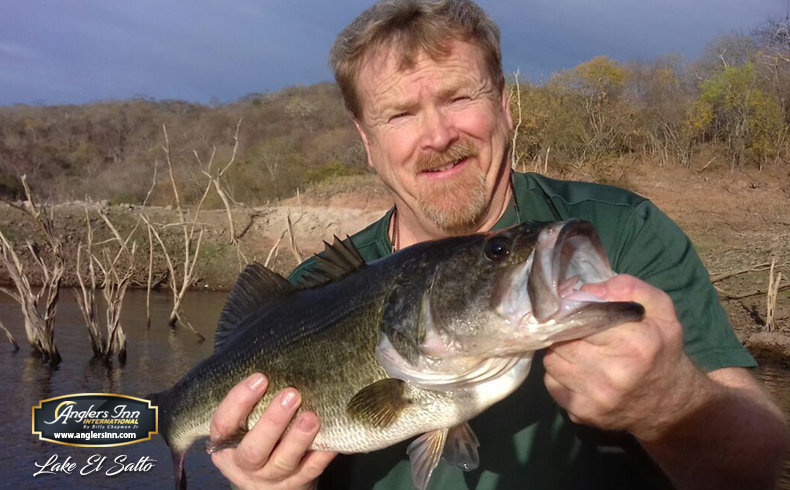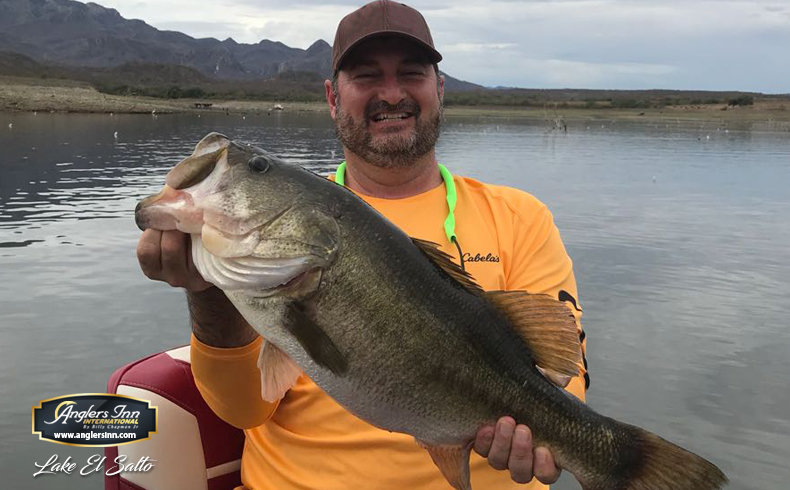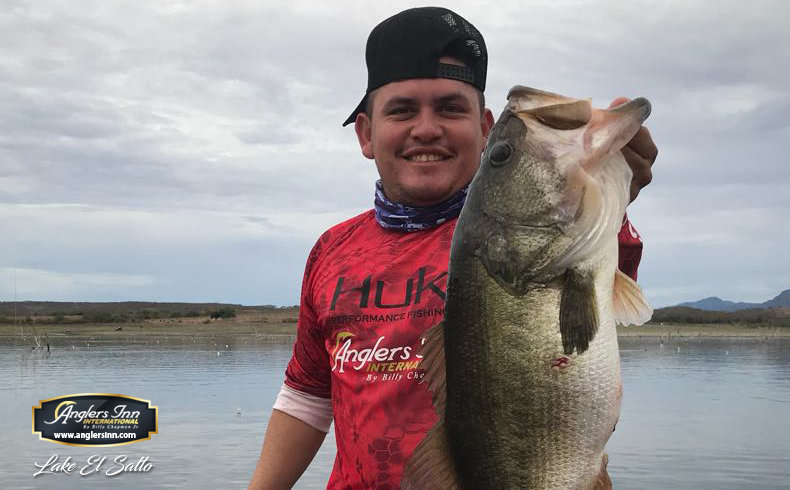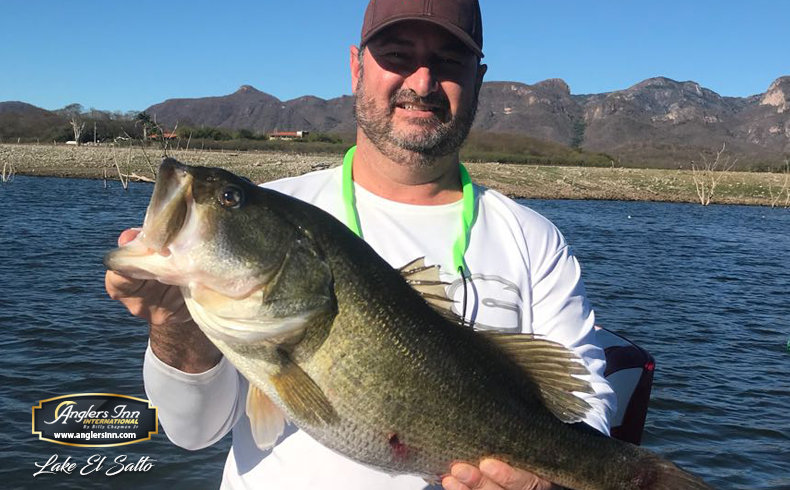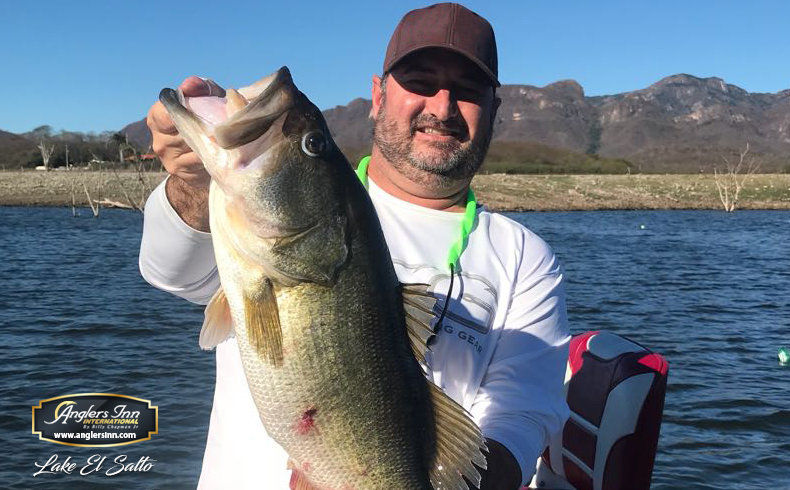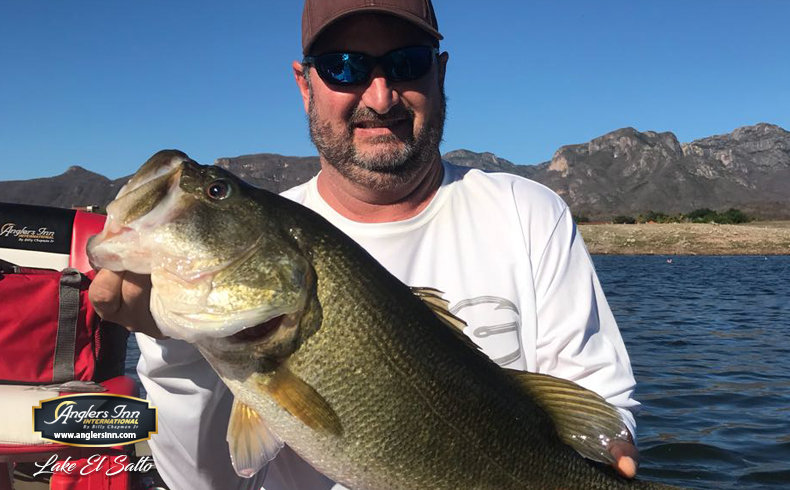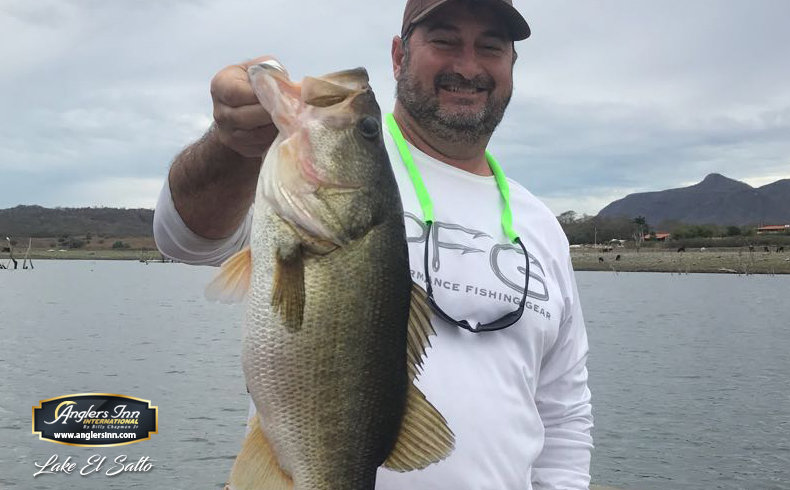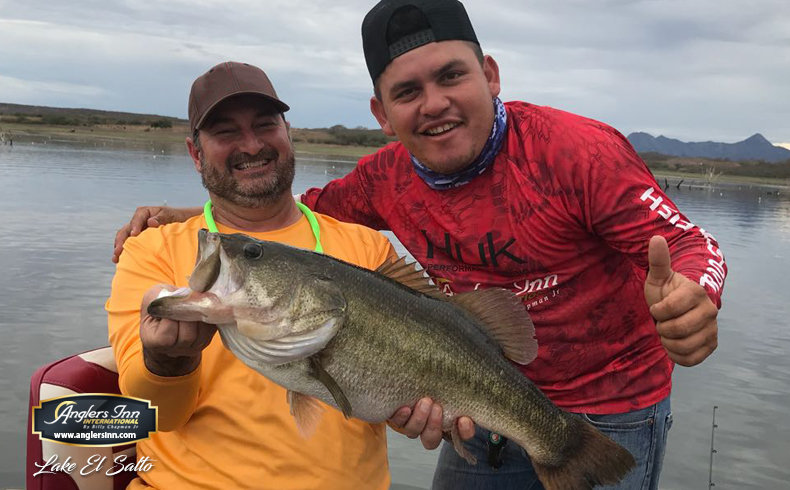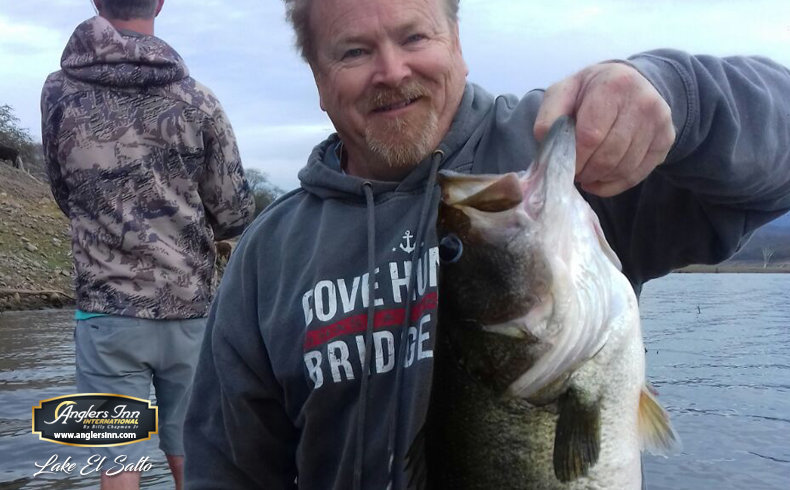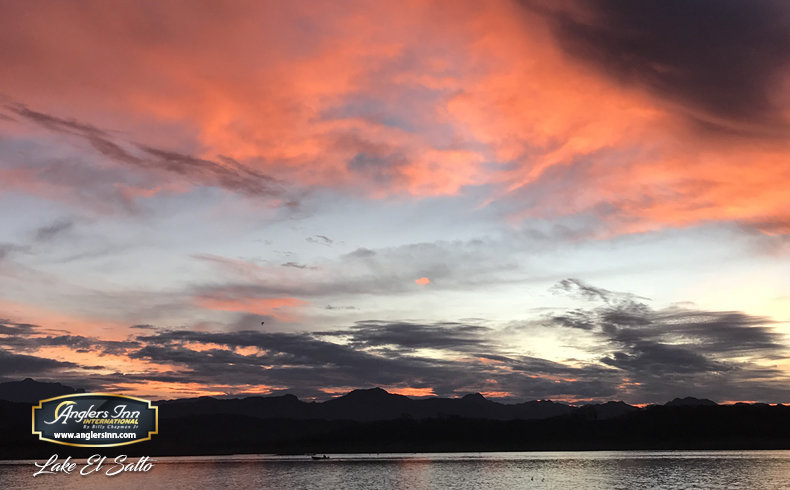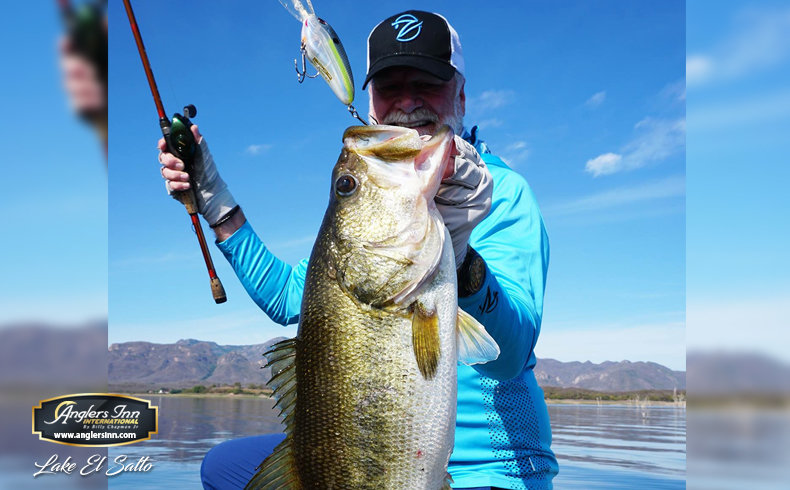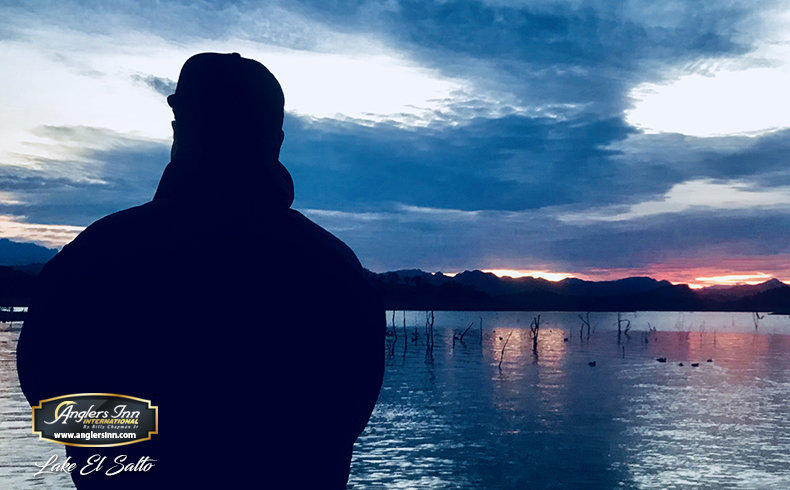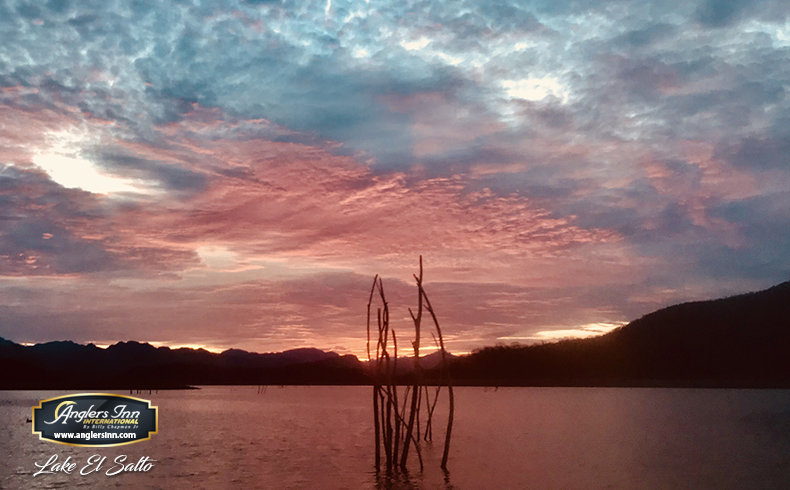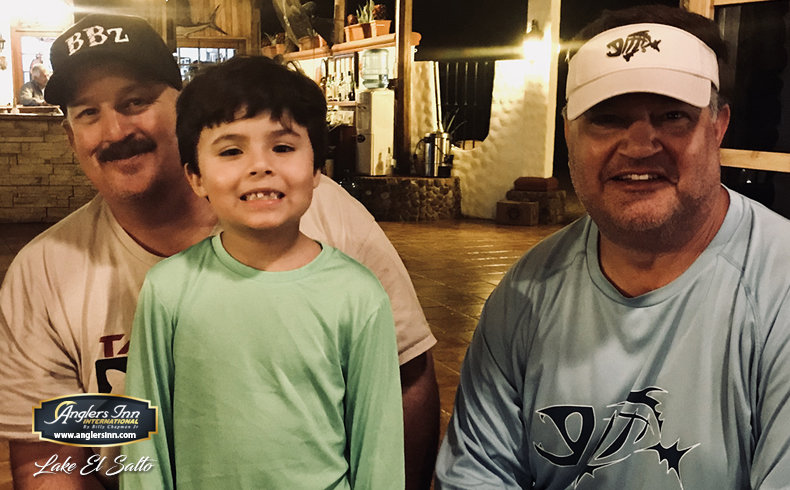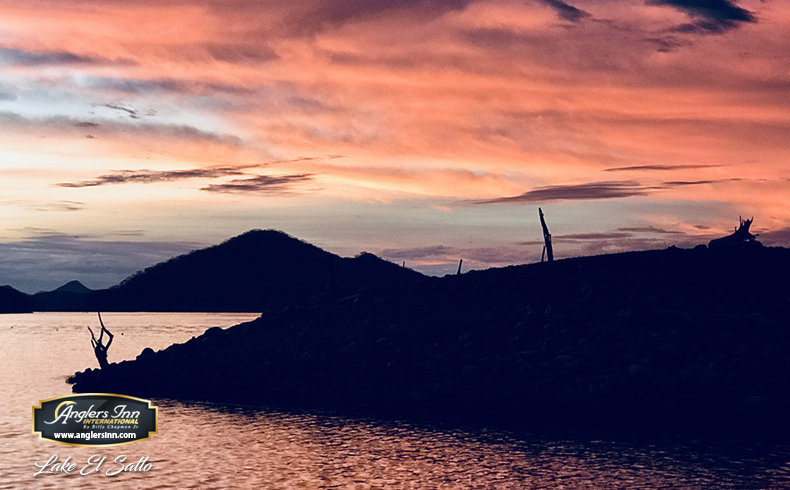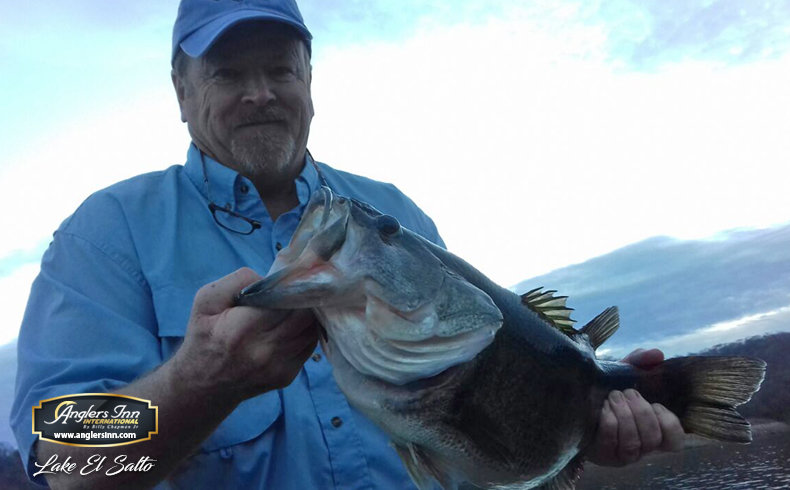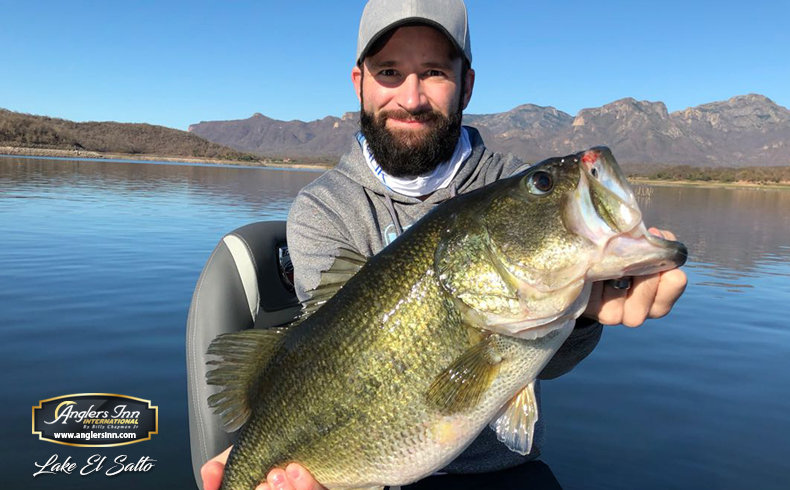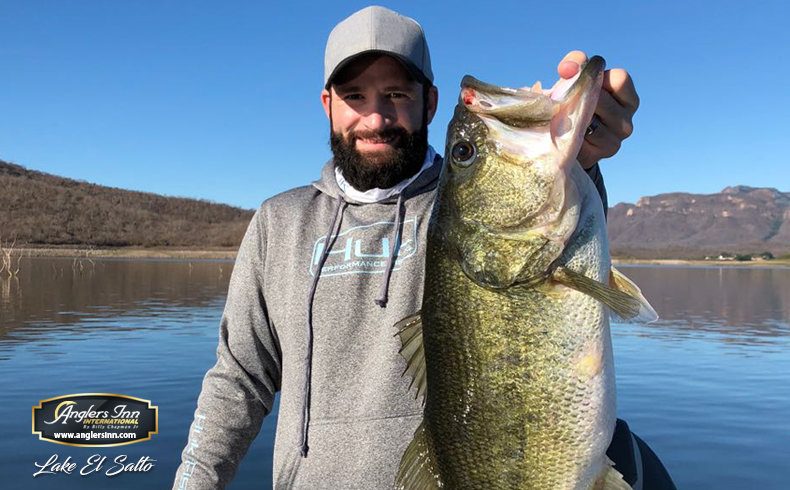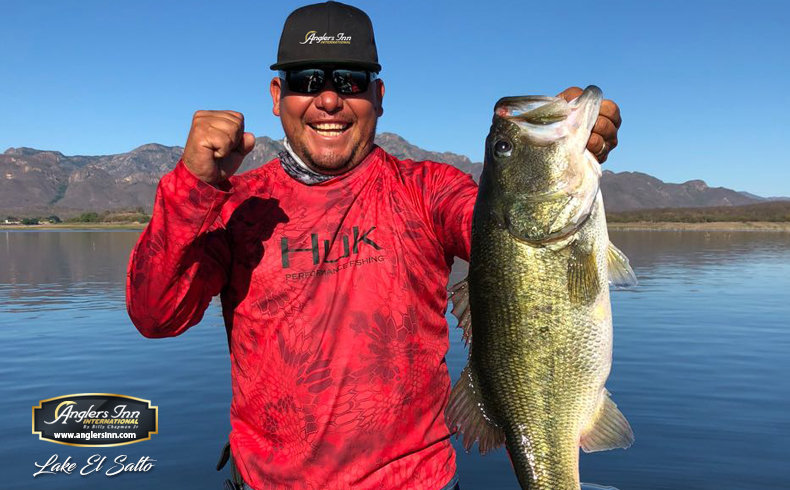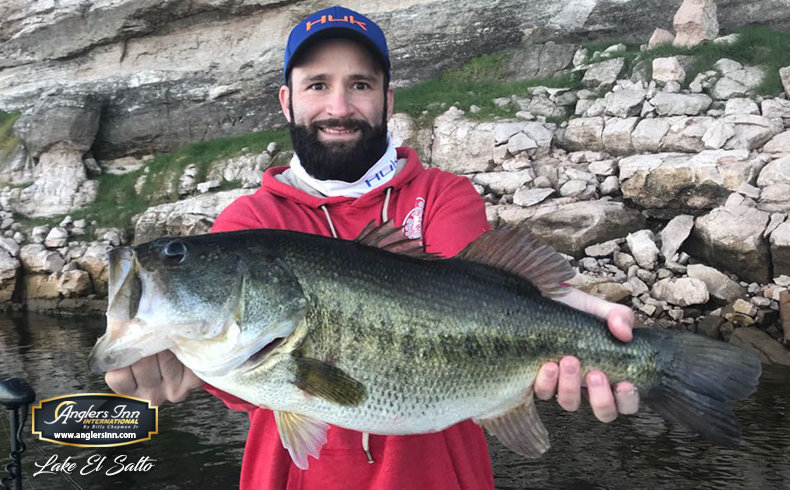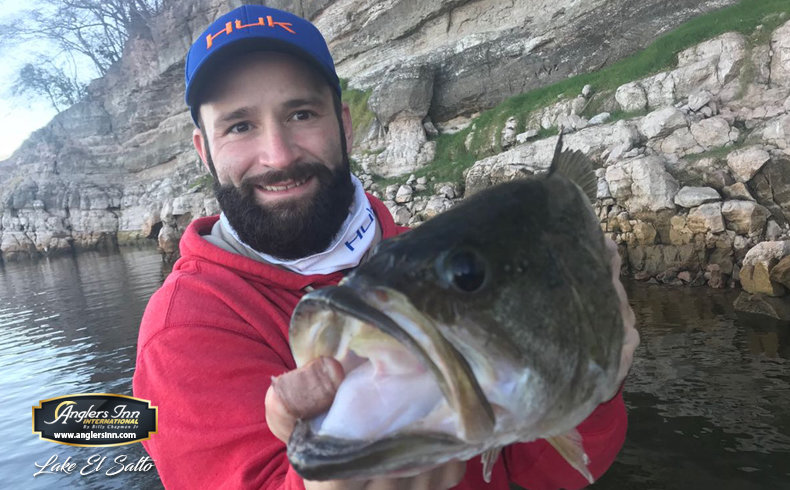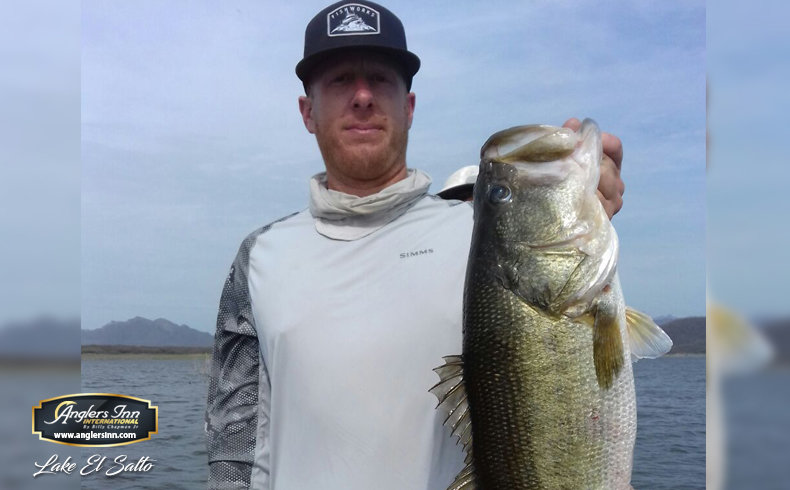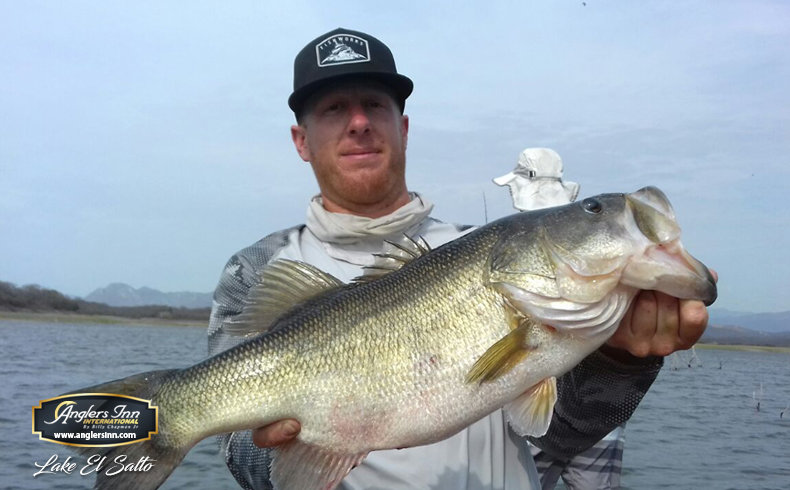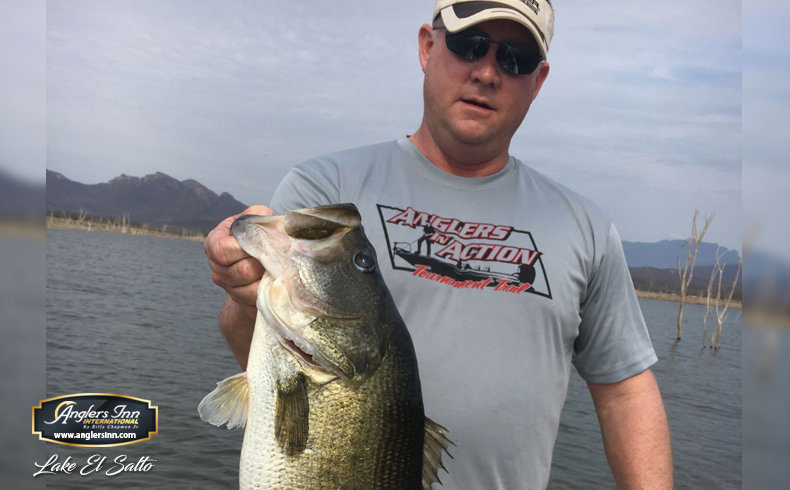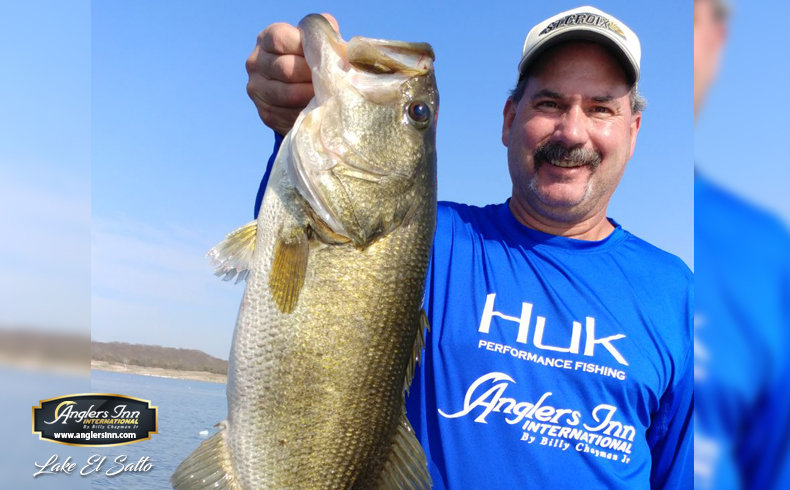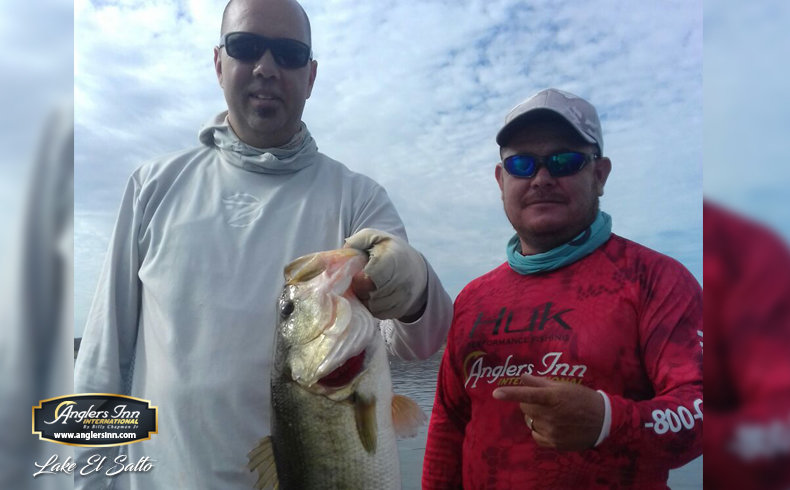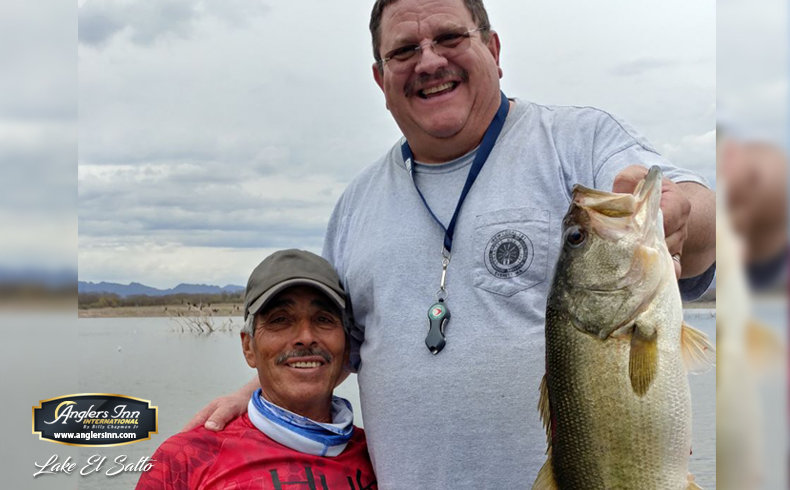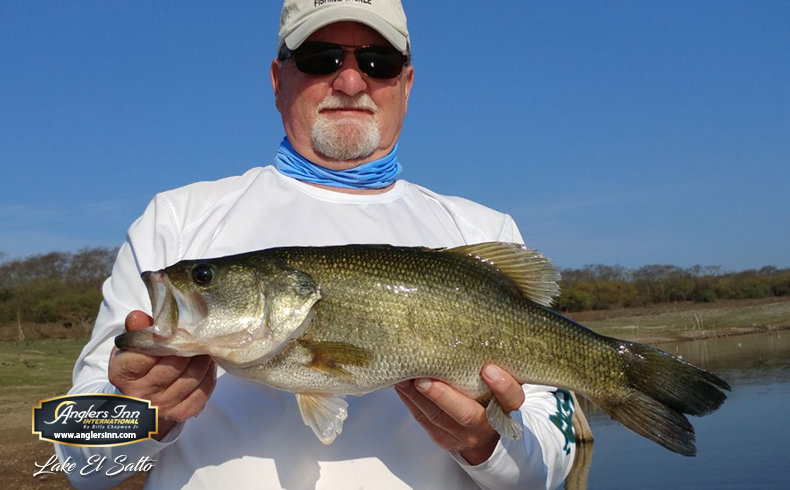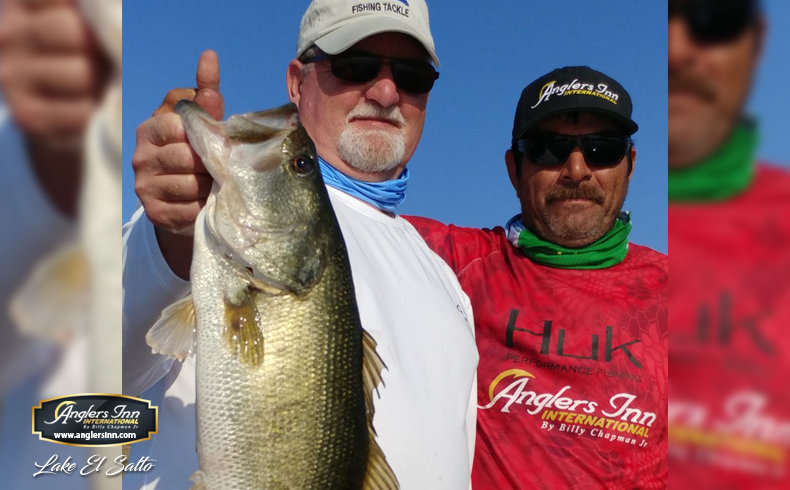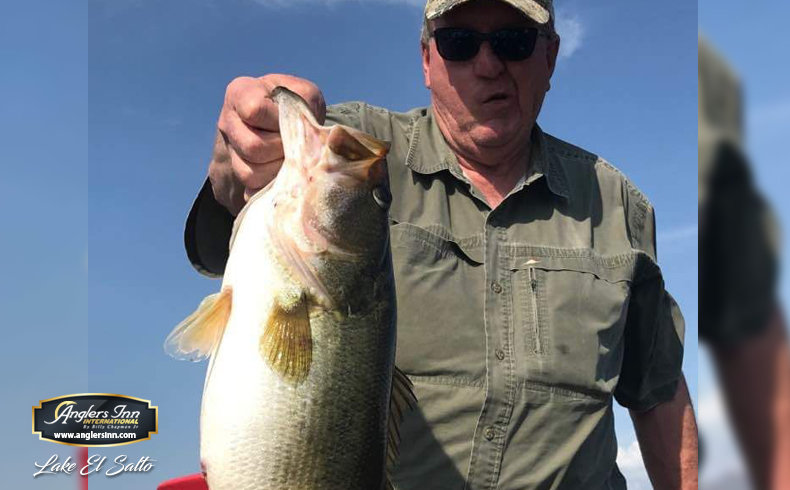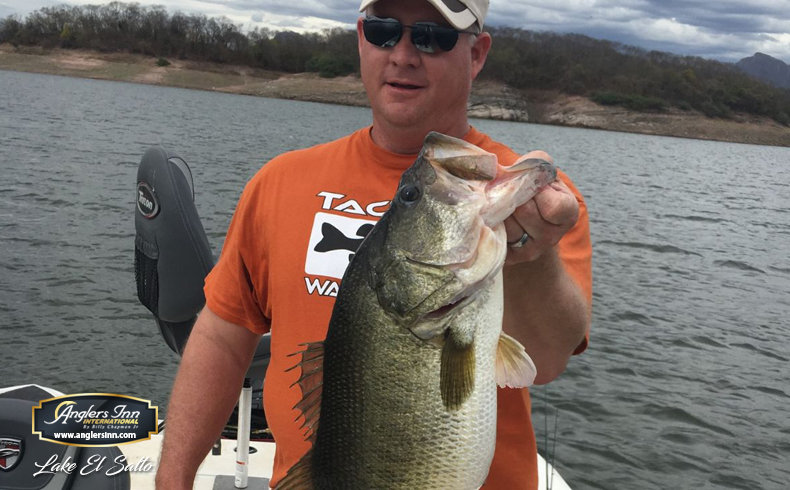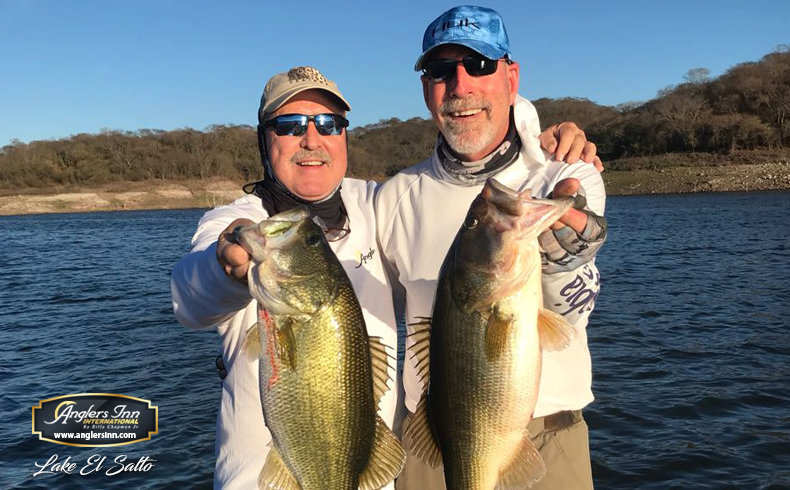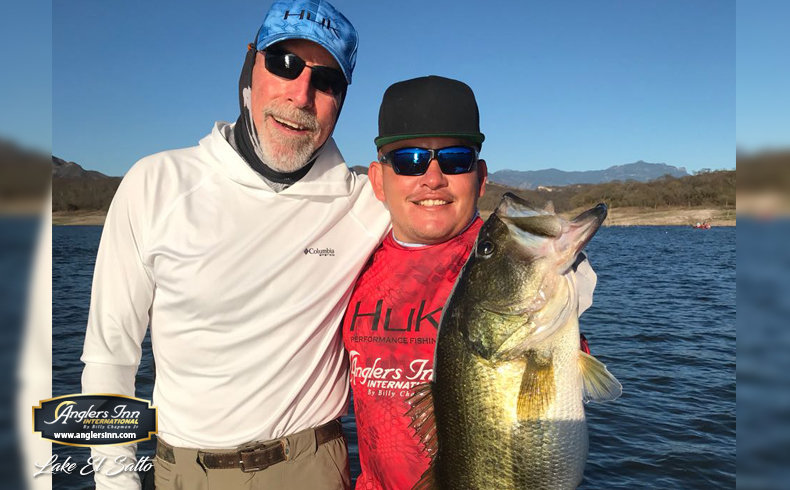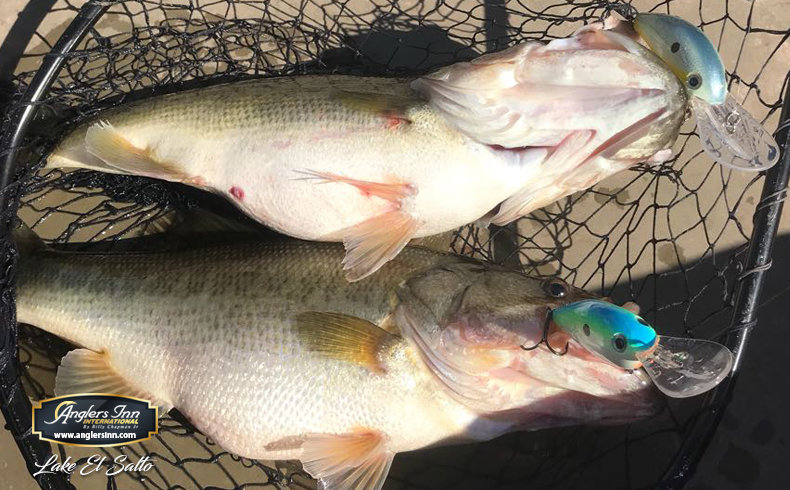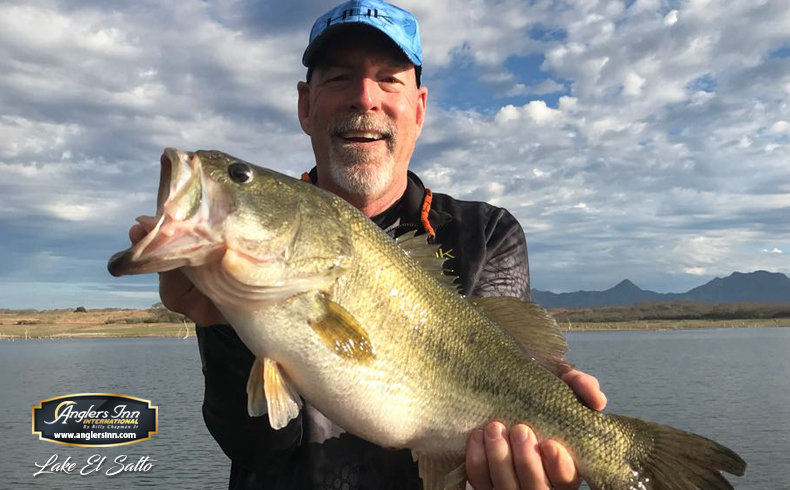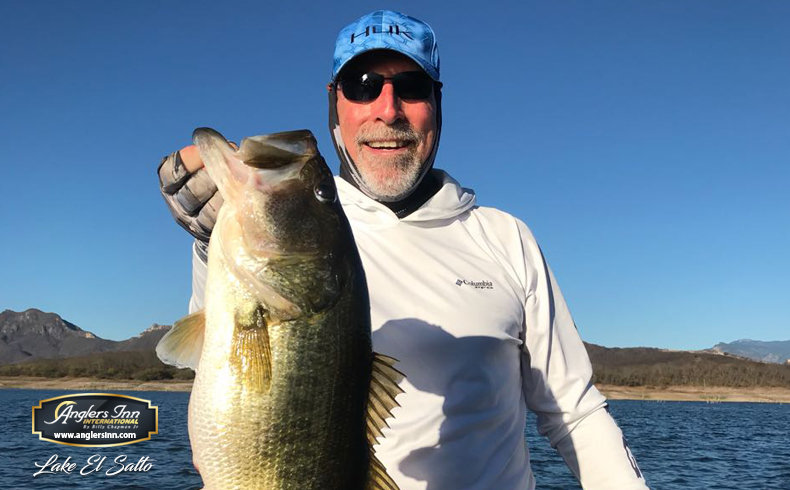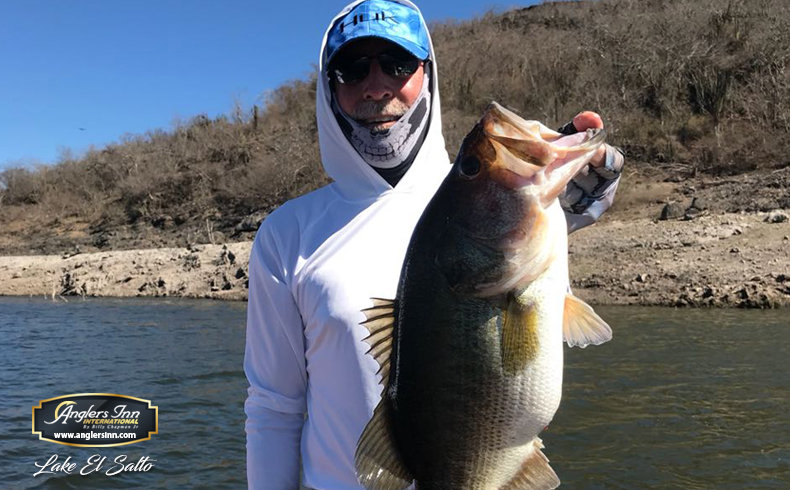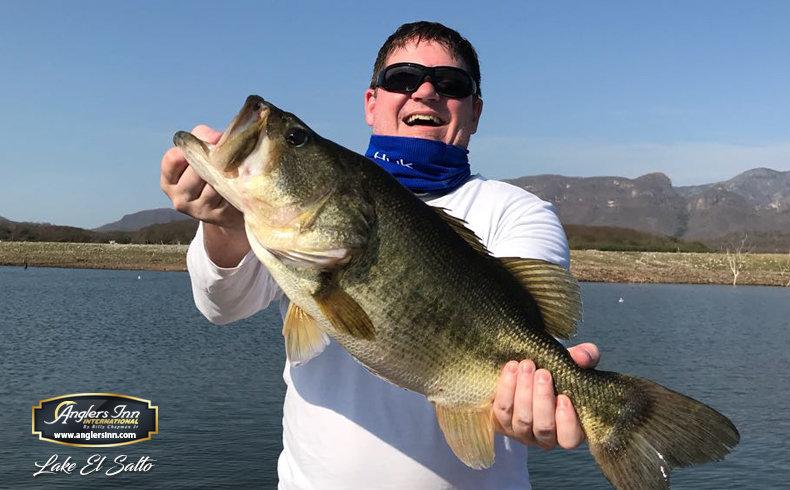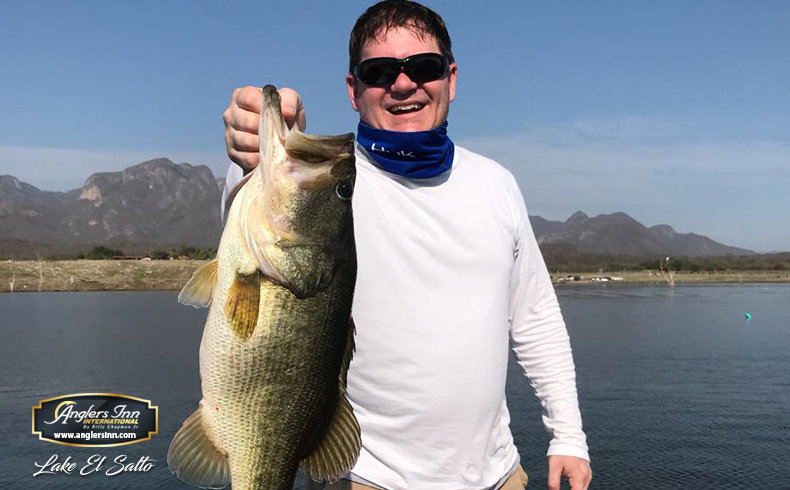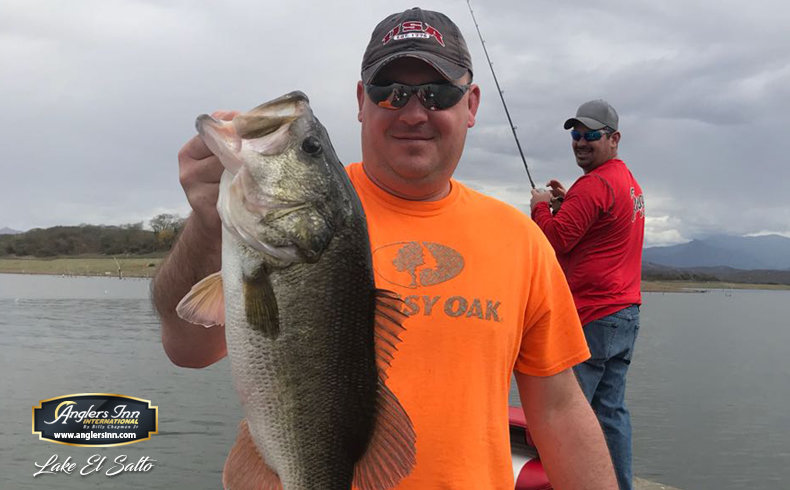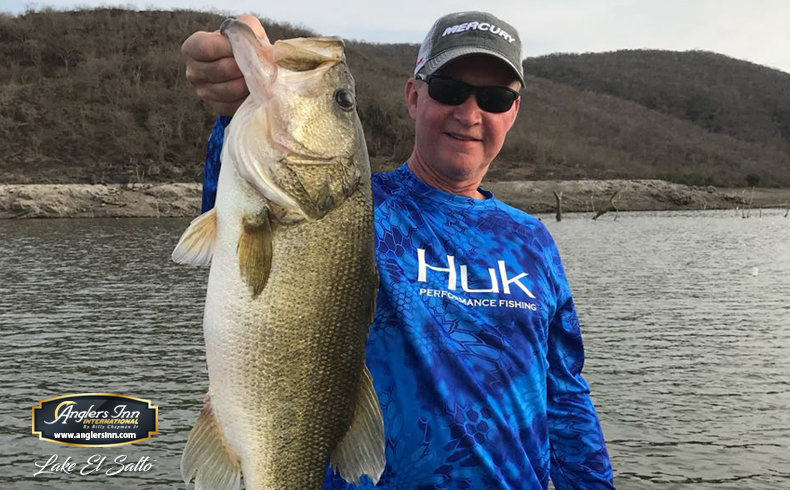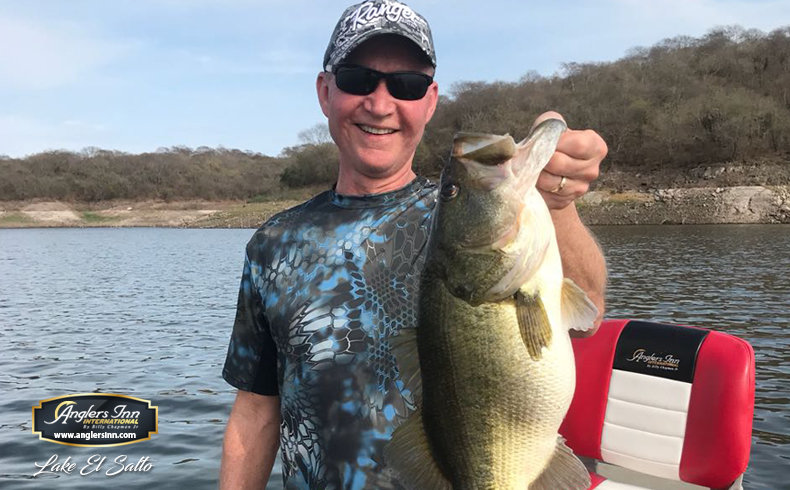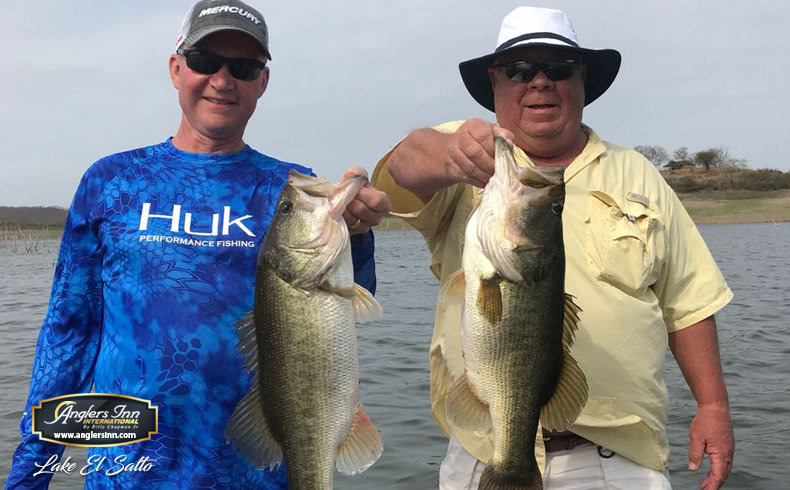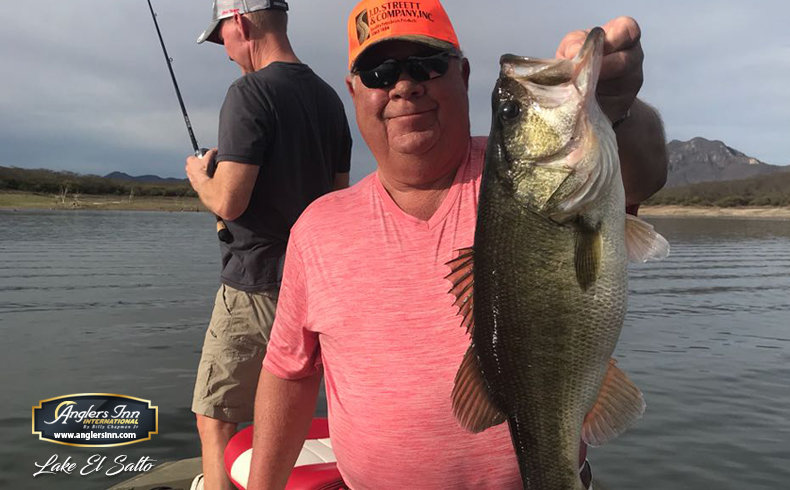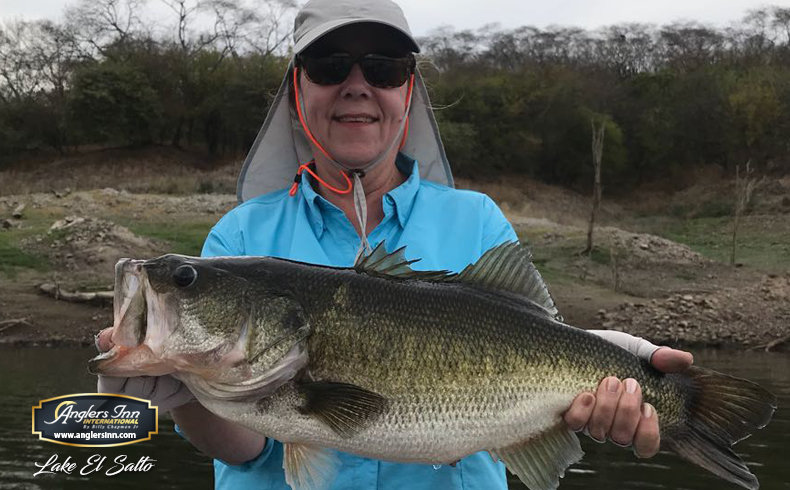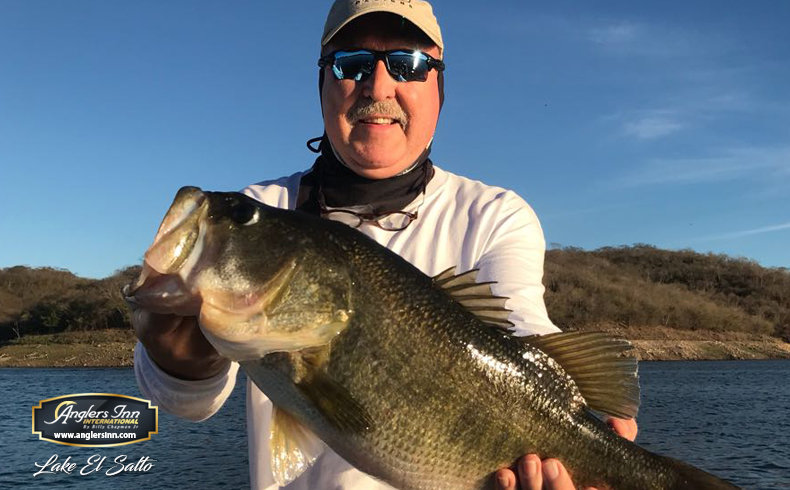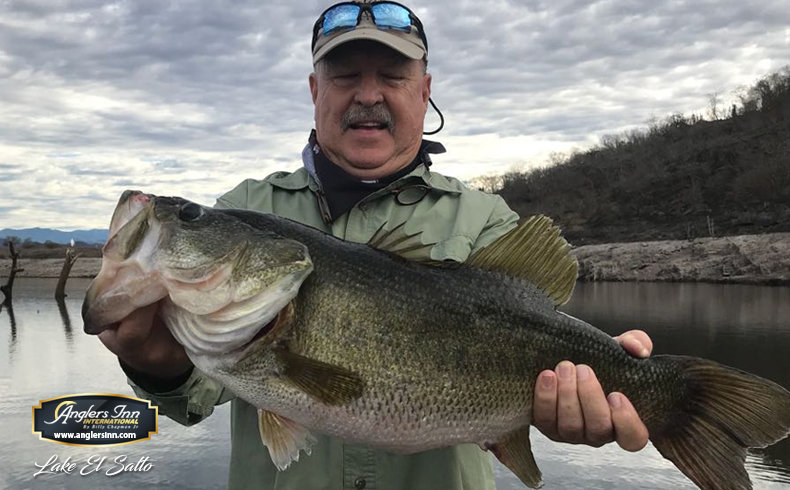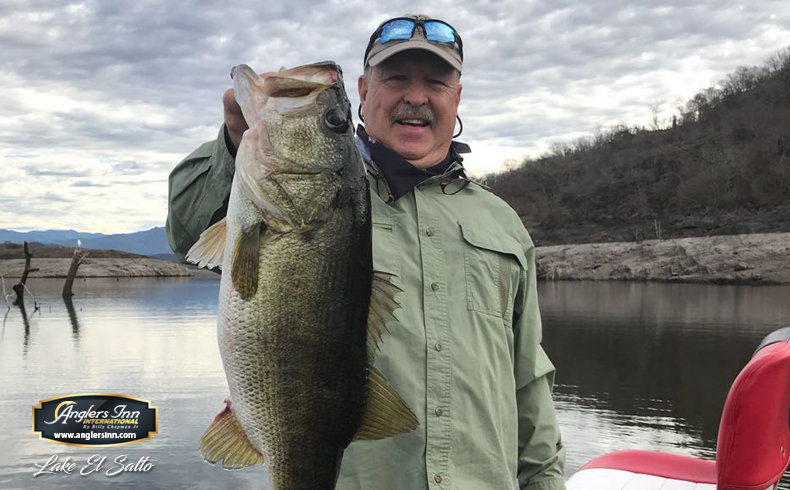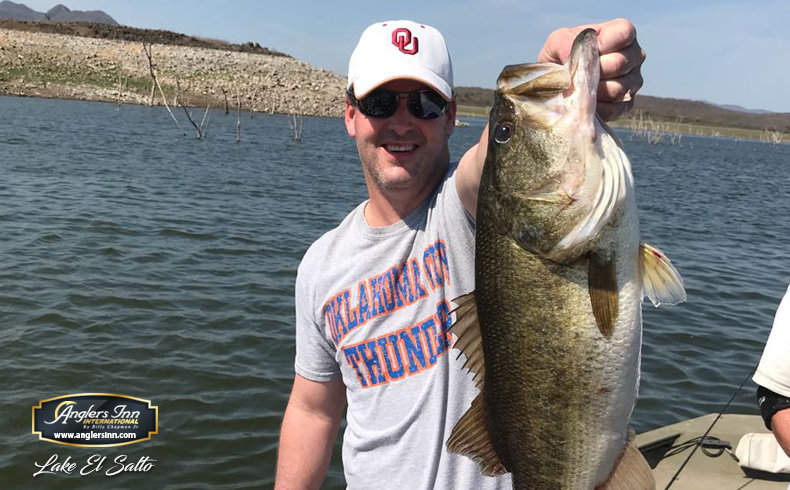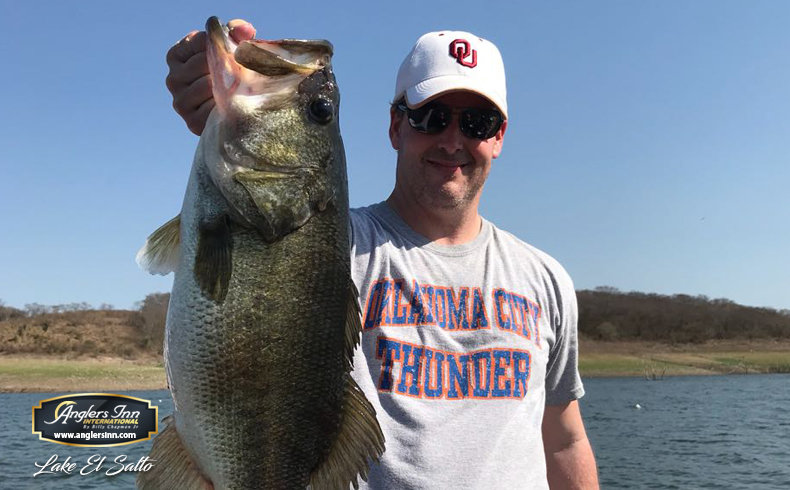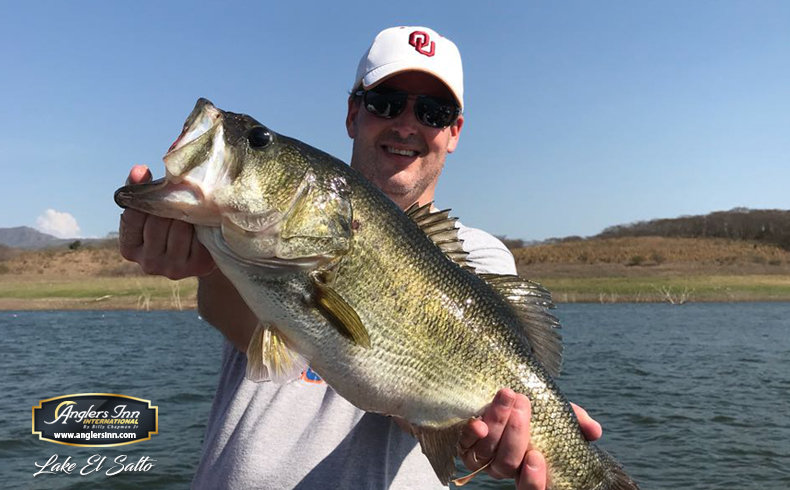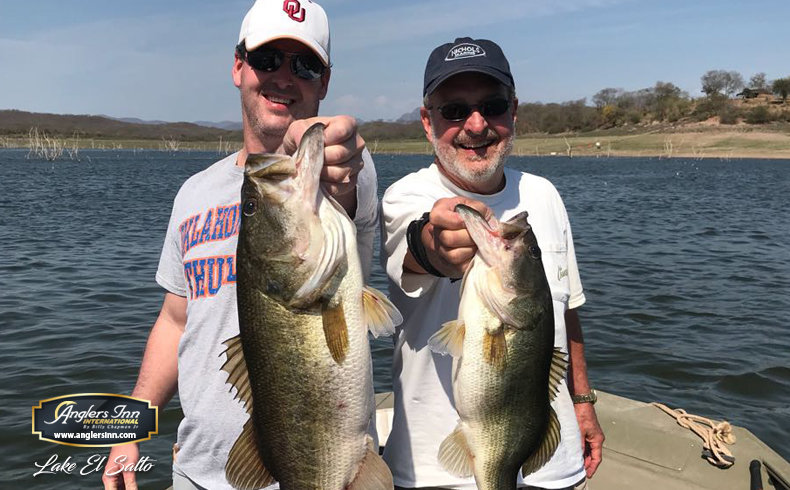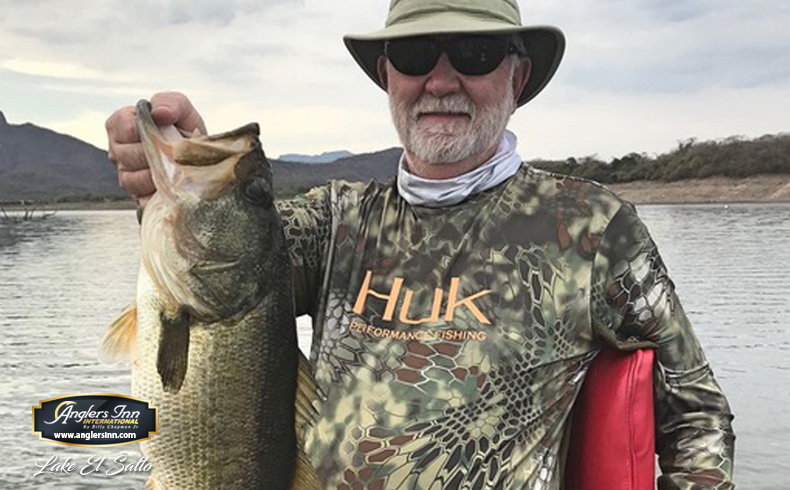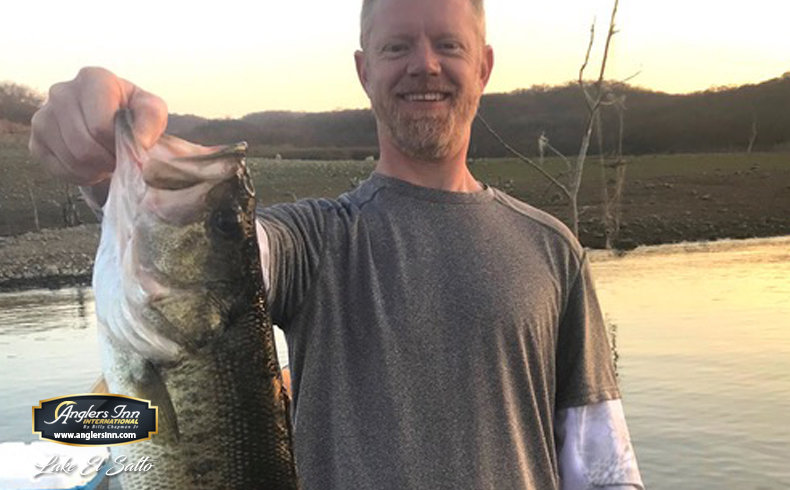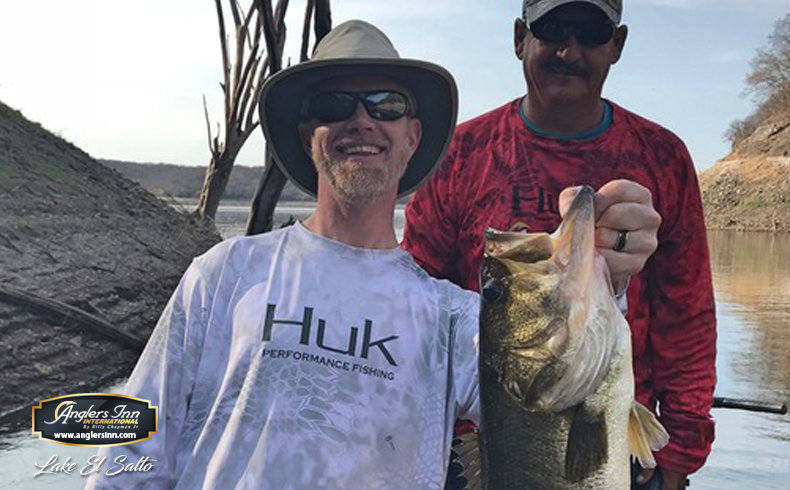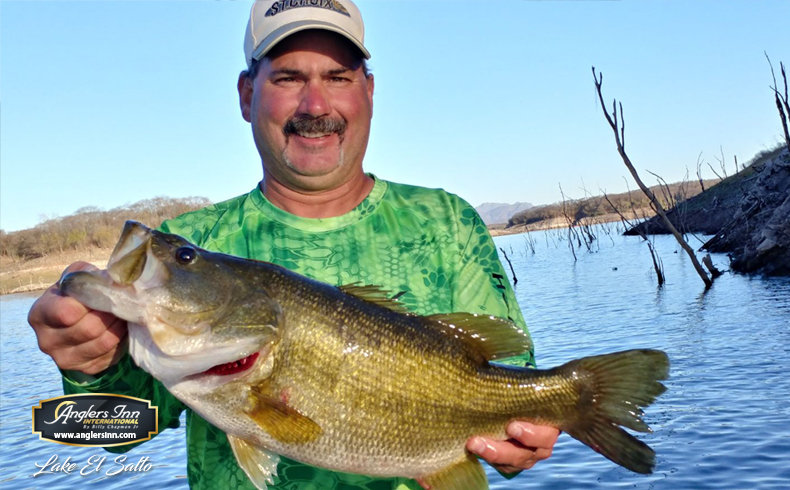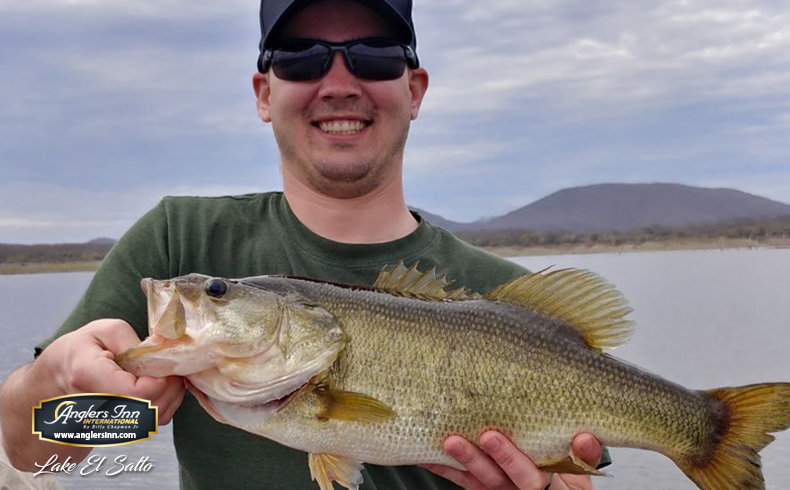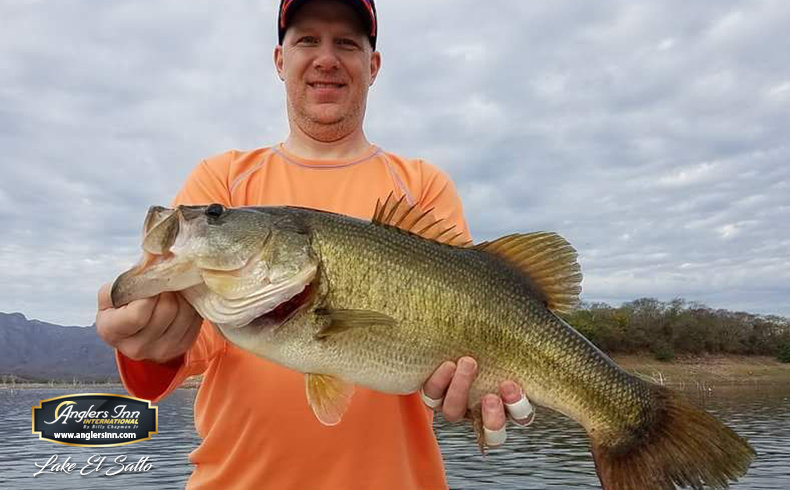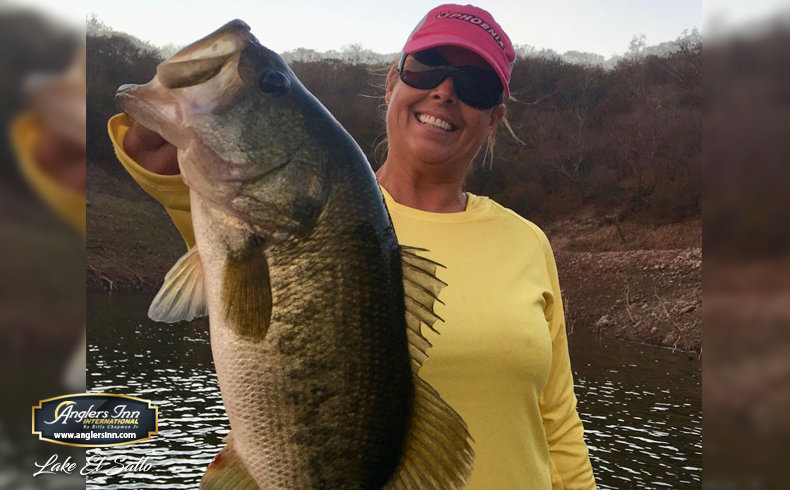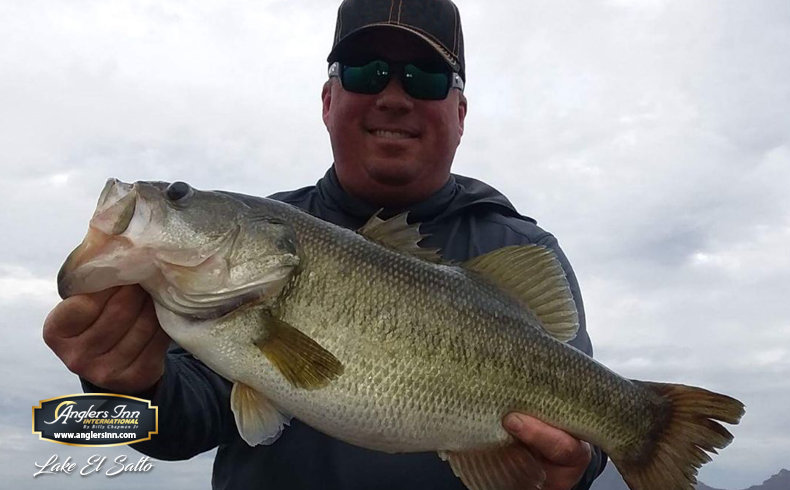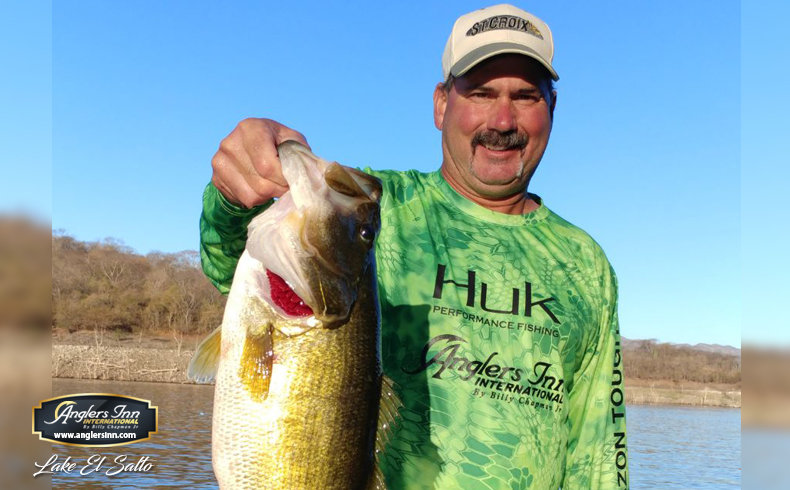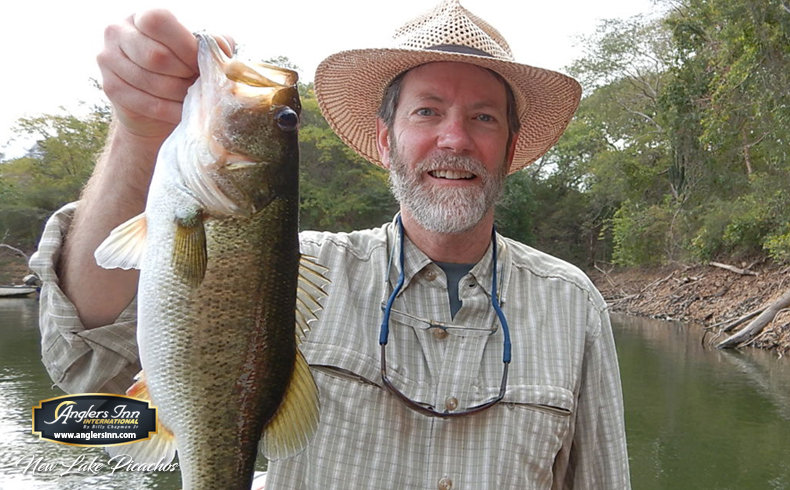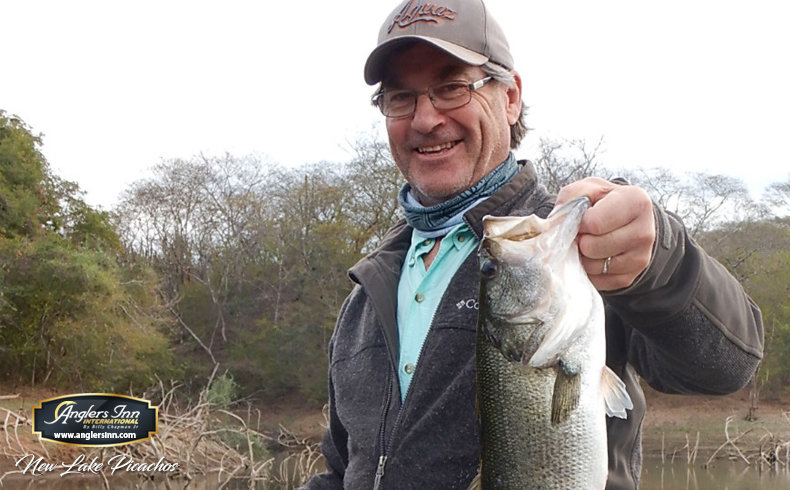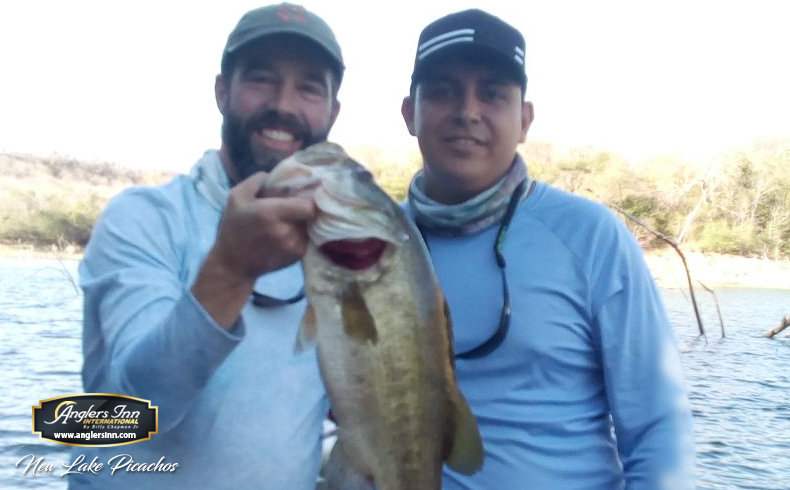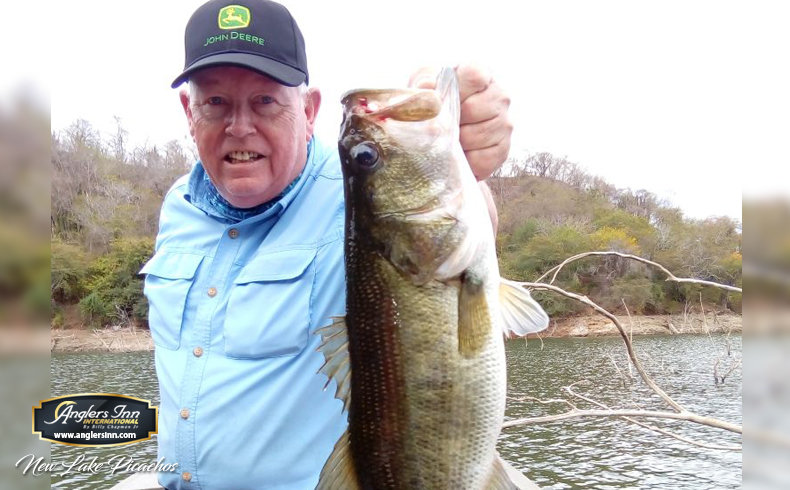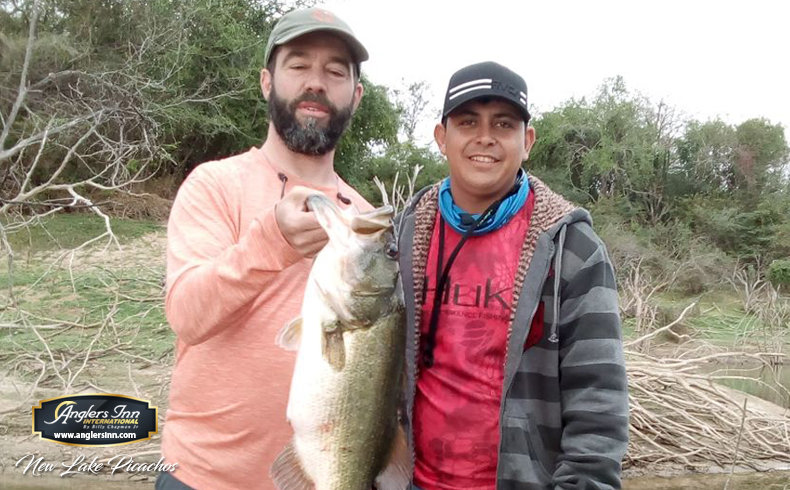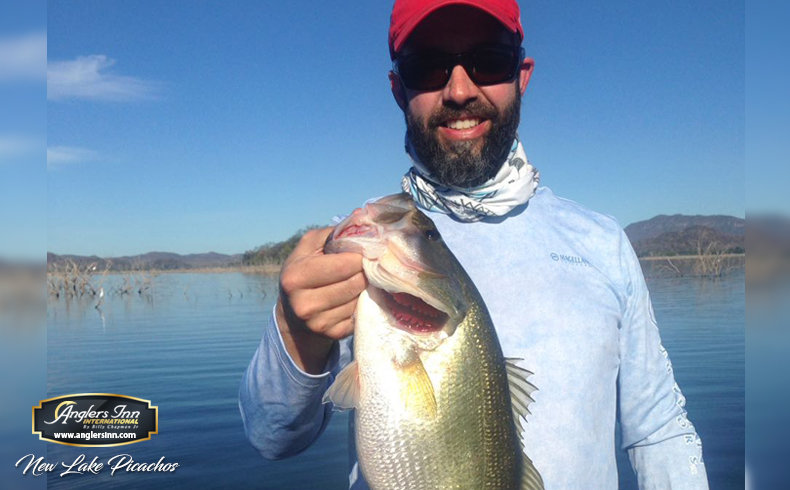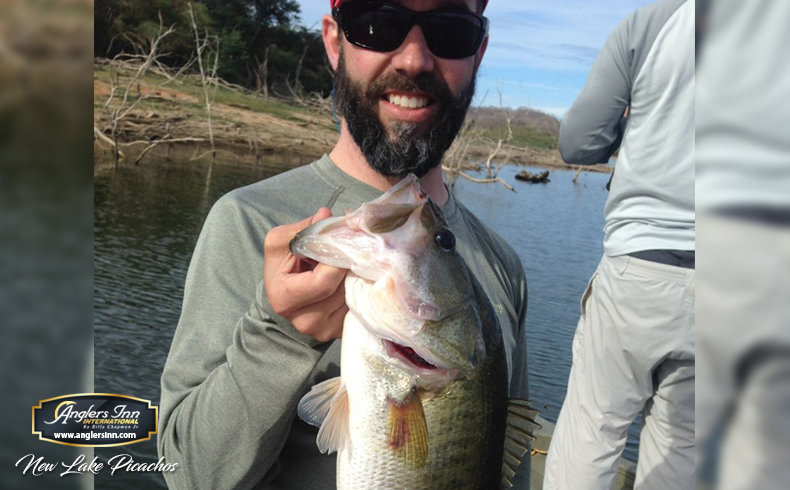 February is always one of our most popular months in Mexico. The weather might be cold at home, but it's balmy at both El Salto and Picachos. As the water starts to drop steadily, the last few waves of spawning fish come in, and for some reason they're often some of the biggest bass of the year. You can catch fish from 6 inches deep down to 30 or 40 feet, with a wide variety of techniques, so everybody's happy. Our water is much lower than it was at this time last year, which forecasts well for an amazing summer offshore bite --- but first let's talk about the hot bites we've had lately and expect to have over the next month.
Legendary big bass hunter Bill Siemental was inducted into the Freshwater Fishing Hall of Fame the same year that I was inducted. We've kept in touch since then, but with his busy tournament and work schedules he was unable to travel to El Salto until this year – and he was sorry he waited so long.
"The lake is an absolute gem," he said. "We went out not looking for numbers. My whole thing was to take a handful of baits, maybe four or five different types of lures, and to look for some of the bigger fish that hadn't moved up yet, the ones that weren't beat up."
As promised, he and his friends Jim Taibi and Derrek Stewart brought some big lures down, including the SPRO BBZ-1 swimbait and some monster tubes that looked more suited to tuna than to bass, but they made them all work. For most anglers trying to dial in those bites at home, it would be tough because you'd be fishing for maybe one or two big bass a day, but the trio caught between 20 and 60 bass per day fishing big lures exclusively. "The biggest thing is being able to have enough fish bite our lure to pattern that information," Bill explained, and they accomplished that mission. For evidence, check out his Big Bass Zone video series on YouTube where you'll see not only their fishing success, but also a full introduction to the Anglers Inn experience. They even documented how quick and easy it is to get from the L.A. area to the lake.
Be sure to check out our Anglers Inn YouTube channel as well – we have a library of fishing reports, on-the-water footage, and big fish catches that will help you dial things in before your next trip.
Bill's crew also got into some heavy action with deep diving crankbaits. For years the Fat Free Shad was the gold standard here, but recently its use has been eclipsed by some of the "magnum" plugs that have become popular. As the fish become accustomed to those, we've found better success at times with the new Berkley Dredgers, particularly the 20.5 and 25.5 models. They get down fast and stay down, but they have a smaller profile than some of the other lures in their class. As Siemental showed, there are many times when a big meal equals a big bite, but there are also times when you have to downsize to tempt the biggest fish in the lake. Get a few Dredgers in Blue Chartreuse, Big Money and Chameleon Pearl and we guarantee you'll be satisfied with their quality.
You don't have to be famous to take full advantage of the ease of traveling to Mexico. Mike Ishikawa came to Anglers Inn for the first time in 2003, and quickly "fell in love with it." Pretty soon he was coming twice a year, and in recent years it's been three times a year – December, February and June. This past month he marked what he estimated as his 35thtrip.
While the crankbait bite has been red hot for many of our customers, Mike didn't mince words: "I hate crankbaits," he said. He'd rather fish a Texas Rig, a wacky rig or even a dropshot. "I throw the same things whether I'm looking for numbers or size. I like action. I like to catch a lot of fish. I usually catch 60 to 100 per day, and in the mix there are always a few sevens and eights. Maybe every other trip I get a 10."
On this trip he mostly used a 5" Senko on a weighted Revenge hook. "With a thinner hook, the moment they get into one of those trees the hook straightens out. With this hook I usually don't lose them." He also worked in a 7" Senko at times and that produced three over 8 pounds. Mike brought his friend Ray, a semi-retired dentist but not necessarily an experienced angler, for his third trip to the lake and this time Ray had the hot hand.
"One afternoon Ray threw his crankbait into the mud, jerked it into the water and two cranks later he hung a good fish," Mike recalled. "Our guide was yelling "Grande, grande!" and after he netted it he unwrapped a beautiful 10-02 bass that beat Ray's personal best of 9 pounds. The next day, Ray threw a wacky worm up by a tree and caught another grande. This one was 11-04. Two afternoons, two over 10 pounds – that's unheard of."
Our topwater bite has been hit or miss this spring, and Mike and Ray were there for one of the better stretches of surface activity. "Each day we'd catch about 25 up to 8 pounds," Mike said. "The key was that the smaller Rico was hotter than the big one. I used one with a blue top and a silver bottom with a splash of red on the front. For me, it has to be a Rico, which has the perfect gulping sound to it. They just smash it." Even after 35 trips, Mike still keeps it relatively simple. Basic patterns like a 10" Power Worm (black/blue), 8" lizard (watermelon red) and various sizes of Senkos (in different shades of green) should be in every angler's bag, every month of the year.
Pat Dilling, came down for the first time, although he noted that "it probably won't be my last." While Bill's group primarily used big baits and Ishikawa prefers plastics, Pat said that his best lure for numbers was a chrome/blue ½ ounce Rat-L-Trap. He fished with veteran guide Antonio and landed fish up to almost 7 pounds. That's another staple that you need to have in your box on every trip, along with spinnerbaits and chatterbaits.
Pat explained that the first few days they averaged 30 to 40 fish a day, but things "did get better as we were there." The last day they encouraged Antonio just to take them "to get areas and let the fish come as they may."
"The last day we did that and caught a lot more fish. We got on a Rat-L-Trap bite that was crazy, hooking up with eight doubles in less than an hour. Best bait for bigger fish was a wacky rigged 6" Senko, black with blue flake and a ½ ounce black and blue jig (I love to throw a jig)."
Dilling was part of a group led by Todd Ondracek, who came down with a group of 13 anglers from all over the country – his seventh time at El Salto and sixth with a big group. The group right before them had whacked the fish with deep diving crankbaits, but a mild cold front pushed that bite off, but things really heated up after a couple of days.
"The best performing baits were a Blade Runner 1/2 ounce swim head and white and chartreuse 5" swim tail for the first couple days," Ondracek said. "As the fish got active again we all got on a Rat-L-Trap bite in silver or white 1/2 ounce for better numbers each day. The fish were setting up for another wave of the spawn so most of the fish were smaller males setting up on the shallower flats and shoreline. When you found a good flat it was ridiculous for a while."
While the lipless crank bite was good for numbers, he explained that "most of our big fish came on very slow presentations, like 5" Senkos unweighted pitched to trees and the shoreline and then shaking the slack line as it sank. A 10 inch purple or black/blue worm was the ticket for deeper drop off and long points."
Regardless of how you're catching them, Todd explained that "you just can't beat the service and accommodations for fishing at Anglers Inn. The staff is so helpful, the food is incredible, the guides are knowledgeable and the fishing is second to none."
Mark Shoenfelt used to be a regular visitor to Lake Mateos, but family and work life took him away from Mexico for a few years. Now that his kids are older, he's back with a vengeance. He and son Hunter came to Lake Picachos for the second time and once again they wore out the bass to the tune of 150 to 200 a day.
The key, he said, is "bring a lot of plastic," but you don't need to be too complicated or sneaky. A 7-inch Berkley Power Worm in green pumpkin did most of their damage dragged slowly away from the bank past trees and bushes.
If you'd like to experience that type of action every day, consider a trip to Picachos, or perhaps a combo trip. We know that everyone is excited about El Salto because the fishing has been so consistent, but Picachos is quietly become its big brother's equal. You can literally expect to catch 100 fish a day if you are even semi-competent, and you can do it just about any way you want. Bring pounds and pounds of plastics because it's possible to decimate even a healthy supply. There's also the distinct possibility of an all-day topwater bite, so if you want to wear the paint off of your Ricos, Sammys, Whopper Ploppers or buzzbaits, this is the place to get it done. The lake has established a reputation of having ridiculous number of 1 to 3 pound fish, but we see increasingly percentages of 3 to 5 pounders each year, with some true trophies mixed in – and we've only tapped a small portion of its potential.
Picachos is just 45 minutes from the Golden Zone of Mazatlan, so it's even perfect for day trips, but for you hard core guys, if you can't decide which lake to visit, a combo trip is the way to go. Our new dining room sits right at the edge of the lake and you'll be tempted to make a few casts between sips of your margarita.
Paul Liuzza and his wife Terri decided to celebrate Paul's retirement with a celebratory trip to El Salto and they were rewarded with over 100 bass apiece. After three days, which included Terri's personal best and Paul's close encounter with one estimated to be in the 9 pound class, they were ready for some relaxation on the beach. "They're the strongest bass that I have ever caught," Paul said. "My left arm is killing me today."
After a day in Mazatlan, though, they were on the phone to our office to inquire about a day trip to Picachos, where suddenly that sore arm was ready for more battles, and they went through a couple hundred more hard-fighting Mexican bass. We know that the experience is addictive for any red-blooded fisherman, and that's why so many of you come back.
Paul stressed that one key is to be ready to change tactics. Most of his biggest bites came on a spinnerbait, all in the same day, but "the next two days they would hardly touch it." By remaining flexible, yet sticking with proven winners, they're always biting somewhere on our lakes. We can't control what or where they bite, but we can always control the rest of your experience. "The food and the service were great," Paul concluded. "No one could ask for any better."
He emailed us a few weeks later: "I cannot stop thinking about our trip to Lake El Salto at Anglers Inn. It has to be the best vacation I have ever been on -- we had so much fun!"
As March comes in, the last of the spawners will be finishing up. Some fish will stay shallow, while others will start the transition to their summer haunts. It can be an incredible time for topwaters, and be sure to bring both deep diving crankbaits and swimbaits. If you like to Carolina Rig, this is a time of year when you can stay in one spot and catch them until you're dizzy. Don't forget the Whopper Plopper and big buzzbaits, either. They may not produce numbers, but they're often good for some of the biggest bites you'll encounter.
Remember, our goal is to make your trip as hassle-free as possible, and one step in that direction is that we now have loaner rods for everyone to use at no cost. Thanks to our newly-developed partnership, our lodges now have a varied supply of St. Croix rods. "They made fishing pure pleasure," said one recent guest. These technique-specific rods rods are the real deal, folks, and we are committed to giving you the best possible tools to land that fish of a lifetime. You don't need to travel with a heavy and burdensome rod tube anymore if you don't want to.
If you haven't seen it already, be sure to click on our new website at www.anglersinn.com at your earliest convenience. We've had it up for most of 2017, and so far the feedback has been tremendous – especially from guests who've found pictures of themselves with big fish gracing the site. Our theme is "Making Every Angler's Dream Come True," and while our web presence is no substitute for a trip to Mexico or Brazil, it's the next best thing and a valuable tool for planning your next trip.
We'll be bringing you some new world-class opportunities in both Brazil and Idaho soon, so stay tuned for those announcements. We've been searching for the perfect chance to extend the Anglers Inn way from north to south and we believe that what we're just about ready to offer will knock your socks off.
Just as we set the standard for international fishing trips, we want to set the standard online, too. The new site includes information about all of our properties, pricing and bios of our staff. We also update it regularly with new videos on our "Anglers Inn TV" channel, and provide detailed monthly reports like this one.
Whether it's your first trip to an Anglers Inn property or your 20th, we hope that this site will provide all of the information that you need, but if it doesn't we're always just a phone call or email away.
While we often provide a generalized list of lures that work throughout the year, there are times when specific bites are ongoing and we don't ever want you to arrive under gunned. Monitor the website and social media for updated info, and if you're ever in doubt about what you need to bring, please call us or email us. We want to make sure that you're outfitted properly to make the most of your vacation.
If you've received this report from a friend, please be sure to sign up for future mailings at www.anglersinn.com. If you know a friend who would benefit from these newsletters, please make sure that they are receiving them, too.
---