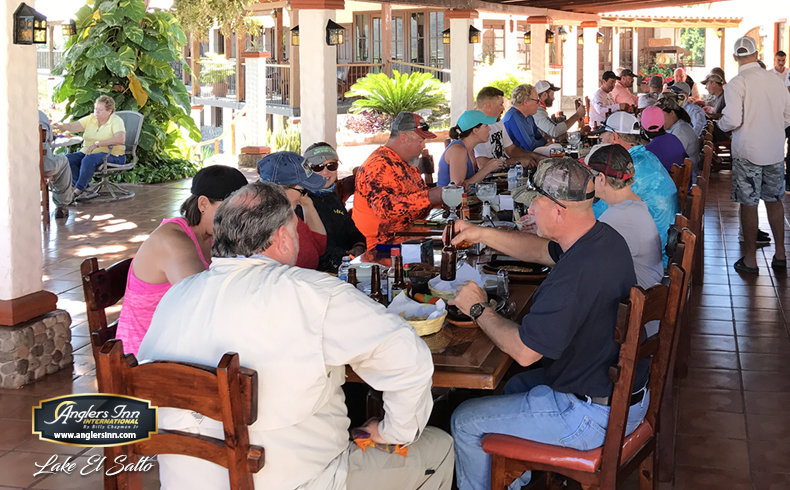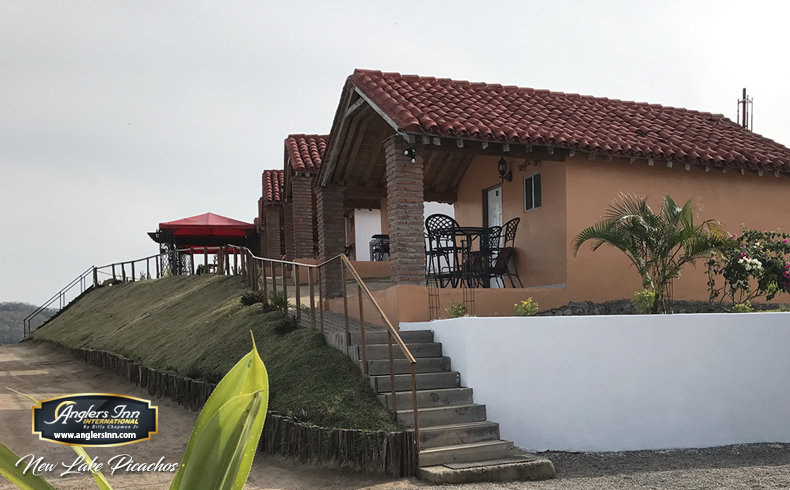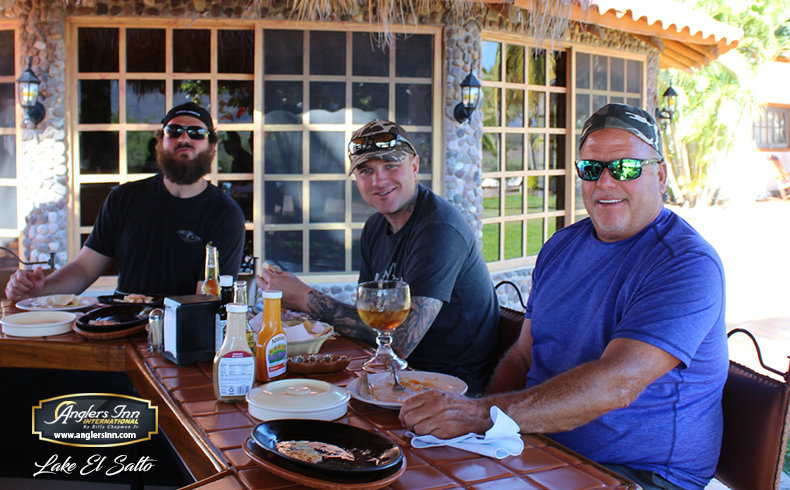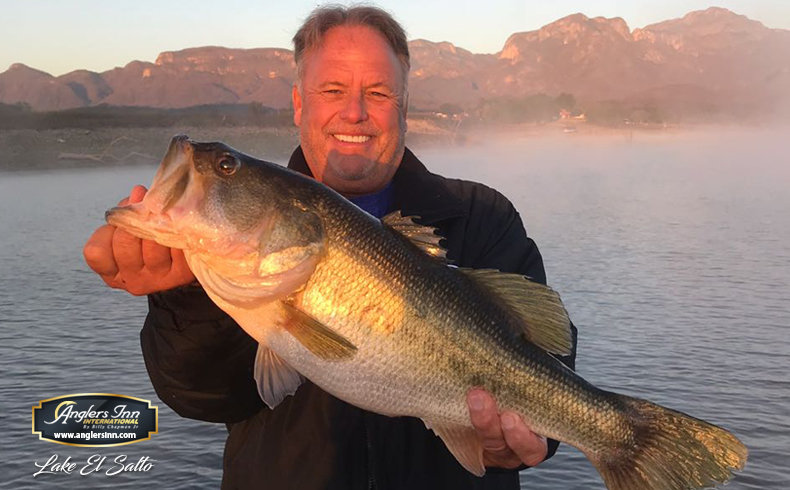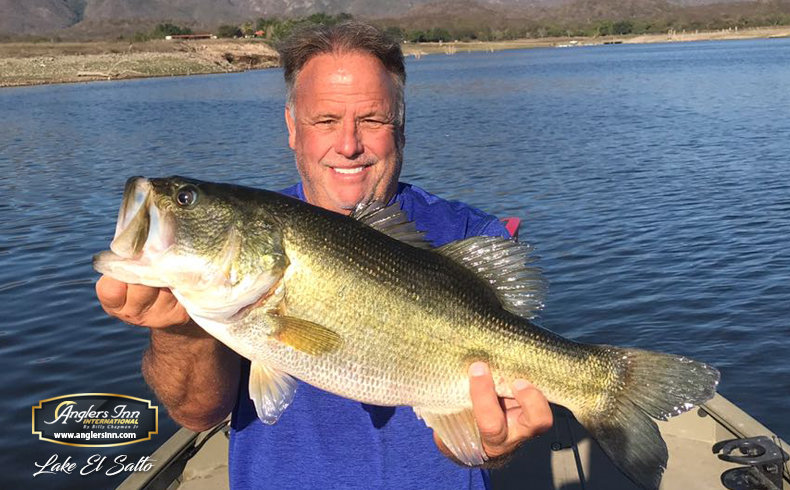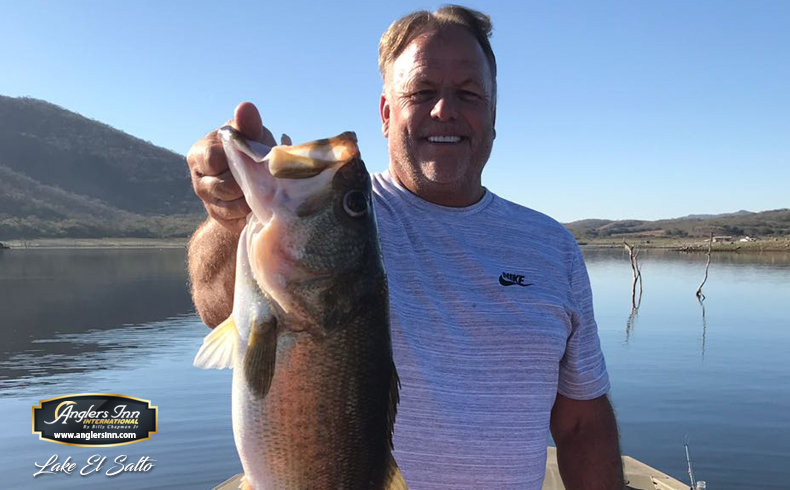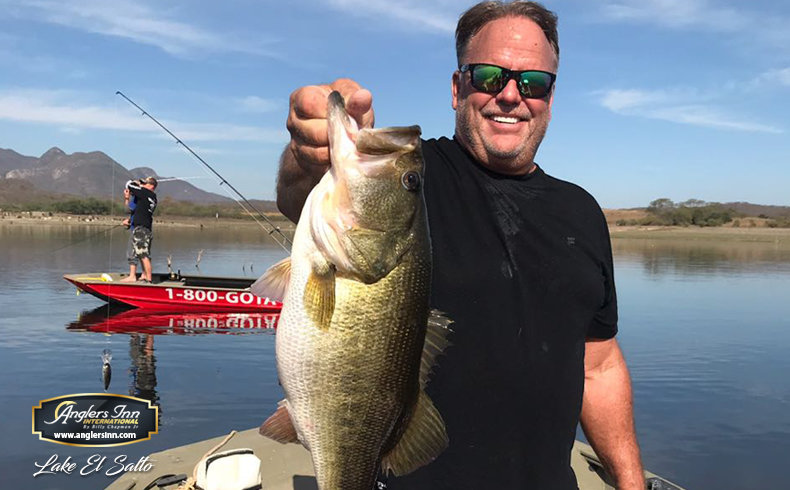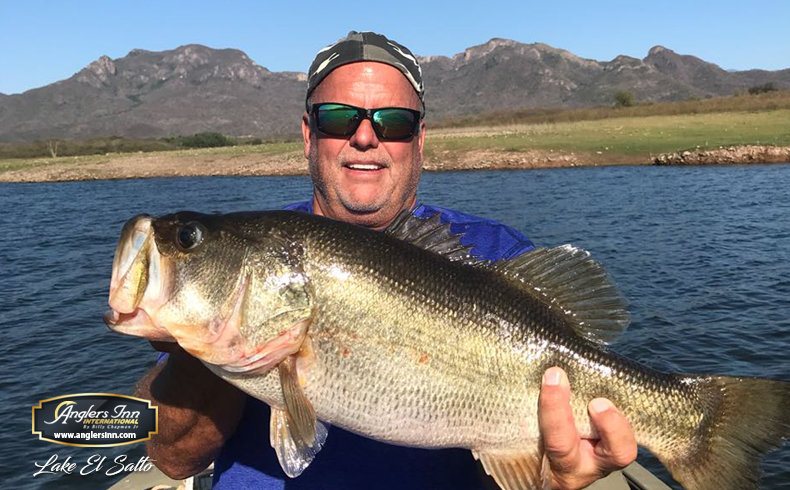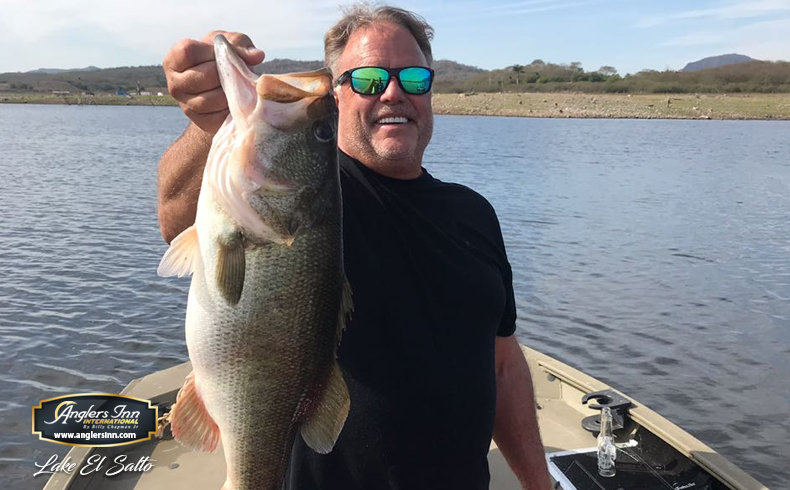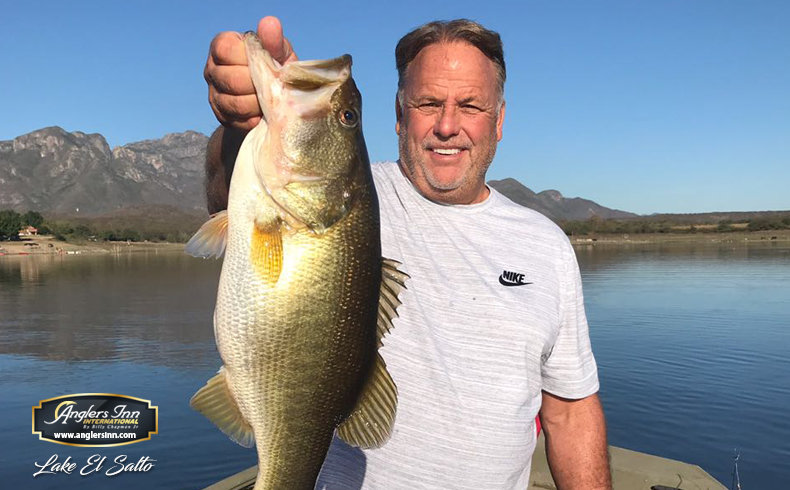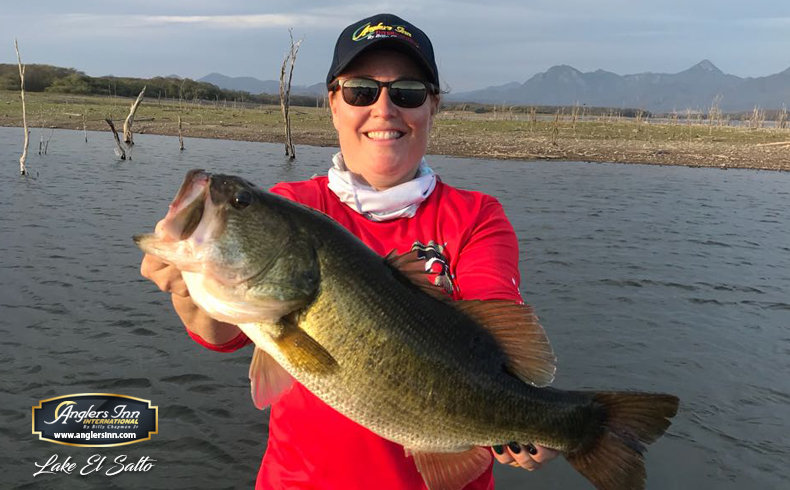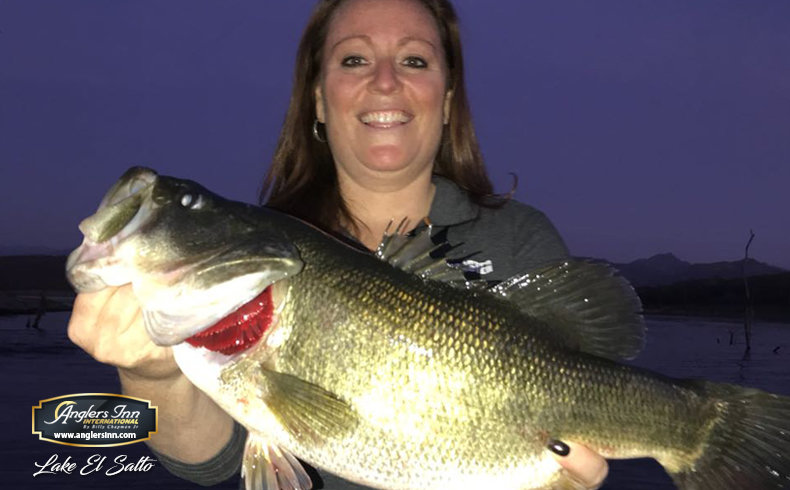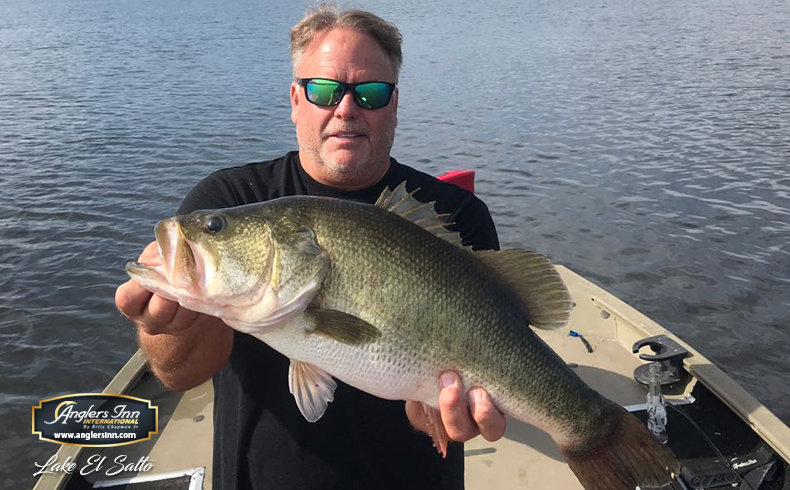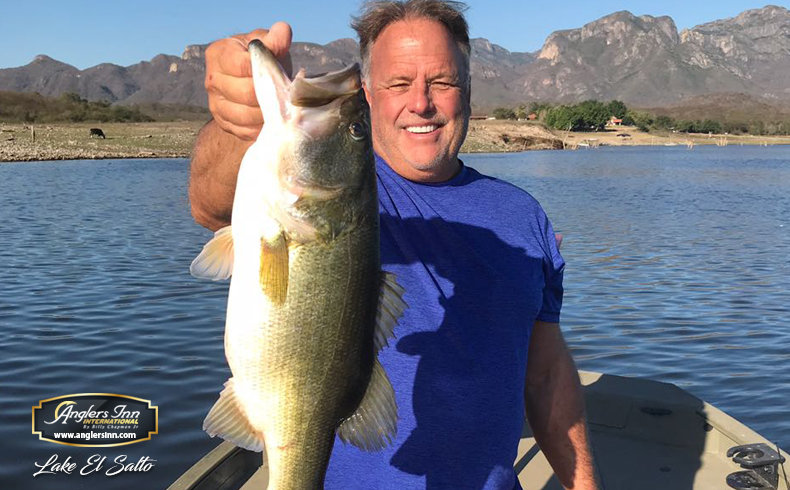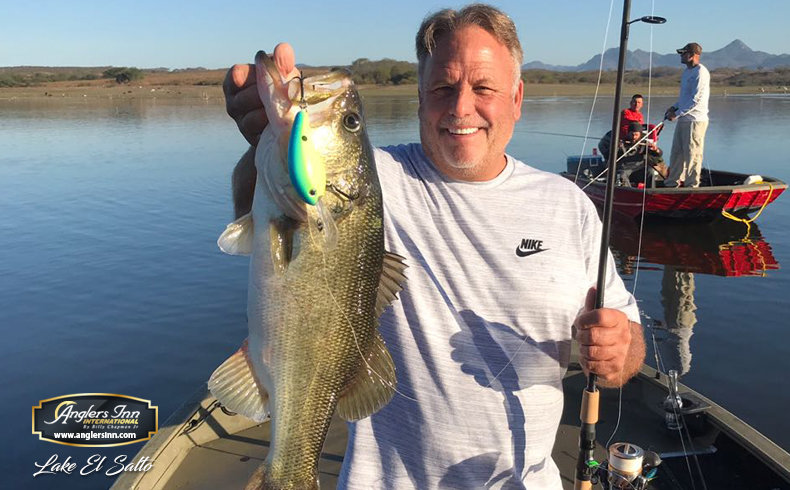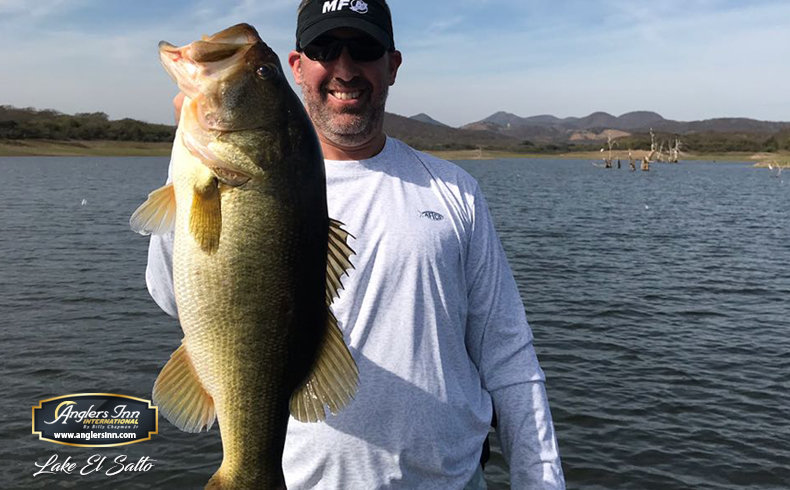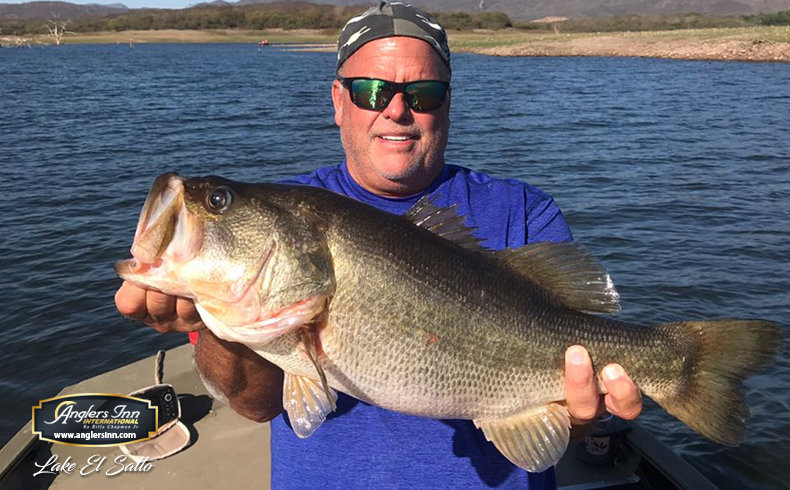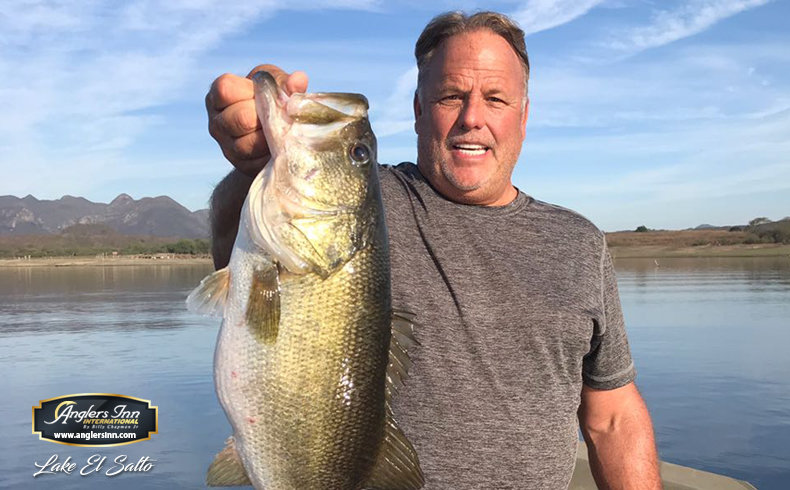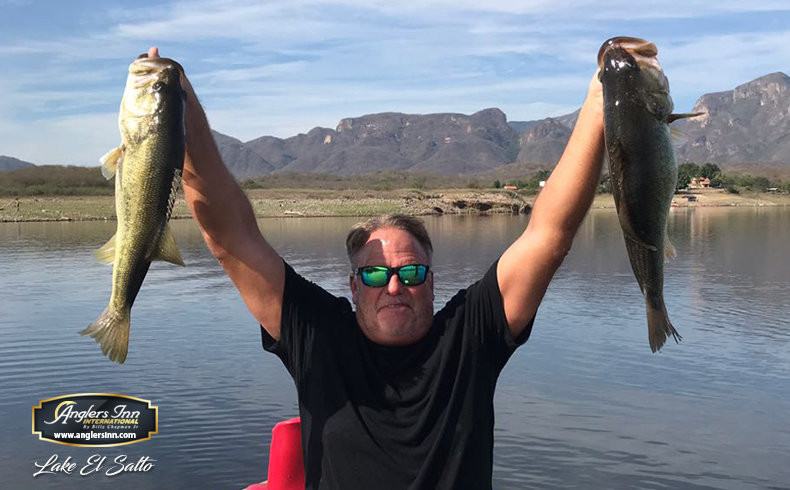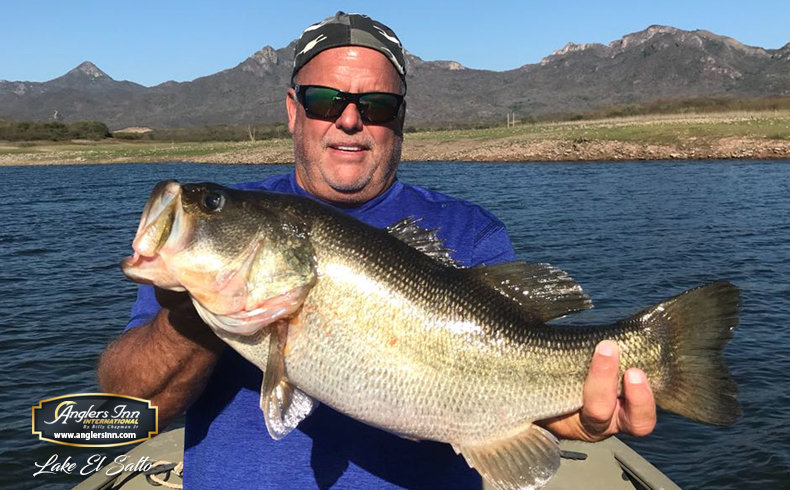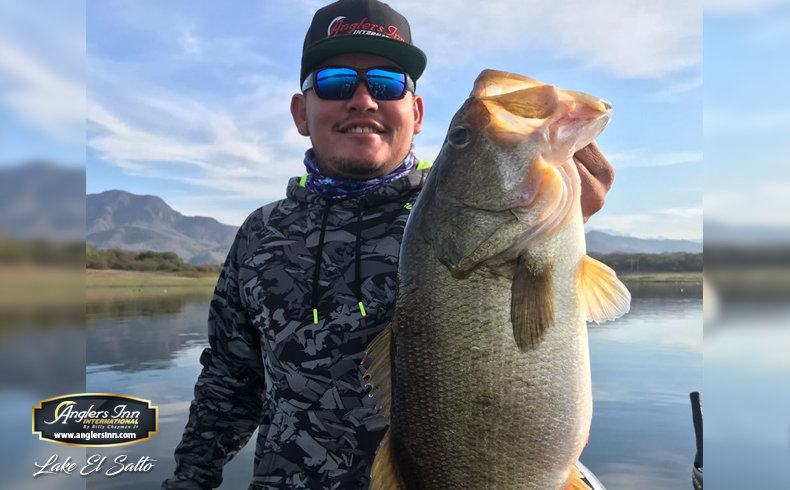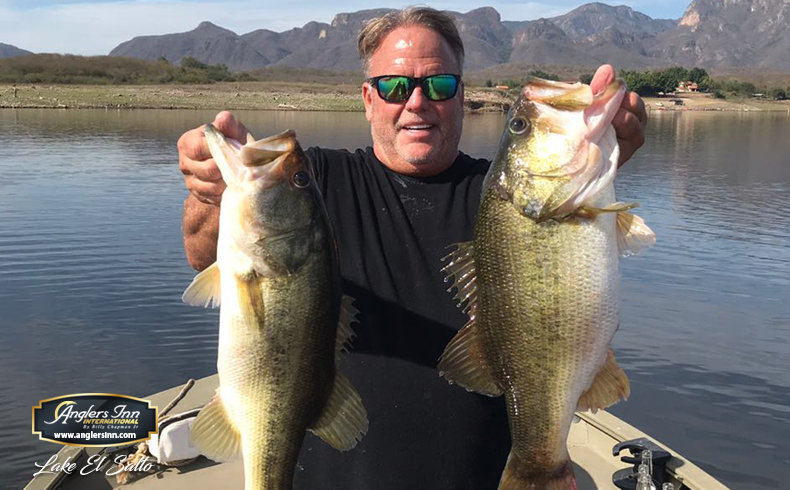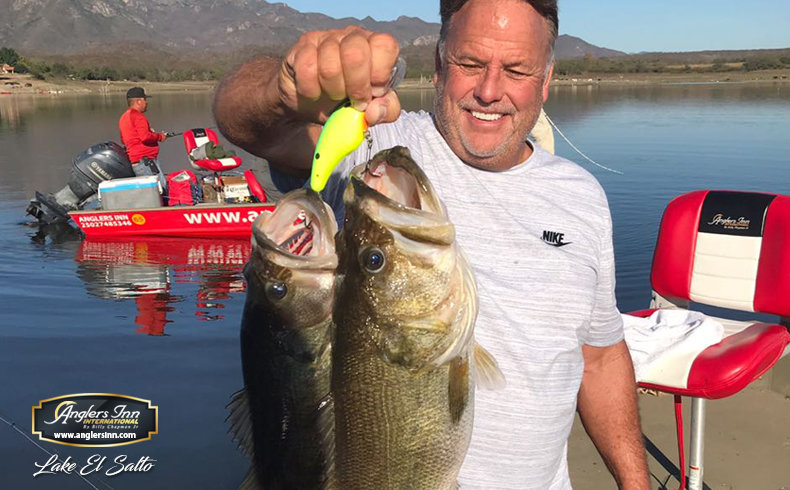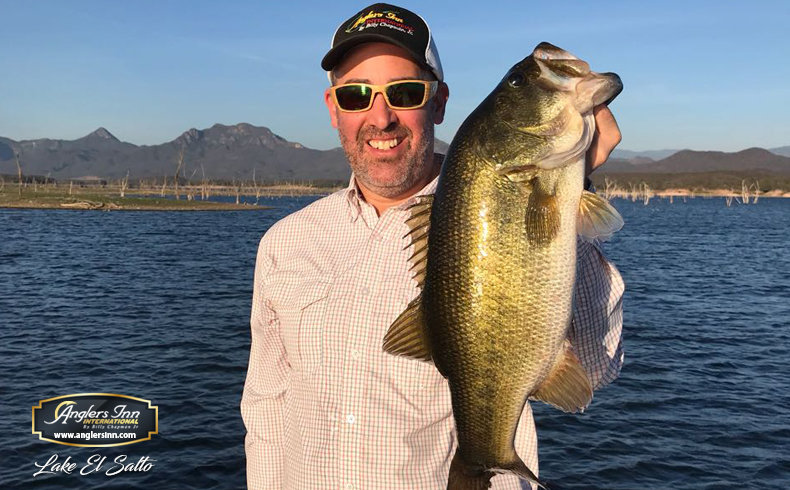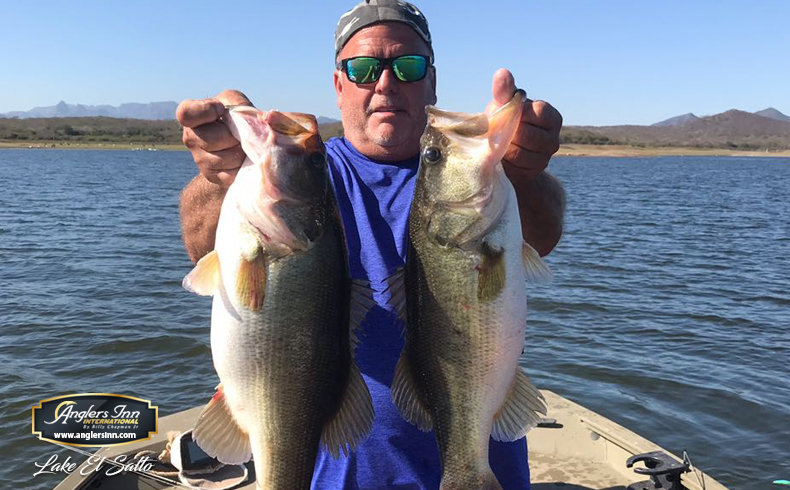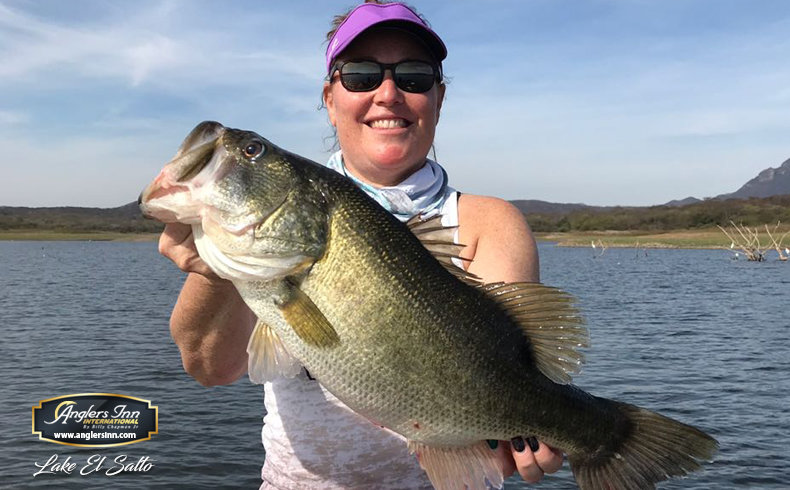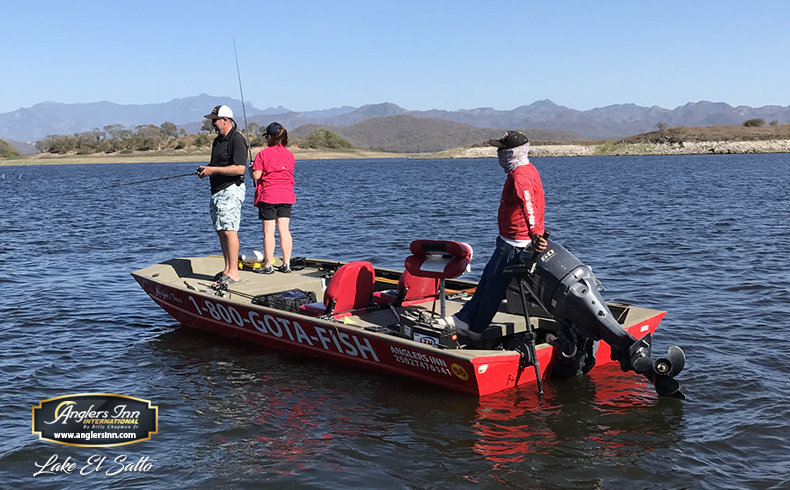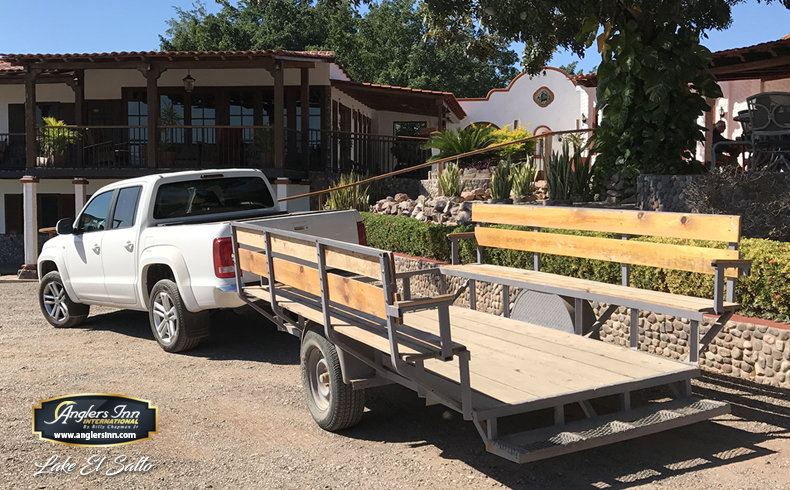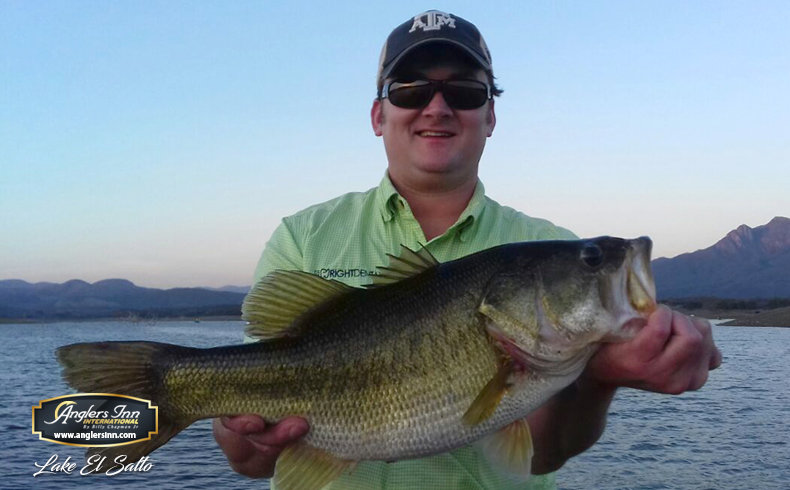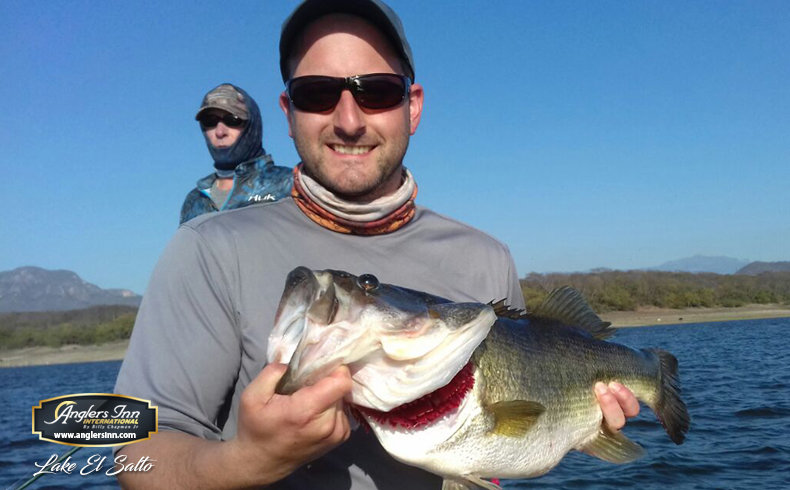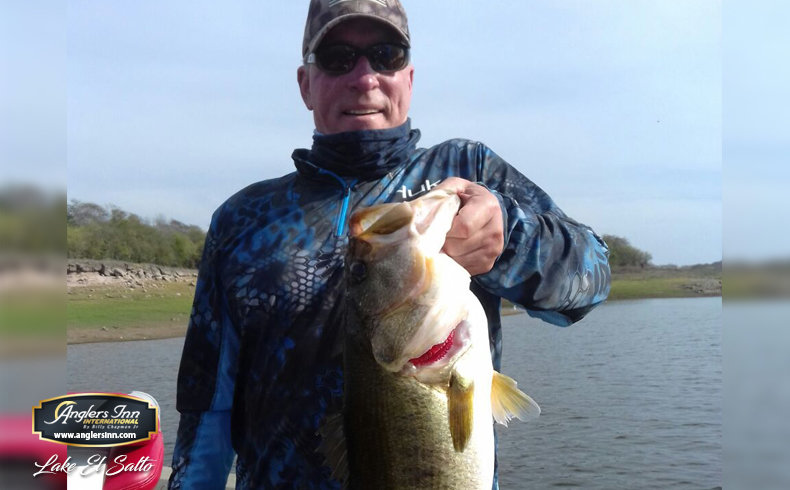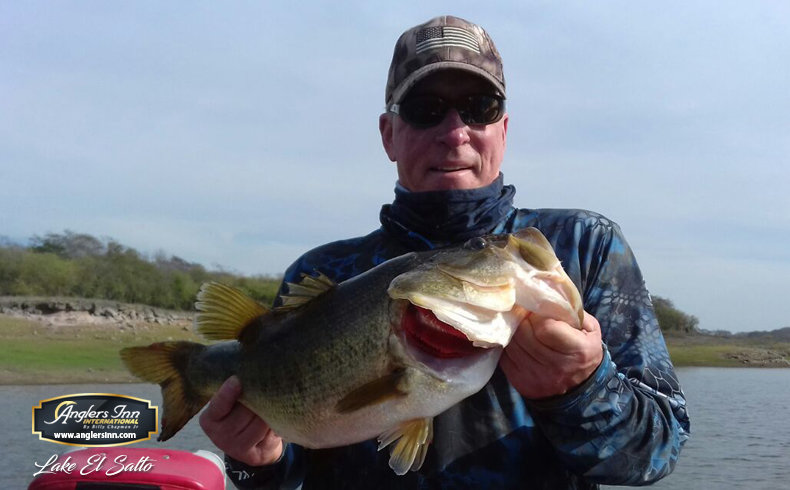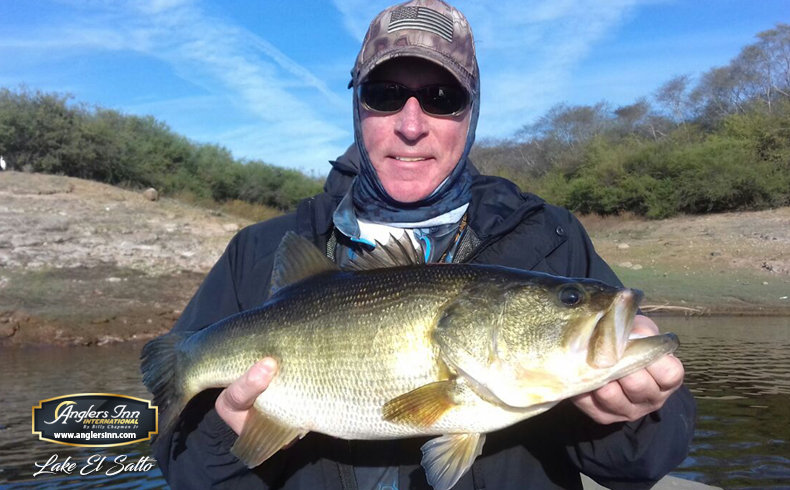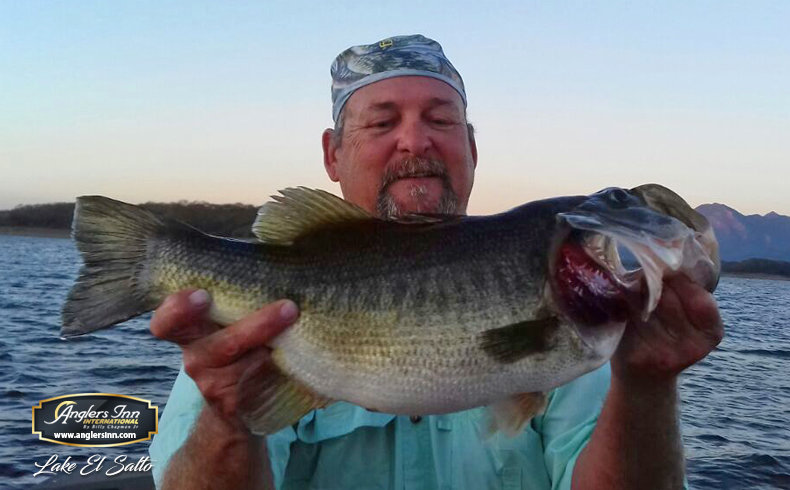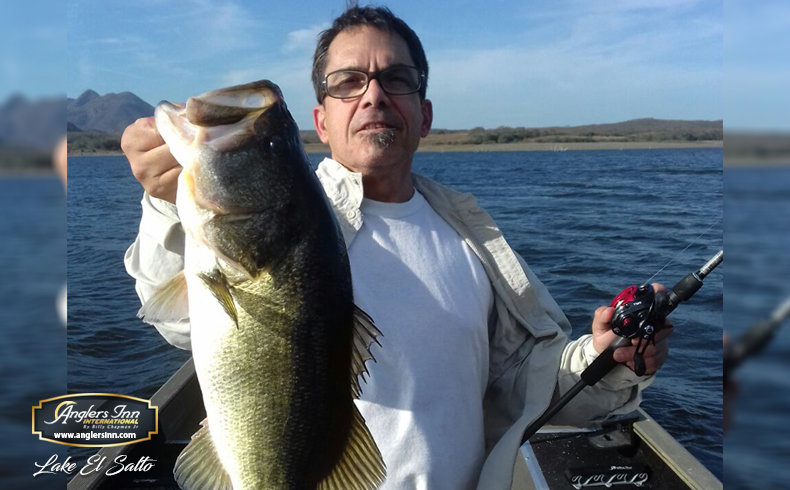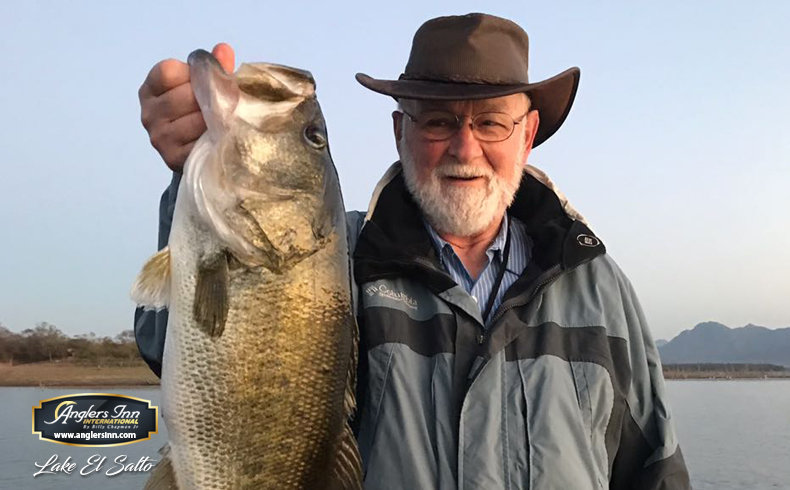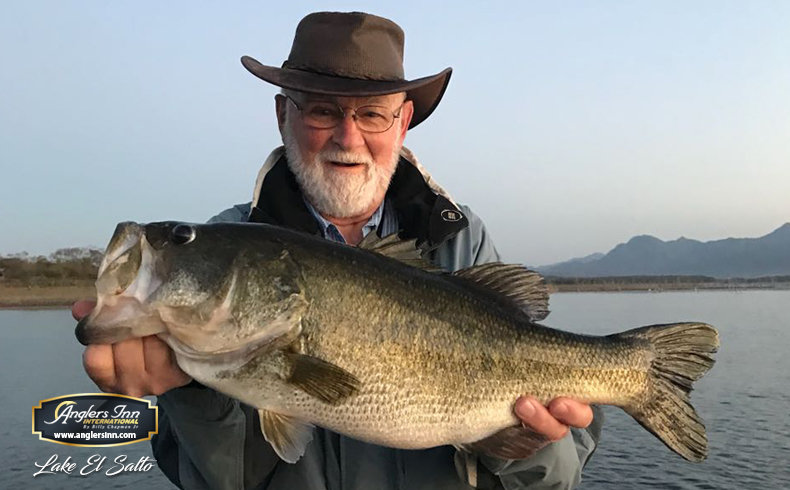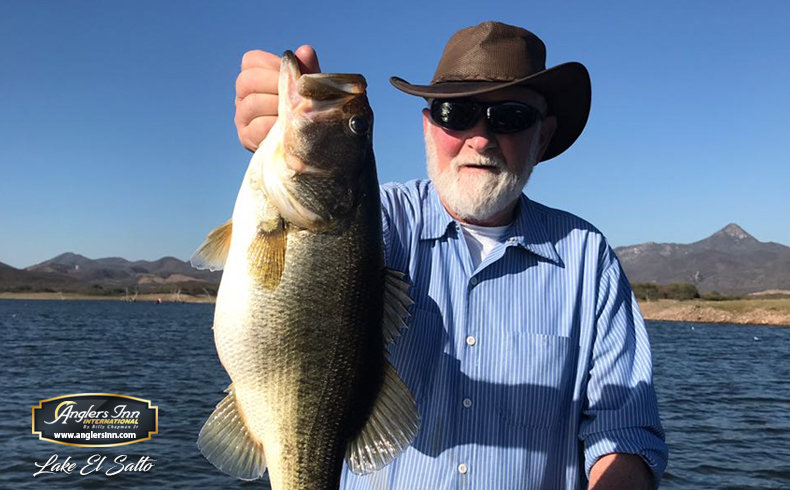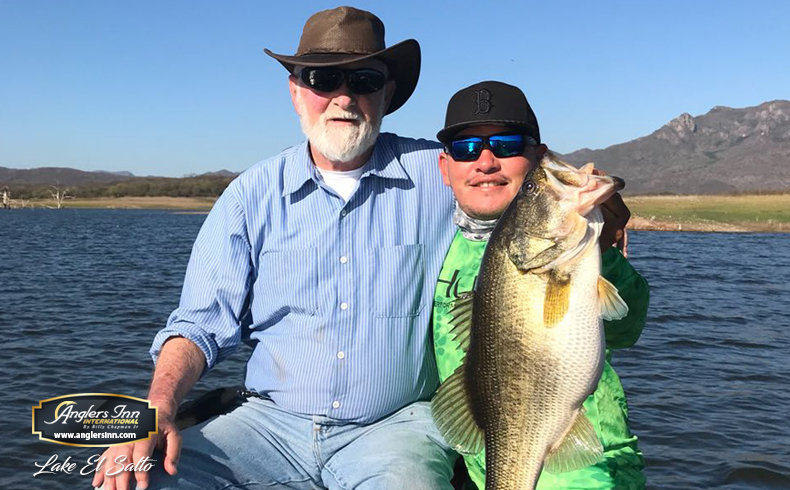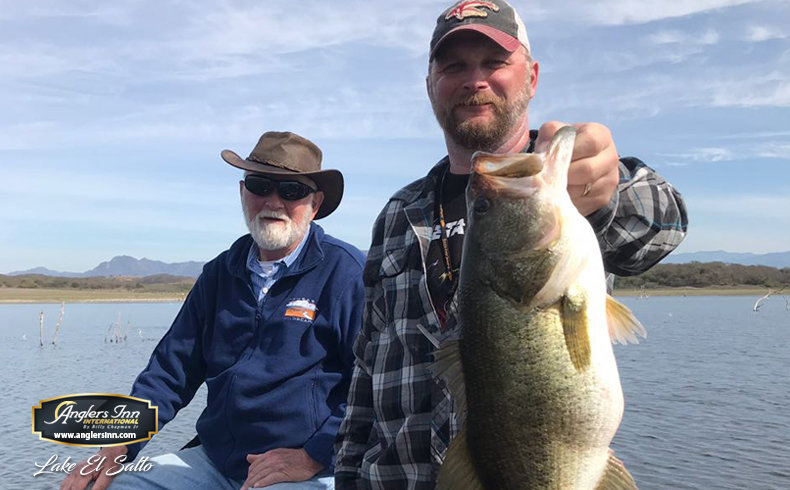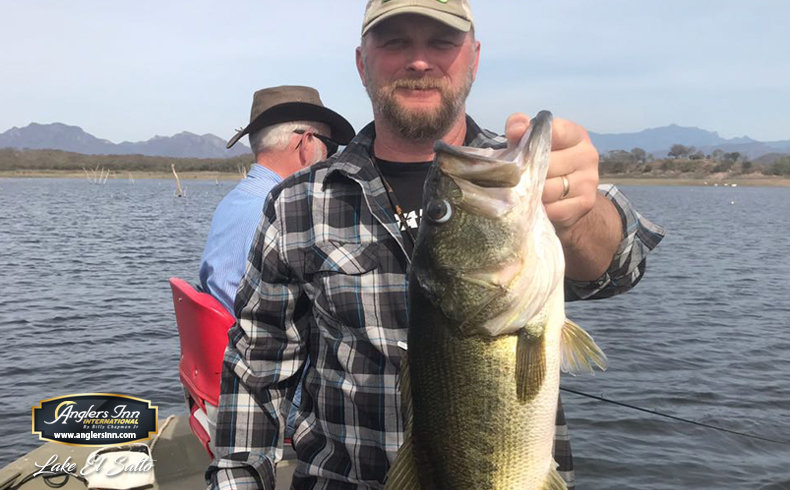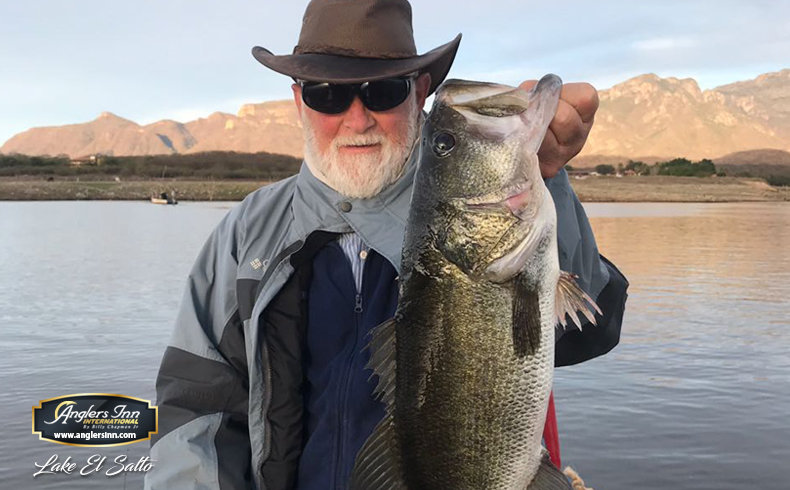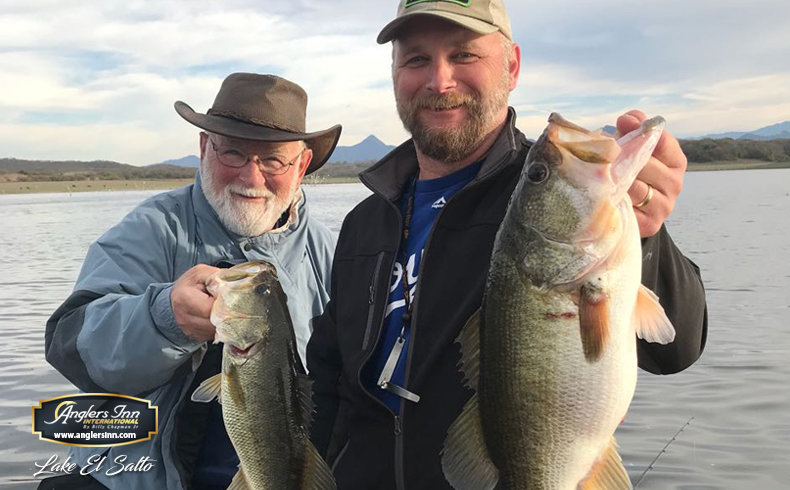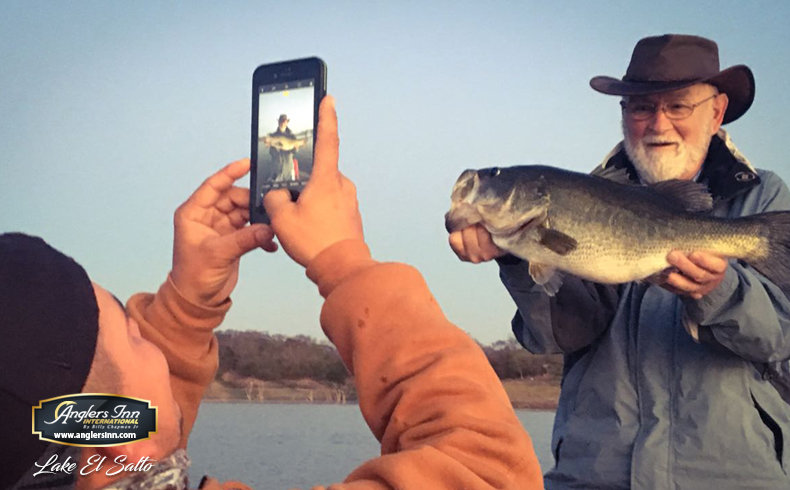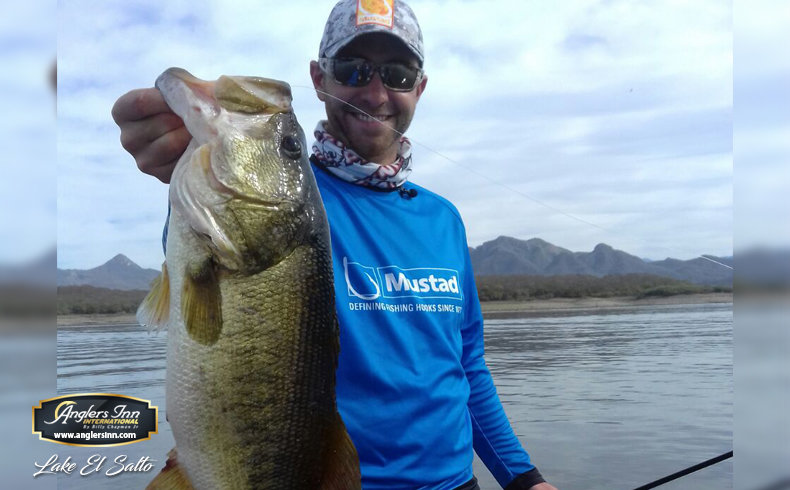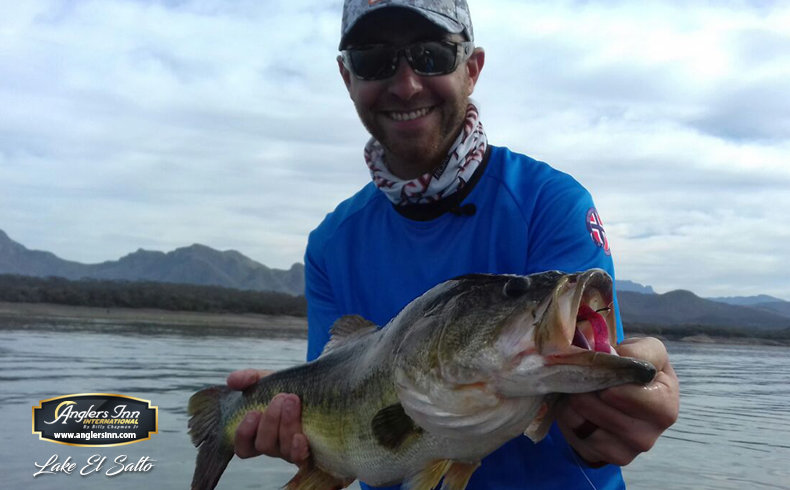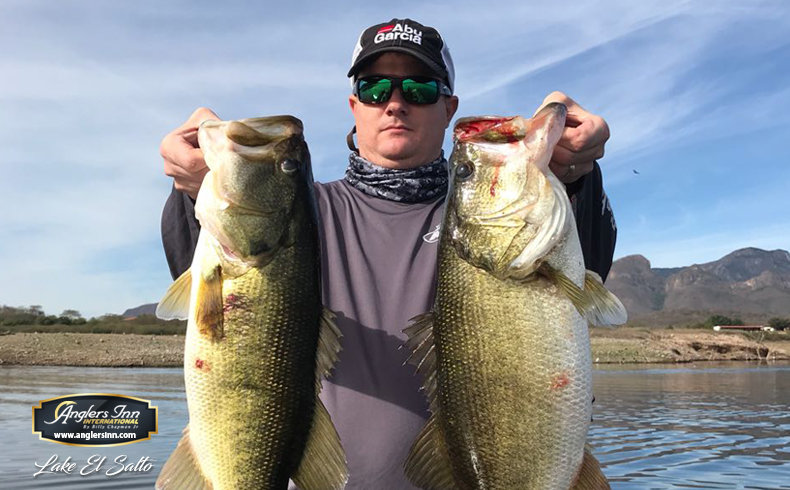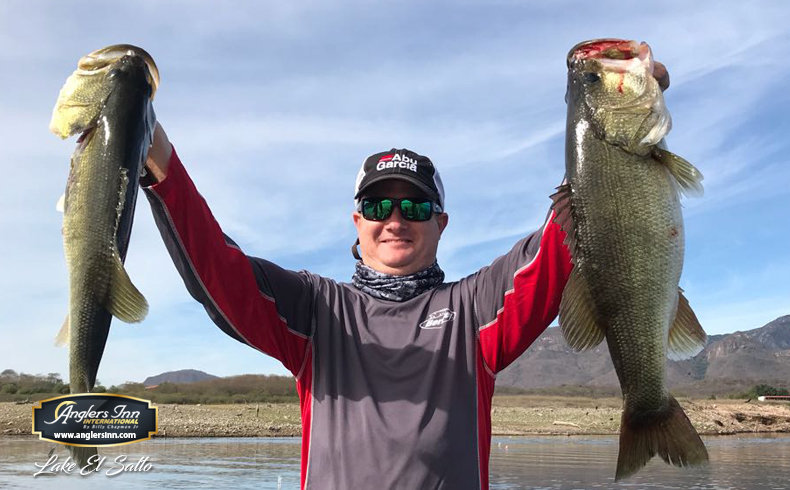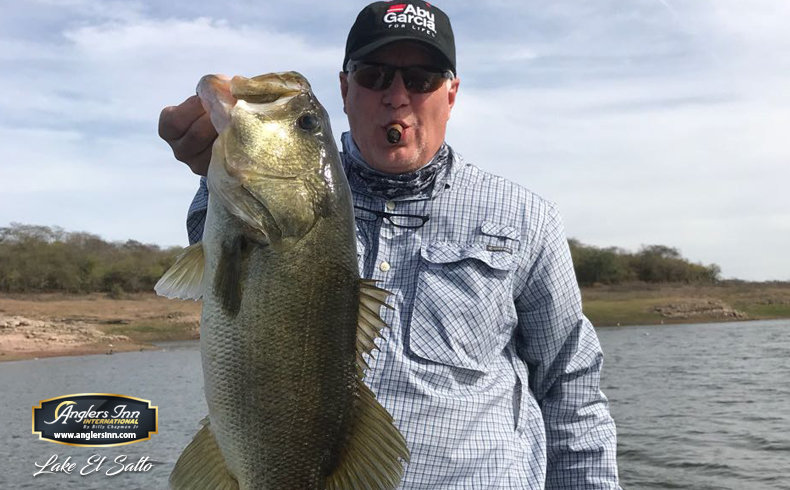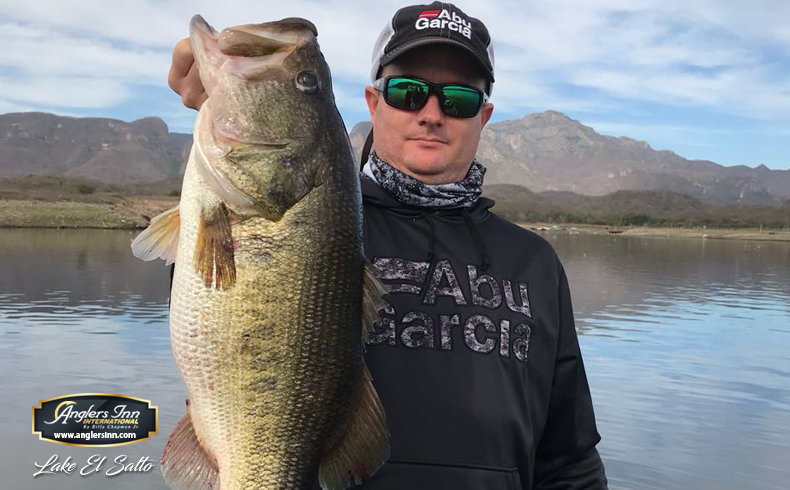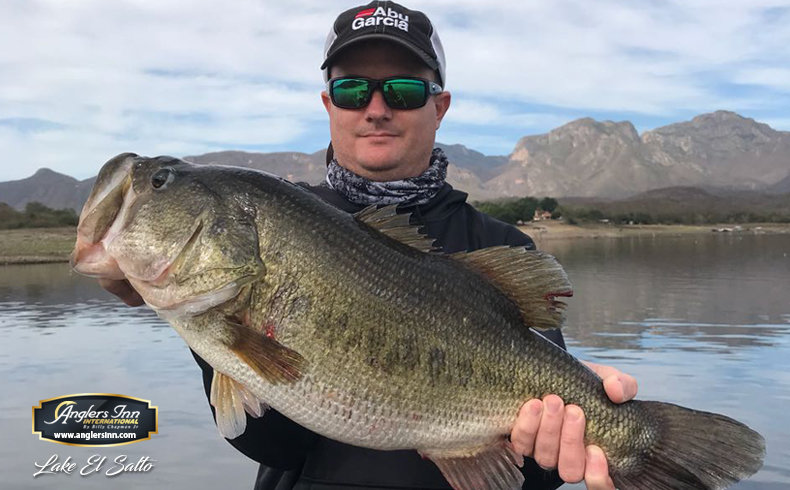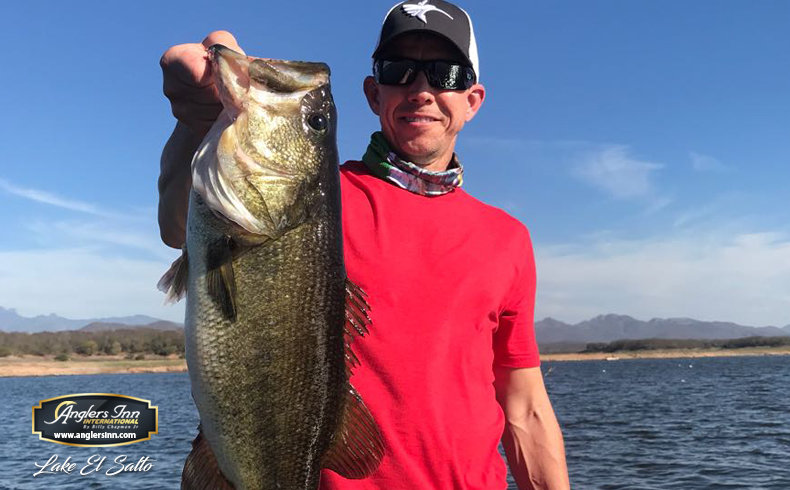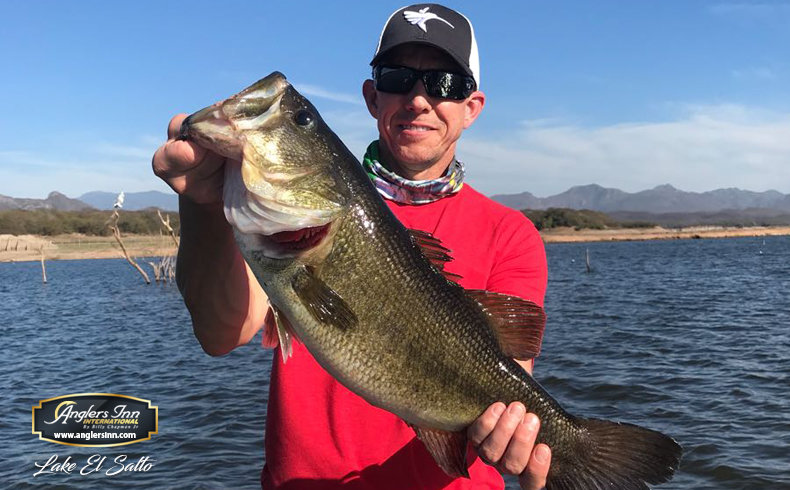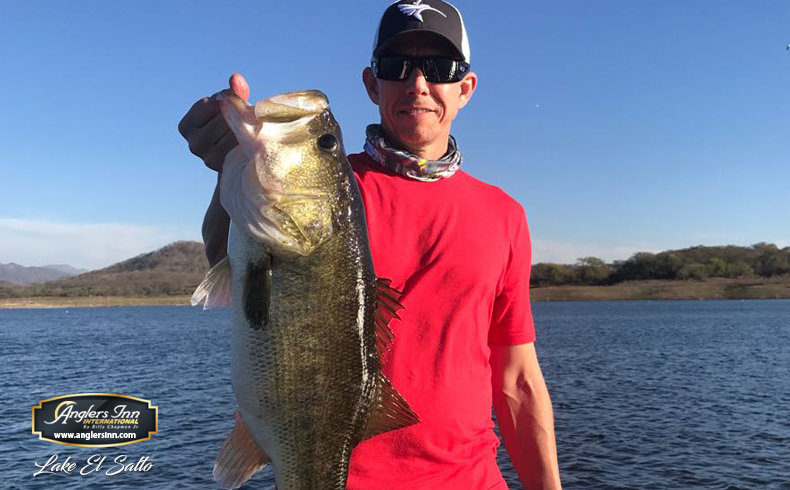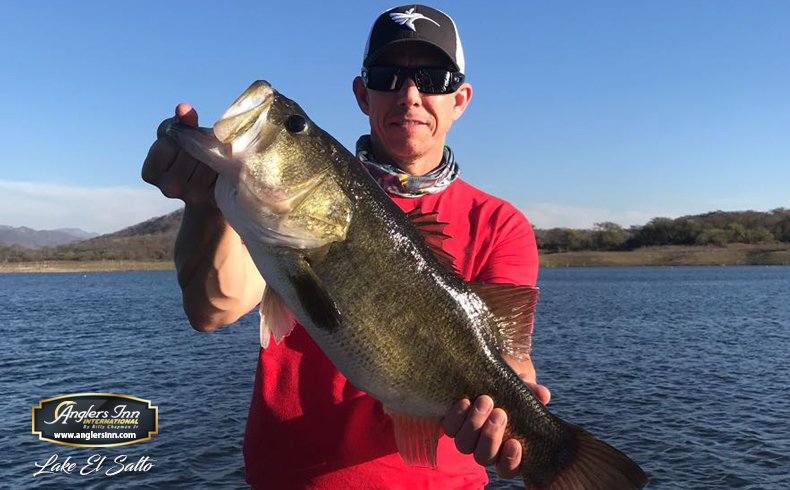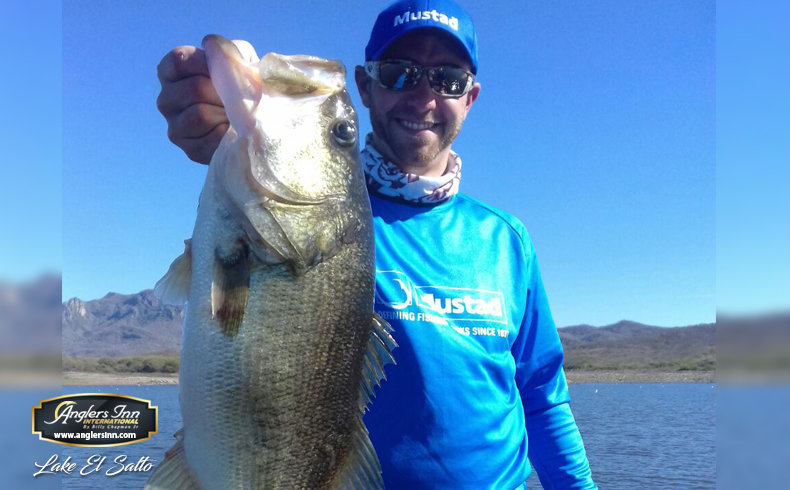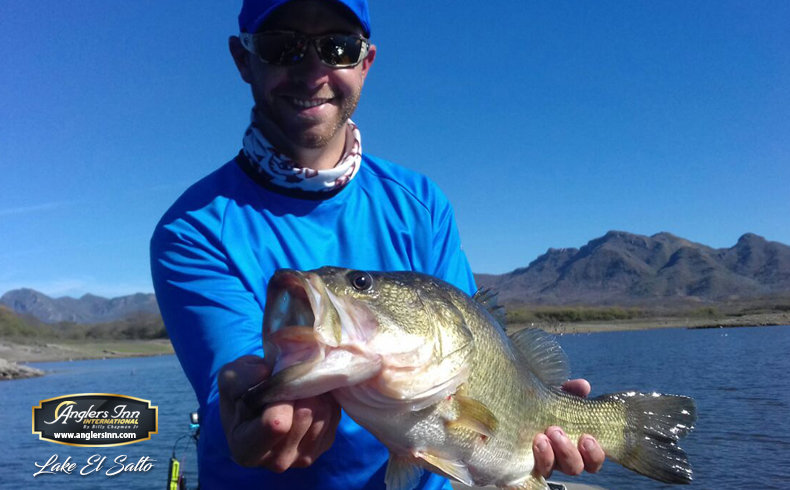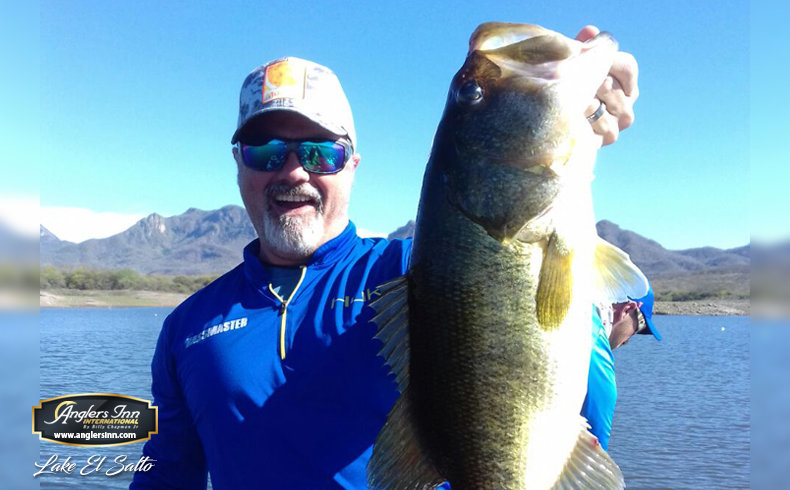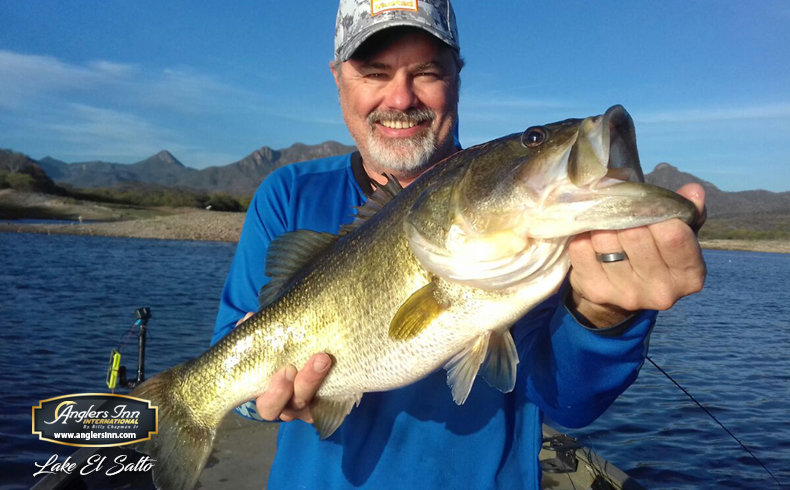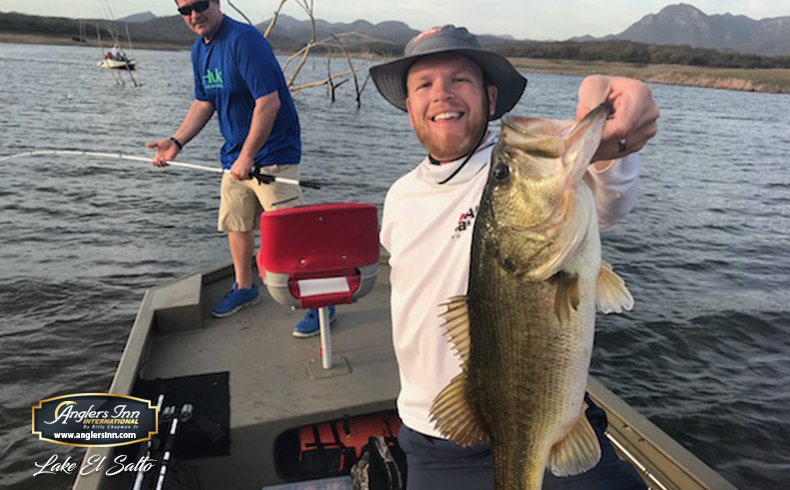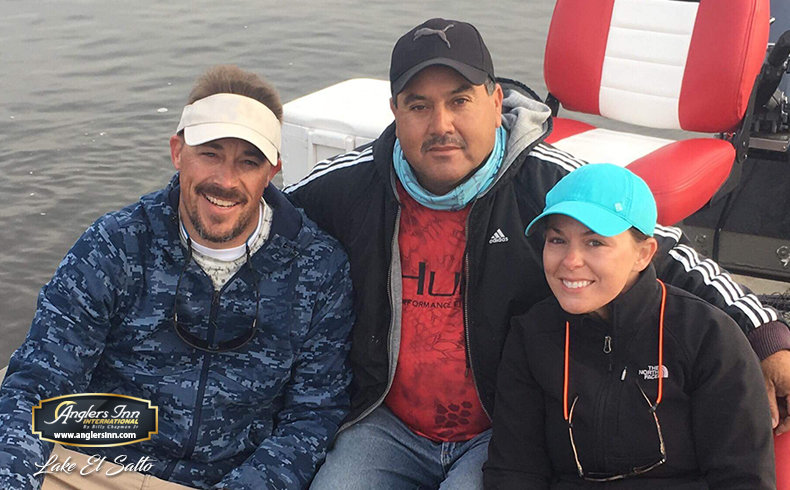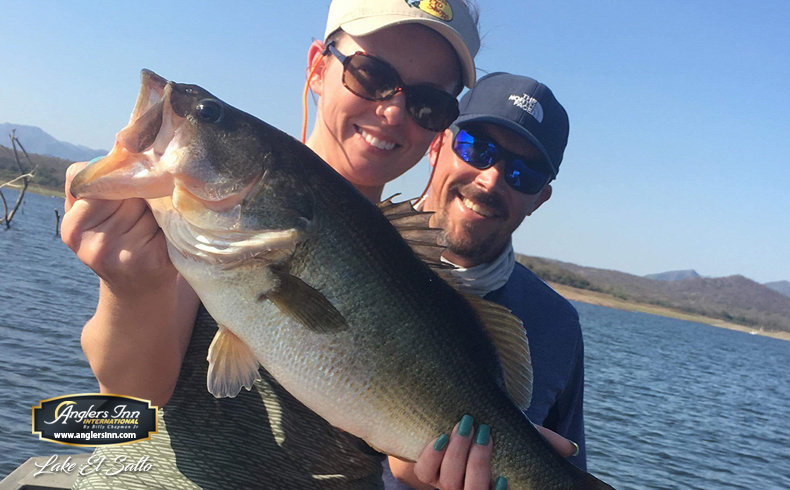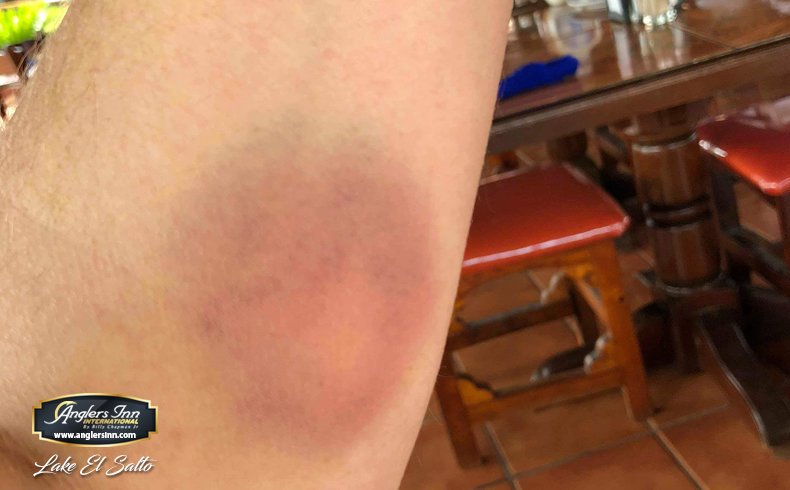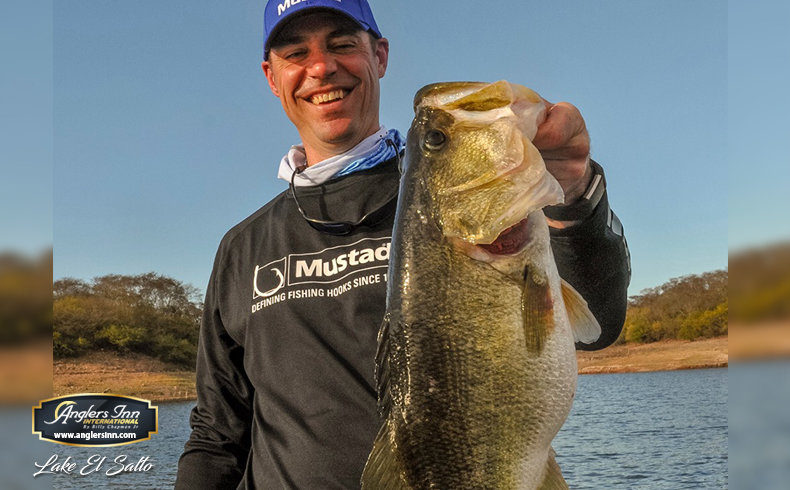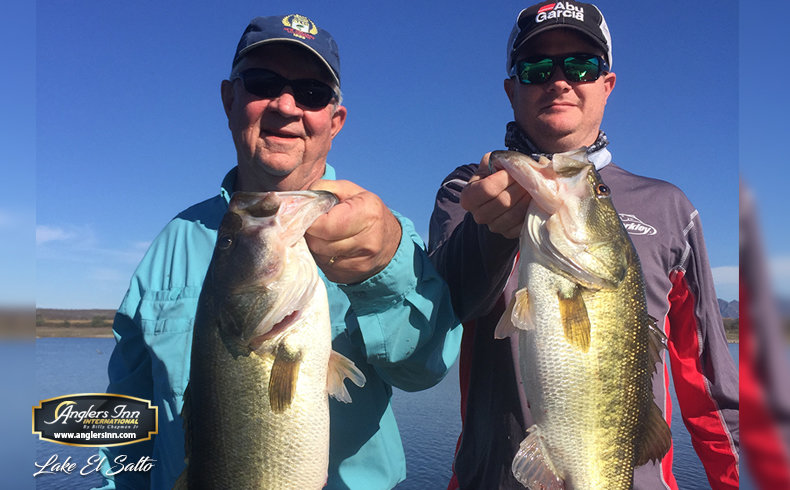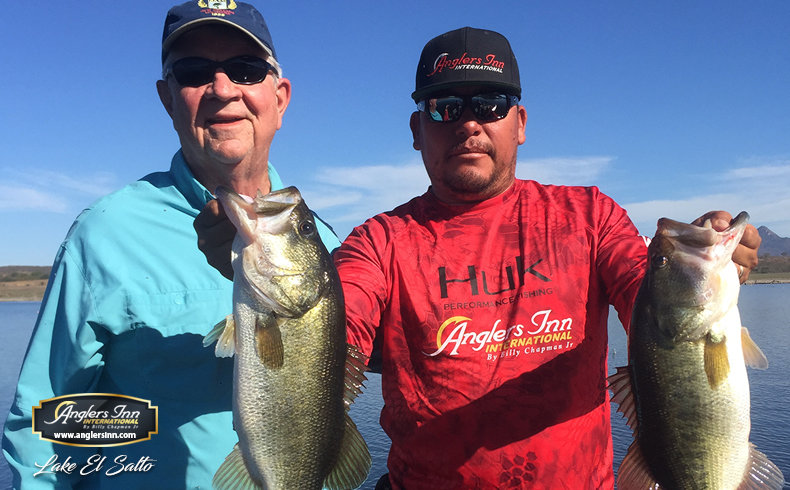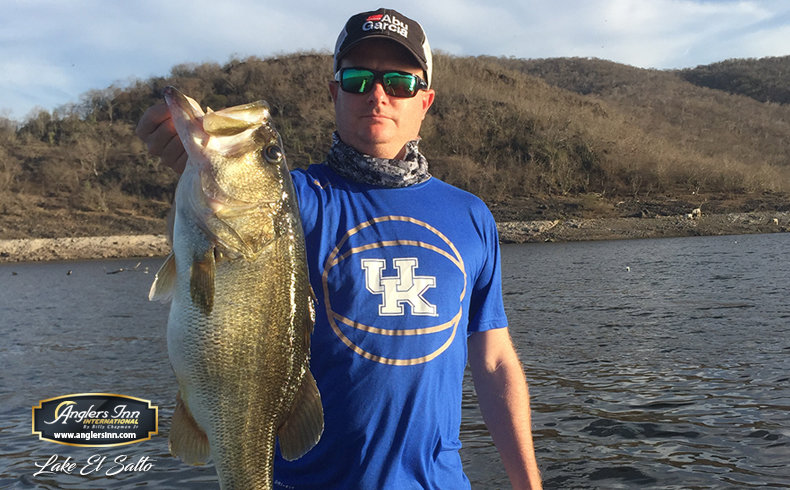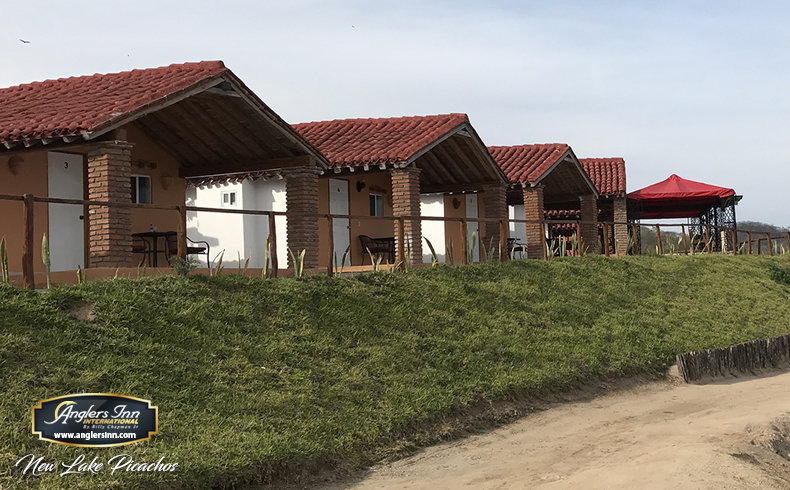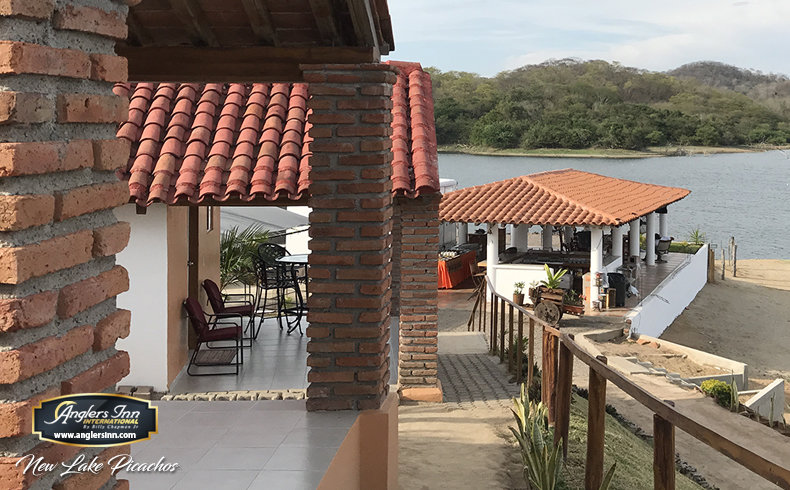 We are pleased to report that the New Year began with all of our fisheries primed to produce excellent fishing, and things just got better as January progressed. On El Salto and Picachos we've already seen several waves of big spawners, and we're expecting several more throughout February, a month that often produces some of our biggest fish of the year. Water levels are substantially lower than they were this time a year ago, which bodes well for a fantastic late spring and summer of crankbaits and swimbaits on both fisheries, with bass ganged up in massive schools and ready to eat. In Brazil, after a few years of inconsistent conditions, things have been fantastic starting in the fall, and they've just gotten better – we've had ridiculous numbers of teen class fish and a healthy and consistent supply of twenty-plus bruisers, too.
El Salto remains the longstanding flagship of our operation, the place where both pros and first-timers come to get their strings stretched. We've hosted just about every major name in the industry over the years, and we added several more in January when Elite Series pros Brent Ehrler and Ish Monroe came down for some product testing and filming in anticipation of their tournament seasons. Both pros knocked out all of the necessary footage and product testing in quick order, and then they got down to just having fun. They caught plenty of fish on Whopper Ploppers, square bill crankbaits and of course big plastics rigged Texas style, but they also experimented with techniques that fewer of our guests have employed.
Ehrler, who won the Forrest Wood Cup in 2006, and has over $2.6 million in winnings across the two major tours, felt that El Salto set up – in terms of structure, clarity and fish behavior – much like many of the popular TVA lakes. He started off with a magnum shakey head and a 10-inch worm, but then started experimenting with other techniques. He said he wished he had brought some white "Preacher Jigs," like he's used on Chickamauga or Kentucky Lake, and vowed to bring them on his next trip, but in the meantime he replicated their frantic action by putting a 10-inch worm on the back of a heavy wobble head. He'd reel it super-fast for three or four turns of the handle, then kill it, then repeat the process. The strikes were jarring and he was able to use this strategy to fire up schools that had become semi-dormant.
Ish had heard from his friend Fred Roumbanis about the large mats of hyacinths that were here in October, and he came ready to frog, but the water had fallen 10 feet and the greenery was gone. He still managed to catch some on his signature frog, but overall did better on big fish with a Whopper Plopper and a variety of soft plastics. We look forward to having him back when the water is up, to see him work his magic with the frog and also with a variety of extra-large glide baits.
It isn't just the top pros who love the El Salto experience. Amber Phillips and Duncan Maccubbin met at our lodge in May of 2014 and developed a lasting relationship with both the lake and one another. They were married on-site in October of 2017, and couldn't stay away from their "happy place" so they returned three months later for more fishing.
In just a few years Amber has gone from a novice angler to an El Salto veteran, and caught her first 10 pounder the day before her wedding. On this trip her best lure for both size and numbers was a Carolina rigged Skinny Dipper in junebug or black/blue, dipped in Spike-It, behind a ¾ ounce tungsten weight "If the texture of the bottom of the lake was really rocky, I would drag it," she said. "If it was more smooth, I would bounce the Skinny Dipper to give a better action." She also caught quite a few fish on a Berkley Dredger 25.5 crankbait, and once again the retrieve was key. "A REEL-Pause-REEL-REEL-Pause action products the most numbers, the more erratic the better," she explained.
Duncan did best on a ¾ ounce Dirty Jigs football jig in brown and green with a green pumpkin Magnum Fluke as a trailer. While black and blue also produced, most of the big fish, those over 7 pounds, were caught on green and brown. Both of them stressed that it pays to be open-minded and versatile at this time of year, when fish can be caught from 6" to 30' deep. "Be prepared for many different scenarios," Amber said.
"You can catch a lot of fish on a Texas Rig or Wacky Rig, but your guide may have you use many different techniques to go after the big fish that you seek," Amber continued. "Tell your guide what kind of fishing you want to do. Are you there for 'Old Ned" or are you there to catch a literal 'boat load'? After 10 trips to the lake I can tell you that it is constantly changing. Bring a medley of tackle. This fishing is different each time we have gone. We have always caught big fish on our trips, but on different gear. One trip the jig will produce the beasts, the next trip the Carolina Rig will produce the beasts, the next trip it will be crankbaits. You never know. You need it all: spinnerbaits, jigs, chatterbaits, crankbaits, swimbaits, worms, lizards, flukes and your topwater arsenal --- we threw the 110 and 130 Whopper Ploppers and the Rio Ricos."
First-time guest TJ Maglio, escaped the winter cold and caught his personal best bass 37 minutes into his first session of fishing. Not bad! He's an experienced and avid tournament angler who has fished all over the US, and quickly dialed in multiple bites. For numbers, a 10-inch black and purple worm with a ½ ounce tungsten sinker was the ticket, but for big fish, like Duncan Maccubbin, he relied on a bulky football jig. He agreed that green produced more bites than black and blue and his go-to combo was a ¾ ounce Cumberland Pro Lures jig with a full size watermelon red flake Brush Hog for a trailer.
His advice to the hard core bass guys is to ratchet it back a bit and enjoy the experience. We agree that the anglers who get too wound up and tense tend not to fish up to their capabilities. Our guides are flexible when it comes to approaches, but most of them have been here for years and they know what works.
"Be ready and trust your guide," TJ advised. "Fish what is in front of you and despite what you may think you know, just fish. It was an absolutely amazing experience. It's where good bass fishermen and women go when they die!"
Samantha Sukupcak is another hard core tournament competitor who made her first trip to El Salto in January. While she found the fish to be hungry and aggressive, she also noted that her catch rates went up when she dialed in specific lure sizes and colors that fit the water color and forage base. In particular, her best sessions came on a custom craw colored square bill, a shad colored Megabass Ultra Vibe lipless crankbait and of course the El Salto gold standard, a 10-inch black and blue Berkley Power worm with a 5/16 or ½ ounce weight. The one thing that Samantha was unable to bring was her boyfriend, who had to work, but they've already booked a trip together for next January, and she'll get to initiate him into the world's best bass fishery at that time.
Aaron Rygas and Kristine Stuart made their first trip and found the best numbers baits to be a 10 or 12 inch worm and a 6-inch Senko. Kristine doted on the Senko on spinning tackle, Texas-rigged with a 5/0 EWG hook and a ¼ ounce tungsten weight. "She threw a steady diet of 6 inch watermelon/red and a laminate color watermelon/lemon," Aaron reported. "We only had one pack of the later or it would have been the only color she threw. Our guide Herman cherry picked that color out of the TWO one pound Ziploc bags of Yamamotos I brought."
Aaron found the worm bite to be so good that he rigged up two rods for that purpose, one with a 5/0 EWG hook, a ½ ounce tungsten weight and a fluorocarbon leader attached to a braid main line, and the second with a 6/0 EWG and a 1 ounce weight tied directly to the braid. He used the same worms on both of them, but favored the heavier rig in the afternoon when Herman typically had them in deeper water. They found a limited topwater bite in the morning, and when that went away Aaron said he knew from Herman's look "to throw a ¾ oz War Eagle Nickel Bladed Fire Cracker or a 6th Sense Crush 250 MD."
Aaron hesitated to guess how many fish they caught, saying, "I know people talk about 100 + fish days and I truly believe that not only to be possible but verrrrry probable. I am not sure what our daily or total count was. I don't like to fudge weights and I try not to on numbers either. I do feel comfortable in saying to anyone that 'I will bet all my rods that in 4 days we caught over 250 good fish!' I know people read and report 300-400 in a four day trip, but I am confident that our number is super legitimate and an ultra conservative guess. I also, think to catch that many fish there is a big number of dinks. We did have ours, but as the trip progressed so did the quality." They had 30-35 between 5 and 6 pounds, six more between 6 and 7, and one fish over 7.
One of their most memorable sessions came on the third afternoon, which started off slower than usual: "Kristine had just reminded me that she had five fish to my one! I switched over to the Stretch 40 and caught back to back fives and the next 20-40 minutes turned into a blur. Herman told me to sit down, as he saw birds dive bombing on bait. It was only about 175 yards before he cut the motor and as we were drifting to a slow crawl he gunned Kristine's spinnerbait into the fray and I cast my swim bait. We doubled up immediately as the bass that where blowing into the bait along with the birds seemed to be 3-5 pounders. She continued to get bit on her War Eagle 'Pro's Choice,' with all fish of her fish being 4.5 to 5.5 lbs. I do regret the GoPro not being focused on her during this barrage, because there were multiple 'good' fish we didn't get pictures of us with. Even with her limited time of fishing, she understood in moments like that – The camera ain't important! So, she is swinging in fives every cast and my swim bait is getting measly threes -- for whatever reason I grabbed the 10XD and let loose. In talking to myself while trying to get this thing to the bottom underneath all of these breaking fish, I asked myself a truly clueless fisherman's question: 'I wonder what a bite on this thing feels like?' Approximately TWO seconds later that question was answered, as the rod was damn near taken out of my hand! That fish was barely 4 pounds but hit like a Mack truck AND I caught my first fish on the big crank. On the second cast I put two big Carolina rig swings on it and SLACK – 7.5 lbs! That ended up being our biggest fish in the boat. A 6 and two healthier 5s came off of that barrage. Finally things slowed or Kristine and I just decided to sit down to reflect on WTH just happened. I cannot REALLY remember cause we were both in some sort of state."
"As far as we were concerned, Herman could have taken us on back in," Aaron continued. "Instead of that, he stops off in a little cut on the way back for her to get her first and only top water fish of the trip on a Rico. I am goofing around at this point 'helping Herman – help her' with popper cadence and we polish off the evening session with a football shaped 5.5 on my Sammy that I got on the GoPro!"
That's the type of afternoon that keeps people coming back to El Salto!
If you'd like to experience that type of action every day, consider a trip to Picachos, or perhaps a combo trip. We know that everyone is excited about El Salto because the fishing has been so consistent, but Picachos is quietly become its big brother's equal. You can literally expect to catch 100 fish a day if you are even semi-competent, and you can do it just about any way you want. Bring pounds and pounds of plastics because it's possible to decimate even a healthy supply. There's also the distinct possibility of an all-day topwater bite, so if you want to wear the paint off of your Ricos, Sammys, Whopper Ploppers or buzzbaits, this is the place to get it done. The lake has established a reputation of having ridiculous number of 1 to 3 pound fish, but we see increasingly percentages of 3 to 5 pounders each year, with some true trophies mixed in – and we've only tapped a small portion of its potential.
John Willis came to Picachos with a group at the end of the month and they had a banner time. "Three of the guys with us have fished El Salto and Baccarac and they said this was on the best times they've had due to the number of fish," John wrote. "One of them has several double digit fish and said he would come back here for sure." My guide was great. He knew how I wanted to fish and put us on good fish every day. For a new lake the amount of fish that are there is extremely impressive. Again I can't thank all the staff enough, it was a trip of a lifetime. Can't wait to come back and will highly recommend this to everyone who is looking to fish Mexican bass. I honestly can say in the four days we were there we caught well over 200 fish apiece with six of us. Anywhere from 1.5 lbs to my biggest pig at 8.5 lbs."
John reported that the soft plastic bite was exceptional -- lizards, Power Worms, Senkos and small paddletail flukes all produced from sun up to sundown -- but he tried to "engage reaction bites" with a shallow diving crankbait. Others used lipless crankbaits, and of course the popper bite was exceptional. "Honestly, about everything we threw we caught fish on."
Picachos is just 55 minutes from the Golden Zone of Mazatlan, so it's even perfect for day trips, but for you hard core guys, if you can't decide which lake to visit, a combo trip is the way to go. Our new dining room sits right at the edge of the lake and you'll be tempted to make a few casts between sips of your margarita.
Remember, our goal is to make your trip as hassle-free as possible, and one step in that direction is that we now have loaner rods for everyone to use at no cost. Thanks to our newly-developed partnership, our lodges now have a varied supply of St. Croix rods. "They made fishing pure pleasure," said one recent guest. These technique-specific rods rods are the real deal, folks, and we are committed to giving you the best possible tools to land that fish of a lifetime. You don't need to travel with a heavy and burdensome rod tube anymore if you don't want to.
"Use the Anglers Inn rods," Amber explained. "The airlines are getting more and more strict with oversized gear and let's face it, the rod tube is a hassle anyway."
Aaron Rygas gave the rods the ultimate seal of approval after his trip: "I was extremely pleases with the house sticks," he wrote. "In fact, If I need some new rods at home I'm going to pick up a few Mojo Bass models. I did serious work with the 7'4" medium heavy and the 7'6" heavy while I was down there."
If you haven't seen it already, be sure to click on our new website at www.anglersinn.com at your earliest convenience. We've had it up for most of 2017, and so far the feedback has been tremendous – especially from guests who've found pictures of themselves with big fish gracing the site. Our theme is "Making Every Angler's Dream Come True," and while our web presence is no substitute for a trip to Mexico or Brazil, it's the next best thing and a valuable tool for planning your next trip.
Just as we set the standard for international fishing trips, we want to set the standard online, too. The new site includes information about all of our properties, pricing and bios of our staff. We also update it regularly with new videos on our "Anglers Inn TV" channel, and provide detailed monthly reports like this one.
Whether it's your first trip to an Anglers Inn property or your 20th, we hope that this site will provide all of the information that you need, but if it doesn't we're always just a phone call or email away.
While we often provide a generalized list of lures that work throughout the year, there are times when specific bites are ongoing and we don't ever want you to arrive under gunned. Monitor the website and social media for updated info, and if you're ever in doubt about what you need to bring, please call us or email us. We want to make sure that you're outfitted properly to make the most of your vacation.
If you've received this report from a friend, please be sure to sign up for future mailings at www.anglersinn.com. If you know a friend who would benefit from these newsletters, please make sure that they are receiving them, too.
---