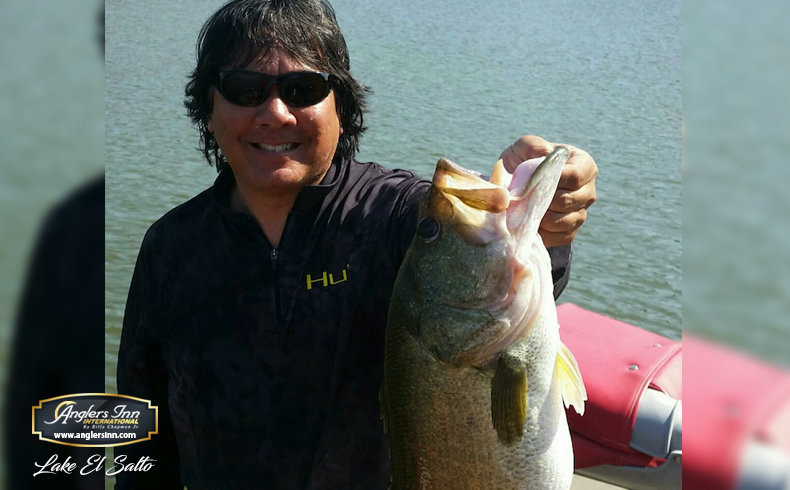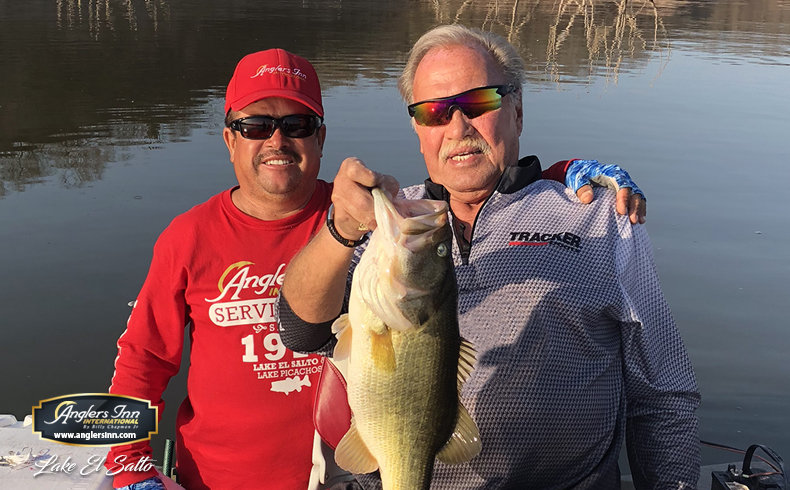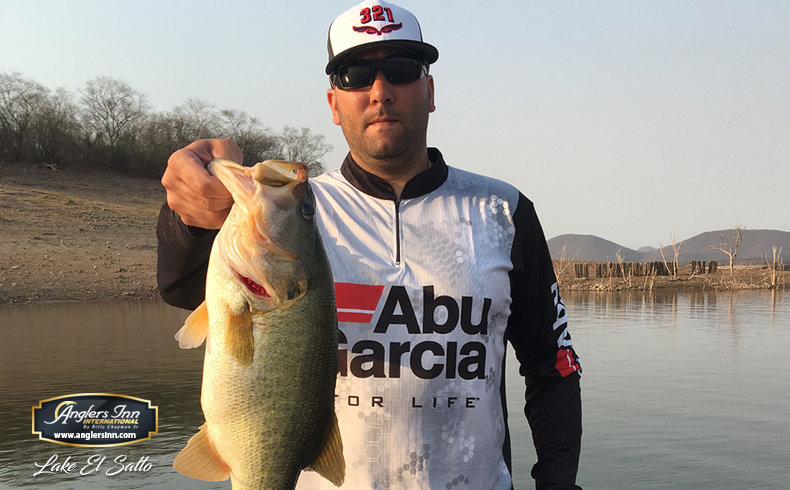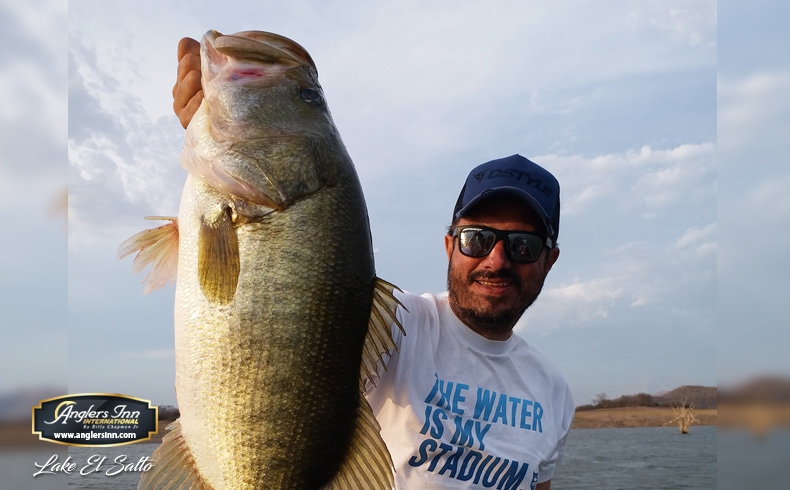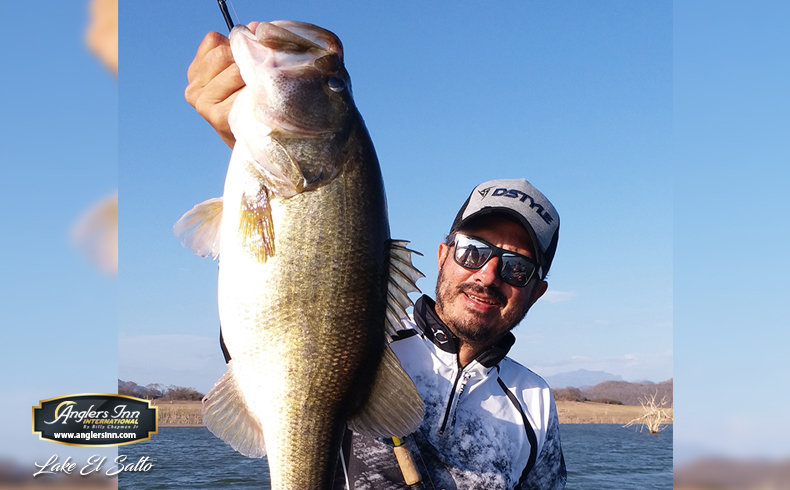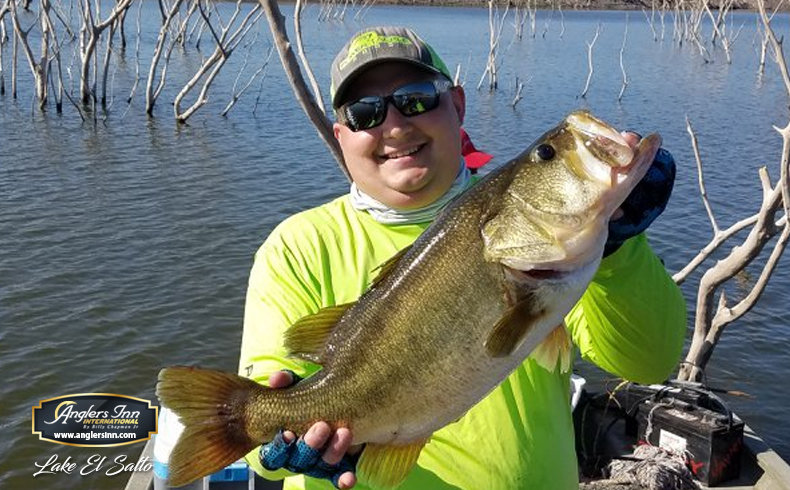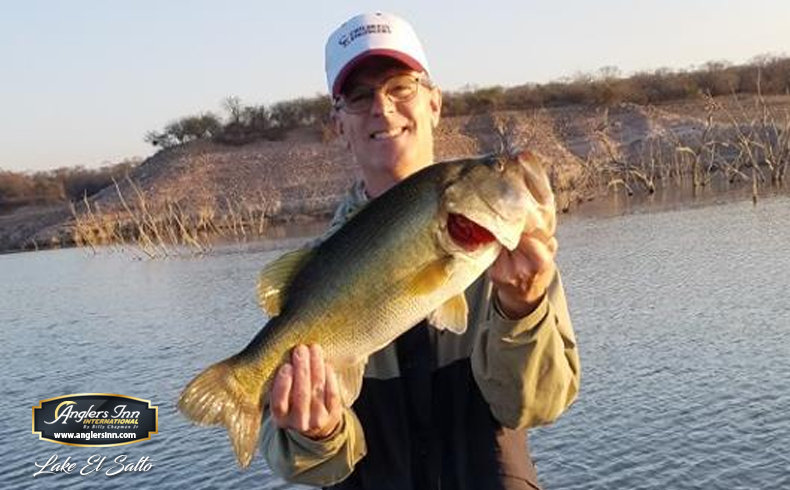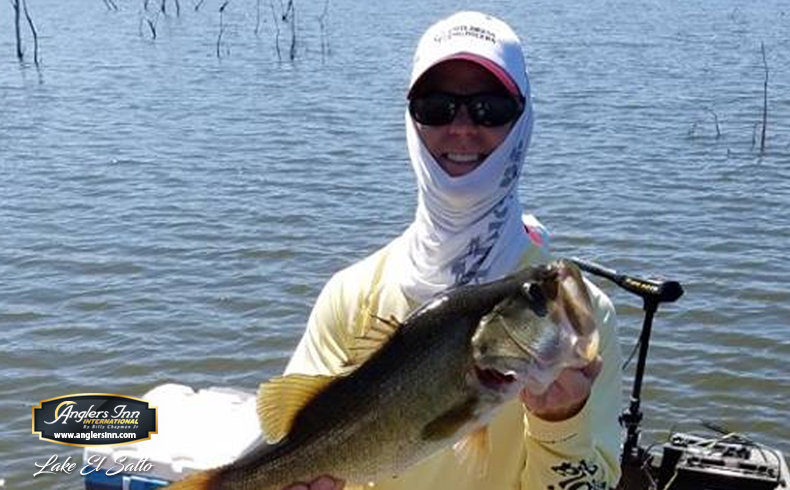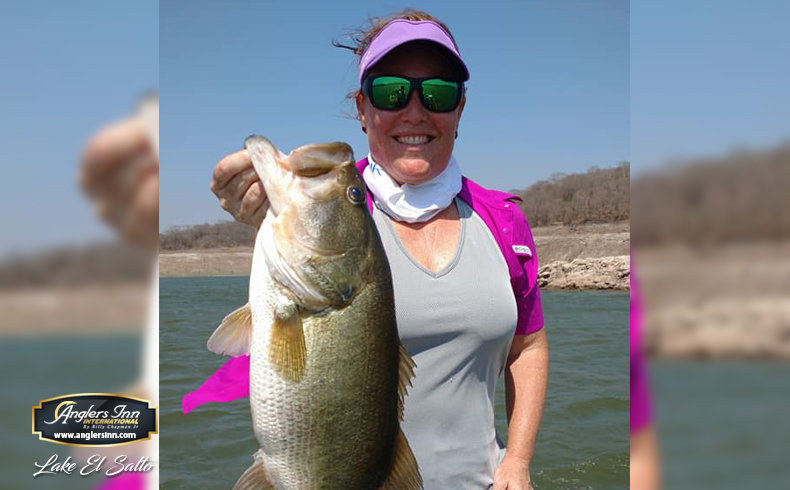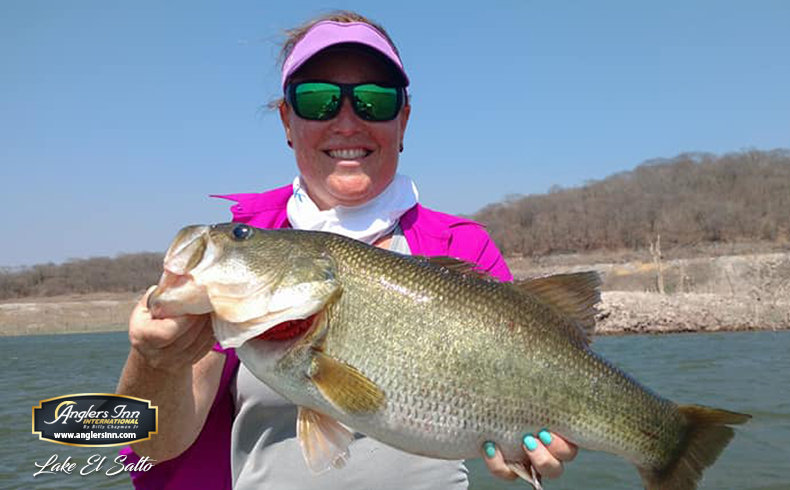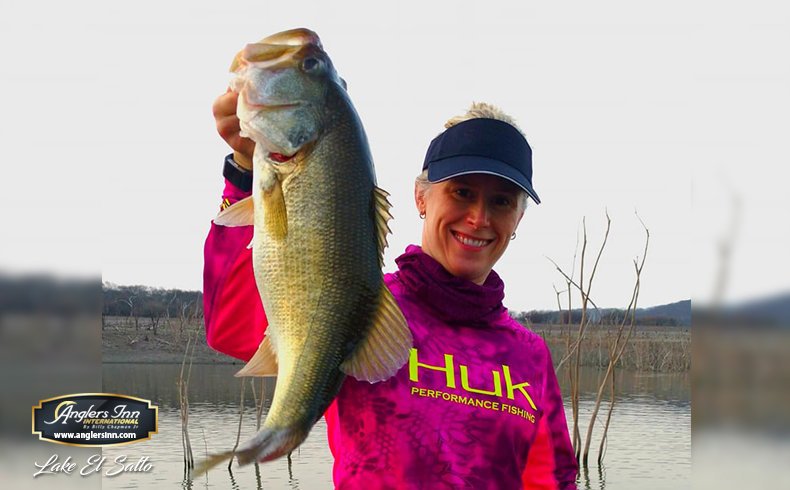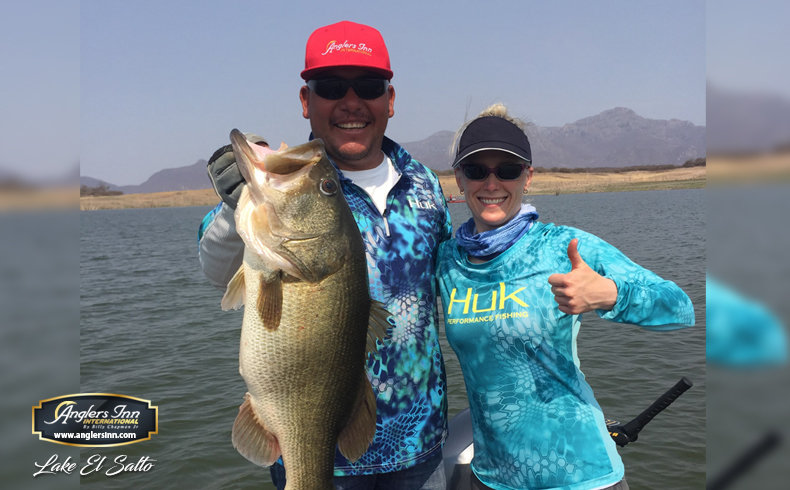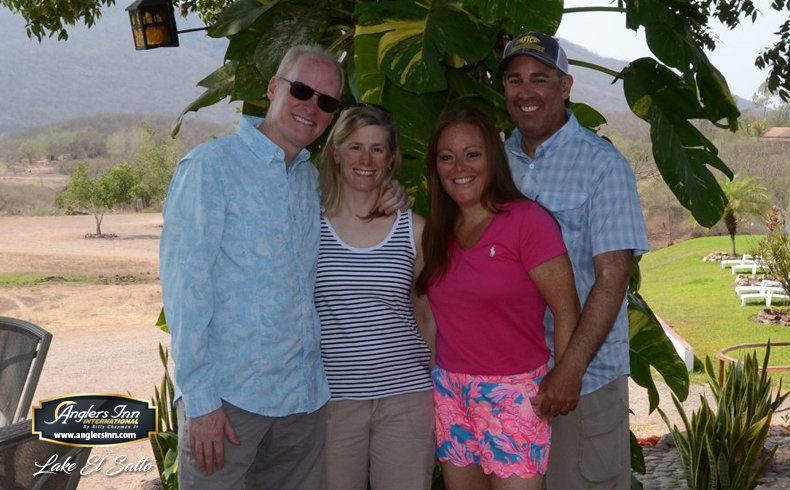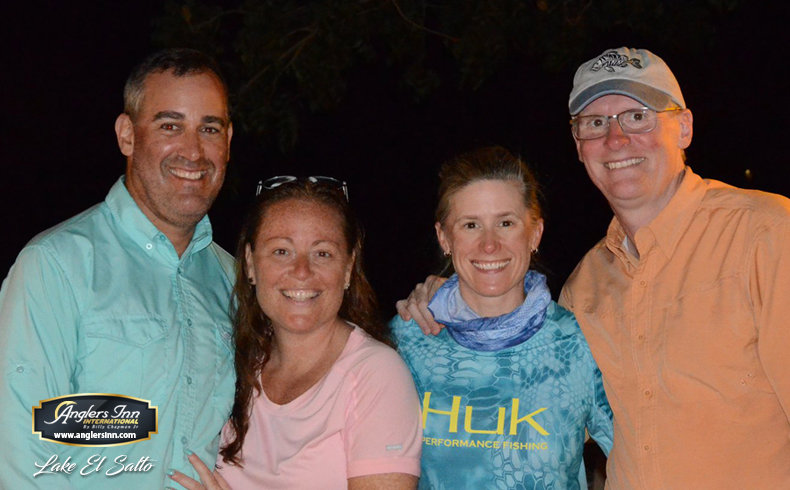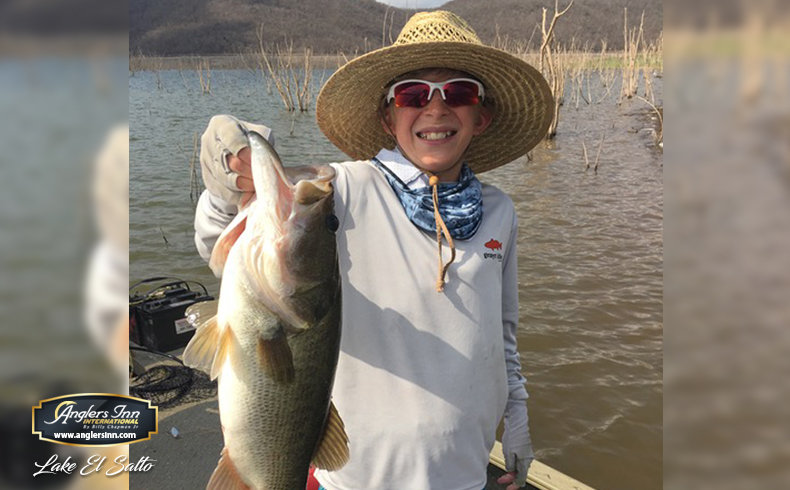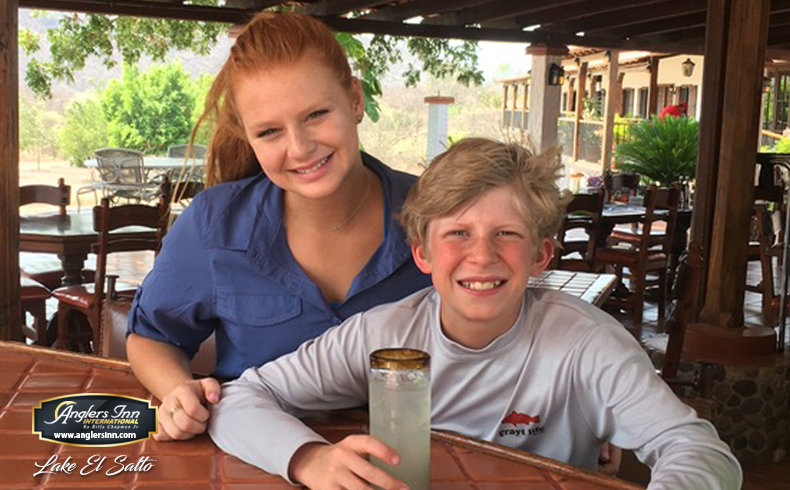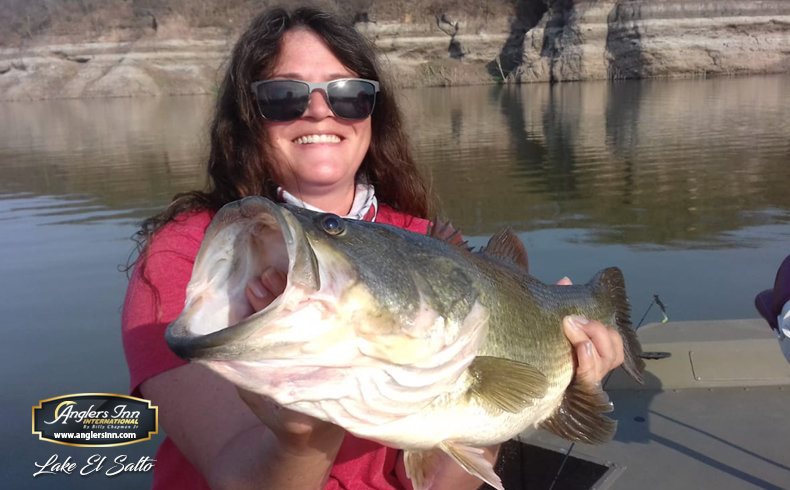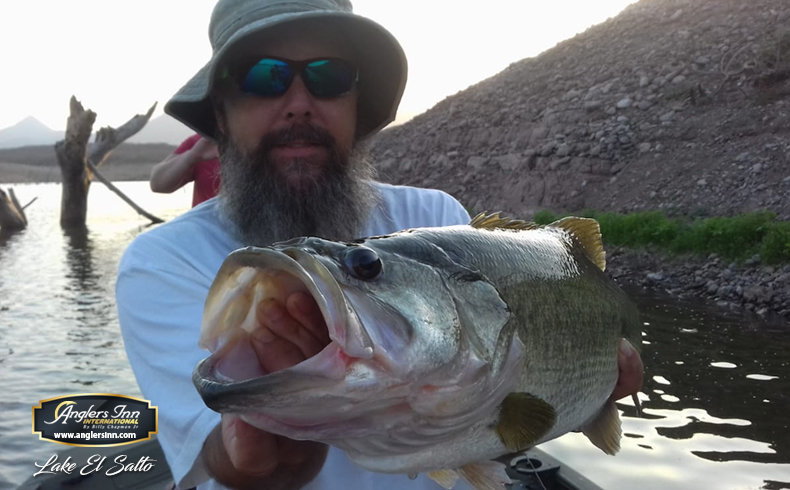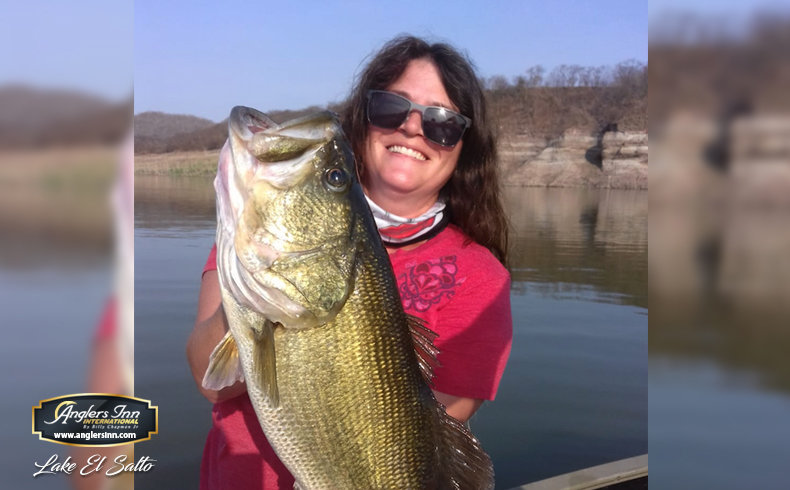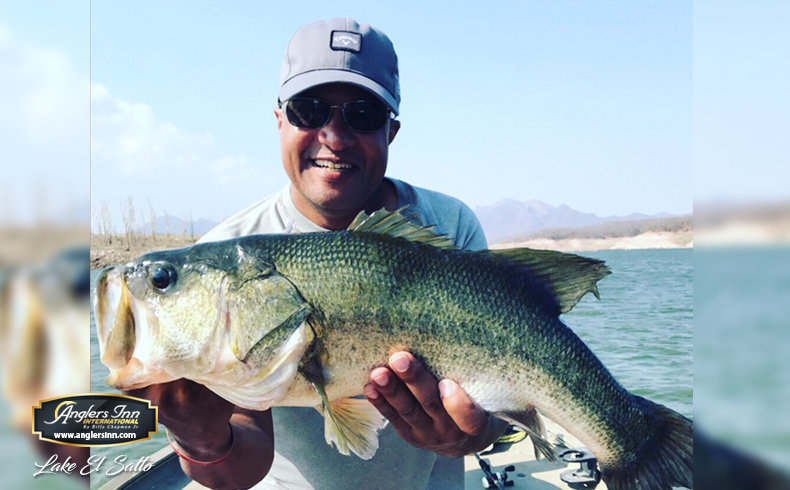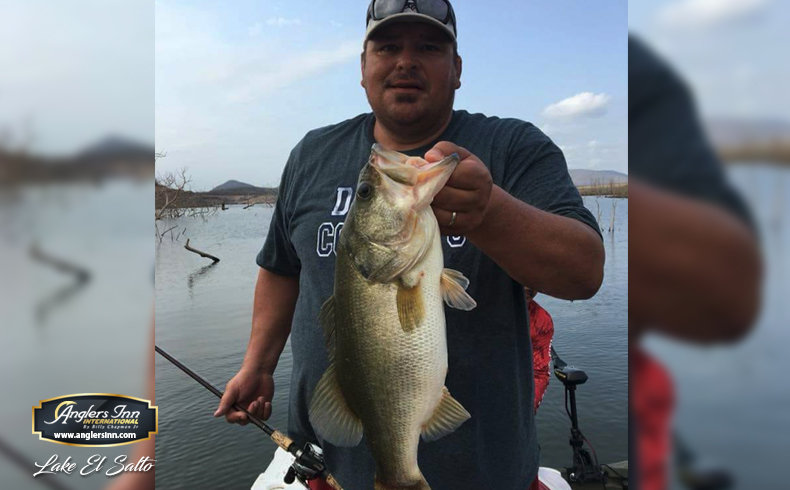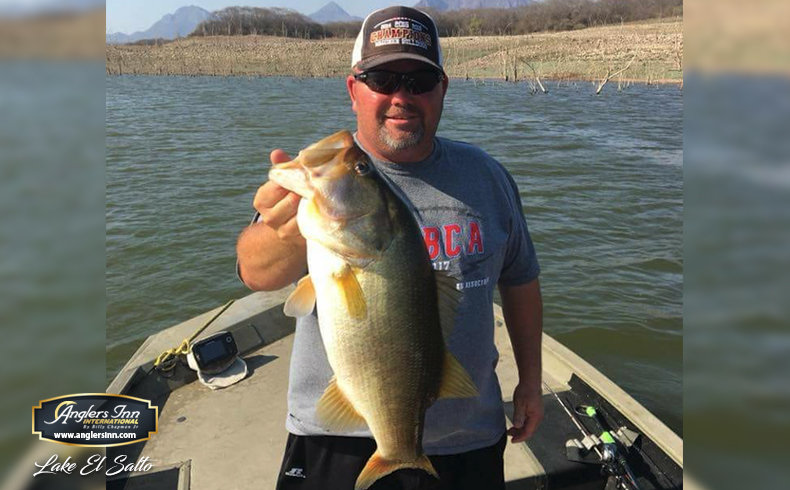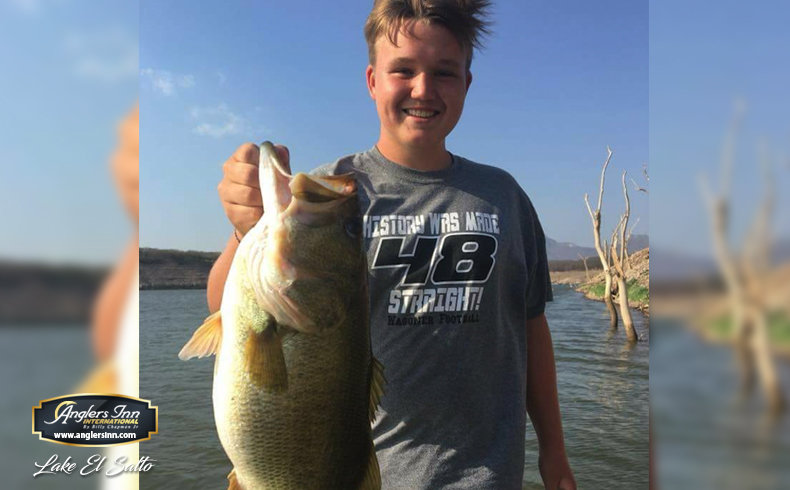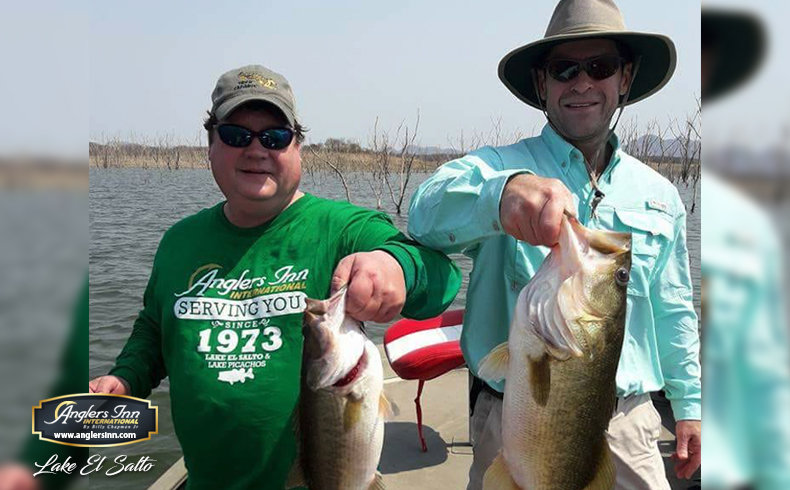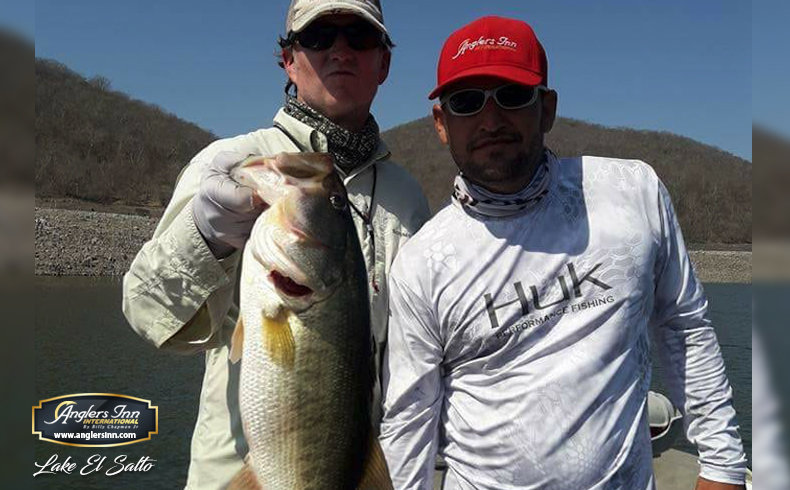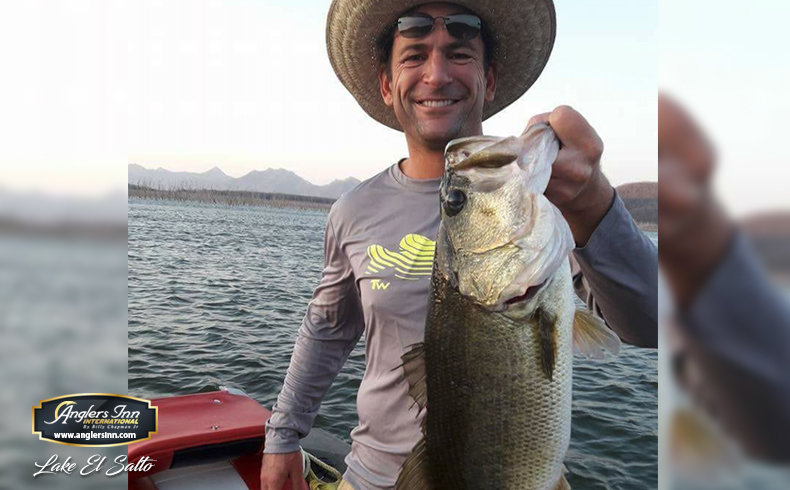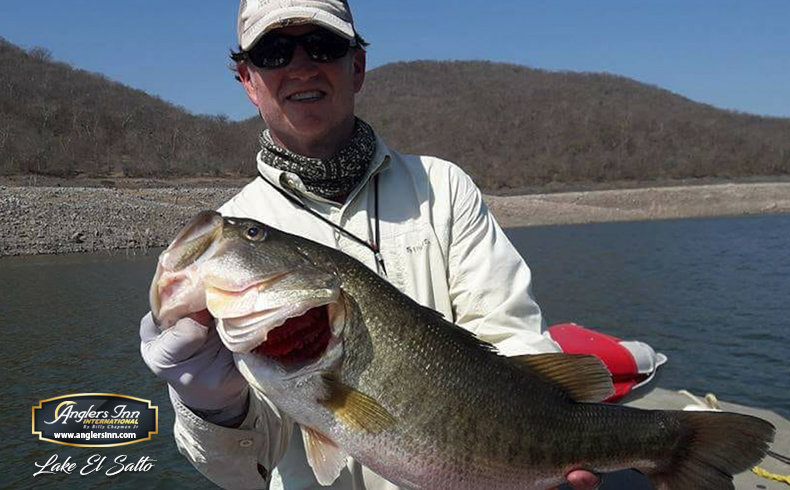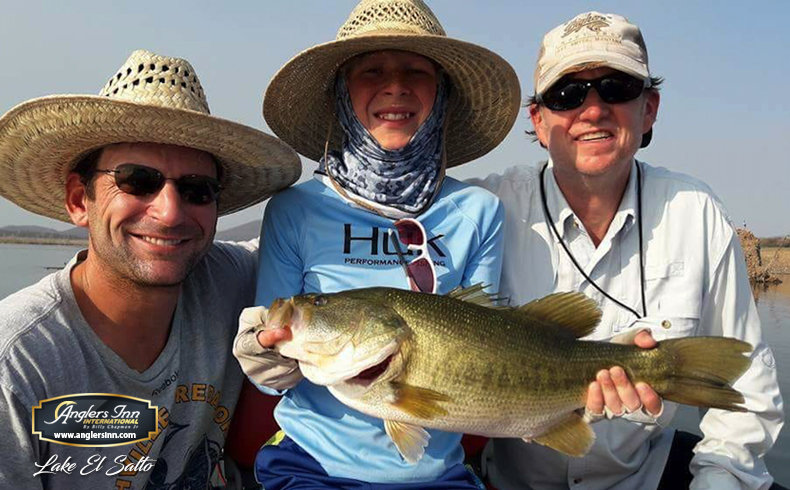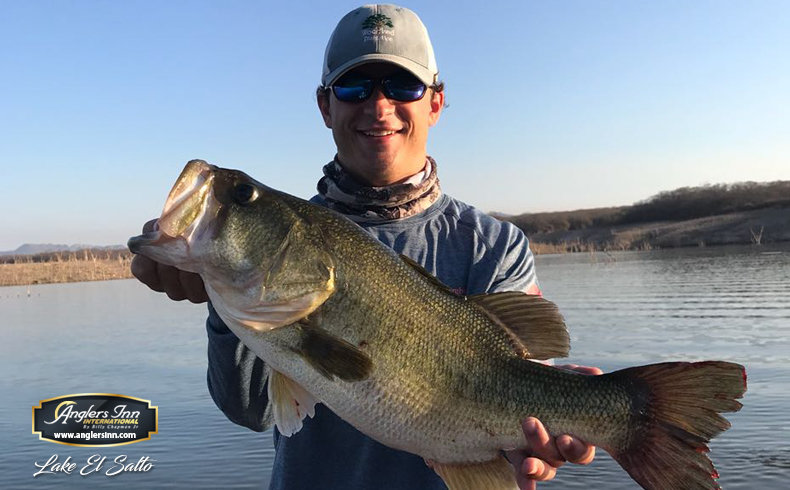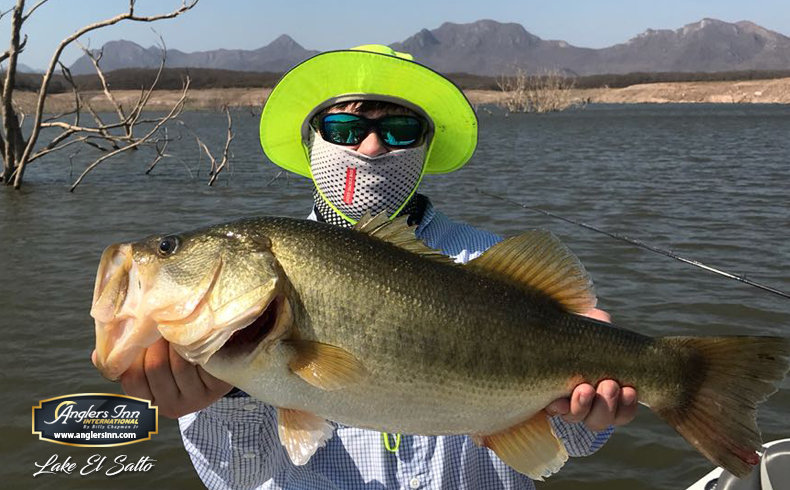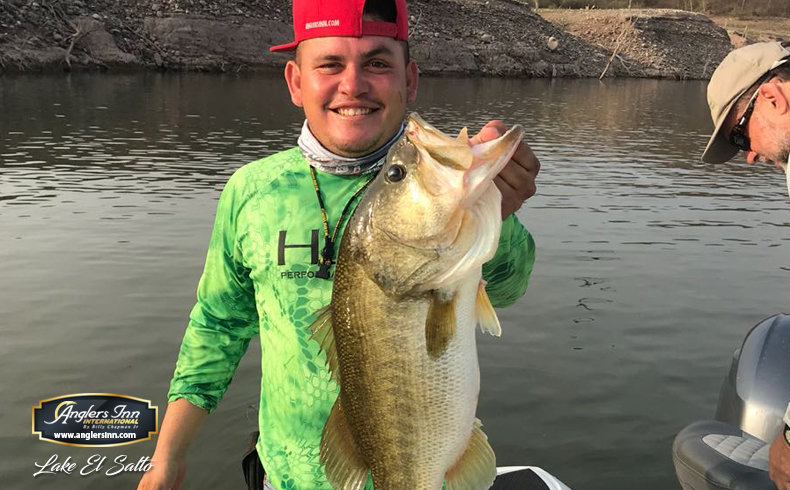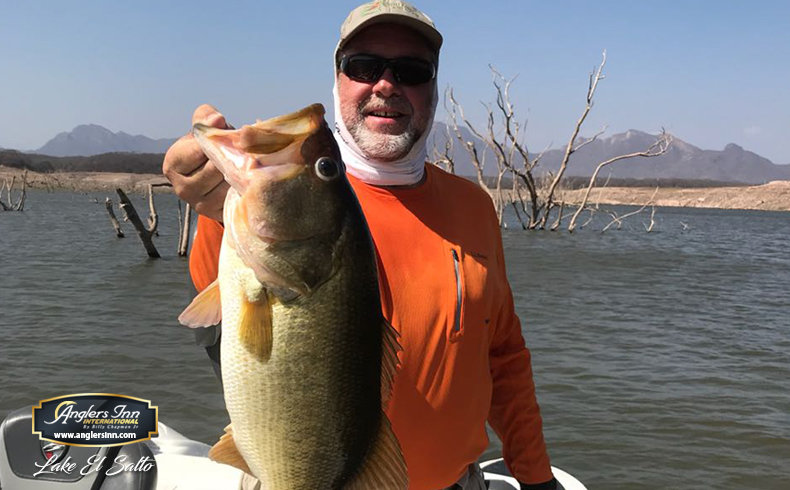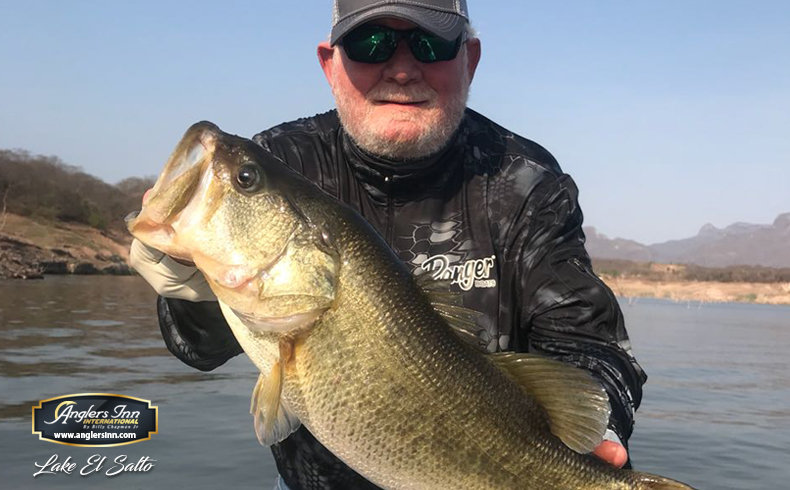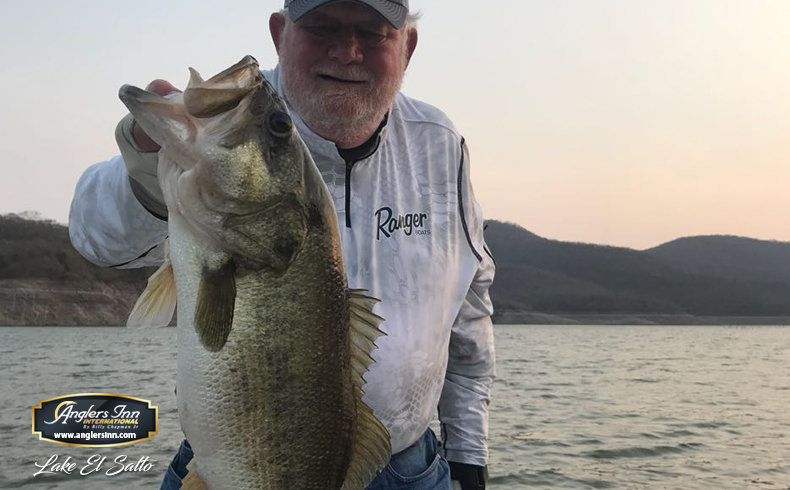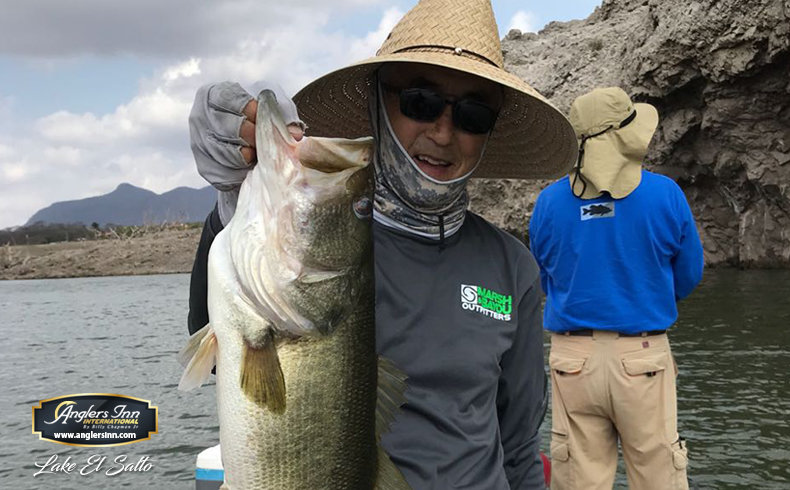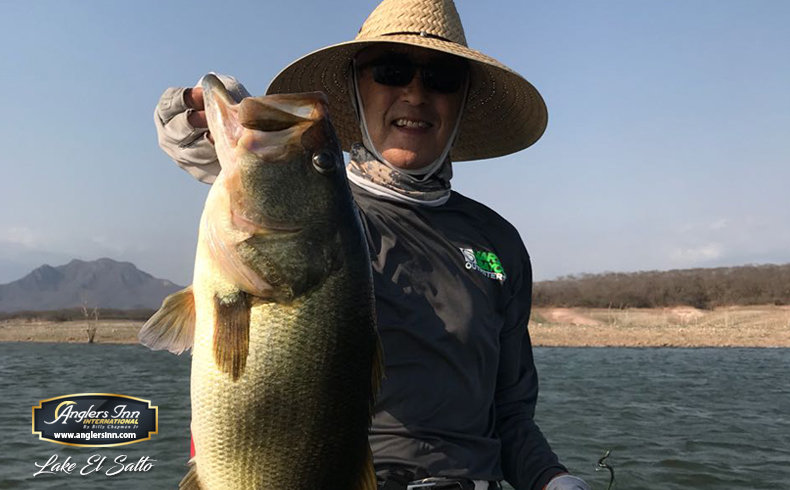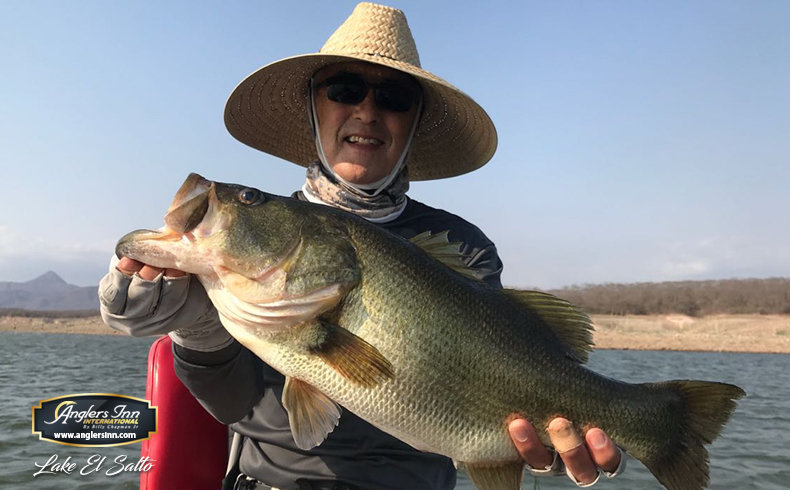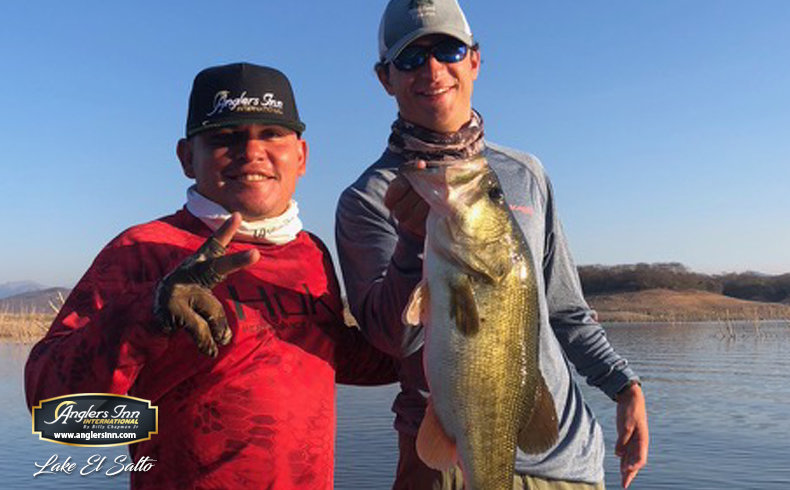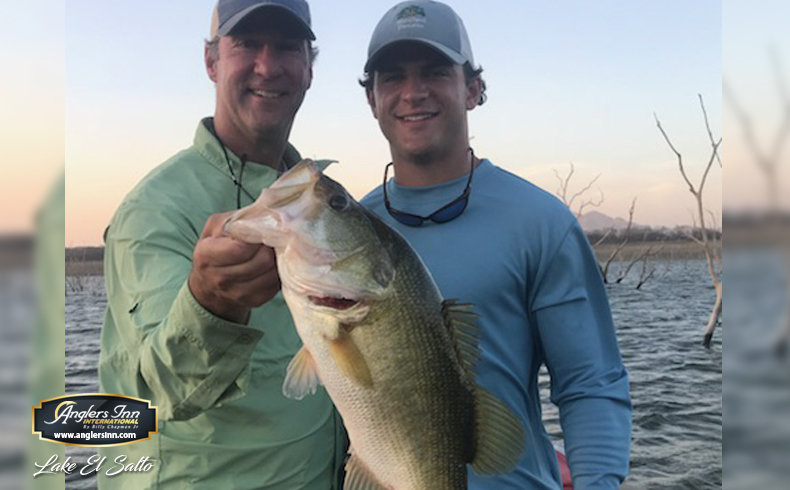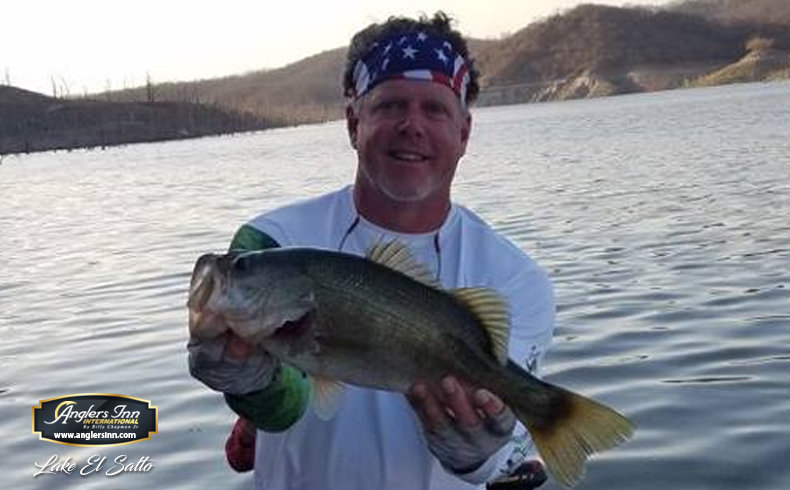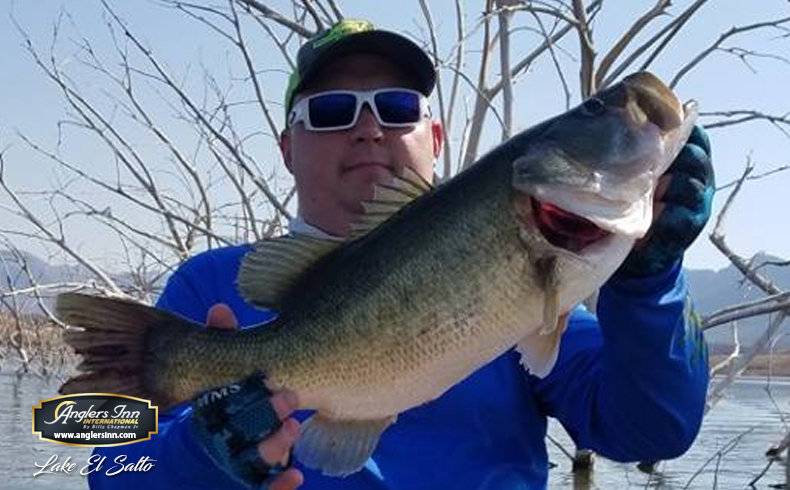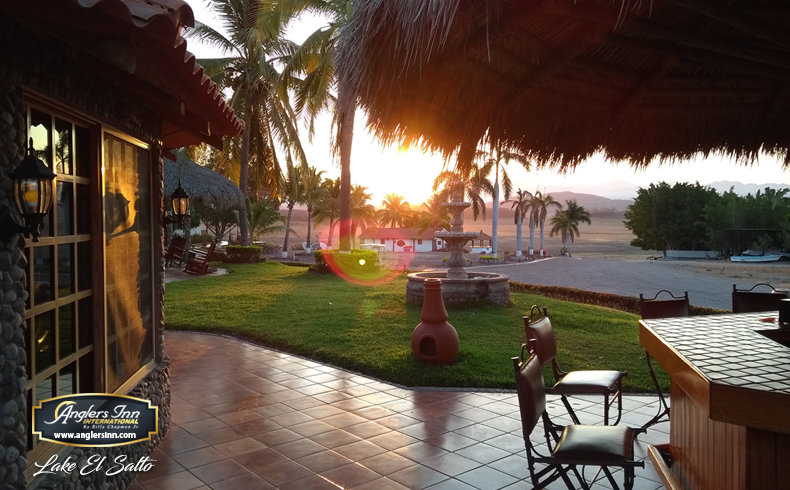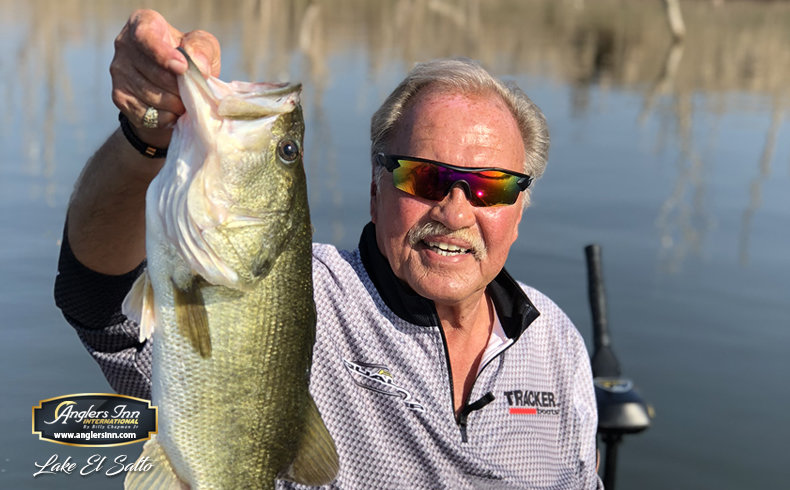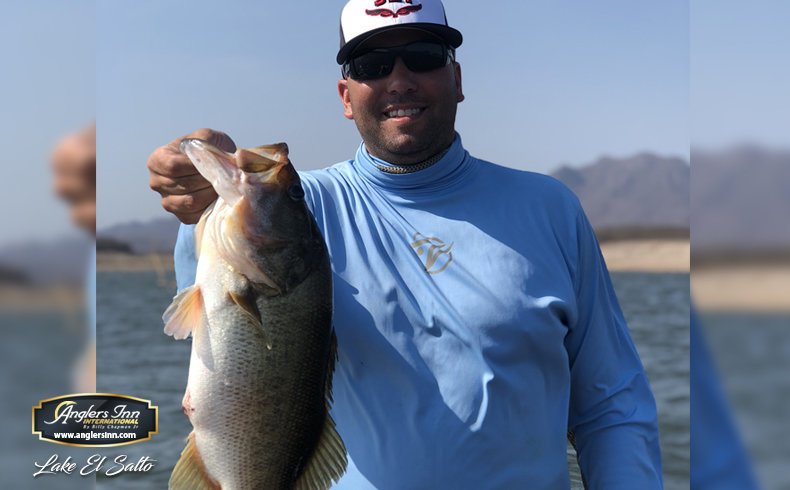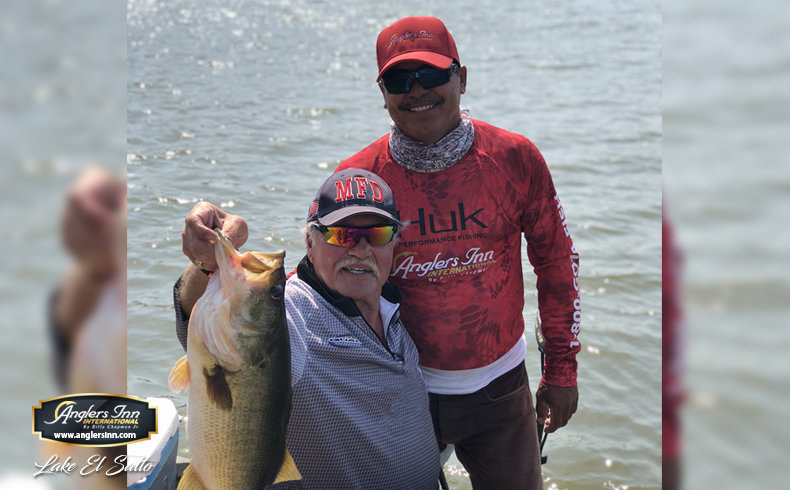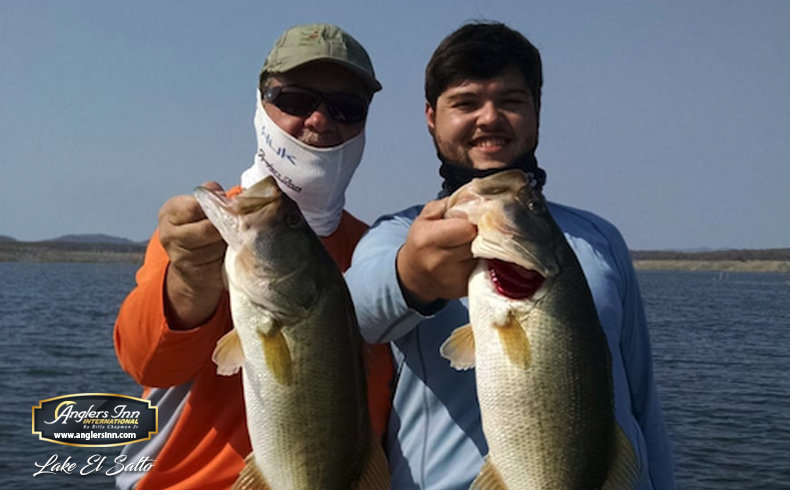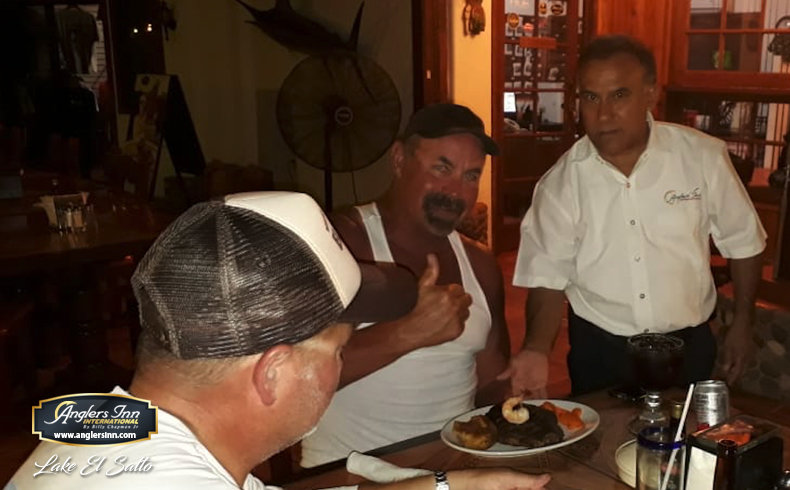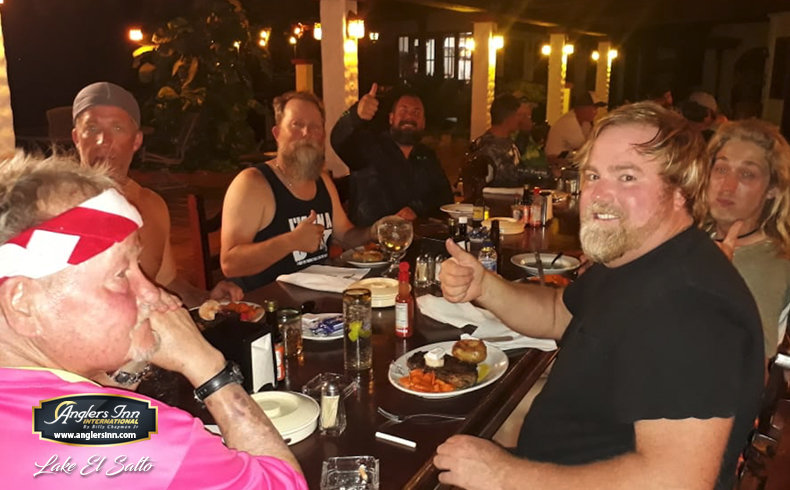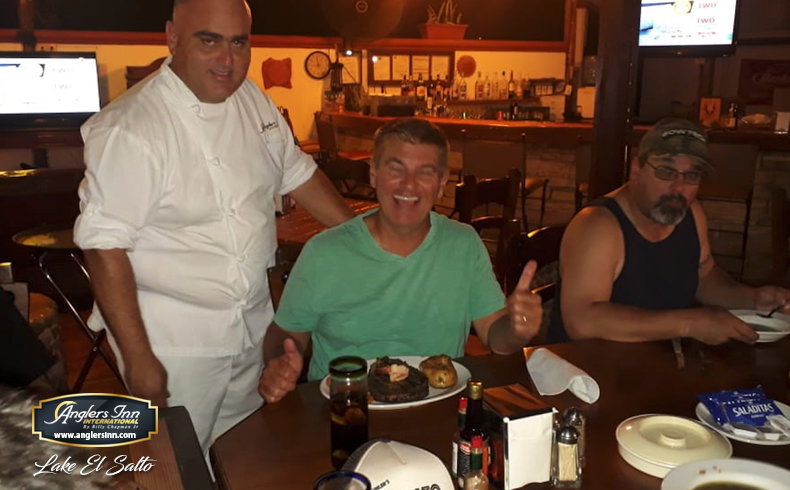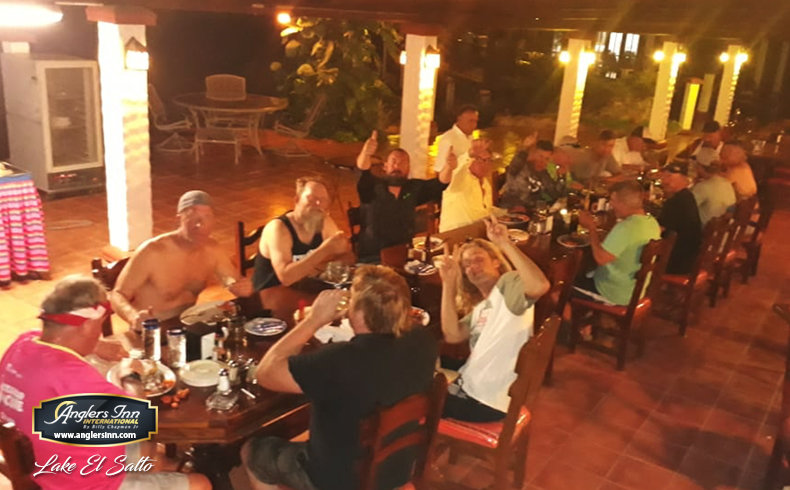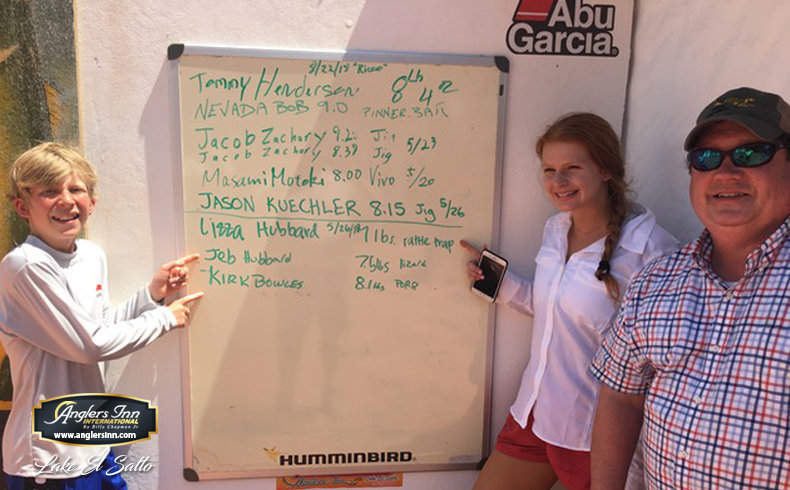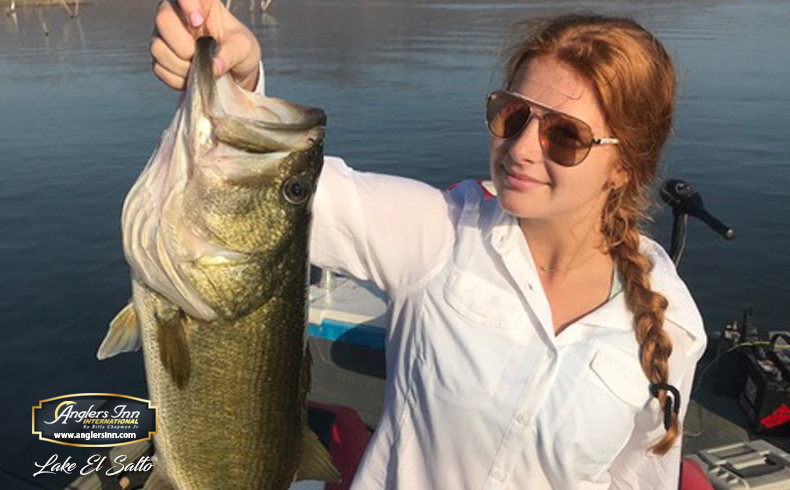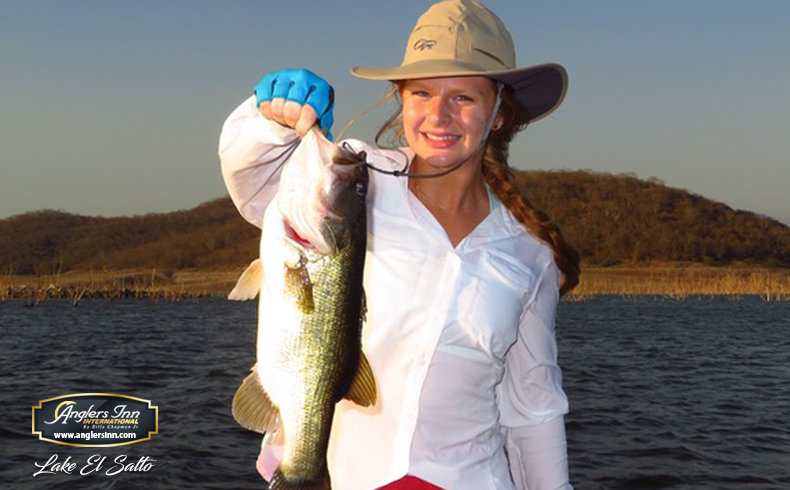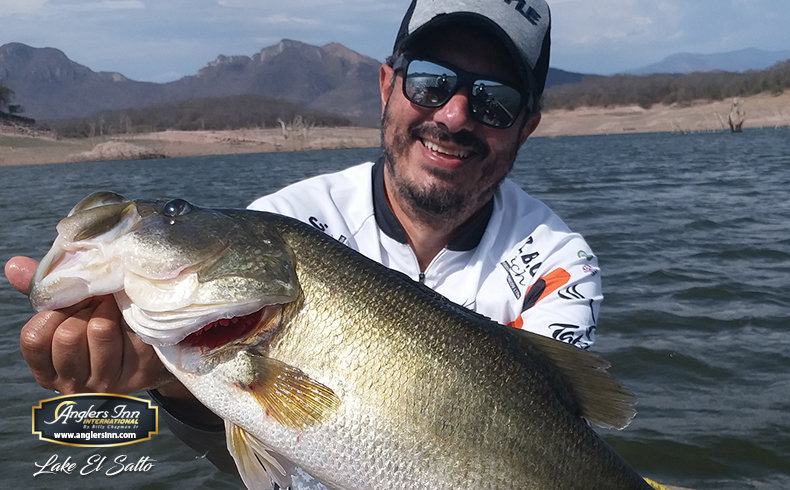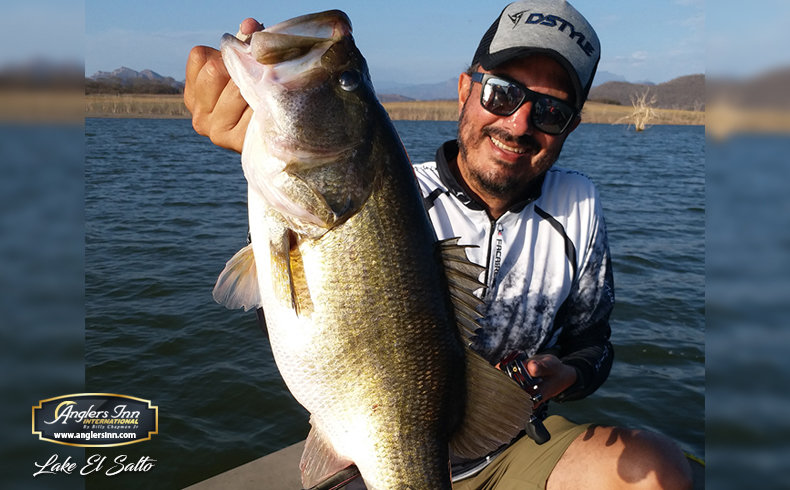 We've been fortunate to have a full lodge at Lake El Salto through May and June, as more anglers become aware of the exceptional fishing that takes place at this time of year on the lake that has become Mexico's gold standard. Even before the gates closed, the water level was exceptionally low, which savvy anglers understand means that the fish are bunched up – and so is the bait that they prey on.
While low water makes the fish predictably opportunistic, but as you'll see from the reports below, anglers may need to adjust on a day-to-day or hour-to-hour basis to stay on top of them. If you caught them on big crankbait and a tennis-shoe sized swimbait last year, and come back to the same conditions expecting to force feed those same lures, you might be surprised. They might work, but there might be better options out there.
Ray Kawabata came to El Salto this past month for the fourth time overall, and the third time during the May-June timeframe. Whereas previously he'd done exceptionally well with big crankbaits, Texas-rigged soft plastics, and even a "bubba shot" dropshot, this time his best bites came shallow on moving baits.
"My best bite was a chatterbait in any color," he said. "I fished it 95 percent of the time with a Rage Swimmer or Keitech trailer. Electric Shad was the best trailer color, with the tail dipped in chartreuse dye." When the fish came up schooling, which they do frequently at this time of year – chasing not just tilapia but miniscule shad as well – his best tool was an Excalibur ¾ ounce lipless crankbait, chartreuse with a power blue back. His guide Pito also led him to a good topwater bite early in the morning, with a popper like the Rio Rico producing better than walking baits.
Ralph and Brian Turczynski came down from Wisconsin for what is now the eighth consecutive year of father-son bonding. They fished with Chago and Antonio and found that standard plastics like the black/blue Power Worm, watermelon red flake lizard and watermelon Senko all worked well, as did the Fat Free Shad and a variety of other crankbaits, but like Ray they dialed in certain moving baits that seemed to work best of all.
"A half ounce spinnerbait, double willow, chartreuse with gold blades, seemed to outproduce any other color," Brian reported. "Slow rolling the spinnerbait on bottom or sometimes just a slower retrieve after it landed for suspended bass. The one lucky bait was the bigger ¾ ounce Rat-L-Trap. The ½ ounce is smaller and we couldn't cast it in areas we wanted in the afternoon with the wind, so we went bigger and heavier, which produced the second biggest fish of the trip, 7-14."
We have many devoted Brazilian clients who visit us in Mexico each year – some of them a few times a year. Largemouth bass fishing is growing in popularity down there, and while they still have the best peacock bass fishing, they know that when it comes to black bass El Salto is the place to be. One of them is our friend Marcelo Manastaria (Mana), who came down in June to sample one of his favorite times of year.
"El Salto is really different from other places around the world," Mana said. "If there is a place where you can say that you can be 'face to face' with the lunker bass of your entire life, it really is there." Before his trip, he'd heard that the water was very low, and while he knows that condenses the fish population, it also condenses the angling pressure, so he turned to lighter-than-normal line and an array of soft plastics to start. "Unlike other years, I spent a bit of time for finesse fishing, using 18lb fluorocarbon lines, with a Neko rig and jig wacky as well. I really have had many interesting results. I switched from those to using a Carolina Rig with 20lb fluorocarbon line, even during the strong afternoon wind, and we got great results."
Of course, he concluded the goal is to catch that lunker, so he resolved to spending a portion of the day using big crankbaits and spinnerbaits in the 1 to 1 ½ ounce range. "That insistence, even against fatigue, presented us with a lot of larger bass, between 7 and 9 pounds," he said.
Jacob Zachary of Texas had heard the fish stories from his friend Robert, whose visits to El Salto numbered in the double digits, so Jacob made his first trip down this month to focus on big fish. "Our best numbers bait was probably the 10-inch Power Worm," he said. "If you threw it they bit it, but we also caught good numbers on the Wild Eye Swim Shad, Fat Free Shad, spinnerbait and chatterbait as well. We also were very focused on size so we were not just going for piles of bites. We heard many groups in camp catching more numbers than us but we were catching MANY more large fish. I would say we averaged 50 fish a day per boat but again we knew we were giving up numbers for size."
Jacob's group fished with Pito and Javier, and they had the topwater and jig bite dialed in: "For big fish the best bait without question was a 3/8 ounce black and blue jig with a distant second being a chug bug. We would pick up a fish or two over 6 pounds every morning on topwater but then it was all about the jig once the sun got up. I tried heavier jigs and got less bites. The fish were suspended in the trees, the bigger the tree the better. You would pitch into the tree and let the jig fall on semi-slack line. Pause the jig every few feet and hold on. You were only fishing the top 10 or 12 feet of water even if you were WAY out on the edge of the channel. It was SLOW monotonous fishing and you were not going to get the same bites that a guy throwing a Rat-L-Trap would get." The effort was clearly worth it, because "we only went one session (morning or evening) where our best five fish didn't break 35 pounds. Heck, we didn't weight it if it didn't look over 6. The biggest fish was my new personal best at 9.25 pounds. Next was an 8.39. Both were bigger than my previous personal best." He warned that these fish are strong, so make sure your jigs have stout hooks and that you bring plenty of trailers. He said that BIG trailers like full-sized D-Bombs and Magnum Structure Bugs, produced best, and he wouldn't use anything other than heavy braid to winch those big'uns out from the cover."
Most importantly, Jacob realized the lesson that it takes many El Salto visitors a long time to pick up: "LISTEN TO THE GUIDE. He has been here, he has seen what works. Let him run the show and you just fish, but don't be afraid to ask questions – maybe you will stumble on to the key that turns things on for you."
Hanna Robbins has been to El Salto a dozen times, including in May and/or June every year since 2013. Last year she cranked a 10XD and a Berkley Dredger over three-quarters of her stay, filling in much of the rest of her time with a Carolina Rig. This year she never tied on the Carolina Rig, and only caught a few dozen fish on crankbaits. Instead, she did a lot of her damage with a Chatterbait. One evening her guide Lacho tied up to a tree and she and her partner proceeded to catch 60 fish off a single point in the course of an hour. She was getting outfished two or three to one until she figured out that a stop-and-go technique triggered the assembled fish. After that she matched her partner fish for fish, and most were in the 3- to 5-pound range.
She also got onto the same deep tree jig flipping bite that Jacob reported. Hanna hadn't had much success that way in past trips, but her guide Juan took time to explain the finer points of the technique, and apparently he did an exemplary job, because Hanna proceeded to flip up three fish between 7 and 8 pounds in less than a half hour.
"I was using a watermelon jig with a blue Skinny Dipper on the back, with the tail dyed chartreuse," she said. "They were suspended in the trees, but they didn't want it on the fall. You'd get bit on the way back up, usually on the outside branches, and you definitely knew when you had a strike." She also relied on heavy braid and a 7'11" rod to get maximum leverage on those powerful fish.
When the fish came up schooling, Hanna did her damage with a jerkbait, specifically with a Megabass Vision 110 in a color pattern that matched a tilapia, even though many of the schooling fish were feeding on shad. Sometimes the fish would eat it on a short pause, other times she'd rip it violently to trigger strikes. In the calm morning periods, this often outproduced a lipless crankbait for her, and while many of the schoolers were small, she managed one over 7 pounds this way.
Hanna was particularly excited to see more women and children at the lodge this year. "It's such a fun and family-friendly environment, it's nice to see a broader clientele."
Amber and Duncan Maccubbin came back to El Salto for the second time since they got married there last fall, and while they've visited many times, they are constantly amazed by how different it is every year.
"The lake fishes different every time we are there," Amber said. "Be prepared for a fishing a lot of different techniques. Tell your guide if you want to catch numbers or if you would like to fish for the grandes. We did not have much of a topwater bite, so we focused on schooling fish and flipping trees most of the time. In the afternoon when the winds picked up we focused mostly on spinnerbaits and chatterbaits. If we couldn't find the bites we were looking for that way we focused on flipping trees and bluff walls."
On their final afternoon, they located a massive concentration of schooling fish. While jerkbaits, spinnerbaits and chatterbaits caught smaller specimens, they found that by getting underneath the schoolers their numbers were just as good and they caught some bigger ones, too, including Amber's 8-12 that dwarfs the petite blonde in her pictures. The key tool was a Berkley Dredger crankbait in the 17-foot diver. "We sat in one spot and caught over 100 fish in about 50 minutes," Amber said. "At one point I caught 26 in 26 consecutive casts."
While the fishing always thrills them, it's the service that brings the happy couple back time and again: "Once again, the lodge staff was dedicated to making sure that we had a five-star visit. The food was amazing, and they worked with members of our group who had some special dietary needs. Take advantage of the spa services offered by the lodge. The massages are the best, just what you need after a long day on the water."
While this report mentioned a wide variety of baits, please be sure to bring a lot of the old faithfuls A 10" black/blue Power Worm, an 8" watermelon lizard and a 6" watermelon Senko will produce every day of the year in Mexico. Add in some jigs, lipless crankbaits, deep diving crankbaits, swimbaits, spinnerbaits and topwaters and you have most if not all of your bases covered. We'll never discourage you from bringing your favorite lure or from trying something new. After all, that's how we got turned onto lures like the Megabass 110, the Chatterbait and the Whopper Plopper, but the key is usually to stick with the fundamentals rather than reinventing the wheel. Rather than focusing on something like color, make sure your line is fresh, your hooks are sharp and your drag is set properly. Getting the big fish that bite into the boat can be a challenge, and the best way to win that battle is to be prepared.
Some guests have reported a hot swimbait bite this year. It's not always the way to get numbers, but you can drag it below the smaller schooling fish and pick off a giant or two if you're patient. Most of our guests experience their best success with soft plastic models. Of course, swimbait has been a top producer here for decades, and at a buck apiece you won't hesitate to throw them in the heaviest timber and rockpiles you can find. Other versions that are consistent producers include the hollow bellies like the Basstrix and the Zoom Swimmer, as well as ribbed versions like the Keitech, usually in the 4.8 or 5.8 size, although increasing number of guest are utilizing the 6.8 and even the 7.8. Swim them slowly across the bottom, and don't set the hook on that first tap. Instead, wait until the rod loads up and then cross her eyes.
May and June featured a full house just about every day. Because the economy remains strong and fishing has been exceptional, some key dates for next year are already almost completely full. If you know when you want to come, please contact us as soon as possible to make sure you get your preferred time slot. You should also consider either a trip to Picachos, or a combo trip involving both lakes. I know that Picachos has the reputation as the "numbers factory," but it is increasingly pumping out lunkers, and our local guides get better and more knowledgeable every time out. You can literally expect to catch 100 fish a day if you are even semi-competent, and you can do it just about any way you want. Bring pounds and pounds of plastics because it's possible to decimate even a healthy supply. It is only going to continue to get better. We've only tapped a small portion of its potential.
We are planning a special report from some of this season's most successful and satisfied Picachos guests. Look for it in the next month or so, and get in line to book a trip. Picachos is just 55 minutes from the Golden Zone of Mazatlan, so it's even perfect for day trips, but for you hard core guys, if you can't decide which lake to visit, a combo trip is the way to go. Our new dining room sits right at the edge of the lake and you'll be tempted to make a few casts between sips of your margarita. We are going to be offering some incredible discounts on Picachos trips in the upcoming months, so stay tuned. I'm so confident that it's primed to explode for big fish and keep pumping out the numbers that I'll do what it takes to get you down there to experience it. It's great for kids, but it's getting to the point where even the most hardcore anglers may make it their preferred stop.
Remember, our goal is to make your trip as hassle-free as possible, and one step in that direction is that we now have loaner rods for everyone to use at no cost. Thanks to our newly-developed partnership, our lodges now have a varied supply of St. Croix rods. "They made fishing pure pleasure," said one recent guest. These technique-specific rods rods are the real deal, folks, and we are committed to giving you the best possible tools to land that fish of a lifetime. You don't need to travel with a heavy and burdensome rod tube anymore if you don't want to.
In fact, we're seeing fewer and fewer guests bringing their own rods. With the St. Croix sticks tailored to specific techniques, and available in a wide range of lengths and options, so really can't go wrong…and it makes packing much easier to just bring your reels and tackle.
If you haven't seen it already, be sure to click on our new website at www.anglersinn.com at your earliest convenience. We've had it up since early 2017, and the feedback has been tremendous – especially from guests who've found pictures of themselves with big fish gracing the site. Our theme is "Making Every Angler's Dream Come True," and while our web presence is no substitute for a trip to Mexico or Brazil, it's the next best thing and a valuable tool for planning your next trip. We continue to update it with new information and items constantly, so don't forget to hit us up regularly.
I've spent a lot of time in Brazil already this year preparing for what I expect to be an exceptional season for big peacocks. I guarantee you that my new operation down there is going to set a new standard of accommodations and quality angling for the region, all with the same attention to detail that you receive at my Mexican properties. We'll have the best service, on the best waters, with the best equipment. That's the Anglers Inn way.
I'm still spending time in Idaho, getting ready for a little bit of smallmouth fishing (as well as some multi-species excursions). We expect to host our first guests up there by the end of the summer, with a fully-functioning operation in place next year. You're going to love it. The biggest issue is going to be whether you want to spend your vacation time in Mexico, Brazil or the gorgeous Pacific Northwest.
Just as we set the standard for international fishing trips, we want to set the standard online, too. The new site includes information about all of our properties, pricing and bios of our staff. We also update it regularly with new videos on our "Anglers Inn TV" channel, and provide detailed monthly reports like this one.
Whether it's your first trip to an Anglers Inn property or your 20th, we hope that this site will provide all of the information that you need, but if it doesn't we're always just a phone call or email away.
While we often provide a generalized list of lures that work throughout the year, there are times when specific bites are ongoing and we don't ever want you to arrive under gunned. Monitor the website and social media for updated info, and if you're ever in doubt about what you need to bring, please call us or email us.
We want to make sure that you're outfitted properly to make the most of your vacation.
If you've received this report from a friend, please be sure to sign up for future mailings at www.anglersinn.com. If you know a friend who would benefit from these newsletters, please make sure that they are receiving them, too.
---