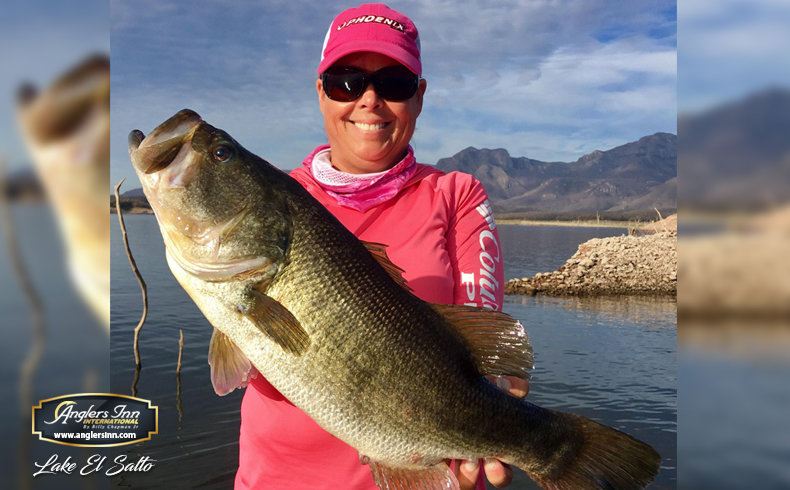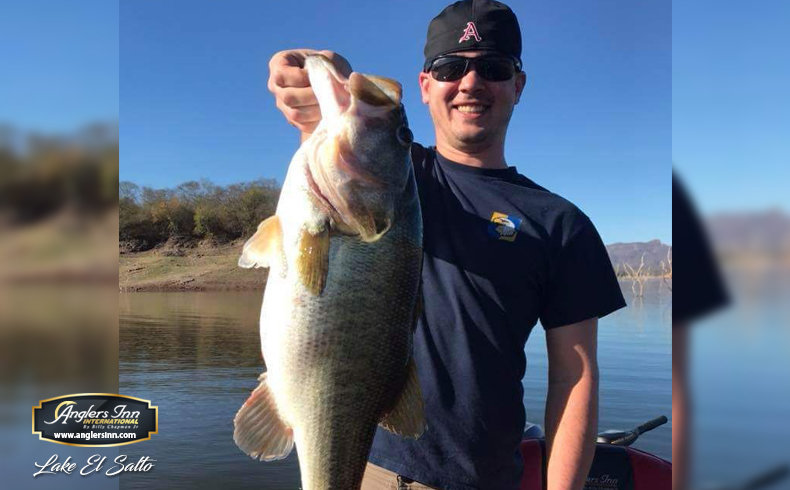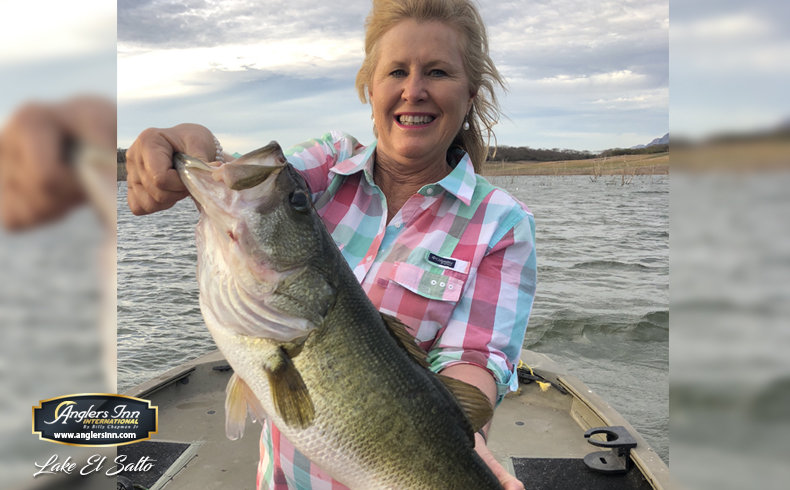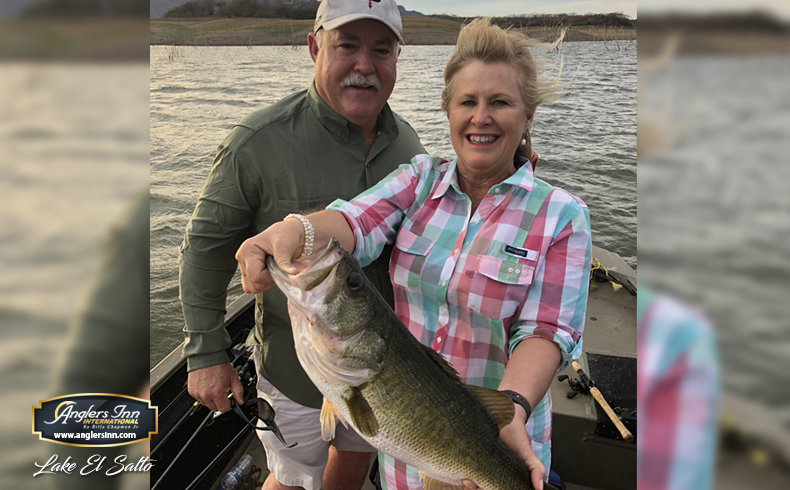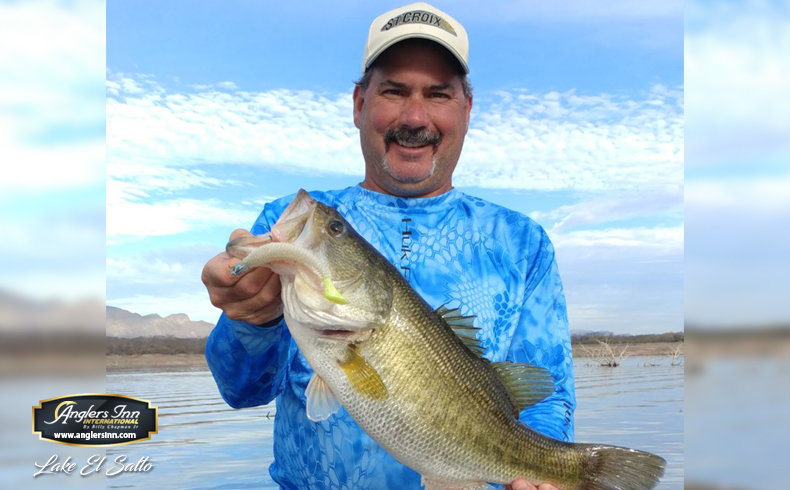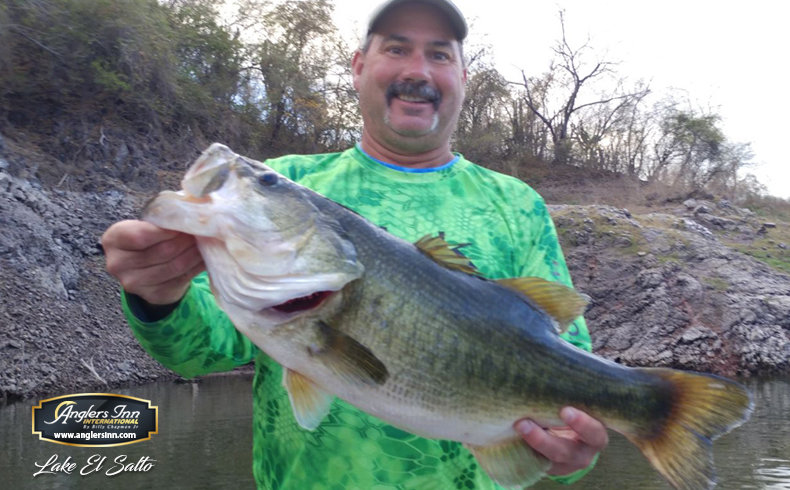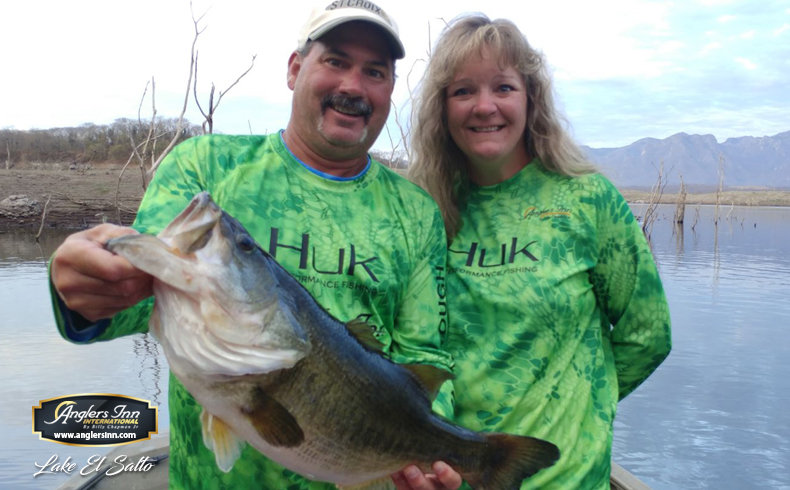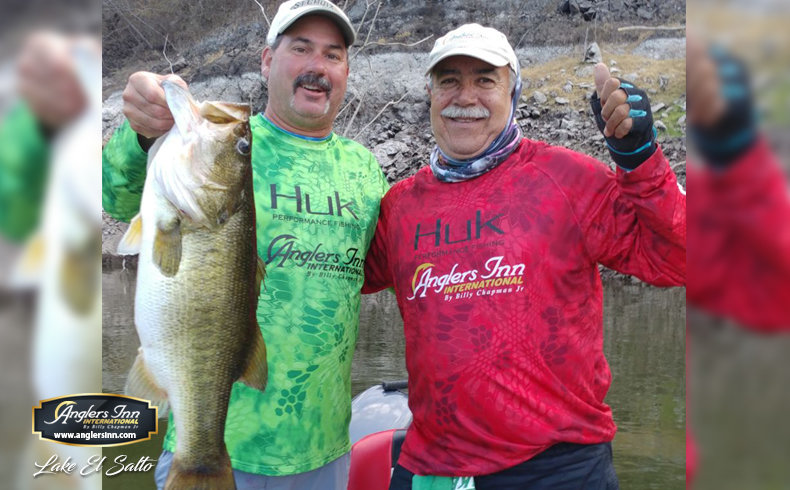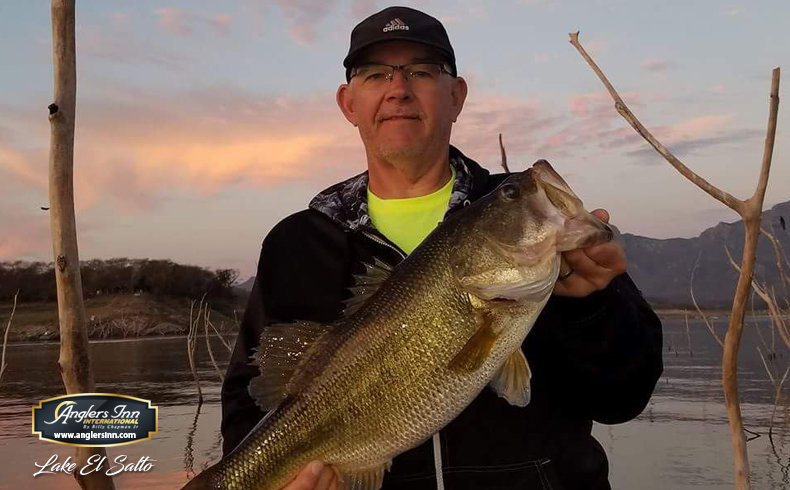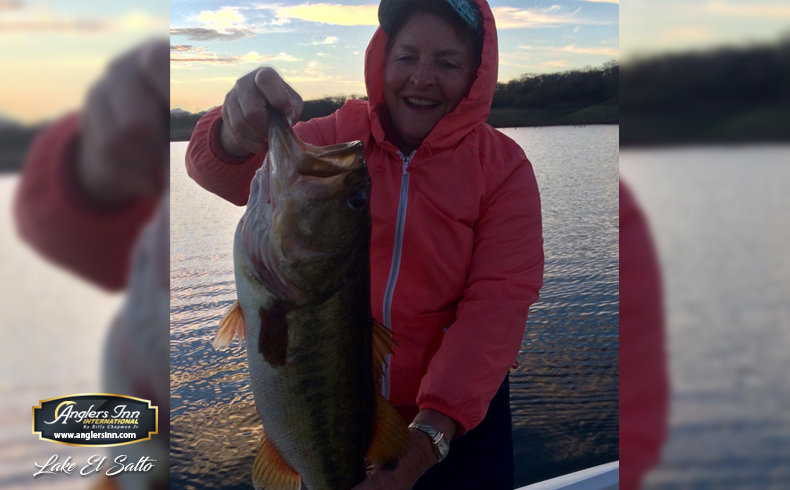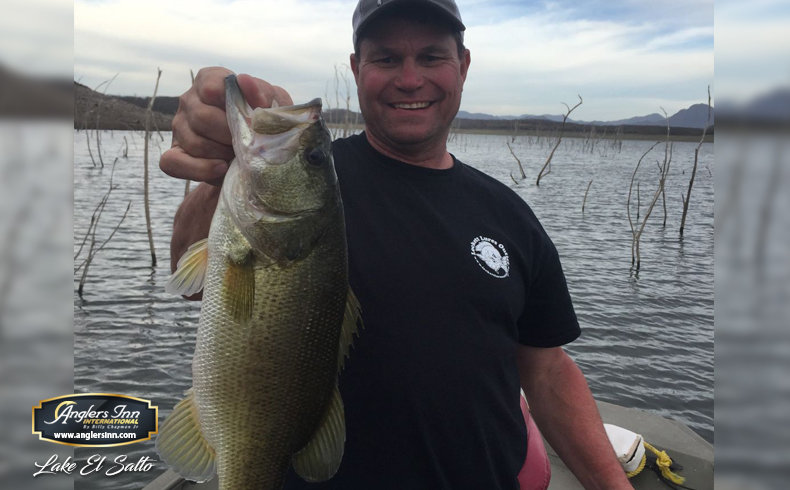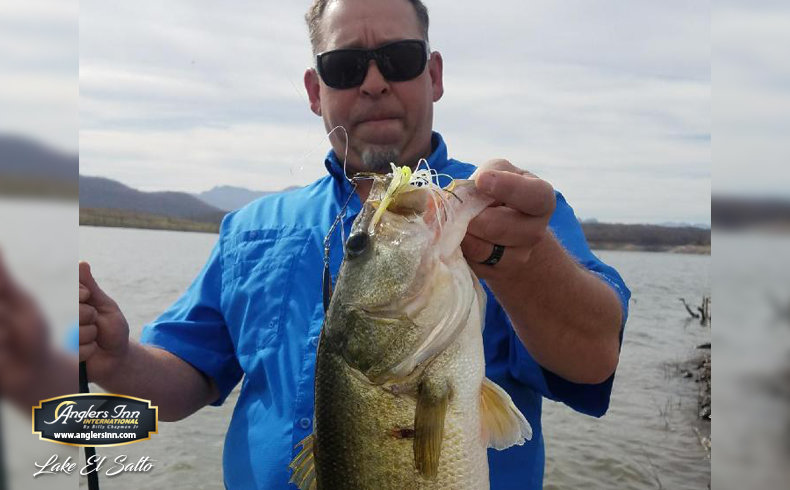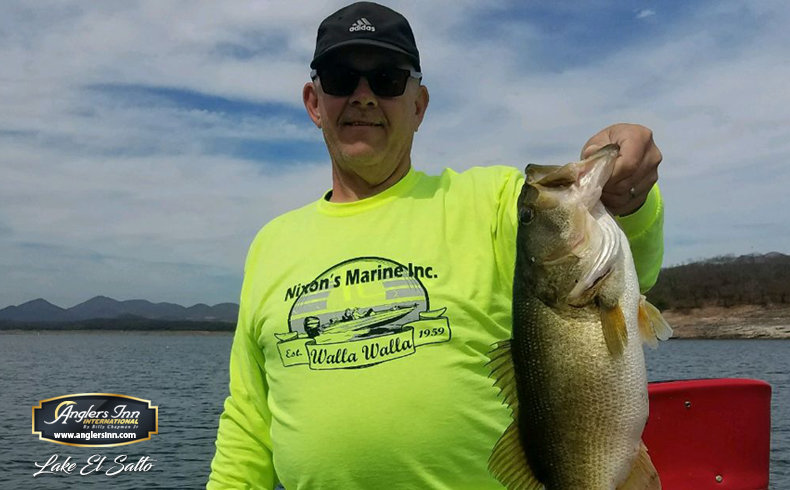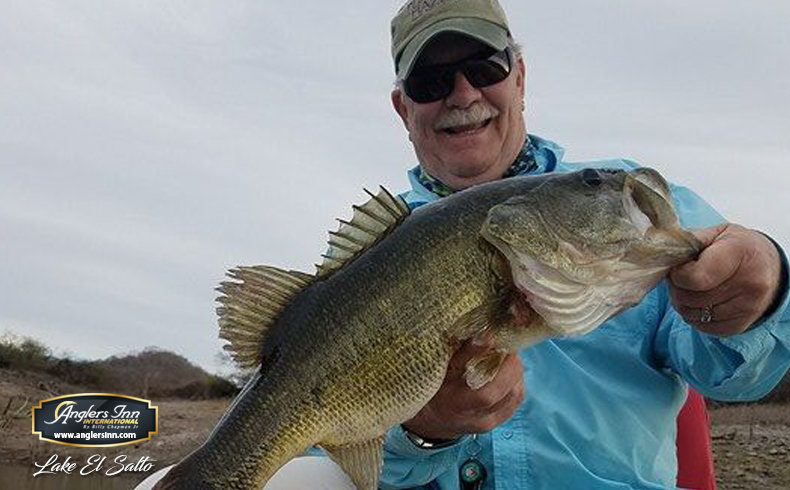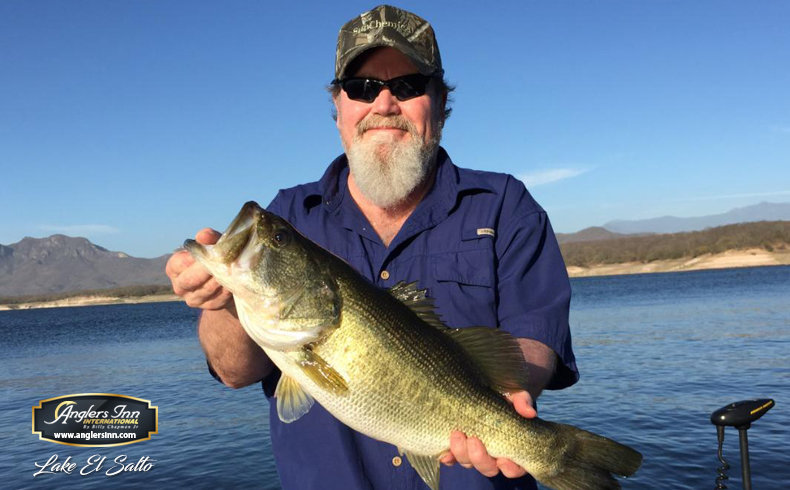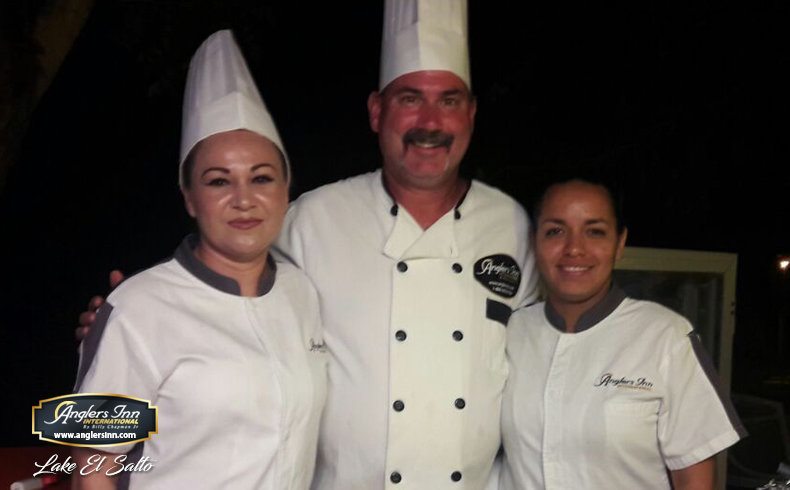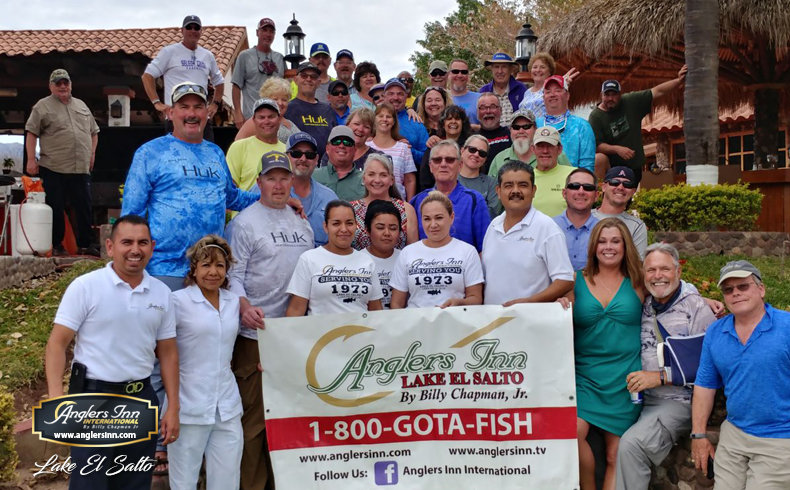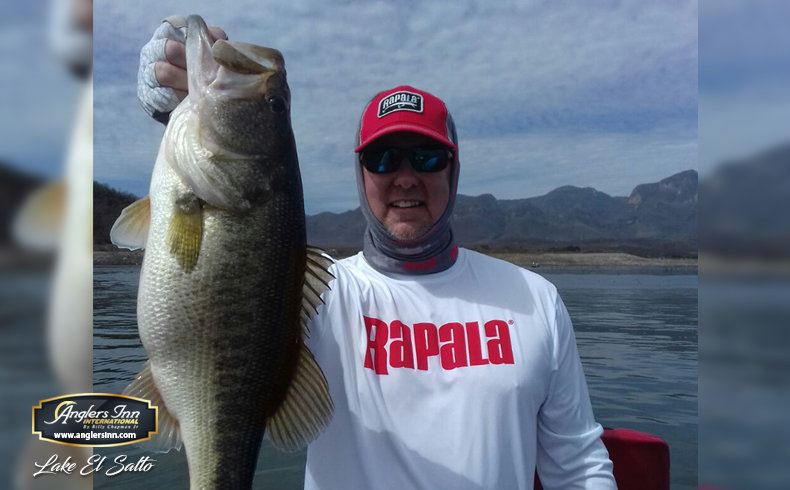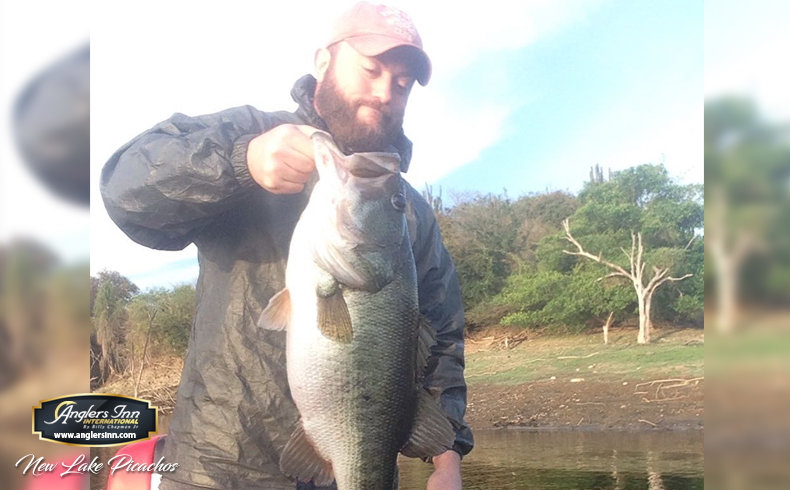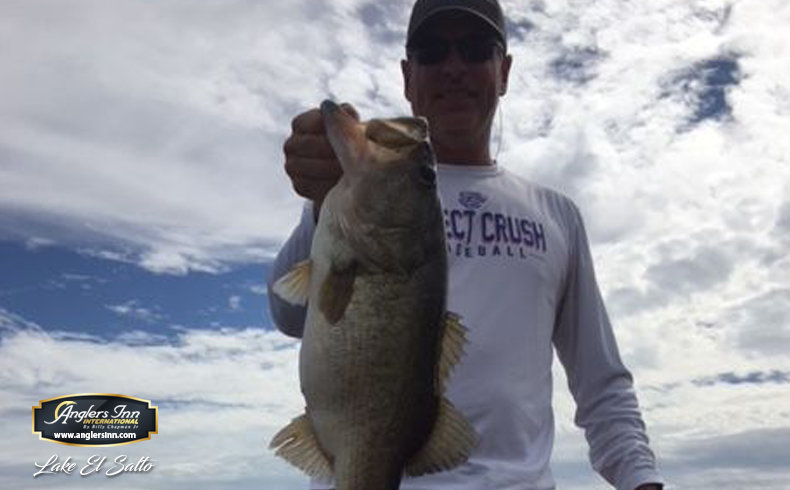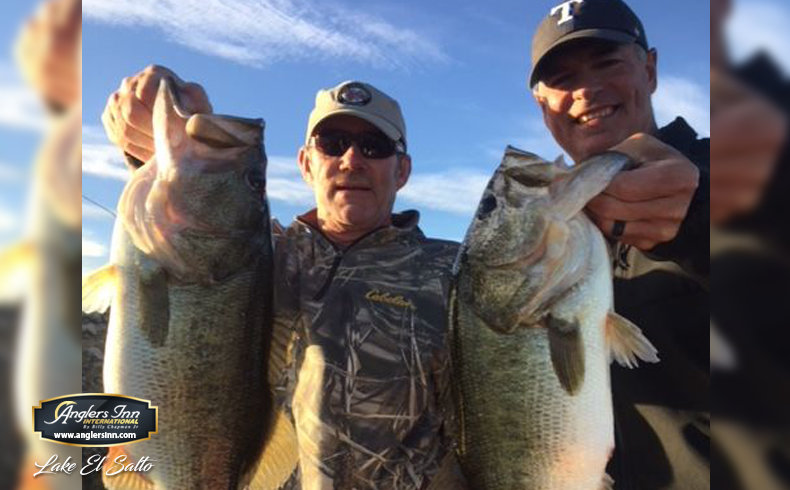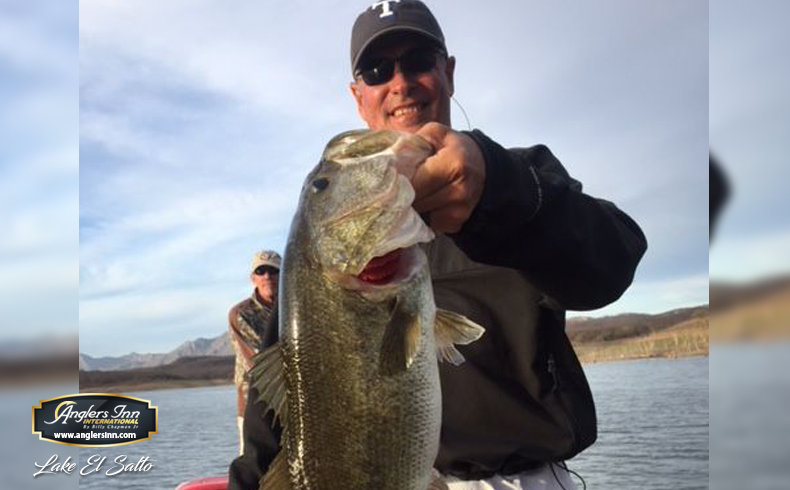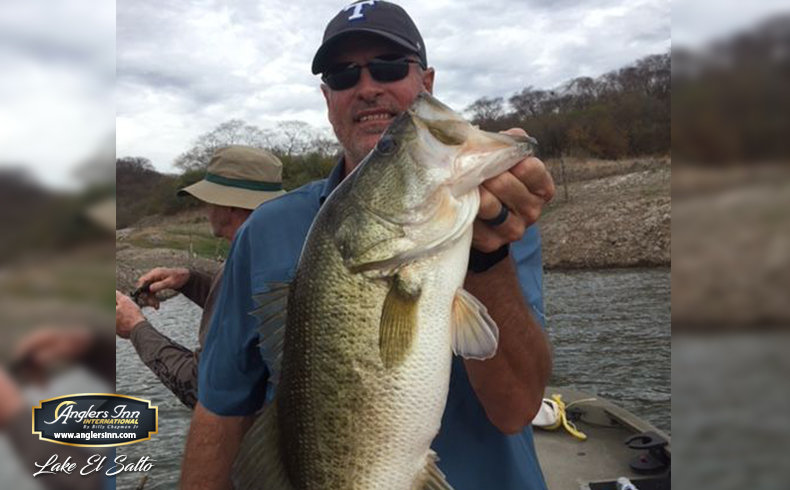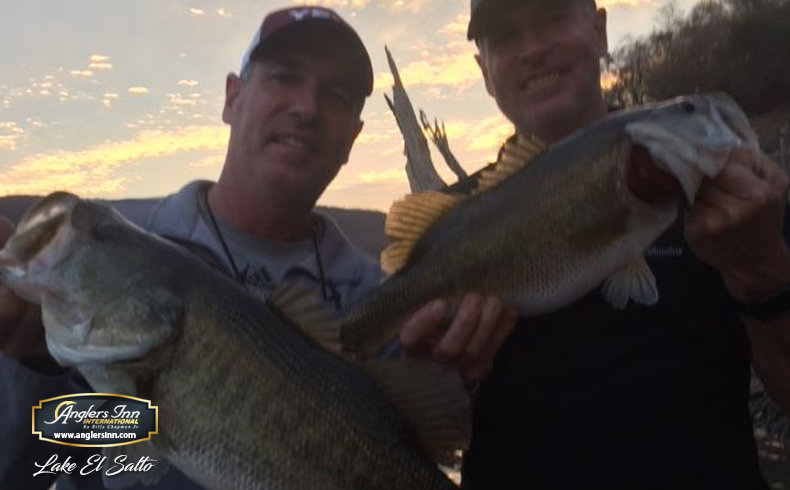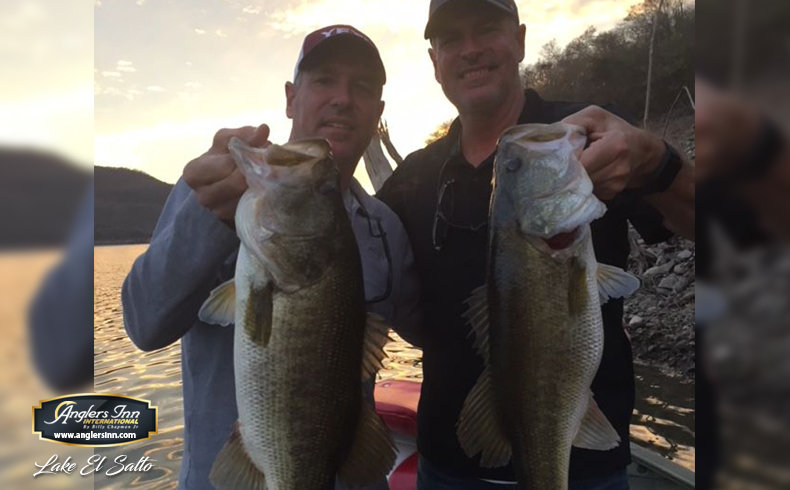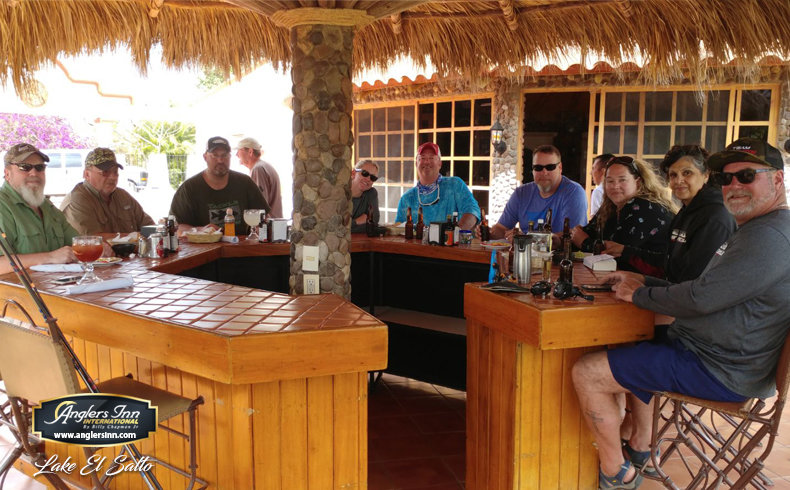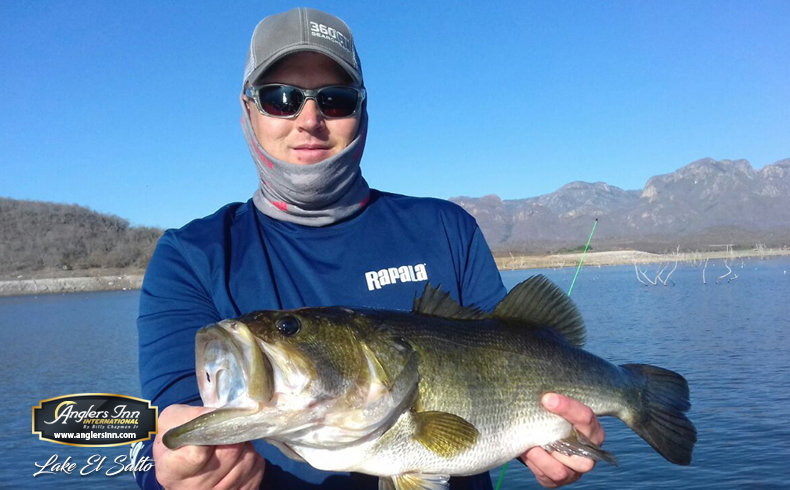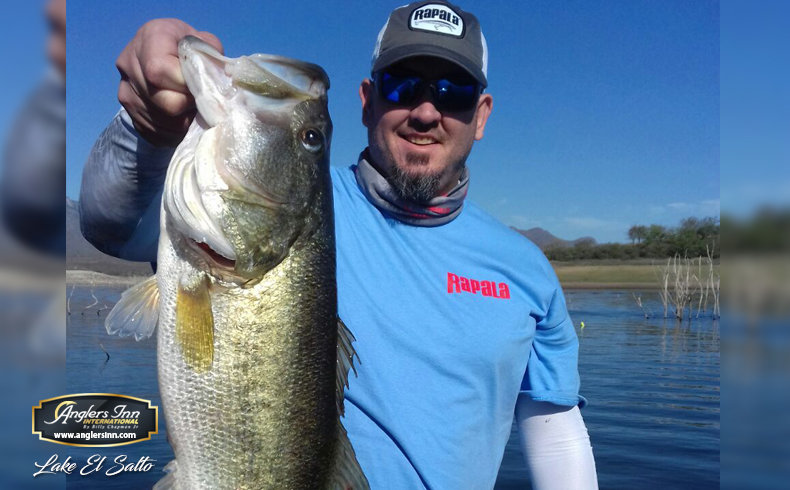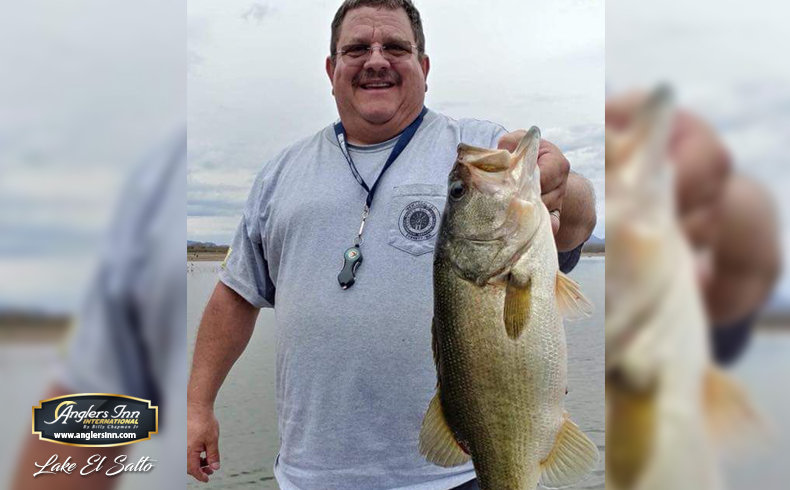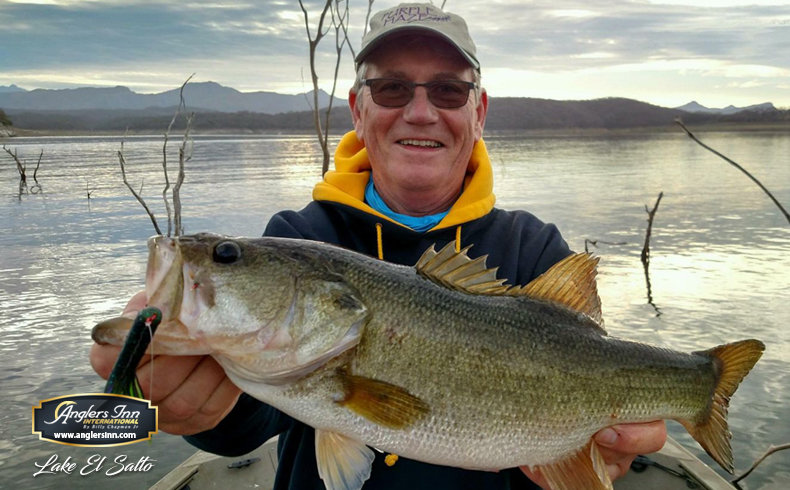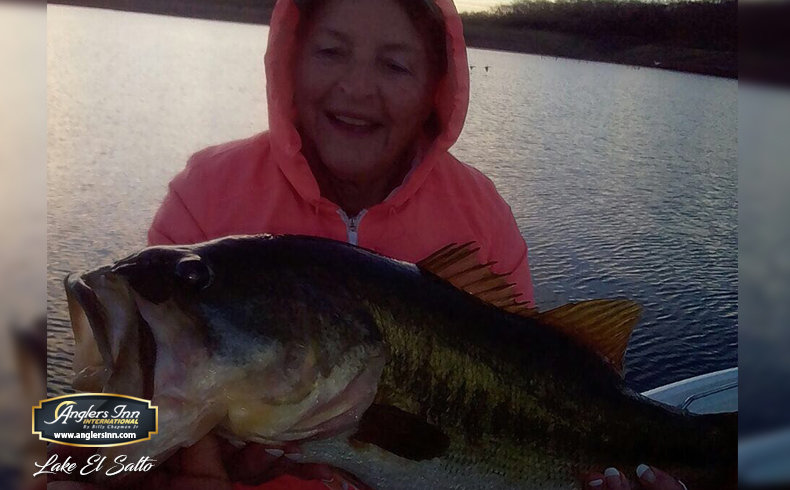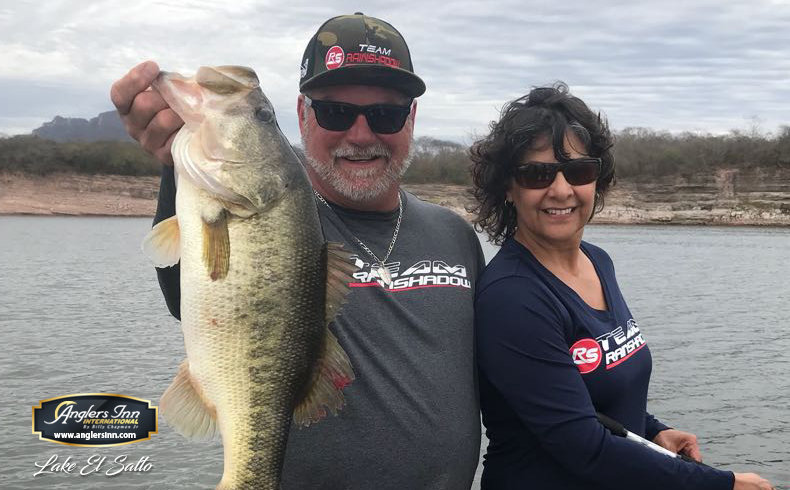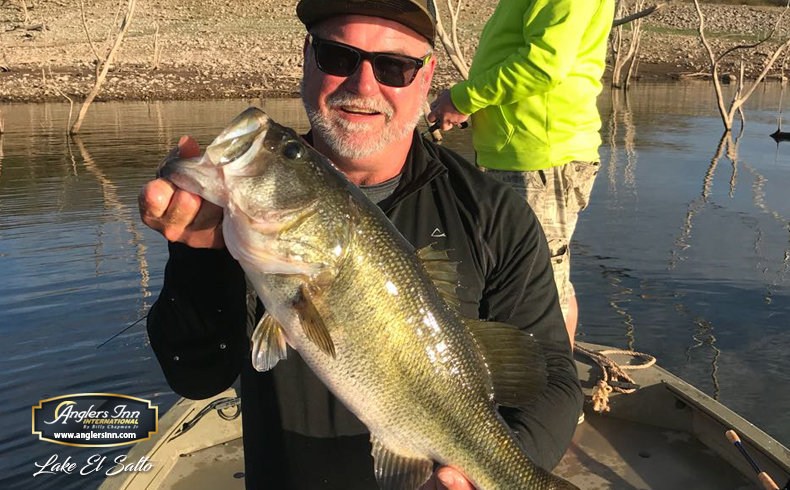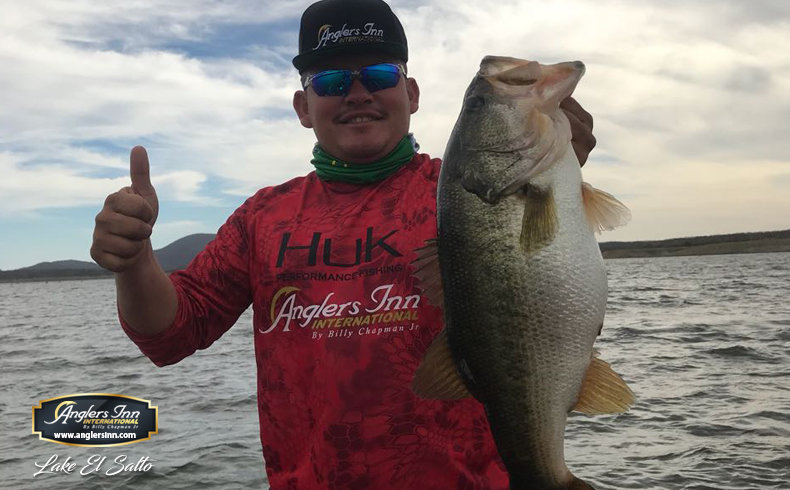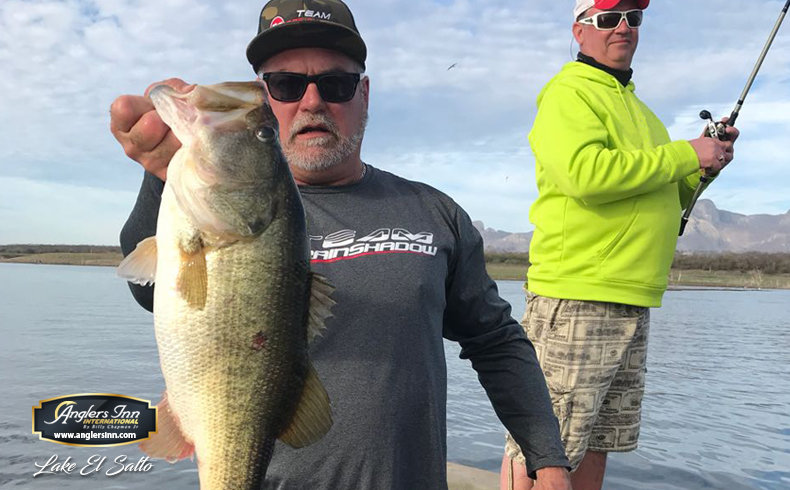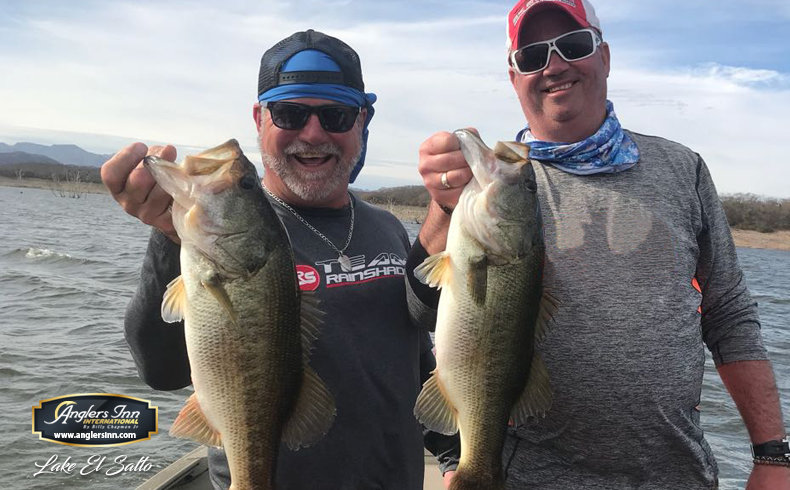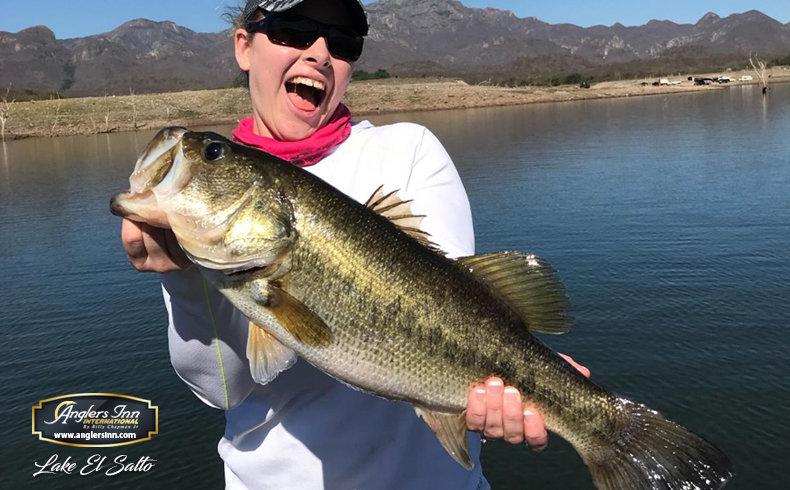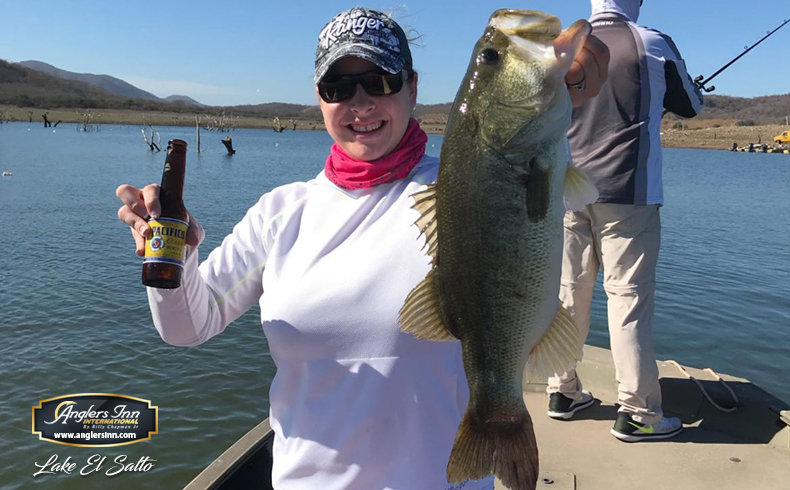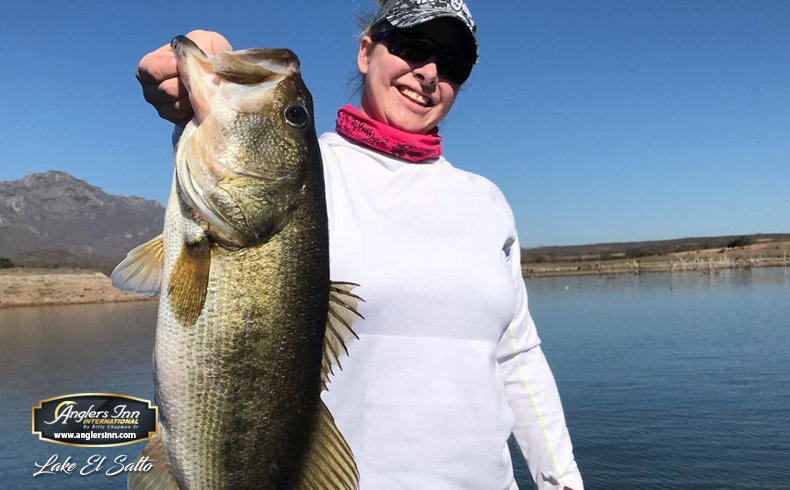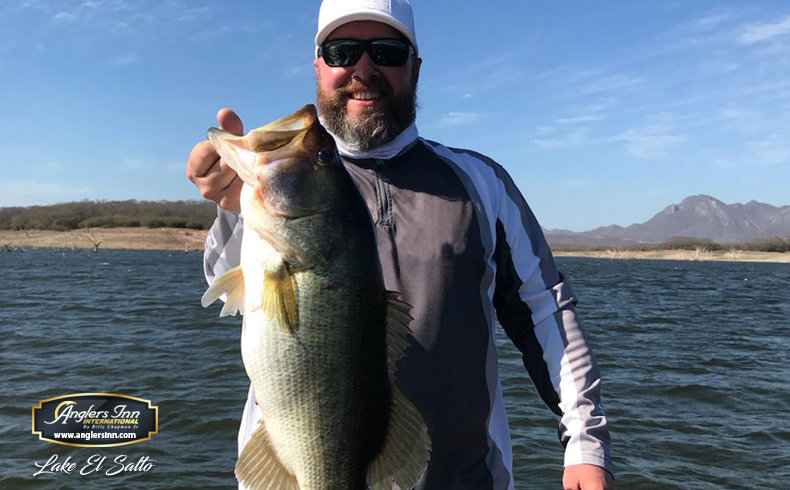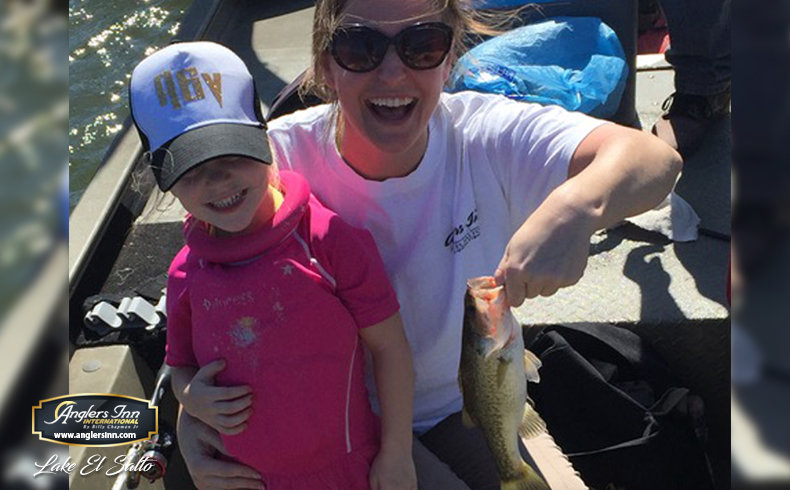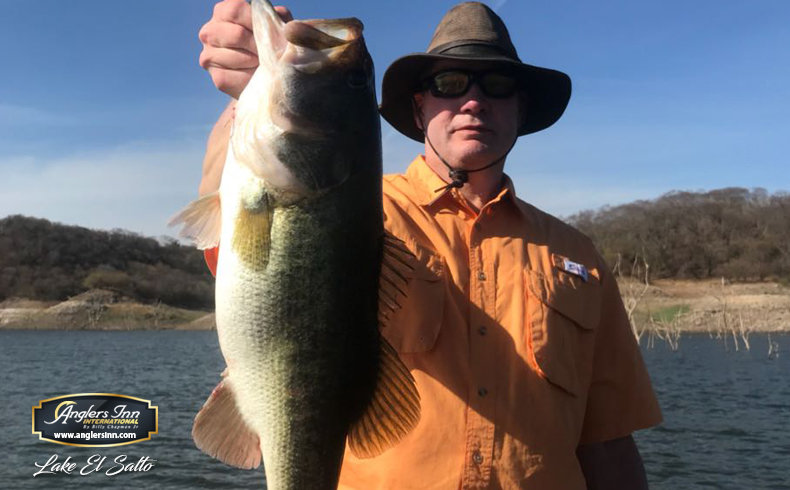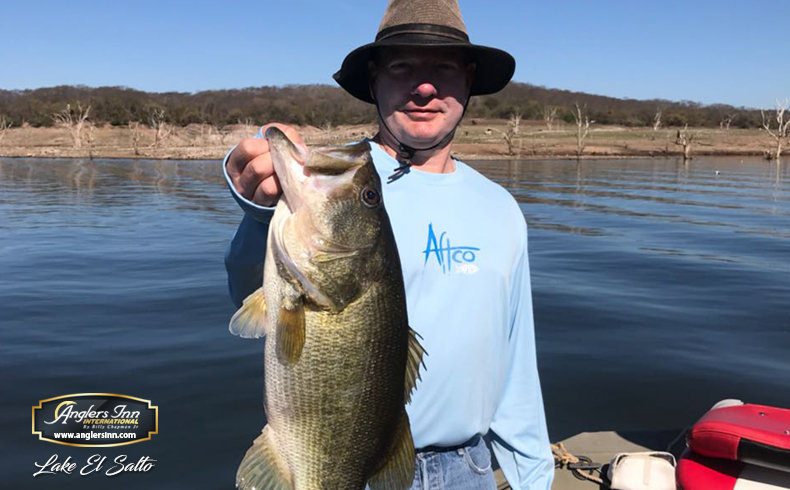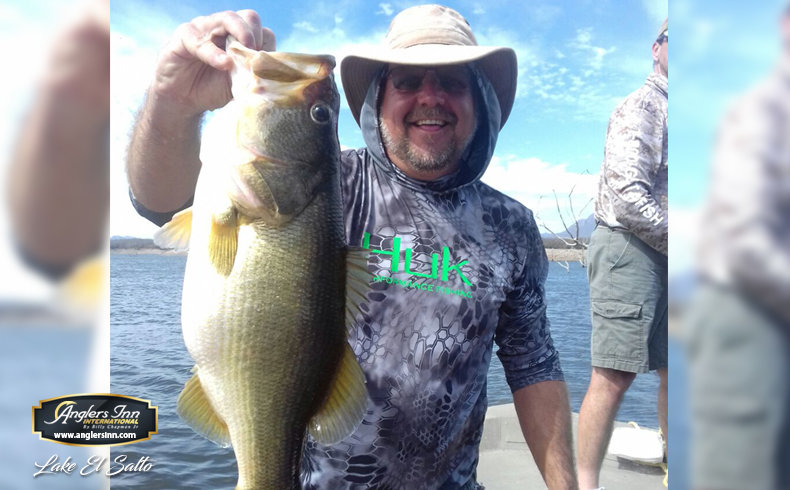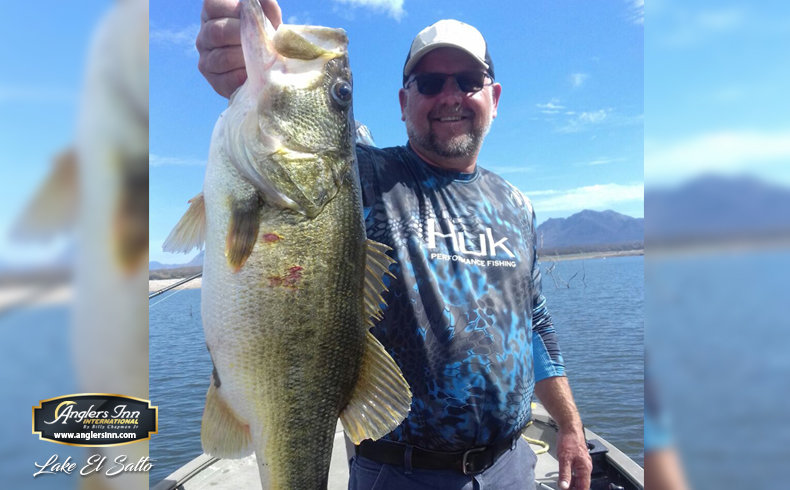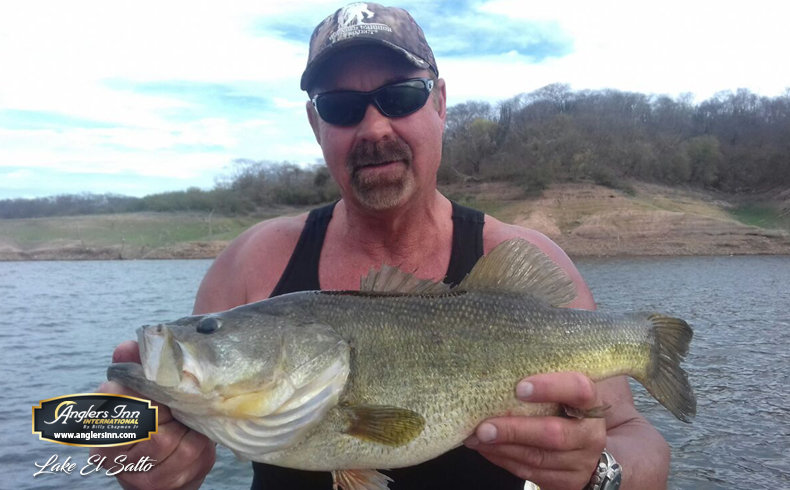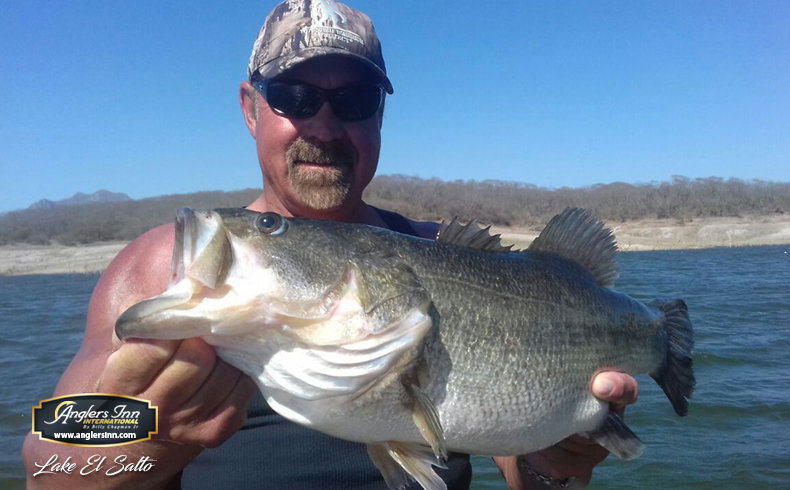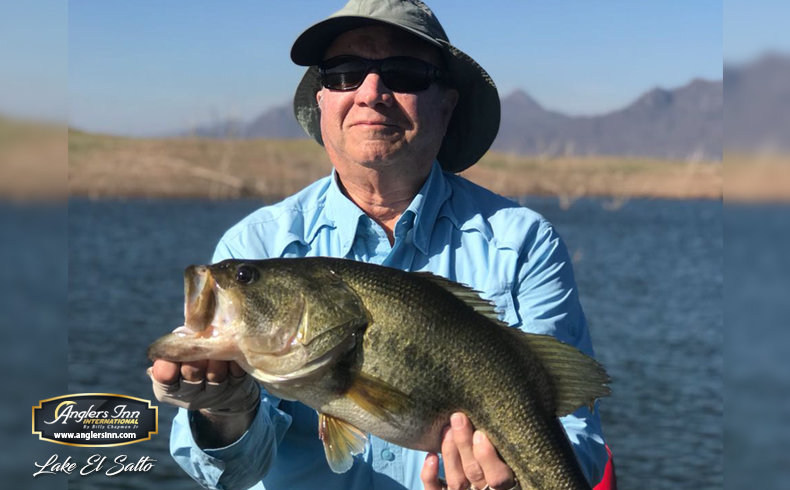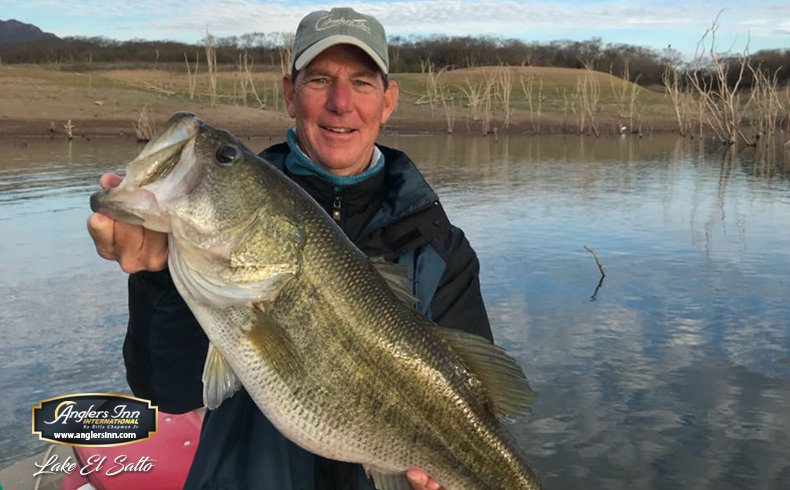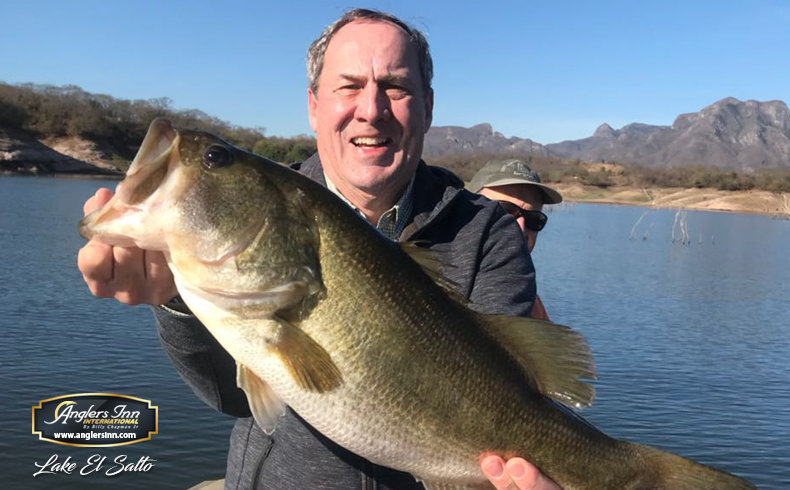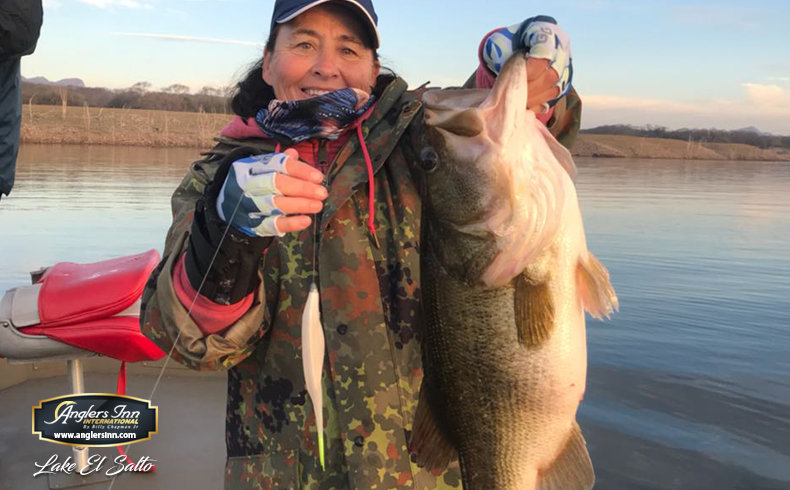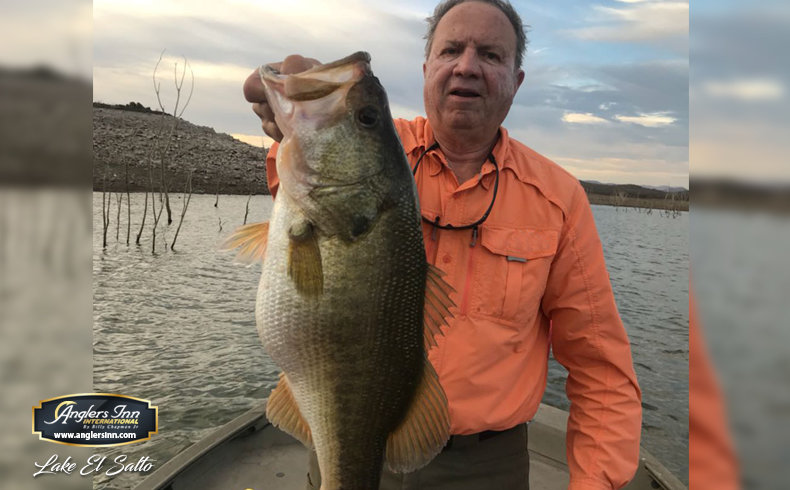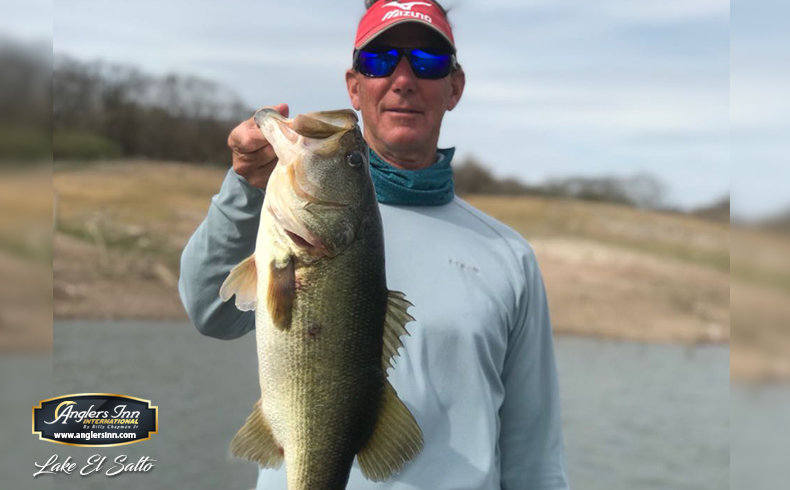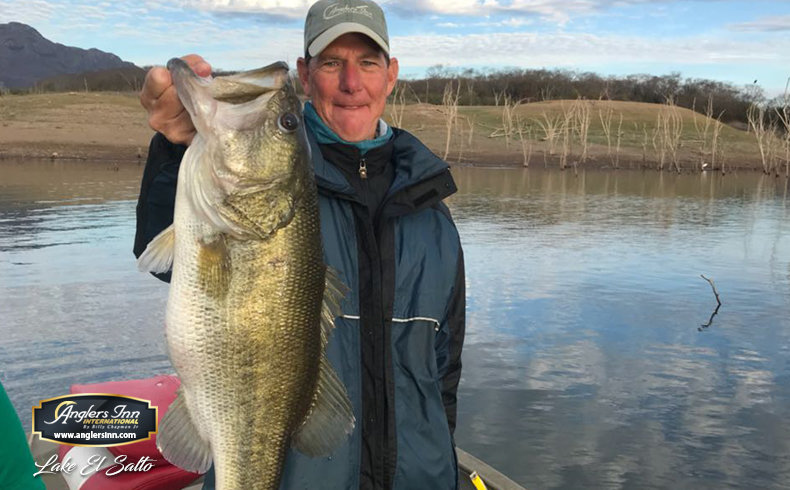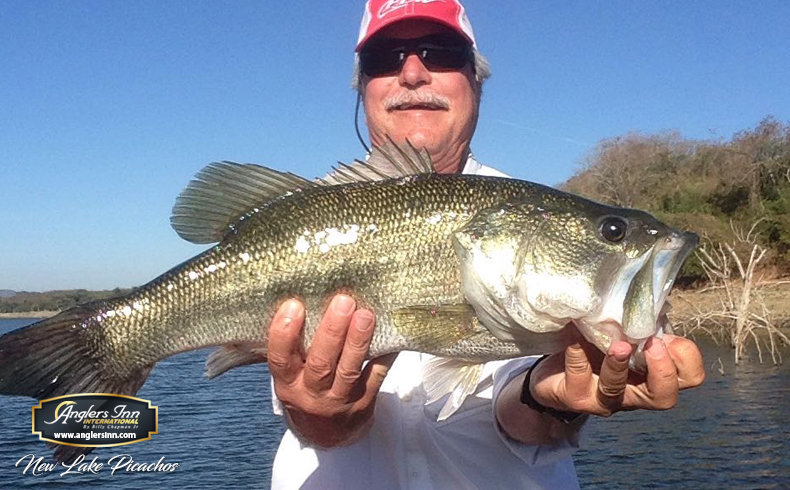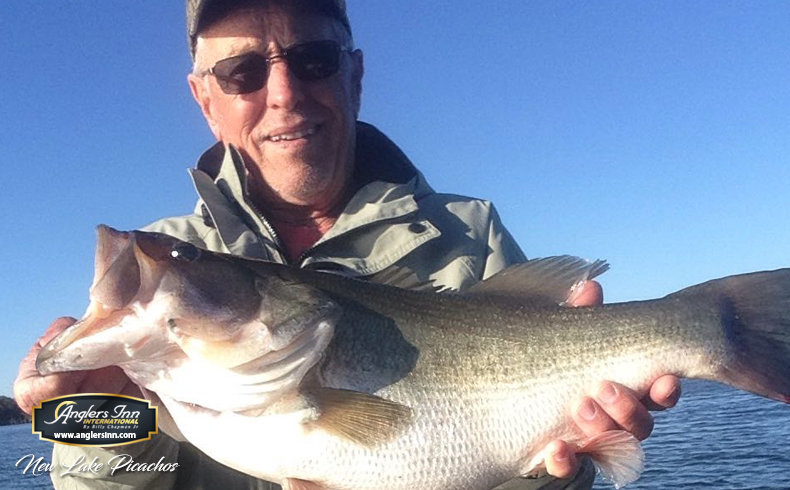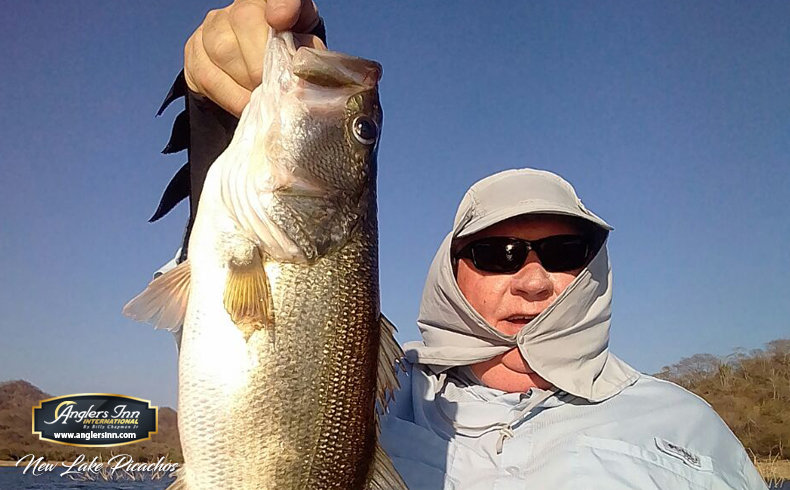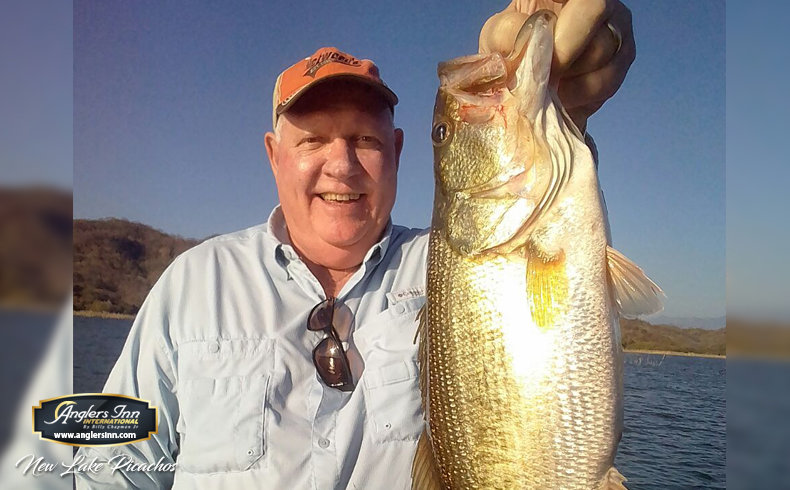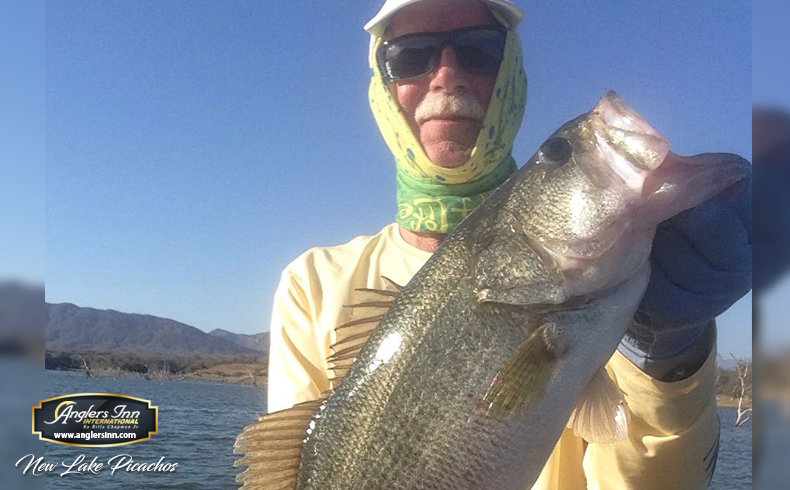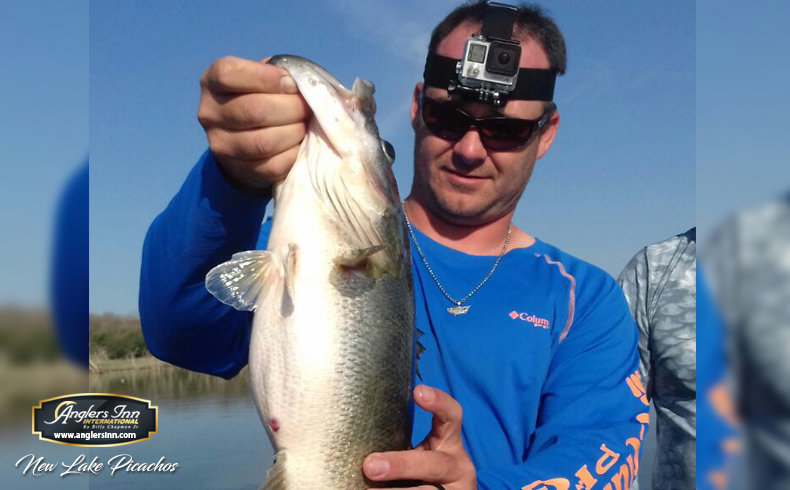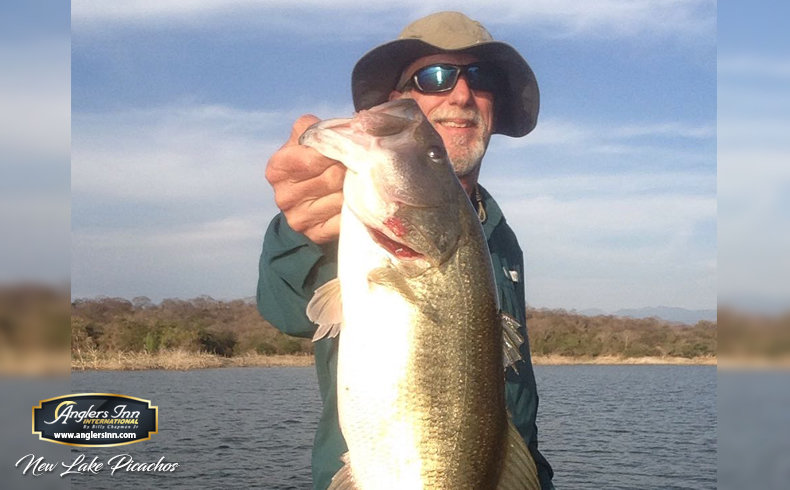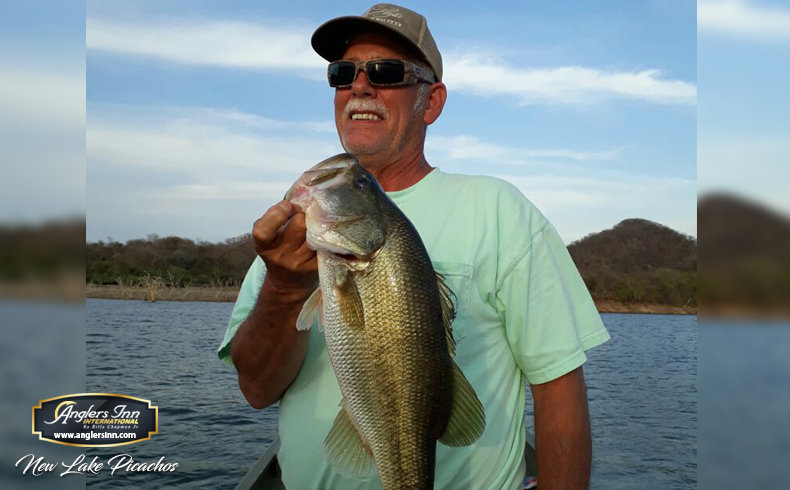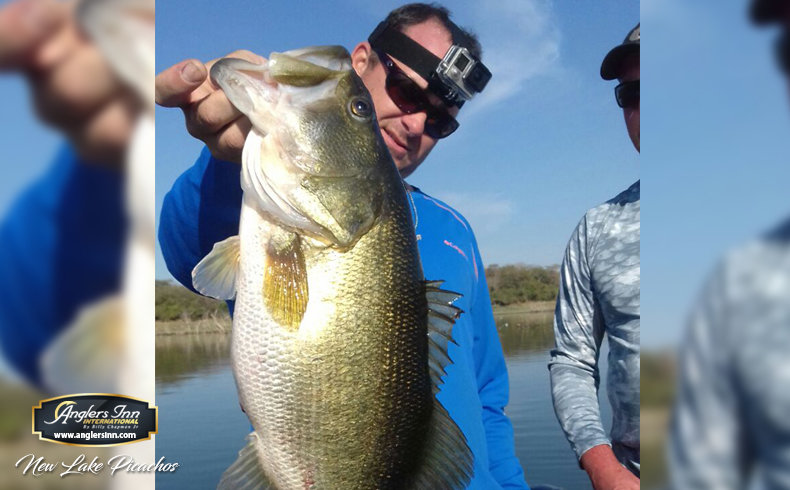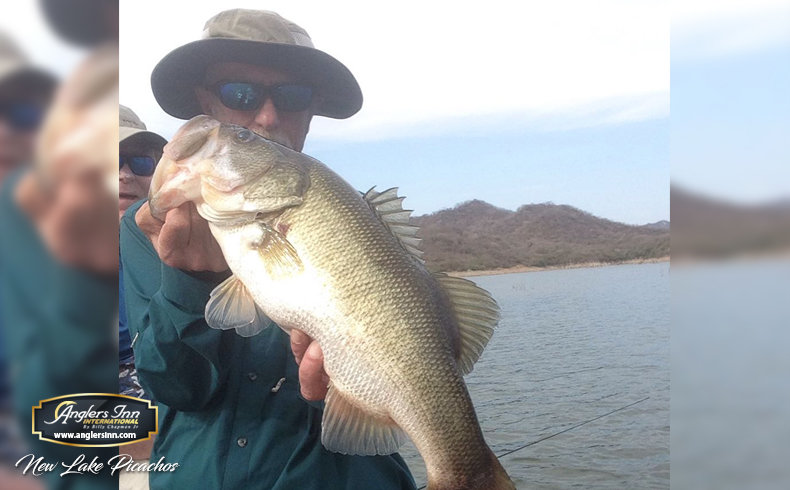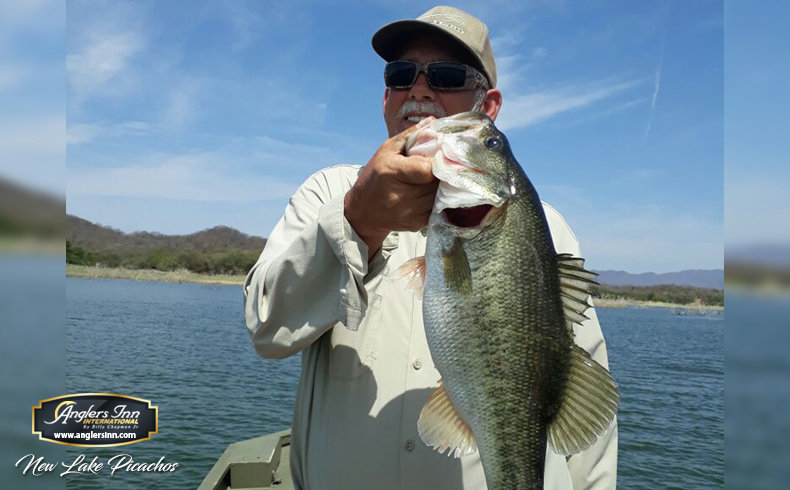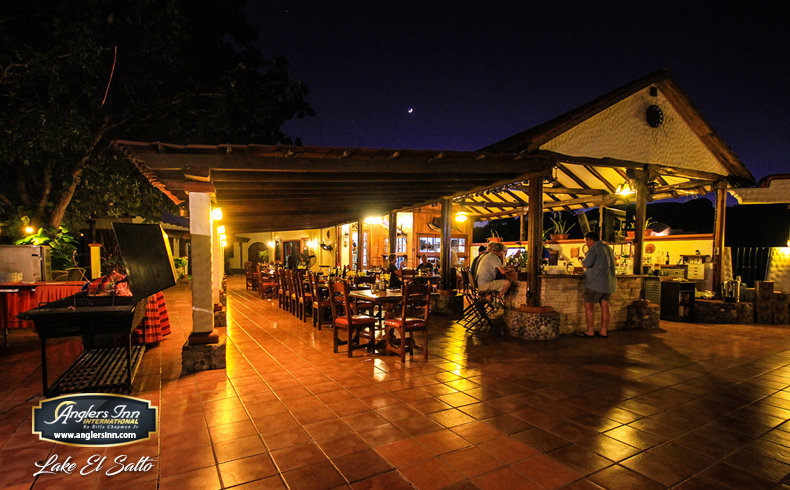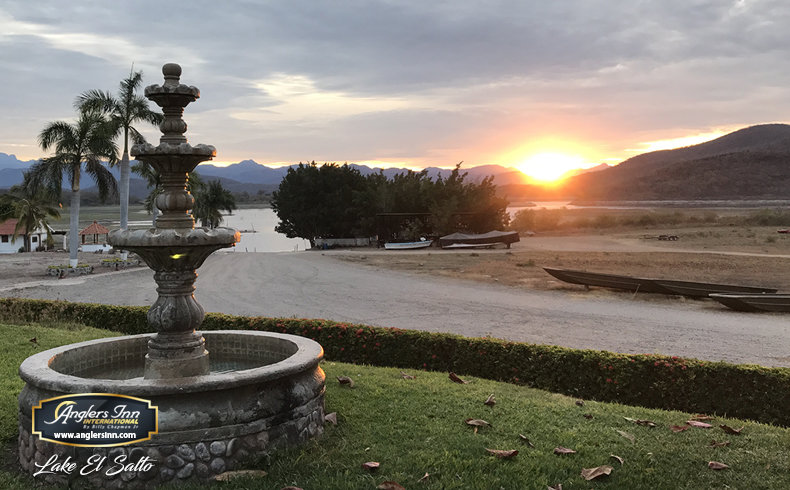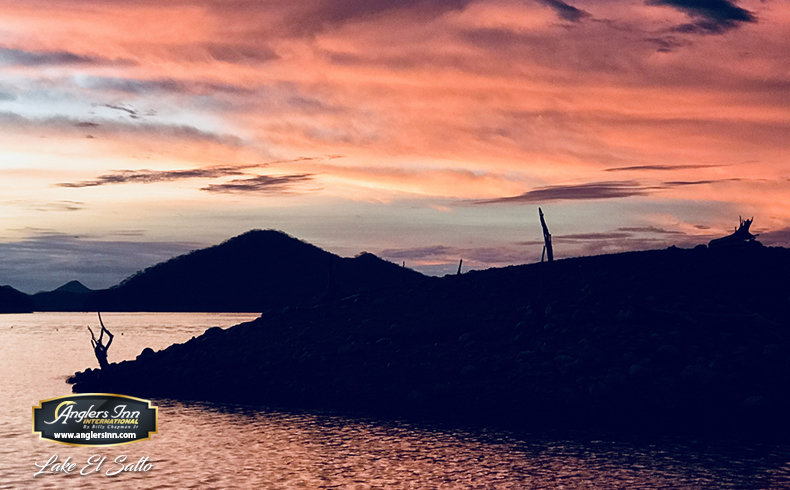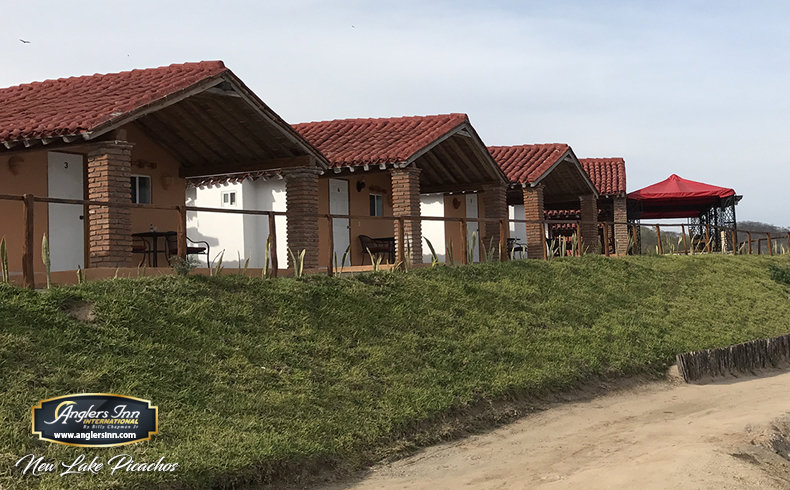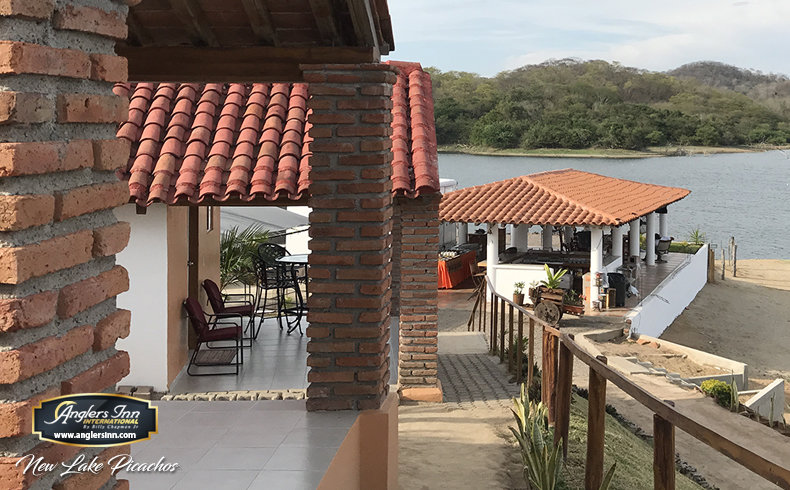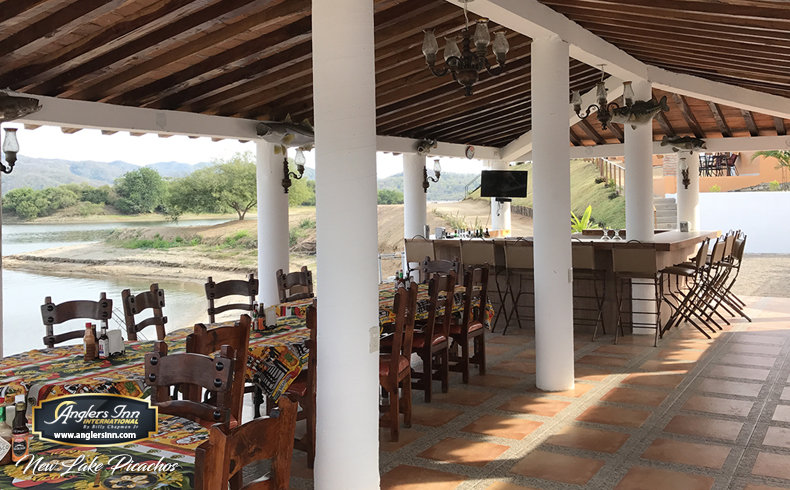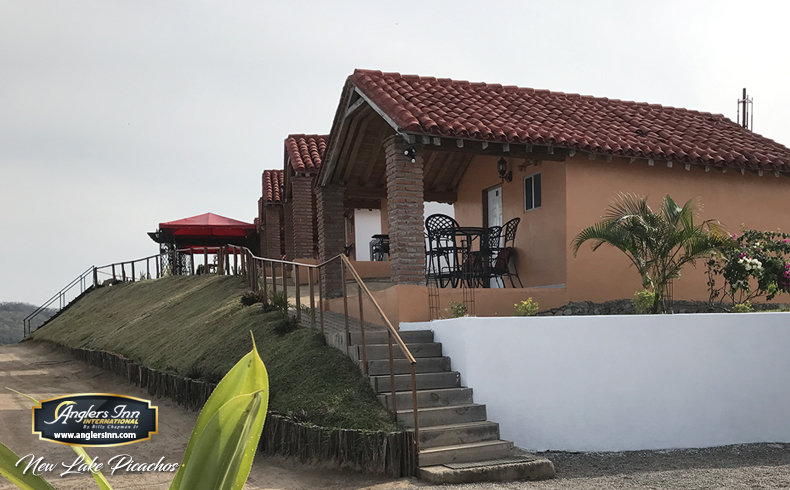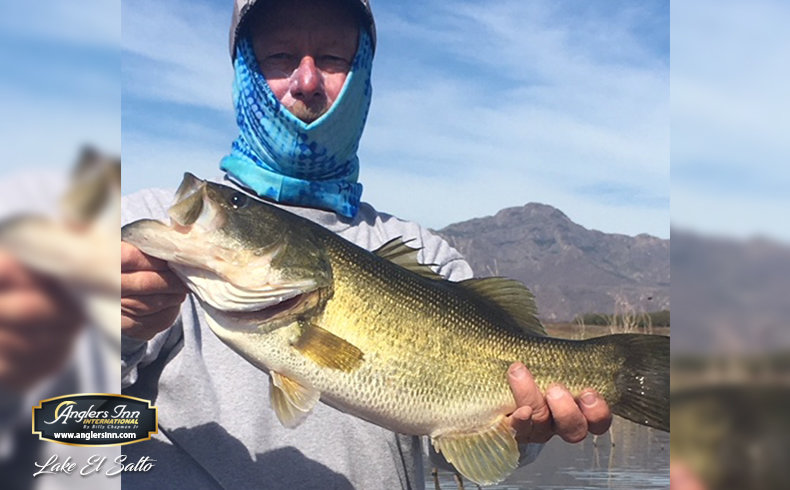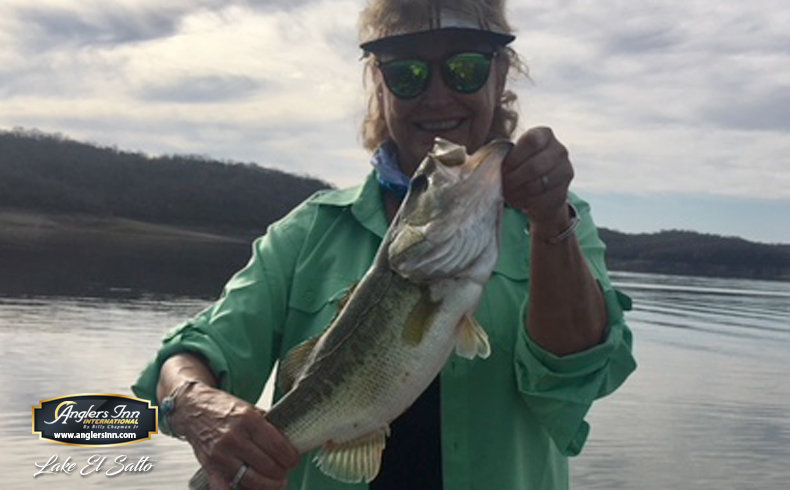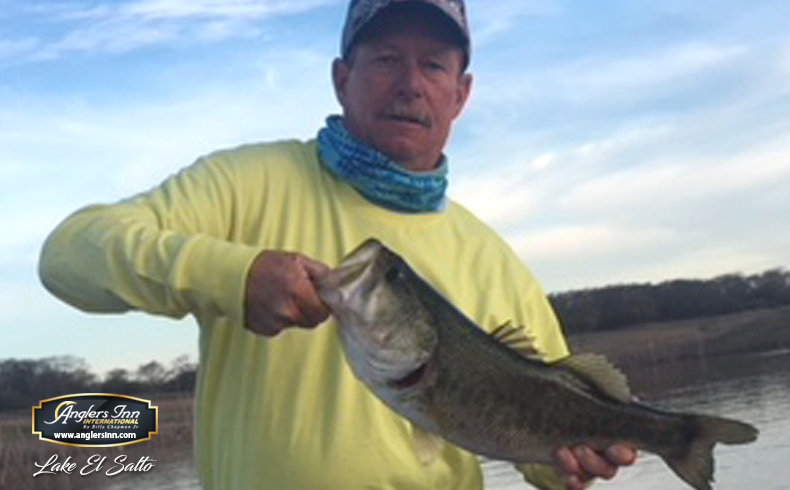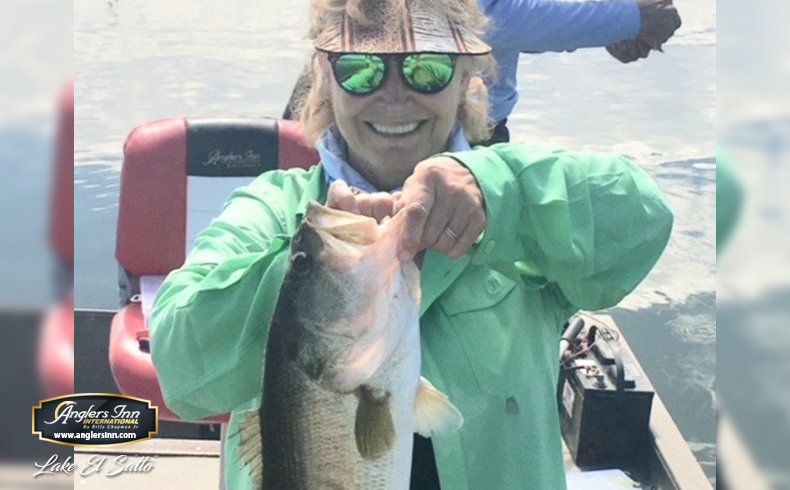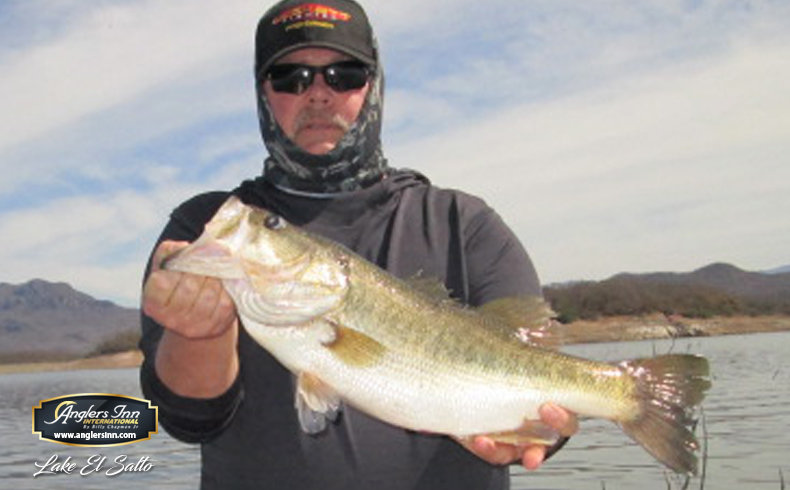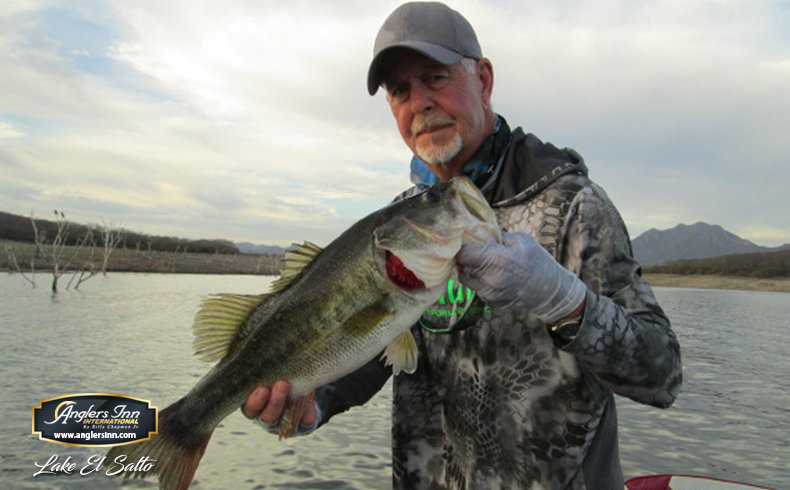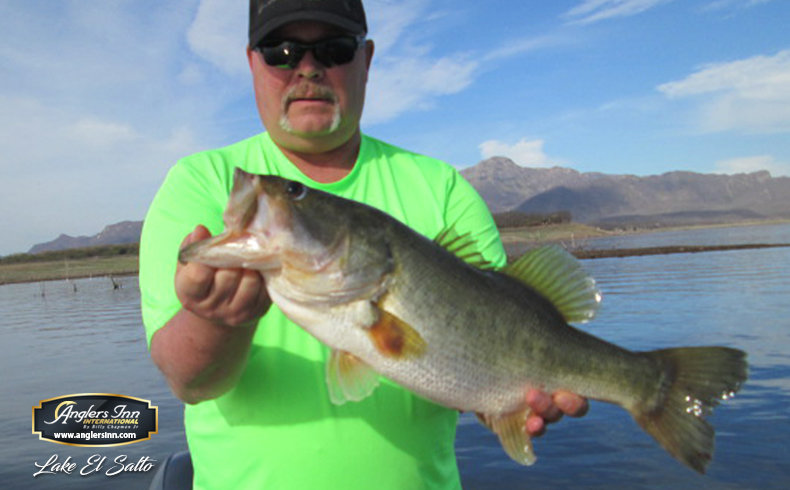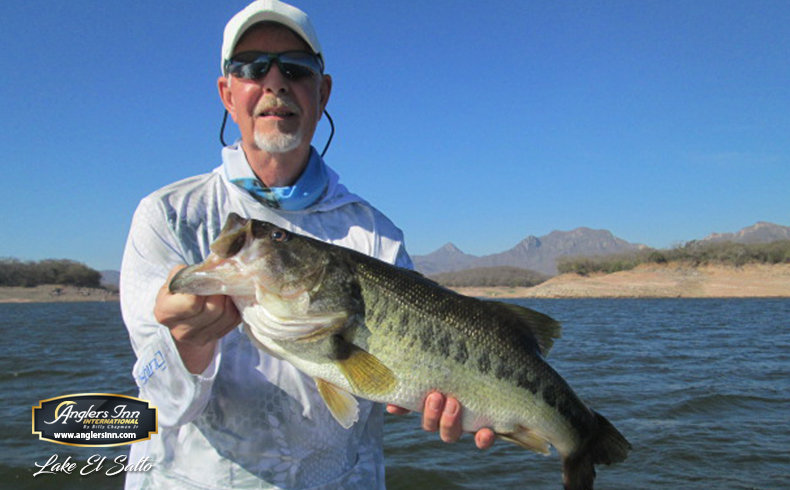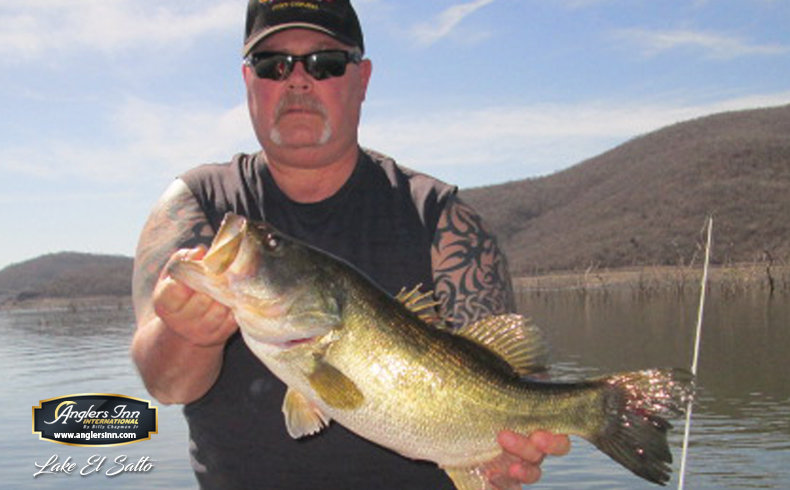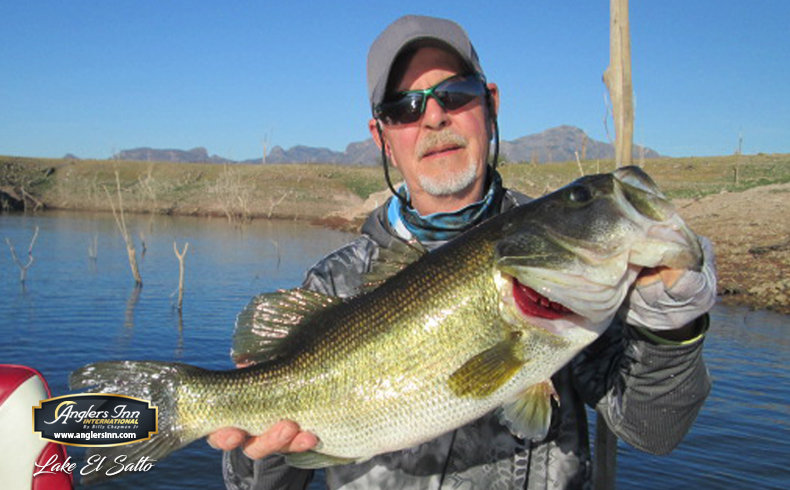 By the time March rolls around, all but the last stragglers have spawned and bass are making their transition in earnest to their summertime environments. Because we have such a prolonged spawning period – it lasts for several months – even though some fish are weakened from the reproduction rituals, others have regained their strength and are starting to put on the feed bag. That means that this March/April timeframe still lends itself well to a wide variety of techniques, although big worms, jigs, swimbaits and crankbaits increasingly show up on our lakeside lunker boards.
Chuck Stratton was a repeat customer to our El Salto operation, and he came with a friend who'd fished with us four times to re-explore the lake's bounty. They fished with veteran guide Antonio and averaged 80-90 fish per day.
"Our favorite lures were Rat-L-Traps, imitation shad swimbaits, 5- and 6-inch Senkos in pumpkin or watermelon colors, and lizards in the same colors," he said. "Large Rat-L-Traps, specifically the Red Eye Shad, was our best lure for big fish."
As we reported last month, Hall of Famer Bill Siemental made his first trip with us to El Salto and did some serious damage with big swimbaits. If you've always wondered whether they'll work in Mexico, the answer is a resounding yes. Bring some on your next trip and ask your guide where they work best. If you're not ready to invest heavily in the high-tech models, bring a number of packs of 4- to 6-inch swimbaits in pearl or pearl with a chartreuse back. At a buck apiece you won't be heartbroken if you lose one, and crawling them of deep points and drop-offs you're likely to get your arm pulled out of the socket by a 10-pounder.
Kathleen Maxwell-Rambie and her husband made a return trip to El Salto, just a year after they joined us for the first time. They run a Texas hunting lodge, so they truly understand and appreciate the combination of world-class service and world-class fishing. This time Kathleen brought a clicker counter to avoid telling any tell tales and she reported that they caught 241 bass in 3 ½ days, including an 8 pounder and an 8-14, as well as a large number of 5- and 6-pound bass. Their guide was Victor.
"We caught most of them on a watermelon red 8-inch lizard," she said. "As well as a few on a white spinnerbait. Fish your lizards slow. It makes a big difference. Fish hard and always keep a line in the water."
Fishing industry veteran Chris Hockley made his fourth trip to join us south of the border, and on this trip he fished with both Poncho and Jesus.
"Both of them are excellent," he reported. "Jesus produced a 9 and change for us during the last trip." Their best bait was a green pumpkin or watermelon worm fished with a ½ ounce tungsten worm weight and a 4/0 heavy-duty EWG hook. Remember that these fish are likely stronger than the ones that you fish for at home, so the heavy gauge wire can make the difference between a hero and a zero. "We got on average 40-60 fish per boat per day," Chris concluded. "Sometimes less, more often more."
Both Chuck and Chris stressed the importance of Spike-It dipping dye. Our guides insist upon it for a reason – it works! These fish are often aggressive, but they can be finicky at times and that little bit of scent and flash of chartreuse makes a huge difference.
While we had flurries of topwater activity over the past month, this has not been an exceptional year for surface activity. Still bring your Ricos, Whopper Ploppers and buzzbaits, but it's not reliable every day. Fortunately, we have made up for it with one of the greatest deep crankbait bites in our history, with big cranks consistently taking a high percentage of our double digit fish. Of course the Fat Free Shad (Citrus Shad) has been the gold standard for decades, and the 10XD fills a unique niche, but our guests are reporting increasing success in firing up the big girls with a Berkley Dredger 25.5. It has a smaller profile and a different sound pattern than the others, and it still gets deep where the biggest fish often reside. Our water is lower than usual right now and that leads us to expect this bite to stay hot throughout the summer.
If you've noticed through these monthly reports that we're starting to sound like a broken record – recommending the same baits over and over again – it's because they're proven winners. Returning guests seems to come back with less tackle than first-timers, because they've eliminated a lot of the fluff. A 10" black/blue Power Worm, an 8" watermelon lizard and a 6" watermelon Senko will produce every day of the year in Mexico. Add in some lipless crankbaits, deep diving crankbaits, swimbaits, spinnerbaits and topwaters and you have most if not all of your bases covered. We'll never discourage you from bringing your favorite lure or from trying something new. After all, that's how we got turned onto lures like the Megabass 110, the Chatterbait and the Whopper Plopper, but the key is usually to stick with the fundamentals rather than reinventing the wheel. Rather than focusing on something like color, make sure your line is fresh, your hooks are sharp and your drag is set properly. Getting the big fish that bite into the boat can be a challenge, and the best way to win that battle is to be prepared.
Our Picachos operation is running smoothly, with a beautiful lakefront dining room and what is still probably the most fertile bass lake on earth. Frequent El Salto visitor Logan Sebela made his first visit and reported catching approximately 100 the first day.
"Mostly on Texas-rigged watermelon red flake Zoom Magnum lizards," he said. "that and the big Brush Hogs were our bread and butter throughout the trip. If anyone is coming down, load up on plastics because you can burn through them quickly." While Picachos is known for its aggressive "cookie cutter" fish, Logan reported decent action with 3-4 pounds, a trio of 5-pounders, and a 6-pounder for his big fish. "The guide Fermin was good and a real hard worker. Great at getting lures unstuck. The food and service were outstanding as usual."
Logan's next trip may be to El Salto, but said that "Picachos has a lot of future potential for sure. It is a good trip for someone that wants to go out and catch a lot of fish."
If you'd like to experience that type of action every day, consider a trip to Picachos, or perhaps a combo trip. We know that everyone is excited about El Salto because the fishing has been so consistent, but Picachos is quietly become its big brother's equal. You can literally expect to catch 100 fish a day if you are even semi-competent, and you can do it just about any way you want. Bring pounds and pounds of plastics because it's possible to decimate even a healthy supply. The lake has established a reputation of having ridiculous number of 1 to 3 pound fish, but we see increasingly percentages of 3 to 5 pounders each year, with some true trophies mixed in – and we've only tapped a small portion of its potential.
Picachos is just 45 minutes from the Golden Zone of Mazatlan, so it's even perfect for day trips, but for you hard core guys, if you can't decide which lake to visit, a combo trip is the way to go. Our new dining room sits right at the edge of the lake and you'll be tempted to make a few casts between sips of your margarita.
Remember, our goal is to make your trip as hassle-free as possible, and one step in that direction is that we now have loaner rods for everyone to use at no cost. Thanks to our newly-developed partnership, our lodges now have a varied supply of St. Croix rods. "They made fishing pure pleasure," said one recent guest. These technique-specific rods rods are the real deal, folks, and we are committed to giving you the best possible tools to land that fish of a lifetime. You don't need to travel with a heavy and burdensome rod tube anymore if you don't want to.
If you haven't seen it already, be sure to click on our new website at www.anglersinn.com at your earliest convenience. We've had it up for most of 2017, and so far the feedback has been tremendous – especially from guests who've found pictures of themselves with big fish gracing the site. Our theme is "Making Every Angler's Dream Come True," and while our web presence is no substitute for a trip to Mexico or Brazil, it's the next best thing and a valuable tool for planning your next trip.
We'll be bringing you some new world-class opportunities in both Brazil and Idaho soon, so stay tuned for those announcements. We've been searching for the perfect chance to extend the Anglers Inn way from north to south and we believe that what we're just about ready to offer will knock your socks off.
Right now I'm working night and day on our new Amazon operations, with opportunities that go above and beyond anything that's been done in the Amazon before – the best service, on the best waters, with the best equipment. I'm bringing the Brazilian cooks and servers up to El Salto to ensure that they understand how to do things the Anglers Inn way, so not only will you get some Brazilian delicacies when you head to South America, but you'll also get some of the Anglers Inn standards that you've grown accustomed to.
My new Brazilian partners joined me at the Bassmaster Classic in South Carolina for meetings with our sponsors and to explain our new opportunities. Everyone is clamoring to be on that trip next year. Meanwhile the Brazilians were amazed to see how big the sport is in the United States. That reinforced their decision to make our operation the best of the best. I'm thrilled to have them on board.
Meanwhile, I'm still spending time in Idaho, getting ready for a little bit of smallmouth fishing (as well as some multi-species excursions). We expect to host our first guests up there by the end of the summer, with a fully-functioning operation in place next year. You're going to love it. The biggest issue is going to be whether you want to spend your vacation time in Mexico, Brazil or the gorgeous Pacific Northwest.
Just as we set the standard for international fishing trips, we want to set the standard online, too. The new site includes information about all of our properties, pricing and bios of our staff. We also update it regularly with new videos on our "Anglers Inn TV" channel, and provide detailed monthly reports like this one.
Whether it's your first trip to an Anglers Inn property or your 20th, we hope that this site will provide all of the information that you need, but if it doesn't we're always just a phone call or email away.
While we often provide a generalized list of lures that work throughout the year, there are times when specific bites are ongoing and we don't ever want you to arrive under gunned. Monitor the website and social media for updated info, and if you're ever in doubt about what you need to bring, please call us or email us.
We want to make sure that you're outfitted properly to make the most of your vacation.
If you've received this report from a friend, please be sure to sign up for future mailings at www.anglersinn.com. If you know a friend who would benefit from these newsletters, please make sure that they are receiving them, too.
---