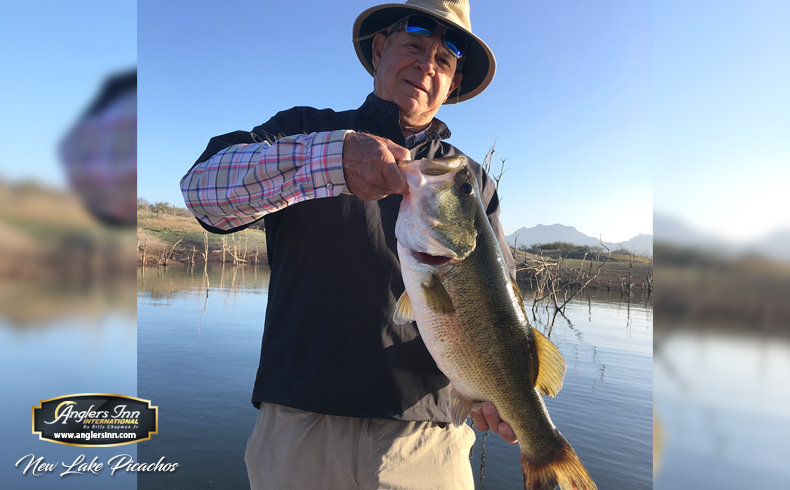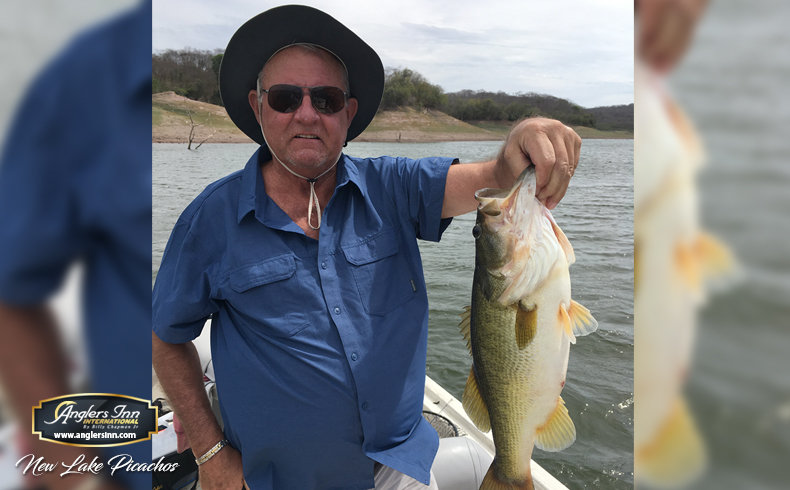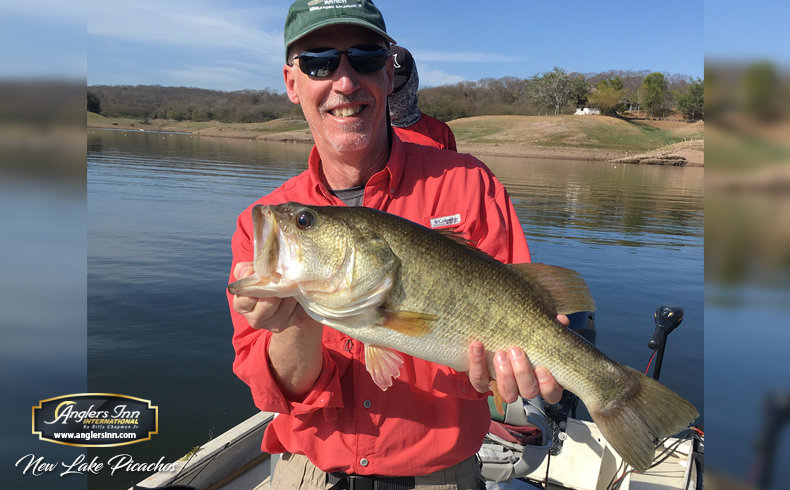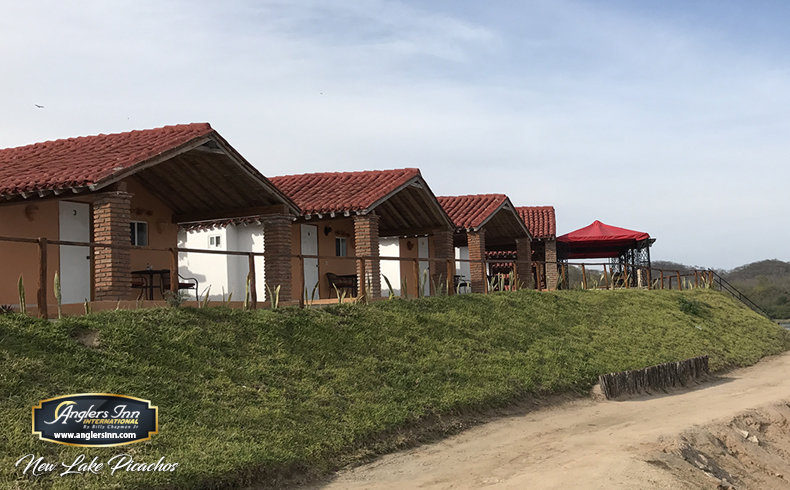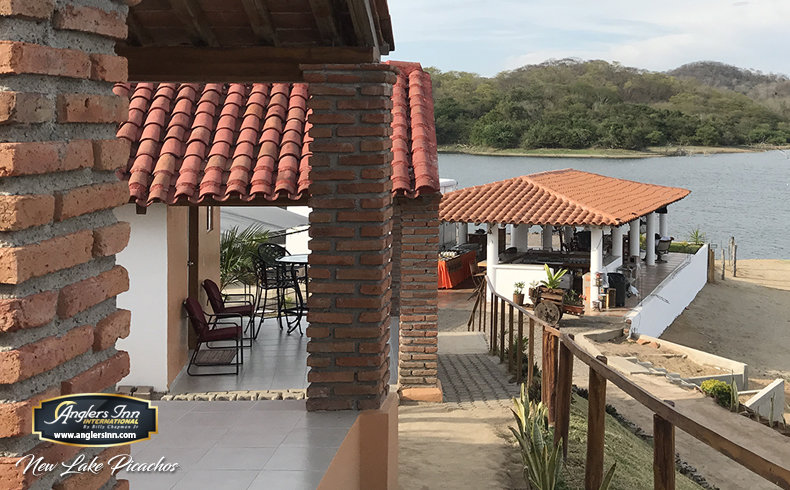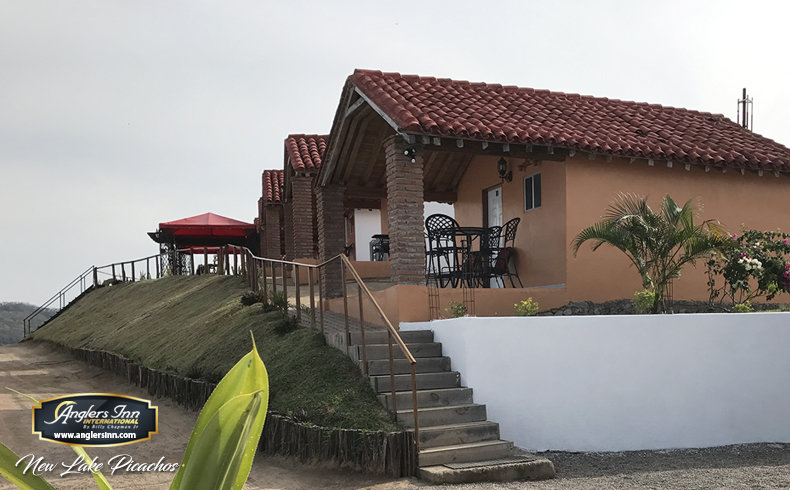 Throughout my four-plus decades of operating fishing lodges throughout Mexico, I've seen fisheries rise and fall, while a few others – most notably Lake El Salto – have maintained their status as the gold standard throughout the bass fishing world. I don't remember the last time I've been so excited about an up-and-coming lake as I am right now about Lake Picachos, less than an hour from the Mazatlan airport and the city's Golden Zone.
I've been talking about Picachos for five or six years now, and some of you have taken me up on my advice. On the other hand, many of the old-timers and even the first-timers have resisted the allure of the newer lake, preferring to go with the known commodity in El Salto. I'm now ready to tell you that Picachos is more-than-ready for prime time – the numbers remain consistently in the triple digits, but we're seeing more and more big fish. In the early years after Picachos was dammed, you could catch all the 1- to 2-pounders you wanted, with a handful of slightly larger fish sprinkled in, but now we're consistently averaging bass in the 2- to 4-pound range, with some even bigger ones, including the occasional double digit, coming to the net.

This is the result of a fantastic management program and fish stock that have the potential to grow up to 2 pounds in their first year of life. Our guides, all locals who walked and lived on the lake bed before it was flooded, have mastered their boat handling and fish-locating skills. On top of that, we've invested fully in our property, leading to the best lodging on the lake and a covered dining room that will remind you of our El Salto facility, just with a different viewpoint. The food, drinks and world-class service follow our proven model, and our dining room sits right at the edge of the lake and you'll be tempted to make a few casts between sips of your margarita I'm so confident that it's primed to explode for big fish and keep pumping out the numbers that I'll do what it takes to get you down there to experience it. It's great for kids, but it's getting to the point where even the most hardcore anglers may make it their preferred stop.

We've had a wet late summer and early fall, which filled the lake up and brought in tons of nutrients, keeping the prolific baitfish populations at high levels. That means the bass are feeding and with tons of standing timber still at full height in the lake there are endless places for them to hide and spawn.
The great thing about Picachos is that if there's a particular fishing technique you want to hone, you can get it done there. Frank Vandeventer, a veteran of many trips to El Salto, came to Picachos for the first time in May with his daughter and 13 and 14-year-old grandsons. They caught fish up to 7 pounds, and his grandson lost one that their guide Modesto said would've been the lake record. They caught most of their fish on large Senkos and plastic worms, as well as crankbaits, but Frank noted that it "didn't seem like color was too much of an issue" nor did precise rigging seem to make much of a difference.
Frank noted that this is the perfect place to take youngsters, whether they're new to fishing or already have the bug. He'd brought his granddaughter to El Salto several years back, and now the boy came. "They all fish in Alaska with me and thought this was more fun," he said. Even if your children or grandchildren don't already have the experience that Frank's do, you can put a rod with a Senko, worm, spinnerbait or Chatterbait in their hands at Picachos any time of year and expect them to catch bass – including their personal bests – until they're too tired to cast.

Their family also experienced the best topwater fishing of their life, with 40 fish in just a couple of hours between the two of them one morning. That's the other thing about these Picachos bass --- they haven't read the rule book! While of course the topwater action tends to be better during low light conditions, often it persists throughout the day. These fish are so young, mean and bold that they'll zip out from under a bush or from a bluff shade line and ambush your surface lures with a ferocity not seen anywhere else but the Amazon. The Rico has been a longstanding favorite among many of our fishermen (as have similar lures like the Yellow Magic and Splash It), but walking baits like the Zara Spook, prop baits and buzzbaits all can produce at times. The recent addition of the Whopper Plopper style lures also generates heart-stopping strikes. Check out some of the new baits that Berkley introduced at last year's ICAST show – they brought some of their pros down here to test them prior to their official release and the results were off the chart.

Lyle Van Every from Canada made his first trip to fish with us a combo adventure, and he was rewarded with three bass in the 8-pound class. "My son and I easily averaged 150 fish per day, probably more," he reported. Bucking the "conventional wisdom," he said that if he were to return, he "would probably go to Picachos as I caught more fish at Picachos and the size was just as good as El Salto. I think this lake is underrated and unfairly considered a small fish lake as there are a lot of really nice bass in Picachos." The key to catching the bigger ones was to use BIG crankbaits, BIG jigs and BIG spinnerbaits, usually with some chartreuse or citrus color. For numbers of fish, the old reliable lizard did the trick.

Kraig Williams has been making day trips from Mazatlan to El Salto for years, and did the same for Picachos this year. It's less than an hour from your hotel door or the airport to the lake, so you can be fishing before you've fully woken up. He and his two partners landed 225 fish in one day, with several 5- to 6-pounders among them. One of those partners was his cousin's 22-year-old son, fishing for the first time, and now addicted like the rest of us.
They used watermelon lizards with the tails dyed chartreuse on both spinning and baitcasting tackle. Sometimes keeping it simple means that you'll always have a bait in the water and the action can be nonstop.
"If you want to set your personal best numbers caught in one day record, there is no other lake like it in the world," Kraig said. He's promised his wife a combo trip – I'd say that's a happy marriage!
While the vast majority of our anglers use conventional tackle, a number of intrepid fly fishermen and women have discovered that the bass at Picachos stay shallow much of the time, and It may be the best fly fishing largemouth fishery in the world. Fred Telleen from Montana came down in March for a combo trip and averaged 60 bass a day with the long rod on this fabulously fertile lake.
"It took me awhile to realize if I was not catching fish, I simply had to change to a new fly or a new depth," he said. He tied flies at home to imitate shad and tilapia and said that his best versions were a red/white popper in the morning and evening, along with a black and white Jawbreaker from Solitude Fly Company.
"I like running a double fly rig," he added. "White followed by black. Fish usually eat white close to the bank and the black as the retrieve moves deeper. Sometimes I'd hook a fish on both flies. I also took, floating line, intermediate line and heavy sinking line set ups. I fished the floater for poppers, the intermediate with streamers for bank shots and the sinking line for working deeper during the day, all with 8-9-weight rods."

For those fly anglers who love the thrill of fishing in the salt, Fred noted that there are some differences that might make Picachos an ideal venue for your next trip instead: "If you are to compare this trip to the typical saltwater fly fishing trip to Mexico, there is a major difference. The runs between spots are short. Anglers can both fish at the same time rather than taking turns. You end up with considerably more fishing time. Catching bass is far more relaxing than trying to target flats species. Wind and weather is less of a concern. I consider this trip to be very reliable in terms of satisfaction because all anglers are going to have a level of success."

If you've noticed that some of monthly reports that are starting to sound like a broken record – recommending the same baits over and over again – it's because they're proven winners. Returning guests seems to come back with less tackle than first-timers, because they've eliminated a lot of the fluff. A 10" black/blue Power Worm, an 8" watermelon lizard and a 6" watermelon Senko will produce every day of the year in Mexico. Add in some lipless crankbaits, deep diving crankbaits, swimbaits, spinnerbaits and topwaters and you have most if not all of your bases covered. We'll never discourage you from bringing your favorite lure or from trying something new. After all, that's how we got turned onto lures like the Megabass 110, the Chatterbait and the Whopper Plopper, but the key is usually to stick with the fundamentals rather than reinventing the wheel. Rather than focusing on something like color, make sure your line is fresh, your hooks are sharp and your drag is set properly. Getting the big fish that bite into the boat can be a challenge, and the best way to win that battle is to be prepared.

Swimbaits are becoming more and more popular, especially for those clients willing to give up numbers in search of true lunkers. Of course, the Storm Wildeye has been a top producer here for decades, and at a buck apiece you won't hesitate to throw them in the heaviest timber and rockpiles you can find. Other versions that are consistent producers include the hollow bellies like the Basstrix and the Zoom Swimmer, as well as ribbed versions like the Keitech, usually in the 4.8 or 5.8 size, although increasing number of guest are utilizing the 6.8 and even the 7.8. Swim them slowly across the bottom, and don't set the hook on that first tap. Instead, wait until the rod loads up and then cross her eyes.
Because the economy is strong and fishing has been exceptional, some key dates for next year are already almost completely full. If you know when you want to come, please contact us as soon as possible to make sure you get your preferred time slot.
Picachos is just 55 minutes from the Golden Zone of Mazatlan, so as noted above it is perfect for day trips, but for you hard core guys, if you can't decide which lake to visit, a combo trip is the way to go.
Remember, our goal is to make your trip as hassle-free as possible, and one step in that direction is that we now have loaner rods for everyone to use at no cost. Thanks to our newly-developed partnership, our lodges now have a varied supply of St. Croix rods. "They made fishing pure pleasure," said one recent guest. These technique-specific rods are the real deal, folks, and we are committed to giving you the best possible tools to land that fish of a lifetime. You don't need to travel with a heavy and burdensome rod tube anymore if you don't want to.
If you haven't seen it already, be sure to click on our website at www.anglersinn.comat your earliest convenience. We've had it up since early 2017, and the feedback has been tremendous – especially from guests who've found pictures of themselves with big fish gracing the site. Our theme is "Making Every Angler's Dream Come True," and while our web presence is no substitute for a trip to Mexico or Brazil, it's the next best thing and a valuable tool for planning your next trip. We continue to update it with new information and items constantly, so don't forget to hit us up regularly.

Just as we set the standard for international fishing trips, we want to set the standard online, too. The new site includes information about all of our properties, pricing and bios of our staff. We also update it regularly with new videos on our "Anglers Inn TV" channel and provide detailed monthly reports like this one.
Whether it's your first trip to an Anglers Inn property or your 20###sup/sup###, we hope that this site will provide all of the information that you need, but if it doesn't we're always just a phone call or email away.
While we often provide a generalized list of lures that work throughout the year, there are times when specific bites are ongoing and we don't ever want you to arrive under gunned. Monitor the website and social media for updated info, and if you're ever in doubt about what you need to bring, please call us or email us. We want to make sure that you're outfitted properly to make the most of your vacation.
If you've received this report from a friend, please be sure to sign up for future mailings at www.anglersinn.com. If you know a friend who would benefit from these newsletters, please make sure that they are receiving them, too.
---